Before anybody did anything, Jack Brabham did everything.
Bought a car. Built an engine. Raced them. Won. Won some more. Went to Europe. Sold a car. Bought another. Raced it. Won. Won some more. A championship. Another. A pause. Launched a team. Made a car. Bought an engine. A championship. Another. Still some wins. And then... then he quit.
It was 1970 and Black Jack's incredible adventure was over. The 'nut-brown Aussie' was three drivers' titles to the good and his own Brabham team had two constructors' titles to their name. So he decided, reluctantly, that enough was enough. Too many had died that year: Jochen Rindt, Piers Courage and Bruce McLaren all gone in violent accidents.
Jack, 44, was still a hardy competitor and a driver fast enough to win grands prix. But in the back of the Brabham team bus after the death of Courage at the Dutch GP, Jack's father, Tom, urged him to stop now, not wait until he had nothing left to offer. Heavy-hearted, Jack allowed his father's will to prevail and he drove his last grand prix that year in Mexico.
It was a decision that John Arthur Brabham came to regret, for he knew there was still gas in the tank, that his competitive fires raged on. In his final year of F1 he took a win, a pole, three podiums and four fastest laps and, with better luck, might have won a fourth title.
It was a decision, though, that ensured he wouldn't die in an F1 car, as so many of his peers had in that most perilous era. It ensured he would still be with us at 87, still able to receive visitors at his home on the Australian Gold Coast and reflect on a most extraordinary life.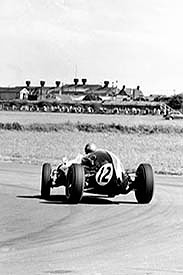 Sir Jack sideways during the 1959 British GP © LAT
He's a frail man now, on dialysis, his hearing damaged by his insistence for most of his racing career on not wearing ear protection to enable him to pick up early any engine niggles. It's hard, indeed, to equate the elderly gentleman who sits on a sofa in his lounge and asks us to come closer to allow him to hear our questions better, with the hard bastard of the '50s and '60s who'd happily drop a rear off the track to blast rivals behind with road grit. Or deliberately scuff a straw bale to throw up debris into the face of anyone with the temerity to try a pass.
But the memorabilia dotted around his house, such as the glass-cased replica of the Brabham-Repco BT19 in which Sir Jack won drivers' and constructors' titles in 1966, is reminder enough of past exploits, so you do what local newspaper reporters do when sent to interview war veterans about flying Typhoons as air cover for the D-Day landings: you get talking about the old days, heroic times cut so hard into memory that they sit like diamonds in the grey matter.
"The most important step I took in my career was seven years on the speedway," he says, recalling hardscrabble encounters on scorched Australian dirt ovals in midget racers. "I learned a hell of a lot - not just racing, but from the engine point of view. We started with a 1,000cc engine, which wasn't big enough, and we stretched it as far as it goes and that wasn't far enough. So we ended up making our own engine.
"We made the cylinder barrels and heads and pistons... virtually every part of the engine, in fact. Stretched it to 1,640cc from 1,000cc, we did. It was a big jump."
So from the first, Jack was using mechanical skills - developed as a mechanic servicing Beaufighter warplanes for the Royal Australian Air Force - to eke out a competitive advantage. This would become a recurrent motif of his career: a hard-as-hell racer on track; a canny engineer off it, whose mechanical intelligence was vital in developing the 1959-1960 rear-engined Coopers to championship success, then later the 1966-1967 Brabham-Repcos.
First, though, there was the jump to Europe - a huge undertaking in the 1950s and one he made almost entirely alone. He downplays this move, leaving first wife Betty, son Geoff (later a notable sportscar champion) and his established racing contacts, reasoning now, as he did then, that "it had to be done to advance [his] career."
"Thing was," he says, "I thought about going for a year or two, to get experience of European racing and I ended up staying for 30!"
Being an Aussie, not a "whinging Pom", he's not about to open up about maybe feeling homesick, or missing his wife and kid, but he will concede that not being able to ship his workshop 10,000 miles north hampered him early on. "The thing I missed most," he says, "was my lathe."
Brabham after winning the 1960 Belgian GP © LAT
"I did really struggle to get whatever I could, as I didn't know the right people and I made a couple of mistakes in the first year, like buying the wrong car. I had a beautiful Cooper-Bristol that I'd done a lot of work on and it was going really well. Unfortunately I got talked into selling it and buying a new car in England - a Cooper-Alta which was an absolute disaster, an absolute heap of rubbish. It definitely took me a while to learn the ropes. That was half the battle."
His tribulations with the car did, however, necessitate frequent calls to the Cooper Car Company in Surbiton as he sought advice and speed. And it was here that he built a friendship with team owner John Cooper, which would lead to both men's names being written indelibly into the F1 history books. Having revolutionised accepted F1 car design of the era with the mid-engined T43 of 1958, Cooper entered 1959 with the further-honed T51, sketched by Owen Maddock.
Jack Brabham would be lead driver of this tiny machine (and its T53 successor in 1960) that took on the world and won. He bagged consecutive drivers' titles with seven wins, four poles and four fastest laps over two years. Cooper were the dominant constructors, with two other wins for team-mate Bruce McLaren, plus two for Stirling Moss in a Rob-Walker-entered car.
It was an incredible achievement that changed the face of F1. Other makes took time to react, although by 1961 Ferrari had copied the concept and outmuscled the Surbiton garagistes. The turn of the decade, though, was all Cooper.
"I finished up driving for John for five years and I was lucky that I got in touch with him when I first got there," says Sir Jack. "He really led the way for two to three years and we won the world championship, which was fantastic. And that was in spite of being in England on our own."
Looking back, 50 years on, it sounds almost straightforward: emigrate, make a few contacts, bag a brace of titles... job done. It wasn't, of course, anything like that simple and Brabham reckons the Cooper success story was based at least in part on sheer good fortune.
"In 1959 we had a problem with our gearboxes, because we didn't have one to suit a rear-engined car. Jabby Crombac, the racing journalist, actually got me to go to ERSA in France to see if they would sell me a gearbox. When I got there, they said yes, but it would probably take them 18 months to build what I wanted.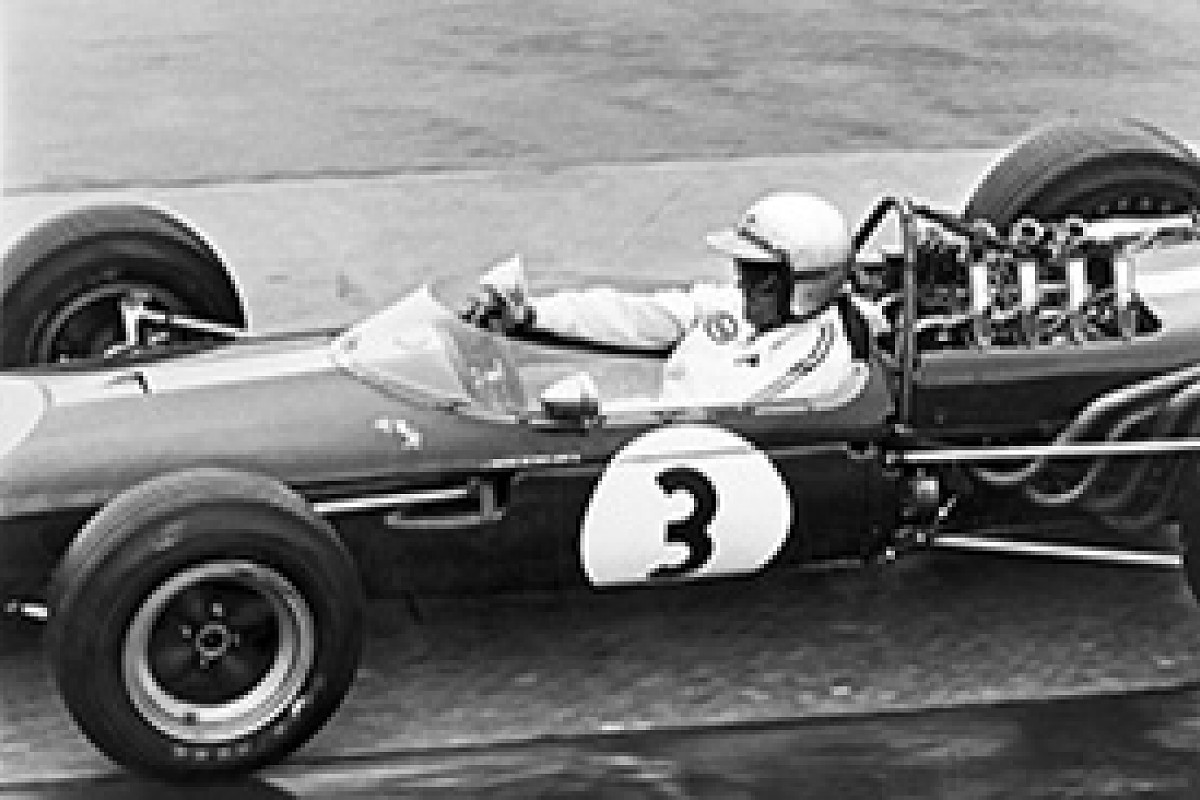 On his way to victory in Germany in 1966 © LAT
Luckily I knew something about the foundry and I asked them if I could go for a look before I left. They had about 150 Citroen gearboxes lined up to cast the next day and I got talking to the foreman who was a motor-racing enthusiast. I talked him into letting me modify gearbox casings so that we had our own castings with our own modifications on them. I modified about 30 gearboxes that evening and they were cast the next day. Those castings finished up on our floor within two weeks. And without those we would never have won the world championship in 1959."
Imagine, today, that on the eve of the 2013 world championship Red Bull discovered they didn't have a suitable gearbox for the season ahead, so relied on a journalist contact of Sebastian Vettel's to tip him off about a manufacturing company in France that might - if they were really lucky - be able to make this fundamentally important component. Oh, and Red Bull would be relying on Vettel's engineering knowledge to assess what the firm was making, modify their parts on the spot and oversee the manufacturing process to ensure the correct components emerged from the foundry. That's what Jack Brabham did.
The memory prompts a smile: "It's just a matter sometimes of how luck falls your way.
I just happened to be in France at the right time and with the right people and the next thing we've got gearboxes, which is incredible really."
So much for the off-track savvy. On track things were going pretty well, too. Brabham was taking on - and beating - the established European aces of the day, such as Stirling Moss, Jim Clark and Graham Hill. Moss he remembers in particular as being his toughest opponent: "I probably learned as much from Stirling as anybody. He was a very hard driver and he was on top when I started in Europe. He was a driver to learn from... mainly about race tactics... and determination. He was a very determined driver and that sort of rubbed off. That determination was part of the ego learning curve in the early days of my European racing."
Talk of rivalry leads us in a direction F1 Racing had been advised to pursue by none other than Mark Webber. "Ask Jack about Ferrari," Mark suggested. "That'll get him going." We do. It does.
"Oh I loved beating Ferrari, just loved it. It was the greatest satisfaction. In 1960, they invited me to come to Italy and meet Enzo to talk about driving for him, and I never even went. I wasn't interested. I was only interested in beating them, not joining them. It's one of those things. Ferrari were the opposition and you had to treat them as the opposition. There was great satisfaction in beating them - which we did many times."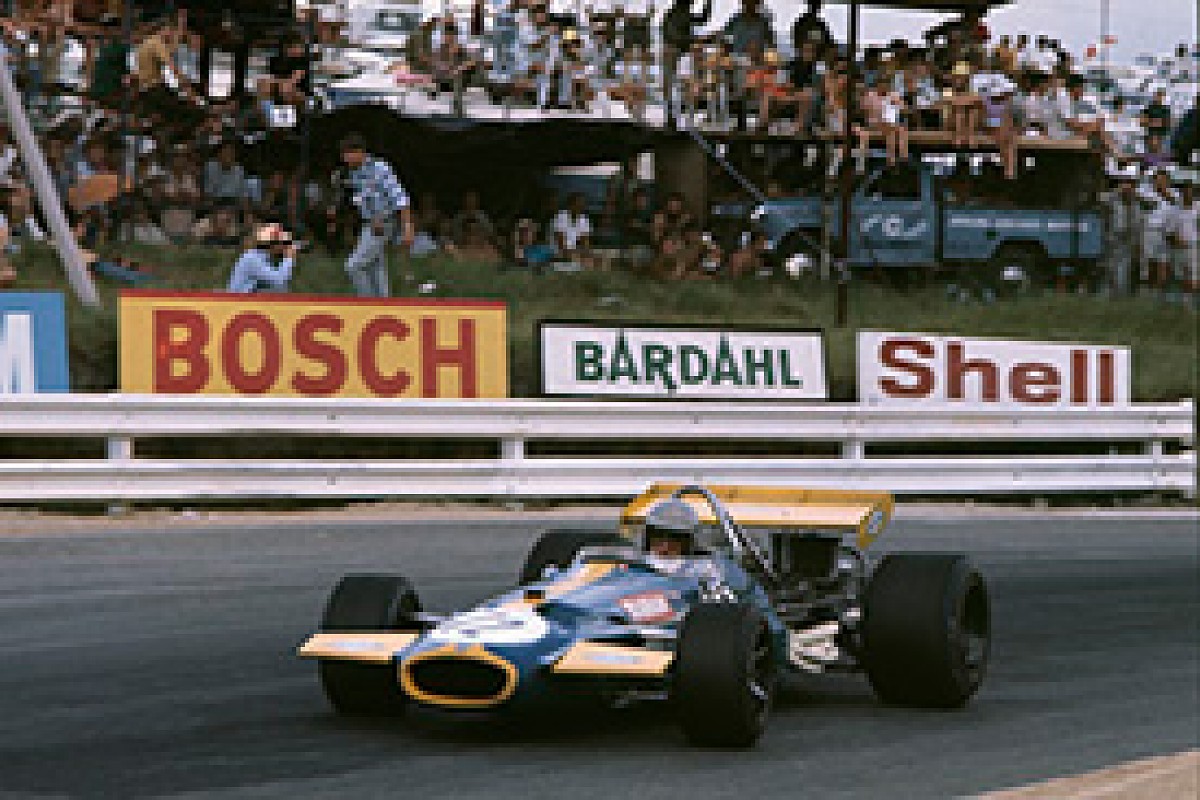 1970 was his last season in F1 © LAT
Brabham's animated now as he gets close to the source of his competitive instincts. Jabbing his chest with his forefinger he emphasises: "The opposition was really the point that was driving me along and Ferrari were the opposition, so we had to beat them. When you feel like that, you don't go and drive for them." Simple and direct, just like his driving style. Just like his racing cars.
It's no surprise that Sir Jack singles out a Cooper victory over Ferrari as the single most satisfying race of a long and storied career: wining the 1960 French GP at Reims. "That was a fantastic race, it really was. Reims should have been Ferrari's circuit because of the long straights, so to chase down the Ferrari team on that track was really something. It was the most thrilling race I have ever had. It was so close and then to nail them was great satisfaction."
He points to a Michael Turner painting of the race that hangs on a far wall. Brabham, crouched head down in the tight T53 cockpit is edging out Phil Hill to his left, with Wolfgang Von Trips in his slipstream, metres behind. The more powerful Ferraris put Brabham under huge pressure in the early stages of the race, before retiring with transmission trouble soon after half-distance. "That's the one and it felt even closer from the driving seat. We swapped the lead so many times - an incredible race. Just the most exciting thing I've ever done."
It was this victory, in fact, that prompted the call from Maranello. So double satisfaction in beating, then snubbing, Ferrari? "Absolutely."
Enzo's red cars would get their own back a year later as the Tipo 156 with a bespoke 1.5-litre V6 outgrunted anything Cooper, Brabham, or anyone else, could muster. A fallow period followed, from 1961-1965 and impatient for success, Jack decided in mid-'65 to do what he'd always done best: take matters into his own hands. A call went to Melbourne machine makers Repco, with whom Brabham was still in contact from his airforce days, when they'd been his first-choice supplier for valves, springs and pistons. Repco's meticulous methods had always impressed Brabham - they'd need to again for his latest request: "Build me an F1 engine."
A 3.0-litre aluminium V8, developed from a stock US Oldsmobile block, was ready in time for the start of '66 and it proved robust and powerful enough to shove first Sir Jack, then team-mate Denny Hulme, to consecutive titles, each time with a constructors' title to boot for the Ron Tauranac-designed BT19 and 20. Not that racing cars with engines built in and shipped from Melbourne was straightforward. More than once, Repcos would just disappear en route to the UK.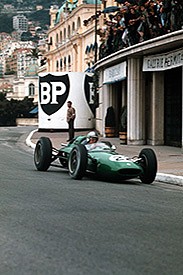 Brabham at the wheel of his own car in 1962 © LAT
"Oh yeah... that made racing difficult. Twice we lost engines on planes. The first time we had an engine on an aeroplane that we desperately needed, but the plane developed mechanical trouble and only got as far as Cairo before turning back. We eventually got it three weeks later.
"Another time, we got our own people in Australia to make sure that the engine physically got on the plane and I got confirmation of that. But when it got to England they couldn't find it. Unbelievable! How could you lose an engine just like that? Turns out that when the plane arrived with the engine on it, that was the first thing off and the forklift driver took it round the side of the hangar out of the way. It was still there three weeks later, getting nice and wet in the rain..."
Mishaps like this seem scarcely imaginable from the perspective of precision-focused contemporary Formula 1, yet they weren't enough to stop Jack Brabham becoming the only man to win races, and a title, in his own car. Giddy though the success of 1959-'60 had been, that glorious '66 remains Sir Jack's finest hour and his most cherished memory. "Winning titles for Cooper back-to-back was a great era for me," he confirms, "but winning our own title was the pinnacle. It was a great achievement."
The Motor Racing Developments company Brabham had founded with Ron Tauranac to build race cars were briefly on top of the world, selling chassis to customers as well as campaigning them to title-winning success. Not bad for a young man who'd arrived in Britain a decade or so earlier with no ambitions beyond gaining some racing nous to take back home.
Perhaps Brabham's greatest achievement, however, was that of simply staying alive at a time when grand prix racing was at its most lethal. Sir Jack suffered only one serious accident in his racing career, testing at Silverstone in 1969, and his account of it in his autobiography The Jack Brabham Story leaves no doubt as to the dangers Brabham and his peers faced:
"I'd got as far as Club Corner where we used to blast through at 115mph and three-quarters of the way through, as I leaned on the left-front tyre, it popped off the rim and deflated... The car understeered into a bank [and] the impact smashed the left-front wheel into the side of the cockpit where it crushed the frame inwards, into my legs. The throttle was jammed wide open and behind me the engine was absolutely shrieking. The pain in my twisted legs and feet was unbelievable... There was a terrible stench of fuel. Looking over the cockpit side I could see a spreading lake of petrol and I knew if it ignited I'd stand no chance."
Brabham managed to silence the engine by hitting the kill switch, which had been twisted beyond easy reach on impact, and triggering the fire extinguisher. But he remained trapped in the car until released by one Ron Dennis, senior mechanic, who oversaw the rescue.
Five years before, Brabham emerged singed but unscathed after driving through a fireball at the Indy 500 - a crash that claimed the lives of Eddie Sachs and Dave MacDonald. "The closest I've come to being written off," he reckons.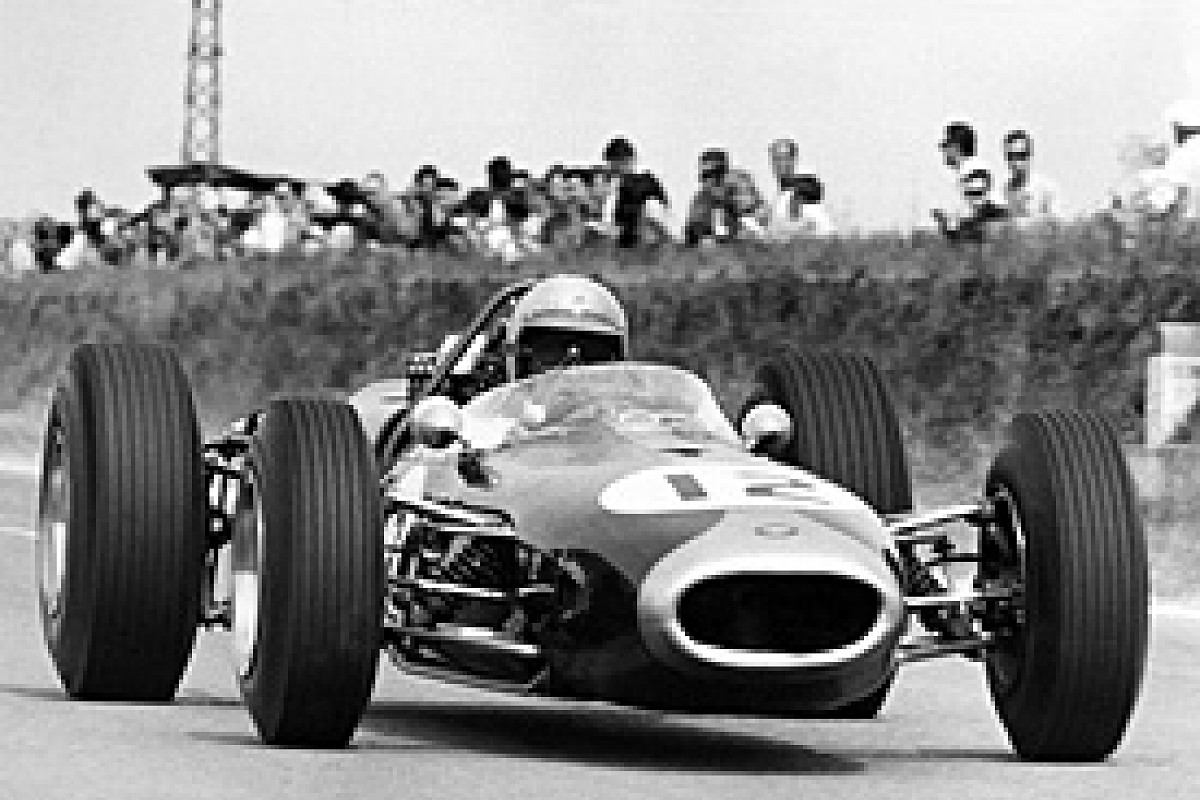 Brabham retired at the age of 44 © LAT
He was lucky and he'll admit as much, but survival wasn't just luck. He cites being "in the right car at the right time" as the cornerstone of his success (not to mention building his own, when the right machinery wasn't commercially available) and echoing contemporary Jackie Stewart's 'mind management' mantra, he talks of the importance of "self-control".
"Having self-control was the important part," he says. "I think that was my success really, that part of it and it was a great satisfaction, because I lost so many friends over the years and in spite of that I had to keep going myself."
Even this notoriously thick-skinned competitor wasn't immune to the human cost of Formula 1 in the late 1960s and early '70s. The death of Rindt, in particular, hit him hard as the grizzled veteran and dazzlingly charismatic young charger had become close as team-mates in 1968. "Rindt became a close friend," Brabham recalls. "He drove for me for a year but Colin Chapman offered him more money to drive for Lotus than I could come up with for 1969 and that killed him a year later at Monza when the car broke. It was a very tragic death. Losing a close friend like that wasn't easy... it was just one of those things in motor racing you had to live with because it used to happen on a pretty regular basis."
Brabham was still racing hard, in the Tauranac BT33. He won in South Africa but lost the 1970 Monaco GP on the last corner of the last lap, to Rindt. In his own estimation he was still driving "extremely well and safely", but the deaths of so many of his peers coupled with family pressure forced his withdrawal and, soon afterwards, a return home. "I was at the top of my form," he says, "and I'm sure I could have gone on a few more years. But..."
Jack Brabham's racing days are now long over, although he continued to compete into his 70s, when invited, with a notable spikiness. At the 2000 Goodwood Revival, going hard, he shunted and put himself in hospital overnight for the first time in his racing career, with concussion, cracked ribs and bruised lungs.
And it's reassuring to learn that the spirit of this grand old man of motor racing, living colour from a black-and-white age, is still grittily intact. If he could turn back the clock, would he fancy his chances, I wonder, against the current generation? There's a moment's reflection, then he fixes me eye to eye and replies with absolute conviction: "Yeah. Yeah I bloody would."