A world championship battle with no clear favourite. Three mega-stars leading that title contest, and regularly out there battling wheel to wheel. Rules that allow overtaking and tyres that no longer let the tech boffins know exactly what lap they're stopping on before they've even set foot in the paddock. Unpredictable qualifying form and race after race where we don't know who's going to win until the closing stages...
And yet, with all of Formula 1's current talk of tyres, and the numerous paddock members more than willing to stick their head up above the parapet and slate the job Pirelli's doing, it's hard to believe F1 has a lot right about it at the moment.
I'm not saying for one second that all's right with the racing - and even Pirelli is in agreement that four stops are too many to allow a modern grand prix to come alive. However, those shouting loudest that Pirelli must shoulder the blame for the bad PR F1's getting right now need to calm down and take stock of just how we've arrived in this pickle.
WHY DID THE SHOUTING START IN THE FIRST PLACE?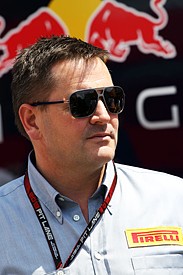 Hembery can't understand the level of criticism in 2013 © XPB
Over a coffee with Pirelli motorsport director Paul Hembery at Barcelona last weekend, before the action kicked off on the track that would force Pirelli to make changes, he told me he couldn't understand why the chatter about tyres was so loud.
Every start to the past three seasons has played out almost identically: drivers say the tyres are a step too far when they begin testing them, there are unpredictable early season races where some get it right and some get it wrong, and a portion of the fans speak out to question whether F1 has gone too far down the 'show' route.
In 2011 and '12, this calmed down quite quickly. Teams got better at understanding what they needed to do, the best drivers and best cars rose to the challenge, and we reached a modern F1 that generally most people liked. So why is 2013 so different?
A lot, I believe, has to do with Mercedes and Red Bull. In the silver corner is a team that's produced a car that's mighty quick over one lap, but simply can't keep up that form on Sunday afternoons. Its dramatic tumbles down the order exaggerate the effect of the tyres and produce a perception that the degradation is out of control.
If you took the Mercedes out of the equation for the Spanish GP, it would have been a race where Fernando Alonso won from third on the grid, beating front-row man Kimi Raikkonen and Felipe Massa, who recovered well from his grid penalty to beat pole-winner Sebastian Vettel. That would be a fairly normal shuffling of the top men.
Race day would not have delivered anything like the crazy afternoon that some have suggested - and would it have been any worse than Michael Schumacher's famous four-stop at Magny-Cours in 2004?
Red Bull, meanwhile, is convinced it has a car that's well clear of the opposition, but that it can't exploit that because of the tyres. That's fuelled the criticism from the team, set a public agenda - and left many fans feeling that Pirelli's impact is actually affecting the natural order.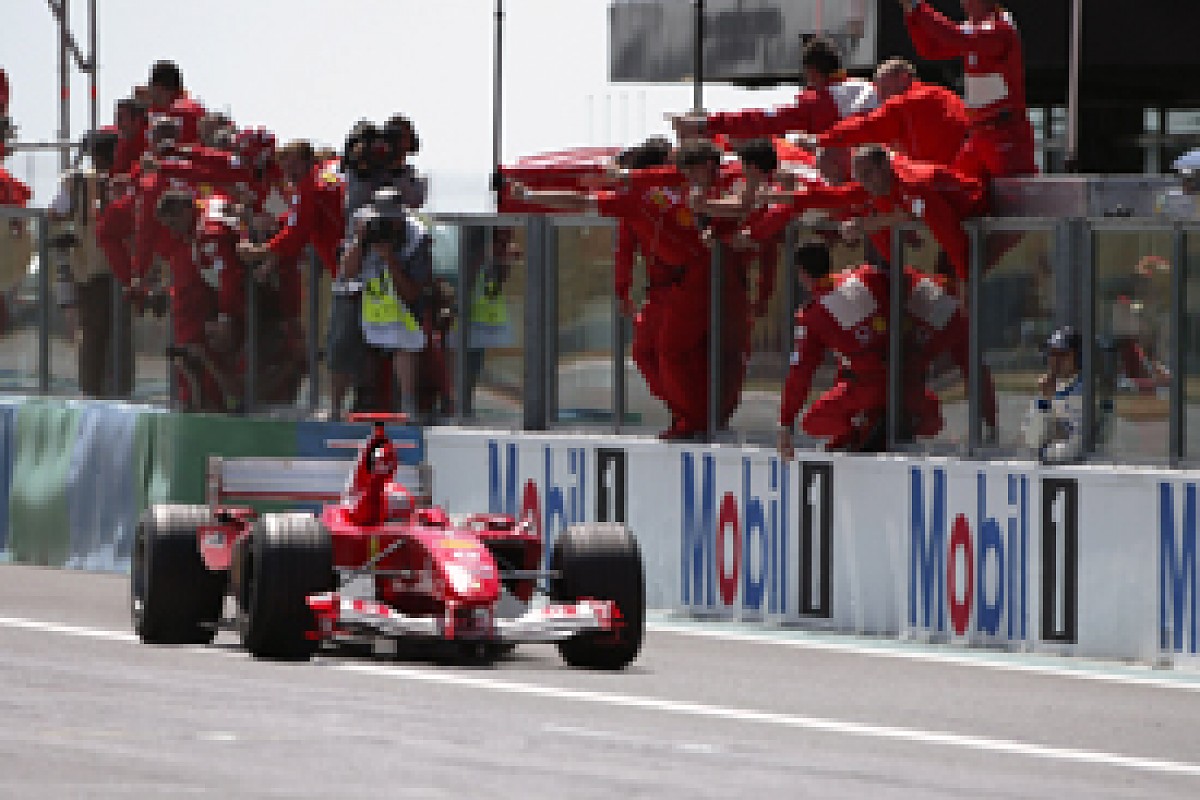 A four-stop strategy took Schumacher to victory at Magny-Cours in 2004 © LAT
If a four-stopping victory by Sebastian Vettel at the 2011 Spanish race was acceptable, then why is stopping the same number of times in 2013 such cause for concern? Only the end result can be responsible for the change in opinion.
Then there's the public impact of the stronger tyre structures that Pirelli introduced this year. The use of a tough steel belt has left the tyres more puncture resistant than before, but the consequence is that when tyres get cut by debris, rather than being a standard puncture, the tread now overheats and tears away. It's produced spectacular images of tyres that look like they've delaminated because they're not good enough, when in reality it's a failure caused by external factors.
Another factor is the boom in radio traffic being broadcast by FOM that's fuelled the view that drivers are no longer pushing in races. Comments from teams that their drivers shouldn't waste time and tyre life battling with rivals, or the likes of Lewis Hamilton saying they're 'going as slow as they can' when asked to cool overheating tyres, have promoted a perception that hardcore racing is no more. The reality isn't like that at all.
Even so, no one - not even Pirelli - denies that four-stop races are a step too far. Two stops is the aim, and that's why changes are coming for Canada. It's not been an ideal start to the campaign, but the roots of the problem are historic - and not just down to Pirelli getting it wrong in isolation.
WHO'S TO BLAME?
As the guys producing the tyres, it's very easy to point the finger at Pirelli, and say the compound choices this year have been wrong, and that it has missed its aim of two to three-stop races. Yet to blame Pirelli alone would be to completely ignore the massive constraints that the company has to operate under as F1's control tyre supplier.
F1's sporting regulations limit it to producing effectively four compounds of tyre for the 19 racetracks the sport travels to each season. So hitting that target of two-stop races when you need to ensure you produce tyres for the different surfaces/temperatures experienced at high-speed hot Sepang, low-speed Monte Carlo, high-abrasion Sakhir, cool and fast Silverstone, and flat-out Monza is always going to be difficult.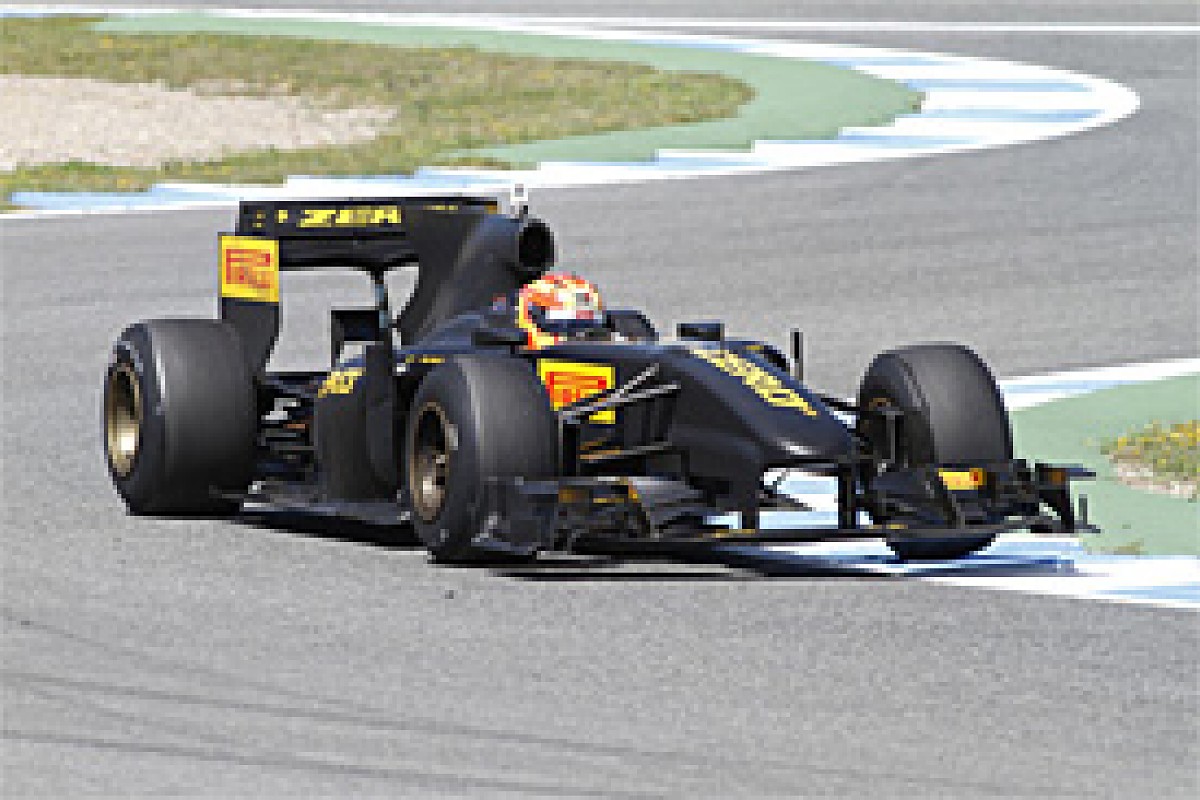 Pirelli isn't allowed to test at current F1 venues with a contemporary car
To further complicate matters, Pirelli isn't allowed to test at any of the current F1 venues with a contemporary car.
Cost-cotting moves have produced rules that outlaw in-season testing, beyond a young driver event (and let's not even begin to talk about how teams made a shambles of that last year), and even limit out-of-season development to the ridiculously cold winter months in Spain.
Yes, Pirelli can go it alone and choose to test wherever it wants during the season, but it gets no access to a 2013 car, let alone one from last year or the year before. Its current test platform is a 2010 Renault - from the pre-blown-floor era. The R30 operates in a very different way from the current generation of cars, and is around two to three seconds a lap slower.
Time and again, too, Pirelli has proposed rules to try to help matters - such as qualifying tyres, new sporting regulations, or extra sets of rubber for first practice. On each occasion, however, the teams never agree on anything and the status quo remains.
Expecting Pirelli to get it spot-on with clinical precision when it's given so little assistance in developing its products to the current cars is ridiculous. F1 has to take collective responsibility for the hole it has dug itself into.
In 2014, with its dramatic rule changes, the sport had better take lessons on board and do something to help - otherwise there could be some genuine grounds for complaint this time next year.