It was lap four, DRS had been enabled for only a lap, and Fernando Alonso's Ferrari was tracking Lewis Hamilton's Mercedes like a shadow down that long, long Shanghai back straight - a silver bullet chased by scarlet, tiny specks emerging from the smog, but growing bigger fast, and loud; Fernando bobbing this side and that, Lewis checking his mirrors as he stood on the brakes for the Turn 14 hairpin, 200mph down to 60mph in just 3s at a peak of 6.4g, Brembo discs glowing orange. And he was still ahead.
But his problems were far from over, because this year there is a second DRS zone down the pit straight. Accelerating out of the hairpin, up towards that pit entry where Hamilton lost the 2007 world title as a rookie, they crossed the DRS-detection point, with Fernando still just a breath away and team-mate Felipe Massa just a further breath away, therefore getting his DRS armed too, ready for deployment as the three of them screamed past the pits in a blur.
By the time they'd approached the seventh-gear entry to Turn 1 the Mercedes was travelling at around 195mph, the Ferraris at around 212 thanks to their open rear flaps. Alonso darted by the defenceless Mercedes one side, Massa the other.
It was racing, sort of - but not as we used to know it. Just as only Hamilton's defencelessness against a wing-stalling device made this double overtake feasible and conjured up a scene that looked like fantastic racing, so it was with the tyres. 'Let him go, you're not racing him,' said the race engineers' voices to drivers who were on varying tyre strategies, desperately trying to eke out competitive stint lengths. And so that driver would allow the other one to pass - and that too would technically be an overtake and would therefore look to the untrained eye like racing. But it wasn't; it was simply two different strategic wave frequencies interfering.
The real race was a cerebral one, being contested on the pit counter, the drivers just speed monkeys expressing the performance of their package, being instructed on the most efficient way to run their race.
There was rampant overtaking throughout the field © LAT
The DRS zones at Shanghai were overdone; the feature is supposed to make passing possible, not inevitable. Here drivers were virtually stumbling into passing moves, so big were the speed differences closed-flap to open, so long the straights.
But equally there was no doubt that the Ferrari was a faster race car than the Mercedes, even though Lewis had outqualified Fernando by over 0.3s the day before. The key to that was how relatively easy it was on the front left - the defining tyre around Shanghai and its two long, long loops, Turns 1-3 and 11-13. Combine that with an aggressive Pirelli compound choice of the soft for the option tyre and we had an even more extreme situation than Melbourne.
None of those who had qualified on the soft in Q3, and who had therefore already put three laps on the tyres they were obliged to start on, were reckoning on getting much past lap six before they would need to pit. The fronts would grain almost instantly and continue to grain, shedding skin like a snake until they were worn out after just a handful of laps.
It was this extreme tyre and track combination that had split the field into two strategies, according to where they had expected to qualify - and hence the interfering waves as one strategy fell into its dip as another was in its ascendancy; drivers sometimes passing each other like ships in the night.
Jenson Button, in addition to starting on the mediums, was trying to get by on just two stops rather than the more common three, recognising that getting a result from the McLaren as it is required stealth.
"You don't want to look like you're not fighting," he sighed, "but the best thing to do was to have clean air and not destroy the tyres. If we couldn't run to target it would destroy our race. We had to cruise a lot of times when normally you'd fight with people.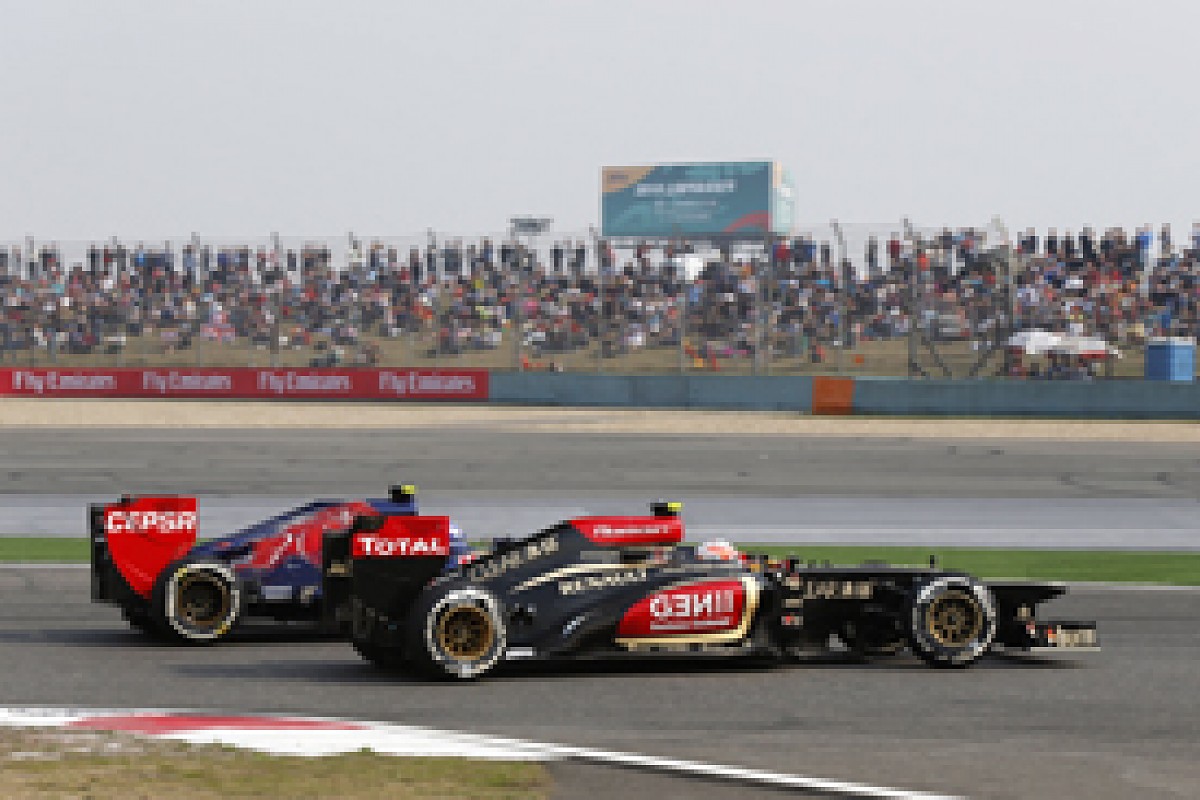 Button was frustrated that he couldn't fight his rivals © XPB
"A lot of time I was asking the team, 'Can I race them?' and the answer was no. We're not quick enough to do the same strategy as other people. You just had to sit there, let people past you and not fight back. If I ran off the circuit or locked up that was my strategy blown. It's an unusual way of going racing; it's like being at Le Mans in an LMP2 car with LMP1 cars coming up behind you. You just have to let them go."
Not that this applied to Hamilton versus the Ferraris or Hamilton versus Kimi Raikkonen's Lotus. They were on the same tyre strategies and all three-stopping, albeit with varying degrees of flexibility according to how heavy their tyre usage was.
What the tyre situation had done to this battle was mix up who was quick when. The Ferrari and Lotus were easier on that crucial front left than the Mercedes. That might have actually helped Hamilton to pole, but it was hurting him virtually as soon as the race started. He was given a bit of a break by Raikkonen's terrible start off the front row alongside him.
"We had the wrong settings for the clutch," said Kimi. "The practice start was very good but we made some changes and then it was bad at the real start."
He was instantly zapped by both Ferraris as Hamilton took off into the lead. The Ferraris were onto the leading Merc almost immediately and they made their squadron move heading into Turn 1 to begin the fifth lap. Already Lewis' tyres were finished, and he trailed in at the end of the lap to have them replaced with a set of mediums. Coming in on the same lap, and therefore requiring the team to perform a double-shuffle stop, was the other Merc of Nico Rosberg, who had been battling with the second Lotus of Romain Grosjean.
"I could feel the handling was very understeery," said Nico, "and the inside-front wheel was coming up a lot." This was the precursor to a retirement as a result of a bolt retaining the rear rollbar coming adrift. It's not known if this was related to contact with the Toro Rosso of Daniel Ricciardo, who needed a new nose fitted at his first stop.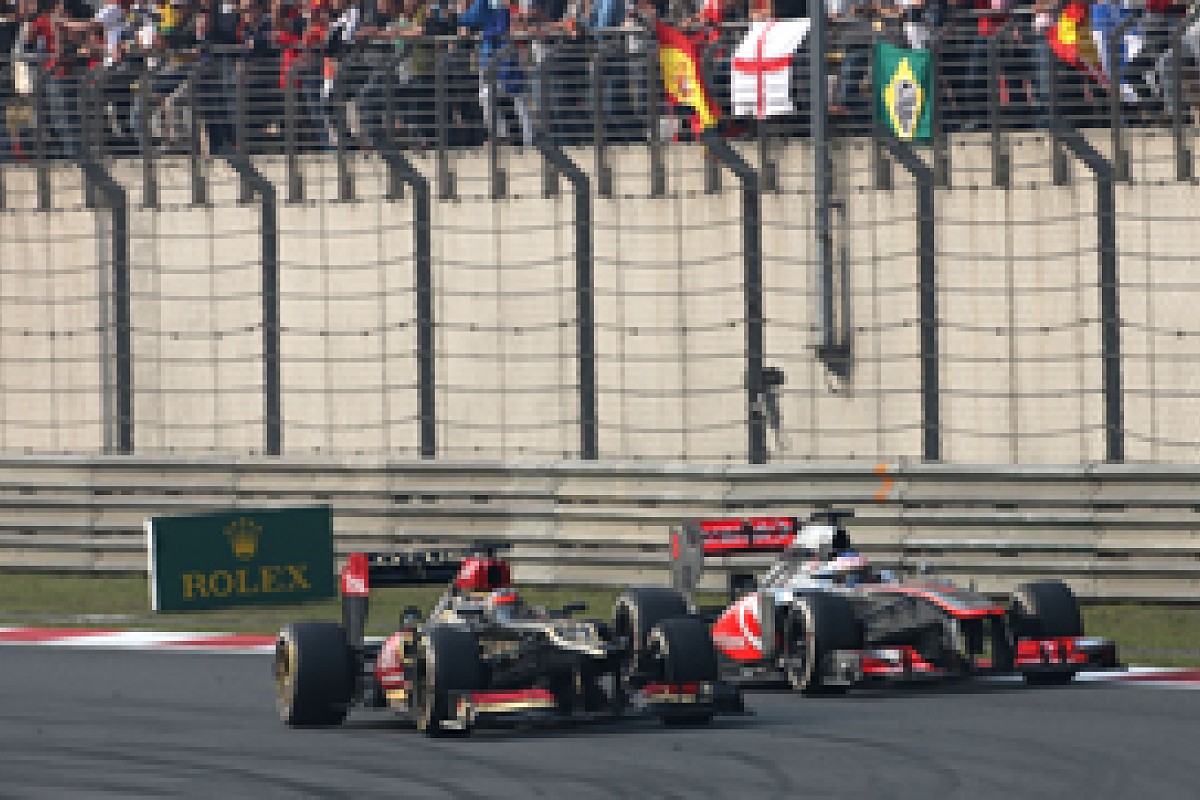 Alonso and Ferrari pulled off their strategy masterfully © LAT
Alonso pitted from the lead the lap after Hamilton, Ferrari turning him around in 2.6s and enabling him to get out still ahead of the Mercedes. Raikkonen came in at this time too, though the Lotus's stop was a full 1s slower. Massa had to wait a further lap on deteriorating tyres while Alonso was attended to, so he lost a chunk of time and was leapfrogged by four drivers, including Hamilton and Raikkonen.
Massa was not in anything like as good shape as Alonso here. "I suffered big front graining early in each of my stints," he explained. "On Friday on a green track it had been fine. But as the track grip came up so the rear grip increased and this seemed to make the front graining worse."
Massa and Grosjean were the last of the leading soft-tyred runners to come in, after just seven laps, and so the leading medium-tyre runners were now at the front - Nico Hulkenberg's Sauber, the Red Bull of Sebastian Vettel, and Button. The McLaren man had simply surrendered, mindful of his strategy, as Vettel and Hulk had passed him down the back straight, with Nico then squeaking ahead of the Red Bull.
Just behind them the two Force Indias had clashed out of Turns 14-15 as Adrian Sutil aggressively hung Paul di Resta out to dry over the outside kerb, losing di Resta a couple of places and dropping him into the dreaded pack.
A lap later Sutil was out after being assaulted from behind by Sauber driver Esteban Gutierrez, who simply misjudged his Turn 14 braking point in the dicing pack, plucking a wheel off his car. Yellow flags flew there for a time and the DRS was disabled.
It was during this time that a big list of drivers - including Vettel and Button - were said to have used DRS, though no further action was taken. The mitigating circumstances were that the FIA's telemetry is currently limited and the automatic cockpit warning of DRS deactivation was not available.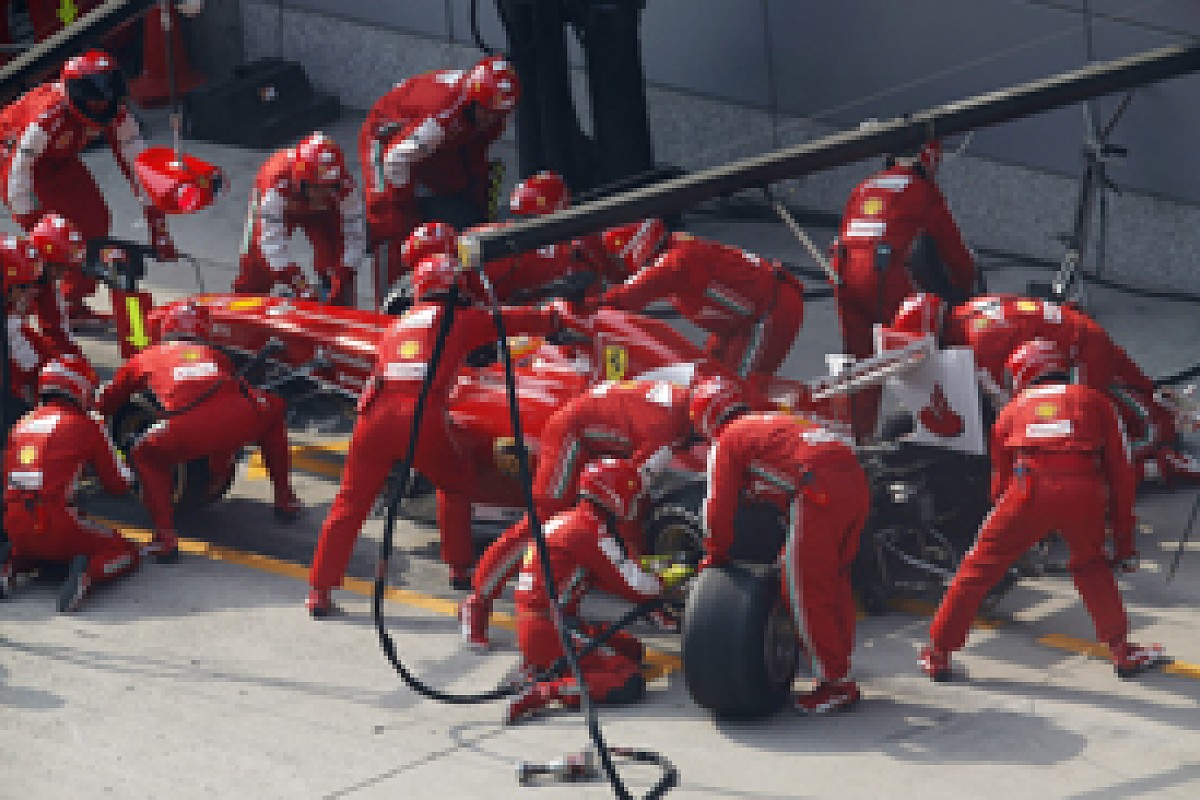 Being overtaken by Hulkenberg proved costly for Vettel © LAT
Hulkenberg led Vettel from laps seven to 14, then each headed for the pits, putting two-stopping Button into the lead. The Red Bull stop was a beauty in 2.5s, the Sauber one a disaster at 6.1s, a result of a lost wheel nut. Seb got out ahead, rejoining seventh.
Red Bull was later left rueing the time Vettel lost behind Hulkenberg as it snowballed into the him not clearing Sergio Perez's two-stopping McLaren as he rejoined, thereby incurring further delay. In hindsight, Hulkenberg's DRS pass on Vettel on the fourth lap cost the reigning champion dear.
But that wasn't Red Bull's only problem. The team had elected to start Mark Webber from the pitlane, after his exclusion from qualifying. This allowed him the low-downforce rear wing and associated longer gearing. He started on a set of softs and, with no track position to lose, he would be in at the end of the lap to get rid of them.
But Webber's charge from the back was brought up short as he made an optimistic lunge at Jean-Eric Vergne's Toro Rosso at Turn 5 on lap 15. Mark thought he was being allowed through, but Jean-Eric was racing for position and, as he turned in, the Red Bull was already there. Heavy contact was made and each headed for the pits, Webber later taking responsibility for the accident.
He rejoined after a new nose was fitted but could feel something amiss at the rear of the car and backed off to a crawl. At Turn 14 the right-rear wheel departed from the car and Webber pulled over to retire. The wheel had been torqued up, but the team was later fined for an unsafe release. As it was, the errant wheel ran precariously across the track just as Vettel was arriving...
At the same place that Webber and Vergne had come to blows, one lap later there was contact as Raikkonen attempted to pass the out-of-sequence Perez - who had just been passed by Hamilton for third. Kimi had swept around the outside of the McLaren at the kink of Turn 5 before the loop of 6. Perez clearly wasn't expecting anyone to try a pass there and took up his normal line on exit, forcing the Lotus onto the kerbs in top gear and Kimi into a dramatic wrestling match to keep the car under control, just as Perez was turning in to 6.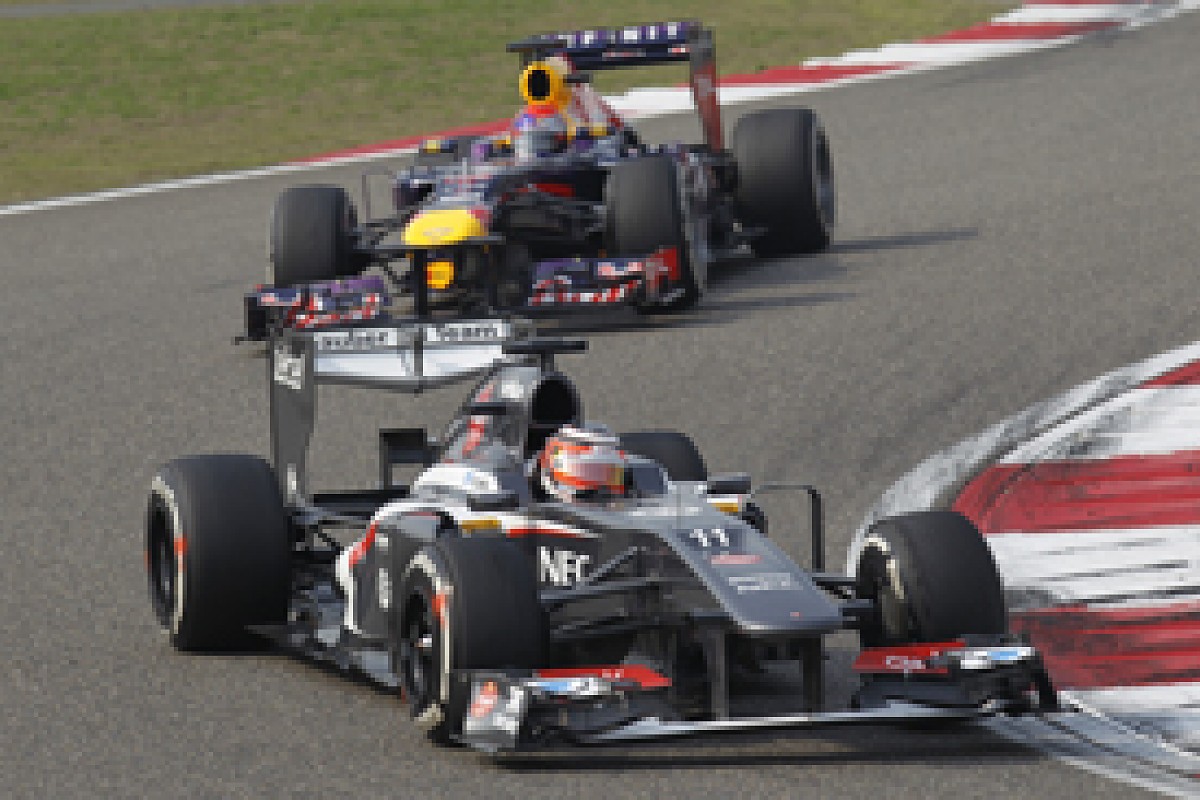 Raikkonen's Lotus sporting a mangled front end after hitting Perez © XPB
Raikkonen was unable to avoid making fairly solid contact with the McLaren's right-rear, damaging the Lotus's nose and a couple of winglet elements. "I was surprised to feel that the car was still OK," said Kimi, who finally nailed a pass on Perez later in the lap at Turn 14. Hamilton was still just ahead of him, with Alonso not far beyond that - and for a time Kimi continued to reel them in regardless of the body damage. What might he have been able to do without it?
"I'd estimate it was costing around 10 points of downforce," said the team's engineering chief Alan Permane, "and a couple of tenths per lap." Consideration was given to changing the nose at the next stop but it would have cost valuable time and track position.
Button, in the lead, still had many laps to go to get on schedule for his two-stop, and didn't need to offer Alonso any resistance as the Ferrari used DRS to pass him for the lead going into Turn 1 on lap 20.
Fernando was driving beautifully - and smartly. A few laps before, he'd passed Perez just after the DRS detection line at Turn 13, thereby giving himself the wing stall to pull himself clear down the following straight, with Perez unable to use his.
Hamilton and Raikkonen were brought in together on the 21st lap, just as they were catching Button and about to be delayed by him. This time the Lotus stop matched that of Mercedes at 2.7s, and they left the pitlane in the same order as they'd arrived, separated now by less than a second. Even with a damaged wing the Lotus was quicker than the Mercedes, but Hamilton had a wing problem of his own.
"We could see we were suffering a lack of downforce from the front wing," said team boss Ross Brawn. "The slot gaps were becoming filled with rubber being thrown up from the track. We cleaned it out as best we could at the stops, but there wasn't time to do more than that." Hamilton, meanwhile, was noting how the car was switching from understeer to neutrality and back. But he did enough to remain just out of Raikkonen's reach in this phase of the race.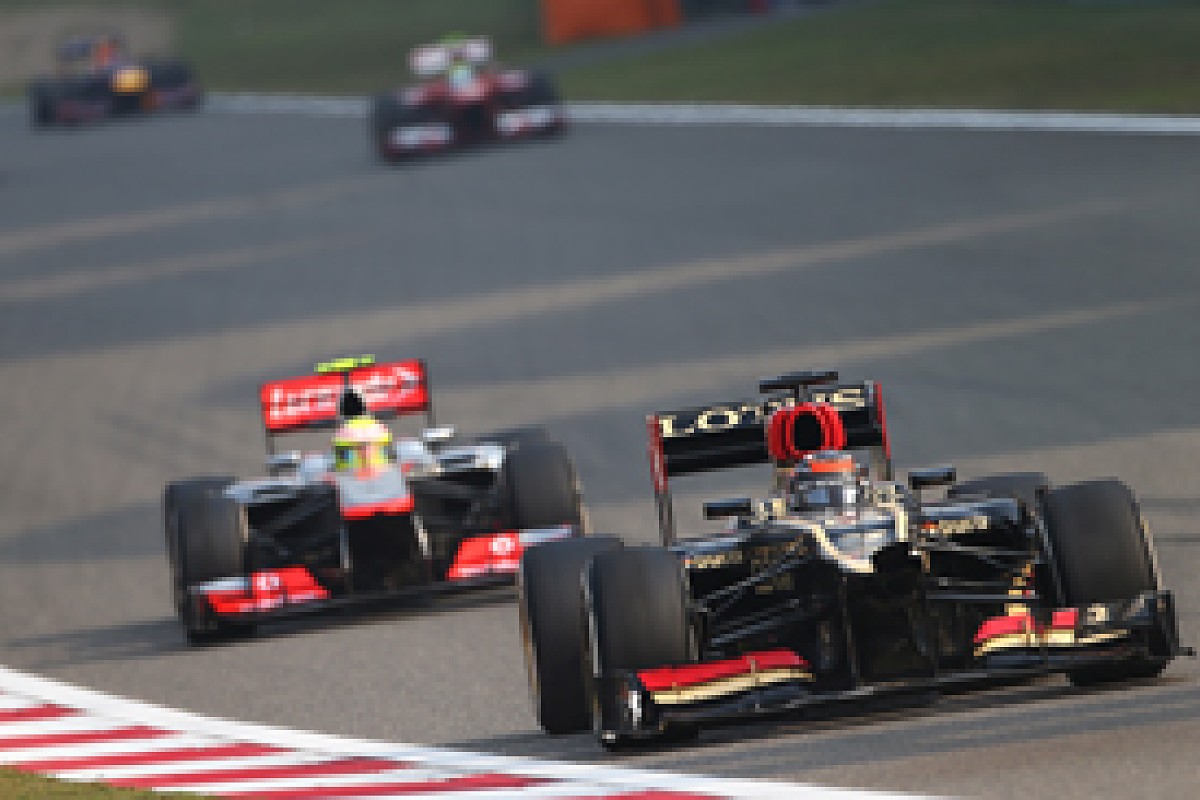 Alonso celebrates a well-judged win © XPB
Ferrari responded to the Hamilton/Raikkonen stops by bringing Alonso in from the lead for his second stop two laps later, at which point Button also pitted - for his first stop. After a relatively leisurely halt of 3.6s, Alonso got out in third place, as Vettel and Hulkenberg temporarily assumed the top two positions, about to be devoured on their old rubber by the fresh-tyred Ferrari.
Button exited fourth, just in front of Hamilton who had just passed the out-of-sequence di Resta, recovering well after his earlier Sutil-induced delay. Raikkonen made short work of the Force India too, passing with exquisite judgement around the outside on the fastest part of Turn 1 to continue his chase of Hamilton.
Alonso repeated his earlier Turn 13 trick, this time on Hulkenberg on the 26th lap, passing for second just after the DRS-detection point, then closing down fast on Vettel, on whom he performed the same stunt three laps later. Earlier that lap Hamilton had passed Button, Jenson asking his team if he was meant to fight the Mercedes and being told no. Similarly, Vettel's engineer 'Rocky' Rocquelin was imploring his man not to waste tyre life defending from Alonso. Not racing, just interfering wave patterns.
Raikkonen used his DRS to pass Button a couple of laps after Hamilton had done so. Hulkenberg, meanwhile, had dived in from his temporary third place for his second stop, Sauber fitting him with a set of softs for a short planned stint of seven laps.
As the tyre-deg pattern between Hamilton and Raikkonen again played out, the Lotus was closing the Mercedes down and by the 34th lap was less than 1s away, but unable to pass. There were still 22 laps to go and at Lotus they reckoned they could spring Kimi ahead, fully confident they could make his final set of mediums last that long and suspecting that Mercedes couldn't do the same for its man. Kimi was brought in at the end of the lap, and sure enough Merc refused to respond.
"We couldn't," admitted Brawn. "It would have left us too long on the final set and exposed us at the end." Hamilton wasn't called in until lap 37, and those three laps on old rubber with Raikkonen on fresh had got the Lotus comfortably ahead.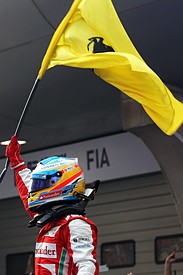 Vettel was hunted down by Alonso when their strategies crossed paths © LAT
Alonso didn't make his final stop until the 41st lap, Ferrari using the gap Alonso had built to play it safe, this a beautifully-judged performance from both driver and team. He once more emerged behind the out-of-phase Vettel but a lap later passed him again, this time around Turn 1. Seb, of course, still had another stop to make, as did Button in third, JB quickly acceding to Raikkonen and Hamilton, like passing ships in the night again.
With Raikkonen 8s adrift of Alonso, the contest had essentially been decided by this time and there was no need for Kimi to do anything other than wait for Vettel to pit out of his way - which happened on the 51st lap, five from the end. Button had made his second and final stop on lap 49 and was briefly very fast on the soft tyre, then just as abruptly their grip was spent.
But Vettel was able to keep their performance longer; he exited from his final stop 11s behind third-placed Hamilton but lapping over 3s quicker. Going into the final lap he was just 2s behind and still travelling much quicker. Up ahead: Charles Pic's Caterham - potential trouble for Lewis. He sliced past it between Turns 10 and 11 and Vettel was later than late to pass it into the beginning of the long loop of 12-13. This pulled him out wide and prevented him getting within 1s of Lewis at the DRS-detection point.
As Vettel raced down that back straight, doubtless cursing the Red Bull's lack of top speed, Alonso was taking the victory chequer. Raikkonen was 10s back and reflecting on a possible lost win. If only the clutch settings had been better off the line, Alonso wouldn't have passed, Kimi wouldn't have caught Perez at the same awkward point, wouldn't have damaged his wing, wouldn't have lost those couple of tenths per lap.
Would that have been enough to have taken on and beaten the Alonso/Ferrari combination? It's not a foregone conclusion, but it would have been close. What was clear on the day was that Alonso/Ferrari and Raikkonen/Lotus had a better blend of speed and tyre usage than anyone else - including their own team-mates and including Hamilton/Mercedes and Vettel/Red Bull, whose dice continued to the end.
Vettel stood as late as he dared on the brakes for Turn 14 as Hamilton did the same. Just ahead of them Jules Bianchi in the Marussia locked up smokily. Vettel was right with the Mercedes as they raced up to the final corner and this time it was Hamilton who locked up, determined not to be outbraked, but the rubber giving its last dregs of grip. It was enough and third place was his. Vettel later reflected on being DRS-passed by Hulkenberg on lap four, and how that had cost him.
Button took a distant fifth after a drive that was every bit as beautifully judged as Alonso's in a car that remains a long way off. On his new soft tyres he'd been able to pass the tyre-graining Massa for the place, it being all Felipe could do to hold off an overperforming Ricciardo at the end, Daniel thinking regrettably back to that damaged nose change early in the race.
Di Resta prevailed over Grosjean for eighth, the Lotus driver oddly losing rear-tyre performance. The luckless Hulkenberg was only 10th. He'd been fighting Massa when his pitlane limiter stayed on as he exited from his final stop. Then the expected pace on his final set of mediums just didn't happen. He dropped 16s in the last 14 laps: front-tyre graining, the control of which dominated performance - even if it looked like a race.