'Sono un agitatore di uomini' was Enzo Ferrari's description of himself - 'I am an agitator of men.'
It was as true when he ruled his scarlet empire with a combination of fear, self-mythologising and ruthlessness as it is today in the courtyards of the Maranello factories where his vision and legend hang heavy in the air.
There's a picture of Enzo on the wall of a large office on a corner of the Gestione Sportiva, Ferrari's sporting division, which sits a couple of hundred metres from the original factory gates.
Black and white, near life-size, it depicts Enzo in shirt sleeves and slacks, obsidian sunglasses locked in place, standing behind one of his racing cars. He is pointing, commanding... he is unquestionably in control.
It is this image that hangs at the shoulder of the man whose job it is to ensure that the commendatore's orders - Victory for the Scuderia! - are carried out to this day.
Stefano Domenicali, Ferrari team principal, offers a thin, rueful smile as he wheels back from his desk, momentarily detached from the legions of paperwork that daily advance across its surface, to contemplate the stern master he has sworn to obey.
"You can see here that he is always watching me," says Domenicali. "It is quite a severe picture over me, with the right finger pointed. And when I look at it, what does it make me think? 'R and R' - a great respect and responsibility."
He pauses to point at the similarly imposing picture hung alongside the portrait of Enzo. This second portrait is a shot of Ferrari chairman Luca di Montezemolo, celebrating a victory at Monza, circa 1975.
"So respect for what he did - don't forget that Mr Ferrari started from nothing - and then Mr Montezemolo was able to keep the flow in the right direction with a very different situation.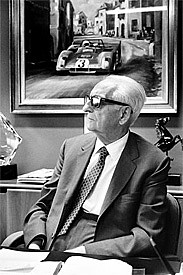 Enzo's legend hangs over Ferrari © LAT
"My responsibility now is to make sure that with my humble work I can keep feeding the value of this company. It's on a daily basis that you build something and this is really what I feel."
That Domenicali breathes this sense of duty is obvious from the urgency of his conversation. As with any team boss, his time is precious, the myriad of conflicting demands always just a meeting, a phone call, an email away.
Every sentence is spoken fast and with precision to maximise efficiency of dialogue. Early small talk about his passion for aviation (he earned his pilot's licence at 17 and an office bookcase is topped with model helicopters) is engaged with only briefly.
"I am still passionate about aeronautics. That's it. As a kid, I wanted to play basketball and I wanted to be a military pilot. I did the first but not the second," he laughs.
He also did something else: he rose through the team he joined in 1991 with a business administration degree, from finance department to team boss by 2008.
Domenicali, 47, says he never had designs on the top job - "I would never have thought to become what I am, to be honest with you" - but now, following the likes of Jean Todt, Claudio Lombardi, and Cesare Fiorio, he occupies a position that demands he carry the expectations of Italy on his shoulders.
He describes the burden as "so heavy you have to not think about it", adding: "The first moment that you do, you feel the weight of the responsibility is very high. It's enormous."
Two years ago, it almost became too much: the poor strategy call that scuppered Fernando Alonso's race in Abu Dhabi, costing him a title as Vettel charged through to win the championship, came very close to prompting Domenicali's resignation.
But he endured (unlike former head of race track engineering Chris Dyer, who was scapegoated for the blunder), absorbing the subsequent slings and arrows as a necessary part of his role.
"The most important thing you have to be able to manage is the pressure," he says. "I try to put aside all the negativity that is around, try to put it on my shoulders, try to protect the team from this, because this is the day-by-day job that unfortunately, when you are in Ferrari, you have to live with."
It's not easy to be head of a team that's a country's unofficial state religion. Even less so when, after a first constructors' success on his watch in 2008, a Ferrari driver has three times finished an extremely close second in the championship over the past five seasons (Felipe Massa in 2008, Alonso in 2010 and 2012).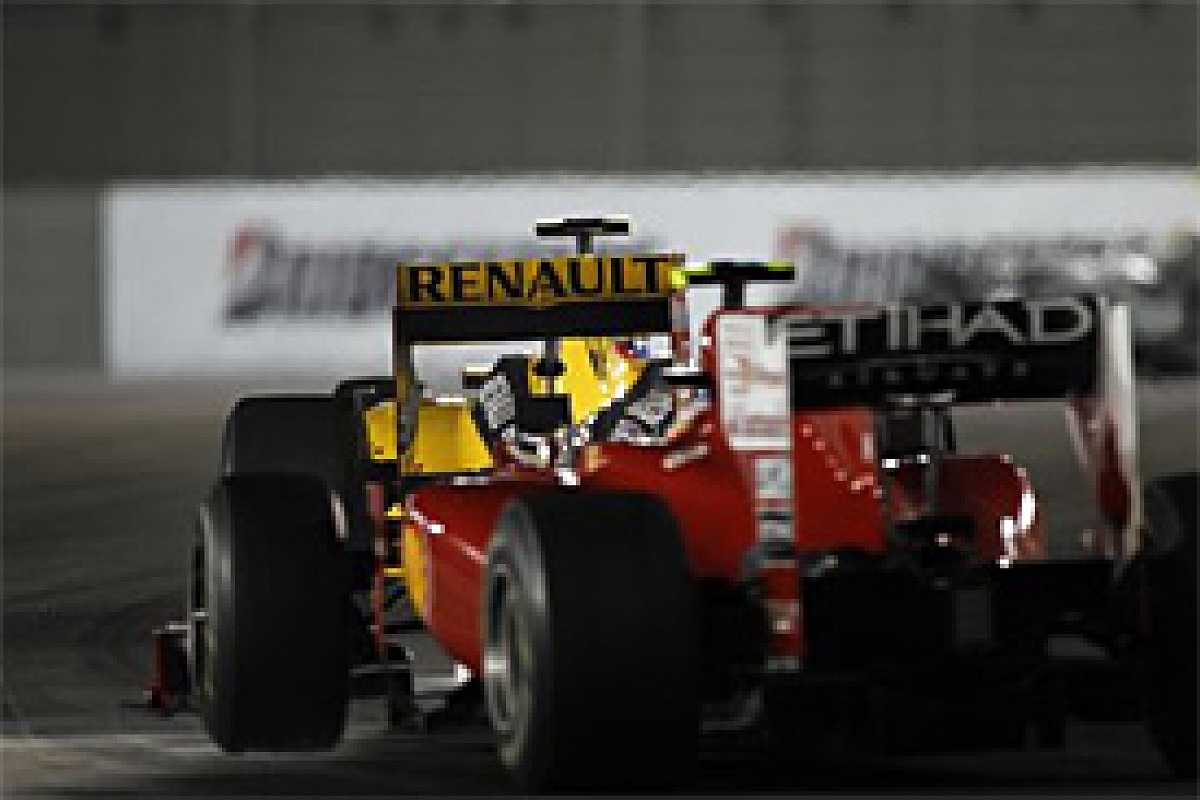 Domenicali came close to quitting after Abu Dhabi 2010 © LAT
"But," Domenicali notes, "we need to learn how to lose. Our world is not mature enough to understand that. When you do the maximum, you have to respect the fact that you may lose or win. But always with the approach that the day after, you have concentrated yourself to make sure that you improve.
"That's the right thing to do. We, as Italians, have too much emotion and there are always these kind of situations where it's 'dead or alive'. Either you are a hero or a zero. Thanks to God that's not really the way I behave or think, and I'm normally very good at trying to stay disconnected from this approach."
A pragmatist is speaking here, a man who, although imbued with the sporting essence of his team and the region in which he grew up (he was born in Imola and volunteered as a track marshal there in his teenage years), nevertheless understands that success in F1 is a complicated business, with glory or defeat separated by the narrowest of margins.
"It's not like football," he asserts, "when you change a defender or - how do you call it? - the goalkeeper and suddenly you are the best team. Here, when you make some changes in terms of methodology, or in terms of organisation, you will not see the benefit for a year or maybe more.
"In a situation like now, where the regulations are stable, to improve you have to improve everything, every little detail, otherwise you will never win."
During this conversation, Domenicali has eased himself away from his demanding desk and relaxed back into his chair, successfully tearing himself away from the incessant flow of 'READ ME NOW' emails. He becomes animated as talk turns inevitably to the 2012 season, a year of epic struggle capped by failure to win ('losing' seems too stark a measure of Alonso's and Ferrari's campaign).
Shortly after the final race, the entire team were gathered at HQ for an address by Domenicali and di Montezemolo, during which the troops were urged to regroup and refocus for another battle ahead.
Taking positives from that defeat and understanding both where and why the failure occurred has become a central tenet of Domenicali's leadership gospel.
"Because if you do not mature from your loss," he says, "you fall into the trap of having only the bad feeling of being the loser or being second. And, believe me, to be second hurts more than being fourth or fifth. Unfortunately we had a lot of experience of that, but that's the way it is."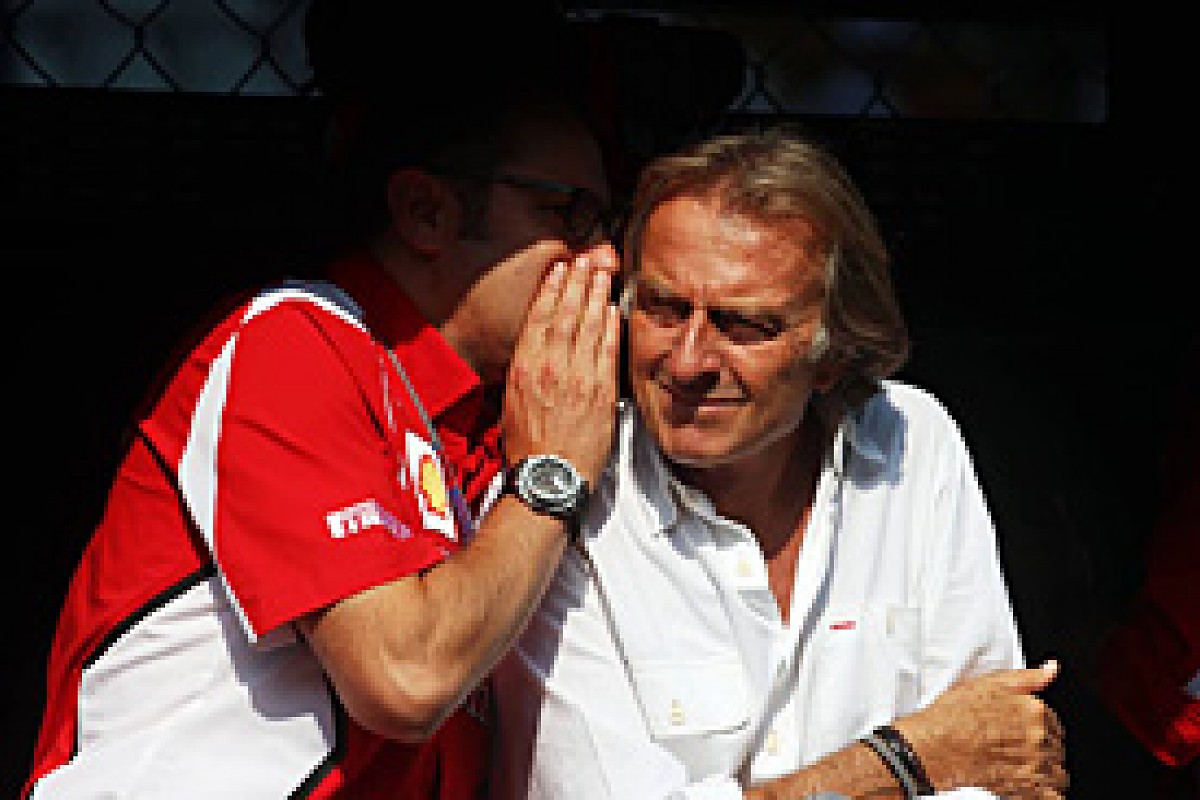 Montezemolo has always supported Domenicali © XPB
If his words appear resigned, they belie the nature of the man, for Domenicali fizzes with energy, humanity and focus. You sense he would be an excellent dinner companion, were he ever able to release himself from the pressing concerns of testing times, windtunnel numbers, contract negotiations, budget pressures, results, results, results...
His common touch is evident as he recounts telling his team "always to keep their heads up" and of being able to accept that, despite the burden of expectation, despite the legacy of history, it is not possible always to win. Not that defeat ever tastes any sweeter...
"I hate to lose the championship in the last race and I remember that unfortunately it has happened to us on several occasions since 1999. It is always tough to digest."
All the more so when, in many respects, Ferrari's 2012 challenge was standard-setting. Domenicali reckons that in "four of the five" elements needed to win a championship, Ferrari were "the best".
The performance of the F2012, however, was initially so poor that even herculean development and driving efforts were not enough to overcome the handicap.
"Remember," he says, "we started last year 1.6s behind and by July we had the best car. But it's normal that you cannot keep that gradient of development. So the objective of this year is, for sure, to try to be more competitive.
"But the season [did] not finish on Saturday in Melbourne, so I don't want to see the kind of approach, where that's the final moment of being either the loser of the championship or the winner.
"The key point of this year [is] that we need to be consistent with the results. That was the case with Fernando at the beginning of the season and, for me, that will be the principal point of the championship in 2013."
This year's F138 appears to have none of the fundamental vices that so hampered the F2012 - principally its lack of aerodynamic efficiency. That can be attributed, in part, to some intensive sessions in Toyota's Cologne windtunnel, where most of the F138's aero development has been conducted while Ferrari works to upgrade its own troublesome in-house facilities.
There is also the return to F1 action of one Rory Byrne, technical architect of Ferrari's noughties domination. The party line is that he has been drafted in to help guide development of the 2014 F1 programme, while also leading the Enzo supercar project.
A handy pair of eyes to have in-house, though, and another nod to the continuity and stability Ferrari is uniquely able to channel into its road and racing activities.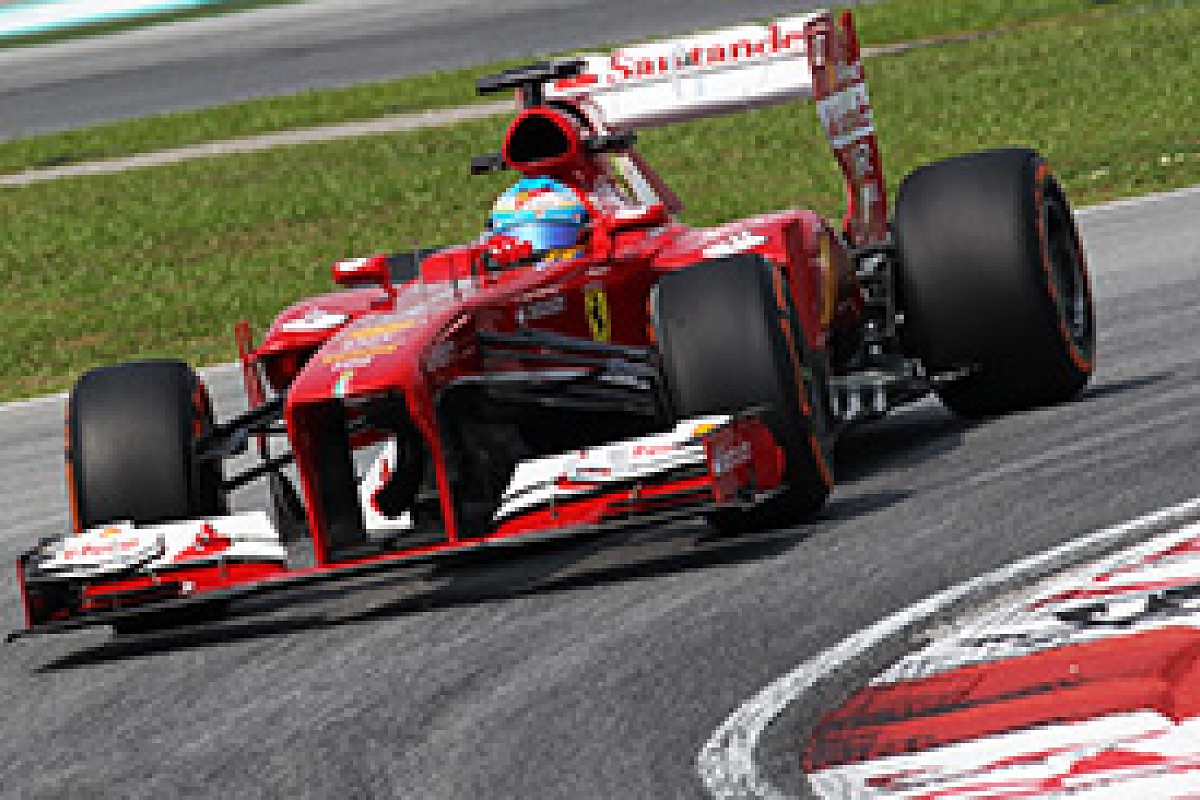 The F138 has showed promise so far © XPB
There's continuity in the cockpit, too, with Fernando Alonso confirmed until 2016 and another season for wingman Felipe Massa, now Ferrari's second longest-serving driver after Michael Schumacher.
Domenicali is in no doubt that, as regards driving strength, Ferrari is giving nothing away.
"Would it be fair to describe Alonso as your strongest attribute?" we ask.
"Yes" is the whip-crack response.
"And what's he like to work with?"
"He's a great driver. Not a lot of talk. He has a lot of trust in the team and he always relies on teamwork and from that he is able to take the maximum. So our objective is to make sure that he is able to take the maximum from a very good product, otherwise it is very difficult, for sure."
He dismisses the notion that Alonso's 2012 was so near-perfect it's not repeatable.
"Why not? he asks. "Absolutely he can do it again - maybe better. The great thing in sport is that you believe you will reach more than what you thought was possible and then you realise that you are doing better the year after.
"It's a matter of maturity. It's a matter of tools, it's a matter of the equilibrium that you reach when you're growing, so I'm positive that he's going to do a great season again. No doubt."
The suggestion that Alonso should have been at the first Jerez test, rather than prepping himself to Ironman-standard fitness levels, is similarly batted away.
Better, Domenicali reckons, for a driver to be fit in mind and body, brimming with energy, punch and self-belief, than to have notched up three days lapping a track known to produce inconclusive data.
"Don't forget," he says, "that last year was a very tense season from the emotional point of view.
"If you lose a championship you don't deserve to lose - because honestly, without two accidents at the first corner he would have been champion - then from the mental point of view you need to have the right time to recover, to be ready from the first to the end.
"There is more performance in the head of a driver than in a week in a windtunnel."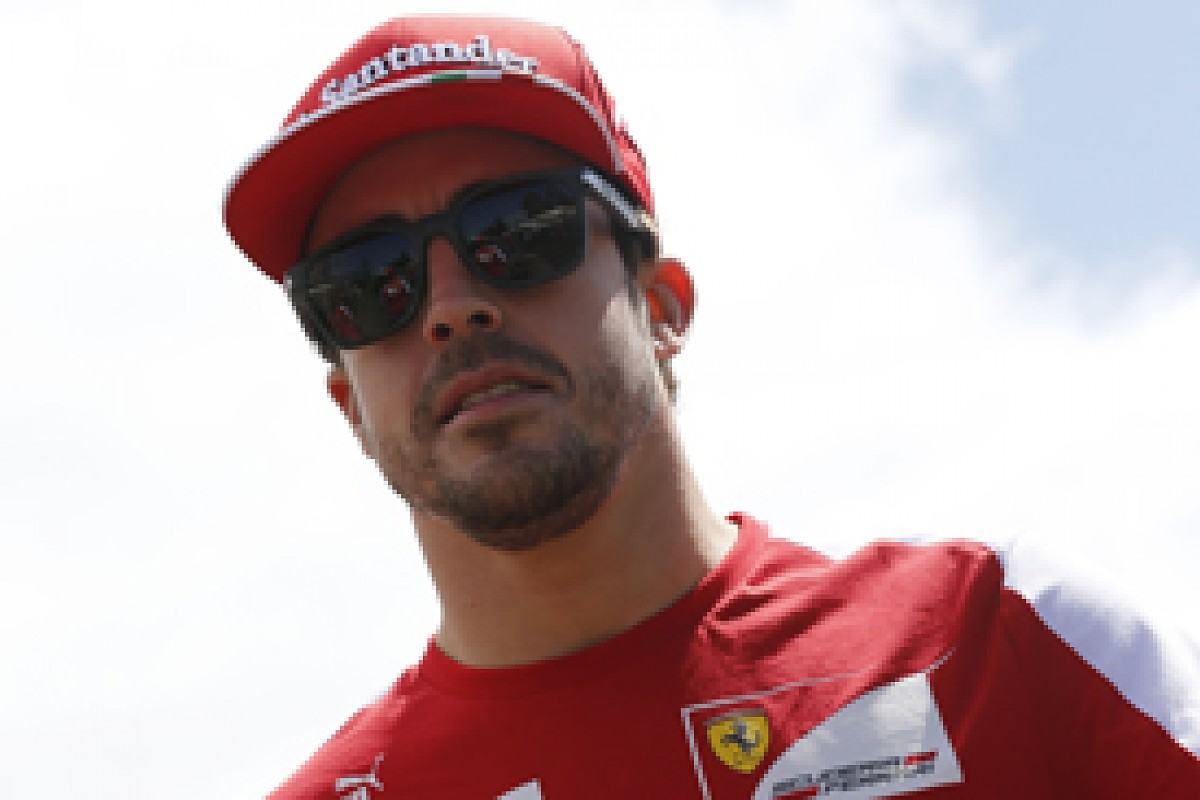 Alonso, more combative this year? © LAT
A rested, combative Alonso in a car even a whisker more competitive than last year's is surely a competitive proposition that will focus the attentions of Vettel-RBR, Button-McLaren, Lewis-Merc and Kimi-Lotus.
But what of those who also serve? From comms assistant to rookie bolter, those who endure even more punishing, bucket-class travel schedules, late nights, weekend shifts, Mondays back at the coalface straight after a race? Where is their down time?
It is, Domenicali admits, "the biggest problem. It's so intense that you don't have the time to stay home, to take the right moment of recharging, apart from the break in August. And then between Christmas and New Year there aren't really any days off.
"But this is our life and we cannot complain. There are people worse off than us."
There would be little sympathy, you suspect, from the solemn-faced agitator of men at his shoulder, were Domenicali or any of his cadre ever even to contemplate - let alone articulate - the notion that working in F1 can sometimes be quite tough.
"Yes," Domenicali reflects, "it's a big challenge that you have to take with the right approach and the right professionalism, knowing that this has to be seen as a privilege.
"I am very proud of it and I feel that responsibility in a way you could only fully understand from this chair. If you are second there is always something wrong.
"Unfortunately, this is our destiny. You cannot change that. And it may be a good thing about this job, because you know exactly what to do. Sometimes you would like to have a much more relaxed approach to the results, but you cannot.
"Full commitment and full throttle. That's what you need when you are seated here."