The last time Felipe Massa outqualified his team-mate four times in a row, the world was a very different place.
Formula 1 cars still stopped for fuel, tyres had grooves in them, Michael Schumacher was a venerated first-time retiree, Sebastian Vettel had just one grand prix win to his name and the Brazilian himself was in the thick of a world championship fight that he came within a few seconds of winning.
The year was 2008 and Massa outpaced Ferrari team-mate Kimi Raikkonen in six qualifying sessions, stretching from Germany to Singapore.
The 31-year-old is currently enjoying his most sustained, and convincing, run of form since he was first partnered with Alonso at the start of 2010. Massa might not have been able to convert his Malaysia front row start to a podium, but he now heads Alonso in the points for the first time in three years as well.
But this sequence of good performances stretches back beyond the last four weekends during which he has outpaced Alonso on Saturday. Last year's August break was the turning point.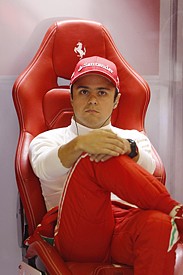 Massa looked to be on borrowed time at Ferrari last summer © LAT
Heading into the break, Massa was a dead man walking at Ferrari. The team was very seriously evaluating replacements and he knew he needed to up his game from the Belgian Grand Prix onwards, which he has done in spectacular style.
By his own admission, he is driving "10 times better" now than he was at the start of last season when he was, pound for pound, one of the most dismal performers in the field.
He has spoken several times about his psychological approach being key to his revival. Come August last year, he was at rock bottom and recognised not only his Ferrari future, but his whole Formula 1 career, hung in the balance.
After scoring a woeful 25 points before August, the situation seemed irredeemable. But with nothing left to lose, Massa was able to clear his mind and focus simply on getting the best out of himself. Like many drivers before him, simply concentrating on the job in hand and disregarding external factors yielded vastly improved results.
Not least among those mental processes was stopping worrying about Alonso. The Spaniard is, after all, a force of nature. By removing his focus on trying to match his team-mate, Massa was able to improve his own driving. In the process, he finds himself able to trouble his illustrious team-mate.
In the 10 races since last year's August break, starting at Spa and finishing in Melbourne - a significant enough sample size to be representative of a trend - Massa scored 109 compared to Alonso's 132. Considering he had to cede an advantage to his team-mate on several occasions during that run, that's impressive.
Perhaps being able to outqualify Alonso should not be such a surprise, for if you ask anyone who has worked with the two-time world champion, his raw single-lap speed is arguably one of his weaker suits (weak being very much a relative term in this case).
Not that he's slow, far from it, but what makes Alonso such a formidable all-round competitor isn't his still-impressive one-lap speed. It tells you a lot that, after qualifying behind Massa in Melbourne, it was a combination of Alonso's consistent pace on the medium compound Pirellis and ability to seize the strategic initiative that made the difference in the battle with his team-mate.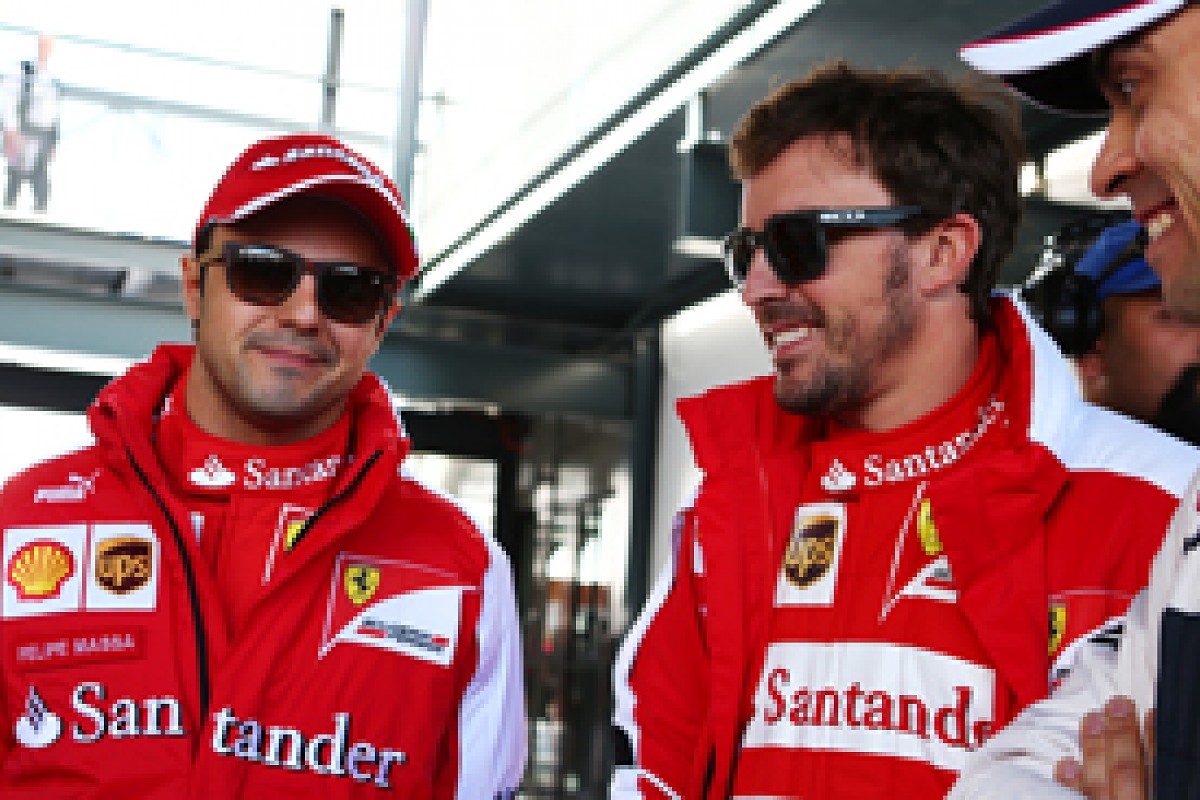 Alonso now has to keep an eye on his team-mate again © XPB
Alonso is still a better all-round driver than Massa, but the margin is now relatively narrow. At worst, Massa is now a strong number two capable of helping Ferrari to the constructors' championship. At best, he is able to give Alonso a hurry-up, which is exactly where you would expect 2008-specification Massa to be.
The next question is how Alonso reacts. Ferrari is unquestionably his team and he holds greater sway in management decisions than any other driver on the grid.
Early in his career at Maranello, he made a very forceful point about the team having to set aside Massa's aspirations to avoid compromising his own after his shot at victory in the 2010 Australian GP was ruined by being held up behind Massa. This led to a crunch meeting at Maranello where he ensured the team would give him its full backing.
However the Alonso/Massa dynamic plays out this season, the bottom line is that Massa is back. From 2010 until mid-2012 his performances ranged from the sporadically good, to the average to the well below par, but now he appears capable of ending a victory drought that stretches back to the 2008 Brazilian GP in which he came so close to the crown.
The elephant in the room is Massa's crash during qualifying for the 2009 Hungarian GP. Recovery from head injuries is an inexact science and Karl Wendlinger, the ex-Sauber driver who was in a coma for a couple of weeks after his shunt at the chicane in practice for the 1994 Monaco GP, says it took him three years to shake off the after-effects.
No two injuries are identical, but it's interesting that Massa's best run of form since the accident started three years on from that terrible day in Budapest. Perhaps only now are we seeing a fully recovered Massa.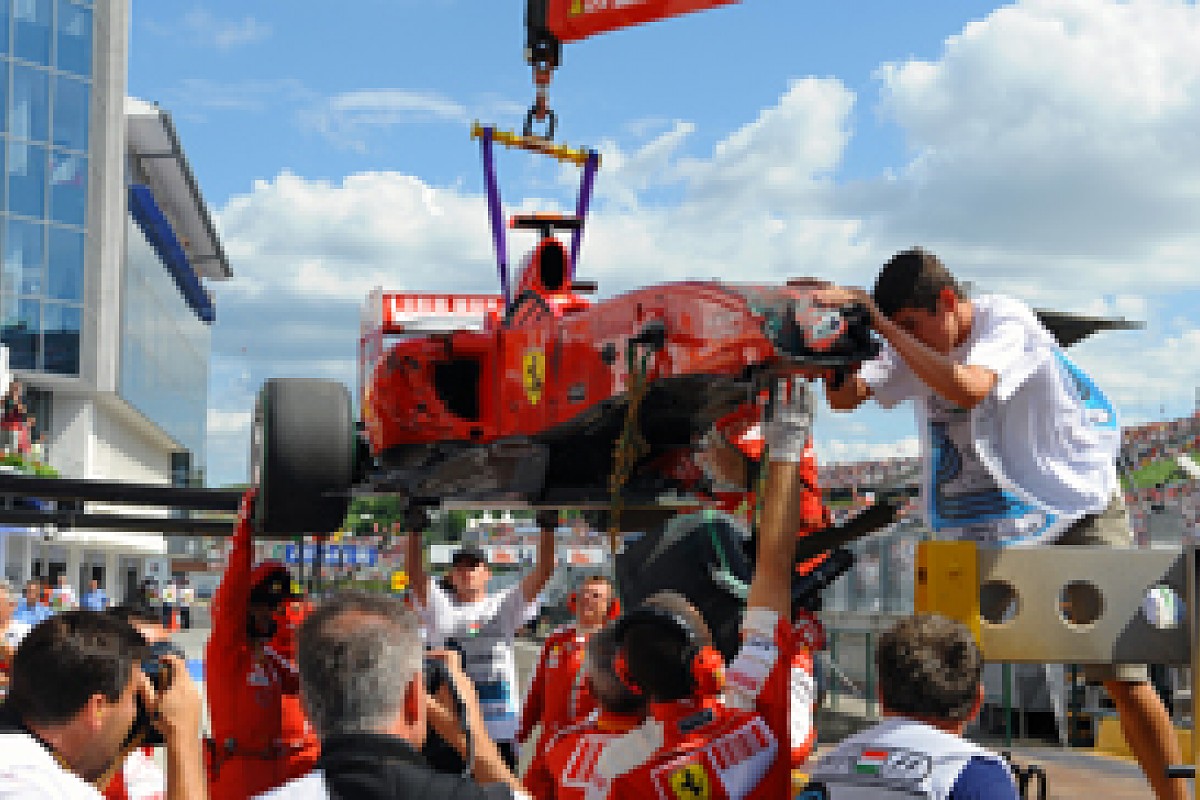 Massa's Hungary 2009 crash had long-lasting effects © LAT
Operating a grand prix car on the limit requires formidable mental processing. It can only take a tiny shortfall (one that would make no difference to the average human being) to turn a top-liner into an also-ran.
It's impossible to be sure, but there is compelling circumstantial evidence to suggest that it has taken Massa that long to find the final fraction of a per cent he needed to be back on top.
Add to that the fact that Massa has always been a confidence driver, and you have the perfect conditions for his revival.
Perhaps the process could have been accelerated had he been allowed to win the 2010 German GP rather than hand the lead over to Alonso, especially as it came a year to the day after his accident, but that weekend he was still significantly the slower of the Ferrari drivers (half-a-second down in qualifying).
In 2007/08, we saw Massa established himself as a credible title-winning force as his confidence grew and grew, culminating in his overshadowing Raikkonen and coming so close to the title.
But while even a Massa at his peak is not quite the equal of Alonso, he should be strong enough to give the Spaniard a regular headache - or become a useful ally in a championship showdown - and Ferrari a shot at the constructors' title.
As one of the most likable characters in the paddock, Massa proving that he has returned to his best form may prove to be the feel-good story of 2013.