Finally, we've got some proper dry running! The third day of Formula 1's final pre-season Barcelona test is sunny and AUTOSPORT decides to head trackside to get a look at the form of the cars as they approach their Australian Grand Prix specifications.
With us is former McLaren mechanic Marc Priestley. Not only did he rise through the ranks at the Woking squad, playing a key part in Lewis Hamilton's 2008 title-winning campaign, but he has also spent a lot of time talking to teams over the last few days, so he's the ideal man to add some insight.
Priestley is familiar with how confusing testing can be, but reckons there are ways to find out where teams are at.
"It's probably been the most unrepresentative pre-season test period for years," he says. "And you really can't read anything into the times; the teams are not just looking for lap times.
"But within the team you'll have a baseline fuel load you use year in, year out. When you have people move between teams those numbers get around so everyone gets a rough idea of where they're at and what the pecking order is."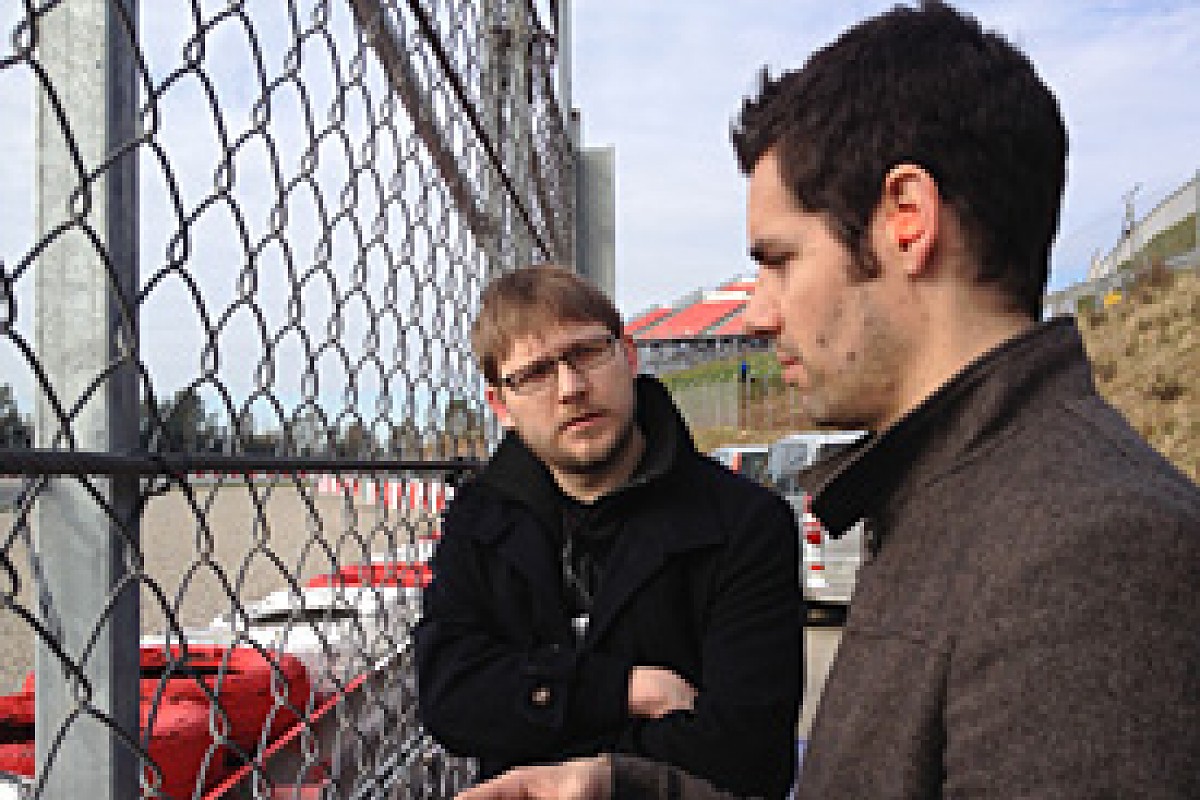 Our man Turner with Marc Priestley © Chris Bird
There is also, of course, what you can see on-track, watching how the cars behave, so we first head to the right-left-right sequence of Turns 1, 2 and 3.
"It's a good spot, with heavy braking and then change of direction," reckons Priestley. "You're looking for one smooth movement of the wheel. Anything more and you are losing time."
We're also pretty close to the exit of Turn 5 and the entry to the left-right of Turn 7/8, so we should see something useful.
Mercedes
After some installation laps from several cars, Lewis Hamilton's Mercedes and the McLaren of Sergio Perez start a run. We're expecting some qualifying simulations, so we should see the 2013 cars at their current best.
Marc is immediately impressed by the Mercedes F1 W04. "The Mercedes looks a bit better through here than the McLaren, a bit more planted, with a slightly better change of direction," he says.
"It's probably worth noting that Perez is using the kerb a lot more than Lewis, who looks a bit more controlled.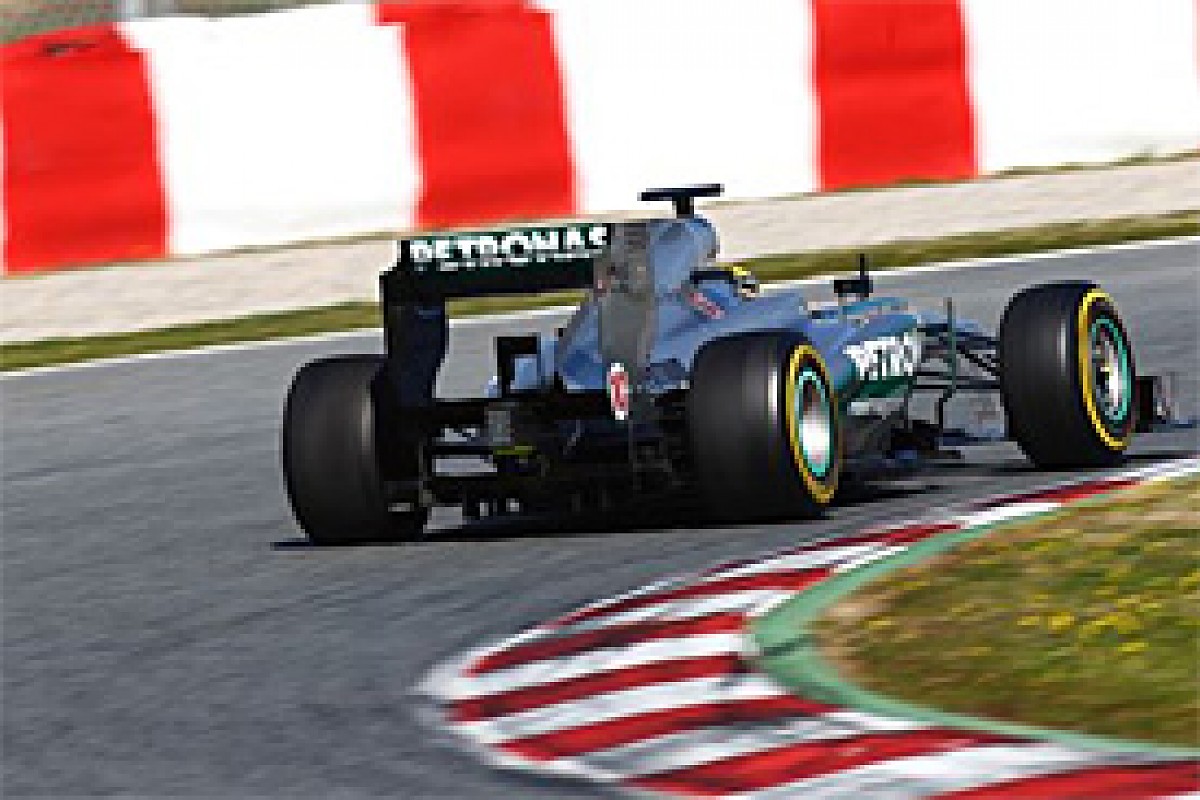 Mercedes is looking good, according to Priestley © LAT
"The Mercedes also looks a bit softer in terms of roll; it squats down on the right rear. If the car's a little bit oversteery, giving it a little more roll can help. But it's a trade-off because you don't want so much it throws the weight around."
Hamilton is then too hot into Turn 1 and runs wide. Later, he also has a moment at the Turn 7 left-hander, briefly losing the rear end.
Next time through he's still on it and again looks impressive. "It's got really good change of direction," adds Priestley.
"I think there's a bit of a feeling Mercedes is playing things down massively. From what I've seen they're coming on quite nicely."
McLaren
Perez never looks quite so comfortable and Priestley believes McLaren is still not on top of the MP4-28, despite Jenson Button's apparent pace during the pre-season.
"I think the team is struggling to understand why it can put together a lap time," he says. "You need to know why and I don't think it does yet.
"McLaren is also struggling to make set-up changes at the front, particularly with the new pull-rod suspension. Jenson's been saying there is too much downtime between runs."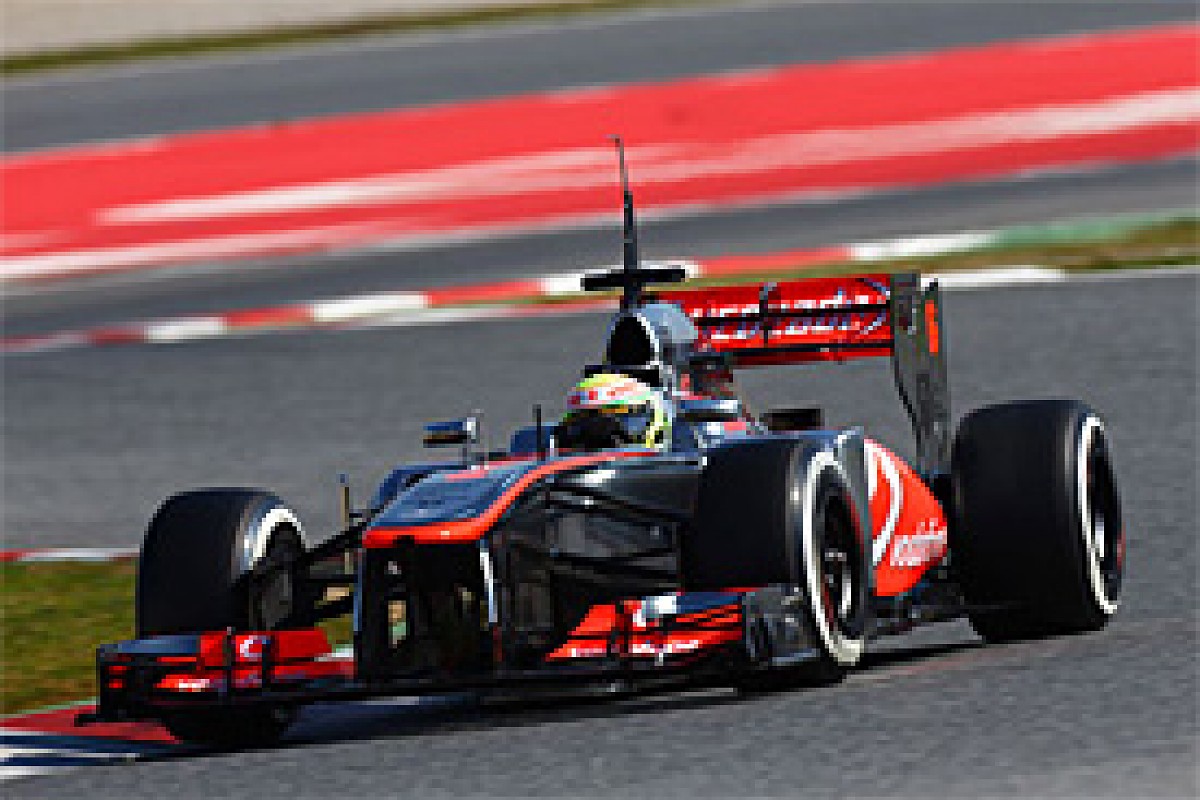 McLaren still doesn't understand its car © LAT
The one positive for McLaren is that its radical approach to its 2013 machine could give it more development potential than its main rivals, who have produced more evolutionary cars.
"It will have a lot more scope to develop the car in theory," agrees Priestley.
"McLaren is very good at developing a car and I do expect it to be able to steal a march at some point in the year, assuming it can get its head around the pull-rod - that's a brave move."
Red Bull
Priestley worked with Adrian Newey at McLaren and is keen to see his latest creation, the RB9. We have to wait a while and even then the focus seems to be on aero runs and gathering info rather than gunning for a fast time.
Mark Webber heads out and, unlike the day before, Red Bull is not running its passive DRS.
A little later, Webber comes out on mediums. "That looks really good," says Marc. "It looks smooth and fast."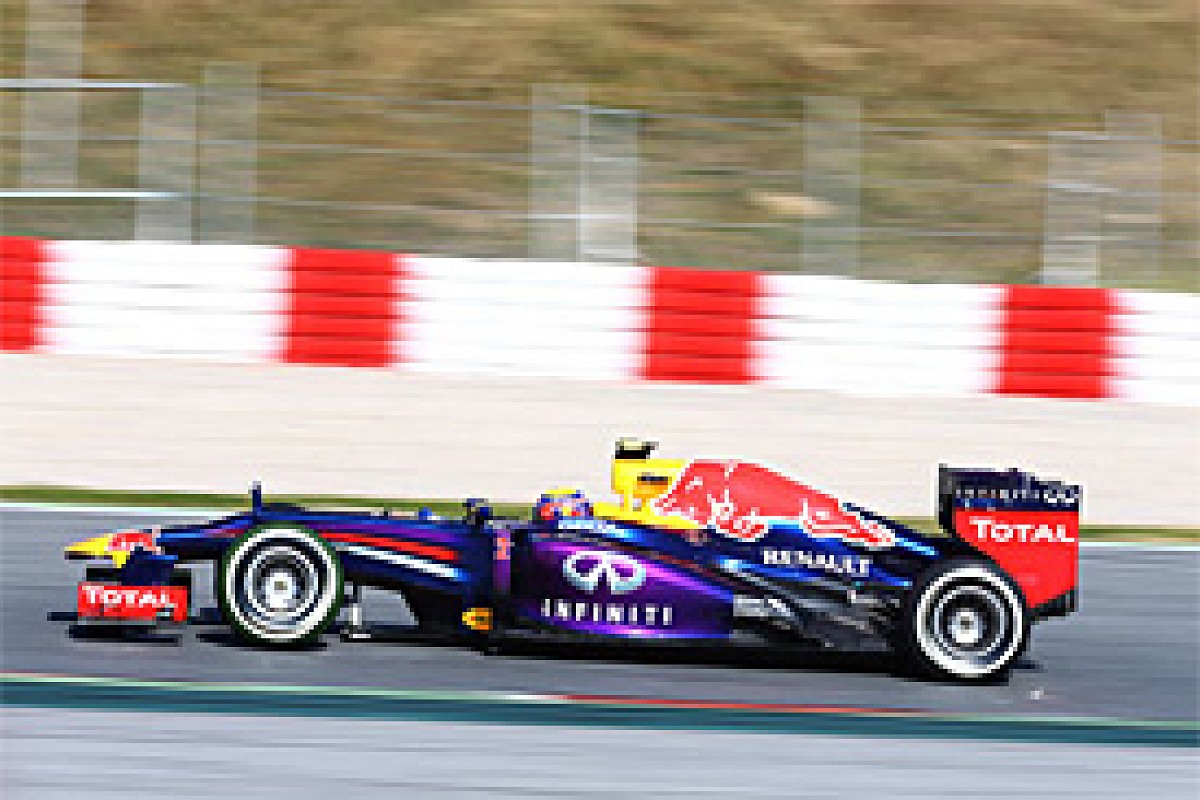 Priestley reckons Red Bull will be quick again © LAT
On his first flying lap, Webber goes third fastest and it doesn't look like a huge effort. The entry speed is high and there is good traction. A typical Newey Red Bull then, even if the team has yet to reveal the full extent of the car's pace.
"I don't believe there's such a thing as sandbagging in F1," reckons Priestley.
"But it may be that Red Bull's baseline fuel load is quite high. It may not be to throw people off, it just may be its programme.
"There's a little concern in the paddock that Red Bull is very quick again."
Ferrari and Lotus
"Lotus had a very good car last year and the team seems quite happy with the E21," says Priestley. "I'm quite keen to see Kimi Raikkonen in it in the dry."
Unfortunately, we won't see that today. Kimi is unwell and replacement driver Davide Valsecchi doesn't do a proper run while we're out.
There's been talk that the recent FIA ruling, which stopped Renault changing its engine mapping for 2013, could hurt Lotus, but Priestley disagrees: "The team says it won't hurt and I don't think it will make much difference."
Many tip the Lotus as a contender, but we simply haven't seen its best during this session.
It's a similar story with Ferrari. Felipe Massa takes the F138 out on hard tyres and locks up into Turn 1. In fairness, he is still trying to get heat into the rubber, but even later in the run it still seems to lack front-end bite.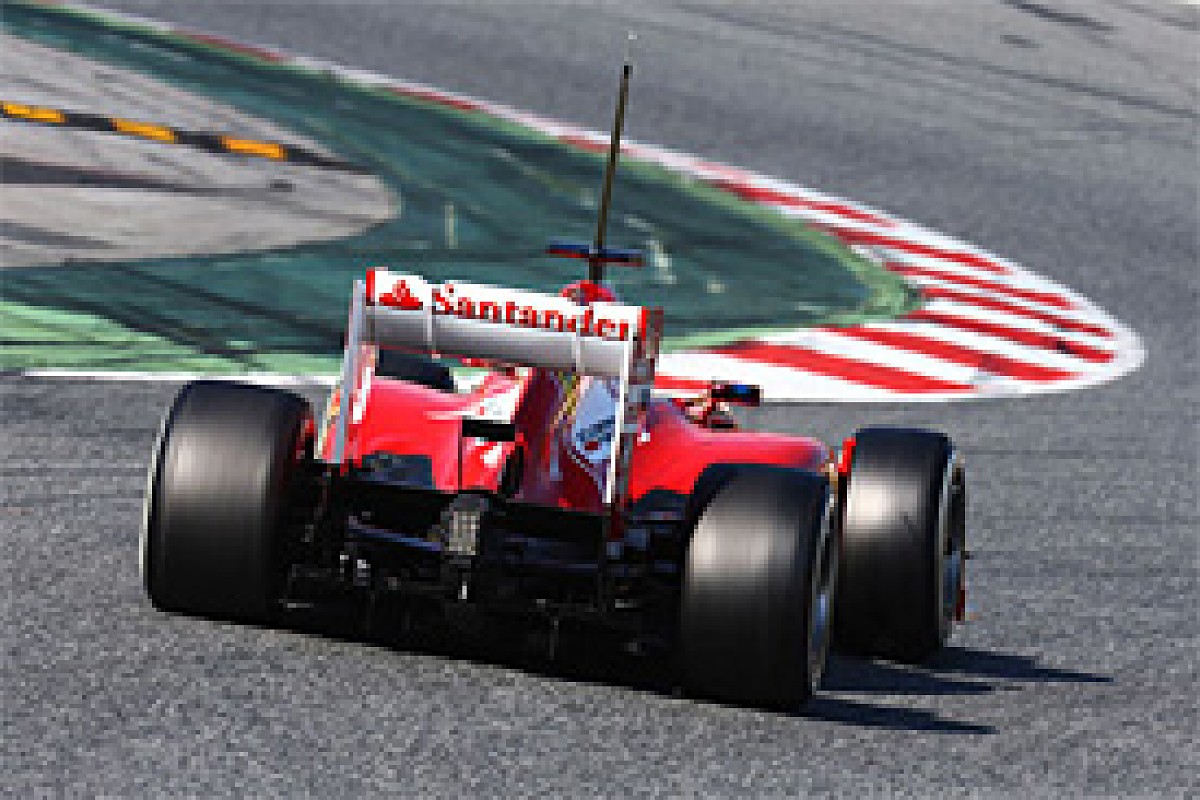 Massa's Ferrari lacked front-end bite © LAT
"The low temperatures aren't great for any of the tyres, but Pirelli's Paul Hembery said the mediums will probably be the most representative," says Priestley.
"I don't think you can overplay the role of track temperature. It'll still be a case of getting the tyres in their working window; the difference this year is just that teams know how bad it can be if you don't do that!"
After AUTOSPORT has to return to the paddock, Massa goes out on the soft tyre and ends up third fastest, albeit over a second behind Hamilton's Mercedes.
The midfield battle
The tight midfield often provides some of the closest fights in F1 and, if last year is anything to go by, a race winner could emerge from it too.
Sauber's new recruit Esteban Gutierrez is one of the first out on day three.
Initially he has lots of understeer at the first corner, but the young Mexican is one of the best to watch as he tries to find the limit of the C32. He uses more kerb than most exiting Turn 5 and looks quick.
"I think that's got good potential, especially with Nico Hulkenberg," says Marc. "I have high hopes for him this year, he's a very switched-on guy.
"The car has got some nice things on it, like the sidepod shape. Sauber is not afraid to try something new, which can be quite unusual for a midfield team."
Adrian Sutil's Force India is another to leave his best until after we've gone, but later bangs in a time good enough for second, underlining how close the midfield teams may get to the big guns in the right circumstances this season.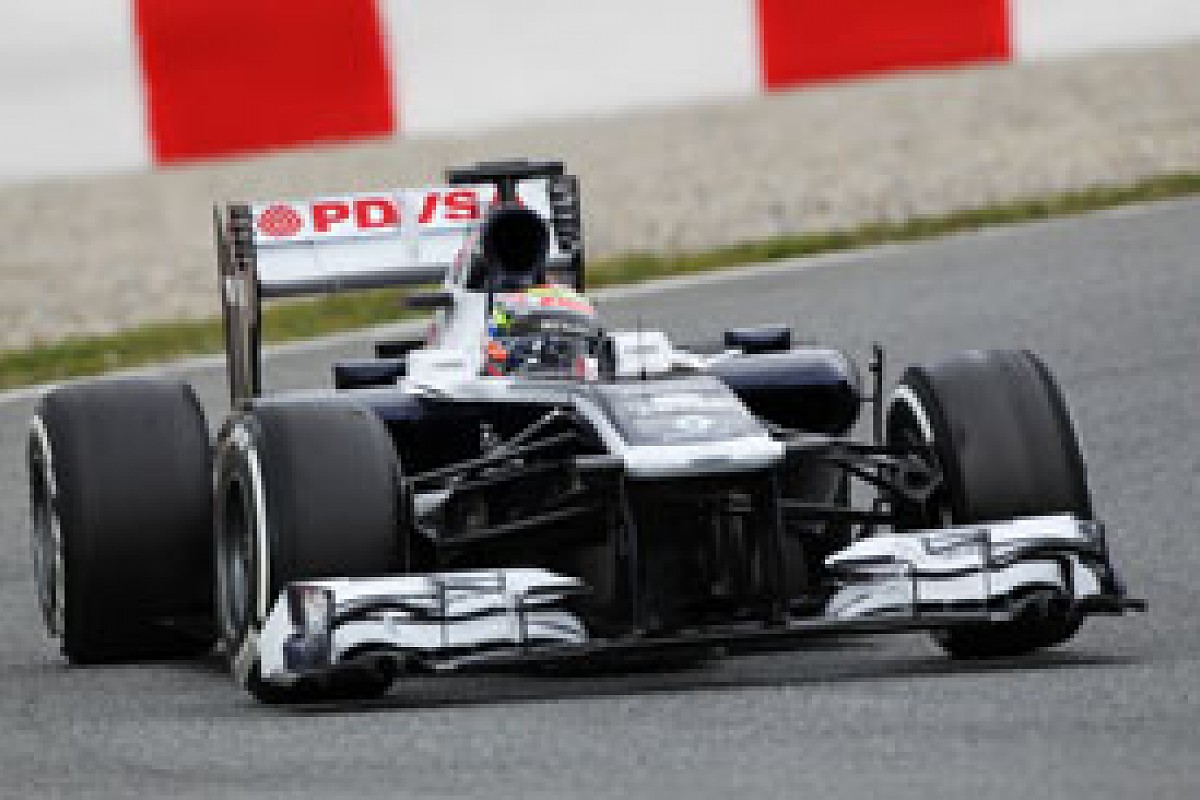 Williams is looking good © XPB
Williams managed that last year at this very circuit, although today is going less well. The late arrival of new parts delays Pastor Maldonado's running, but Priestley believes the Grove team is looking strong after its breakthrough 2012.
"I was down there yesterday and they're really positive," he says. "I don't think they're going to set the world alight, but they're looking good. The team believes it has made a step with the FW35."
Toro Rosso is the final squad aiming for that coveted top six slot in the constructors' table. The STR8 has looked pretty good in slippery conditions and Jean-Eric Vergne was upbeat about the new upgrades on day one of the test, but a question mark remains over its dry pace.
Vergne arrives at Turn 1 locked-up, with smoke coming off the front tyres, and the car lacks grip compared to the Mercedes that is circulating at the same time.
"When you look at the Toro Rosso he's not coming anywhere near the white line [on the exit of the Turn 2 left-hander]," observes Priestley. "The quicker cars with more momentum will get thrown out to the line."
Caterham vs Marussia
With the loss of HRT, the battle of the newest teams in F1 is now between just Caterham and Marussia.
Caterham has traditionally had the edge on speed, but the CT03 looks a handful as Giedo van der Garde starts pushing. It can't seem to carry the speed into the corners and also has trouble putting the power down.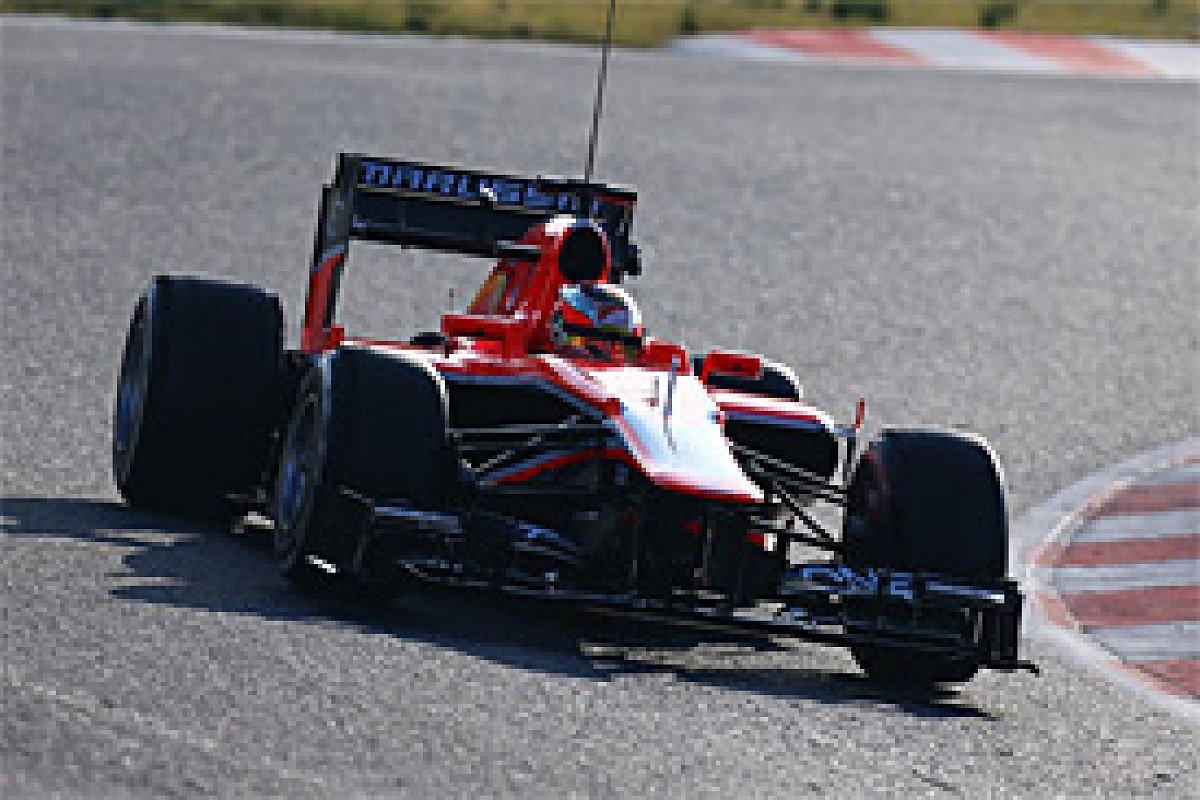 Priestley thinks Marussia looks better than Caterham © LAT
"Caterham seems to be struggling and they've apparently not got any major upgrades coming until the European season, so it's only going to get worse," says Priestley.
Though not super-quick, the Marussia MR02 looks solid as new signing Jules Bianchi gets his first run in the car.
"Marussia has a tech link-up with McLaren and it's started to pay dividends," adds Priestley. "It also has KERS, which gives you a big chunk of performance. It cost them dearly last year not having KERS."
Summary
From what we've seen, the Mercedes looks impressive, an observation backed up by the fact Hamilton is comfortably on top of the timing screens when AUTOSPORT returns to the paddock.
Red Bull's RB9 could reveal itself as the best car of 2013 when things get even more serious, while McLaren, Ferrari and, in particular, Lotus have shown promise too, but weren't at their best while we were trackside.
Overall, Priestley believes things should be tight. "I imagine it'll be relatively close because not a lot has changed and the midfield and smaller teams have been able to copy ideas," he says.
"Tomorrow will hopefully tell us quite a bit. There will still be vans and trucks turning up at the track with parts tonight.
"Tomorrow afternoon will be really interesting, but temperature changes cars so much we could get to Melbourne and it be totally different!"