Today was perhaps the first true glimpse of the 2013 competitive order - at least if you subscribe to the idea that Jerez, with its low temperatures, aggressive surfaces and lack of race data, is more preamble than earnest examination.
Barcelona has earned its reputation as a great test track, but it's also an excellent place to start forming a picture of how this year's contenders measure up using the naked eye rather than stopwatches and timing screens.
A shortened afternoon meant a full lap wasn't possible, but watching at the heavy-braking Turn 1, the long sweep of Turn 3 and the tricky final chicane provided ample opportunity to see the cars in low, medium and high speed modes.
First up was the opening sequence of Elf, Renault and the demanding right of Turn 3, and an intriguing contrast between Fernando Alonso's Ferrari and Sergio Perez's McLaren. The latter had started out ahead on track, but was clearly trying to nurse the MP4-28 around the Catalan circuit, shifting early, moderating revs and holding a far tighter, and more conservative, line through Turn 3.
Initially Alonso - like Perez shod on the hard compound - closed rapidly, his Ferrari nimble and planted, handling the rapid direction changes with ease. By lap three however Alonso too was already having to compensate for tyre wear. Where it had been glued to the asphalt the front of the F138 suddenly squirmed entering Turn 3, and the brief understeer-oversteer transition forced him into a much wider, momentum-shaving line.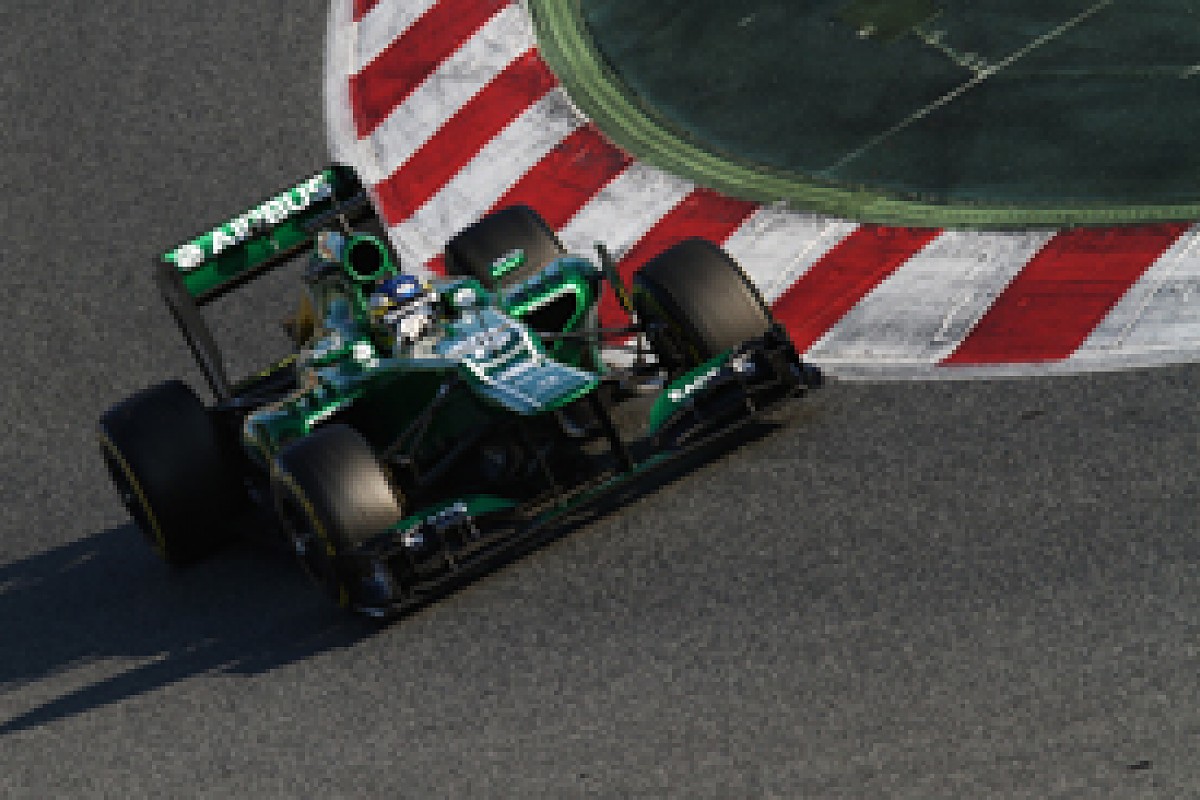 Top cars with worn tyres looked like a Caterham at its best... © XPB
Alonso came round five more times, but on each pass the F138 became a markedly more difficult beast. The same was true of Perez - after eight laps (he managed 16 in total) he was suddenly shifting just after entering Turn 3 and holding to the inside kerb, unable to lean on the tyres. It was, in effect, the exact pattern Charles Pic was having to use at all times to wrest the far more ungainly Caterham through Barcelona's opening split.
Next up came Lotus, Mercedes and Red Bull, although this time Kimi Raikkonen, Lewis Hamilton and Sebastian Vettel were using the medium compound. As a result all three looked far more supreme on their first pass, although there were still small differences - the RB9's rear refusing to even think about sliding, the E21 more lively, if no less quick.
By lap three however all three were leaning on their cars less; by lap five, almost in mirror fashion, all five had warnings that grip was fading rapidly. For Vettel it came via oversteer midway through Turn 3 that pushed him wide; for Raikkonen, a wobble of understeer on the approach. Hamilton meanwhile was having to moderate his throttle throughout the first half of the sweeping right.
Five laps was as far as Raikkonen got, but Hamilton and Vettel stayed out for another five each and their drop-offs continued to worsen, with Vettel constantly having to run wide and shave off speed through Turn 3.
Perez at this stage was on lap 16 and having to contend with severe understeer and oversteer, prompting him to change up at the earliest opportunity in an effort to assuage the issues. A fresh-rubbered Nico Hulkenberg could simply breeze past all three.
Campsa was our next destination, but as we arrived the red flags flew for Vettel. Time short, we decided to cut our losses and move to the final chicane for the final half hour of the day.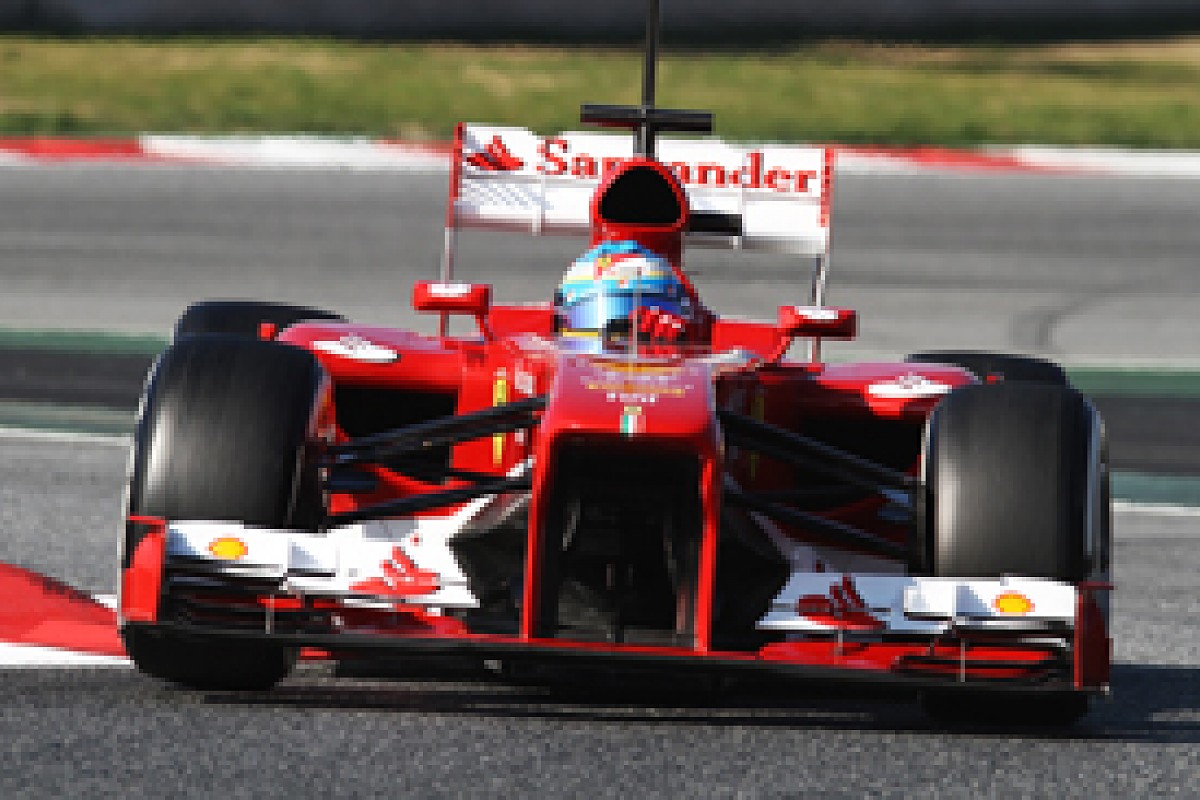 Alonso through the final chicane © XPB
The Ferrari in particular looked nimble, with Alonso able to flick the F138 with ease through the left-right sequence, taking a good pinch of kerb on both entry and exit. Even in the low-speed section however the effect of degradation was evident. By lap six he was having to moderate his line, and by lap eight (of a hard tyre run) he was opting to almost straightline the two points rather than flick the car one way and then the other.
Raikkonen had taken that approach from the start, and even after six laps the Lotus looked lithe and supple throughout. So too did Perez's McLaren, which was very comfortable over the kerbs - something that hasn't always been true of the team's recent, and very stiffly-run, machines.
Two cars really struggling were the Williams and the Caterham. Valtteri Bottas was having to wrest the FW35 into both turns and be far more progressive on the power at the exit, although significantly he seemed happier the deeper he went into a six lap run, which perhaps hints at a heavy starting fuel load. There was no such improvement for the Caterham, which even at low speed suffered understeer in both corners and an ungainly weight transfer between.
But what was the bottom line? In truth, the severe drop-off of this year's Pirellis disguised the picture somewhat, with even the best cars looking a handful after a couple of laps.
Alonso, Perez, Hamilton and Vettel all completed runs of more than eight laps, with gradual - and crucially controllable - drop-off throughout. The Mercedes perhaps looked the worst of the four in the chicane, but through the first sector there was little to choose.
As for the rest, it's hardly groundbreaking but Toro Rosso and Sauber looked well matched; Williams and Marussia were running programmes that disguised their pace; and Caterham looked a difficult beast.
Testing is typically best viewed as a phoney war, but with genuine uncertainty over the 2013 tyres, the picture looks even more complicated - and all with just over three weeks until Melbourne and the start of the season.