For the second time in his life, Michael Schumacher is coming to terms with the fact that he will never race a Formula 1 car again.
In the immediate aftermath of the sport's longest season, it's probably quite nice for him not to have to make sure he's at his peak throughout the winter, or worry about progress updates on the car he'll be racing next year.
But, as proved by his comeback following his first retirement, cutting loose from F1 for good is not something that will come easily. And Schumacher - who just as he did before has already taken to the track on a Superbike - is by no means alone in that struggle.
Schumacher's old foe Damon Hill knows all about the challenges of retirement - from the furore that surrounds a world champion when the rumour mill suggests he's stopping, to adjusting to life when you become an outsider looking in.
And as the seven-time world champion prepares for take two of life among the 'pipe-and-slippers' brigade, Hill can sympathise with drivers who find it so hard to let go.
"A lot of these guys have never done anything else in their lives," says Hill. "Michael certainly hasn't. And it takes a while to adjust to how you engage with the world as an ex-racing driver.
"That is a process that doesn't happen immediately. There have been very few people who have successfully come out of a professional sport and gone smoothly into the next thing in their life. It's quite odd.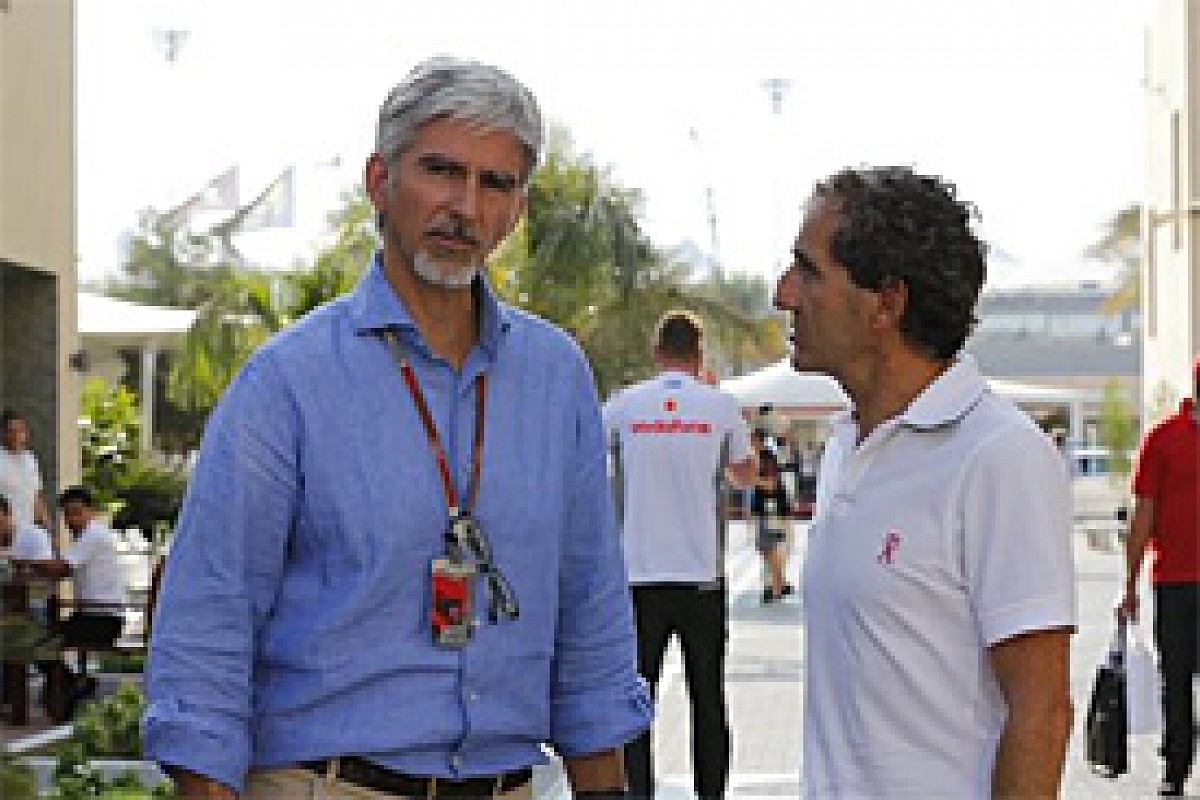 Damon Hill and Alain Prost, retired F1 champions © LAT
"I've got over not being a racing driver. There is a period where you tell yourself you're not a driver anymore, but you watch the cars go out on track without you and you think, 'What the hell am I going to do now?'
"In some ways, going to races now is more enjoyable than it ever felt when I was a driver. Before, I was in my thick funk or whatever it was in my head. You could see all these people around you enjoying themselves and you couldn't - but now I can."
On both occasions, Schumacher's retirement has looked a little bit forced. In 2006 he was effectively presented with the choice of taking on Kimi Raikkonen at Ferrari or walking away, and this time around Mercedes eventually grew so tired of his indecision that it grabbed Lewis Hamilton while he was still on the market.
Hill believes a driver knows when the time is right to stop, so perhaps Schumacher's indecision over the matter shows that he wasn't ready to call it a day. But the 1996 world champion points out that it should not come as a surprise to see drivers make a mess of bowing out.
"It can get a bit complicated and tetchy at times," he says. "Stopping is not something you do all the time - you usually plan how to get a drive and to always move up. You don't generally plan to get out! But my advice to anyone would be to plan your exit well ahead, because it can get a little bit confusing."
'Confusing' certainly sums up Hill's retirement in 1999. With things not going well in his second year at Jordan, there was speculation that the Briton would walk away mid-season. He stuck around until the end of the year, but finished the campaign with just four points finishes to his name, while team-mate Heinz-Harald Frentzen was an outsider in the title fight.
On the subject of his own retirement, Hill isn't prepared to give much away.
"Perhaps one day I will write a book and explain it all in great detail," he says. "There was a lot of conjecture about things and quite a lot of it was an exaggeration. But everything worked out in the end, so it was good."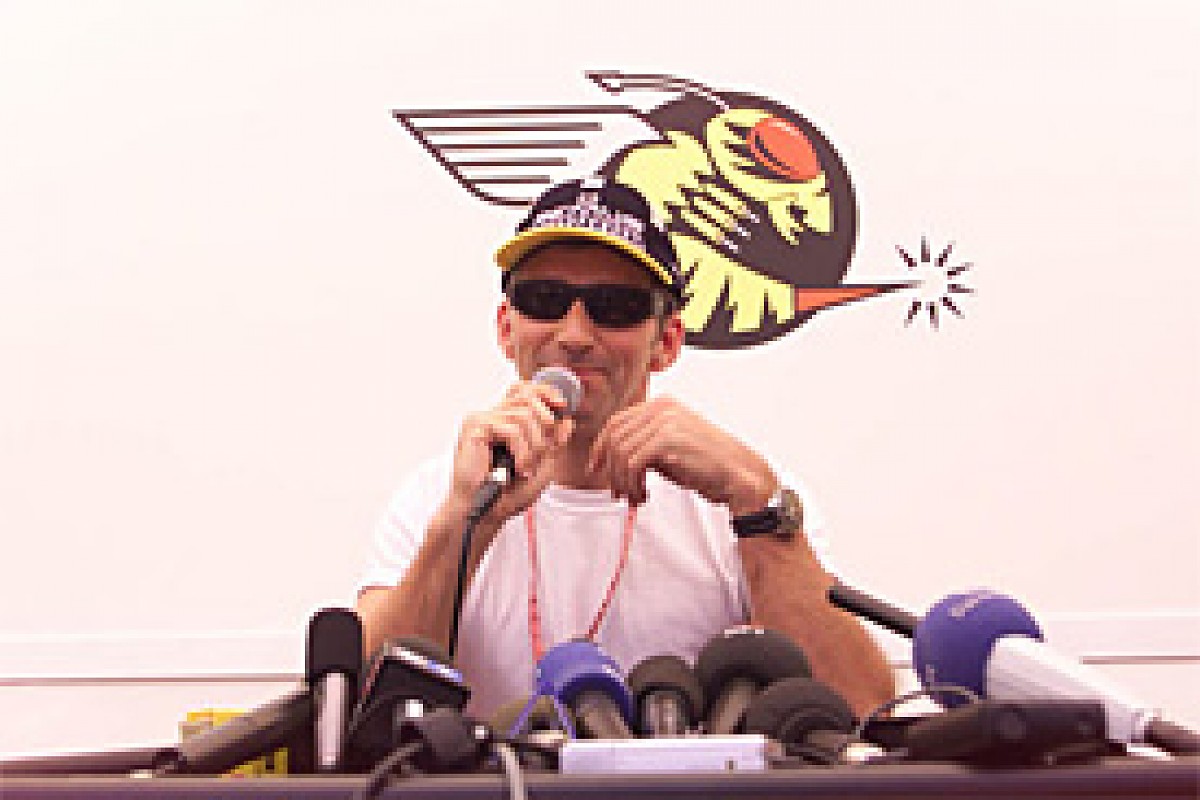 Hill announcing his retirement in 1999 © LAT
That wasn't the first time Hill had retirement on his mind. He admits that in the wake of his surprise departure from Williams - as world champion - at the end of 1996, he had considered his future. In the end, a determination to work his way back into an Adrian Newey-designed car one day (at McLaren) was his motivation for taking a drive at Arrows to keep him on the grid in '97.
"I did consider stopping," he says. "I thought if I win the world championship and I can't get a decent drive for the following season, then is there any point?
"But I thought there was still an opportunity for one more go at it with Adrian going to McLaren [from Williams], so I wanted to see if I could get into a position to have another go in one of his cars. But it wasn't to be, and I didn't do too badly with Arrows and Jordan anyway."
Hill took the decision to turn his back on motorsport following the end of his F1 career. F1 had worn him down, and he needed to get away.
"Motivation becomes an issue," he says of his final days in F1. "There are other things in life - things you can't imagine when you're in your twenties. But once you get to 35-36, other things start to become interesting.
"Now, I can look back on my career with rose-tinted glasses. You forget all the stress, all of the interviews, the searching questions, the constant photographs, everything you do... When you pick your nose you're having your picture taken.
"I remember coming here [Barcelona, the location of our interview] for testing. I was eating my lunch and there was this bloke taking pictures of me the whole time. I was thinking, 'Look, I'm not a monkey in a zoo.' It gets too much after a bit.
"Being an F1 driver is the best job in the world, obviously, but sometimes the baggage that comes with it is quite intense. And you forget all those things.
"I used to spend the whole winter in Spain testing F1 cars, and I used to complain! I used to say, 'Oh God, not another race run' but actually I really enjoyed it. You forget that when you're doing it.
"When you stop racing you can peter out, or you can go cold turkey and never go to a racetrack again. I did that for a while, and it was fun. It was different."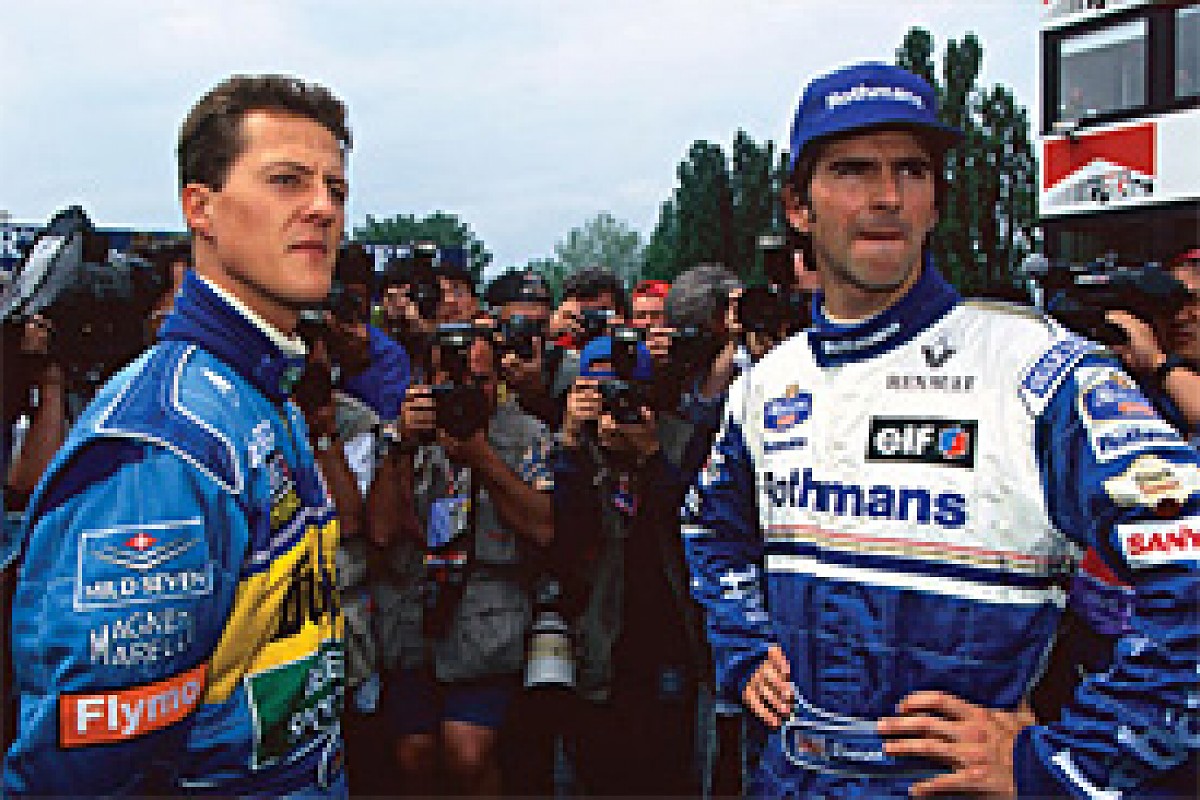 Schumacher and Hill, rivals in the 1990s © LAT
And with not a hint of sour grapes (before Schumacher fans suspect otherwise), Hill concedes that the dominant Schumacher/Ferrari era that followed his departure from the sport made it easier to keep his distance.
"I didn't watch for a bit," he says. "Michael was winning a lot in that period, and the racing was suffering. It was definitely not good for the sport."
Hill is always cautious when it comes to passing comment on his former nemesis, and that's understandable. So he goes to great lengths to qualify that his feelings on the state of the sport at the turn of the century are not down to the fact that it was Schumacher winning, but simply because anyone dominating was a turnoff.
"There will always be Michael Schumacher fans who think he is absolutely wonderful and no other winner is of interest," he says. "But it's not right when just one guy wins all the time.
"The sport has done well to get to the level of competitiveness we have now, because at one time it wasn't really a competition and that was damaging to F1.
"I think I was quietly frustrated by it. Clearly I had a relationship with the sport, it had been important to me, and if it's not sending out the right signals to the world then it's hurtful."
But as Hill alluded to earlier, motorsport is a very hard world to get away from forever. In between two stints as a television pundit (the second of which started in 2012 with Sky Sports), he was also president of the BRDC at Silverstone and is also back on the junior-racing ladder with son Josh, who finished third in the competitive Formula Renault NEC Championship in 2012.
"I'm absolutely 100 per cent committed to giving Josh the best opportunity that I can," he says, "providing he does his bit.
"He's got to produce results, because this is very time consuming, it's high-risk and there's a lot of money involved."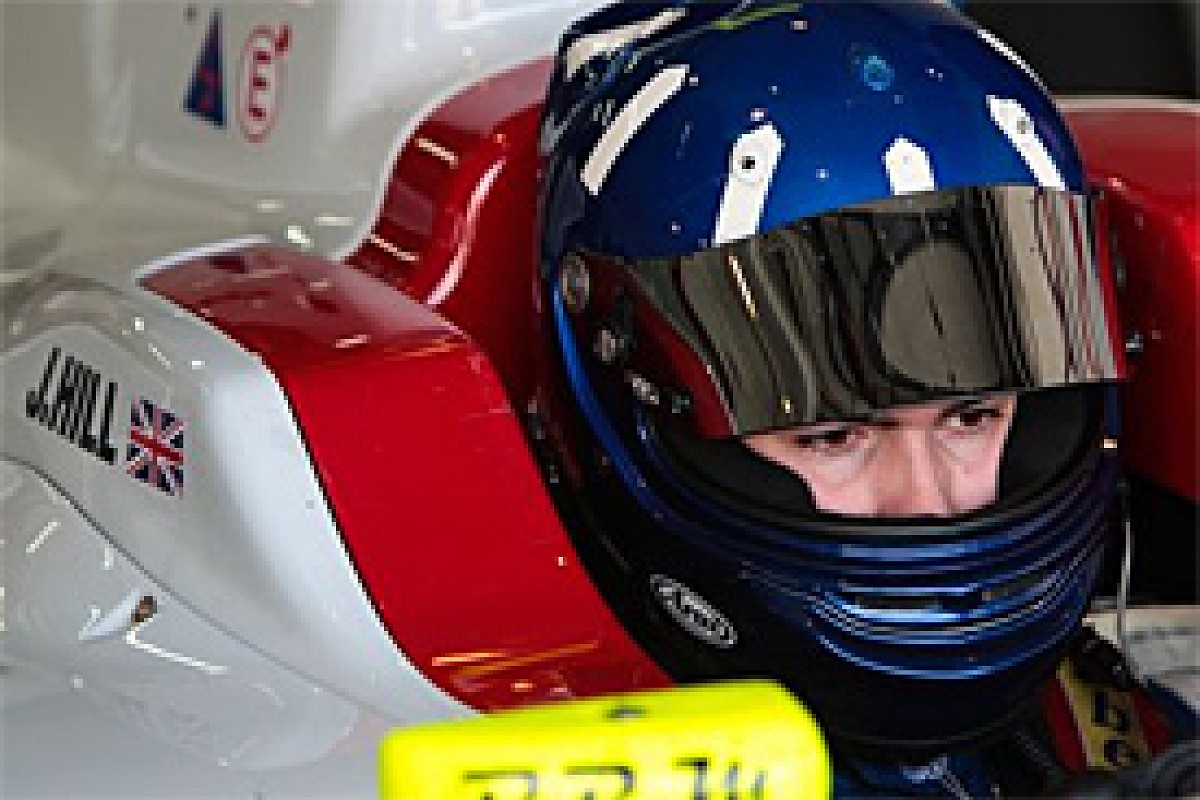 Josh Hill © LAT
Josh has been racing cars since 2008, and his dad has been with him every step of the way, pounding the beat from Castle Combe and Knockhill to Spa and the Nurburgring. It has brought back a lot of familiar feelings.
"Supporting Josh has brought me back into the sport and made me realise how much I loved doing what I did," says Hill.
"Eventually you remember what it was like when you were doing it, and you realise how lucky you were to be in racing."
So, Michael, perhaps becoming a 'racing dad' will fill the void better than crashing motorbikes did last time.