Q. You've been de facto team principal for a while now. Does having the title really change anything about the job you're doing?
Monisha Kaltenborn: In the day-to-day job, not really. There are two sides to the job, one is at home and one is at the track. At home, I already had the operational responsibility so there nothing has changed. At the track, I was involved in everything, but the designation was a different one. It's a small change, but you really feel the entire responsibility on your shoulders.
Q. Is it good to feel that someone as well respected in the F1 paddock as Peter Sauber has put his faith in you? That confidence can't be easy to gain...
MK: I am very happy that Peter has that confidence in me. We have been through a lot of situations together relating to the team. It's not only BMW's exit [in 2009], there were many things that happened before. In that time, he saw how much I think like he does and that we have the same values. When it came down to BMW's exit, we had to react very quickly.
There was not much time to think about things or strategies and you had to be quick and react to keep the team alive. There was a span of time when we were not even in the championship [for 2010]. We had a right to be, but we were not officially on the list. These were the moments when he saw that I am here for the team. Peter is very careful when it comes to trusting people. It has kept him in the business for 40 years now, so it's probably the right way to think.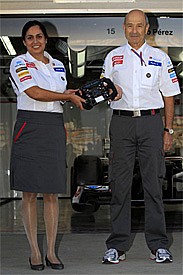 Kaltenborn took over from Peter Sauber in Korea © LAT
Q. Do you see this as a job for life now?
MK: I don't know how long my future is going to be because I don't know what's going to happen tomorrow. But I couldn't imagine doing anything else.
Q. For AUTOSPORT's readers, an important question when people take up big jobs like this in F1 is whether you are a 'motorsport person'. Your background wouldn't suggest that you are in the traditional sense, but there are references to an interest in events like the Paris-Dakar Rally...
MK: My bigger interest was in wanting to become an astronaut! That's not a joke, I really wanted to do that. If I could, and I know I can't anymore, I would still go for that as a second career. It's still fascinating to me and maybe it has something in common with motorsport in that you really want to achieve something which is somewhere at the top. Maybe that has influenced my way of thinking. I've found rally sport fascinating.
The Paris-Dakar used to fascinate me because of what a challenge it is. There was so much improvisation. You don't know what's going to happen and if your car breaks down, you have to sort it out yourself. And that [rallying] was the only way I knew a bit about motorsport [in India] because the Himalaya Rally used to pass by the town I came from. That was my first link to motorsport.
Q. And how about F1?
MK: F1, I grew up with. When we came to Austria [when she was nine years old], they had so much coverage there because of the drivers so it was a big thing. You knew when the races were, you knew about the drivers and the teams, so it was not alien to me at all.
Q. So that would have been at the end of Niki Lauda's career and then Gerhard Berger?
MK: Yes, absolutely. Then, of course, Sauber because of Karl Wendlinger.
Q. People often have the image of team principals either as ex-drivers or long-time team owners, but it seems that your background is far better suited to the job - is this now the ideal model?
MK: Teams as commercial entities have evolved so much and if you have this kind of [legal] background, it definitely helps with the challenges you face. But what should not be forgotten is that we are here for a sport and must show to the public that we have a passion for that sport.
It's good to know what you are doing commercially, but it's a sport and we live from emotion. This racing feeling, our attitude, we have to bring that more to the people. People come here expecting to see something emotional, something that they can go with emotionally. It's not just about corporate structures in a competition.
Q. There has been a lot of talk about being the first female team principal. Do you care about that achievement, or is it perhaps frustrating that this side of things is focused on rather than your capabilities?
MK: I don't think it's annoying at all. It would be worse if you were not considered a woman! I fully believe that you should be yourself in what you are doing and not try to suppress it in any way to be in the group where there are otherwise only men. I fully understand why the media looks at it from this angle.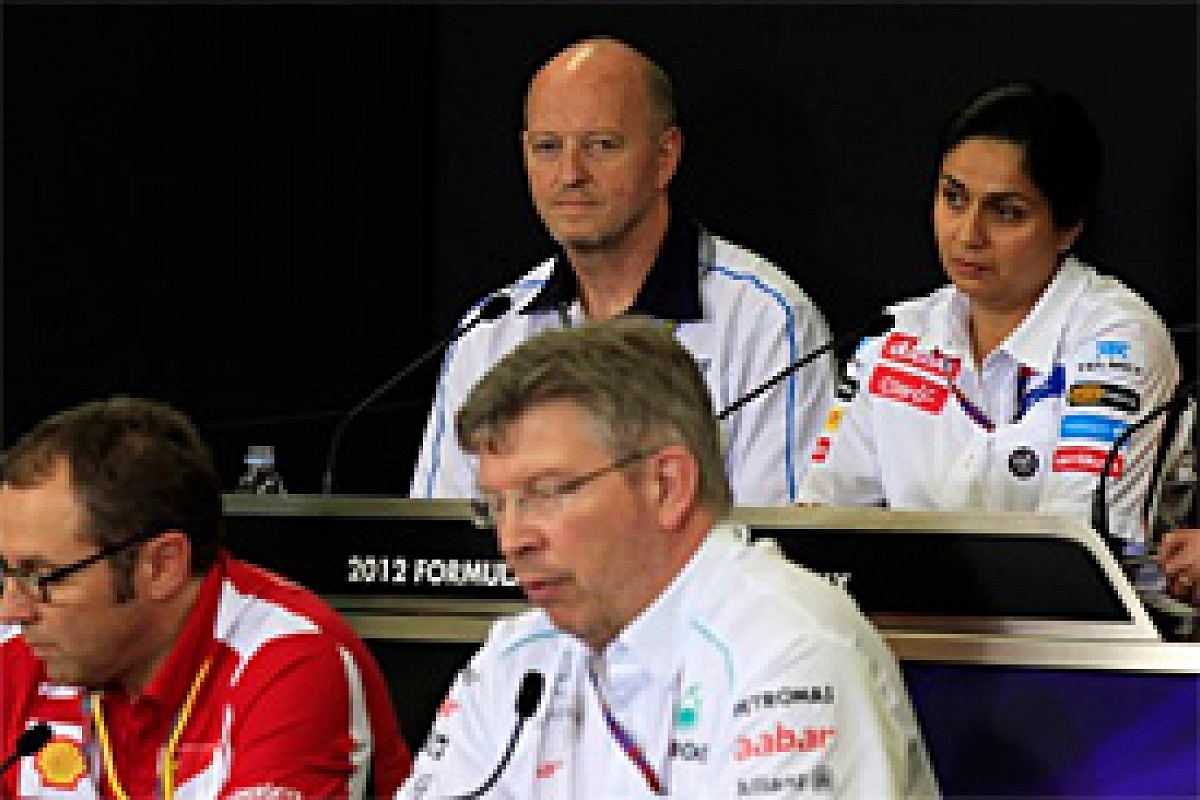 Kaltenborn among team principals © LAT
What has fitted in well is the timing with what we are trying to do for women in motorsport through the [FIA Women in Motor Sport] commission. All of this is very positive for women out there to believe that if they want to go this way, they should believe in themselves and hopefully will get the opportunity.
Q. Is it important to have someone like you being seen to push those boundaries?
MK: It is important that women who are in a high-profile position push [the boundaries]. They can give the strength or the courage to other women to do this. So I feel a certain responsibility to bring this message out there. I'm convinced that it's not about the studies or their skills and knowledge; very often it's about getting the opportunity. If some group is not represented, you have to open up people's minds.
It's a coincidence that this has happened naturally without any strategy behind it or quotas. If you look at the financial sector, people talk about quotas, but here, among the 12 teams, we now have one woman and it happened naturally. That's an important signal to the outside world.
Q. You've said before that you'd never felt discriminated against. But have you ever felt that you had more to prove because of your gender?
MK: I have sometimes had situations where I've had to prove more when people see in some negotiations a women coming in. Particularly when things get technical, they do have their doubts. It was never negative, but I do think that you have to, as a woman, prove yourself as quicker, stronger and have that little edge to be given credit.
Q. What are the main challenges that you face as Sauber team principal in the medium term?
MK: The challenges are first of all that we try to keep up our competitive level, which is very good this year. We want to keep [at] this level and slowly and steadily make our way up. The biggest challenge is to have enough resources. It's difficult, especially when you are privately owned and not a manufacturer-run team.
That is in line with the other challenge, to bring costs down in F1. We very much support a budget cap because that is the way we should be going and we should eventually reach the point where we have it. This has a very big impact in how you can increase the attractiveness of F1 for sponsors and for fans.
We are now at a level where we are global, we have 20 races around the world and we are a unique platform. But it will be increasingly difficult to sustain that level of income. At some point, even with Bernie doing his deals, it will not be possible to keep the level that high and we have to react. We are facing so many challenges from other sports today, especially with the rise of social media.
I assume many sponsors out there question if they want to go into F1, or some other sport that does more with social media. It's the same with our fan base. Are we doing enough to attract young people? These are all connected to each other and these are the challenges that we will be facing in the medium term.