A combined total of 312 race entries, 14,839 laps and 75,800 kilometres raced. And all for what? Zero points, a couple of 12th places, four facelifts and an unseemly naming row between them.
One team constantly on the cusp of joining the midfield but never doing so, another rebooting after a failed all-digital revolution and the other yet to be ready for the first race of a season in anything but the most tenuous of senses.
Only three teams have started 50 or more grands prix without bothering the scorers, and they are the class of 2010 - Caterham (nee Lotus), Marussia (nee Virgin) and HRT (nee Campos Meta 1, then Hispania Racing). Still, at least they made it further than USF1.
The 'new-teams' battle had become very old prior to the Singapore Grand Prix. Where once the trio had the fascination of being new, bringing different colours, characters and hopes into Formula 1, over two and a half years of non-achievement had rendered them a barely-noticed sideshow.
The battle for 19th on the grid (usually won by Caterham) had become very tired. Until, that is, Timo Glock's 12th place in Singapore breathed fresh life into the intra-new-team scrap. For, suddenly, Marussia had nicked the all-important 10th place in the constructors' championship from Caterham.
The position has significant financial implications - or perhaps not, depending on the final form of the new Concorde Agreement. But regardless of money matters, it was a significant moment for the ex-Virgin team to take the position within sight of the end of the season with a result that, history tells us, will be very hard to match.
Things have been on the up at Marussia of late. After it became clear in the early stages of 2011 that its partnership with Wirth Research, which created an all-CFD car, wasn't working, moves were made to comprehensively overhaul the technical side of the team - pre-season plans to reach Q2 and perhaps nick a point had proved to be pie in the sky.
Marussia is edging towards the front of the tail-end pack © LAT
Now, under the leadership of consultant Pat Symonds, the team is all under one roof in the ex-Wirth Research facility in Banbury in the United Kingdom's 'motorsport valley', and using more-traditional development tools such as a windtunnel in harness with technologies such as CFD.
We won't really be in a position to judge the Marussia metamorphosis until next season, when the new technical set-up produces its first complete car. But what we can say is that since the first upgrade package developed by its windtunnel programme was introduced at Silverstone, the team has moved forward, creeping closer to the outright pace on performance and edging up on Caterham as well.
It's more difficult to find valid excuses for Caterham's relative lack of progress. In the first year it produced an understandably rudimentary car around which to establish the team, but has failed to make the leap and join the midfield.
The team has long since ceased making a rod for its own back with bold predictions of doing so and dropped public aspirations of making it to Q2 regularly. In Singapore, its best car qualified at 104.216 per cent of the pace. That's significantly faster than the figure of 106.291 per cent from 2011, when all the new teams struggled badly as exhaust blowing reached its peak, but a relatively small step forward from 2010, when its basic car lapped at 105.931 per cent of the pace.
But there are ongoing changes at Caterham. During the August break it moved to a new base in Leafield in 'motorsport valley'. John Iley joined the team earlier in the year and instantly had an effect on the way that the aero programme in particular was being operated. Mike Gascoyne now has less input into the F1 team, which is now effectively headed up by Iley and technical director Mark Smith.
With a Renault engine, a Red Bull KERS and gearbox and a solid, if unspectacular, budget over the past three seasons, Caterham should be doing better, and its technical strength is such that it must latch onto the midfield next year. Team principal and co-owner Tony Fernandes recently made that emphatically clear to the team in forceful style behind closed doors...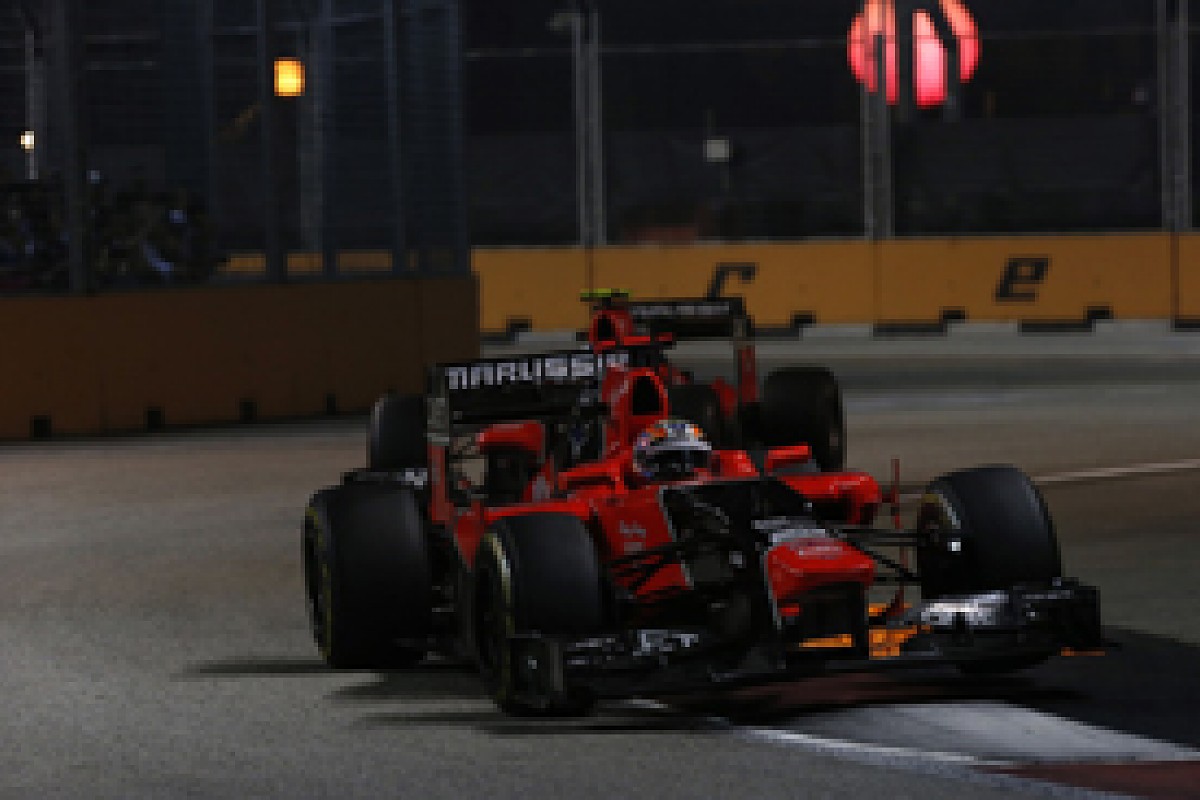 HRT is at least in better shape than it was when it first scraped into F1 © XPB
As for perennial tailender HRT (which has yet to finish last in the constructors' championship, it should be noted), there is now at least some tangible progress. It was a miracle that the team even made it to the grid for the first race of 2010 after Colin Kolles and Geoff Willis were parachuted in to take over when Adrian Campos's team hit financial troubles. But after two nomadic, hand-to-mouth years, the team is starting to gain a veneer of permanence.
It moved into a new (rented) facility in Madrid after the early-season flyaways, and there is now a semblance of a technical team in place. That said, technical director Toni Cuquerella, while a very well-regarded engineer, is unproven in his current role.
What's more, current owner Thesan Capital inherited the team from previous owner Jose Ramon Carabante and is only putting in enough money to keep it ticking over and develop it to the point where it can be sold. There is a little promise there now, and any buyer would at least have foundations to work from that weren't there 12 months ago.
So what does the plight of these three teams tell us? Primarily, they demonstrate just how good the established teams are.
From the outside, it's easy to underestimate just how difficult it is to operate creditably in F1. Don't underestimate the amount of knowledge and technology developed even by small teams over a lengthy period of time. In 2010, these new teams were having to go to outside suppliers or throw together components that most teams would take for granted. After all, the newest team in F1 when the triumvirate came in was BAR, which had sprung up in 1999 and even then had the old Tyrrell team to harvest for such knowhow. Prior to that, the last genuine clean-sheet start-up without manufacturer support was Sauber in 1993.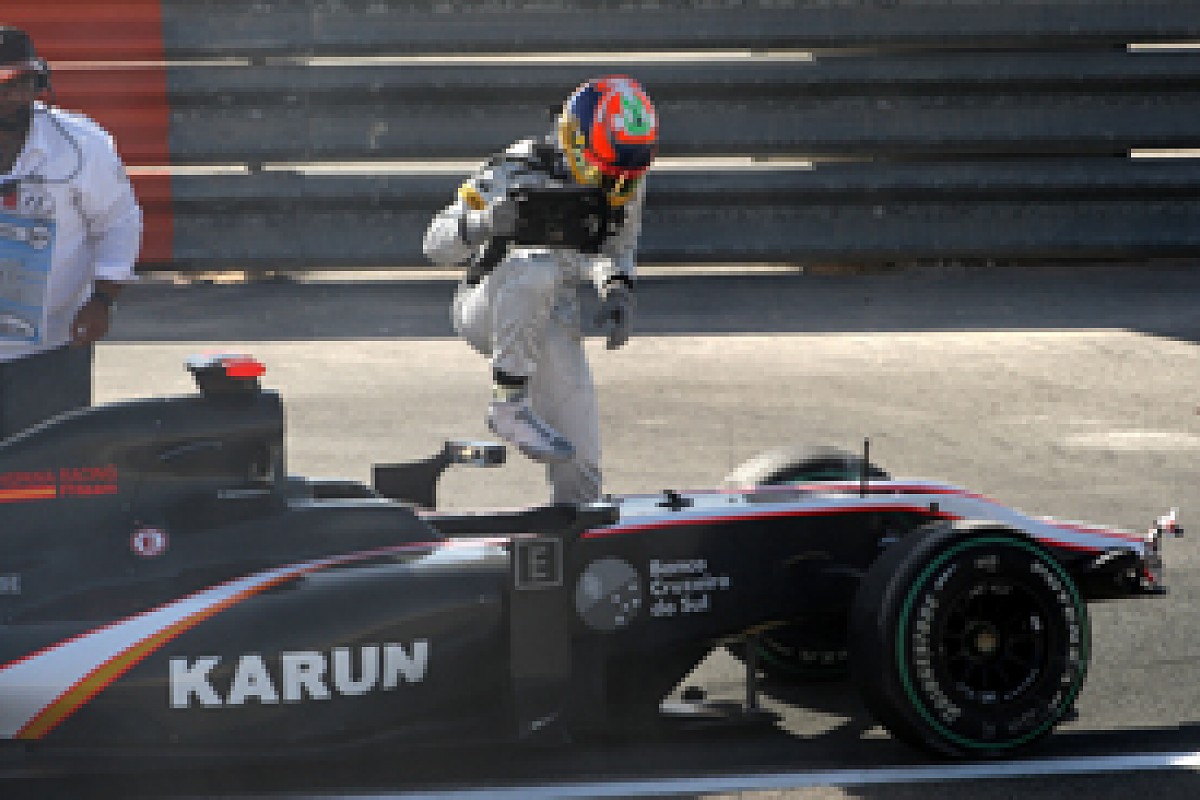 What was once possible: Wolf won on its debut as a constructor in Argentina in 1977 © LAT
The days when you could buy some Cosworth engines, a Hewland gearbox and throw together a car that could be competitive out of the box are long gone and, realistically, any new team coming into the sport as it is needs to be realistic enough to set a target of not scoring points on merit until its fifth season. F1 is at a spectacularly high level and that's just the minimum amount of time even a well-funded start-up team with sensible expectations should be allowing for.
And with the Concorde Agreement up in the air for 2013, the landscape of F1 could change sufficiently to make it impossible for any start-up even to do that without bottomless pockets.
It's easy to condemn these three new teams, but they are far from the most embarrassing squads to have run in F1.
Take the tiny Coloni team, for example, which qualified a car just 14 times from 1987-91 and managed to string together 35 consecutive failures to qualify (most of the time falling in Friday morning's pre-qualifying session) before its remnants were sold and became the even more embarrassing Andrea Moda team in 1992.
F1 is the most competitive it has ever been. Look back 20 years, and Caterham's 4.484-second deficit to pole position in Singapore last weekend would have put it just two thousandths of a second off the top 10 on the grid at Spa, a track with a comparable laptime, with the best Marussia 12th and the lead HRT 14th.
What Marussia team principal John Booth said in Singapore applies to all three of the new teams. "I know a lot more about F1 now than I did back then," he told AUTOSPORT on Friday night. Frankly, all three new teams were guilty of a certain degree of hubris in the early days. But now all of them are far more humble and realistic than they once were.
For all the planning and lofty aspirations, it takes a hell of a lot even to look average at the top level. Remember that next time you dismiss what some write off as 'the idiots at the back'.