It was what the crowd had come to see. Nelson Piquet is Brazilian and is the World Champion, and last Sunday he won the Brazilian Grand Prix. A crowd huge by Rio standards gave him a fantastic reception, as their man climbed onto the podium, briefly acknowledged the applause...and collapsed. A combination of powerful heat and humidity, an unrelenting battering for an hour and a half, ridiculous g-forces; all these came together to reduce the world champion to a state of helplessness.
Piquet's drive was therefore one of great courage. He took the lead shortly before half-distance, when Gilles Villeneuve crashed. The Ferrari driver's fans were in rapture for the first 29 laps, for Villeneuve made a splendid start to lead into the first corner, and headed the field comfortably for a while, until Piquet and Keke Rosberg's Williams got past Rene Arnoux's second-placed Renault and began to catch the Ferrari. For a few laps we had a wonderful scrap, but after Villeneuve's departure the race became somewhat processional. Rosberg, his right-rear tyre going away, was never able to make the late challenge his greater stamina might have permitted, but his second place was an honourable one. He was in the thick of it throughout.
Alain Prost consolidated his world championship lead with a troubled run to third place, after starting his Renault from pole, and John Watson took an excellent fourth for McLaren. Nigel Mansell, totally exhausted, took fifth in the Lotus 91's debut race, and the final point went to the gutsy little Michele Alboreto, whose Tyrell was in less than showroom condition by the end.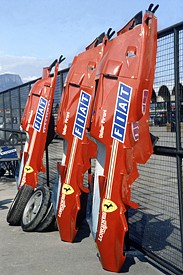 Pironi had a selection of chassis covers © LAT
The early going was wonderful, with a lot of aggression from many drivers, including Lauda, who looked like the Ferrari driver of 1974 again, diving for gaps, forcing everywhere. Unfortunately, his McLaren was struck by Carlos Reutemann's Williams after 22 laps, and he had to quit. A lap later the Argentinian also came into smart contact with Arnoux's Renault, the ensuing accident putting out both.
All in all, a very good race, and welcome relief after two days of the tedium which used to be called 'practice'. But the overall quality of the Brazilian Grand Prix should not be permitted to mask the crisis that currently jeopardises Formula 1's healthy future. The absurd specification of the modern car was largely responsible for the condition of Piquet afterwards, but he was in no worse state that some of his colleagues. Riccardo Patrese, his team-mate, called it a day at half-distance after blacking out. "If we carry on like this," said one driver afterwards, "the races will be won by the strongest gladiator. Pure driving won't come into it at all." Gentlemen of Formula 1, it should not be that way. Act quickly.
Entry and practice
As I opened my briefcase on Saturday evening, a number of papers - practice time sheets, statements from Jean-Marie Balestre and so on - fell out, and so, too, did a photograph. It had no particular business being there and quickly I wished that it hadn't been. It was of Jimmy Clark at Silverstone in 1967, flicking his Lotus 49 through Copse in an exuberant powerslide. In so many ways, living in the past is most palatable than the hard-nosed present.
The moment at which my gaze fell upon the picture could not have been more exquisitely unfortunate, for it came after two days of watching grand prix cars, 1982-style: shatteringly fast, unnecessarily lethal, woefully unspectacular.
It is really quite remarkable how the powers that be have contrived to remove from the sport so many of the ingredients essential to its magic. Time was, for instance, when practice - particularly the closing minutes of the session - was something to savour only slightly less than the race itself. There was a crackle in the air, as every ace gathered himself together for one final shot at pole.
But not now. Practice and the business of qualifying for a grand prix have become a separate entity, a fugitive from the race itself. The set-up of the cars is entirely different, and so are the tyres. We really need not to be told that the escalating costs of racing are getting out of hand when money is available for gumball tyres with a useful life, at Rio, of a little more than three miles.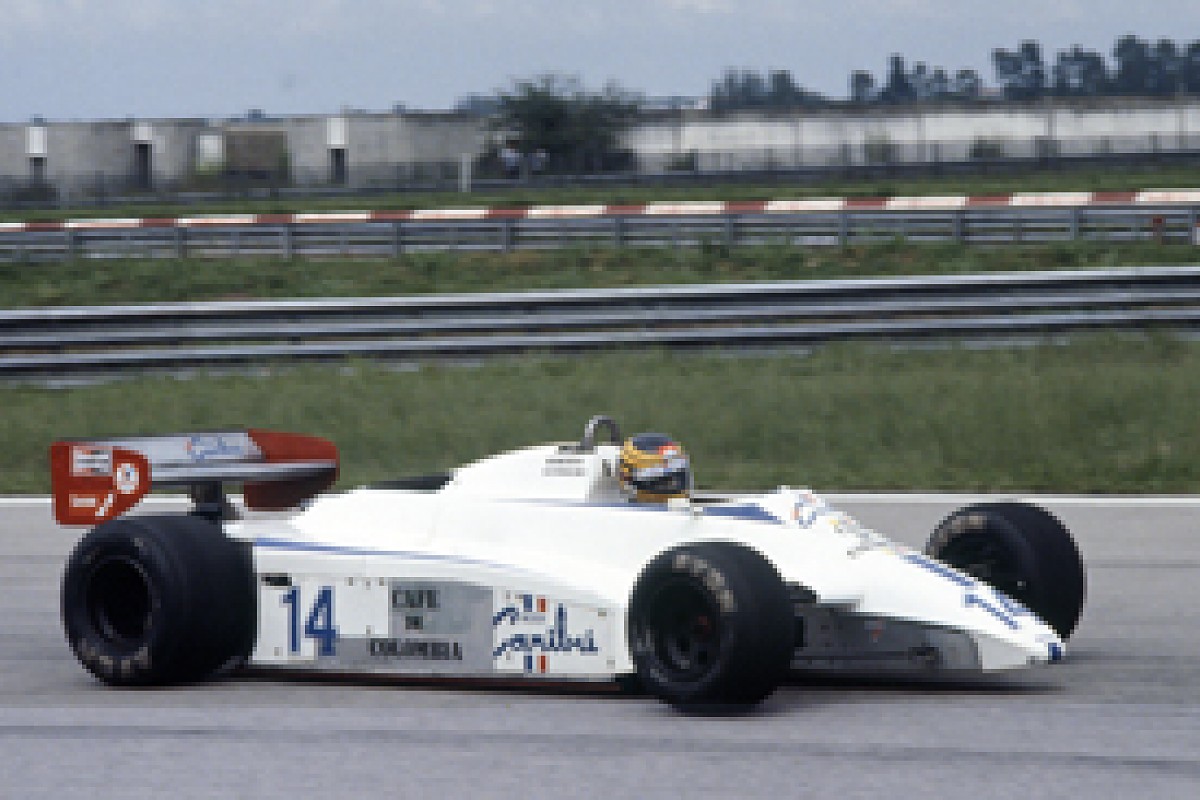 Guerrero failed to qualify - again - for Morris Nunn's Ensign squad © LAT
Most people seem to be in agreement, as the have always been, that qualifying tyres should be banned, but this opinion is inevitably qualified by the suggestion that such a thing would be "difficult to police", which is true. In today's world such a situation could probably exist only at a time of a one-make monopoly. In an effort to keep costs under some sort of control, each driver is restricted to two sets per timed session.
"We get one good lap out of a set of qualifiers," commented Gordon Murray, "and that's it. The next one is always half a second slower." In other words, in the course of two days practice, you had four chances only of setting a really good time, and that inevitably led to some fairly desperate driving. "When you're going for a time, you have to keep your foot in it," said Villeneuve. "You need a clear lap, and if you don't get one, you have to make one. You simply can't afford to lift when you tyres are really working, so you just have to hope that the guys ahead have seen you."
Qualifying therefore means staccato bursts of action, and long periods of silence, these last extended by the increasingly prevalent custom of halting a session every time someone spins. And the closing minutes seem to be the province of the stragglers, flogging round in hope of making the grid; the stars have done their bit long before.
If the reader detects a jaded note in these remarks so early in the season, it must be said that everything seemed to be working against racing last Friday and Saturday. I had not seen the Rio circuit before, and shall not be seriously concerned if I never do again. It is a flat and featureless white elephant of a place at which to spectate and, apparently, to drive. Interlagos, sinuous and testing, a classic grand prix circuit, is but 250 miles down the road, but the times have left it behind. It requires suspension movement.
Then again, the weather played its part, hot and muggy and overcast, a constant mist swirling round the mountain tops. In these conditions, irritability is heightened, and the overall mood of the paddock was scarcely light. FOCA people complained anew about the turbo equivalence formula, and the Renault and Ferrari teams spoke scathingly of the FOCA teams' underweight cars. The drivers were again highly critical of rock-hard cars. A really quick lap, they said, was a matter of gripping the wheel tight, shrugging off the jolts to the spine, ignoring momentarily blurred vision, holding your breath. "At qualifying speeds, you are exhausted after eight or 10 laps. No one could do more. It is really not at all pleasant," said Didier Pironi.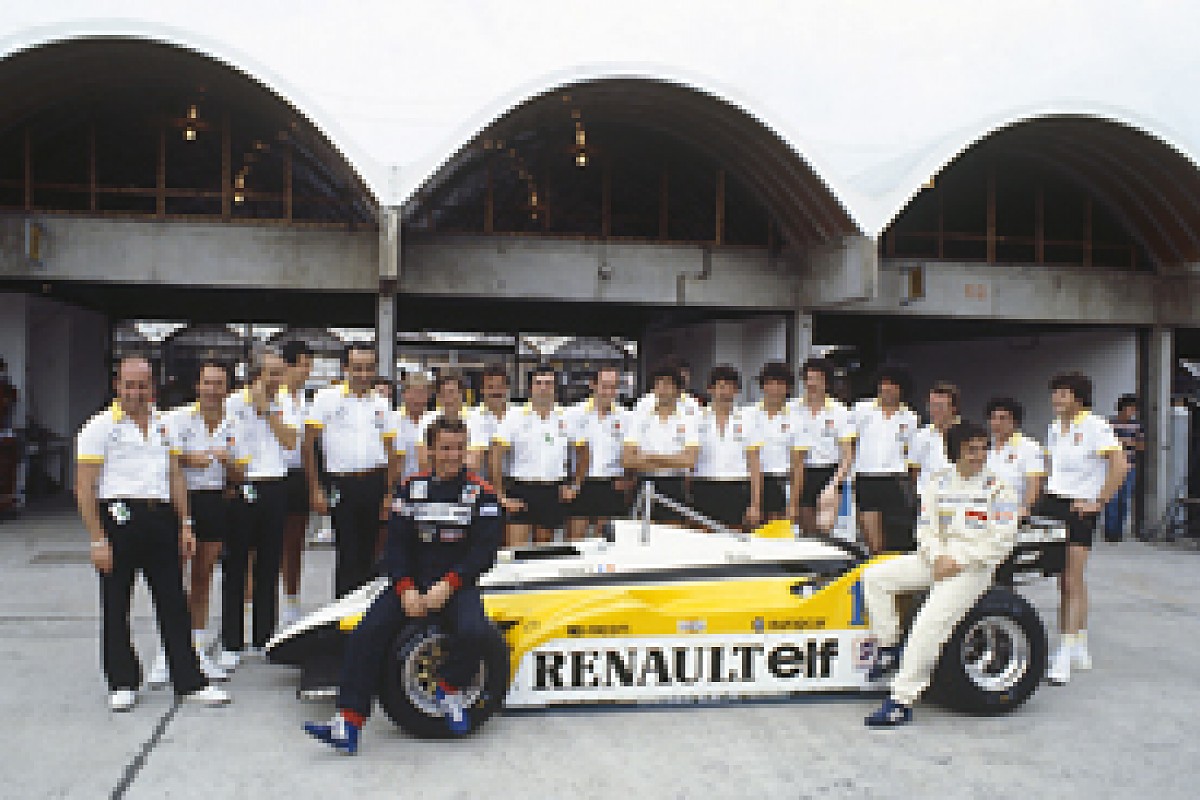 Prost put his Renault on pole - and Jean Sage and co were pretty happy © LAT
During testing, the two fastest men had been Piquet and Rosberg, with the Brazilian alone marginally under 1m30s, more than five seconds up on his 1981 pole time. But Rosberg was the star of the first day, his time of 1m29.91s looking likely to stand as the quickest until Prost found himself a clear track and went round in a shattering 1m28.80s. The Renault drummed its way unobtrusively to the top of the lists, and left the rest looking a bit breathless.
The following afternoon, Prost was troubled with a slight misfire, and did only three timed laps - the last of which was also the quickest of the session...
Arnoux's two days were altogether more hectic. Within only a few minutes of the track opening, the chequered flag was out to bring practice to a halt, the first of many such incidents. At the ultra-quick left-hander at the end of the back straight, the RE30B's wing support sheared, and the car hurtled off the road, just grazing the catch fencing. Remarkably, there was no damage whatever, and Arnoux was soon back out. In the afternoon, he was quickest for a while, before being eclipsed by his team-mate, but he failed to improve on Saturday. Another excursion damaged the car's skirts and broke a rear upright, but Arnoux was still in good shape for the race, fourth on the grid.
Joining Prost on the front row was Villeneuve, who worked the Ferrari C2 round in 1m29.12s with another of his spectacular banzai laps. "The car is fantastic through the quick corners; one of the best 'ere, I'm sure, but there is this odd lack of grip in slow turns. At the hairpin, for instance, I'm losing three or four tenths to the Williams and the Brabham." For the first time, the tough little Canadian had a neck support fitted to the cockpit of his car: "The g-forces are just incredible this year."
Pironi frankly admitted that his recent Paul Ricard shunt had shaken him somewhat, but his driving was as precise and aggressive as ever. "No, my knee is not hurting very much now, except occasionally when it knocks against the cockpit side," he said. The Frenchman's Friday time was close to his team mate's, but traffic hampered him in the last session, and he did not improve, dropping to eighth overall.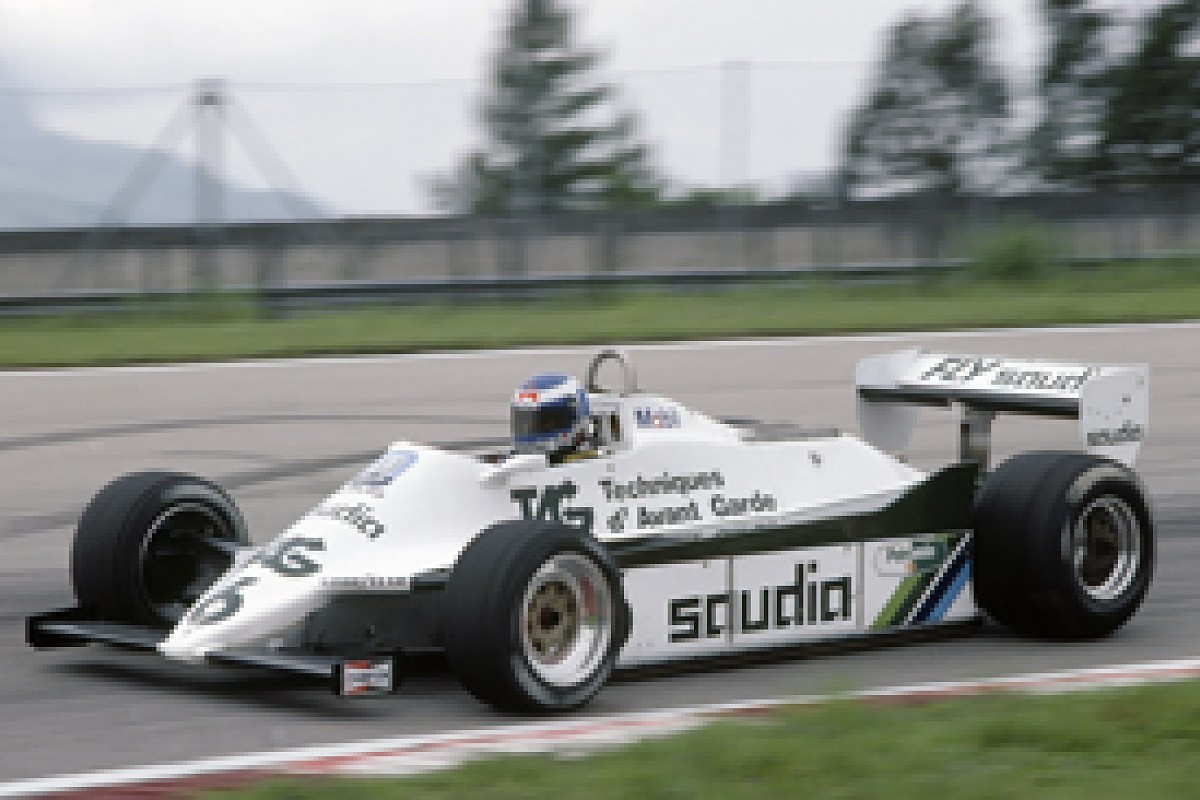 Rosberg qualified a career-best third on his second outing for Williams © LAT
At the moment, Rosberg is very much a man under the spotlight. After several thankless seasons with Theodore, Wolf and Fittipaldi, the Finn's natural aggression was like shaken champagne. Now, with Williams, the cork is out, and he has a point to make.
He likes these current cars no more than any of his colleagues: "No, they don't feel nice to drive but at least I get out with a competitive time now, instead of struggling to qualify," he said. Rosberg was electrifying on both days, easily the fastest Cosworth runner, and the only one of them to get under the 90s barrier.
Changes to the Williams cars' set-up, the result of lessons learned during the team's recent tests at Brands Hatch, proved not to travel well, and neither Rosberg nor Reutemann were happy on Friday morning. Before the timed session, therefore, both FW07s were put back to the specification of their Rio test programme a month ago, and all was well. Reutemann had problems with gear selection on Friday and fluctuating fuel pressure on Saturday, but qualified sixth, immediately behind the remarkable Lauda.
Before the race, a lot of money was riding on Lauda. The circuit was not to his taste, but everyone reckoned that the Brazilian Grand Prix would be a race of tactics, a matter of pacing, making your tyres live for 63 laps, your stamina for an hour and forty minutes of manhandling a car in sapping heat. The two-time world champion is superbly fit now, and most people reckoned he would be around at the end.
Lauda lost an engine on Friday morning, and kept his timed laps to a total of 12 over the two days. He started fifth, well ahead of Watson, who complained of understeer in his McLaren MP4, and seemed to suffer more than most with traffic on Saturday afternoon.
After setting the quickest time during testing, Piquet was a little disappointed to qualify only seventh for his home grand prix. There were extensive bodywork and aerodynamic changes to the cars for this race. For the time being, Brabham is running Cosworth engines again, and rumours persist that the alliance with BMW is all but over.
"We're reasonably happy," said car designer Gordon Murray after practice. "But we seem to have lost out a little to Williams. There were no major problems today at all - apart from this business about getting a clear lap. It seemed that every time Nelson got himself set for a flier, someone'd go off and the flag would come out. Still, I think we've got a pretty good race set-up."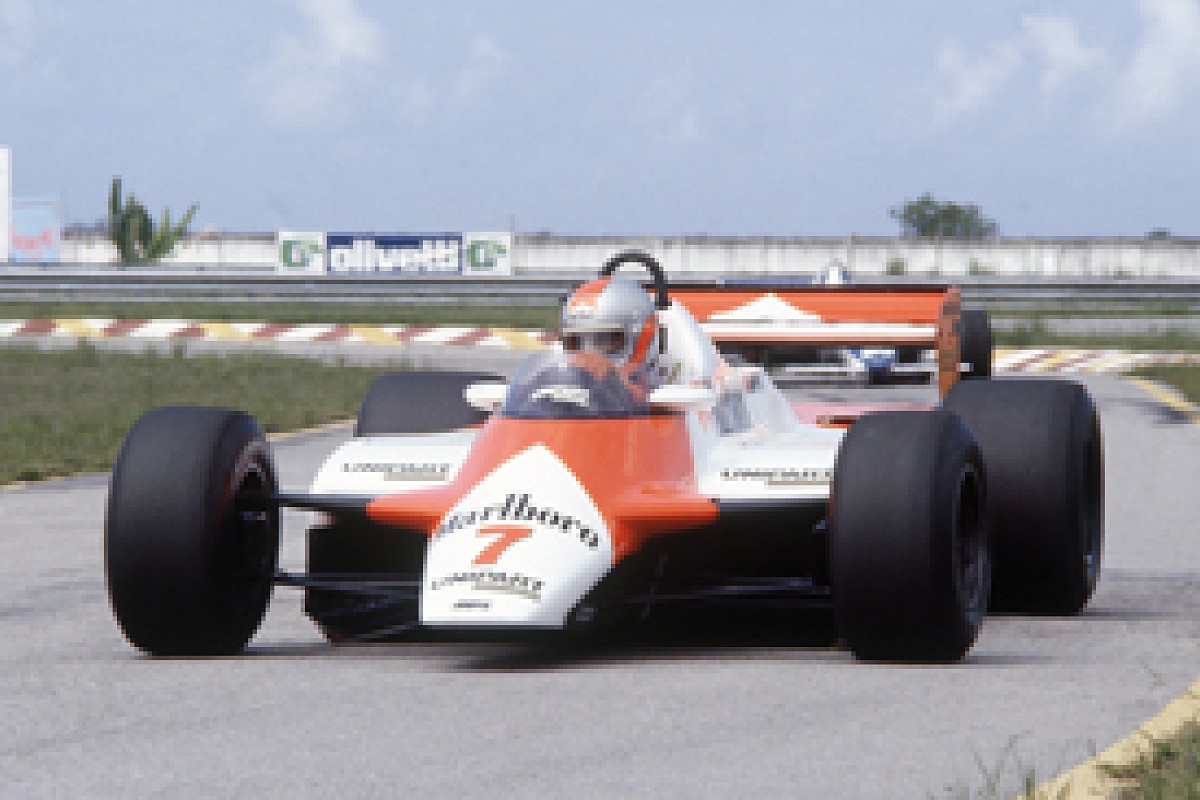 McLaren driver Watson enters the pits after a qualifying run © LAT
Piquet, who looked quicker than anyone into the quick right-hander after the start, finished up 0.7s faster then Patrese, who qualified ninth. One had to wonder where Bernie Ecclestone's cars might have qualified with the German turbos in the back, but nobody in the team appeared to be missing them too much.
Andrea de Cesaris looks a much more relaxed young man this year, fitting in happily with the Alfa Romeo team. Apart from one alarming moment (not his fault) when his car bucked alarmingly sideways over the bumps at the approach to the first corner, his qualifying days were calm, his driving neat yet aggressive.
Neither he nor Bruno Giacomelli were ever entirely free of the slight top-end misfire that has always been the hallmark of the Alfa V12 engine, but de Cesaris nevertheless qualified 10th, 1.5s quicker than Giacomelli, who had a very disturbing moment on Friday, coming past the pits with flames licking from the back of his car. At the first corner, Giacomelli halted, leapt out and grabbed an extinguisher from a hesitant marshal, then efficiently and calmly dealt with the problem.
After the car's stunning test times at Ricard, Gerard Ducarouge and his boys were somewhat disappointed with their practice results, and perhaps could have used more testing in Brazil. The rear of the car remains a mystery, for everyone in the team is paranoid about keeping prying eyes out. It seems clear that the big secret is some sort of twin venturi in the sidepod, but questions on this topic were not answered.
A little disappointing also were the Lotus 91s, unquestionably the most beautiful cars on the current scene. Elio de Angelis and Mansell were both going well after the first day, but both were slower in the final session. Neither was without his problems, Mansell going off a couple of times, once as a result of jumping out of gear, and de Angelis also damaging a set of skirts on the kerbs. On Saturday morning, Mansell ground to a halt in front of the pits with a broken crown wheel and pinion, afterwards being obliged to run an 87B, there being no spare 91 yet. His race car was repaired in time for the afternoon session.
Thirteenth on the grid was Michele Alboreto, now very much the coming man. The Tyrrell 011 was worked very hard during practice, Michele being particularly impressive though the first, quick, right-hander, where he was early on the power, and kept there through all the car's darts and swerves. Well over 3s slower, Slim Borgudd nevertheless qualified fairly comfortably.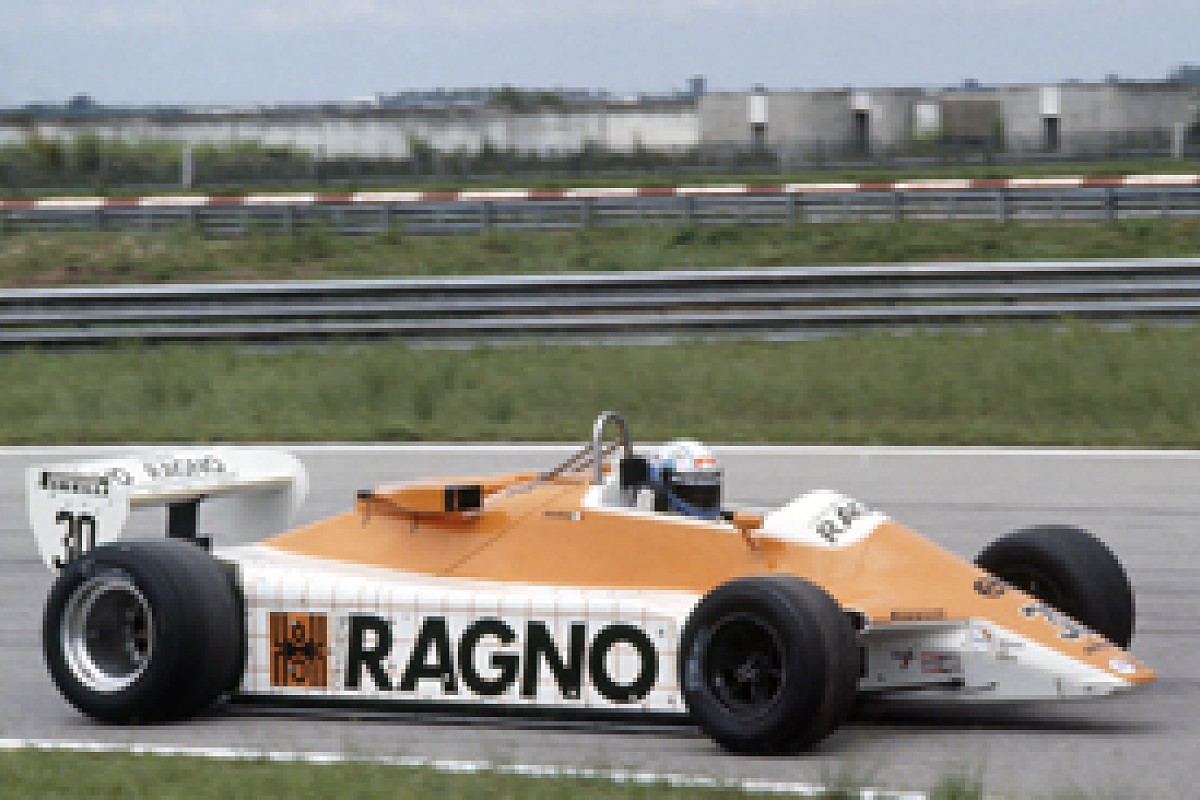 Baldi qualified for the race. De Angelis wished the Arrows man hadn't © LAT
Manfred Winkelhock was something of a revelation at Rio, very neat and controlled in the ATS D5. He qualified 15th, despite missing the last session because of a blown engine in the morning. This was changed, but Winkelhock managed only one lap before being halted by an electrical problem. Eliseo Salazar damaged a sidepod on Friday morning when he went off the road, after collecting a skirt lately fallen by Rosberg's Williams. On Saturday morning Salazar was in the catch-fencing once more, this time damaging the engine mountings, although he was able to drive the car back to the pits. There were many detail charges, the most obvious an unusual airbox, which worked well.
It was, of course, the first race for John MacDonald's March Grand Prix team since the recent sponsorship agreements with Rothmans and, on a smaller scale, ICI. In their new livery, the cars looked very striking, and they rain in practice with no problems worthy of the name, Raul Boesel qualifying an excellent 17th, Jochen Mass 22nd.
Mauro Baldi was the only Arrows driver to qualify in Brazil, for Brian Henton was hobbled throughout by a persistently misfiring engine, as well as poor handling. As well as that, the general consensus seems to be that Pirelli have been left behind in the current tyre war.
"There's a basic aerodynamic imbalance in the car at present," said Derek Daly of Theodore TY02. "It needs new underwings, and we'll have them for Long Beach. At the moment it just doesn't want to change direction." For all that, Daly was comfortably in the race.
The one man who failed to pre-qualify was Riccardo Paletti, who crashed his Osella on Friday morning. Jean-Pierre Jarier qualified his car, however, and actually lapped quicker than both the Ligiers!
"Problems?" said Jacques Lafitte. "No, not really - unless you consider that the car is out of date and heavy and slow. Ha! The car is 600kg without any water tank..."
Eddie Cheever qualified his JS17 literally at the last minute, in so doing putting Teo Fabi out. Indeed, neither Toleman qualified, which was shattering for the team after the very encouraging test at Paul Ricard recently. "We're getting good engine consistency from Brian Hart now," commented Derek Warwick. "And pretty good power. But the chassis is just hopeless wherever there are bumps. I'm having to overdrive everywhere, and it's almost impossible to get a clear lap." Chico Serra claimed the 25th starting position with the Fittipaldi F8C, but Roberto Guerrero sadly failed to qualify for his first grand prix. The new Ensign N181 simply lacks test miles, as does its driver.
1982 Rio starting grid on FORIX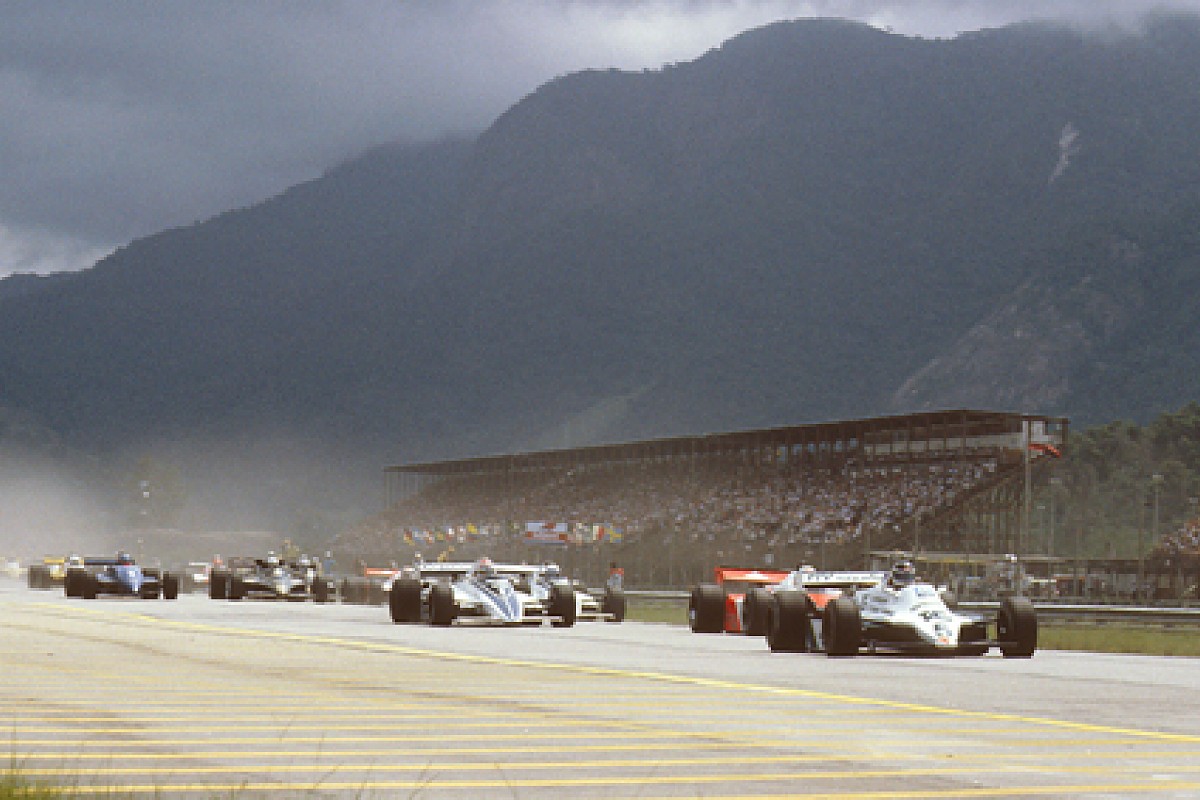 The Grand Prix
Although their boy was only seventh on the grid, the crowds arrived in force on race morning, and I was pleased to see that no support races had been scheduled, for they inevitably detract from the business of the day, put oil all over the place and cause delays.
After the sultry mugginess of the qualifying days, the weather relented on Sunday. It was still extremely hot, but by now at least there was sun to go with it. Jacques Laffite groaned. He, understandably, had been praying for rain.
Back at his hotel, Murray also groaned, stricken with a Brazilian strain of Montezuma's Revenge. Wisely he opted to wait in his hotel until his evening Concorde flight. Murray had been confident of a good race set-up for the advanced carbonfibre-braked Brabham BT49Ds, and Piquet duly recorded the quickest time in the morning warm-up, with de Cesaris and Lauda next up.
After practice, Villeneuve had stressed his intention to lead at least the early laps - "I need it for my morale" - but it seemed that Ferrari was in for a difficult time. The C2 may have a considerably better chassis than its predecessor, but it retains the 126C's appetite for tyres. Thus, it was no secret that Villeneuve and Pironi would use 'B' compound Goodyears, markedly harder than the 'Cs' of Williams and Brabham.
As the drivers sat on the grid, waiting for 1pm, many cockpits had a decidedly Heath Robinson appearance, some with head restraints, most with some kind of additional ducting or piping to feed in cool air. It was going to be a very long 90 minutes.
Villeneuve shot off into an early lead... © LAT
Villeneuve was determined to get them over as soon as possible: at the green light the Ferrari blitzed away, and so too did Rosberg's Williams. Through the first few turns, out onto the back straight, the white car was right with the red one, but the gap opened up on the straight, during which the Williams man was also devoured by the Renaults of Arnoux and Prost. End of the first lap: Villeneuve, Arnoux, Prost, Rosberg, Patrese, Pironi, Piquet, Reutemann, Lauda, Alboreto. For a couple of minutes that was the position, with Villeneuve looking very confident, obviously mindful of tyre wear. Patrese, whose start had been excellent, seemed in very threatening form in the early stages, and it was clear that the Brabham was very quick in a straight line, the Italian easily towing past Rosberg.
At the final corner of the third lap, Pironi asked too much of his hard Goodyear tyres, the Ferrari flicking sideways and sliding to the outside of the turn. That little faux-pas dropped him from sixth to 16th.
After four laps or so came the first evidence of Piquet's mood, the world champion passing Rosberg on the back straight, to frenzied applause from the stands. The first dozen cars were well together, although Villeneuve was starting to stretch his lead a little.
The first pit caller was Laffite, whose wretched weekend was now further blighted by a severe misfire in the Matra V12. Later he rejoined, sans engine cover, but the engine still refused to run clearly; later still, in desperation, unhappy Jacques ran over a kerb, damaged his skirts and called it a day.
At the front Villeneuve still led from Arnoux, but both Brabhams got by Prost on lap six, Piquet then swooping past his team-mate a couple of lap later. Now third, Piquet quickly closed on Arnoux, but the Frenchman was in a resolute frame of mind. And all the while Villeneuve was going clear. De Cesaris' promising showing effectively ended on lap 10. For a while the Alfa had clearly been holding up the group behind it - which was led by Lauda. But now the Italian came in, the elegant 182's one-piece undertray loose.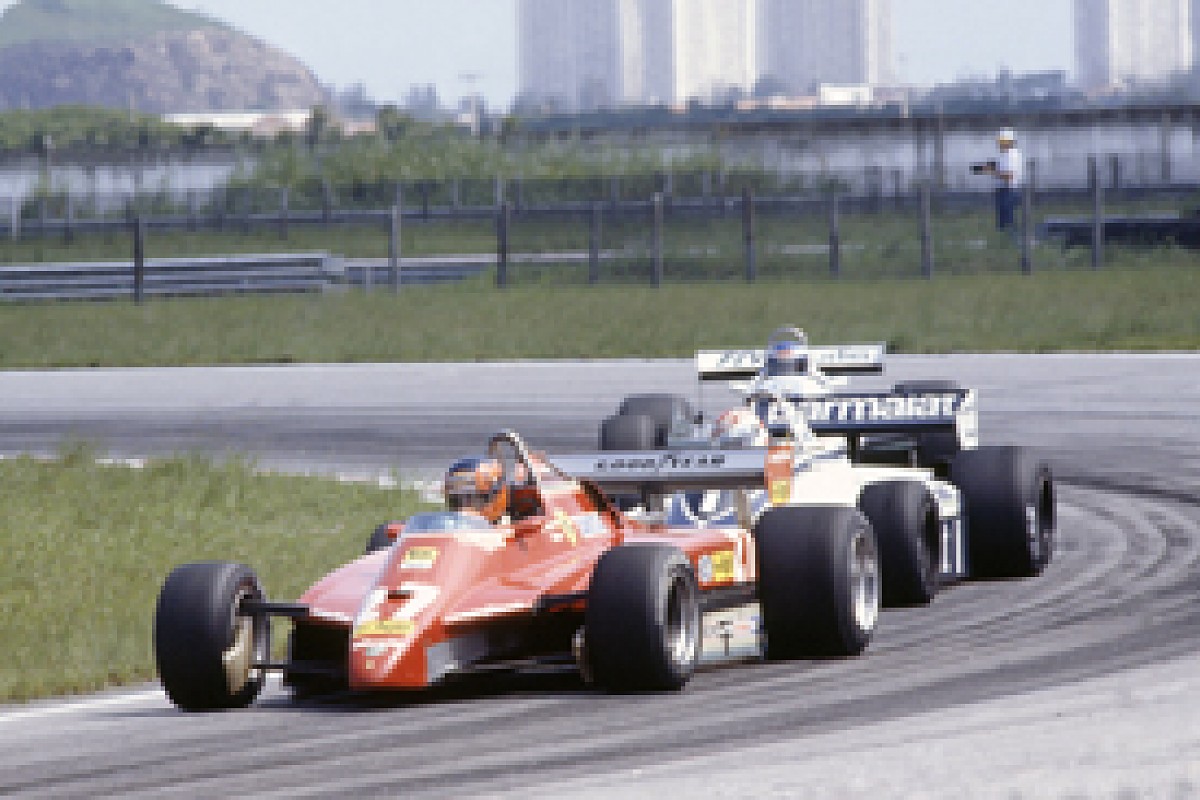 ...but by half-distance the Canadian had Piquet and Rosberg hounding him © LAT
Ten laps down, 53 to go: Villeneuve, Arnoux, Piquet, Patrese, Prost, Rosberg, Reutemann, Lauda, Watson, Mansell. De Angelis had been running on their tail, but a spin with Alboreto on lap nine dropped him to 15th, his Tyrrell rival rejoining one place ahead. Towards the back of the field, Daly pressed on in the Theodore, despite a punctured rear tyre: "The problem is that when the ride height drops on this car, we get terrible porpoising. Then I ran into Boesel at the last corner, and damaged the front wing and the right sidepod. Next lap I spun off on the grass and couldn't restart. Not a good day, all in all..."
On the very next lap Boesel flew off the road at the ultra-fast left-hander at the end of the back straight. No one could establish whether this was a legacy of the Daly incident. Immediately after this, de Cesaris was back in the pits, this time for the afternoon.
The pace at the front - seven or eight seconds off that of qualifying, incidentally! - continued, with Villeneuve now in an ever-increasing lead, and Piquet, Patrese and Rosberg becoming frustrated, bottled up behind Arnoux, and watching the red turbo grow smaller in the distance. Similarly, Prost, hampered by a misfire at the top end, was keeping back a Reutemann-Lauda-Watson crocodile.
Lap 17 provided the turning point, both Piquet and Rosberg scratching past Arnoux. Another lap, and Patrese, too, was by the Renault. At the same moment, Lauda's aggression took him past Reutemann, and on lap 19 the Austrian had also displaced Prost.
Lauda looked very strong at this stage, with Watson shadowing him all the way, but all that ended on the 21st lap when Reutemann ran into the back of Lauda at the last turn, punting the McLaren high and wide to the outside of the corner. Lauda held the slide superbly, but dropped three places. Next time around, he was into the pits, right rear wheel slightly out of true. He was out of the race, and he was not amused.
Next lap, and there was no Reutemann. And no Arnoux. The two of them had touched, spun into the catch fencing, and two more possible winners were out.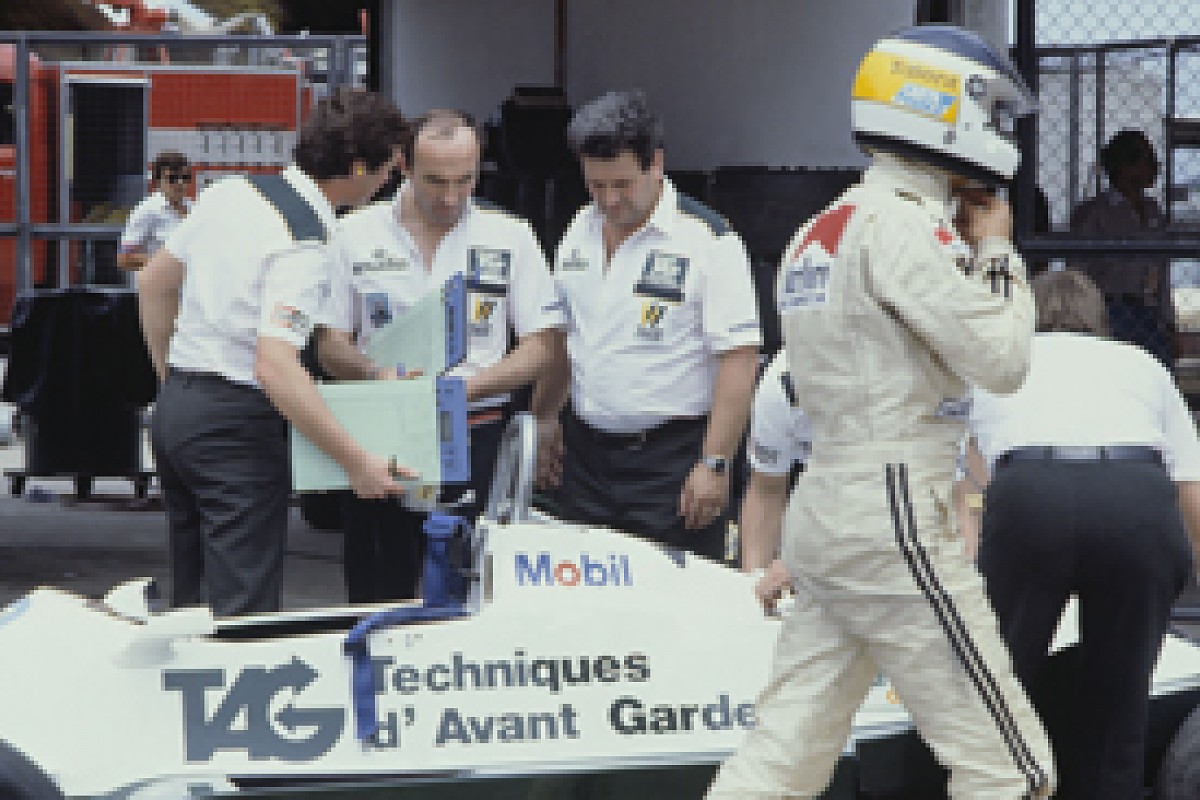 We didn't know it at the time, but this was Reutemann walking away from F1 © LAT
This was a time of action. Baldi's Arrows trundled slowly into the pits, rear wing absent. At the fast left-handed following the back straight, the Italian had moved over to let a following group - Pironi, Alboreto, de Angelis - through. Pironi and Alboreto made it without difficulty, but de Angelis was less fortunate, Baldi chopping across in front of him. The Lotus his the back of the Arrows, flew over its rear wheel and slammed into what remained of the catch-fence. After acquiring a new wing in the Arrows pit, Baldi continued.
On lap 27 there was sensation - received in silence by the crowd - when Rosberg came by in second place, ahead of Piquet. The two of them were now right with Villeneuve, causing one to wonder anew about the equivalencey formula. On the basis of this race, it did not seem wildly out.
Lap 29: Villeneuve was fighting desperately to stay ahead of Piquet's nimbler Brabham, now back in second place. On the back straight he could pull out a maximum of three car lengths: indeed, he pulled out more through the fast turn at the end of it. Through slow corners, though, the British car was all over the Italian one. Villeneuve was hanging on by his fingernails.
On lap 30 it happened. "I got a little wide on the right-hand turn before the hairpin onto the back straight," related Villeneuve. "I was out on the marbles, and the car wouldn't put its down, which let Nelson get alongside - on the outside - into the hairpin. I had a choice: hit him or go off. And I chose to go off, the car snapped round and that was that. Some people thought Nelson had hit but that wasn't true. I tell you what," he finished. "For sure I would swap a lot of my power for a little of their grip..."
Villeneuve's accident was, of course, received with something near to delirium by the crowd, for Piquet now led. The one remaining hope for a close race was the ever-present Rosberg, who was driving beautifully. Gone from the equation were Arnoux, Lauda, Reutemann and Villeneuve. Prost's problems were keeping him from contention, but Patrese still ran third, albeit increasingly distant from the two leaders.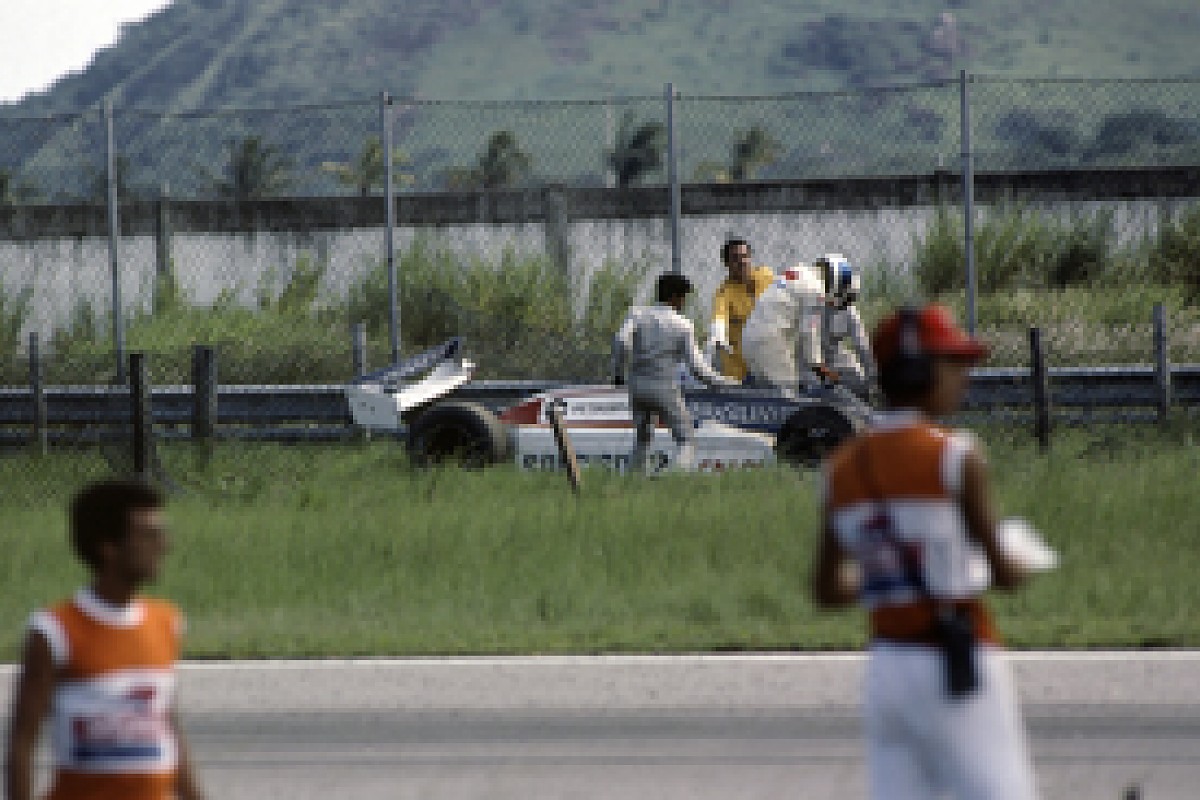 A suspension problem put Serra out of his home race and into the fencing © LAT
Lap 34 was dramatic for the three 'Ps,' for Pironi finally came in for new tyres, and Piquet completely missed his braking point for the last corner, the Brabham sliding wide and almost off the road. Piquet collected it, but lost a lot of ground to Rosberg. Next lap, same place, and the same thing happened, the Brabham this time very sideways, although held - just. Was Piquet having a recurrence of his Las Vegas stamina problems?
Well, he was, but he managed to conquer them. And he was very much in a better shape that his team-mate. On lap 34, Patrese had an apparently unaccountable spin after the kerb on the exit of a turn. The Brabham did not hit anything but nevertheless headed for the pits. Once there, the driver did not move. Patrese, after 34 laps, was utterly at the end of his tether. The mechanics lifted him from his car, and laid him down in the pit, where he was attended by a doctor. A full hour passed before he had fully recovered. "He told me he'd blacked out, and that was why he spun," said team manager Herbie Blash later.
One man not suffering in this respect was Winkelhock, and his was one of the drives of the race. He ran hard and relentlessly in the ATS, and now, with Patrese gone, was up to sixth place, his day far more satisfactory than that of his team-mate, Salazar, unhappy with his car's handling from the outset. After being lapped by Winkelhock, Salazar felt his engine starting to tighten, and switched off before it blew.
For some time there seemed a real prospect of a race to the flag between Piquet and Rosberg, and there was little doubt that Keke was the stronger man of the two. He never threw in the towel, but his tyres started to go away and that alone prevented a serious challenge. "I couldn't believe how quick Nelson was in a straight line," was his comment afterwards.
Of particular concern to Keke was the state of his right-rear tyre, whose inside shoulder seemed gradually to disappear. For a brief period it appeared Prost might have been sandbagging, carefully placing himself, but such was not the case. As well as the misfire problem, his tyres were going off. This was a man with one eye on the world championship, driving with points in mind.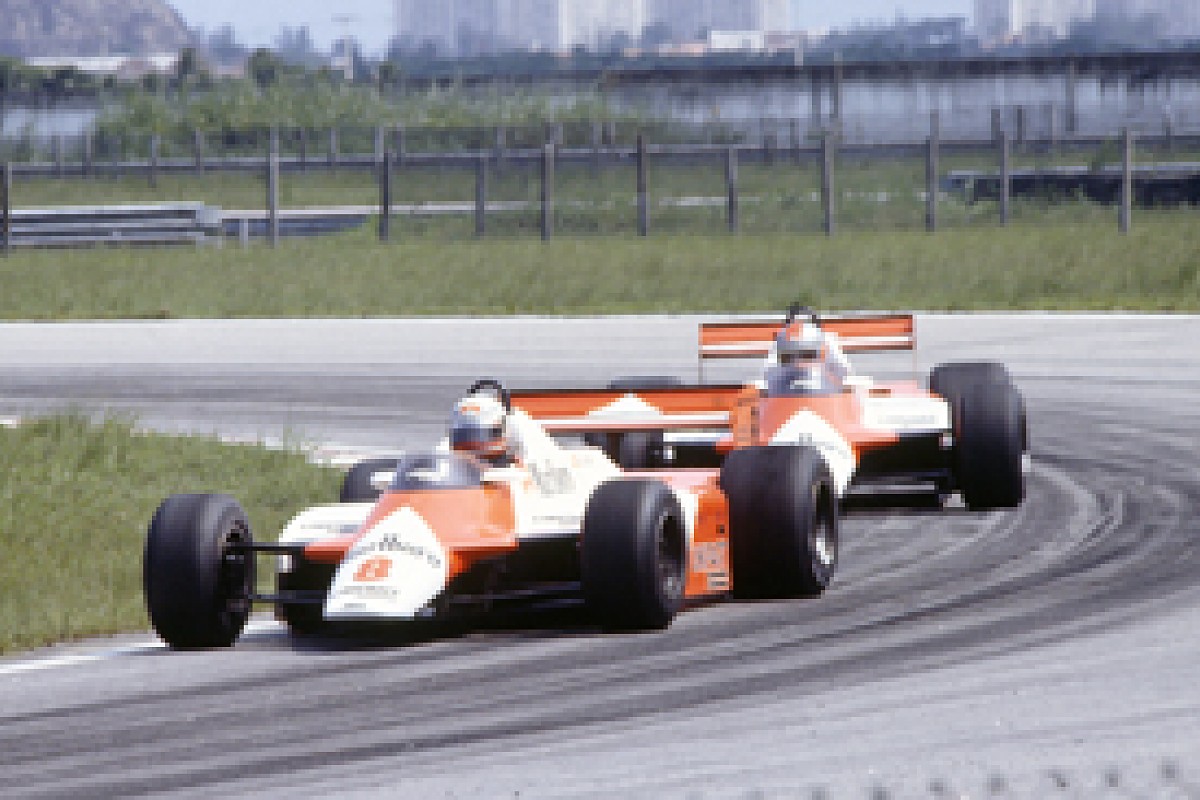 Lauda ahead of Watson, but the Brit would make it home in fourth © LAT
The closing laps were as dull as the first half of the race had been exhilarating, with Piquet fighting off his fatigue, Rosberg his slithering Williams, Prost his misfire. Behind them, Watson, despite a surfeit of understeer, was still well in touch, running fourth, ahead of a desperately tired Mansell.
Other drivers commented that the Tyrrells seemed to cope with the bumps better than any other cars, and this was probably of some help to Alboreto, who fought back really well after his early altercation with de Angelis, passing Winkelhock for sixth place.
Piquet duly made it to the flag, cruising round on his victory lap with the gallant Rosberg, accorded an ecstatic welcome.
In the paddock, however, there was less than ecstasy. Marco Piccinini and Jean Sage, of Ferrari and Renault, protested the first two cars. "We need to get a clarification about these water tanks," said Sage. "If they are legal, we need to know. We, too, can build lightweight cars if we need to..."
This initial protest was rejected by the stewards of the meeting, and now goes before the Brazilian ASN, and thence, presumably, to Paris. Happy days are here again...
*Piquet and Rosberg would later be disqualified for underweight cars, handing victory to Prost.