Since 2009, the Grapevine has followed the evolution of Formula 1's Resource Restriction Agreement with keen interest. Not only for topical or commercial reasons either.
The document is, after all, designed to 'level' the financial playing field, thus enabling minnows to fight the piranhas on (more) equal terms - thus making it of crucial sporting importance.

However, in its original form (September 2009) and subsequent (updated a year later in Singapore to address shortcomings) revisions, the RRA - a matrix designed to provide an equivalence formula for bought-in and in-house operations - relied very much upon self-policing, with audits on teams to check the veracity of their submissions. In both instances the penalties for non-compliance were effectively non-consequential; conversely, the rewards for operating outside the RRA could be substantial.
Whoever thought a bunch of the planet's most competitive individuals could self-police without searching for loopholes in every nook and cranny suffered from the most extreme bouts of optimism. And so it has proven - one third (four of 12) of FOTA's potential membership departed F1's 'trade union' over disputes sparked by the document.
Thus if F1 was to save its teams from potential financial catastrophe, then some form of official control needed to be formulated and enshrined in the regulations. Last Tuesday evening, two days into F1's official summer shut-down, the last of the documents required to enable the FIA and all 12 teams to take considered decisions about the best way forward was circulated.
Following an exclusive interview with FOTA chairman Martin Whitmarsh in November last year, the Grapevine broke the news that the teams had requested the FIA to enshrine some form of RRA in the regulations, with sporting penalties (rather than vague financial restrictions during future seasons) being imposed for breaches.
"I think it is likely and probable that elements, or all of RRA, will go into the regulations, at which point it won't be at the discretion of teams to decide the level of audit or not," Whitmarsh said in the evening heat of the Abu Dhabi paddock.
"You can imagine," he continued, "that in the future it will form part of the sporting regulations, at which point there will be a sporting [penalty]. We need to control costs in F1. I don't think there's any team that would say 'no' [to that]. What we don't need is a free-for-all. That being the case, we need to develop trust and process and sporting penalties or incentives to comply."
Subsequent to that, intense discussions to define a road map acceptable to teams big and small took place behind closed doors. During the FIA's Monaco Friday press conference, Mercedes team principal Ross Brawn advised that a meeting, called by the FIA, was to be held on the following Monday to pursue the concept of the FIA-controlled RRA.
"I think the FIA have now, at the request of the teams, become involved and there's a meeting next week which I think will be a very important meeting to set the objectives and agree the methodologies and philosophies that we want to control costs in the future," said Brawn before endorsing the concept. "I think the resource restriction, for me, is an essential part to safeguard the future of F1."
Concurrently the FIA had been ramping up its own internal efforts to unravel the financial spaghetti pot FIA President Jean Todt had inherited at the end of 2009 from the previous administration. To that end, the Frenchman appointed Damien Clermont - formerly FIAT group chief financial officer and corporate senior executive vice president - as the FIA's chief administrative officer reporting directly to Todt in February.
Once Clermont had slid his feet under the desk in his office in Geneva he was tasked with meeting with team finance officers, and regular conversations haves been held to discuss the methodology and implementation of an FIA-controlled RRA since.
The last such meeting was convened two weeks ago, with the plan being for the RRA to form part of the 2013-onwards F1 regulations, likely as a fully-integrated appendix to the Sporting Regulations, although one legal eagle pointed out that the F1 regulations could equally be in three parts, with Financial joining Technical and Sporting as part of the overall framework.
The latter would be a particularly cunning move, for, while the Concorde Agreement and Sporting Regulations require all rule changes to be agreed by 70% majority before entries close on the stipulated date (30 June) for the following year - where after unanimity is required - not a word is said about additional regulations...
However, the addition of a third leg to the regulatory framework may be viewed as too radical too soon. So in the event of the appendix option being decided upon, the concept of 'Financial Regulations' may well be adopted at a later stage.
To safeguard its position though, the FIA postponed the closing date for 2013 entries to September 30, with all teams who had entered by June 30 (allegedly all of them according to information received) having their documentation returned under cover of an extremely polite letter from Pierre de Connink, the FIA's Geneva-based secretary general of sport.
Ross Brawn © XPB
"I believe all teams entered, but the FIA has re-defined the entry time at the moment, so I presume all of the teams will re-enter within the new time frame," Whitmarsh confirmed to Grapevine when asked about the entry status in Hungary. He then added: "The FIA has asked us to re-submit our entries at a later date."
Whether or not the current (2010-12) Concorde holds sway over the closing date for 2013 entries is a moot point, but the FIA is anxious to avoid legal challenges (by Red Bull's teams?) That, ironically, would likely push the final decision beyond end-September - but either way the delay has bought the FIA time to define the RRA's methodology and its implementation.
Then, in Budapest on Sunday, Ferrari team boss Stefano Domenicali was bullish that a RRA deal could be struck by the Belgian Grand Prix weekend in early September. He alluded to the document that was originally scheduled to be distributed on Monday, but delayed by a day for internal [FIA] reasons.
"As you know, we have done many meetings with the [FIA and the] teams, and I think that we will receive the final document for the final approval [soon]," said the Italian business management graduate. "I don't know what will happen during the break because some of the teams will go on holiday now and some not, so I hope to be more precise in Spa."
Later an anonymous source said of the 'the final document': "I believe on Monday [Tuesday] the FIA are publishing a set of rules and procedures for an FIA-governed RRA - it's being circulated to all the teams on Monday. So it's still bubbling under, but at least there's something concrete in that they will issue a set of regulations, a governance process and how it would be administered. I think the intention is still to have formal adoption in 2014, with a powertrain RRA alongside it."
The dossier in question in fact hit team principal's desks late on Tuesday evening, with one confirming that in addition to the regulations and governance process, teams were invited to vote on one of three options:
· Introduction of a chassis-only RRA for 2013, with a powertrain RRA in 2014. The question of a powertrain RRA has long been a sticking point because one engine supplier has an estimated 400 heads; another 90...
· Introduction of a chassis and powertrain RRA in 2014. Thus affecting 2014 engines rather then the current V8s due to be phased out at end-2013
· No RRA at all, i.e. a no-limit space race. Although this could be subject to legal challenge - see below.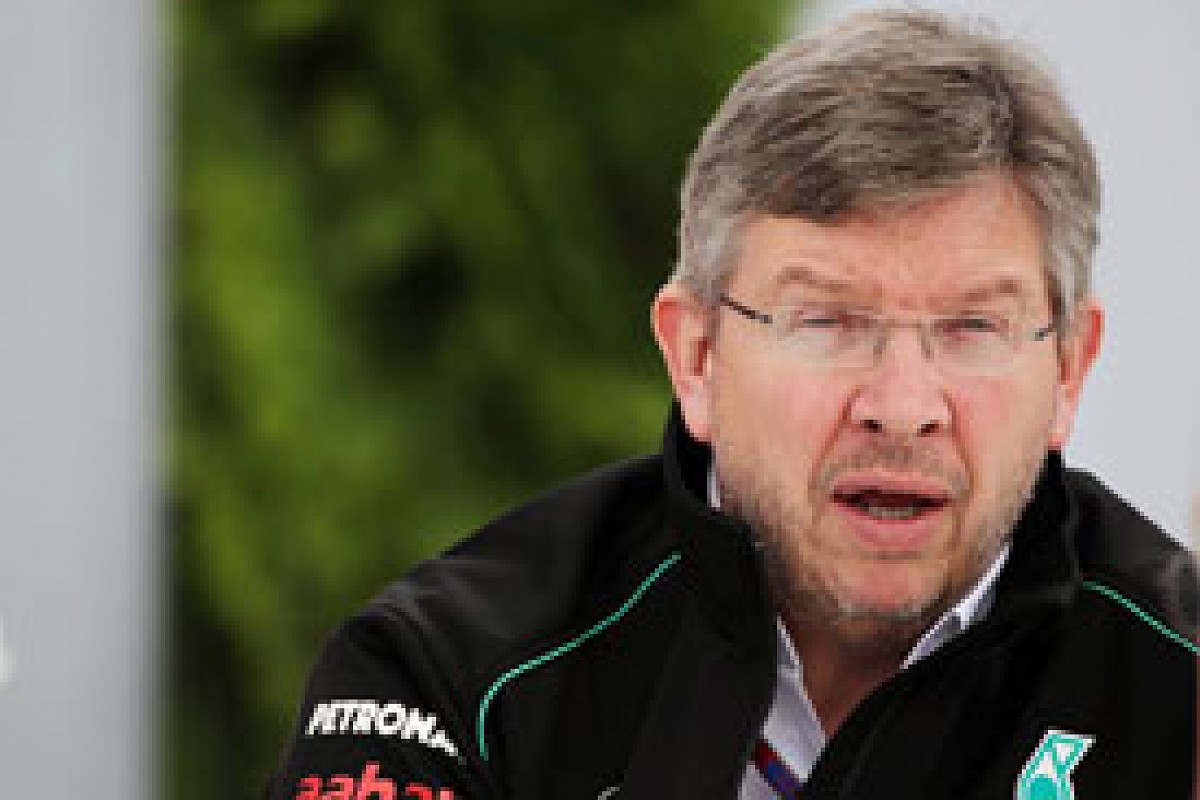 Stefano Domenicali © LAT

A quick call around indicated that ten teams will vote for Option 1, simply as only two (Ferrari/Mercedes) have control over powertrain matters, although one source did caution: "I believe FOTA will vote as a block for Option 1, but I also believe one team (Williams?) is not fully in favour, so that is still unclear - and, as you know, what people in F1 say ahead of a vote and what they actually vote when faced with a decision is not always the same thing..."
Why has Williams been identified as the odd FOTA team out? Simply as Sir Frank has gone on record as stating that he is totally against the concept of external accountants poring over his [listed] company's books.
Option 2 would simply delay the inevitable, for F1 can simply not afford to continue as it did prior to 2009 - when Toyota spent zillions on not winning - nor as teams whose tanks are fuelled by billions generated by a sickly-sweet energy drink seemingly wish it to. That a regulatory RRA is in the offing is about as certain as things get in F1.
In the unlikely event that Option 3 receives the required 70 per cent support level it would likely face a legal challenge, for a legally-binding RRA (the original RRA was superseded in September 2010 by another agreement signed by all teams, valid through to end-2017) exists, but who knows what goes on in the minds of some extremely capable and highly intelligent folk?
Thus, the most likely scenario going forward is Option 1, with the RRA being an appendix to the Sporting Regulations and superseding the so-called 'Singapore Agreement', and teams submitting to annual inspections by the FIA, according to a framework devised by Clermont in conjunction with the teams. Swingeing penalties would then be put in place for what would be tantamount to fraud should teams make false declarations.
And, finally, it would provide a position of strength for the FIA, for enshrining the RRA in the 2013 regulations means the governing body simply cannot be sidelined in talks over the future (2013-202) Concorde Agreement, as feared here.