What this most unpredictable of Formula 1 seasons really lacks is a defining championship head-to-head. At least it does so far, though that might be about to change.
While we might not have an intense rivalry on our hands - yet - what we do have is an enticing proto-rivalry.

You might be thinking that the truly mouth-whetting head-to-head is Fernando Alonso versus Lewis Hamilton. Certainly, after what happened in that most bizarre of seasons when they shared the garage at McLaren five years ago, a season-long scrap between the pair would be fascinating. But we've already seen a few glimpses of the match-up that has the potential to eclipse the box office appeal Alain Prost versus Ayrton Senna, Michael Schumacher versus Mika Hakkinen or James Hunt versus Niki Lauda.
Cast your mind back to Monza last year. After making Alonso defend into the first chicane, Sebastian Vettel had a stronger run off the exit of the corner and got a run on the Ferrari driver through Curva Grande. Alonso squeezed the Red Bull driver to the edge of the track and thought he had closed the door emphatically. Vettel, at 160mph or more, simply kept his foot in, took a bite of the grass and made the pass that won him the Italian Grand Prix.
At the time, little was made of it. Vettel said after the race that he would have liked a little more room, but it didn't blow up into the kind of row that it would have done with certain other individuals involved.
That's what's so exciting about the prospect of these two alone fighting for the title - there is clearly tremendous mutual respect. Privately, the pair would point to the other as their most feared rival.
All of this resurfaced at the Spanish Grand Prix earlier this year and it was over what happened at Monza. During the FIA press conference on Thursday, a few questions were flying around pertaining to Nico Rosberg's sweeps across the track to defend against Hamilton and Alonso in Bahrain one race earlier. It was a hot topic at the time, further stoked by comments made by the Spaniard about the lack of "respect" shown on track.
After fanning the flames a few days earlier, Alonso started to offer one of those insipid responses so beloved of drivers in that situation in response to a question from ex-AUTOSPORT journalist Andrew Benson, now of the BBC, when Vettel cut across him.
Vettel and Alonso battled it out at Monza in 2011 © XPB
Benson: Has your understanding changed between before Bahrain and now?
Alonso: No, maybe I did...
Vettel: Fernando made it pretty clear. He said "you have to leave the space. All the time you have to leave the space."
Alonso: Yes. Yes.
Vettel: It was clear, no?
Alonso: As I did last year with Sebastian. In Monza.
Benson: That isn't what happened in Bahrain...
Vettel: He just thought my car was slimmer.
Alonso: But you passed. You passed.
To put this into context, this wasn't an argument. Both knew exactly what the other was talking about and on the surface it was nothing more than light-hearted banter between the pair. But there was clearly needle there. It had the feel of a scene in a Hollywood movie when two protagonists, pitched against each other, meet face-to-face in some everyday location. The conversation is convivial; to an observer it might look like two old friends catching up, but every word is laden with a deeper meaning.
That is the underlying tension that would make a week-in, week-out dust-up so thrilling.
It's doubly enticing because you can make a compelling argument that Vettel and Alonso are the two best drivers in F1. Others can stand shoulder to shoulder with them on occasions - and perhaps Hamilton can consistently after putting the tribulations of 2011 behind him - but they remain the class acts on the grid. While they did fight for the title in 2010, it was part of a five-way war. What we really need to see is these two modern greats in a duel, rather than an amorphous title scrap lacking shape and a dramatic arc, as we had for much of 2010 and have right now.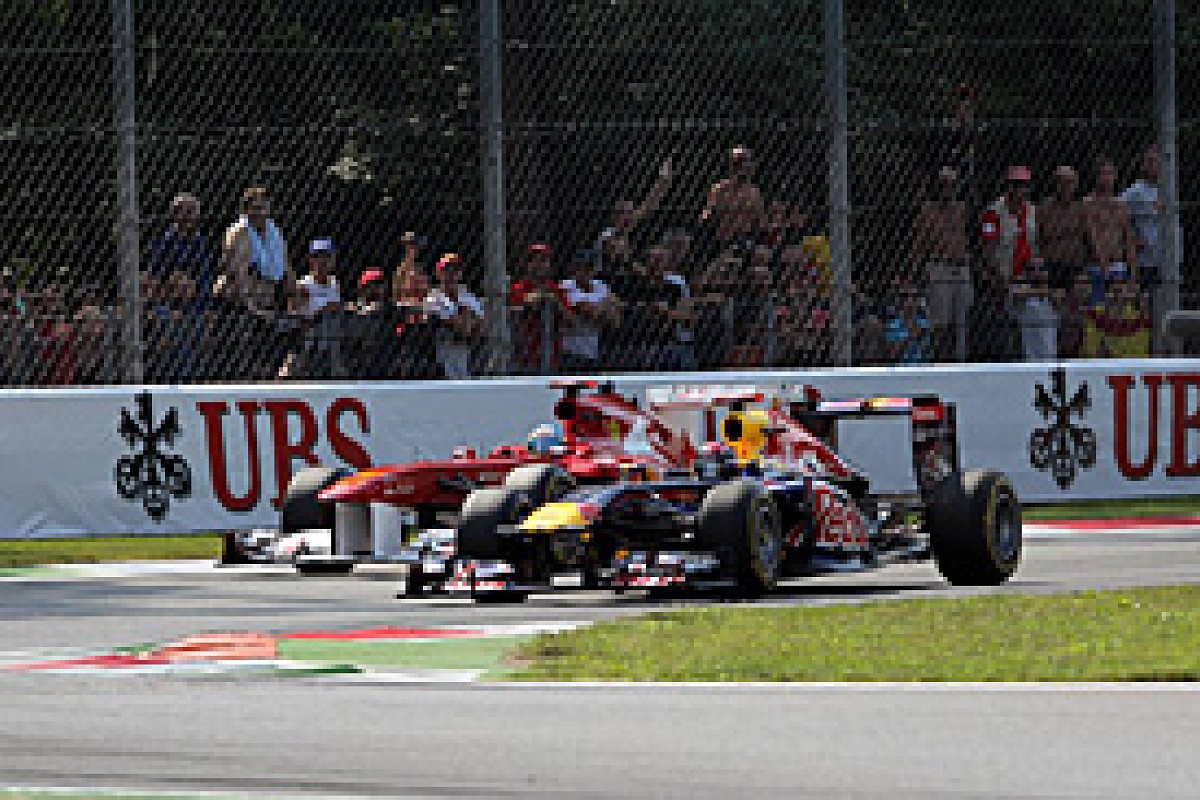 Alonso and Vettel respect each other on and off the track © XPB
It could happen this year.
While Mark Webber is in the ascendancy at Red Bull after his superb Silverstone victory, the picture would have been a little different had Vettel not been robbed of a win at Valencia by an alternator failure. If he can close the gap to Alonso in the next few races, it could be beautifully set up for the nine races following the August break.
So far, you would have to say Alonso has had the better season of the two. He has scored points in every race, winning two races in a car that started the season as a dog by Ferrari's high standards. Vettel, meanwhile, took a while to get the car predictable enough on turn-in to suit him, but since then has looked formidable. This could place them on a collision course.
Naturally, you'd hope that this is not literally the case, but there's an inescapable risk when two unrelenting greats are fighting not only for the same piece of track, but for the title.
Let's hope it doesn't quite come to that, but when you have two great champions who don't want to give each other an inch, which is exactly what we saw at Monza last year, there's always a danger of the mark being overstepped.
But it would be a surprise. Both Vettel and Alonso are class acts. Whether or not their defining showdown happens this year remains to be seen, but it's going to happen one day. And it's going to be a thriller that could become not only one of the great F1 contests, but one of the iconic rivalries in sport.