Practice one - Friday AM
Britain had been fairly relentlessly wet in the run-up to its grand prix, and the deluge continued as practice got underway at Silverstone.
At many races, a wet Friday morning is a quiet Friday morning as teams wait for better weather. At Silverstone, there was a suspicion that it was going to be this sodden all weekend, so everyone just got on with it.
Grosjean was quickest in opening practice © XPB
Romain Grosjean was quickest for Lotus, a 1m56.552s lap set after 37 minutes proving to be the benchmark as the rain came down heavier still afterwards.
Daniel Ricciardo flew for Toro Rosso all morning and claimed second, ahead of Lewis Hamilton's McLaren.
Sergio Perez almost collected Grosjean as he spun, before taking fourth for Sauber. Kamui Kobayashi was great to watch in team's second car on the way to fourth.
Other spinners included Marussia's Timo Glock and HRT's test driver Dani Clos. At least Clos got 11 laps of mileage - Force India decided not to run and that left Jules Bianchi with just an installation lap to show for his latest appearance.
Practice two - Friday PM
With the rules limiting the number of wet and intermediates tyres, and the rain persisting into Friday afternoon, the second session was slower to get going.
And when cars did come out in greater numbers in the second half, Bruno Senna proved how tricky things were by aquaplaning his Williams into the barriers coming out of Becketts, causing a red flag.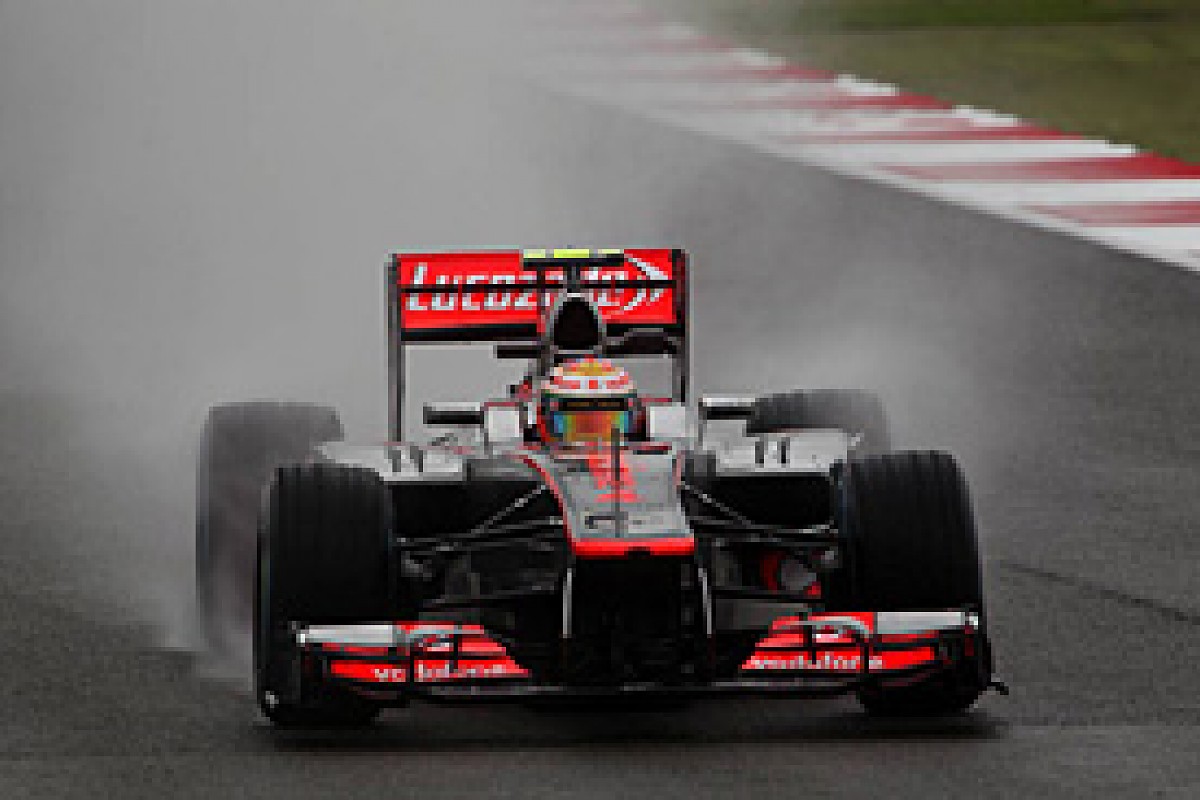 Hamilton, fastest in second practice © XPB
Hamilton ended up quickest, followed by Kobayashi and the two Mercedes. Double spinner Perez completed the top five, while Heikki Kovalainen impressed in seventh in the updated Caterham.
Fernando Alonso was another man in the wars as he spun into the barriers and damaged Ferrari's latest front wing, although he was able to keep going without any other issues.
Practice three - Saturday AM
It was dry in practice three, and inevitably that led to a frantic scramble for times and tyre assessment from the moment it got underway - although whether the weekend would see a dry track again remained a moot point.
Alonso was fastest by the end, just ahead of McLaren's Jenson Button, the impressive Grosjean, and world champion Sebastian Vettel's Red Bull.
Incidents included Charles Pic twice stopping on track with a troubled Marussia, late gremlins for Nico Rosberg, and spins for both Saubers.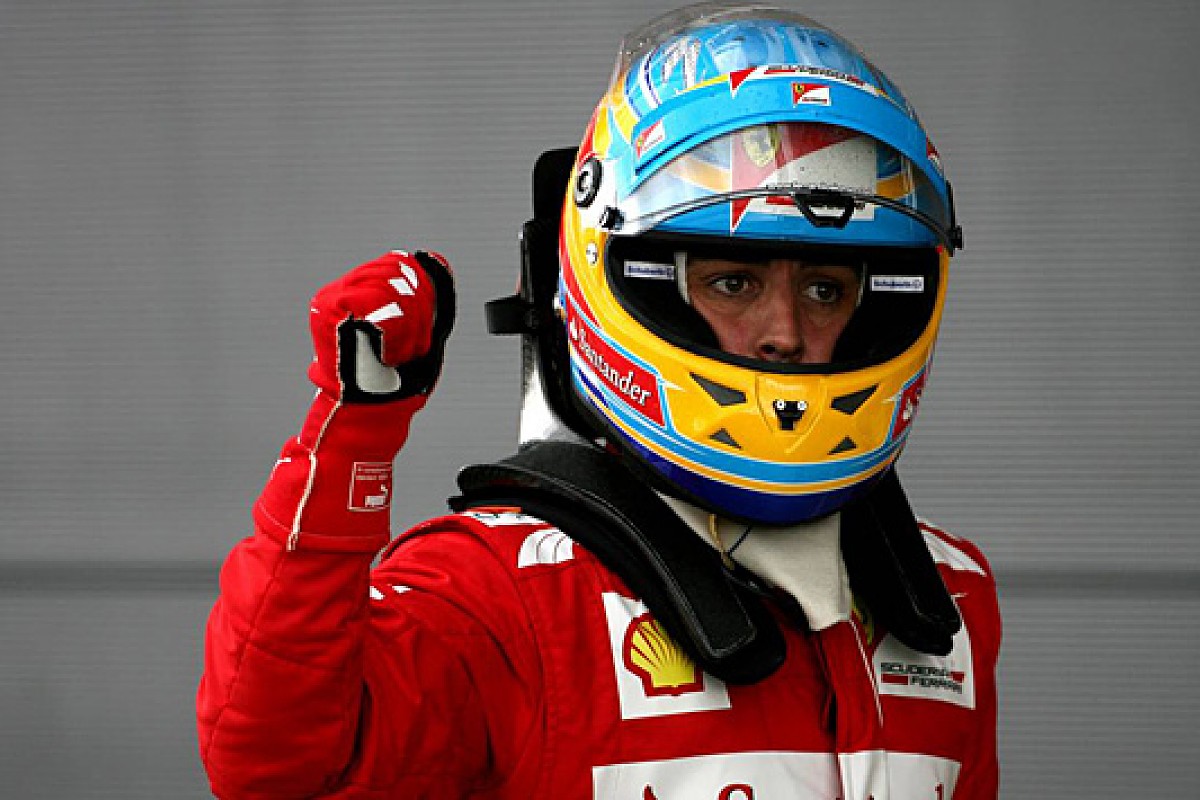 QUALIFYING
1. Fernando Alonso
"It's always a surprise to be on pole position because it's always difficult to beat the guys. In wet conditions, you never know. You need to be in the right place at the right moment, with the circuit in the best conditions possible when you do the lap and that lap has to be clean with no huge mistakes."
2. Mark Webber
"It was a very tight session. Ultimately, you don't know how you're going and you're completely focused on yourself and putting a lap together. It's very tricky in sections around the lap. It was nip and tuck with Fernando for pole and ultimately we put a pretty good lap together. I was pretty happy with our strategy."
3. Michael Schumacher
"We look reasonably competitive in wet conditions, either on intermediates or on heavy wets so rain is welcome tomorrow. It was an exciting session, particularly Q2 where I had the wrong visor on that didn't have anti-fog. I didn't have much visibility and found myself sideways at Becketts. That didn't help but we recovered well."
4. Sebastian Vettel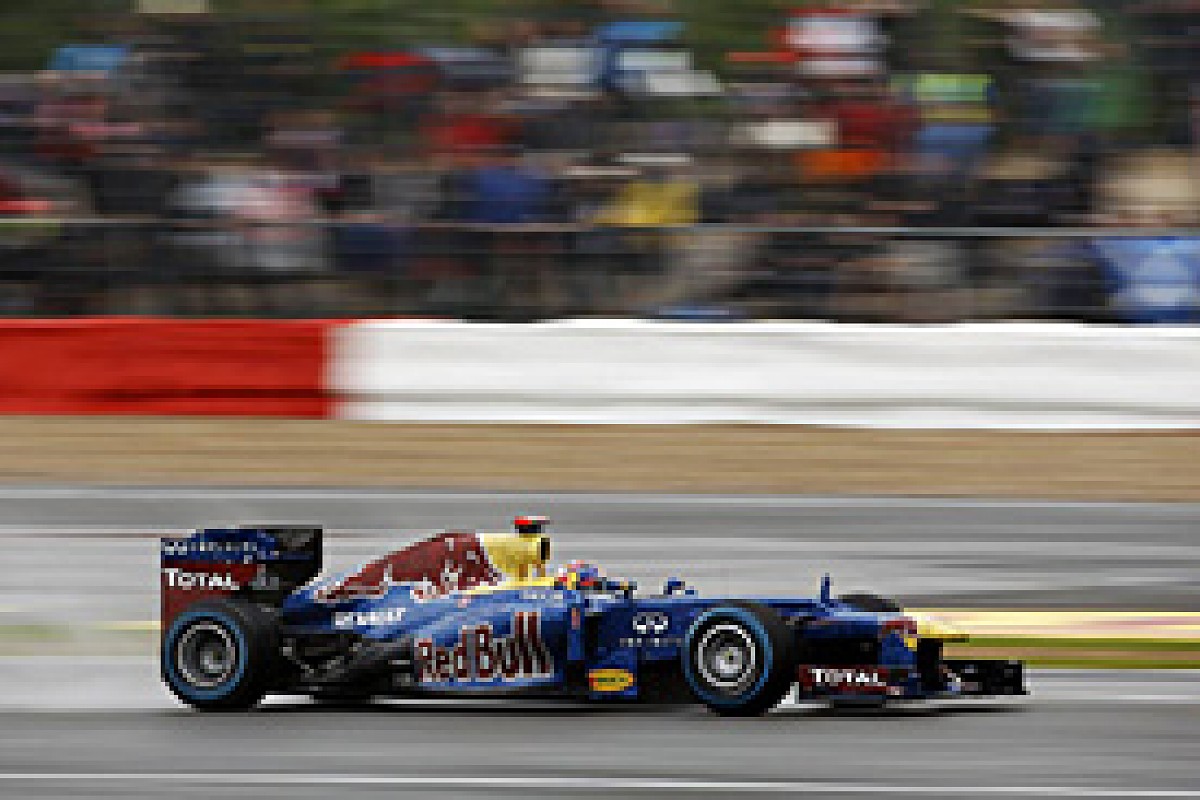 Vettel missed out on the front row © XPB
"I'm not entirely happy with my lap. I should have been a little bit quicker. I lost a bit too much in the first sector. The middle sector was okay but also I lost in the final sector. In these conditions, you try on the final lap. If you don't try, it can't go wrong. But it didn't work everywhere so I lost a bit of time. Overall, it was a decent session."
5. Felipe Massa
"We were always in the fight for pole position but I lost time at the last corner as I locked the rear wheels. But all the same I am pleased with fifth place and I think I will be competitive tomorrow, especially as the car is going well on this track."
6 Kimi Raikkonen
"We should probably have started on intermediates in Q3 so that we got more heat in them. We only got one [flying] lap on them so that probably wasn't ideal. But I think we did the best job that we could from that position. It's ideal if it rains because there is a lot of spray."
7 Pastor Maldonado
"I'm not disappointed because we were up there but I was unlucky on the last lap because I got the yellow flag. Maybe with one more lap it would have been much better for us. We weren't ready for pole position today, but between fourth and sixth was our target. The car feels quite good. It's not the quickest, but in dry conditions we were there and on the intermediates we were there."
8. Lewis Hamilton
"I don't really know what happened in Q3. The full wets had been working really well, but, as the track gradually became less wet, I sought better grip and switched to the intermediates - but we struggled to get enough temperature into them and just couldn't switch them on."
9. Romain Grosjean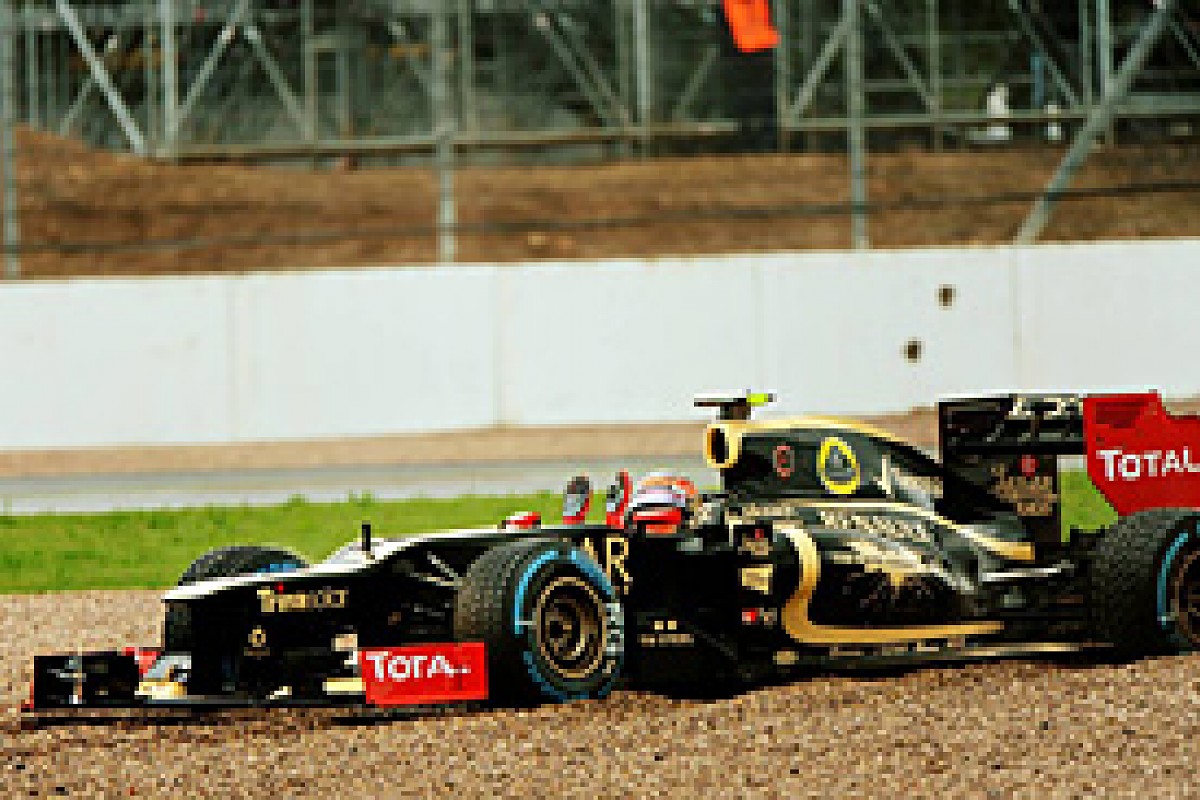 Grosjean could not run in Q3 after his spin © XPB
"It's frustrating and I'm very sorry for the team as it looks like we had a strong car, but sometimes mistakes happen. My lap was not much different from the previous lap but it was different enough for me to go off and the car went backwards into the gravel and then it was stranded."
10. Paul di Resta
"We're not in a bad position. I think we just got caught out with the weather and we couldn't really balance the car with what we wanted to do. We gambled on it more being a showery qualifying session that was more likely to be dry. All I'm saying is we're crossing our fingers for a dry day tomorrow."
11. Nico Rosberg
"Definitely it was a disappointing day and I was just not quick enough today. We need to look into why that was because in the same conditions yesterday I was quick so it's difficult to understand. That's all I can say."
12. Daniel Ricciardo
"It was a tricky session and a long one, with similar conditions to last year, when I made my F1 debut at this race. Unfortunately, after the restart I didn't manage to get through to the top 10, where we had been before the red flag. I am sure I was affected by the yellow flag for Grosjean's spin on the last lap, because without it I would have been into Q3."
13. Bruno Senna
"This is a lottery and today we weren't the winners. Today we weren't the winners. We can still have a competitive race tomorrow, it's just harder when you have to come from the back. Once again, I'm out of position at the start."
14. Nico Hulkenberg
"After Q2 on the full wets we looked quite competitive, I was right up there. Going into Q3 I hoped for a little bit more than P9 in the end but that's life. I think we need to understand what happened on the inters because we didn't look as fast as before. But with the penalty we just have to deal with it and make the most of it tomorrow."
15. Sergio Perez
"We made the wrong decision when we went for intermediates instead of rain tyres after the break, but I also had traffic. I was driving behind Daniel Ricciardo and could hardly see anything. It is such a shame because we clearly had the pace to fight for a top position here."
16. Jenson Button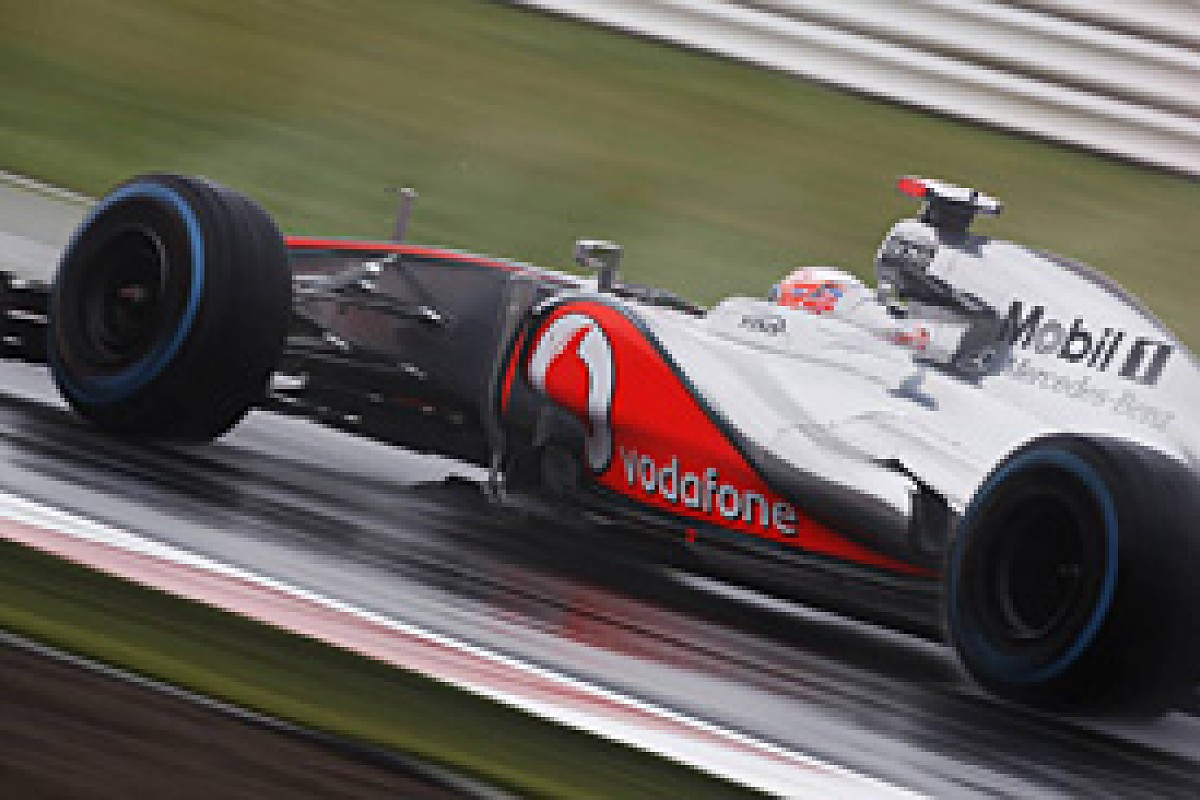 Button was out in Q1 © XPB
"I can usually drive a racing car in the wet but obviously not today. The car felt completely different on its second set of inters. On the first set, I'd had a lot of front shuddering and couldn't get the tyres working. On my final run I was around 1.8secs up but I wasn't able to make that count because it was particularly wet in the final sector and there was also a yellow flag."
17. Kamui Kobayashi
"We started on intermediate tyres after the break and this proved to be the wrong decision. I pitted and changed to rain tyres but then I only had time for one flying lap and in the difficult conditions this wasn't enough to improve as much as I needed to make it into Q3. Before that, we had a good chance of fighting for a top position."
18. Vitaly Petrov
"I'm almost happy with today's performance! It's a little disappointing that we couldn't show the full potential of the car but it is good that we know the updates are working. It looks like it's going to rain here again tomorrow and that means we won't be able to really show what we've achieved with the new package."
19. Heikki Kovalainen
"There was no more on offer today. I didn't have any car problems, I didn't have any issues with other people. The car balance felt good, I was just not quick enough. There aren't any excuses."
20. Timo Glock
"It was a very frustrating end to a difficult qualifying session that held so much promise and which could have really lifted the team after such a difficult week. The last lap of my second run was very strong and I thought we had a chance at Q2. The last sector was massively wet and in the last two corners there was no grip."
21. Pedro de la Rosa
"This was the toughest qualifying session because you didn't know what you were going to the find. Towards the end of the session they asked me through the radio if I wanted to change to dry tyres and I didn't know what to go for. For tomorrow's race, we have to be flexible."
22. Narain Karthikeyan
"Qualifying was a big lottery because at some stages it was raining heavily in one part of the track and not on another. We beat one Marussia, which is good, but we always want to do better."
23. Jean-Eric Vergne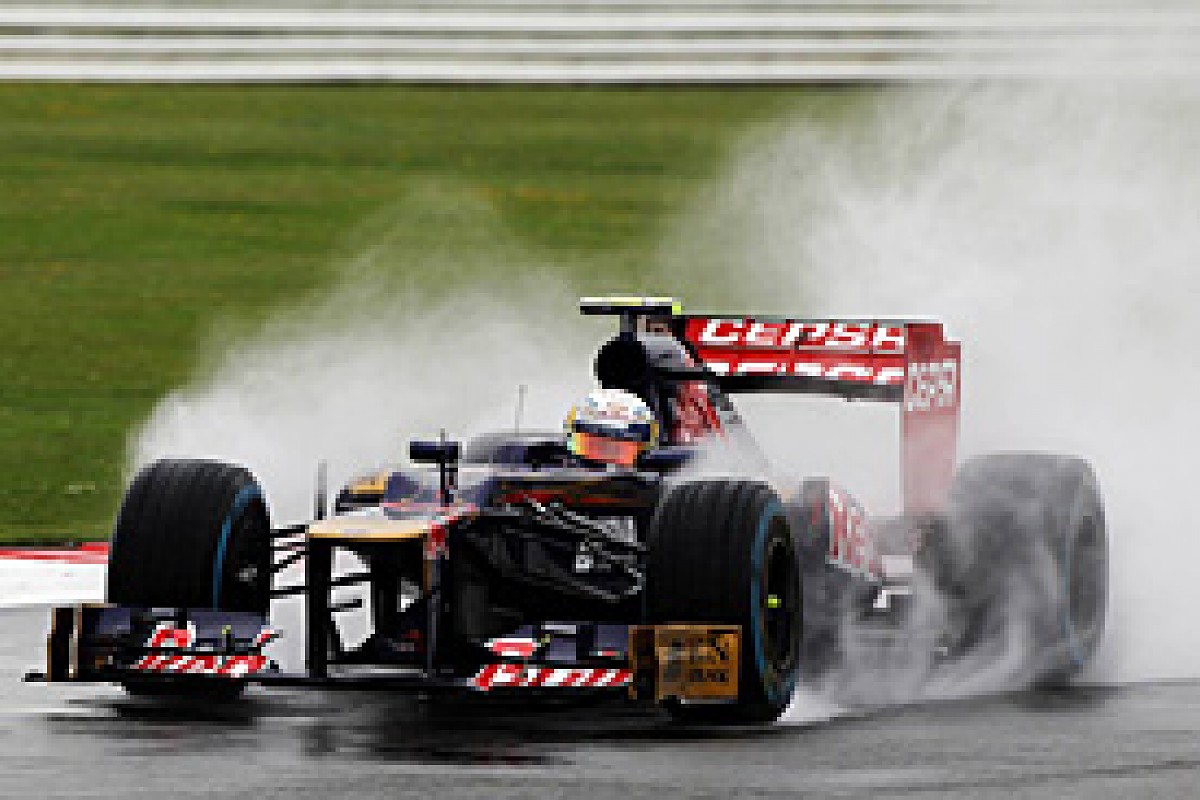 Vergne dropped down to 23rd because of his penalty © XPB
"It could have been a really good qualifying and it had been going well up until the red flag. I was fourth at the time, but I knew it would restart with better track conditions and I would have to do it all over again.
"At the restart, we considered running intermediates before making a quick decision to switch to the extreme and I think maybe I could have been higher up the order except that I therefore missed the opportunity to do a second flying lap as the chequered flag came out."
24. Charles Pic
"It was a very disappointing day for me. We were building slowly towards the final run and my first two sectors were strong. Then the rain hit in the last sector and I had to slow for the yellows, which came out for Timo's spin, so I didn't get the chance to continue the improvement."
THE GRID

Pos  Driver                Team 
 1.  Fernando Alonso       Ferrari
 2.  Mark Webber           Red Bull-Renault
 3.  Michael Schumacher    Mercedes
 4.  Sebastian Vettel      Red Bull-Renault
 5.  Felipe Massa          Ferrari
 6.  Kimi Raikkonen        Lotus-Renault
 7.  Pastor Maldonado      Williams-Renault
 8.  Lewis Hamilton        McLaren-Mercedes
 9.  Romain Grosjean       Lotus-Renault
10.  Paul di Resta         Force India-Mercedes
11.  Nico Rosberg          Mercedes
12.  Daniel Ricciardo      Toro Rosso-Ferrari
13.  Bruno Senna           Williams-Renault
14.  Nico Hulkenberg       Force India-Mercedes *
15.  Sergio Perez          Sauber-Ferrari
16.  Jenson Button         McLaren-Mercedes
17.  Kamui Kobayashi       Sauber-Ferrari **
18.  Vitaly Petrov         Caterham-Renault
19.  Heikki Kovalainen     Caterham-Renault
20.  Timo Glock            Marussia-Cosworth
21.  Pedro de la Rosa      HRT-Cosworth
22.  Narain Karthikeyan    HRT-Cosworth
23.  Jean-Eric Vergne      Toro Rosso-Ferrari **
24.  Charles Pic           Marussia-Cosworth *

*  Penalty for gearbox change
** Penalty for collision in Valencia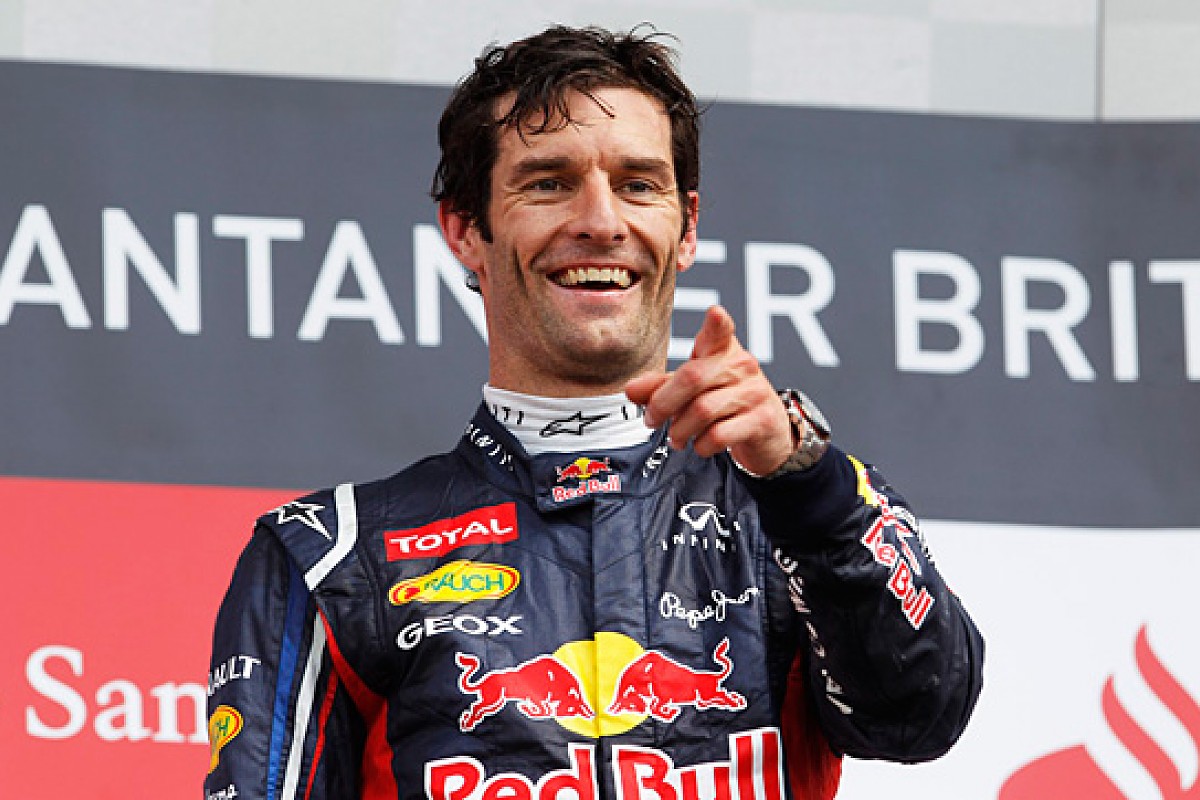 RACE
"With these weather conditions the qualifying becomes one of the less important qualifyings of the year because everything will mix up after a few laps tomorrow maybe," mused Fernando Alonso after taking his first pole for nearly two years at Silverstone.
But when it came to Sunday lunchtime, there was even a hint of sunshine over Northamptonshire. Barring a sudden change of moods by the clouds in the following hour and 25 minutes, this was going to be a straight fight on a dry track.
And that looked like it might be bad news for Ferrari. Alonso may have come to Britain with a 20-point championship lead, but the post-race talk after Valencia was as much about Red Bull's surge in pace as about the Spaniard's surprise cushion in the standings. Sebastian Vettel had been a class apart in the European Grand Prix until his alternator failed. Was that a sign that 2011-style form was about to be reasserted, or a classic 2012 one-off in the manner of Nico Rosberg's subjugation of all opposition in China?
With Mark Webber and Vettel second and fourth on the grid at Silverstone, we were about to get some answers.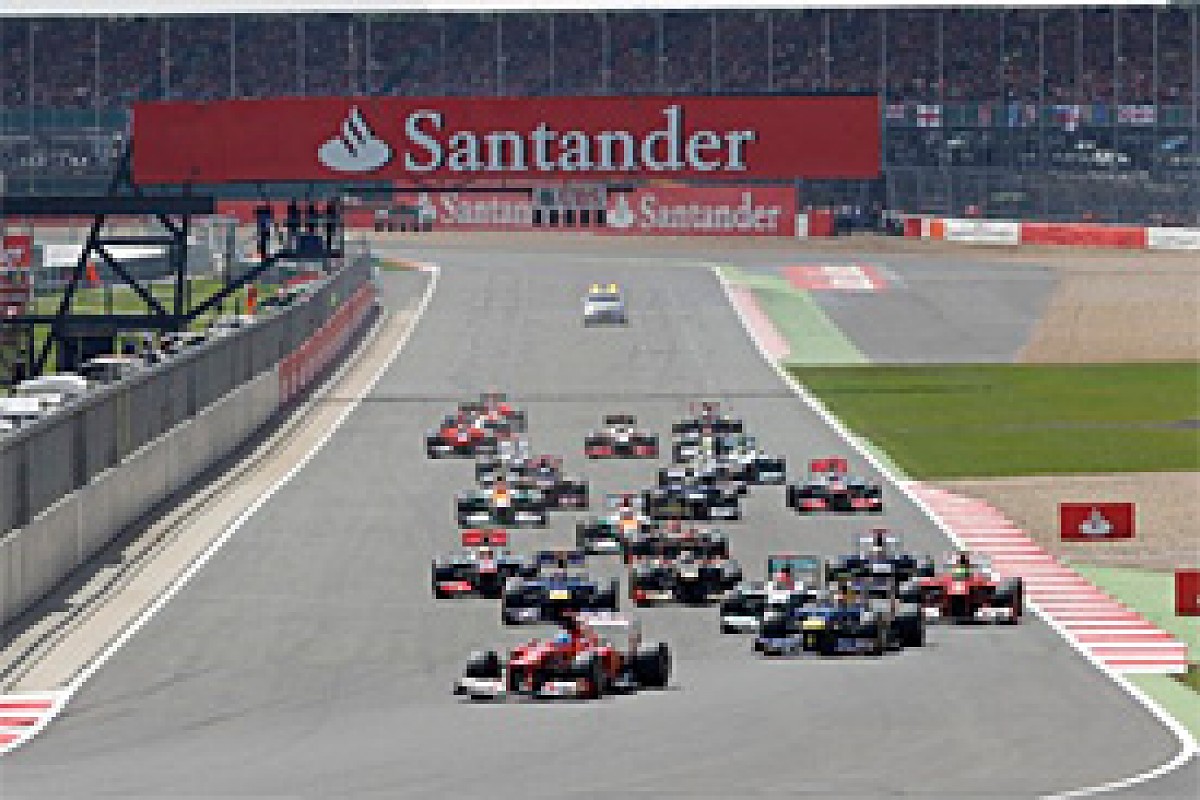 The race start took place under the sun © LAT
The early evidence was promising for those wary of Red Bull potentially flexing its muscles again. Webber got a slightly better start than Alonso, but the Spaniard had already pre-empted this and was easing towards the inside of the track as soon as he got underway. Vettel meanwhile lost ground, and it was Felipe Massa who came forward to challenge Michael Schumacher for third as the world champion had his hands full with Kimi Raikkonen. The Lotus ran out of space and had to take to the kerbs and grass on the inside of The Loop, before light contact sent a sliver of Red Bull front end flying skywards as Vettel got a run on Raikkonen towards Brooklands.
Alonso started on hard tyres, Webber on softs, and the pace advantage seemed to lay with the former. By the time the first pitstops approached, Alonso's advantage was up to five seconds. He ran a lap longer before his tyre change, and then spent a while caught up with Lewis Hamilton, who was stretching his first stint through to lap 21. It took a side by side battle and a bit of passing and re-passing before the Ferrari cleared the McLaren, but still the five-second cushion over Webber remained, with both drivers now on hard tyres.
The middle stint suggested that in equal conditions, there is still nothing to choose between Ferrari and Red Bull - at least when Alonso is at the wheel of the red car - as that five-second gap stayed stoically consistent.
But when Alonso changed to softs for the final stint, the balance shifted dramatically. Ferrari waited four laps later than Red Bull, until lap 37, for its final stop, but that still gave Webber 15 laps to chase down what was already a diminishing gap.
"With the front left tyre, if you lose balance around this place, it's very hard for the driver to do something," said Webber. "I could see that when I arrived on Fernando, reasonably close I got to see where he was struggling with his car. It was obvious that he was pushing as hard as possible but the balance wasn't with him. That's when you've got to smell the blood and you've got to go for it."
Seven laps left and they were nose to tail. Three laps later and Webber was punching his DRS button on the run to Brooklands. Alonso hugged the inside as the Red Bull breezed around the outside, took a little sniff at re-passing into Luffield, then had to settle for second and a reduced championship lead of 13 points.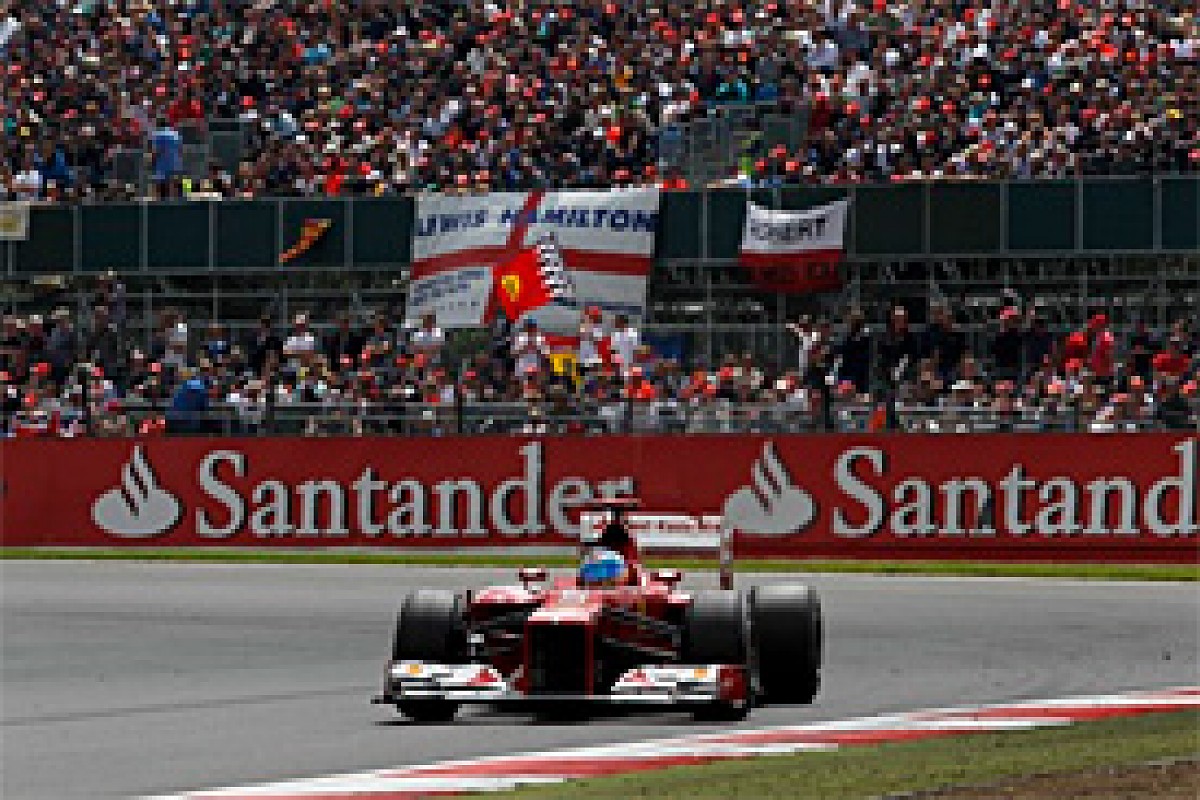 Alonso looked like favourite for most of the race © LAT
"10 minutes after the race there is a strange feeling of losing victory. But it's the same 18 points you get if you are third and you overtake the guy in second on the last lap and you are so happy," Alonso mused. "I'm sure in one hour's time I will appreciate it much more."
At least he managed to hang on to second, for Vettel was closing in too. Unable to get past Schumacher and Massa (whose dice was something of an epic - the Brazilian trying countless moves on his sometime team-mate before making it through at Stowe on lap 11) on the road, Vettel made a relatively early pitstop on lap 10. He jumped them both that way, but reducing what was by then a 10s gap to the lead proved too tall a task - though at the flag he was within 1.8s of the fading Alonso.
With Massa taking fourth, just nine seconds off the lead and his best result since his last podium appearance in Korea in 2010, the result seemed to hint at Red Bull and Ferrari edging away from the pack a little - if Silverstone really was a hint of what is to come. Lotus might have cause to disagree with that suggested pecking order as its cars completed the top six. Raikkonen chased Massa home, having again spent a whole afternoon in traffic not really demonstrating what he could do, but Romain Grosjean's form was certainly intriguing.
A relatively innocuous, no-blame-attached, brush between Grosjean and Paul di Resta's Force India as the pack jostled through the arena section on lap one left the surprised Scot slewing off the road with a rear puncture that would end his race, and sent Grosjean to the pits for a new front wing. After that, he was last, 32s away from the lead. By the finish, he was sixth, 17s off the lead, despite the time taken to clear backmarkers, getting rid of his softs at the repair stop and then just making a single extra stop for fresh hards. This man is surely due a grand prix win very, very soon.
Other teams that have won races this year had more cause for concern, particularly McLaren. After the race, its drivers were despairingly listing the cars they felt were now quicker than theirs... and the list was a long one. Hamilton was perplexed to find himself back in seventh having briefly led, and was then passed by Schumacher and demoted to eighth, even though the Mercedes had spent most of the race as the one being overtaken. Jenson Button made it through from 17th to 10th, spending his final stint in an entertaining tussle with Bruno Senna's Williams (which finished ninth) and Nico Hulkenberg's Force India (which went off at Copse dicing with Senna and fell to 12th).
McLaren's drivers were perplexed by their lack of pace © LAT
For Mercedes there was head-scratching to be done too, although whereas the McLaren duo reckoned their car was now fundamentally lacking compared to rivals, the other silver squad was optimistic that its pace had been masked by bouts of tyre graining at Silverstone. While Schumacher salvaged seventh, Nico Rosberg was going nowhere exciting even before a slow final pitstop. The Shanghai winner finished 15th.
Sauber was also a team with high hopes coming to Silverstone, where Kamui Kobayashi and Sergio Perez had their eyes on the podium. Kobayashi was on course to be somewhere around Schumacher territory until a calamitous final pitstop that saw him bowl over and slightly injure several crew members, which cost him a hefty fine and left him 11th at the flag.
While Kobayashi was contrite, Perez was raging. The Mexican spent the first stint in ninth, and pitted in tandem with seventh-placed Pastor Maldonado. On their out-lap, Perez went to pass around the outside at Brooklands, only for contact between them to end his race. As Perez called for major sanctions against Maldonado before 'he hurts someone', the Williams driver pitted for puncture repairs. A 16th-place finish and a 10,000 euro fine awaited him.
With Caterham and Marussia excited by massive upgrade packages, and Toro Rosso praying for rain to transform its chances, Silverstone might have been expected to see a back-of-the-grid shake-up. It didn't.
The Toro Rossos were 13th and 14th, Daniel Ricciardo ahead of Jean-Eric Vergne as the Frenchman quickly made up for his grid penalty, and Heikki Kovalainen beat the other 2010 debutant teams as usual in 17th. The Finn's Caterham team-mate Vitaly Petrov didn't even make the start due to an engine problem.
Still reeling from Maria de Villota's terrible aero test accident, Marussia took 18th and 19th with Timo Glock and Charles Pic. HRT rolled the dice with a one-stop strategy for Pedro de la Rosa to try and beat its nearest rivals, but it didn't pay off - although it did work surprisingly well for a car with a huge tyre appetite for most of the year so far. Narain Karthikeyan found his rubber fading more than de la Rosa, and hence finished 13s behind his team-mate in last place.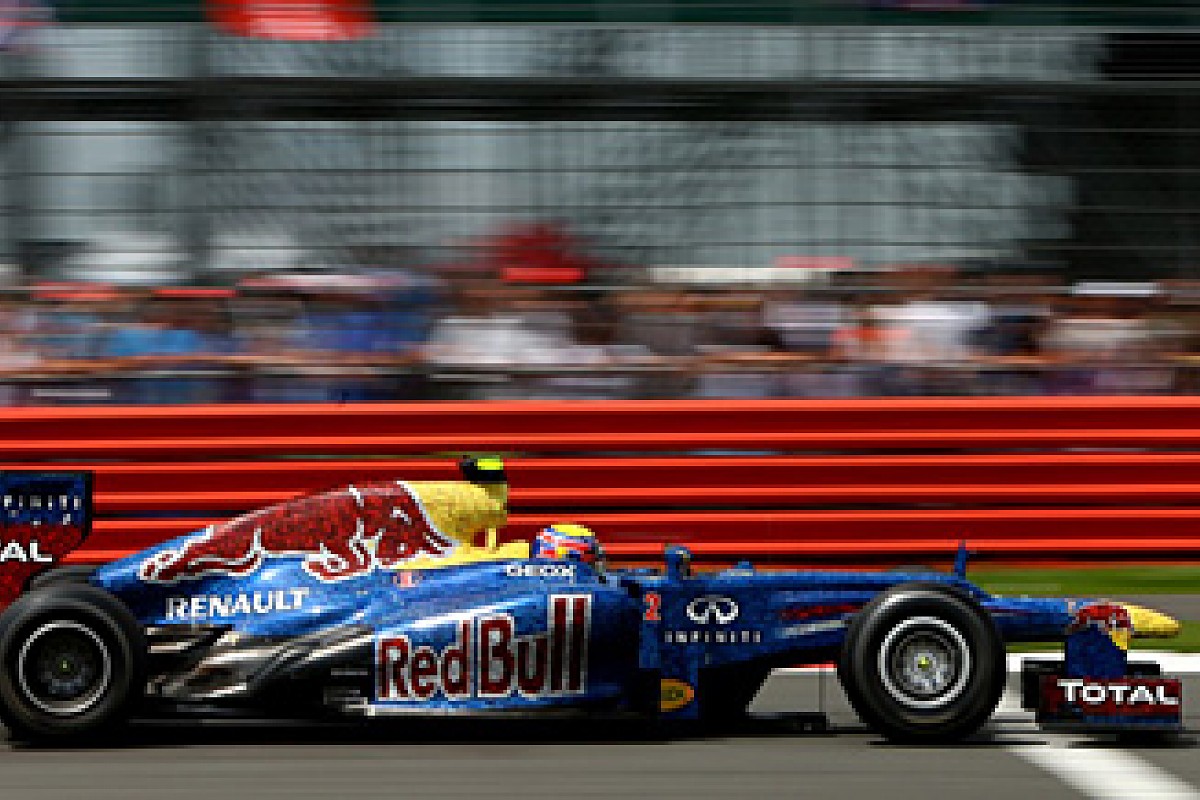 Lap-by-lap as it happened on AUTOSPORT Live
RACE RESULTS

The British Grand Prix
Silverstone, Britain;
52 laps; 306.198km;
Weather: Dry.

Classified:

Pos  Driver        Team                       Time
 1.  Webber        Red Bull-Renault           1h25:11.288
 2.  Alonso        Ferrari                    +     3.060
 3.  Vettel        Red Bull-Renault           +     4.836
 4.  Massa         Ferrari                    +     9.519
 5.  Raikkonen     Lotus-Renault              +    10.314
 6.  Grosjean      Lotus-Renault              +    17.101
 7.  Schumacher    Mercedes                   +    29.153
 8.  Hamilton      McLaren-Mercedes           +    36.463
 9.  Senna         Williams-Renault           +    43.347
10.  Button        McLaren-Mercedes           +    44.444
11.  Kobayashi     Sauber-Ferrari             +    45.370
12.  Hulkenberg    Force India-Mercedes       +    47.856
13.  Ricciardo     Toro Rosso-Ferrari         +    51.241
14.  Vergne        Toro Rosso-Ferrari         +    53.313
15.  Rosberg       Mercedes                   +    57.394
16.  Maldonado     Williams-Renault           +     1 lap
17.  Kovalainen    Caterham-Renault           +     1 lap
18.  Glock         Marussia-Cosworth          +     1 lap
19.  Pic           Marussia-Cosworth          +     1 lap
20.  De la Rosa    HRT-Cosworth               +    2 laps
21.  Karthikeyan   HRT-Cosworth               +    2 laps

Fastest lap: Raikkonen, 1:34.661

Not classified/retirements:

Driver        Team                         On lap
Perez         Sauber-Ferrari               14
Di Resta      Force India-Mercedes         3
Petrov        Caterham-Renault             1


World Championship standings, round 9:                

Drivers:                    Constructors:             
 1.  Alonso       129        1.  Red Bull-Renault          216
 2.  Webber       116        2.  Ferrari                   152
 3.  Vettel       100        3.  Lotus-Renault             144
 4.  Hamilton      92        4.  McLaren-Mercedes          142
 5.  Raikkonen     83        5.  Mercedes                   98
 6.  Rosberg       75        6.  Sauber-Ferrari             60
 7.  Grosjean      61        7.  Williams-Renault           47
 8.  Button        50        8.  Force India-Mercedes       44
 9.  Perez         39        9.  Toro Rosso-Ferrari          6
10.  Maldonado     29       
11.  Di Resta      27       
12.  Schumacher    23       
13.  Massa         23       
14.  Kobayashi     21       
15.  Senna         18       
16.  Hulkenberg    17       
17.  Vergne         4       
18.  Ricciardo      2       
       
All timing unofficial

TEAM BY TEAM
Red Bull
Amid fears from rivals that Vettel's Valencia pace meant Red Bull was about to steamroller the opposition again, the rain looked like it might be the only chance to hold the champion team back. It didn't turn out quite like that, but its win wasn't easy.
Webber was Red Bull's pacesetter, qualifying a close second after a tough battle with Alonso, and then chasing the Ferrari on race day. Alonso sat on a five-second cushion that Webber seemed unable to close for most of the distance, until the Ferrari wilted on soft tyres and Webber was able to close in and snatch a second victory of 2012.
Vettel started fourth and came out of the first-lap barging matches badly, consigning him to a frustrating opening stint between the warring Schumacher and Massa in fifth. The champion jumped both in the first pitstops, then crept closer to the leaders, running out of time to catch Alonso and finishing third.
McLaren
Worrying times for the Woking team. Fastest time for Hamilton in the very wet would be as good as it got for McLaren at Silverstone, and by the end of the race its drivers were adamant it was tumbling down the pecking order.
Hamilton qualified and finished eighth. On Saturday he was frustrated that he couldn't bring his intermediate tyres to life in Q3, while on Sunday he ran the unusual strategy of very long first and third stints on hards, and a very, very short middle stint on softs. It allowed him to lead for a bit and dice with Alonso, but by the end of the race he had faded to a slightly bewildered eighth.
Button was unhappy with his first set of intermediates in Q1 and then suffered from the return of rain and yellow flags while trying to make amends. That left him 18th, which became 17th when Vergne's penalty was applied, and 10th by the end of the race. The Briton had a fun time dicing with Senna and Hulkenberg, but being in the midfield was also a sobering chance to see how many teams' cars were performing better than his McLaren...
Ferrari
For most of the race it looked like Alonso was set to take a second consecutive win and triumph at Silverstone for the second successive year, a result that would have also made him a three-time winner in a season when no one else had taken more than one victory, and given him a 27-point championship lead. But then the practice pacesetter, polesitter, and long-time leader found his pace fading as his Ferrari disliked Pirelli's soft rubber, and Webber swooped past to demote him to second.
Massa also had a good weekend, qualifying fifth and battling entertainingly for third with Schumacher in the early laps. The Brazilian lost out to Vettel in the pits, then resisted pressure from Raikkonen to take fourth - his best result since Korea 2010.
Mercedes
Schumacher started the British Grand Prix from third on the grid after a typically virtuoso wet weather performance in qualifying - prompting Ross Brawn to point out how the old boy has still got it. Rosberg had been quick in the rains of Friday and should have been in the mix of Q3, but couldn't hook an inters lap together in the delayed Q2 and ended up starting 11th.

Schumacher made a nuisance of himself at the front end, but in the dry weather that had so deserted Silverstone previously he couldn't keep up with Alonso and Webber, so focused on maintaining third from Hamilton. Once the pitstops came around though he dropped back as the Mercedes' high-speed corner speed deficit became more apparent. In the end he finished seventh - which he said was the maximum. Rosberg was a distant, and baffled, 15th.
Lotus
Grosjean was pacey initially in the rain of Friday but spun when it counted in Q2 - which meant that though his time was good enough to make the top-ten shootout, he wasn't allowed to participate. He started ninth, four places behind team-mate Raikkonen, who felt he could have been higher than sixth if he had switched to inters earlier in Q3 and had a working KERS unit.
Lotus's desire to improve its qualifying performances was highlighted in the race, when Grosjean's race was compromised by making contact with di Resta. He pitted for a new nose then brilliantly charged back through the field to finish sixth with race pace that should have made him a contender for victory.
Raikkonen set the fastest lap of all so he could have been a contender too, but being caught behind Schumacher for more than half the race ensured he could progress no further than fifth.
Force India
Di Resta just missed out on a Q3 attempt when he backed off for waved yellows, but he wasn't too concerned because he'd set his car up for the dry in the hope that the gamble would pay off on Sunday. The gamble was the correct choice, until Grosjean touched his right rear wheel and punctured. The Scot spun, then pitted, then went out for a broken floor for a lap. Careering over the Becketts grass made him decide to render his car hors de combat...
Hulkenberg's car was set up for the wet, and while he had made it into Q3, it all meant nothing for a gearbox change-related five-place grid penalty. He raced gamely though and was in the hunt for a point until he was passed by Senna and Button in the closing stages.
Sauber
Before Silverstone, Perez and Kobayashi were speaking of challenging for victory or at least a podium in Britain. They were certainly going for it on Friday, having a few spills as well as showing great pace in the wet. And had qualifying been abandoned when it was red-flagged (never likely, sadly for the Swiss squad), they would have started first and fifth. But when they gambled on intermediates at the start of the resumed Q2, they ended up 12th (Kobayashi) and 17th (Perez) instead.
Both were in combative form in the race and quickly in point-paying positions, but a tangle with Maldonado ended the enraged Perez's weekend, and Kobayashi hit several of his pitcrew at his final stop. No one was seriously hurt, but it dropped him to an 11th-place finish and earned him a large fine.
Toro Rosso
Toro Rosso openly admitted it needed rain to have a shot at doing anything special at Silverstone. But although it flew in practice, it didn't deliver when it counted in wet qualifying, so Ricciardo started 14th, and Vergne registered 16th before his Valencia penalty was applied.
The Frenchman quickly dismissed the backmarkers in the opening laps of the annoyingly (for STR) dry race, then found himself behind Ricciardo in the midfield. And that was where they stayed, waiting for others to get delayed, eventually finishing 13th and 14th.
Williams
Maldonado stormed to a promising seventh on the grid and looked set to be in the thick of the action again in the race. But, once again, he was in the thick of trouble instead. Seventh in the opening stint, he collided with Perez after their first stops, picking up a puncture, a fine, and a lot of vitriol from a furious Mexican. 16th place was as high as he could get thereafter.
Senna's weekend turned out better, despite a less than promising start when he aquaplaned into a heavy crash on Friday afternoon. Qualifying 15th wasn't too exciting either, as he admitted to being too cautious in both the conditions and amid yellow flags after recent frustrations and misfortunes. But his race pace was encouraging, and he won a big battle with Button and Hulkenberg to take ninth.
Caterham
With another significant upgrade arriving, Caterham's hopes were very high before the weekend. But the team suggested the rain was denying it a chance to get to grip with its revised package, as there was little change in its form. Seventh in wet second practice for Kovalainen looked nice on the timing screens, but the team didn't get too excited, and there would be no underdogs heroics as its cars were only 19th and 20th in qualifying.
Petrov was Caterham's top man on Saturday, but didn't even get to race due to an engine problem while heading for the grid. Kovalainen then had a lonely run to 17th.
HRT
De la Rosa and Karthikeyan benefited from Pic's tough Saturday to get between the Marussias on the grid. That was where they stayed for a while, before heavy tyre wear saw Karthikeyan fade, and de la Rosa's proved not to have the pace to make turn his one-stop strategy into a Marussia-beating masterstroke. They finished 20th and 21st, the Spaniard ahead.
Marussia
A week before the race, Marussia was full of optimism about how its new parts (produced via a windtunnel for the first time) might lift its form at Silverstone, but Maria de Villota's horrific testing crash and injuries overshadowed the whole weekend.
Glock reckoned he might have been able to sneak a special qualifying result, had he not spun out of Club at the end of Q1, leaving him in his usual 21st place. In the race he had no answer for Kovalainen but had the other backmarkers covered - a rather familiar situation, and one that left him 18th at the flag.
Pic stopped on track first with a fuel pick-up issue then with electrical problems in practice three, and subsequently earned a gearbox-change penalty. None of which was great preparation for qualifying, where he was slowest. In the race he was able to overcome the HRTs and finish 19th.
RACE DATA