After the European Grand Prix, there was a lot of talk about Red Bull's major update and the signs that it might be on the brink of an unprecedented spell of dominance in this most unpredictable of seasons. What happens at Silverstone this weekend will give a clear indication of whether or not that will be the case. You can guarantee that if either Sebastian Vettel or Mark Webber stand on the top step of the podium, post-race talk will be of a Milton Keynes juggernaut gaining momentum.
Silverstone is one of those circuits, like Barcelona, that heavily favours those with the most high-speed downforce. If Red Bull can claim a fourth successive Silverstone pole position, combined with its impressive pace in the slower corners at Valencia, it will confirm the worst fears of its rivals. Red Bull plans further car tweaks for this weekend, meaning that if the car's Valencia speed was representative, it could repeat the dominance that was thwarted only by an alternator failure on Sunday.
As Red Bull team principal Christian Horner pointed out in the wake of the European Grand Prix, "Silverstone has a completely different nature to Valencia." The likes of Ferrari, which has a strong car in quick corners and McLaren, whose driver Lewis Hamilton was half-a-second faster than anybody else in qualifying in Barcelona before being disqualified, will hope that the change of track will close things up again.
Alonso carries a 20-point championship lead into Silverstone © XPB
To date, the world championship battle has been largely amorphous, but Fernando Alonso's victory two weeks ago has given him a 20-point lead over Webber. With a run of three races in four weekends prior to the August break, there's a feeling that Silverstone is the start of a month of racing that will set the tone for the run-in. Sooner or later, the title fight is going to have to take shape.
One of the reasons that it might start to this weekend is that the British Grand Prix is often a focal point for update packages. Many teams will have a raft of new parts, although for some it will be a case of refinements designed to optimise upgrades that have been phased in over recent races. Given that the past three races have been Monaco, Canada and Valencia, which can all be characterised as unorthodox tracks, this is the first time since Spain that teams will get a read of a car on a straightforward circuit.
Given the characteristics of Silverstone, it's unlikely that we will see quite such a tight spread as there was in Valencia, where Alonso failed to make the cut in Q2 despite lapping 0.218 seconds off the fastest time. The track will punish a lack of aero efficiency or peak downforce badly, although it should help those who struggle for traction in more stop-start corners.
But despite all the claims of tyre lotteries, you can be sure that whichever driver/car combination triumphs on Sunday must be taken seriously in the title race. Despite Red Bull's success, if Alonso were to repeat his 2011 victory at Silverstone, it would be confirmation that the lame prancing horse that started the season has been bred into a thoroughbred in double quick time.
There's plenty to play for, and in this topsy-turvy season it would be a mistake to think that the die has been cast already.
Strategy
Pirelli has allocated hard and soft compound tyres for the race and getting the latter to work in what could be low track temperatures could prove to be the biggest challenge.
It's likely that the performance teams can get out of this tyre will dictate the strategy. If you can't get the required temperature into the tyre, it will make sense to limit the amount of time spent on the rubber during the race. But the extent to which that can be done depends on the longevity of the soft rubber.
The same compounds were allocated in Spain, but whether the same two-stop strategy proves to be the quickest, which seems the most likely possibility, will depend largely on track temperatures.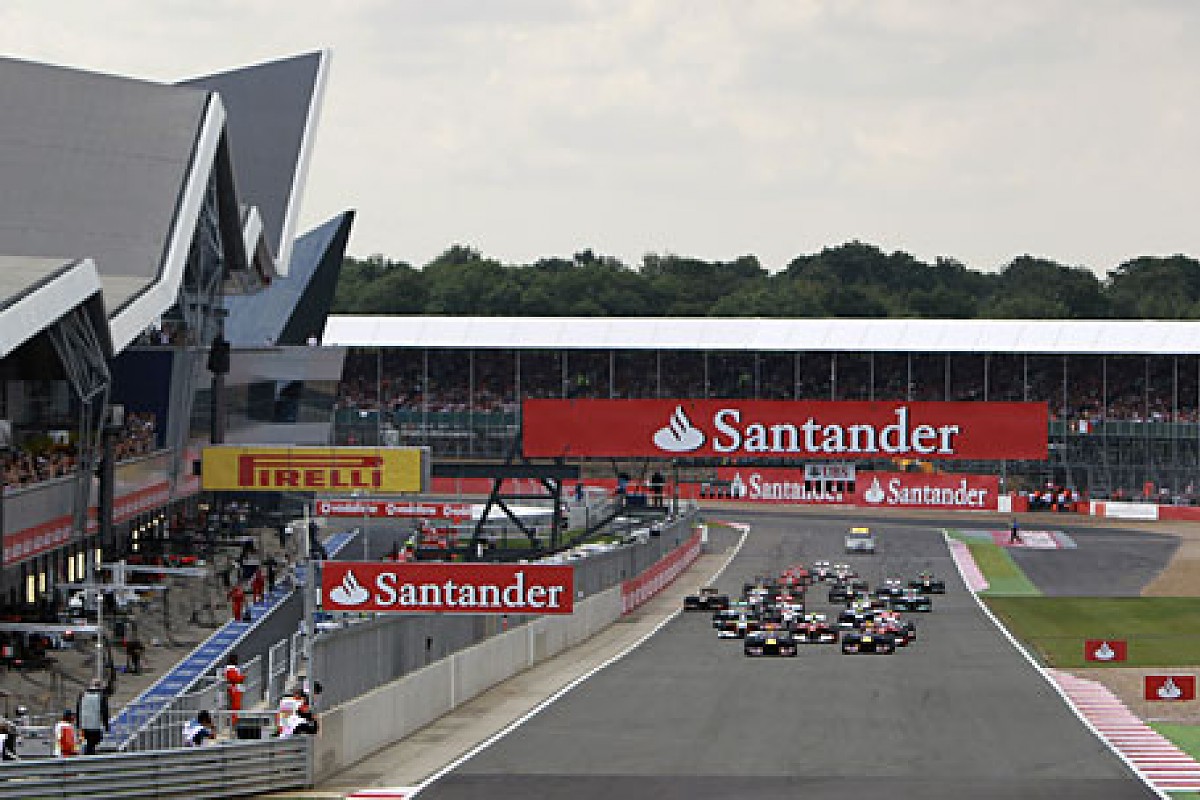 Weather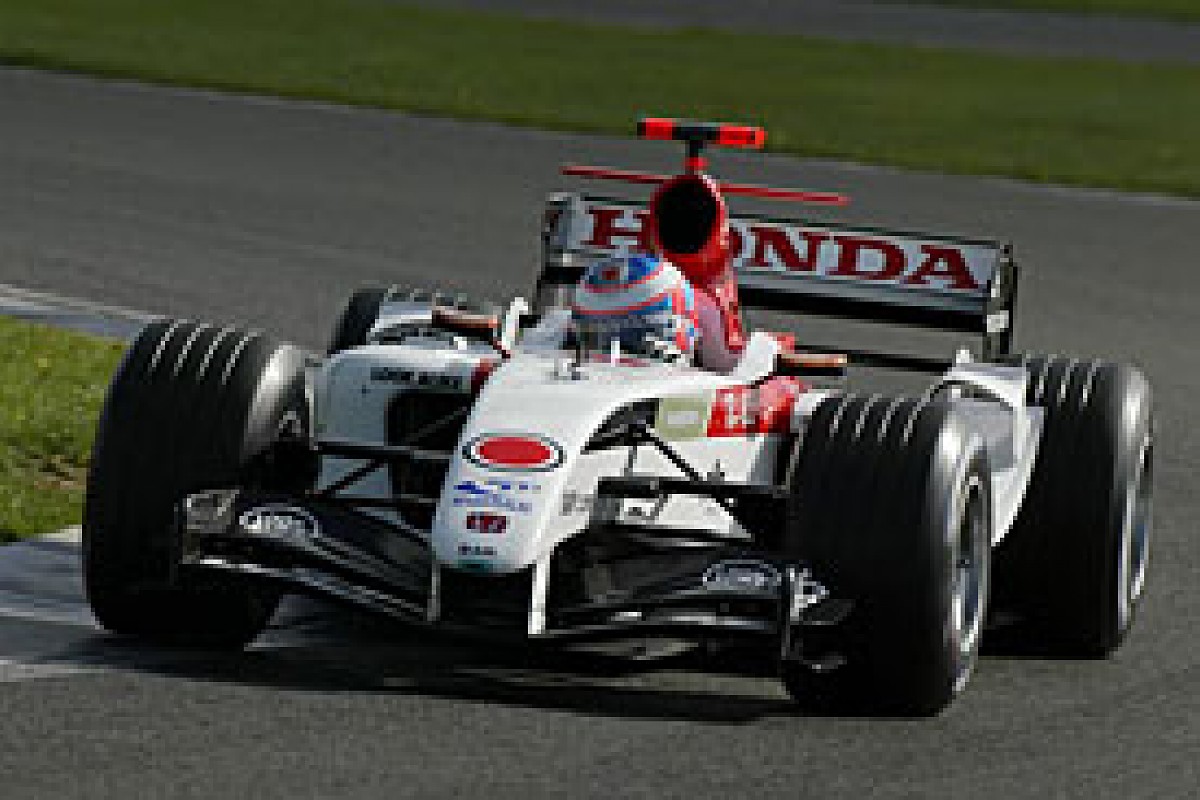 Key Silverstone Stats
• Mark Webber has ascended all three steps of the podium in the last three years: he won in 2010, was second in 2009 and third last year. In the last four editions he has always qualified in the top-four, and started from pole last year. In the last two years at Silverstone team decisions have caused controversy: in 2010 a new front row was taken off his car to be mounted on Sebastian's one, while last year he was told by radio to stay behind his team-mate in the race.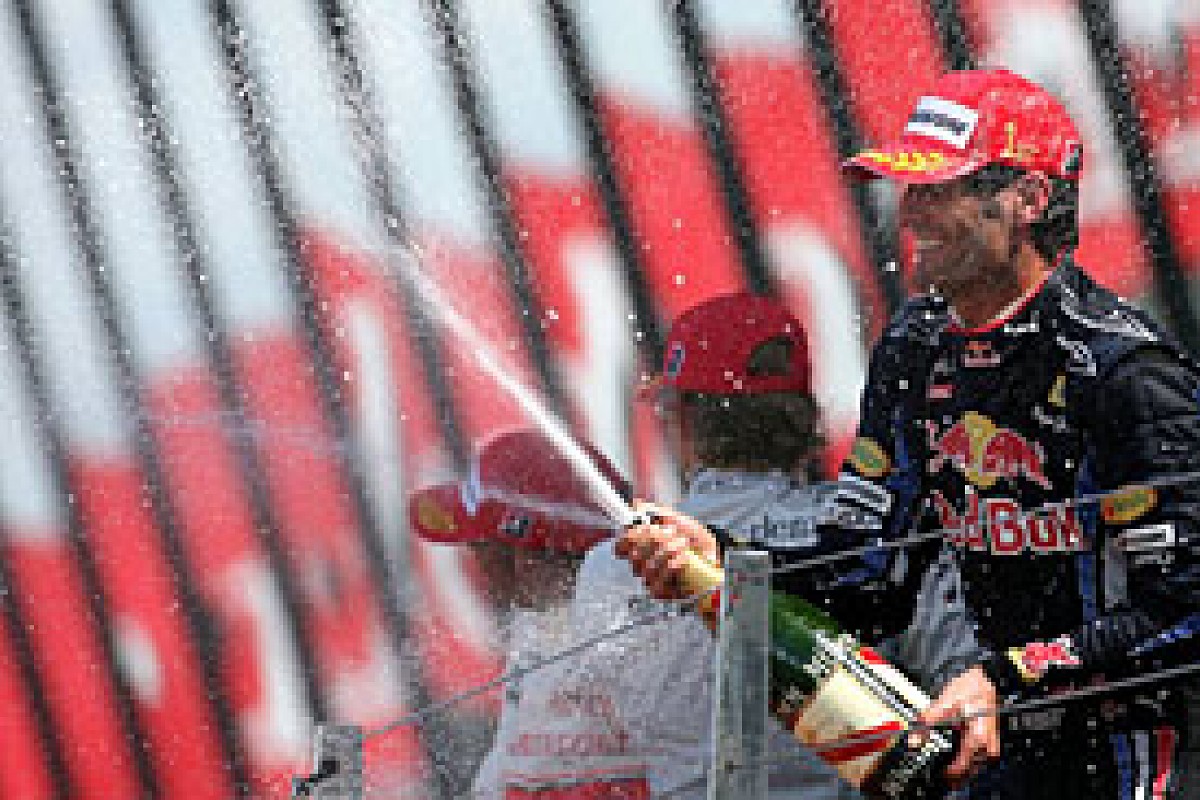 Button's fourth place for BAR Honda in 2004 remains his joint-highest finish at Silverstone © XPB
• Jenson Button has an unpleasant record in his home race: he has never climbed on the podium and he has never spent a single lap in the lead out of the twelve grands prix he has contested here. His best race result is a fourth, obtained twice, while in his last six British Grands Prix he has scored points only twice, in 2009 and 2010.
• Lewis Hamilton won here in 2008, was on the podium in 2007 and 2010. Last year he was fourth, having to slow down in the final stages due to consumption problems. He has only started from the front row once, when he scored pole in 2007, while his 2008 win is the last one with a gap of more than one minute between the winner and second-place.
• Michael Schumacher won here three times in his Ferrari years - 1998, 2002 and 2004 - and climbed on the podium three more times. He scored only one pole however, in 2001. His qualifying score against his team-mates is effectively split in two: up to 1999, the year when he broke his leg at Stowe, he was 8-0, while afterwards he was only 2-7.
• Kimi Raikkonen won here from the two McLarens of Hamilton and Alonso in 2007, the last of his five straight podium appearances in the British Grand Prix. He missed out on a points finish only once in nine races - an engine failure 10 years ago - and has otherwise always finished inside the top eight. He has however never raced on the new layout, which was introduced in 2010 when he was competing in rallies.
• Heikki Kovalainen recorded here his only career pole here in 2008, which remains the last pole for Finland to date. In the race he was fifth, his best result here. He is 5-0 against his team-mates in qualifying and was able to reach Q2 last year.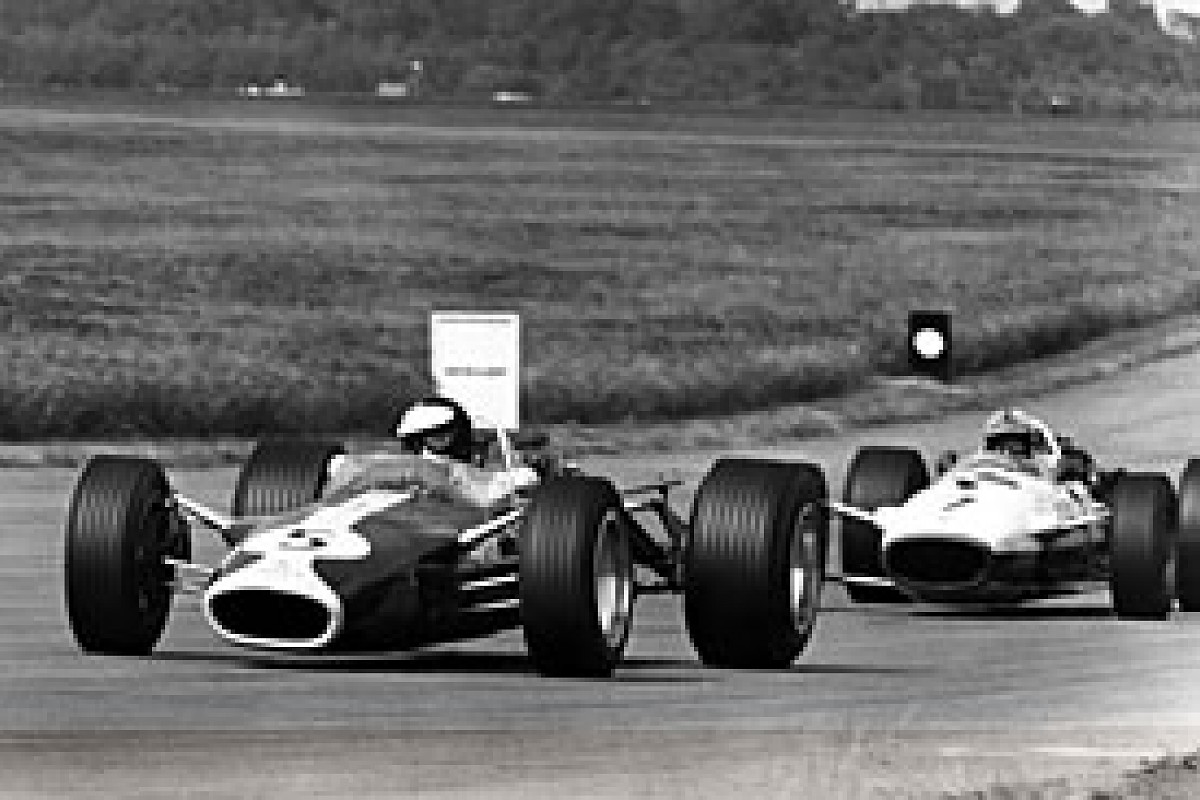 Webber's 2010 victory was the second for Red Bull in as many years © XPB
• Red Bull has been the best team here over the last three years, with three pole positions and two wins: in 2009 (a double, with fastest lap and the entire race in the lead) and 2010. Last year they finished behind Alonso, slowed down by pit-stop issues (they were running one-two after the start) and a temporary ban of their blown exhaust system. They climbed on the podium five times out of six in the last three years: the only one missing out was Vettel in 2010, when he punctured on the first turn.
• Ferrari leads the way here for wins, with their last victory coming last year with Fernando Alonso. The Scuderia, like Williams, won their first race here: Ferrari in 1951, Williams in 1979. Ferrari is however the only manufacturer among the first six in this year's constructors' standings not to have recorded a single fastest lap.
• The best result for a Force India car here is an eighth, scored two years ago by Adrian Sutil. Last year they didn't score points.
• Sauber, with BMW support, finished in second in 2008 with Heidfeld. Since then, only twice has a Sauber car finished in the points: a sixth by Kobayashi two years ago and a seventh by Perez last year.
Famous Five British Grands Prix
1950
Silverstone held the first ever Formula 1 World Championship event in the spring of 1950, although grand prix races had already been held at the track in the previous two years (there remains dispute over the exact billing of the '48 event). Alfa Romeo, which had won at Pau and San Remo in the build up to Silverstone, brought four cars for Juan Manuel Fangio, Nino Farina, Luigi Fagioli and Reg Parnell and proceeded to dominate, Farina heading a qualifying 1-2-3-4.
Prince Bira of Siam was best of the rest in the Enrico Plate-entered Maserati 4CLT-50, but couldn't live with the Alfas in the race and retired with a fuel problem at around three quarter distance. The lead battle was therefore an all-Alfa affair: Farina held the honour from the start, but he, Fangio and Fagioli swapped several times in the early laps.
Fangio's race came to an end eight laps from the end when his engine developed an oil leak, allowing Farina to lead Fagioli home by 2.5s. Parnell meanwhile survived hitting a hare to finish a distant third in front of a huge home crowd which included King George VI and Queen Elizabeth.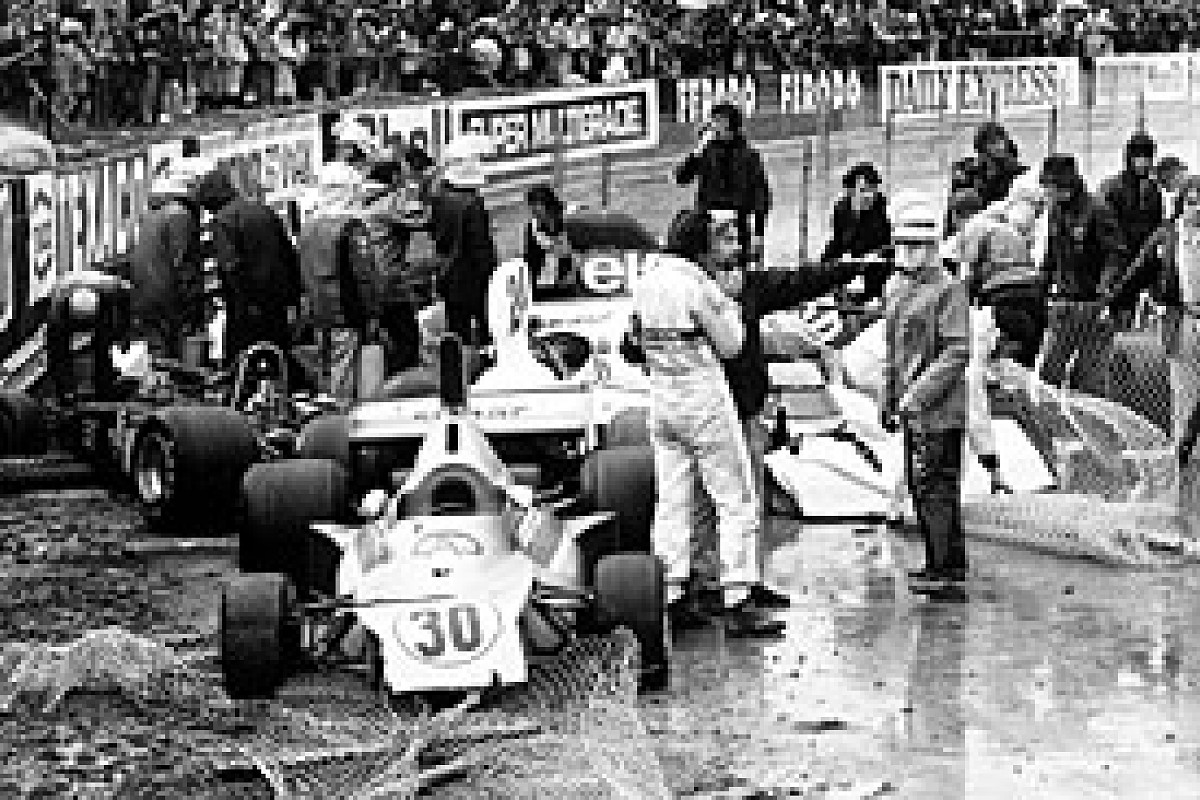 Clark made it six British Grand Prix victories in seven years in 1967 © LAT
1967
There were some who doubted Jim Clark would even make Silverstone in 1967. The king of the British Grand Prix - his sequence of consecutive wins from 1961 had only been halted the previous year by Jack Brabham - and Team Lotus stable-mate Graham Hill had both retired while running 1-2 at the previous grand prix, the victims of identical gearbox failures. Colin Chapman's drawing board revealed the issue however, and with a less flexible gearbox housing the Lotus 49 was once again in its element.
So too was Clark, qualifying on pole by 0.7s from Hill and almost one second from the rest of the field. Hill meanwhile suffered calamity during qualifying as his car slewed into the pitwall just as he was coming in, tearing off a wheel and requiring lengthy overnight repairs.
His luck didn't change come the race. Having taken the lead from Clark on lap 26, he held it until the 54th tour when a rear suspension bolt worked loose. He re-entered the fray, only to suffer a blown engine 10 laps later. Clark therefore won from Denny Hulme, who maintained his championship lead aboard the Brabham BT24, and Chris Amon in the Ferrari 312.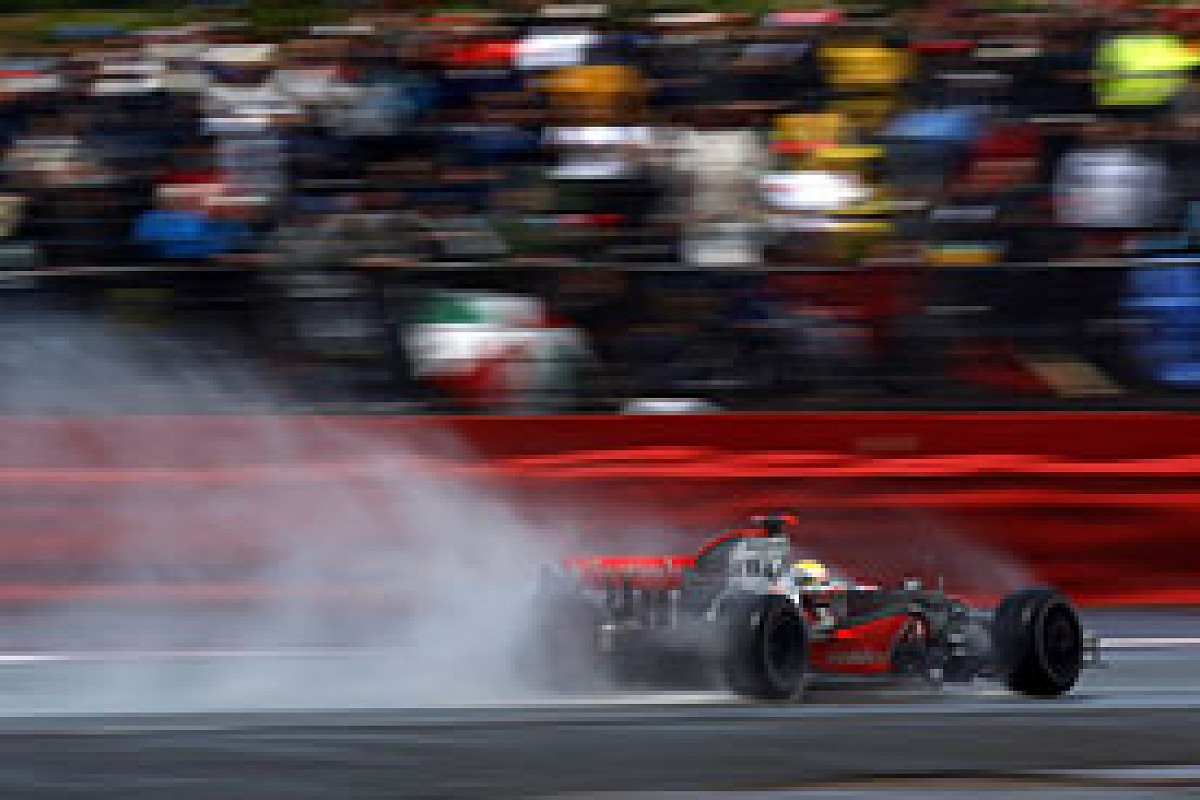 Rain caused chaos in 1975, with Emerson Fittipaldi the only classified finisher © LAT
1975
Emerson Fittipaldi was the last man left standing as chaos and controversy reigned at Silverstone in 1975, the product of a sudden rainstorm which fell at Stowe and Club and decimated the field.
The weekend had commenced with rumours that Graham Hill would announce his retirement, which were official realised after qualifying on the Friday - which had resulted in Tom Pryce taking pole position ahead of Carlos Pace and Niki Lauda. Fittipaldi would line up just 10th.
Pace snatched the lead from Pryce away from the start, and while the order continued to shuffle the drama mounted on lap 19 when rain began to fall. Clay Regazzoni, who had taken over at the front of the field, spun at Club, handing the lead back to Pryce. Two laps later, the Welshman too crashed.
The rain abated and the circuit dried, with the order constantly changing as a result, but it returned with vengeance in the latter stages. Jean-Pierre Jarier and Tony Brise were among the first to go off, but they were quickly followed by the entire field - with Fittipaldi the only exception. The red flag flew and several teams became totally confused as to the final outcome, which was only eventually decided on the Monday. Fittipaldi's victory had never been in question, but Pace was eventually awarded second despite an original belief that Vittorio Brambilla had completed enough laps to earn the second step of the rostrum.
1987
Nelson Piquet, Nigel Mansell, Williams and Honda combined to make the 1987 British Grand Prix an almost private affair. As was the case the previous season Piquet stole pole; as was also the case, Mansell won. He left it late though, moving past the Brazilian just two and a half laps from the end.
No other car could get within touching distance of the two Williams in qualifying. Mansell set his time and waited for someone to beat it; when Piquet did, the Briton re-emerged but fell seven hundredths of a second shy.
Alain Prost took a surprise lead away from the start but it was short-lived, and by the end of the first lap the two Williams had resumed their customary position at the front. The pair's battle did at least keep the Williams hegemony interesting, with the race coming down to the very final stages. Piquet's final stop was relatively late, and Mansell was able to close in, eventually stealing ahead at Stowe with a stunning move. Victory was the Briton's, and not a moment too soon, Mansell running out of fuel on the slowing down lap.
Hamilton's 2008 victory was to date the last race with a winning margin of over one minute © LAT
2008
Silverstone may not have been the defining race of Lewis Hamilton's triumphant season - that honour surely belongs to Brazil - but it was easily among his finest. Tyre choice, car performance and race strategy go only some way to explaining the magnitude of his victory.
This was, quite simply, Hamilton in his element, a drive so imperious that it earned parallels to Senna's feats at Donington Park in 1993. As the Briton remained planted, locked in a sensational groove, his rivals floundered. After 60 laps only two men remained unlapped: Nick Heidfeld, more than one minute back in second, and Rubens Barrichello in the Honda RA108.
Hamilton's chief rival Felipe Massa had a thoroughly unhappy race in contrast, spinning several times and finishing 2 laps down in 13th. Team-mate Kimi Raikkonen fared better, eventually coming home fourth ahead of the second McLaren of Heikki Kovalainen.
They were side-stories however. This was Hamilton's day, the Briton's first win on home soil also one of his finest in F1.
From the forum
Part of me thinks the new RB package isn't much better than anyone else's. They're fundamentally not doing anything different than anyone else, just managing the crossover in a different way. But then I think about how important exhaust gasses sealing the diffuser are... Of course it's a combination of all the things they're doing from rake, to FW, McLaren style vortex generators ontop of the sidepods, new exhaust & tunnel, RW & their engine mapping. I do like how Ferrari have been downplaying all of the updates they've brought to each race. "A few parts here or there" type of comments, fully knowing they've vastly improved the F2012. Which to me shows confidence internally in what they're doing at the factory. Let's hope that translates into results this weekend as well.
CrucialXtreme
Jenson has already demonstrated that he can be very fast, as he did early this year. I have a feeling he will turn things around on Sunday.
Obi Offiah
We might indeed see Red Bull running away, but we may not, as Ross put it...
As the F2012 and Red Bull's rear end are in principle doing the same thing, the question is therefore about efficiency and consistencies in driver conditions, for which I hope to hear that Ferrari system can offer more pace.
One
*Key stats supplied by FORIX collaborator Michele Merlino.