Jacques Villeneuve is making his debut as a TV pundit this weekend, as a guest 'expert' on Sky's UK Formula 1 channel for his home grand prix. On paper, it looks a shrewd appointment. The 1997 world champion was never shy of speaking his mind when he was racing in F1, so he's hardly going to hold back coming into the paddock as more of an outsider.
However, turning up and producing a few headline-grabbing comments off the cuff is one thing, and being able to maintain the interest of an audience over three days is quite another. It would appear the former Williams, BAR, Renault and Sauber driver has been brushing up on F1 2012, but just because he's done his homework doesn't mean he's any less forthright with his opinions.
"I like the term 'expert', that sounds really good," he says. "I've never done proper TV work before, spending the full weekend actually involved in what's going on with the programme and not just being asked a few questions for a couple of minutes. It should be fun. Normally I spend my time watching races and discussing them with friends, so hopefully it will be the same kind of thing."
The F1 paddock is full of ex-drivers who've moved into TV work, but Villeneuve hasn't sought anyone out for advice. He's aware of the challenge though, having watched what his team for the weekend has been up to so far this year.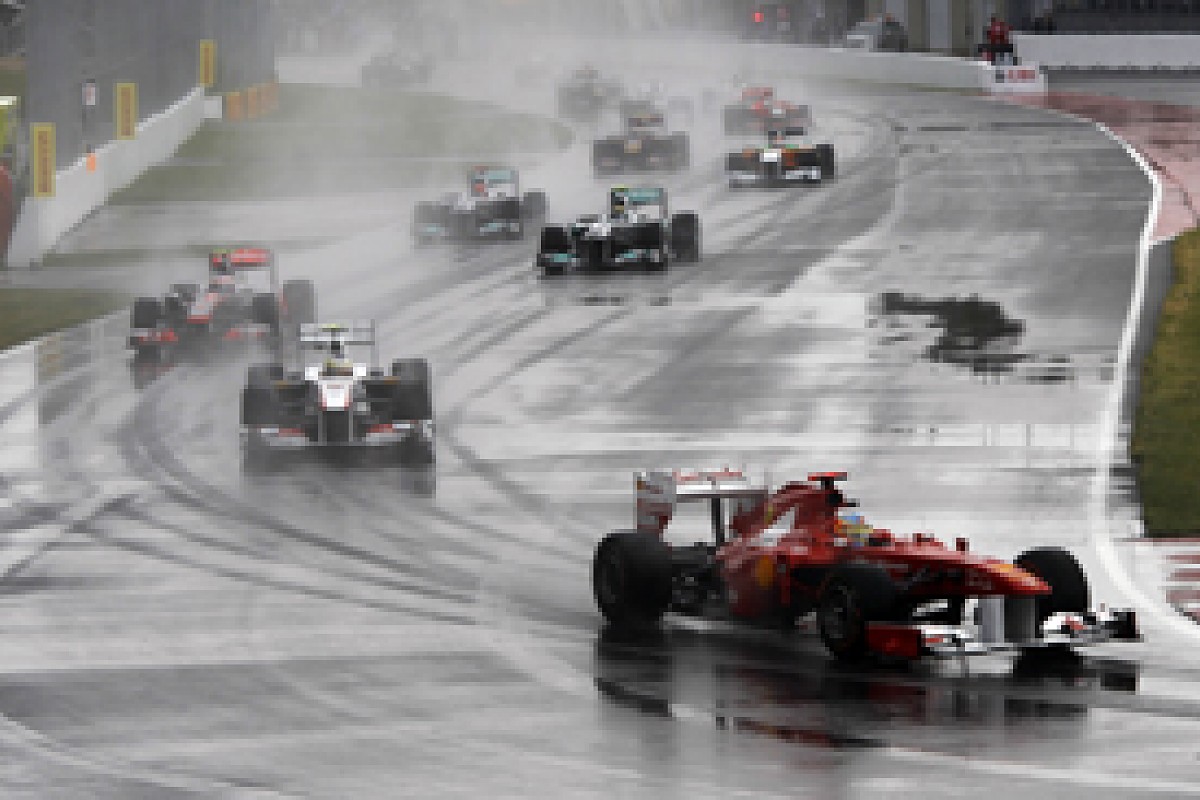 Villeneueve normally watches his home race on UK television. Here's 2011 © LAT
"Normally here in Canada I watch the English coverage of the races, so I'm used to seeing these guys on TV and listening to them talk," he adds. "They say a lot of words, so I'll have to get a dictionary and learn a bunch of new ones before I go on!"
While the days leading up to this weekend might have been spent brushing up on vocabulary, there's been little need to formulate some last minute views and opinions for the cameras. Where to start? How about one of 2012's big topics: F1's newfound unpredictability.
It's immediately clear from his tone that the nature of the sport this year doesn't sit well with the racer in Villeneuve, but he's not as dismissive of it as some other aspects of Formula 1. There will be time for some of that later...
"I guess the unpredictable side makes it fun for some fans," he says. "But it makes it less fun for the ones that really understand the racing. From a racer's point of view it would be too unpredictable. You can't survive if the tyres start going away. Either you pit on the correct lap or you're done. Nothing tells you what is coming, there's no preparation for it. You can't even predict it in advance, so it's not even strategy. I find that a bit difficult from a professional standpoint.
"It just depends who you want to be watching the races. For the masses, the unpredictability is good because you don't get into a situation like we've had in the past with only Williams winning, only Ferrari or only McLaren. At those points it only catered for the true fans, so it just depends who you are trying to cater for."
While there's an underlying tone that suggests he's not keen on 2012-spec F1, Villeneuve is keen to point out that he doesn't feel the sport has become a lottery, as has been suggested by some.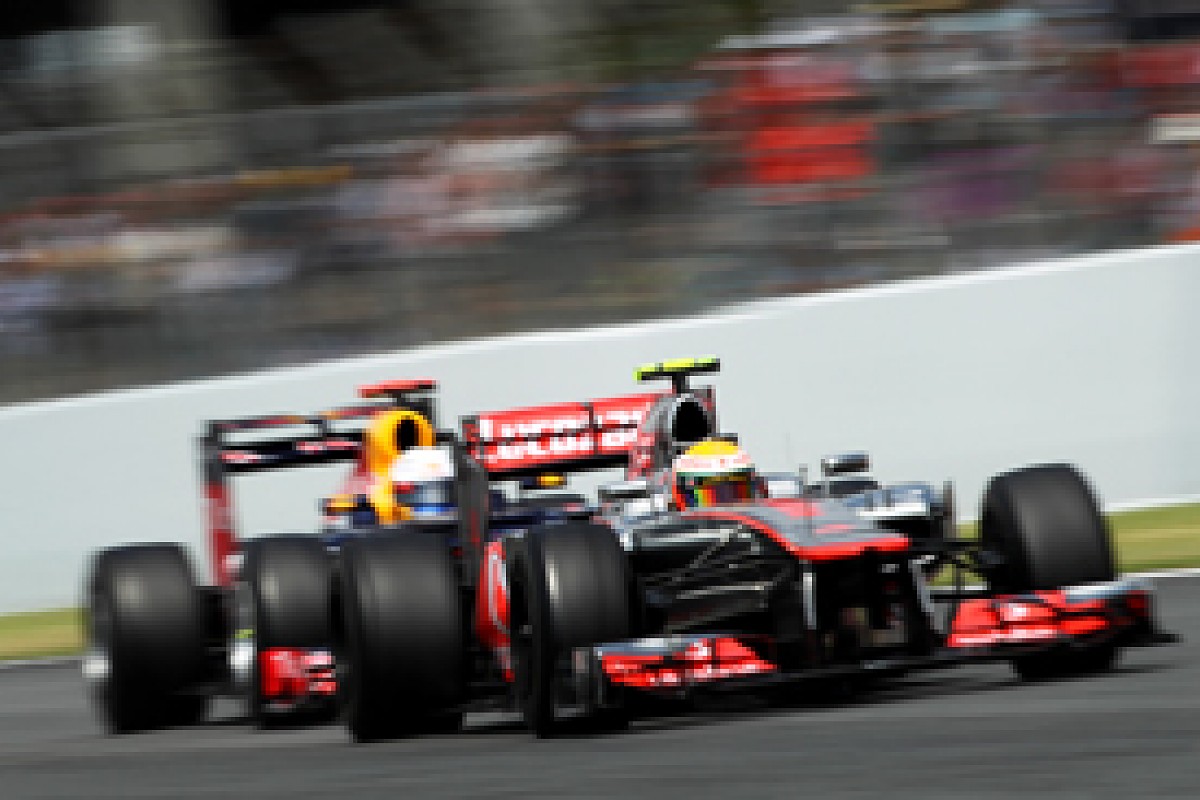 DRS-aided overtaking is not something JV advocates © XPB
"Ultimately, it's the same for everyone," he says. "And that's all that matters - whoever uses them the best will win. So at the end of the day it doesn't matter how unpredictable it is; the top teams and drivers end up at the front anyway. What you don't want is different rules for different people. That's the main thing."
While F1's 'Wacky Races' don't get his blood boiling, another element relatively new to the sport doesn't sit well with the racer in Villeneuve. Perhaps unsurprisingly for someone who pulled off some famous passes in his career, he's not a fan of the DRS. In fact, it offends him so much he has to clarify exactly what it's called before he starts throwing verbal punches.
"I highly dislike the DRS," he says once we've confirmed its name. "Yes, there is more overtaking but you fall asleep when you watch those overtakes. You know exactly what is going to happen because the guy behind is going so much faster. It's not a battle.
"There have been races with no overtaking that were amazing to watch because they were a battle, the positions were fought for. Personally, I prefer that. With the DRS it's unfair, because if for some reason the quicker cars are behind, then it's easier for them to get back to the front anyway. It just means that there are more overtakes on a piece of paper."
Villeneuve's final point on the DRS centres on safety, and also leads to him backing old foe Michael Schumacher. Like Bruno Senna in this year's Spanish Grand Prix, the Canadian knows all about being driven into by Schumacher. But in the case of the Senna incident, Villeneuve feels his old rival was hard done by in the stewards' room.
"The DRS creates dangerous situations like Michael had with Bruno in Spain, because one car is going 20 kilometres per hour faster," he says. "I can put myself in Michael's shoes, and I totally disagreed with the decision.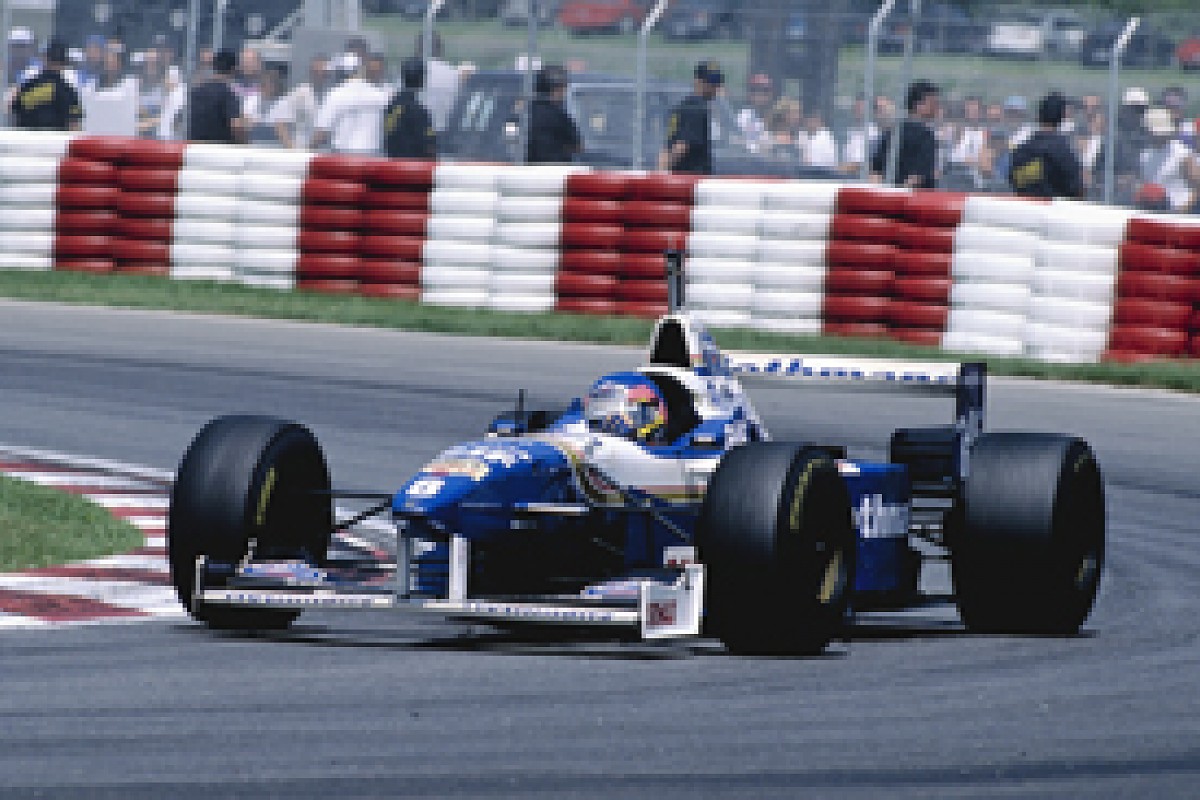 Villeneuve's best Canadian GP finish came in 1996, when he was second... © LAT
"If a driver in front of you moves to the left even for just a foot, in your mind he is going left so you dive to the other side. That's normal."
Senna's defence of his position leads Villeneuve into a rant on a subject over which he's hit the headlines this week: lashing out at driving standards. While he doesn't use the term 'Daddy's boys' as he did with some of the media earlier this week (Mark Webber refused to answer a question related to that quote in Montreal on Thursday), he does offer a very thorough explanation to prove that there's more to his view than simply trying to create a controversial headline. Here, in full, is how he put it to AUTOSPORT:
"Bruno wasn't using his brain," he says. "He was on old tyres, he was about to pit. Michael was not his battle. You don't race like that, but that seems to be the way in modern racing. There are no judgement calls from the drivers; they don't realise when they should fight and when they should not. It's really strange.
"It's down to the FIA and the marshals. Because now everyone has started using that 'one move' rule, for some reason they have all decided that they can push each other off the track providing they only make one move. But that's not the reason why the rule is there!
"There is a lack of common sense everywhere, which I find amazing. Racing is still dangerous and you should always give the opponent a fighting chance. You look at the past when the cars were actually dangerous, and people didn't block. They still braked on the outside and if the other guy was courageous enough he could go for the inside. Now all you see is weaving like it's a Formula Ford race. It's ridiculous.
"You grew up starting like that, but you got out of it. People did it in the junior categories, they got hurt, and they either changed their ways or didn't make it to F1. So that type of driving never went up the ranks. But for some reason today young drivers are not told that it's wrong.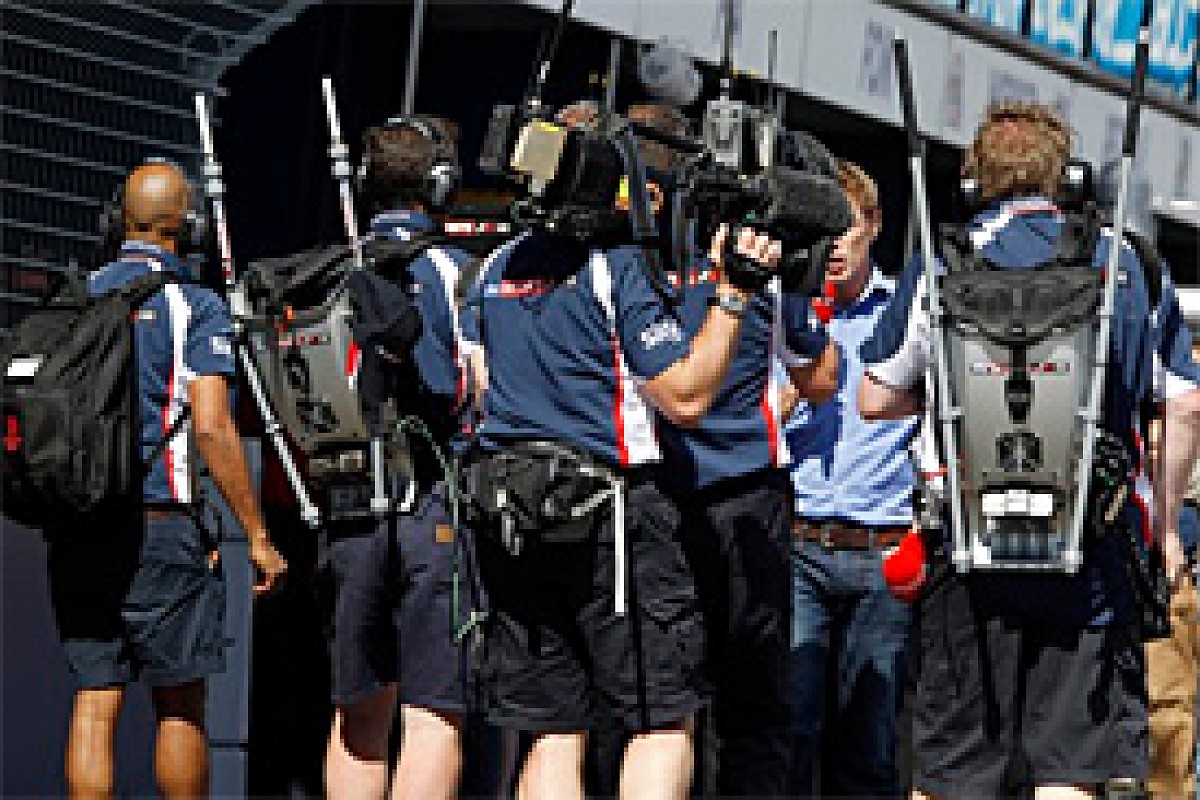 ...and he'll be bringing that wisdom to Sky Sports F1 this weekend © LAT
"It's typical of the young generation of today. They're not told anything, they're never told 'no'. You see drivers pushing each other onto the grass and everybody says 'amazing fighting, amazing driving'. We should not be pushing this kind of behaviour."
As Jenson Button said in response to a 'Daddy's boys' question in Canada on Thursday, there was far more logic behind Villeneuve's headline-grabbing comments than most of the stories on the internet this week gave him credit for.
"Jacques has an unusual way of answering questions but you've also just picked out one piece of his interview," said the 2009 world champion. "Basically, the more important part was what he was saying about safety and the way it was back in the seventies, when the drivers were more aware of there being a lot more risk and possibility of fatality. But it's quite normal for the media to pick out one sentence."
This weekend, Villeneuve will get the chance to have far more than one sentence to get his views across. And, as the above proves, even when he's not providing a quick snippet to cause a fuss, he can form a compelling argument.