PRACTICE
Practice one - Thursday am
It was a fairly serene start to Formula 1's glamorous weekend and even the rumoured rain stayed away, at least for the first session, so it was no surprise to see that there was little track activity early on beyond the usual installation laps. In fact that's all Kimi Raikkonen would elect to do as he decided to change the steering on his Lotus.
Fernando Alonso started the weekend on top © LAT
While he did that, his young French team-mate Romain Grosjean was having no such problems and set about causing a stir, going second fastest overall, beaten only by Ferrari's Fernando Alonso. The Italian team looked strong from the outset and even the haunted Felipe Massa appeared comfortable (in sixth overall).
Sergio Perez was third fastest ahead of 2008 winner Lewis Hamilton, while Spanish Grand Prix hero Pastor Maldonado was fifth fastest, signalling his normal prowess on the Monte Carlo streets.
Things were brought to halt 10 minutes or so from the end when Heikki Kovalainen's Renault engine failed, filling the tunnel with smoke and dropping oil on the circuit.
Practice two - Thursday pm
Only a few minutes of the second session really counted, as rain started falling 15 minutes in.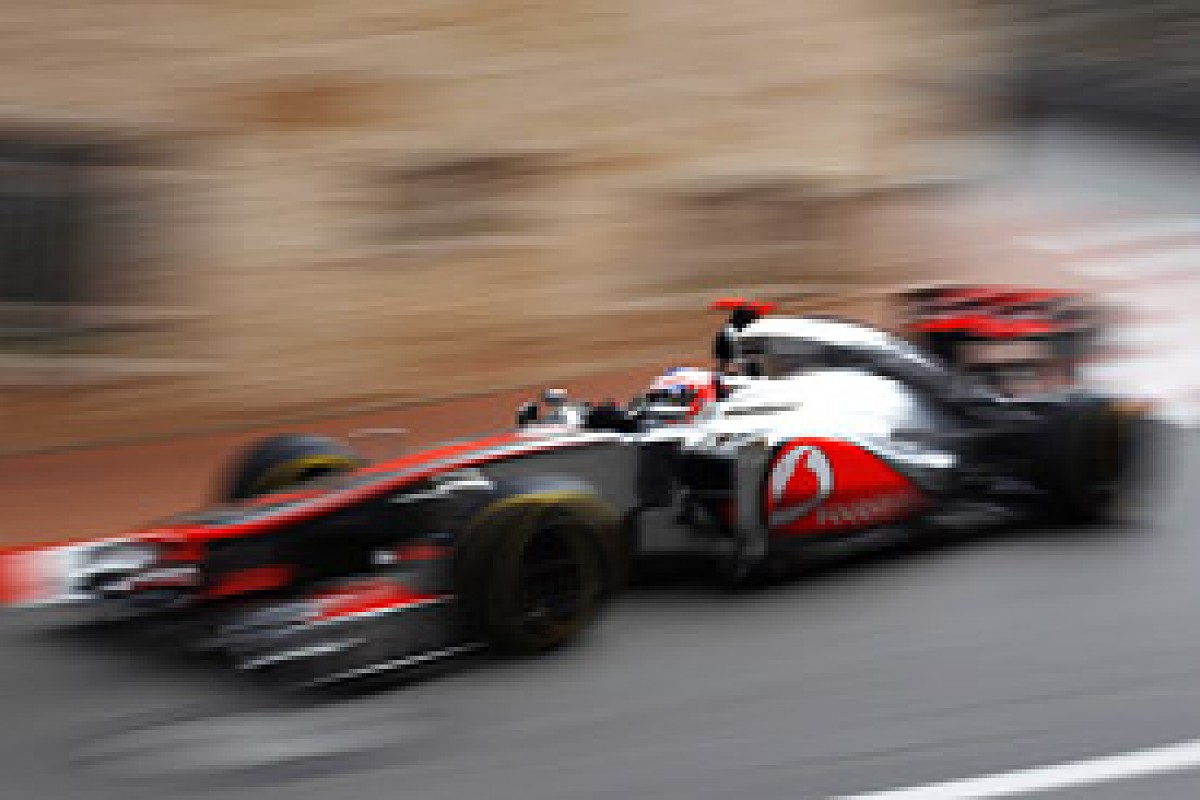 Button got a lap in before the rain © LAT
By that time Jenson Button has gone fastest ahead of Grosjean and Massa, and that's how it would stay as occasional showers conspired to keep the track damp for the rest of the afternoon.
Although the circuit was never sodden, it was too slippery for slick tyres to be worthwhile. But after a brief period of absolutely no track action whatsoever, enough drivers came back out for some wet practice to keep the remaining crowd entertained until the chequered flag.
Practice three - Saturday am
Teams bolted on the super soft for the first time in this session and the Mercedes clearly worked well with them. And while ultimately it would be Michael Schumacher that could extort the most from them, in this session it was Nico Rosberg that starred as he lapped just 0.038s faster than his nearest rival.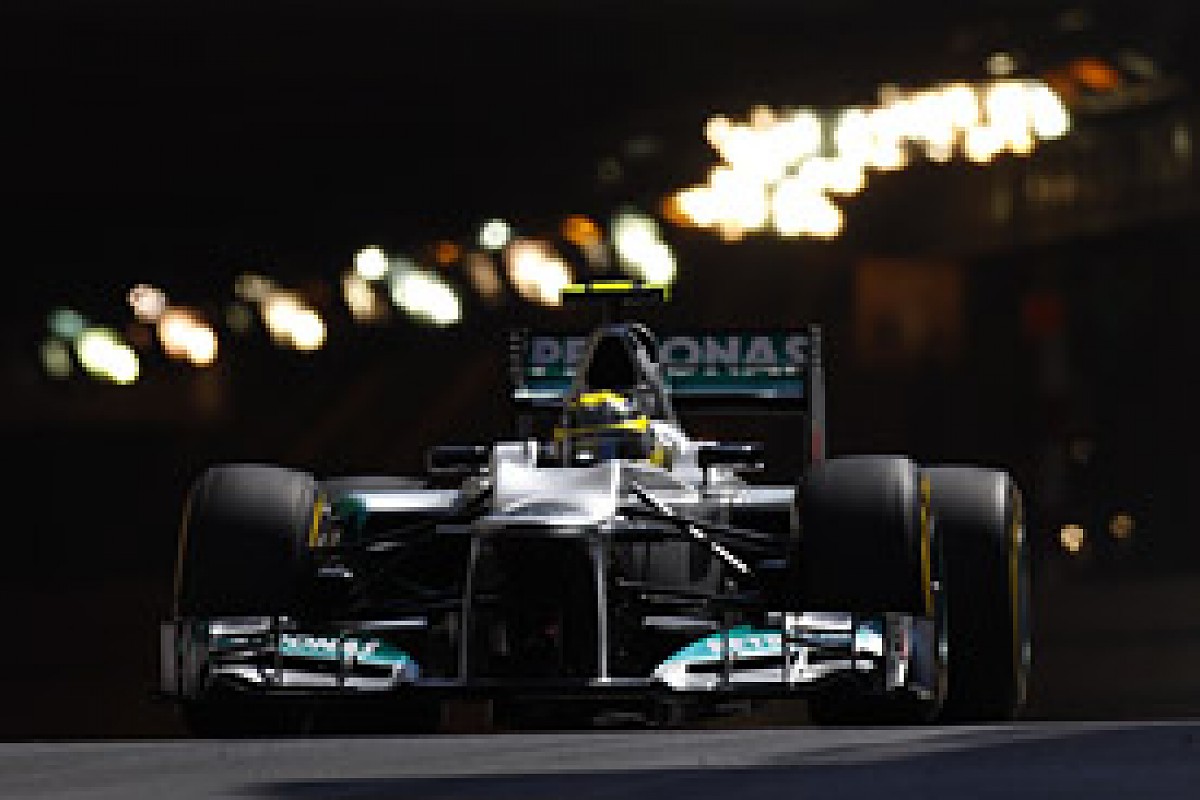 Rosberg showed Mercedes' pace © LAT
That individual was Massa, seemingly a renewed driver in Monaco as he looked every bit the match for his double world champion team-mate Alonso. The two Ferraris were split by Sebastian Vettel's Red Bull.
The session was once again halted early and this time it was Maldonado that was the centre of attention. The Venezuelan made controversial contact with Sergio Perez at Portier, which would later earn him a 10-place grid penalty.
Them on the next lap he would shunt at Casino Square, ripping off his left-rear wheel and bringing out the red flag with three minutes remaining.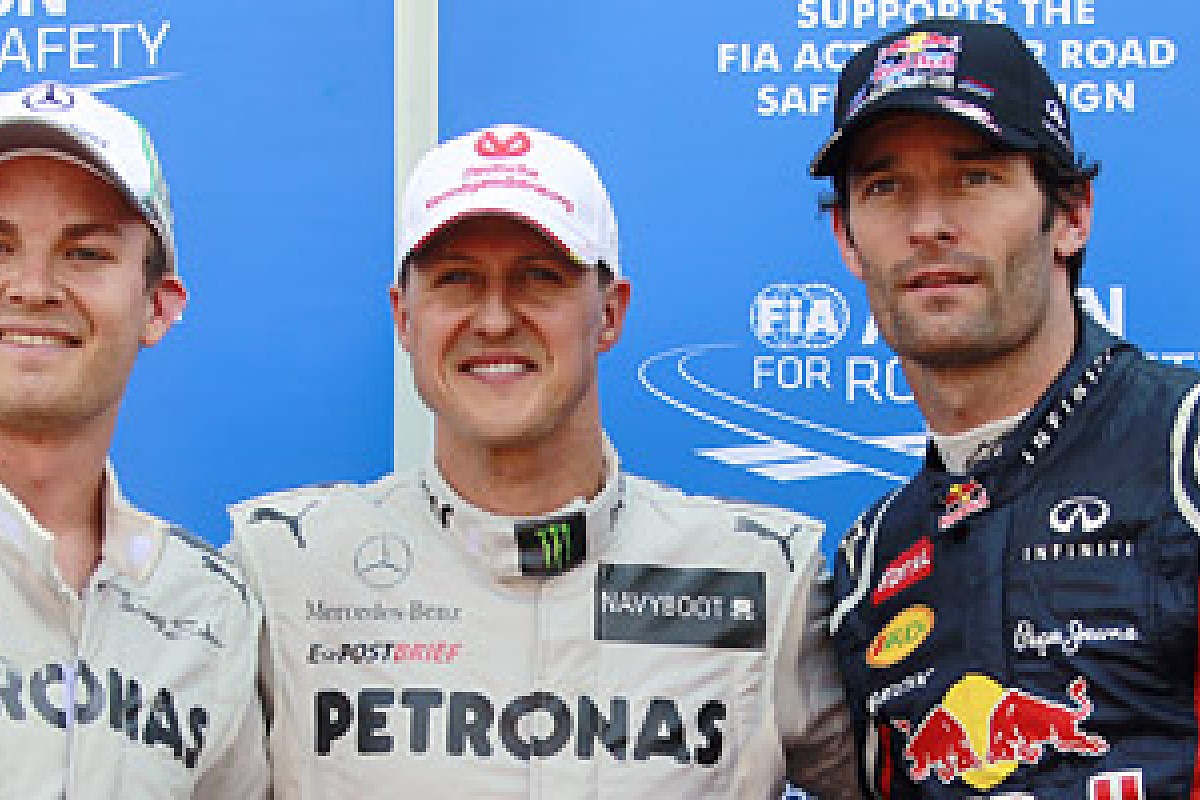 QUALIFYING
1 Mark Webber
"First of all, it's Michael's day. Quali went quite smoothly for me. I knew I was aiming for the first few rows and then it became very tight between us. It was a pretty good lap and I'm happy with it. It's a very good position to be starting tomorrow."
2 Nico Rosberg
"The whole weekend until now went well. It's especially great to see how we, as a team, have managed to turn things around from a difficult time in the last two races and now be right at the front again. We have a strong race car."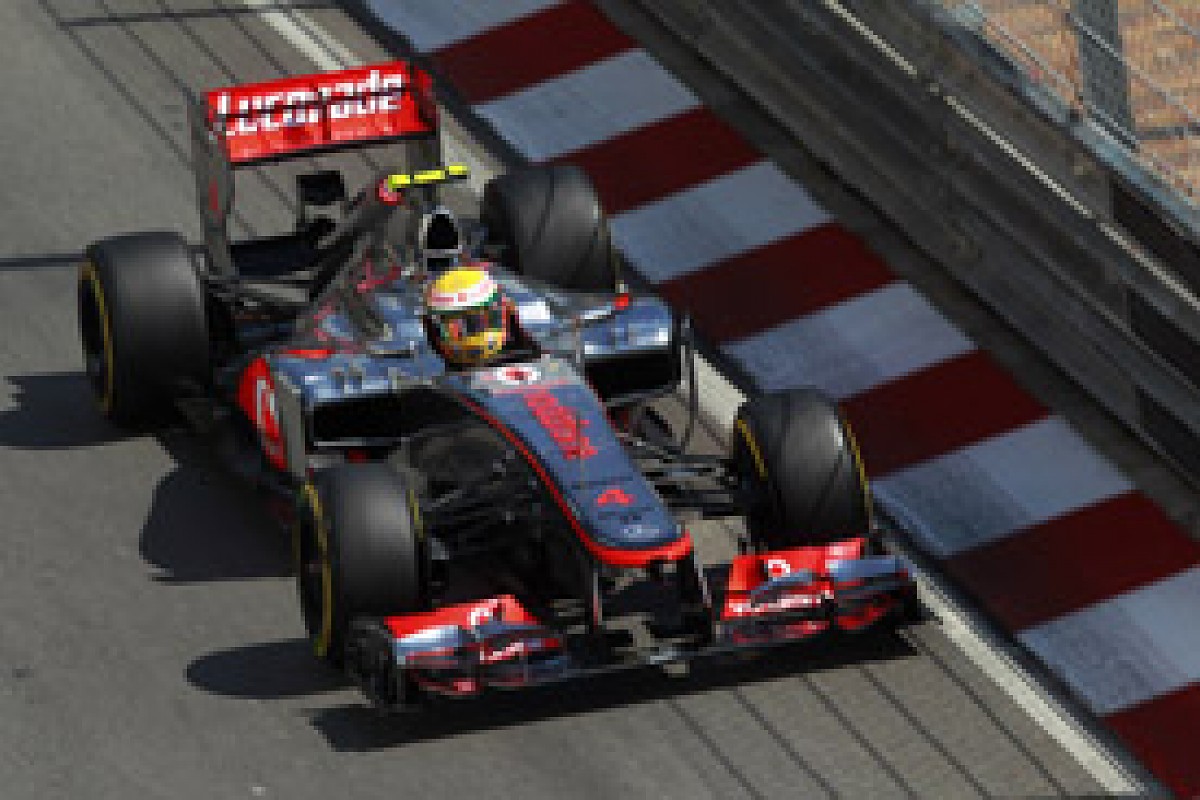 Hamilton enjoyed himself in qualifying © LAT
3 Lewis Hamilton
"Qualifying was better than I expected. It was a spectacular qualifying for me and I just enjoyed it. It was one of the toughest qualifying sessions that I have experienced for some time now. The guys did a great job in preparing the car. We struggled a bit in the middle and the last sector."
4 Romain Grosjean
"I lost four-and-a-half tenths in sector two. I haven't had a look at the data yet but I don't know why. This is where we have struggled all weekend and is probably where we lost pole position. After the first run in Q3, I said let's go for it but it was not enough."
5 Fernando Alonso
"I'm not disappointed, I'm extremely happy. This is the best qualifying by the team of the season and is the confirmation of the step forward that we have seen in Spain. In Q1 and Q2 we had less problems than in some races and it's the first time both of us were in Q3."
6 Michael Schumacher
"I saw my time on the dashboard and thought 'it shouldn't be too bad'. But you don't know what is going to come behind. I was watching all of those monitors around the track and at one point I saw a little sign - number one. That was the moment I started to believe! It was beautiful."
* Schumacher was fastest in qualifying but has a five-place grid penalty for crashing into Bruno Senna in Spain
7 Felipe Massa
"It was a good qualifying and I could definitely have done even better than this seventh place. Fifth was within my reach given what we saw in Q1 and Q2. Unfortunately, in Q3 I did not manage to get a perfectly clean lap because of traffic but that's easy to find here."
8 Kimi Raikkonen
"The whole weekend we have been a bit behind all the time. The car doesn't feel too bad but the biggest problem is to get the tyres working. Sometimes they do, sometimes they don't. I could have been faster but I locked a wheel into the Swimming Pool."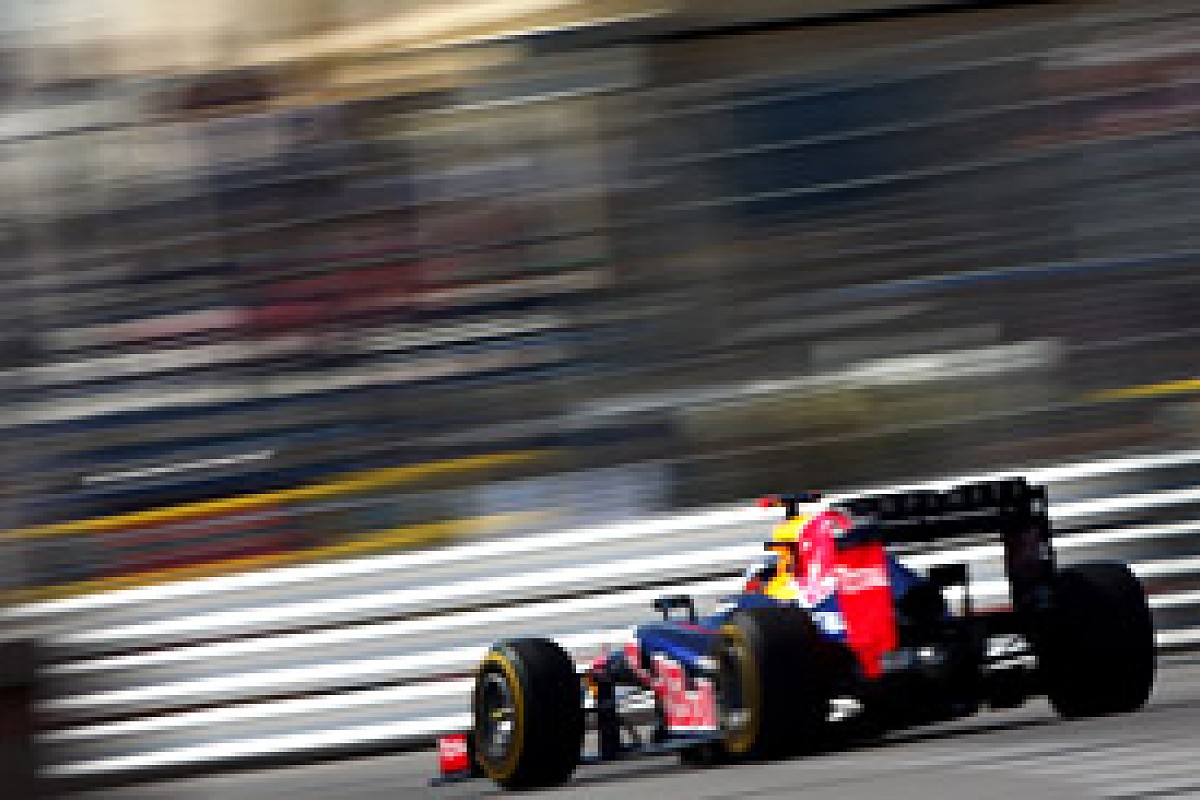 Vettel's tyre situation meant he saw no point in running in Q3 © LAT
9 Sebastian Vettel
"In the last run it was pretty clear that the cars ahead were all on options and it was not realistic to beat the next time on the prime tyre, so we just decided to save the one lap on that tyre. We changed the car a little bit and it made a big difference and we ended up worse that we thought."
10 Nico Hulkenberg
"I had a pretty good run in both Q1 and Q2, managing to avoid the traffic and my quick lap in Q2 was pretty neat so I don't think I could have found more time. In fact, I almost set identical laptimes in Q1 and Q2."
11 Kamui Kobayashi
"I had hoped for a better result today. With the super soft tyre compound you only have one lap to set a good time. I managed to improve in Q2, but unfortunately not by enough to be able to start in Q3."
12 Jenson Button
"I didn't have any problems until qualifying when I just didn't have the pace. I felt confident, which is a big thing here, but I didn't find that grip in qualifying. I'm as confused as many other people in the team as to where it went. It wasn't a mistake around the lap, the pace just wasn't there."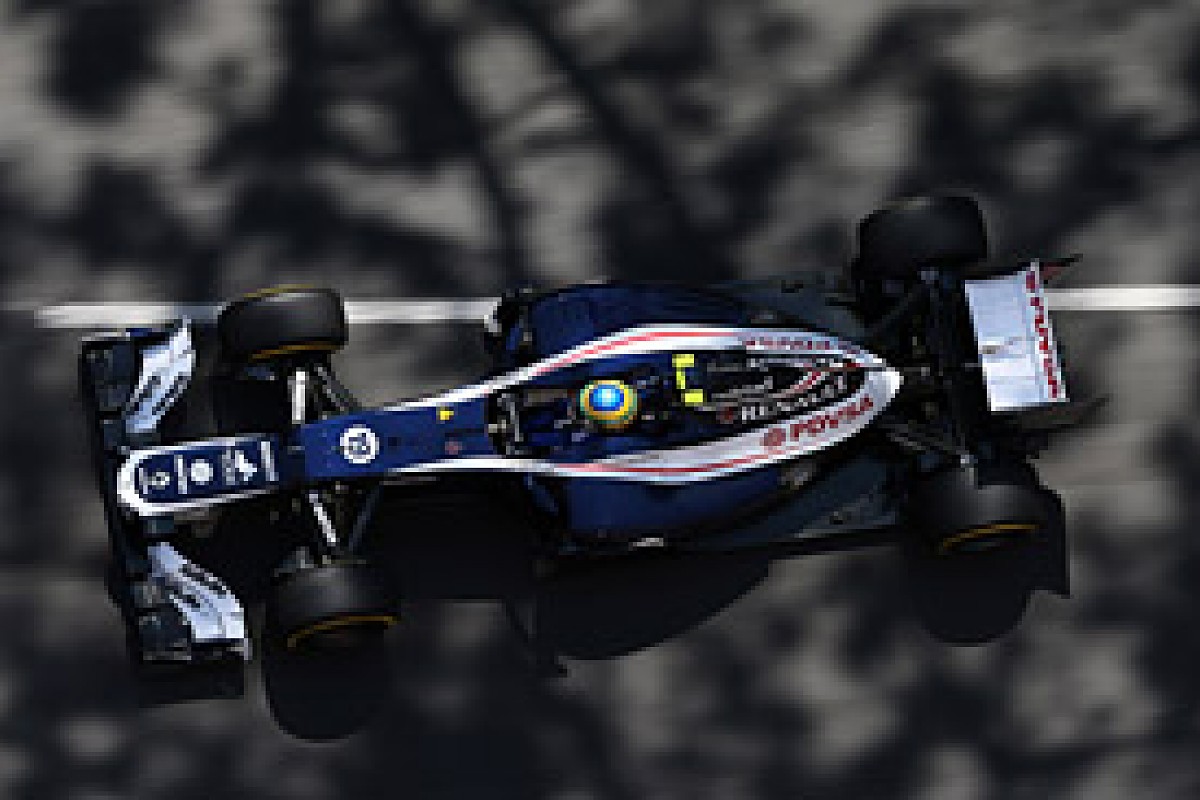 Senna's troubles continued © LAT
13 Bruno Senna
"I was expecting more. It's very frustrating. I'm really having a hard time to not overdrive on these tyres. I come into these qualifying sessions expecting a lot more. On Bridgestones, I could always nail a lap but it's not quite the same with these tyres."
14 Paul di Resta
"I felt pretty happy with the balance of the car during FP2 on Thursday, but unfortunately it didn't carry over for qualifying. We haven't changed much on the car, but I was struggling with the rear and with traction. It leaves us a hard task tomorrow."
15 Daniel Ricciardo
"I am disappointed with my qualifying position because I thought I might have had a chance to do a bit better. Top 10 would have been optimistic, but I had thought maybe 12th was in reach. I was relatively happy with the way I drove, but I did not manage to put all my best sector times together."
16 Jean-Eric Vergne
"I was expecting to do better because my lap in Q1 was far from perfect. I thought I could put it all together for Q2 but my first run ended in the wall. I braked a bit on the bump at the exit to the tunnel and hit the outside wall, damaging the nose and also the right rear suspension."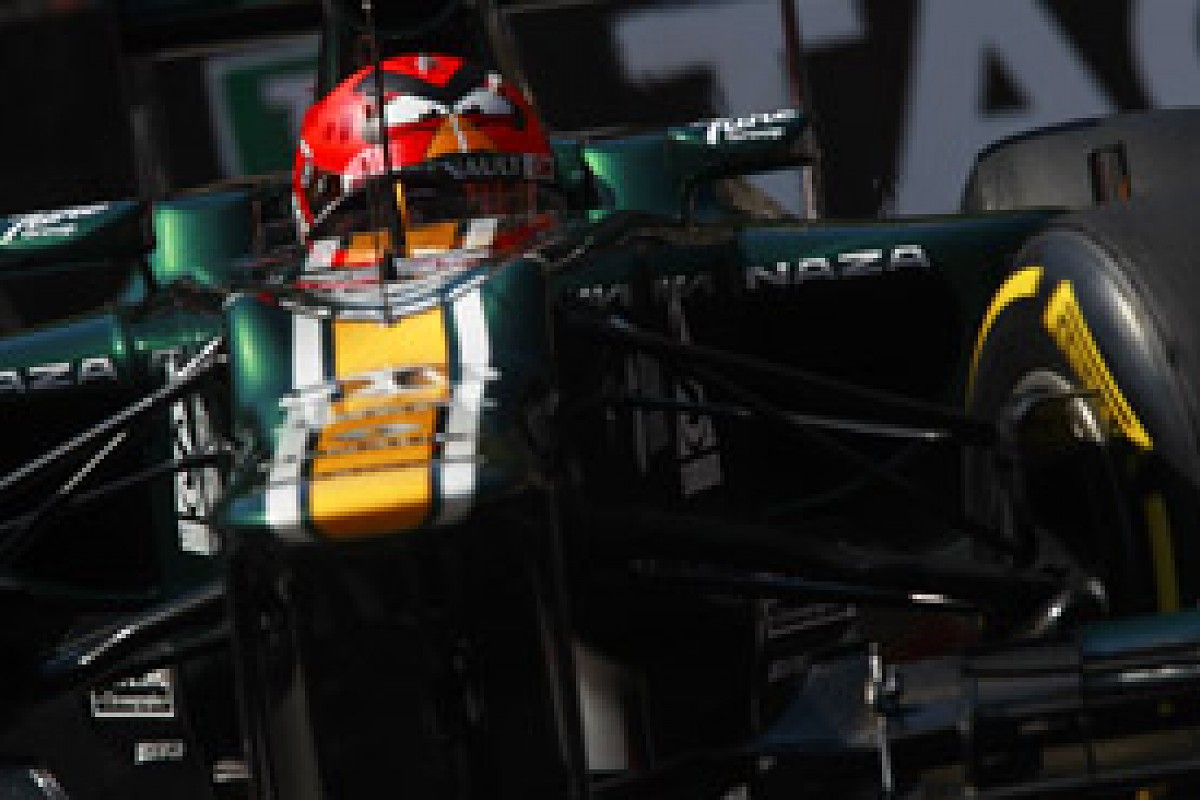 Kovalainen almost made it into Q2 © LAT
17 Heikki Kovalainen
"That was a good session for me. I've had a good balance all weekend and I went into the session knowing I could push. I thought we could get into Q2 and we were very close. If it hadn't been for one of the Marussia cars slowing me up in the final sector, we'd have been there."
18 Vitaly Petrov
"Qualifying was pretty good. The car has felt good every time we've been out and I think we probably got as much as we could out of it today. We had an issue with KERS this morning, so we had to shut that off for quali, so that obviously cost me some time."
19 Timo Glock
"Everyone in the pitlane would say that they had a few tenths in hand. Maybe there was another tenth or one-and-a-half, but that's it. In the circumstances, it was definitely the maximum from me. In general, I'm happy with that as the performance over the weekend has been solid."
20 Pedro de la Rosa
"That was possibly the best lap I've ever done around here. It was a very good qualifying for us. We went out at the right moments with the super soft and we managed to keep the tyre temperature on the out-lap which, with the traffic around here, isn't easy."
21 Charles Pic
"Overall, it was not a great qualifying for me. Our pace here in Monaco is less strong that it was in Barcelona. I also had some traffic on my fast lap, so not a good day."
22 Narain Karthikeyan
"We had a different strategy to Pedro and went for two runs when maybe three would have been better. The positive note is that we have one more set of new option tyres for tomorrow's race and we have to get the best out of them."
23 Sergio Perez
"I am disappointed as I felt we could fight for a very good grid position here. We are still analysing everything to see if there was something wrong with the car."
24 Pastor Maldonado
"Tomorrow is going to be a tough race, but we have a good car. I will do my best as everything is possible on this track. The most important thing is that we showed that Williams is very close to the top."
* Maldonado qualified ninth but was penalised 10 places for an incident with Perez in final practice and five further places for a gearbox change
Monaco Grand Prix grid:

Pos  Driver              Team/Car
 1.  Mark Webber         Red Bull-Renault
 2.  Nico Rosberg        Mercedes
 3.  Lewis Hamilton      McLaren-Mercedes
 4.  Romain Grosjean     Lotus-Renault
 5.  Fernando Alonso     Ferrari
 6.  Michael Schumacher  Mercedes
 7.  Felipe Massa        Ferrari
 8.  Kimi Raikkonen      Lotus-Renault
 9.  Sebastian Vettel    Red Bull-Renault
10.  Nico Hulkenberg     Force India-Mercedes
11.  Kamui Kobayashi     Sauber-Ferrari
12.  Jenson Button       McLaren-Mercedes
13.  Bruno Senna         Williams-Renault
14.  Paul di Resta       Force India-Mercedes
15.  Daniel Ricciardo    Toro Rosso-Ferrari
16.  Jean-Eric Vergne    Toro Rosso-Ferrari
17.  Heikki Kovalainen   Caterham-Renault
18.  Vitaly Petrov       Caterham-Renault
19.  Timo Glock          Marussia-Cosworth
20.  Pedro de la Rosa    HRT-Cosworth
21.  Charles Pic         Marussia-Cosworth
22.  NarainKarthikeyan   HRT-Cosworth
23.  Sergio Perez        Sauber-Ferrari
24.  Pastor Maldonado    Williams-Renault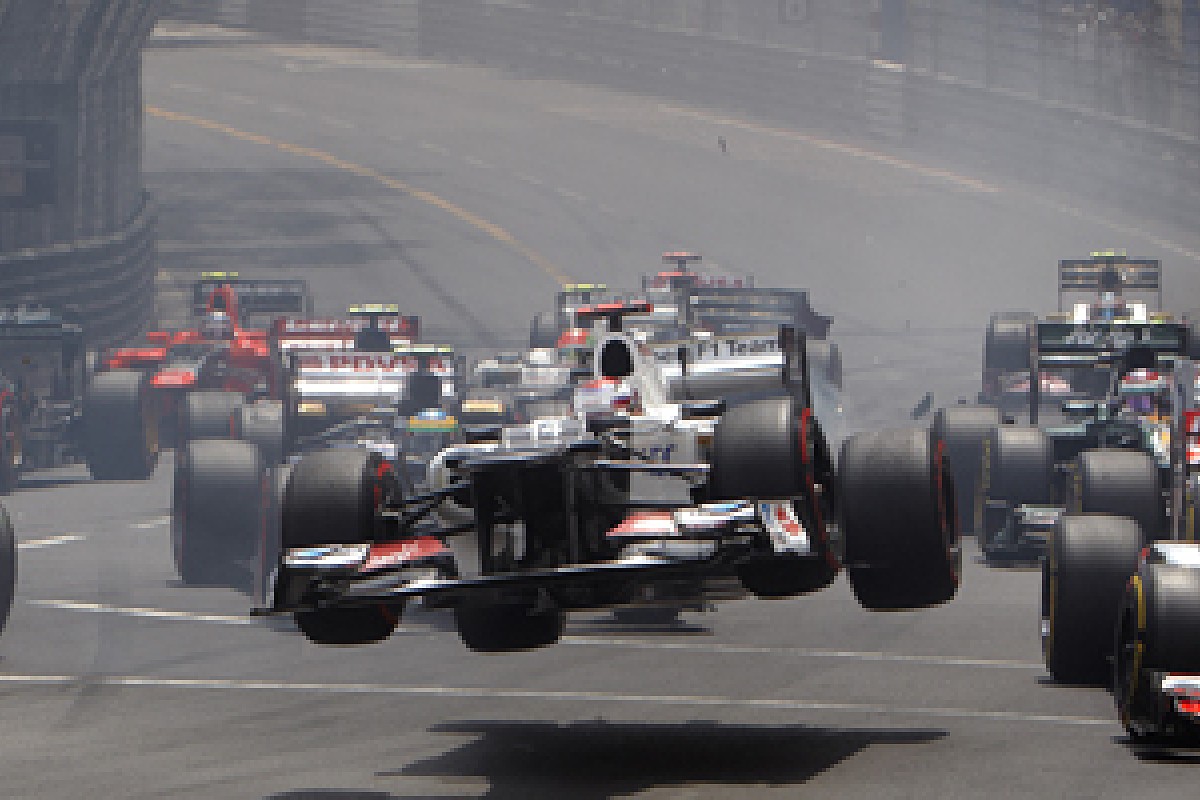 RACE
Even before the Monaco Grand Prix weekend, there was a feeling that Formula 1's craziest season for years could throw up another different winner. And after a tense race, it was Mark Webber who became the sixth victor in as many events. That's a record.

By 2012 standards the race was processional, but it remained hard-fought throughout as the threat of rain and different strategies kept the result in doubt. In the end, just 1.3 seconds covered the top four.

Webber led from pole, with Nico Rosberg's Mercedes slotting in to second. Behind them, however, chaos reigned and one of the potential winners was eliminated before the field even reached the first corner.

Romain Grosjean and Fernando Alonso's Ferrari, who was trying to go between the Lotus and Lewis Hamilton's slow-starting McLaren, touched. Grosjean bounced across the track and hit the Mercedes of Michael Schumacher, which had made a fast getaway on the far left of the circuit. That contact broke the Lotus machine's suspension and put the car broadside across the circuit, causing mayhem. Kamui Kobayashi was flicked into the air, while Pastor Maldonado's Williams hit the back of Pedro de la Rosa's HRT.

Grosjean was out immediately, and Maldonado and Kobayashi retired soon after. De la Rosa and Vitaly Petrov also pitted at the end of the lap as the safety car was scrambled. Several cars were investigated for cutting the corner at Sainte Devote as they avoided the carnage, but no action was taken.

Webber continued to lead at the restart from Rosberg and Hamilton. Initially the top three edged clear, as Alonso set a conservative early pace to look after his tyres, creating a queue behind.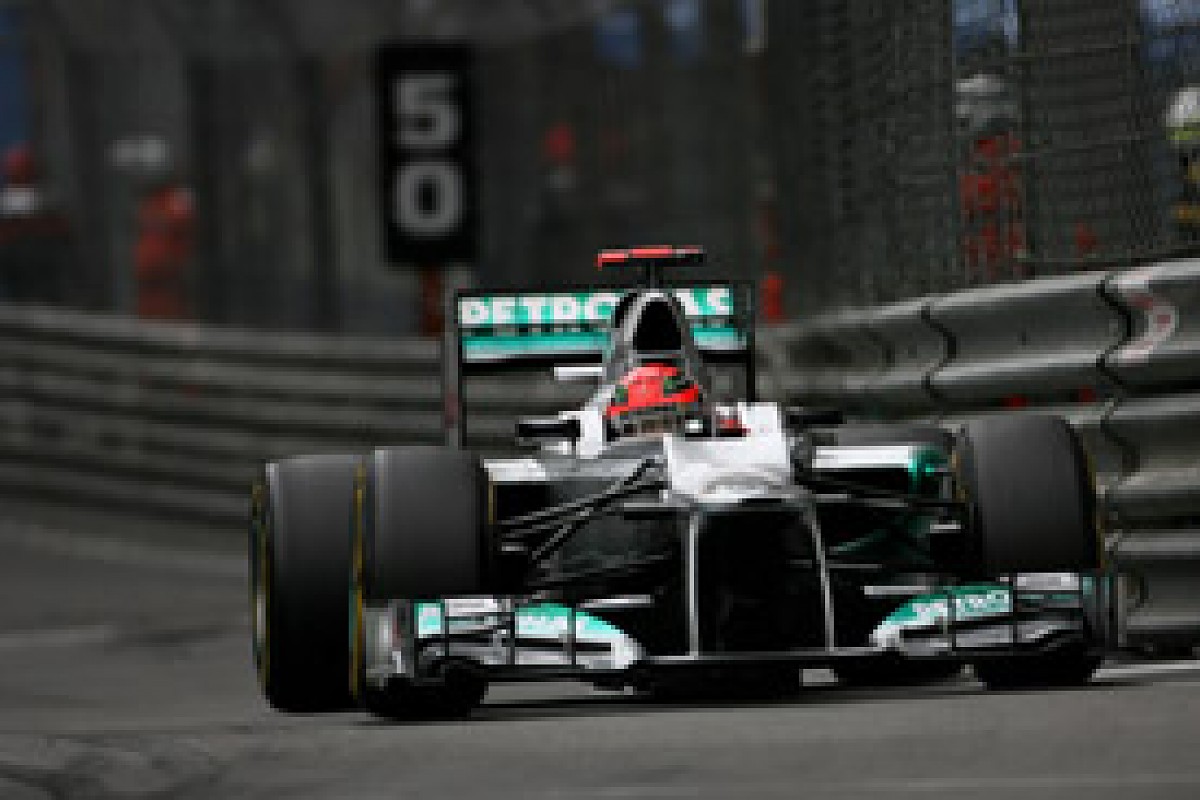 Michael Schumacher would retire with fuel pickup problems. © XPB
With rain threatening, the leaders stayed out for longer than ideal for the tortured supersoft rubber. Kimi Raikkonen's Lotus in seventh struggled more than most and soon had a pack of cars snapping at his gearbox as Alonso, Felipe Massa and Sebastian Vettel pulled away.

With the rain not developing as predicted, Rosberg was the first of the leading runners to pit on lap 27, forcing Webber in two tours later. The Red Bull stop was clean and Webber rejoined ahead of the Mercedes.

Hamilton, who had been caught by Alonso, followed the Red Bull in, but Ferrari kept its cars out. Alonso came in the next time through and a great in-lap, combined with Ferrari's stop being a fraction quicker than McLaren's, allowed Alonso to jump Hamilton for third.

Meanwhile, Vettel had taken the lead. The highest of five runners to have started on the soft tyre, as opposed to supersoft, he stayed out and was consistently lapping in the 1m19s. That was quicker than the leading stoppers, who took some time to get on their fresh softs up to optimum temperature, and brought the double world champion into the fight for the podium.

He was around 16 seconds ahead of Webber, having gained around eight the German later estimated, when he finally pitted on lap 46. Vettel came out just ahead of Hamilton to snatch fourth, having to move across in front of the McLaren as it exited Sainte Devote.

Vettel's stop allowed Webber back into the lead and the Australian looked in control until spits of rain returned in the closing stages. With 10 laps to go five seconds covered Webber, Rosberg, Alonso, Vettel, and Hamilton, with Massa not far behind, and the group concertinaed together as Webber played it conservatively while the rain came down.

As close as Rosberg got, however, Webber was able to be quick enough where it mattered to score his second Monaco victory. Alonso achieved his aim by taking a clear championship lead with third position, ahead of Vettel and Hamilton, while Massa completed his best grand prix performance for some time with sixth.

"It was an interesting race, reasonably straight forward at the start," said Webber. "The weather was threatening around the pitstop window, but then Nico went for the stop and people had to respond.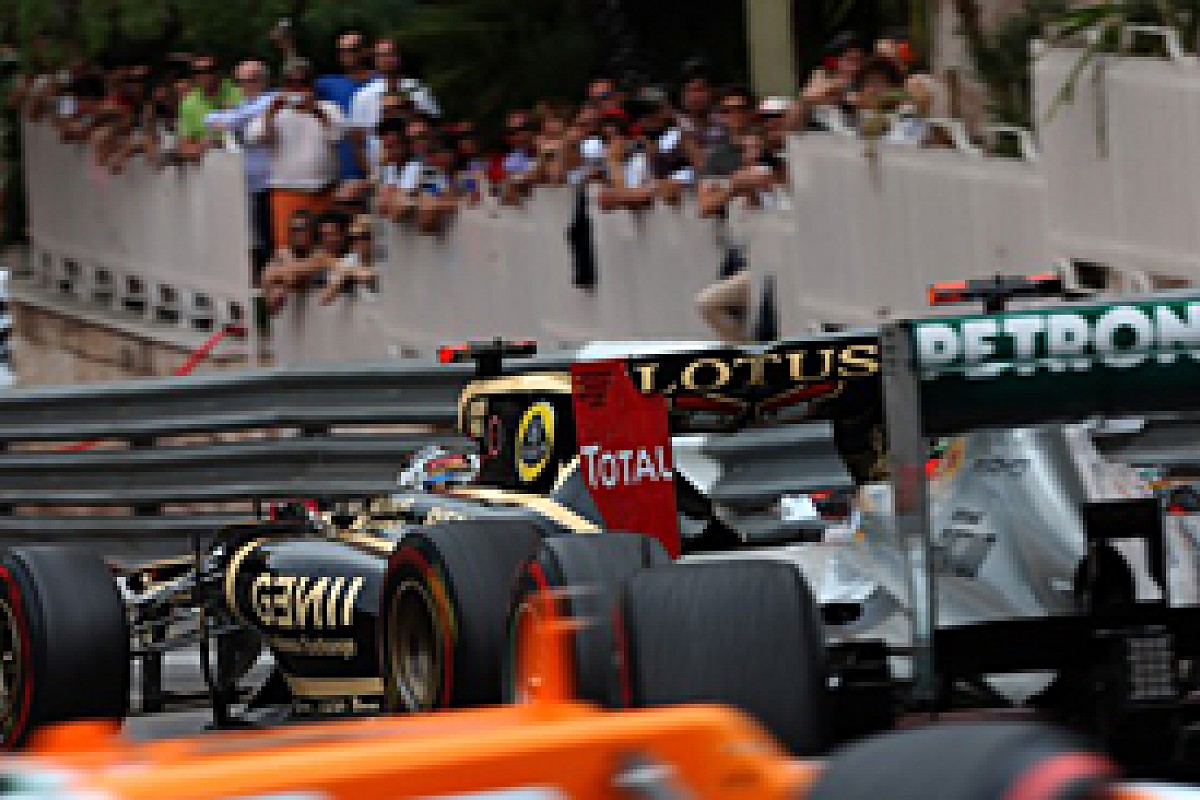 Kimi Raikkonen had cars stack up behind him © LAT
"The next stage was strange. It was very hard to get the soft tyre warmed up. Seb was still quick and I didn't want him to get too far away."

Some way behind the top six came the two Force Indias, but several cars could have been seventh. Raikkonen ran their initially, but there was always a chance that at least one of the five cars he had stacked up behind him would get past come the stops.

By staying out longer, Schumacher was able to jump the Lotus and he showed great pace after his stop got him clear in seventh. But his race came to a premature end when fuel pressure gremlins struck his Mercedes and he retired to the pits.

Toro Rosso's Jean-Eric Vergne could then have been seventh. Unlike most of the other runners, his team ignored the weather warnings and pitted early. Good pace while others struggled allowed him to jump to eighth once the pitstop sequence was over, and that became seventh when Schumacher retired.

As the rain returned near the end, the team gambled on a switch to inters, consigning the Frenchman to a slow pace on a dry track and a 12th-place finish.

It was a bad race for Toro Rosso as Daniel Ricciardo, having briefly run as high as seventh himself before his late stop, retired in the closing stages with steering damage after heavy kerbing.

Paul di Resta was therefore ultimately the man who claimed the position. He had been behind the Kimi train early on, but stayed out longer than most and jumped those ahead as a result. Team-mate Nico Hulkenberg, who had been part of the Raikkonen battle, finished just behind. He had overtaken the Lotus when it was delayed as Sergio Perez came into the pits, a late move that earned the Sauber ace a drive-through penalty.

Raikkonen was ninth, not far behind the Force Indias, and just ahead of the Williams of Bruno Senna. Once again the Lotus team struggled to make the E20's tyre useage match its raw pace.

On a day when there were few overtaking manoeuvres, Perez created much of the action as he tried to recover from his qualifying crash. Despite his drive-through penalty, he had good speed and caught the Heikki Kovalainen-Jenson Button battle late on.

Kovalainen's Caterham had jumped Button on the first lap and stayed ahead, even during the pitstop sequence. Button made several attempts to pass before nudging the back of the Caterham at the Swimming Pool complex and spinning. Perez then tried to pass Kovalainen into Sainte Devote, but the Caterham locked up, contact was made and the Sauber had to go up the escape road.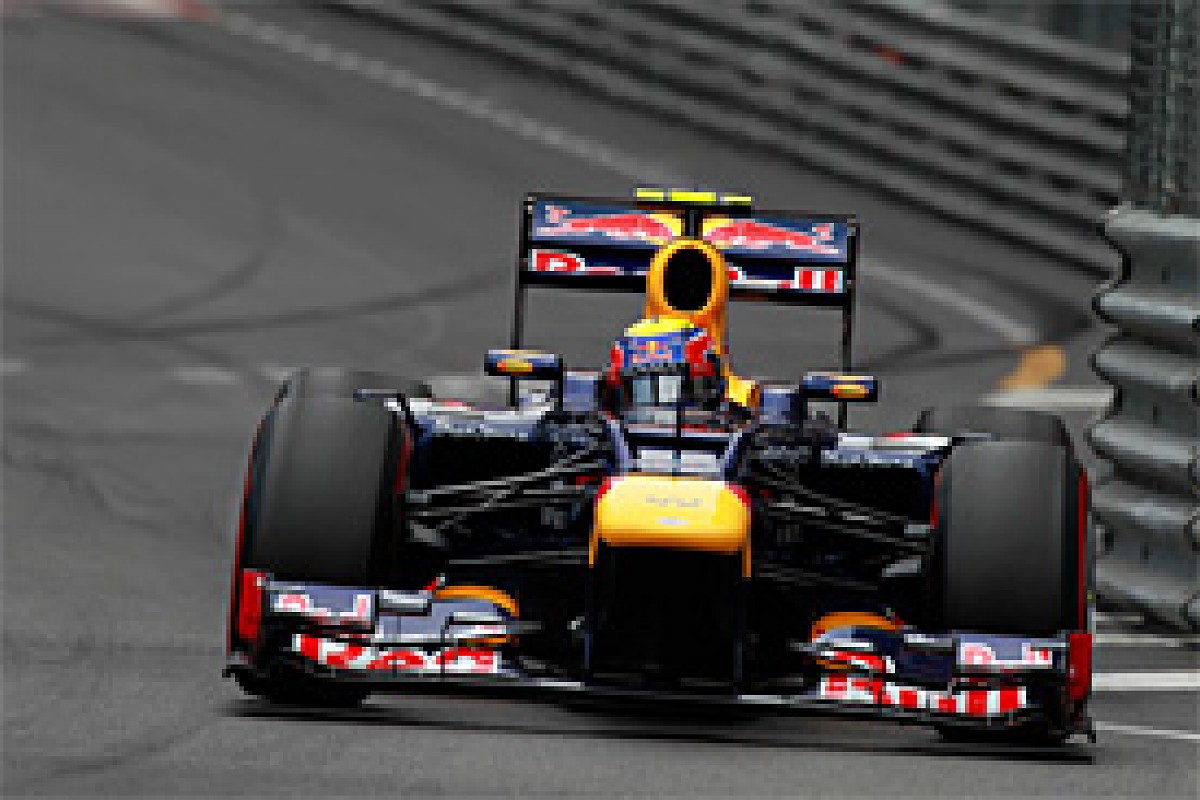 Mark Webber took his second victory on the streets of Monaco © LAT
The Caterham suffered a damaged front wing, though, and after Button went off again trying to pass him, Kovalainen had to pit and dropped to 13th, leaving Perez to finish 11th. He caught Massa and stayed with the Ferrari until the flag.

Timo Glock was 14th, the only Marussia to finish after Charles Pic retired late on, while Narain Karthikeyan brought the sole remaining HRT home last after de la Rosa's early retirement.

The Pirelli tyres once again played their part in an interesting, if not exciting, Monaco GP. And Webber thinks the pendulum could still swing to yet another new name next time out.

"The races are still pretty hard to predict," he said. "We got the maximum from this weekend, maybe we'll have a seventh different winner after Montreal."
Lap-by-lap as it happened on AUTOSPORT Live
RACE RESULTS

The Monaco Grand Prix
Monte Carlo, Monaco;
78 laps; 260.520km;
Weather: Cloudy.

Classified:

Pos  Driver        Team                       Time
 1.  Webber        Red Bull-Renault           1h46:06.557
 2.  Rosberg       Mercedes                   +     0.643
 3.  Alonso        Ferrari                    +     0.947
 4.  Vettel        Red Bull-Renault           +     1.343
 5.  Hamilton      McLaren-Mercedes           +     4.101
 6.  Massa         Ferrari                    +     6.195
 7.  Di Resta      Force India-Mercedes       +    41.537
 8.  Hulkenberg    Force India-Mercedes       +    42.562
 9.  Raikkonen     Lotus-Renault              +    44.036
10.  Senna         Williams-Renault           +    44.516
11.  Perez         Sauber-Ferrari             +     1 lap
12.  Vergne        Toro Rosso-Ferrari         +     1 lap
13.  Kovalainen    Caterham-Renault           +     1 lap
14.  Glock         Marussia-Cosworth          +     1 lap
15.  Karthikeyan   HRT-Cosworth               +    2 laps

Fastest lap: Perez, 1:17.298

Not classified/retirements:

Driver        Team                         On lap
Button        McLaren-Mercedes             71
Ricciardo     Toro Rosso-Ferrari           66
Pic           Marussia-Cosworth            65
Schumacher    Mercedes                     64
Petrov        Caterham-Renault             16
Kobayashi     Sauber-Ferrari               6
De la Rosa    HRT-Cosworth                 1
Maldonado     Williams-Renault             1
Grosjean      Lotus-Renault                1


World Championship standings, round 6:                

Drivers:                    Constructors:             
 1.  Alonso        76        1.  Red Bull-Renault          146
 2.  Vettel        73        2.  McLaren-Mercedes          108
 3.  Webber        73        3.  Ferrari                    86
 4.  Hamilton      63        4.  Lotus-Renault              86
 5.  Rosberg       59        5.  Mercedes                   61
 6.  Raikkonen     51        6.  Williams-Renault           44
 7.  Button        45        7.  Sauber-Ferrari             41
 8.  Grosjean      35        8.  Force India-Mercedes       28
 9.  Maldonado     29        9.  Toro Rosso-Ferrari          6
10.  Perez         22       
11.  Di Resta      21       
12.  Kobayashi     19       
13.  Senna         15       
14.  Massa         10       
15.  Hulkenberg     7       
16.  Vergne         4       
17.  Schumacher     2       
18.  Ricciardo      2       
       

TEAM BY TEAM
Red Bull
Webber started the Monaco weekend concerned that Red Bull didn't have the pace for pole - yet that's where he ended up, albeit after Schumacher's penalty was applied. From there, he was able to control the race, coping with tyre warm-up issues, drizzle, and five pursuers all over the back of him to clinch his second Monte Carlo win.
Vettel's weekend was lower-key, but he briefly looked like a probable winner. A set-up change after final practice proved ill-judged, and he had to use up his super soft tyres just to get to Q3, where he abandoned trying to take on his super-soft-shod rivals with only softs in his armoury and settled for starting ninth.
A good start and safe passage through the Grosjean carnage got him up to sixth. Starting on softs, unlike the other frontrunners, Vettel stayed out until lap 45 and was briefly lapping 1.5s quicker than his main rivals as they struggled to get their tyres up to temperature after their stops. The champion couldn't quite pull out enough of a gap to jump right into the lead, but did manage to rejoin in fourth, where he stayed to the finish, pushing Alonso and resisting Hamilton.
McLaren
Hamilton was very satisfied with third on the grid (after Schumacher's penalty), but was a much more downcast figure over the race, as he bemoaned a poor start (despite not actually losing any positions), losing a place to Alonso in the pits, losing another to Vettel as the Red Bull's alternate strategy played out, and bits of people's pit boards dropping on him. Fifth place was not what he had hoped for.
Button was quickest on Thursday afternoon but once again struggled in qualifying and would start a perplexed and frustrated 12th. Avoiding Kobayashi's flying Sauber at the start cost him more ground and left him trapped behind Kovalainen - a position that didn't change even though the McLaren ran eight laps longer before pitting. Button had a spin while chasing the Caterham, recovered and caught it again, then retired after getting a puncture in another passing attempt.
Ferrari
Ferrari is now firmly back among the frontrunners. Alonso was quickest in opening practice, and started fifth, with Massa looking more competitive in seventh.
Both were part of the lead group in the race, gaining a position each from Grosjean's accident (which began as he bounced off Alonso), with Alonso then getting up to third and taking the points lead after jumping Hamilton in the pits. Massa was not far behind in sixth.
Mercedes
This could easily have been a Mercedes victory. Schumacher was fastest in qualifying, but would be put back to sixth due to his penalty for taking Senna out in Spain, which moved Rosberg up from third to the front row - the latter having also topped third practice and held provisional pole for much of Q3.
Rosberg spent the whole race pushing Webber hard for the lead, taking a close second place finish.
But for Schumacher, Saturday's emotional performance was as good as it would get. The seven-time champion escaped being squeezed between Grosjean and the barrier at the start, but lost ground in the incident, and was further delayed behind Raikkonen's slower Lotus in the first stint. A distant seventh place looked like Schumacher's limit before a fuel pick-up problem ended his race.
Lotus
Lotus was widely tipped for victory in Monaco by both pundits and rivals, but its race was a disaster. Grosjean's pole bid ended with a poor second sector on his best lap, and though he still started fourth, he was out at the first corner after contact with Schumacher sent him spinning across the pack with broken suspension.
Raikkonen's weekend never really got going. Steering issues sidelined him for all of first practice, and he couldn't get the tyres to cooperate whatever the temperature - which left him eighth on the grid and ninth at the finish.
Force India
Force India had a quiet weekend until the race, when Hulkenberg and di Resta turned their 11th and 14th places on the grid into eighth and seventh place finishes.
Di Resta ran a long first stint whereas Hulkenberg chose the opposite strategy but lost too much time stuck behind Raikkonen's slower Lotus. They emerged in the top 10 by the time all the stops were done, and then gained more positions as Vergne and Schumacher hit trouble.
Sauber
The weekend started well with both cars deeply ensconced in the top 10 in practice on Thursday, but it unravelled from there. Maldonado drove into Perez in P3, and it's possible that damage sustained in that contributed to the Mexican's Q1 shunt which put him on the back row. Sauber then elected to change Perez's gearbox ensuring he started last.
Kobayashi started 11th but was caught up in the first corner melee put him airborne and damaged his suspension terminally. Perez set about making up for his qualifying dramas and set several fastest laps -
just missing out on the points in 11th.
Toro Rosso
The rain on Thursday afternoon didn't help Toro Rosso's rookie duo but they set about the task of learning Monaco well. Nevertheless Ricciardo qualified 16th and Vergne 17th after the Frenchman crashed
exiting the tunnel in Q2.
Vergne would star in the race however as he and the team ignored concerns about impending rain and raced to a normal strategy, which put him in the points in eighth when the majority of the long-stinting pack pitted. Eighth became seventh when Schumacher stopped. That all went for nothing when a gamble on taking intermediates when his softs faded late on only for spitting to not transform into rain meant he faded to 12th. Ricciardo retired after running in a train of cars behind Kovalainen when he clipped a kerb too hard and broke his steering.
Williams
Maldonado went from hero to zero as he picked up a 10-place grid penalty for driving into Perez in practice three. The Venezuelan noted for his prowess around Monaco still had hopes of racing through in the race, but all that came to nought when the chaos at Sainte Devote caught him out at the start and he ran into the back of Pedro de la Rosa's HRT.
Senna just couldn't hook his car up properly in qualifying and dropped out after Q2 and started 13th. A point was a good reward for a tenacious chase of Raikkonen on a track that doesn't lend itself to forward progress. Nevertheless Williams felt more points could have been extracted from both cars.
Caterham
The best race of the year so far for Caterham as Kovalainen made the most of the carnage at the start from 17th on the grid to find himself 13th behind Ricciardo. He was one of many to run long on the super softs and found himself in front of Button, who would successfully defend his postion from, even through the stops.
Kovalainen was on course for a potential 12th, after Button had gone off trying to pass him in frustration, when he lost brake temperature in the late drizzle and fell into the clutches of Perez. That battle caused him to pit with a damaged nose. He finished 13th, but it should have been better.
Team-mate Petrov was also hit by a Sauber early on but recovered after changing his nose. The Russian was closing on Pic in last position when an electrical glitch ended his race.
HRT
De la Rosa was delighted to have qualified 21st, which translated to 20th once all the penalties were in, with what he described as his best ever lap in qualifying and putting Pic behind on merit and missing out on Glock's place by a tenth. Sadly it was all for nought when Maldonado smashed into the back of him as the Spaniard braked hard to avoid the carnage at the start.
Karthikeyan could not match de la Rosa's qualifying pace, but stayed out of trouble to bring his HRT home 15th - the team's best finish of the season.
Marussia
Glock was happy with 19th on the grid and was convinced he'd got as much as he could from the Marussia. He ran in the group chasing Kovalainen early on before fading back. He was on course to finish the race without being lapped when he lost a front endplate at the Swimming Pool, the resultant loss of performance dropped him back behind the recovering Kovalainen. Glock finished 14th.
Pic wasn't happy all weekend with the performance of his car and reckoned that he had traffic on his best qualifying lap en route to 22nd fastest time. His race ended after 65 laps with an electrical problem.
RACE DATA