Four races into the 2012 season, and the Formula 1 guessing game is still running. Not since 1983 have we seen four different drivers, from four different teams, win the opening four races.
In that sense, F1's first in-season test in four years promised much. The Mugello running gave us the chance to assess where everyone stands in the pecking order, and prospects for the first European grand prix of the season, at the Circuit de Catalunya in a week's time.
But that was with the proviso of cars running different fuel levels, new or old sets of tyres, or to different programmes: was Car A sorting out qualifying pace; was Car B looking to race runs?
Even so, there was plenty of value to be gleaned from the various updates and revisions each team had brought. Against that backdrop was the wider issue of whether F1 should even be at Mugello, with some questioning the circuit's suitability as a test venue and others the return of in-season testing itself.
Upgrades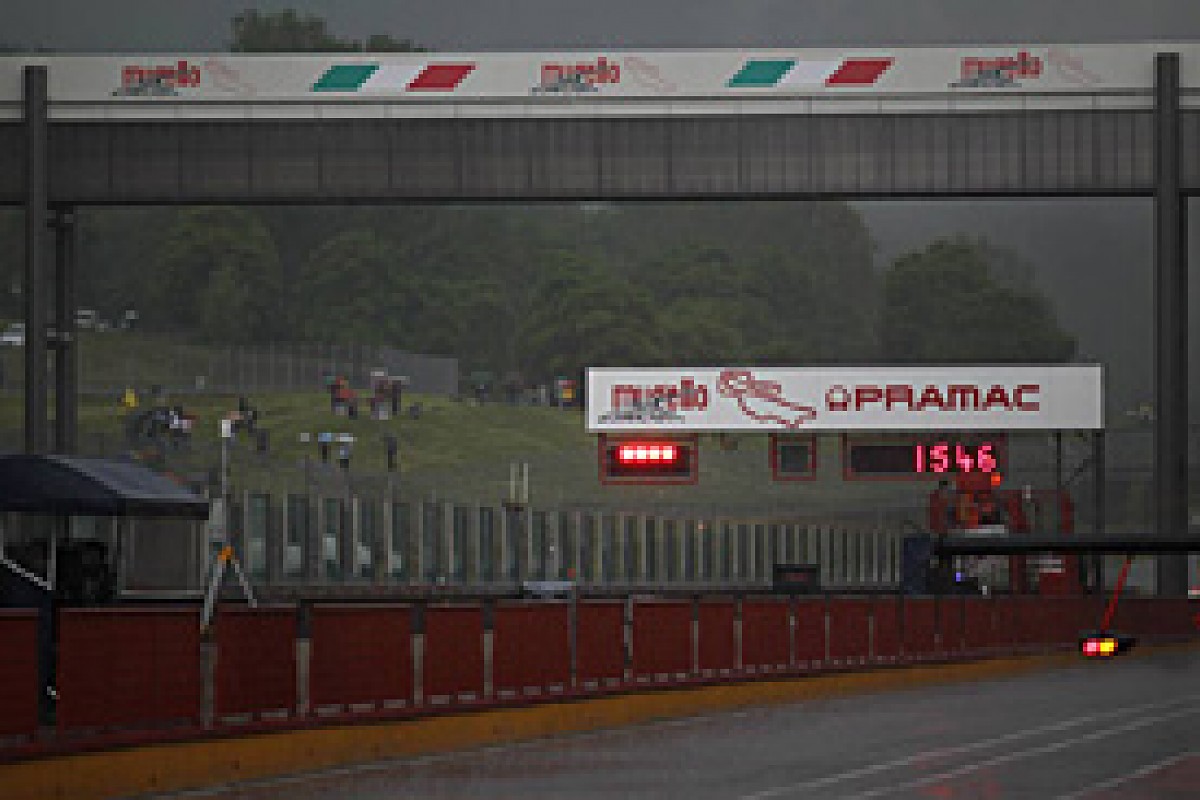 Rain made the first day a washout © XPB
Mugello provided us with the first glimpses of the various upgrades teams have been working on ahead of the Spanish Grand Prix, which is traditionally the start of the development race following the early-season flyaway races.
Although some teams fitted new developments on the first day, torrential rain throughout the afternoon meant it wasn't until the second day that we got a true picture of what each team had decided to pursue.
At the rear, the general trend was a move towards a Sauber-style sidepod and McLaren- influenced exhaust exits in order to maximise the benefits of the 'Coke-bottle' configuration, with Toro Rosso providing perhaps the best example. At the front, teams had a multitude of wings to try, with Sauber's among the most complicated - it featured more turning vanes on the ends and underneath, and a revised location of the slot gaps. Sauber also had new turning vanes on the sidepods, while pipes running along the side of the car led some to speculate it was trialling the double-DRS concept pioneered by Mercedes.
"It's just pressure measurement, that's all," Sauber chief designer Matt Morris told AUTOSPORT. "We have been running some pressure tappings around the rear, and that's what all the pipes were."
Unsurprisingly much of the attention was on Ferrari, which had always planned to use Mugello to start phasing in significant developments in order to respond to a beleaguered start to 2012. In the end we were forced to wait for an ameliorated F2012, as - following the opening-day downpour - Ferrari ran a fairly standard set-up for Felipe Massa in order to get a baseline for the final day.
When the car emerged for the first time on Thursday, it did so with revised exhaust exits and rear bodywork. AUTOSPORT technical consultant Gary Anderson described it as "a compromise. They've put the exhaust pipes into a more conventional position, but where they had the letterbox exhaust exit they also had the radiator exit. They still have that - it's much narrower, but it's still not right. What they have won't give them so many problems, but they could do better, I think."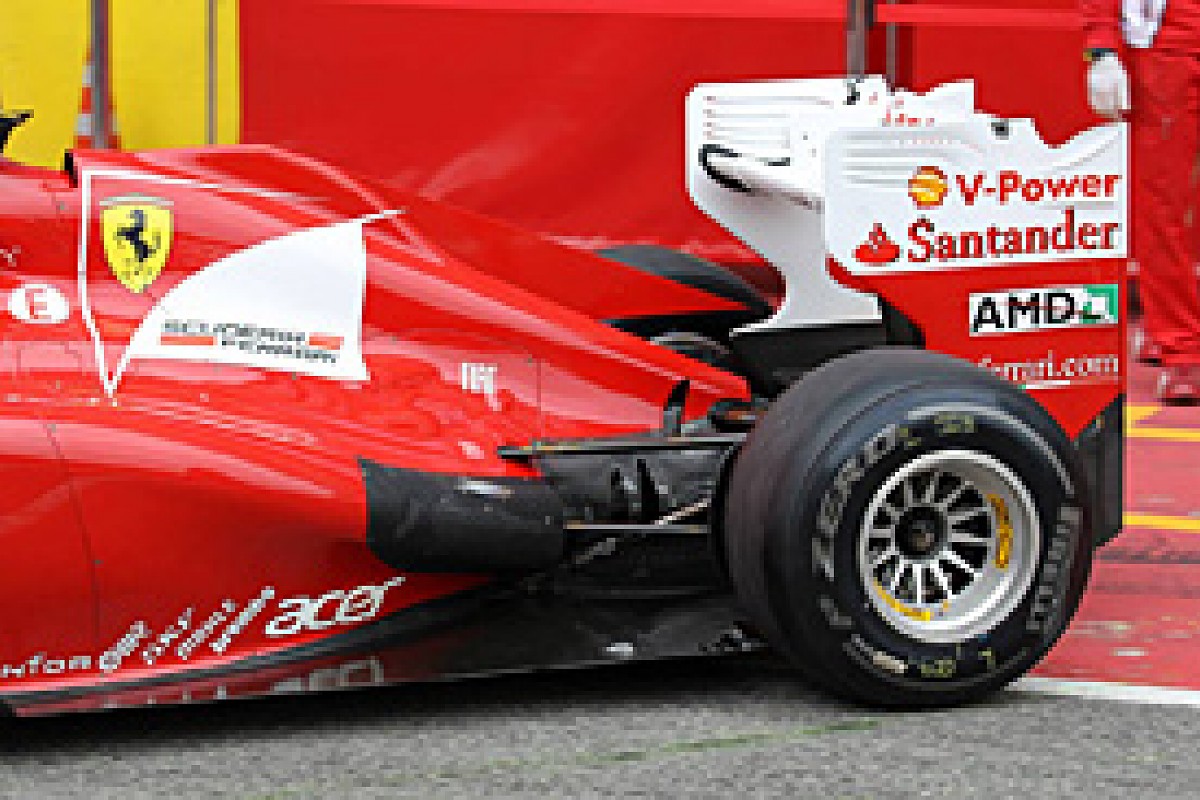 Ferrari tested its updated F2012 © XPB
In truth, we were never going to see a seismic jump in performance at Mugello - even if a magic button existed, teams weren't about to show they had discovered it. This was testing after all, and therefore about empirical data gathering. The proof of the new developments will instead come next weekend at Barcelona.
And that precisely was the point. As Fernando Alonso said, the encouragement was that what Ferrari had fitted was correlating with its expectations, even if there was no massive step forward. That was the battle all along the pitlane: not necessarily to test improvements to the car, but more importantly to understand the direction of future upgrades.
"Last year we brought new parts and maybe six worked and four didn't," Alonso said. "Here all the parts worked as expected, which is fantastic. It gives us confidence for the big update at Barcelona and for future developments."
Team reaction
That said, support for Mugello - both as a testing venue and as the arena for in-season testing's return - was far from unanimous among the teams.
One issue is that Mugello is all sweeping gradients and high-speed turns, and therefore a comparatively poor barometer of other circuits on the F1 calendar, with the possible exception of Silverstone. A second was the manpower required to run the test amid a bumper 20- race season. A third: whether the return of testing really fitted with the cost-cutting mantra preached in other corners.
"It depends on your position to be honest," Lotus chief Eric Boullier explained. "We would have liked to avoid this one - we would prefer to have all the testing in February like last year. I'm sure Ferrari is happy to have this test. When teams are struggling, they need track time to develop their car faster. Teams with good cars don't need it as much, so it just depends on your position."
Red Bull team principal Christian Horner was one of those who questioned the relevance of the circuit to other venues on the 2012 calendar, but said the wider issue should be about the existence of in-season testing.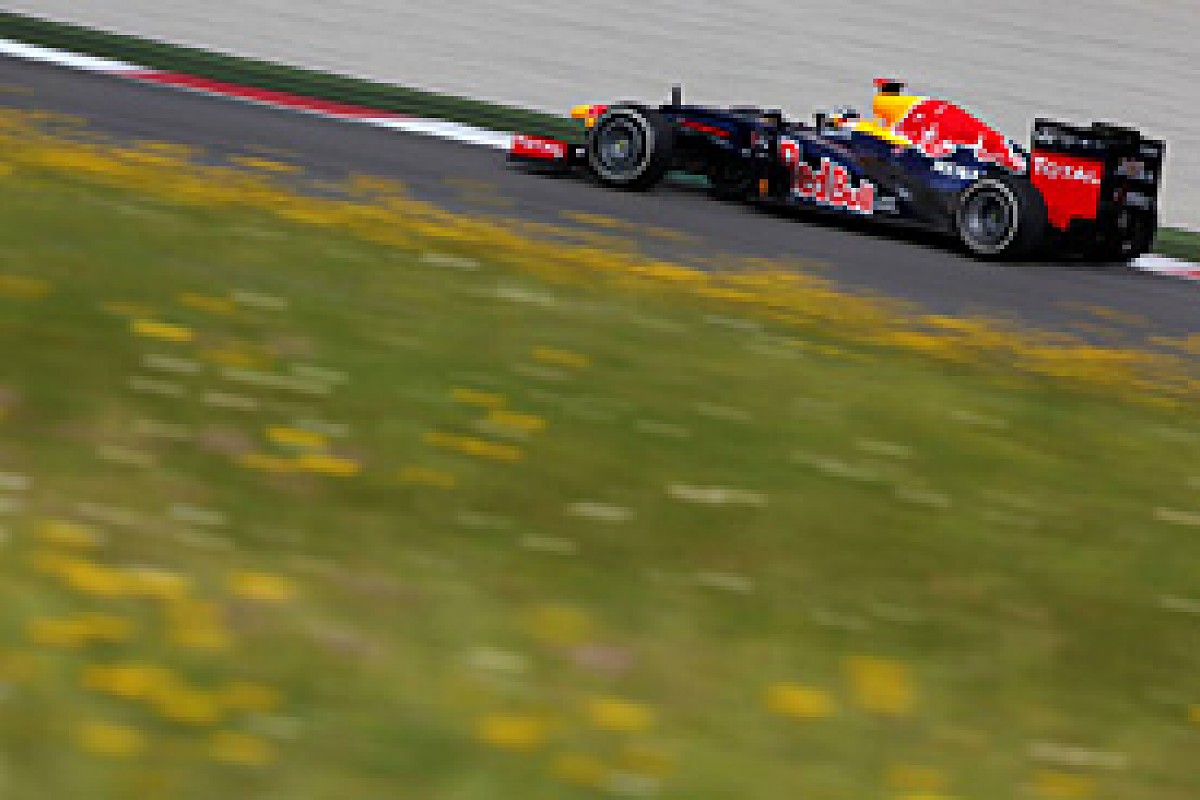 Not all teams thought the Mugello test was needed © XPB
"It's an opportunity to run the cars so obviously we elected to take it - any test time you have is useful," he said. "This circuit is great to drive around, it's a great location, has great facilities and is a real challenge, but in terms of the benefit for some of the venues we go to it is obviously reasonably limited.
"Whether it's the right thing for F1 to be testing in-season is probably a bigger topic. The season is gruelling for the guys. We disbanded test teams some while ago, so I ask, in the scale of things, is it right to be testing in-season?
"If you look at the focus on cost saving, this test hasn't achieved that for any team. We will have done three times the mileage of a grand prix weekend here; in that respect would it be better to have another grand prix weekend rather than go testing? Moving forward, that's a bigger topic we should look at."
So why did teams agree to the test? For starters, there's the obvious competitive element, the fear of losing out. The same thinking is behind some teams' decision to attend the Young Driver test at Silverstone, a date far less convenient for evaluating young hopefuls than the end of season date in Abu Dhabi, but far more conducive to further in-season evaluations.
There's also a more simplistic reason, according to Force India deputy team principal Bob Fernley. "We wanted to support the track," he said. "The most important thing was we wanted to support a request from Ferrari as a group. Barcelona is the best track, no question, but we had a request and we felt it was legitimate and should be supported."
Driver reaction
That the Mugello circuit was used for the first in-season Formula 1 test in four years sparked some odd reactions from the drivers across the three days.
The general quote went something along the lines of: "This is a great circuit, but..."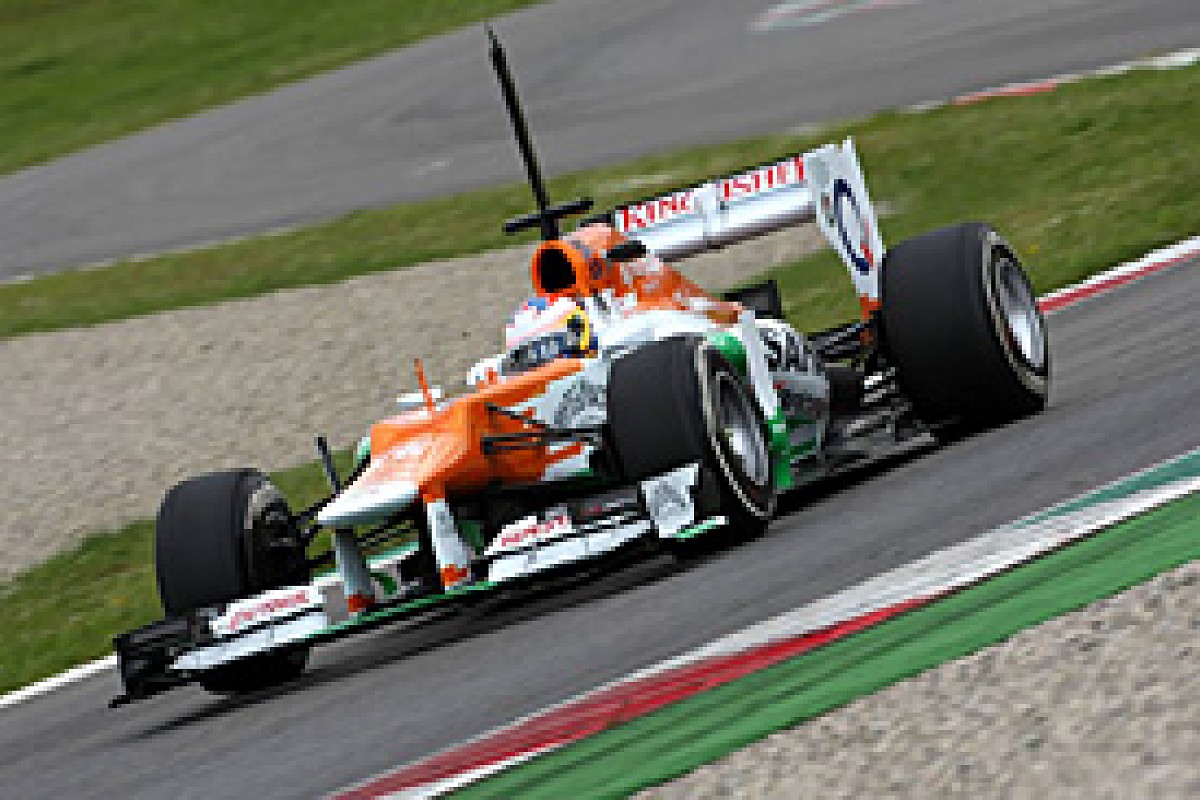 Paul di Resta, Force India © XPB
Paul di Resta summed it up perfectly after his day and a half in the Force India: "It's all high-speed, there are no low-speed corners.
"It seems to be a lot easier on tyres, which we never see - you're doing fastest laps on lap three or four.
"You can go to tracks where you can learn more, and make sure the effort is worth it. It's a great track for a driver, don't get me wrong - it's awesome and high-speed, which is what F1 cars need. But we're here to test and I just think we could probably do with a slow section to gather data on."
Trackside
To get a driver's-eye perspective, AUTOSPORT spent an hour trackside with Lotus third driver Jerome d'Ambrosio on Thursday, watching the cars fire out of the Materassi/Borgo S Lorenzo chicane, into Casanova and through Savelli.
It's a spectacular place to watch Formula 1 cars at full noise.
"From the outside, this circuit is beautiful," said d'Ambrosio as he snapped the Tuscan hills on his iPhone.
"It's where you can really see formula cars at their maximum potential. But it's difficult to really assess the balance of the cars, because there are no bumps or hard stops."
Rather than making assumptions based on car behaviour, d'Ambrosio focused more on how comfortable each driver appeared as he threw the car through the fast curves, particularly into Casanova. As Alonso flung the Ferrari into the downhill right-hander for the first time, d'Ambrosio looked impressed.
"He seems very confident," he said. "He's entering the corner as fast as anyone else out there."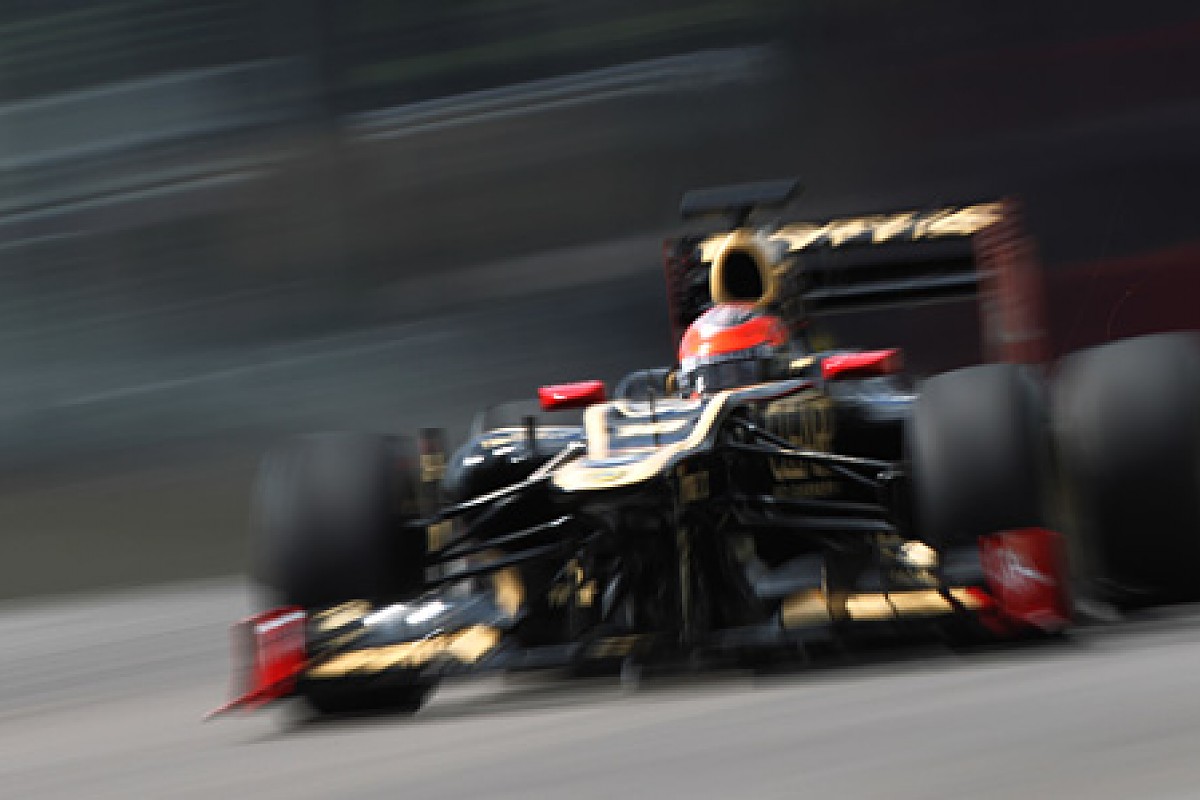 Those sentiments were echoed as Romain Grosjean came past in the Lotus just seconds later.
"Romain is very confident in that car. He's really pushing very hard."
When Oliver Turvey finally emerged from the pits in the McLaren, he was one driver who avoided using the DRS on the short burst between Borgo S Lorenzo and Casanova, a clear suggestion that outright speed was not on the agenda: "He's not pushing as hard as some of the other guys, but you have no idea what fuel he's running."
There was a similarly non-committal response from our expert when Pastor Maldonado hit the track. "The Williams looks a little bit nervous," d'Ambrosio said. "But it didn't look fast at Jerez either, and the race pace has been very good."
During our stint trackside, Daniel Ricciardo spent most of the time circulating at relatively low speed, likely due to an aero test. At one point, as he tried to change direction between Casanova and Savelli, the Toro Rosso had a nervous wiggle.
Jerome D'Ambrosio © LAT
"You can't judge the car if he's not pushing," explained d'Ambrosio.
"Everything about a Formula 1 car is built for when it's at the limit, so when you're doing an aero run or something like that, and you're not at the limit, there can be some strange behaviour. It is probably that the tyres are reasonably cold."
As soon as Ricciardo picked up the pace, d'Ambrosio's theory was proven correctly, the Toro Rosso planted to the road as it fired through the curves.
The last car that we had the chance to observe was the Caterham of Heikki Kovalainen. As the Finn approached Casanova, it was clearly audible that he had to lose more speed than the others before he turned in.
"I don't know what kind of run he's doing, but it's not quick. He's making more downshifts into the corner. He might be on a heavier fuel load, but you can see a big difference in the balance.
"In the slower cars, you can't be as aggressive. You have to be careful in the first part of the corner, because if you get too wide the change of direction is too violent. In the quicker cars, you can afford to be wider into the first part of the corner."