DAY THREE
18.00 - And that brings this in-season test at Mugello to a close. Romain Grosjean has finished on top of the time sheets for the second day in a row for Lotus, his 1m21.035s just over two-tenths quicker than Sebastian Vettel. A full report from today's action is online here. Thanks for joining us.

17.58 - Two late laps from Turvey move him into the 1m22s bracket, and up to eighth in the standings as the session nears its end. Rosberg immediately improves to bump Turvey back to ninth.

17.53 - Oliver Turvey sets his best time of the day, a 1m23.198s, but he's still 10th.

17.47 - Pastor Maldonado has jumped up the order to seventh with a 1m22.497s in the Williams.
17.45 - Some of the teams have already packed their pit equipment away, but not Toro Rosso. They are currently running through some practice stops with Ricciardo.

17.39 - Just 20 minutes of the test remain, and Vettel, Alonso and Ricciardo all emerge from the pits for another run. Grosjean is already on track, and clocks a 1m21.649s as he blasts past.

17.17 - Suddenly we're much busier out on track, as all but four drivers pound round - with the majority alternating between fast and slow laps. On a lap watch we also have four centurions now - Caterham and Mercedes being joined by the Toro Rosso of Daniel Ricciardo and the Sauber of Sergio Perez. Kovalainen leads the way with 124 laps.
17.00 - We enter the final hour under red flag conditions - it seems Sergio Perez's Sauber has stopped out on the main straight. Usefully he's rolled to a stop just by the pitlane exit, so this shouldn't be a long one.
16.51 - @Lotus_F1Team: "Pack down time for the pit stop gear; no more practices today it would seem... #F1 http://yfrog.com/kghjvrrj
16.44 - Plenty of green on the timesheets now, as Ricciardo, Hulkenberg and Glock all set new bests. The trio stay fourth, sixth and 11th respectively.
16.38 - Timo Glock sets a new best of his own, a 1m23.639s. He stays 11th overall but demonstrates good consistency, his next lap less than five hundredths of a second slower. Plenty of longer runs on the medium and hard compounds now.
16.10 - After being frustrated by an electrical issue this morning, Pastor Maldonado is churning through the laps this afternoon. He has also set a new personal best, although it is in the 1m24s and he remains at the bottom of the timesheets as a consequence.
16.00 - Not much of a welcoming party for the final two hours with Alonso, Ricciardo and Perez the only three men on track. There is only a small crowd in the grandstand opposite the media centre too - although we do have our first banner, cheering on Vettel's bid for a third consecutive title. Despite the blue skies the temperature remains around 12 degrees.
15.35 - We have a new man at the top of the timesheets, and - as the photo above suggests - it is yesterday's pacesetter Romain Grosjean. The Frenchman drops the benchmark to a 1m21.035s, putting him almost a quarter of a second clear of Sebastian Vettel's Red Bull.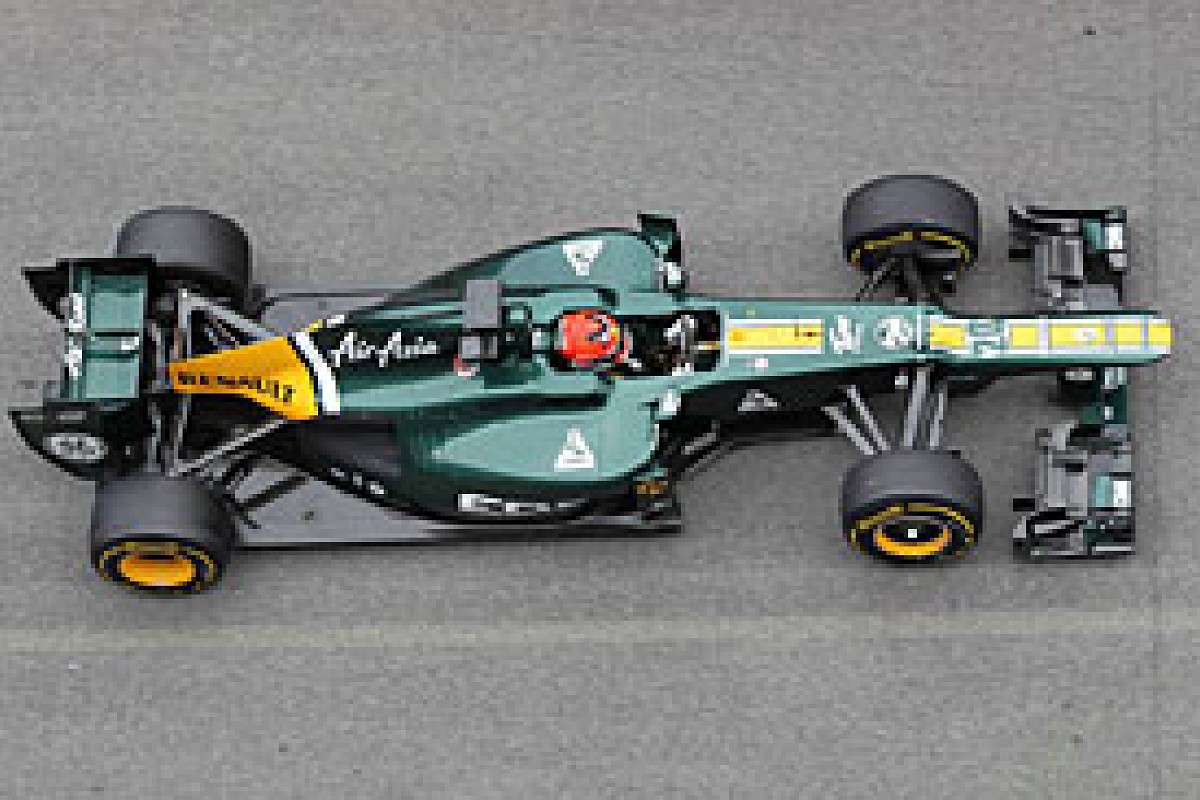 15.20 - @MyCaterhamF1: "The car's back. Quick cleanup, refuel, put on another tyre set and we'll get on with the rest of the program." Sure enough, Kovalainen has just headed back out shod on softs. Timo Glock and Nico Hulkenberg meanwhile set new personal bests.
15.14 - We're back underway, and the majority of the pitlane is straight back out. Plenty of long runs - drivers have been surprised by how unabrasive the Mugello surface has proved - but among them Romain Grosjean is up to speed instantly with a low 1m21s. Alonso too comes close to toppling his morning mark.
14.58 - We have the day's third red flag, and a car beached very deep into a gravel trap. A scientific analysis of which cars have arrived back suggests it is the Caterham of Heikki Kovalainen - and indeed it is, the timing screens showing him stopped down at Turn 1. He's already being attended to, but this seems a good time to refer to Vitaly Petrov's belief that Mugello is not safe enough for F1 testing.
14.30 - Nico Hulkenberg makes his first appearance at Mugello - a quick out lap before heading back into the pits. The German had been down to take the entire final day, but with hydraulic issues blighting the team's Wednesday programme Force India changed its plans and gave Di Resta the final morning.
14.14 - Aha, we have a Formula 1 car. Two in fact, as Heikki Kovalainen's Caterham is quickly followed by the Ferrari of Fernando Alonso. The Spaniard was on Twitter over lunch - @alo_oficial: "Lunch break! We lost 2h with an off track ( at least we did not break anything ;))! We will do extra laps this afternoon!!! #Happy"
14.00 - We're back underway at Mugello - well, sort of. The track is green once more but, as was the case yesterday, there's not a rush to exit the pitlane. Three minutes in and there hasn't been anything more than a rumble of engine from the pitlane below.
13.00 - The chequered flag is out and the track falls silent. Sebastian Vettel ends the day fastest from yesterday's pacesetter Romain Grosjean. Fernando Alonso, in an F2012 sporting revised rear bodywork and exhaust exits, gets within one tenth of Vettel, but much of his good work was undone by an early accident and the subsequent loss of two hours of running.
We'll be breaking for lunch, but join us at 14.00 local time for the final afternoon of in-season testing here in Mugello.
12.41 - Fernando Alonso is back underway for Ferrari too, which means the Scuderia lost just over two hours of track time as a result of his earlier accident. His first flying lap is a 1m24.122s, and he has Vettel and Turvey for company as the session approaches the final 15 minutes.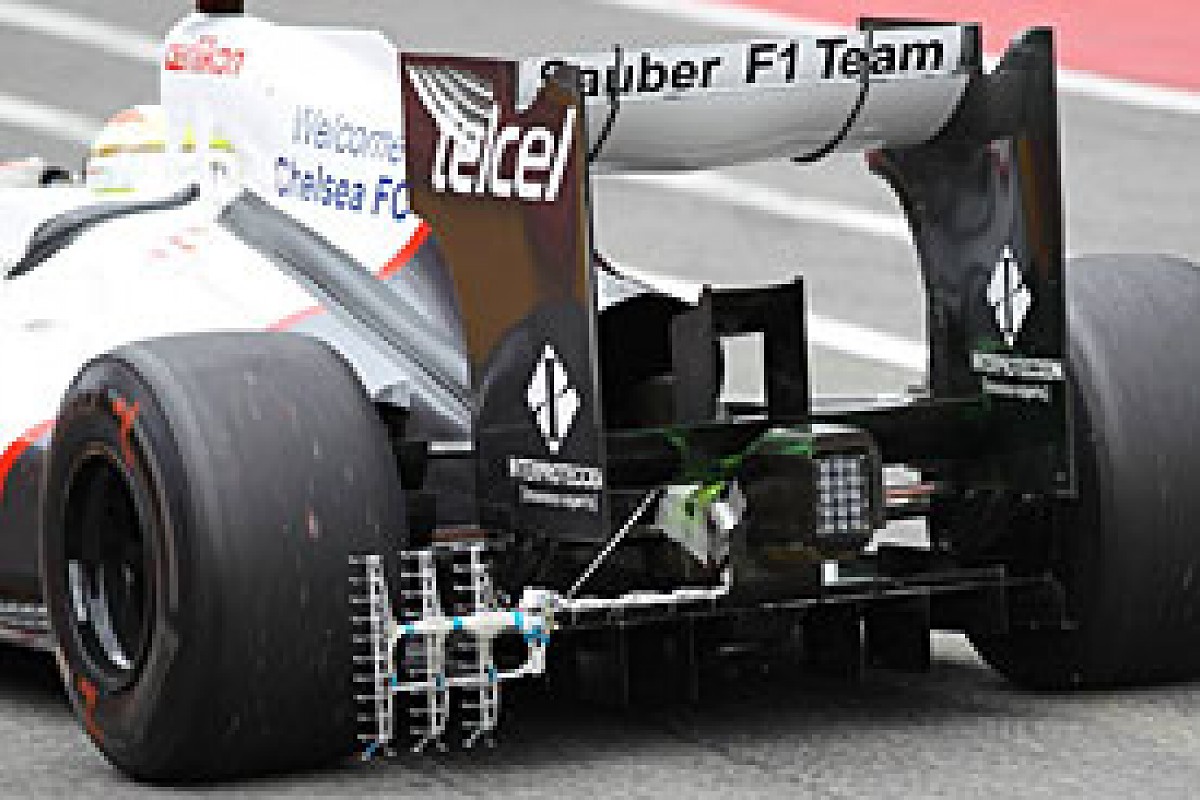 12.35 - There has been some speculation today that Sauber might be trialling a version of Mercedes' double-DRS concept due to a number of pipes running along the side of the car. Chief designer Matt Morris has reliably informed AUTOSPORT that these are for pressure measurement however, and that at present the costs of implementing the DRS system outweigh the potential benefits. You can read the full story here.
12.24 - Paul di Resta heads out for the first time since his earlier accident on the exit of Scarperia and is quickly up to speed - he goes sixth fastest with a 1m23.071s. Daniel Ricciardo and Sergio Perez (fourth and fifth) have also made improvements. Still no sign of Alonso however.
12.12 - Into the final hour and a new overall best from Vettel, who shaves five hundredths off his previous effort. Still just 0.1s covering the top three of Vettel, Grosjean and Alonso, all three of whom are now in the pits. Perez, Ricciardo and Rosberg are our only runners.
12.00 - Romain Grosjean has just done a lap that slots him into second place, between Vettel and Alonso. 0.029s covers the top three as we move within an hour of the lunch break.

11.56 - Daniel Ricciardo currently on track. He told AUTOSPORT last night that today would be mostly short runs, working on new parts relating to the exhaust, floor and diffuser.

11.46 - Track action is back underway here at Mugello, and Sebastian Vettel has quickly fired to the top of the order with a 1m21.314s flyer. That's knocked Alonso from the top spot by less than a tenth. The time was set on the medium compound Pirelli tyre.

11.19 - Di Resta's car is on its way back to the pitlane now, and we will be green again shortly. In the meantime, XPB photographer Russell Batchelor (@russellbatch) has captured Fernando Alonso's previous off at the Correntaio hairpin - see our main image at the top of this blog. The Spaniard hasn't been able to return to the track since the accident, although he remains fastest with a 1m21.363s. According to Ferrari's earlier tweet (see 10.30), we won't be seeing much of the Spaniard in the next two hours...
11.00 - Sebastian Vettel, out on medium compounds, moves up into second with a 1m21.505s, just over one tenth off Alonso. There's further bad news for Force India after a torrid opening two days (one due to weather, the second due to a hydraulics issue) - Paul di Resta has stopped out at Turn 11, and we have our second red flag of the day. Looks like he's run wide on the exit of Scarperia and had ended up in the gravel.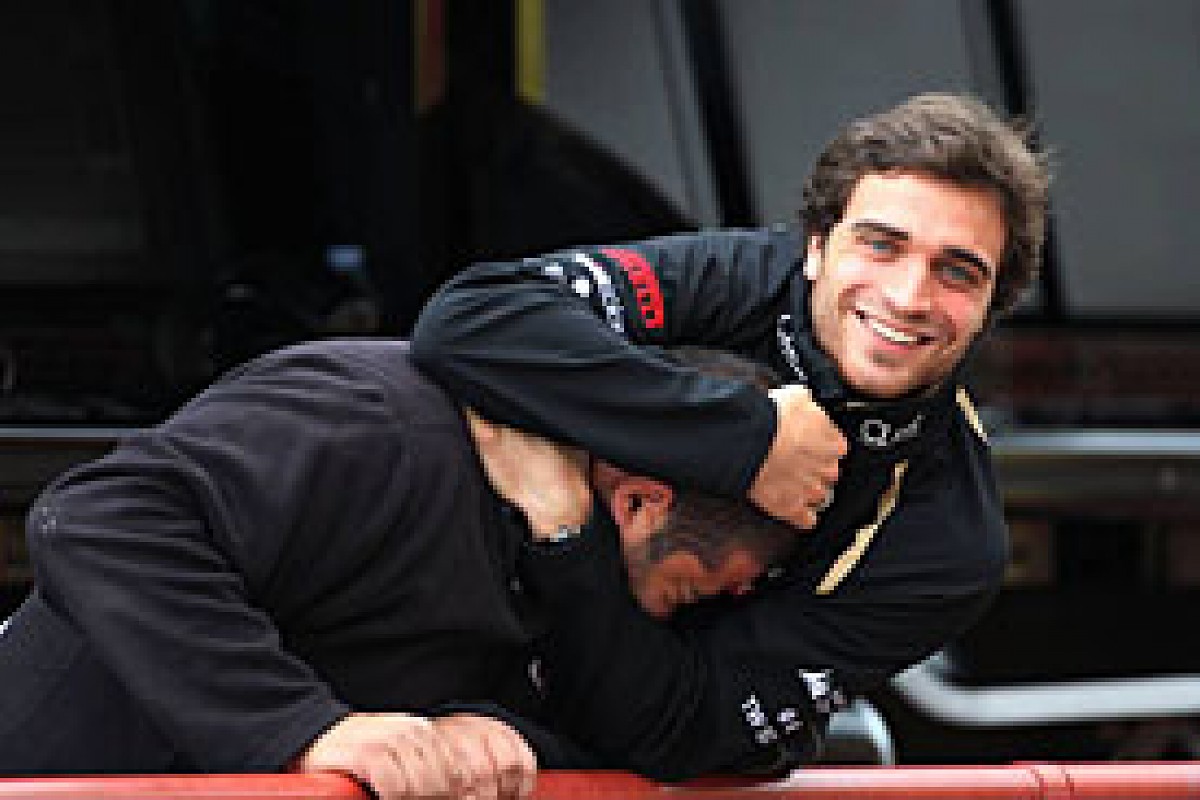 10.44 - As Jerome D'Ambrosio watches from the pitwall (perhaps that should be wrestles), Romain Grosjean picks up where he left off yesterday as he gets down to a 1m21.684s - fractions fast enough than his day two benchmark. It's still around two tenths down on Alonso, who racked up 19 laps before his off. Down the field Maldonado has managed just four laps in the Williams, while Perez has managed nine but is yet to set a time.
10.30 - @InsideFerrari: "An off track from Fernando hampered morning's session. At least two hours to repair the damages. It is a shame but that's testing!"
10.15 - It appears Fernando Alonso might have had a brush with some gravel - as his covered car comes back on the low loader, you can still see a damaged nose and very dirty front tyres. Ferrari of course is sporting new upgrades for the start of the final day - read about them here.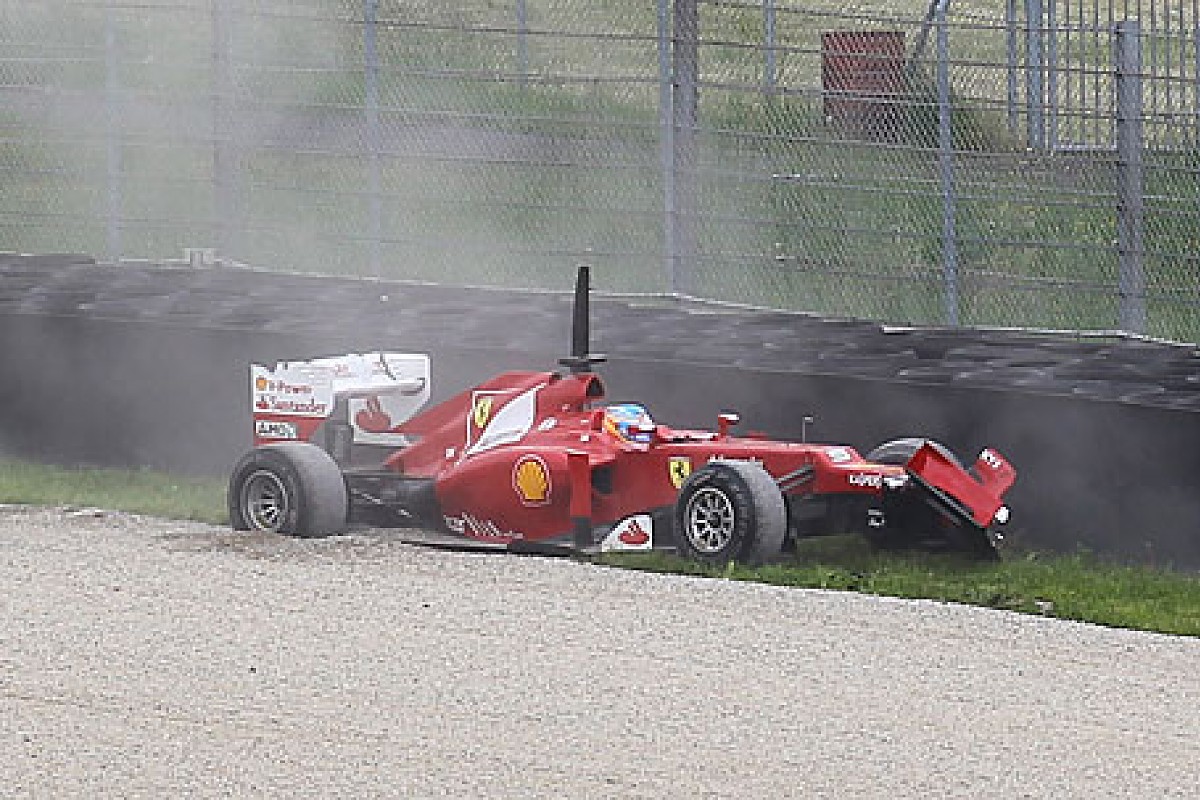 10.00 - We have our first red flag of the day, and it is for Ferrari - Fernando Alonso's F2012 has stopped at Turn 12. The Spaniard is brought back to the pits by a recovery vehicle. Incidentally he got down to a 1m21.363s before stopping, the fastest time we have seen so far.
09.36 - Fernando Alonso has wasted no time getting down to business today. Just over half an hour into the session, he's already clocked a 1m21.772, a little over a tenth slower than the equal best times set by Romain Grosjean and Kamui Kobayashi yesterday.
09.22 - As usual, the first 20 minutes of the day have been dominated by installation laps. No flying lap times have been set so far.

09.00 - The final day's running is now underway here at Mugello, under grey skies. Alonso, Grosjean, di Resta, Perez, Ricciardo, Maldonado and Kovalainen waste no time and hit the track straight away. Current temperatures are 11.2 degrees ambient, 15.6 degrees on the track.

08.49 - With just over 10 minutes to go until we kick off for the third day, here is a run through of who will be driving today. For Red Bull, Sebastian Vettel will be in the car the whole day. Oliver Turvey will have his first full day in the McLaren, thanks to Lewis Hamilton and Jenson Button sitting this test out. At Ferrari, Fernando Alonso is back in the car, while Nico Rosberg takes over for Michael Schumacher in the Mercedes. Romain Grosjean will have his second full day of running in a row, however it will be a car-share programme at Force India, with Paul di Resta using this morning to make up for lost time yesterday, before Nico Hulkenberg takes over after lunch. At Sauber it will be Sergio Perez, at Toro Rosso it will be Daniel Ricciardo, at Williams it will be Pastor Maldonado, at Caterham it will be Heikki Kovalainen and at Marussia Timo Glock will be in the car.

08.25 - Welcome back to Mugello, where conditions are more moderate than yesterday, but crucially still dry. With rain expected in the late afternoon, expect busy programmes from every team, not least Force India following its hydraulics woes yesterday. We can also expect a new wave of upgrades and tweaks to be phased in and - as we did yesterday - we'll be bringing you the latest information of the new parts each team has brought.
DAY TWO
19.40 - So, some upgrades to mull over amid far better conditions, and far more extensive running, on the second day at Mugello. We'll be back to bring you the third and final day - see you then.
19.30 - After running a new exhaust layout for Alonso on Tuesday, Ferrari reverted to the Bahrain-spec configuration on the second day with Massa. Most of its updates will be saved for the final day, when it is expected to introduce a new exhaust layout, rear bodywork and a new rear wing.
In the final 10 minutes Ferrari did introduce revised turning vanes underneath the chassis however, as can be seen below.
AUTOSPORT technical editor Giorgio Piola says: "Ferrari in the last 10 minutes introduced this new configuration with two turning vanes under the chassis, shaped a little differently to previously. This is totally new for here. Massa today was running with the Bahrain exhaust configuration - tomorrow there will be a new exhaust, rear bodywork and rear wing, and for Barcelona a new front wing and new diffuser."
AUTOSPORT technical consultant Gary Anderson says: "The sequence of upgrades is a bit strange in that the front wing and diffuser are the most important bits for wind tunnel correlation because they are close to the ground. If I was bringing stuff to the test it would be them first. Maybe it is just production times, but there is more of a risk of getting confused."
Ferrari's revised turning vanes (newer version on top):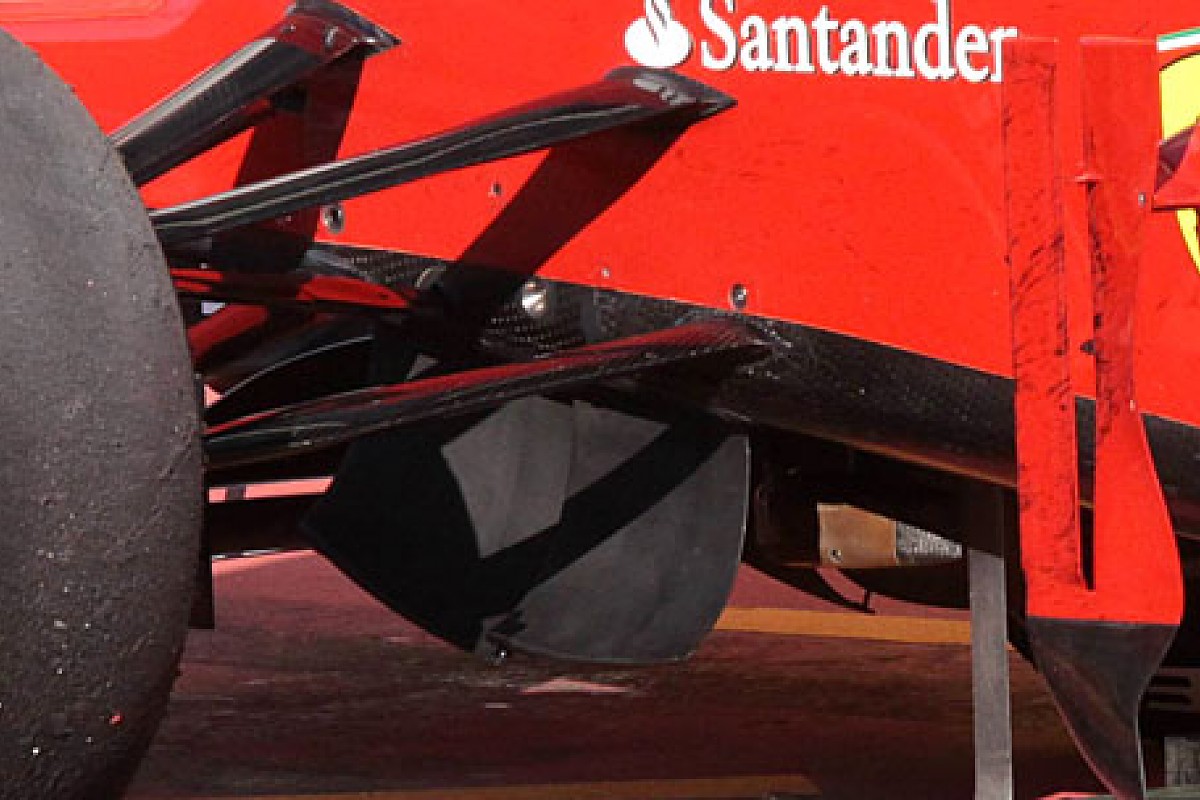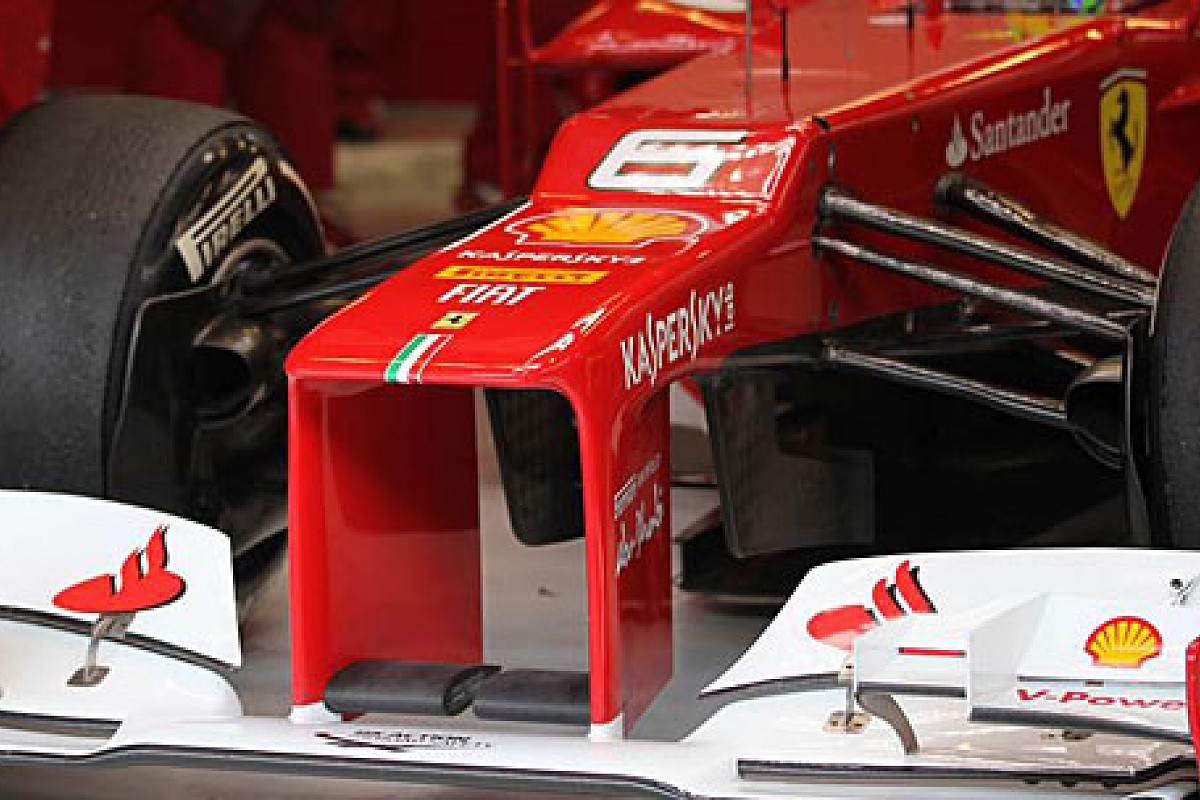 19.10 - Earlier on we said we would be bringing you the latest on each team's various upgrades here at Mugello. A lot of the focus has been on the rear end, and in general the pattern seems to be a move towards a Sauber-style sidepod shape with a McLaren-style exhaust exit configuration.
Sauber has updates of its own, including a new turning vane configuration around the sidepod (as shown below). The team also has a new front wing and revised exhaust outlets.
AUTOSPORT technical consultant Gary Anderson says: "The front wing is a fairly big revision, with more turning vanes on the endplates and the underneath and a revision of the location of the slot gaps. Sauber seems to have brought this in as part of a wider package which also includes revised sidepods and exhaust outlets, and that is positive because all these bits will be worked together."
Sauber's revised sidepods (newer version on top):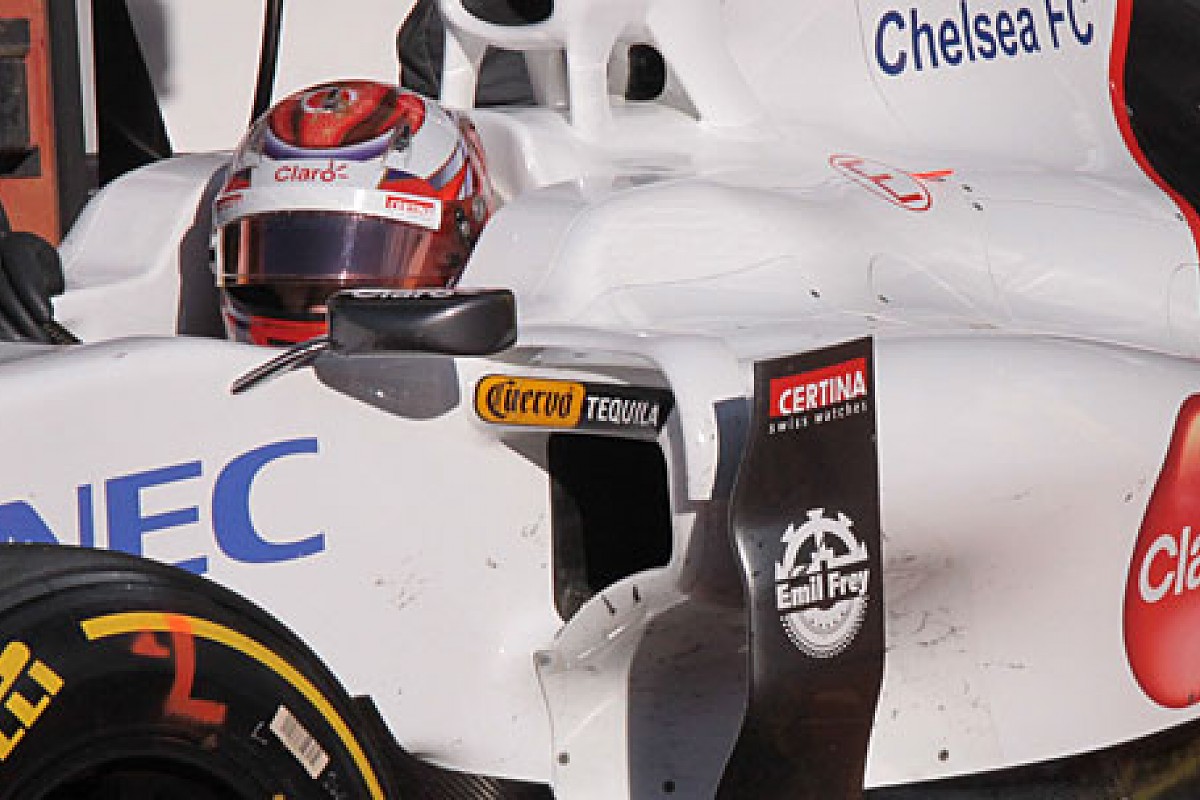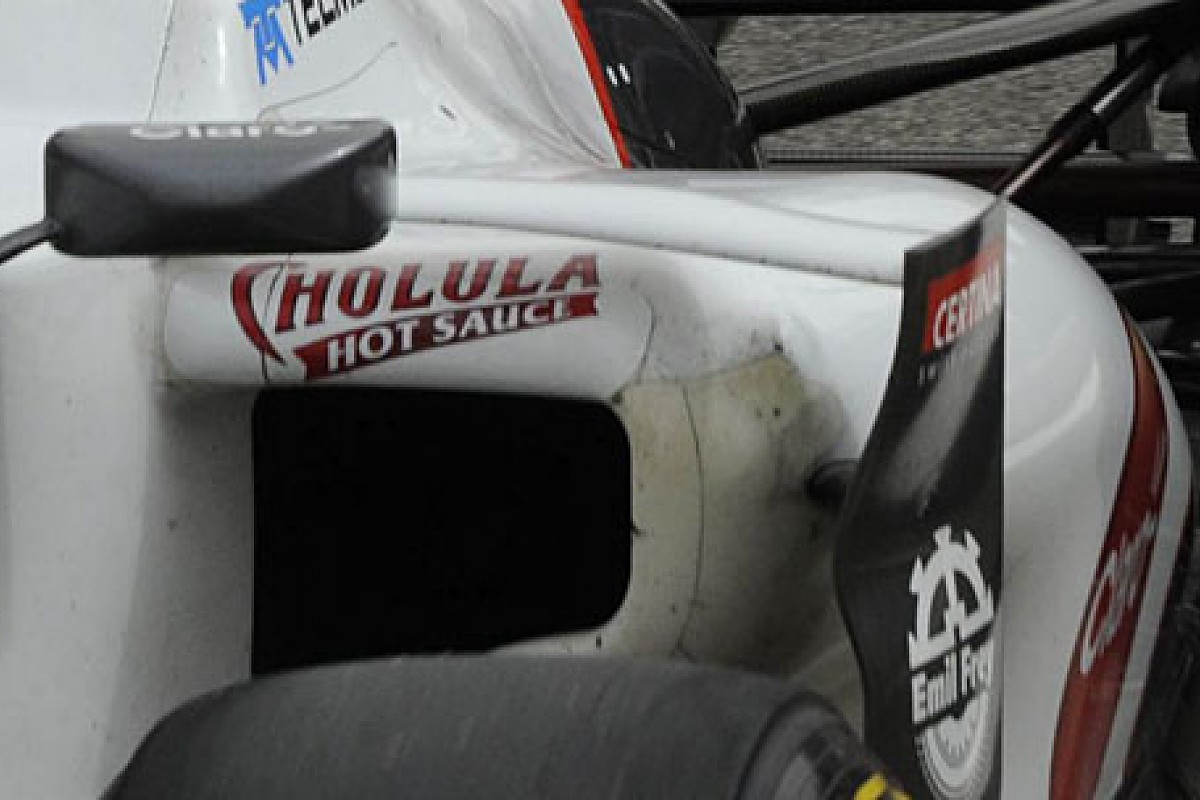 And that is that. Grosjean stays top, but Kobayashi matches his time exactly in the final five minutes - the former setting his time on mediums, the latter on softs. Plenty of running throughout the field, with the exception of Force India, which was forced to change almost the entire rear end in pursuit of its elusive hydraulic issue. Di Resta was eventually able to get out, but with such limited running the team has opted to give him Thursday morning too, before Nico Hulkenberg takes over in the afternoon.

18.10 - And that is that. Grosjean stays top, but Kobayashi matches his time exactly in the final five minutes - the former setting his time on mediums, the latter on softs. Plenty of running throughout the field, with the exception of Force India, which was forced to change almost the entire rear end in pursuit of its elusive hydraulic issue. Di Resta was eventually able to get out, but with such limited running the team has opted to give him Thursday morning too, before Nico Hulkenberg takes over in the afternoon.
17.55 - So very nearly a last-gasp finish (and there is yet time too) as Kamui Kobayashi equals Romain Grosjean's overall best, a 1m21.603s. The Sauber man is out on softs, and his next lap is a very low 1m22s.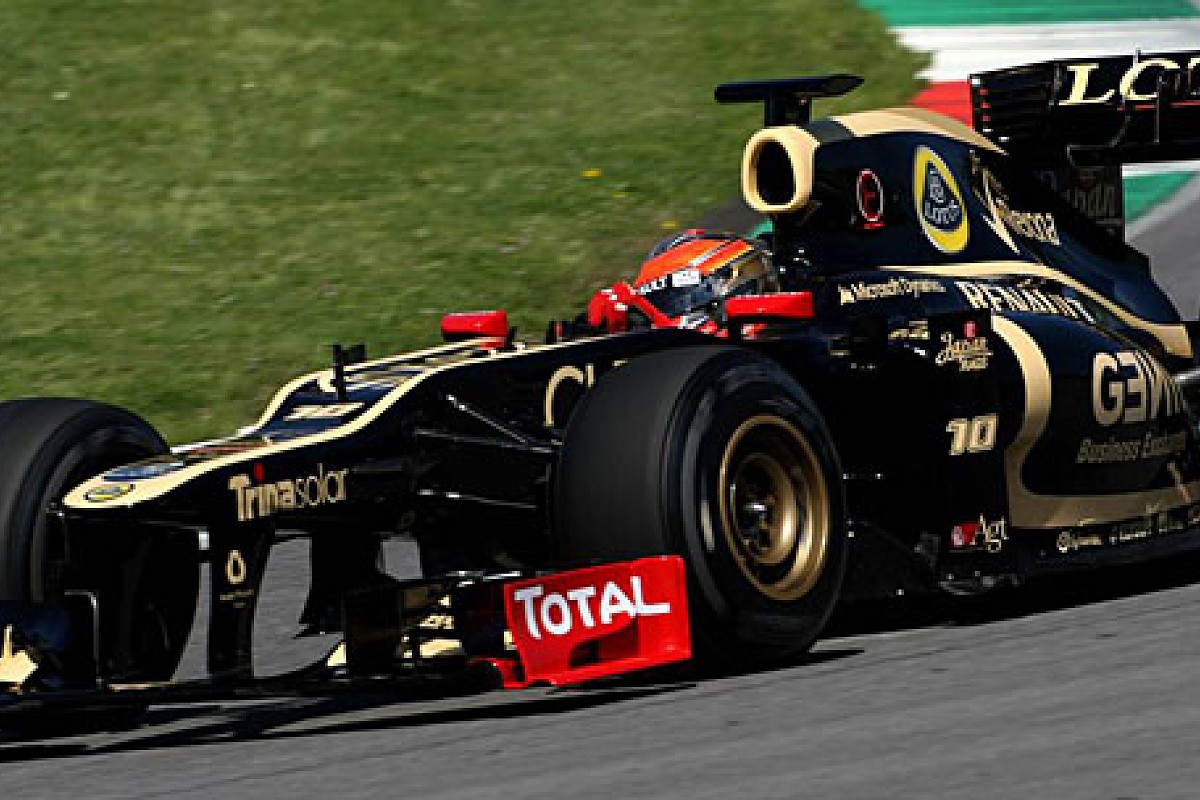 17.50 - We're into the final 10 minutes of the second and penultimate day here in Mugello. This afternoon we've been scouting the pitlane for all the latest tweaks and developments, which we'll be bringing you this evening after also sweeping the paddock at the session's close. Having joined the fray just 40 minutes ago, Ricciardo keeps his pet crew busy with a practice stop.
17.45 - Felipe Massa has just left the pits to begin a long run to finish the day.
17.24 - Been quite a few cars on track for the last eight or nine minutes, but the only real change in the times has been Ricciardo moving to eighth with a 1m23.411s.
17.12 - With just 47 minutes left in the session, Daniel Ricciardo has left pit-lane for the first time in the Toro Rosso.

17.06 - Timo Glock breaks the silence for a six-lap stint with a brand new steering rack in the Marussia.
17.00 - With an hour of running left for the day, every single car is in pit-lane.

16.55 - Felipe Massa's current run has been limited to constant speed tests down the front straight. As is normal in testing, the Ferrari is fitted with a huge sensor on top of its engine cover.

16.53 - Sebastian Vettel is now second fastest for the day, edging out his team-mate Mark Webber with a 1m21.825s. Grosjean, Webber and Vettel are the only three drivers to have broken into the 1m21s bracket so far today.

16.25 - No huge changes to the order since the lunch break, although Sebastian Vettel has moved to third. He's completed 39 laps with a best of 1m22.248, just over 0.6s behind Grosjean and 0.2s behind his team-mate Mark Webber.

16.15 - Green flag again here at Mugello.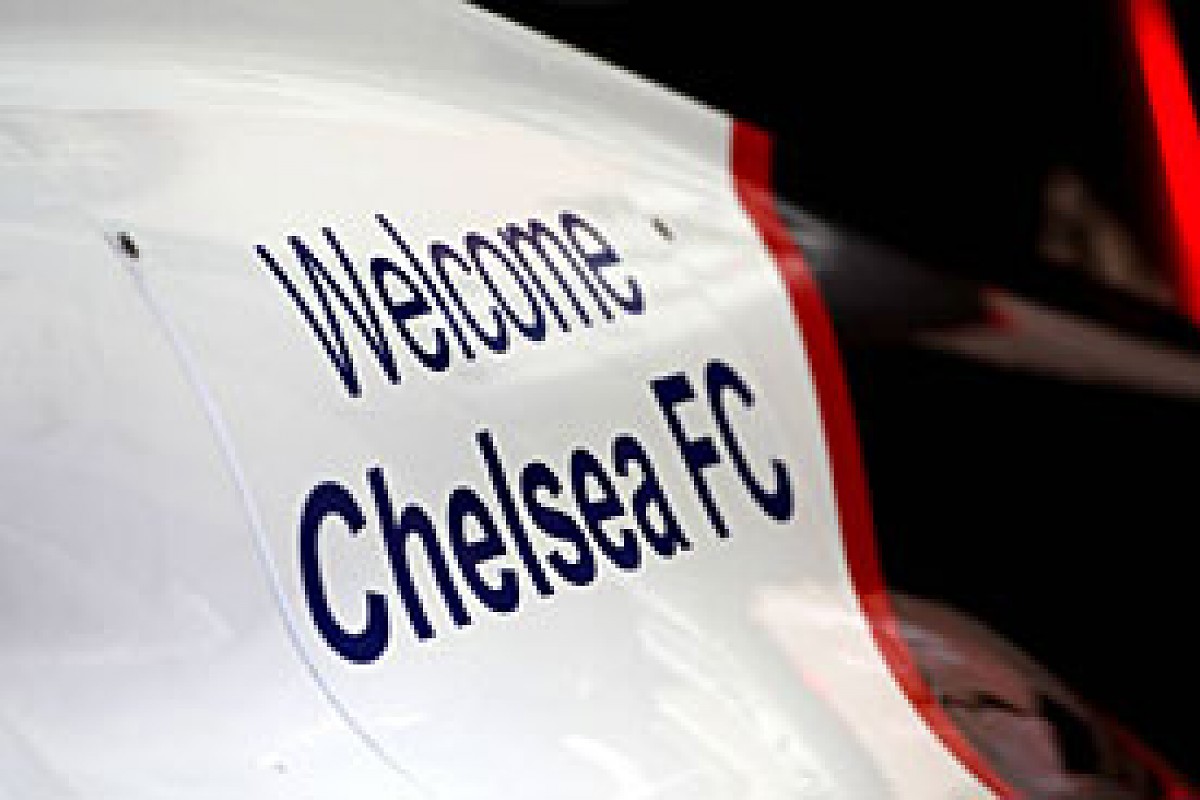 16.04 - No news on exactly what happened to the Sauber, but it's currently being loaded onto the back of the truck. We should be back underway here before too long. While we wait, here's a shot of Sauber's new sponsor Chelsea FC...
15.58 - And we have our first red flag of the day. Kamui Kobayashi's Sauber has stopped at Turn 12.

15.40 - Timo Glock has completed just one lap since taking over from Charles Pic after the lunch break, and the team has just confirmed that a power steering problem is the cause of the lack of running. A replacement steering rack is currently being fitted.

15.29 - Michael Schumacher has certainly been the busiest man at Mugello so far today. He has now completed exactly 100 laps in the Mercedes W03. At the other end of the scale, Paul di Resta is still stranded on seven laps thanks to the hydraulic issues that have been causing problems at Force India all day.

15.25 - Romain Grosjean has just ventured on track for the first time since the lunch break. His best time from this morning still stands as the fastest from the day so far.

15.00 - Still quite a sparse crowd in the main grandstand today, in contrast to the packed rows yesterday. Odd given that the temperature has crept up past 20 degrees - postively balmy compared to yesterday's conditions. Underneath us McLaren has done two practice pitstops, both times focussing on just one wheel - the back left which proved Lewis Hamilton's bane in Bahrain.
14.52 - Timo Glock heads out for the first time for Marussia, just as Vettel comes round in a 1m23.268s, enough to put him sixth for the day. Still yet to see Paul di Resta following an issue with his hydraulic system earlier this morning.
14.30 - Sebastian Vettel exits the pits for his first taste of Mugello in the RB8. Vettel will complete the afternoon and all of tomorrow's running, having taken over from Webber at lunch. Also expected out are Daniel Ricciardo, taking over from Jean-Eric Vergne at Toro Rosso, and Timo Glock, doing likewise with Charles Pic across at Marussia.
@MyCaterhamF1: "Several bodywork changes made to the car over lunch and now Vitaly's climbing back in to head our for the first run of the afternoon"
14.21 - Schumacher is back in the pits now. The track falls quiet again.

14.05 - We're back underway at Mugello, although the circuit is still fairly quiet - Michael Schumacher the only driver to take to the track in the first 10 minutes. He's racking up the laps for Mercedes - 76 and counting now...
13.08 - We're going to break for lunch now, but in the afternoon we will be speaking to AUTOSPORT technical guru Gary Anderson about the updates and tweaks each team has brought to Mugello - and the effect each might have. In the meantime, we have the full report from the second morning here.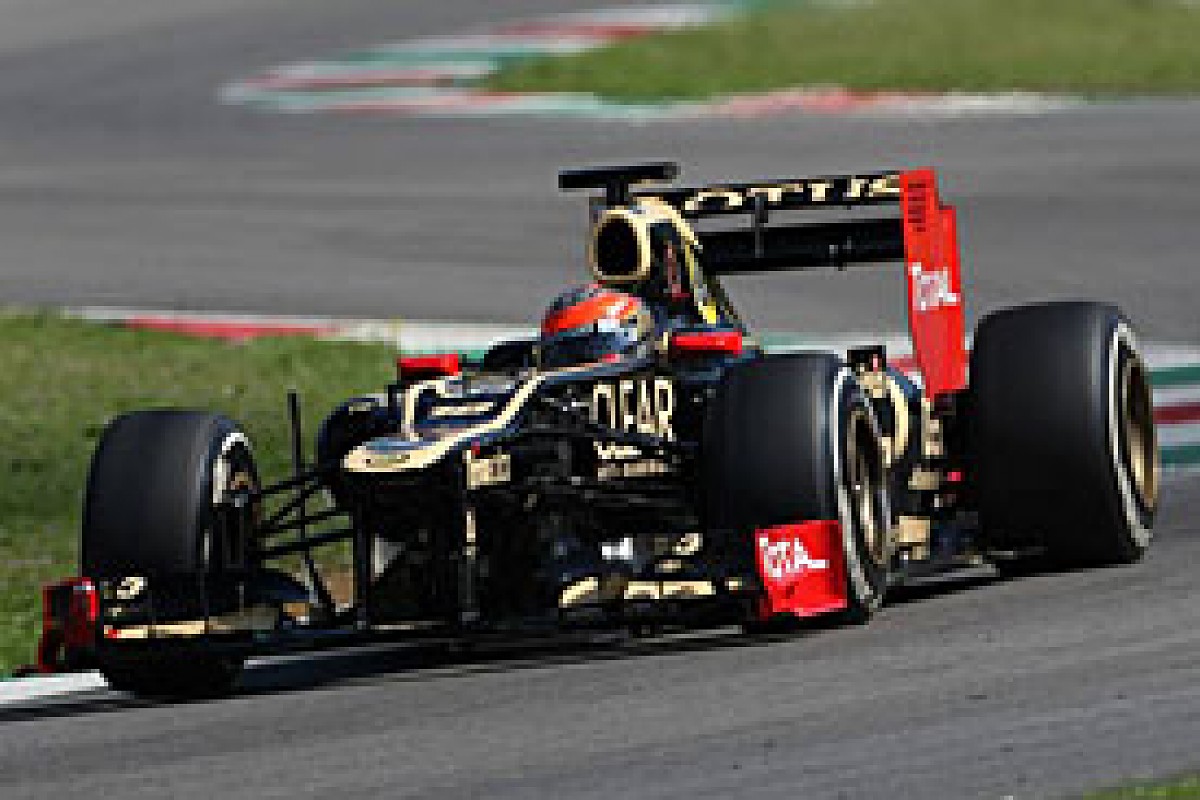 13.00 - The chequered flag flies and it is indeed Grosjean who ends on top. Impressive stuff from the Frenchman and from Lotus. Yes, teams have been running a multitude of programmes and several are sporting an array of sensors, but the Frenchman set several times which would have earned him the top spot. Webber, the only other man in the 1m21s, managed it just once.
12.55 - No improvement from Schumacher, and it looks like Grosjean will end the second morning on top. Word from Force India is that di Resta focussed on aero runs this morning - hence not setting a time - and that a suspected hydraulic system issue has kept him in the garage since. It remains hopeful of getting out again before the end of the day.
12.45 - A few cars out on track in the final 15 minutes, but no major flurry. Schumacher exits on a set of worn softs.
12.30 - Into the final 30 minutes of the morning, and Grosjean's benchmark - set almost two hours ago - is still the standard. Webber and Massa have moved closer, with the Australian now joining Grosjean in the 1m21s.
12.15 - Mark Webber gets down to within six tenths of Grosjean, setting a 1m22.160s on medium compounds. That is enough for second, ahead of Massa, Kobayashi and Vergne. Michael Schumacher is next up, the German also having completed the most laps of any driver - 58 and counting today. In stark contrast an unhappy morning for Force India means Paul di Resta has completed just seven laps and is still to set a time.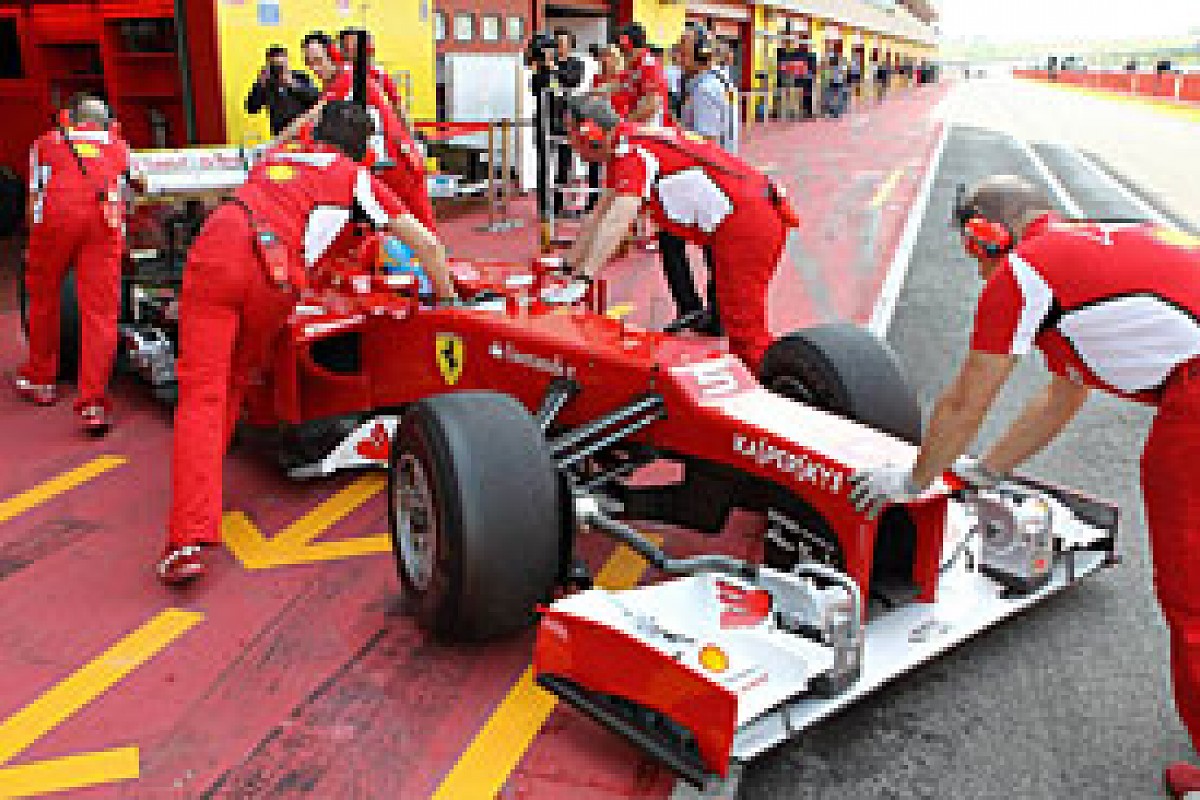 Fernando Alonso, who will resume testing duties for Ferrari on Thursday, has meanwhile labelled Ferrari an almost perfect team - precisely as a result of their on-track struggles. "That's because the team has reached a level of professionalism and confidence higher than you could imagine," he says. "The most important thing, the quickest car, is still lacking, but the struggles of these years have made the team improve at double speed compared to a normal year."
11.46 - Felipe Massa has jumped to second with a 1m22.257s effort. He's still more than half a second behind Romain Grosjean's best from earlier this morning.

11.30 - Gary Paffett has finally set a time, 17 laps into his stint for today. He's currently 10th, ahead of just di Resta, who has completed five laps, none of them flyers.

11.07 - After a quiet period on track, Vergne, Senna, Paffett and di Resta are now heading out. Kobayashi has just left the Sauber pits as well.

10.59 - Two hours into the session, Gary Paffett has completed nine laps, but is yet to set a time for McLaren.

10.54 - Michael Schumacher has been the busiest man on track this morning, with 30 laps so far (and he's still buzzing around). Petrov has completed 24 laps, while Grosjean has 24 to his name.

10.37 - Times tumbling as track temperature nears 30 degrees, as Kamui Kobayashi goes second fastest with a 1m22.630s. That puts him within one second of Grosjean for all of a few seconds - the Frenchman is out on circuit as well and comes around in 1m21.603s, easily the fastest time we have seen so far at Mugello.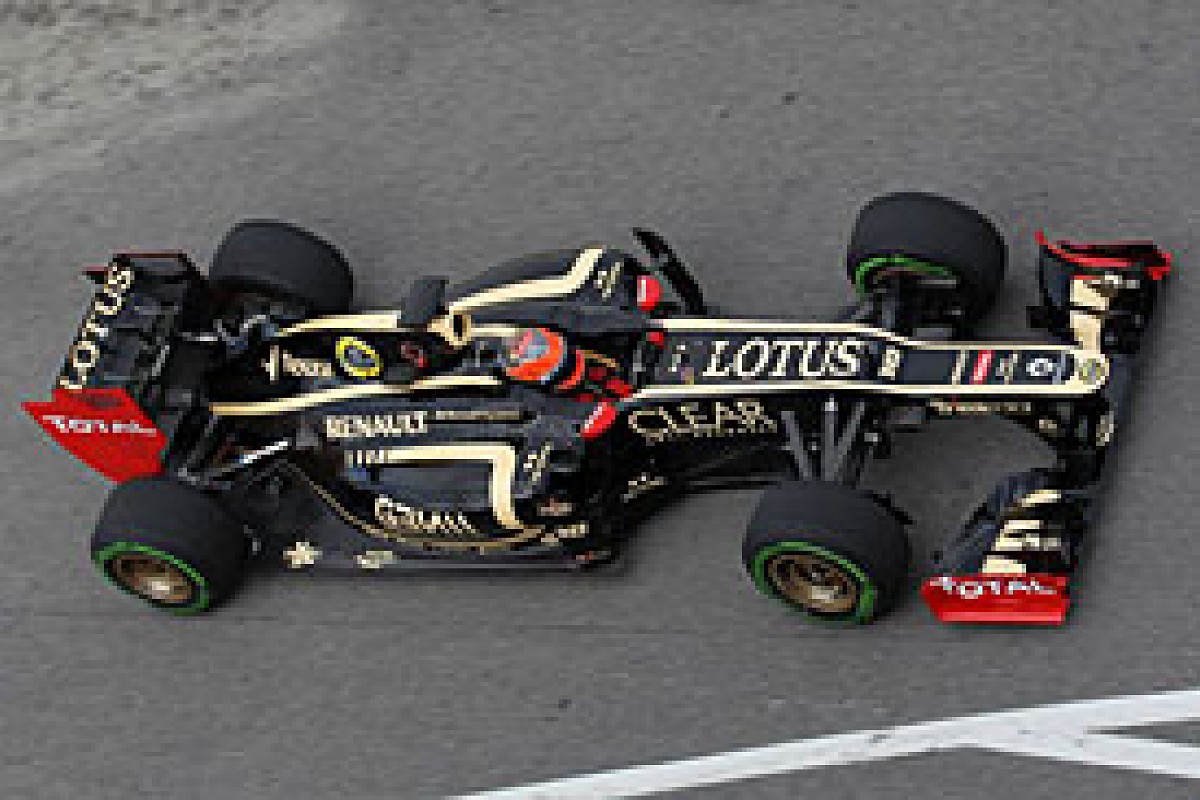 10.15 - Grosjean still leads the way, but there's been a bit of a shuffle behind him. Schumacher and Webber had been quarrelling over second, only to be bumped down by Kamui Kobayashi and then Jean-Eric Vergne, who makes it a French 1-2. Vergne is nowhere near Grosjean though: the latter drops to a 1m22.214s, the fastest time so far at Mugello, to go 1.617s clear.
09.55 - Plenty of aerodynamic work over at Ferrari, with Massa coming past the pitlane on half revs. We saw a similar trend during the pre-season. No such programme for Romain Grosjean, who puts Lotus top with a 1m24.152s, set on Pirelli's medium compounds.
09.40 - There's still some damp patches on the circuit, but most of the cars on track are now fitted with dry tyres.

09.25 - According to the team's Twitter accounts, Caterham has some new rear bodywork and upgrades to the car's brake package to try, while Marussia has updated front suspension and new rear suspension to work on today.

09.15 - The drivers for this morning are Mark Webber (Red Bull), Romain Grosjean (Lotus), Kamui Kobayashi (Sauber), Felipe Massa (Ferrari), Michael Schumacher (Mercedes), Paul di Resta (Force India), Jean-Eric Vergne (STR), Bruno Senna (Williams), Vitaly Petrov (Caterham), Charles Pic (Marussia) and Garry Paffett (McLaren).

09.00 - And we're underway. Intermediates for the majority of the field, and there's no hanging about - Mercedes, Lotus, Sauber, Toro Rosso, Caterham and Marussia are all straight out.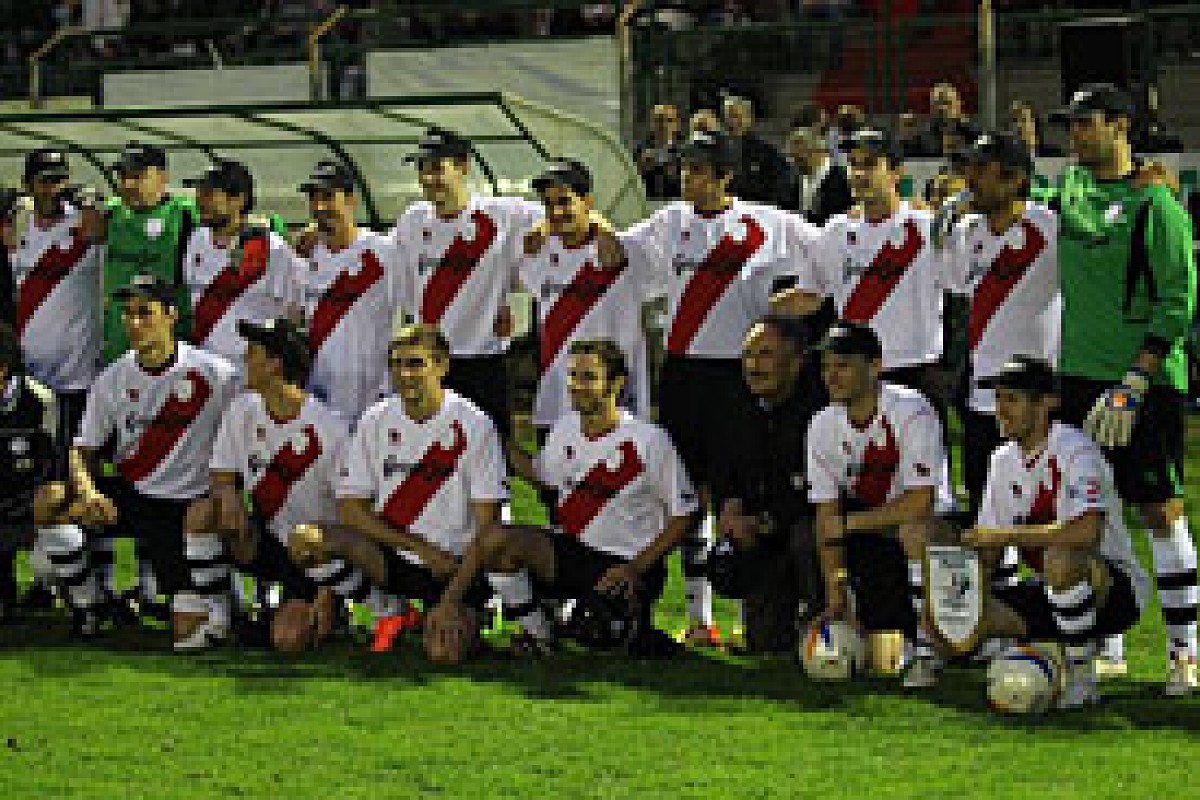 08.50 - After yesterday's on-track lull, drivers got their kicks in another way - and quite literally - at a football match in the Romanelli Stadion in Borgo, San Lorenzo. Vitaly Petrov (with the orange boots, middle) and Sebastian Vettel (furthest right) were among the stars.
08.45 - After the washout of day one, a lot more is expected from day two - and thankfully the forecast dry weather has indeed turned up. There are still damp patches on the track, a hangover from yesterday's deluge, but the sun is already up and a bold man might call it slicks weather already.

DAY ONE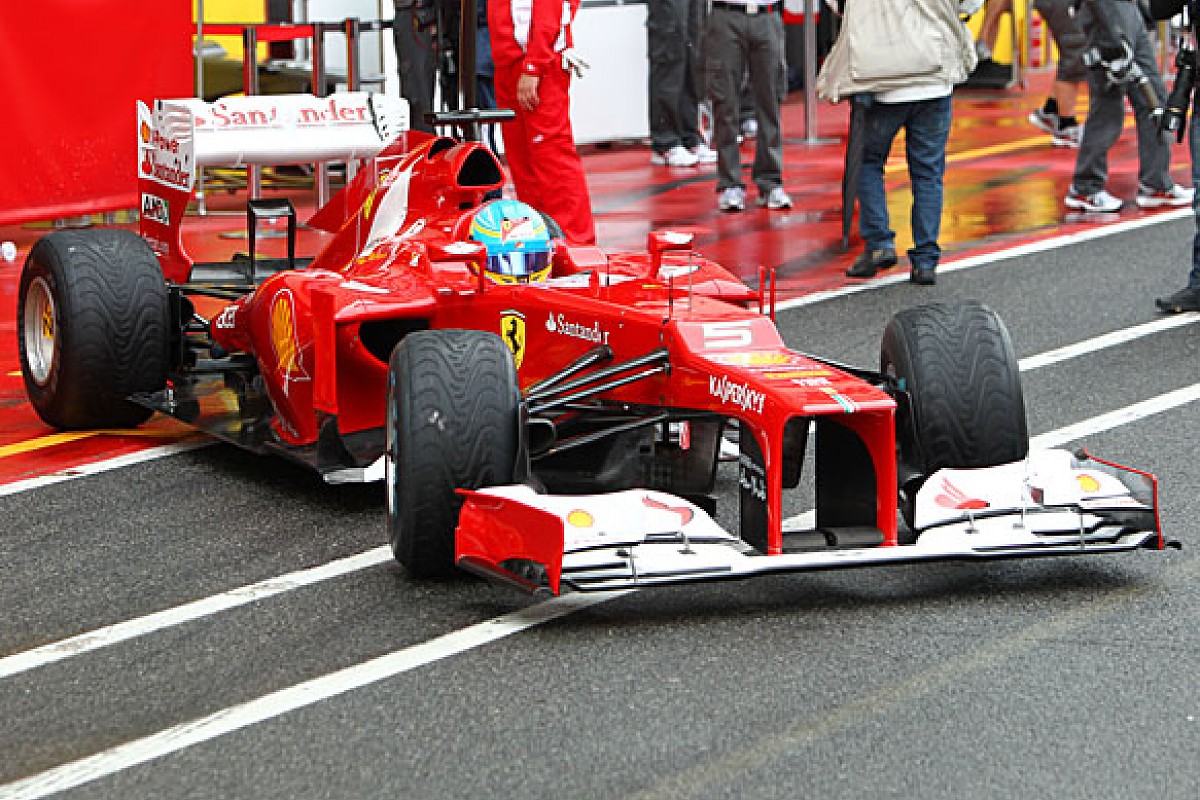 18.00 - And so it comes to an end. A washed out afternoon means the actual finish is mere formality, with several teams opting not to run at all in the afternoon. Funnily enough, Alonso's morning time keeps him top. Gary Paffett was able to manage five laps for McLaren, while Michael Schumacher's afternoon boiled down to three runs and no time. We'll be bringing you the reaction from the day - or what reaction there is to speak of - and we'll be back tomorrow, when the forecast is dry and the teams will likely be running very full schedules to make up for the loss of day one.
17.10 - Apparently if you look very closely you can see a Williams underneath the rolling storm clouds (and remember, this is when conditions were good enough to run). Still, the weather doesn't seem to have affected Nico Rosberg too much - the German saying Mercedes was still able to make some progress on Tuesday.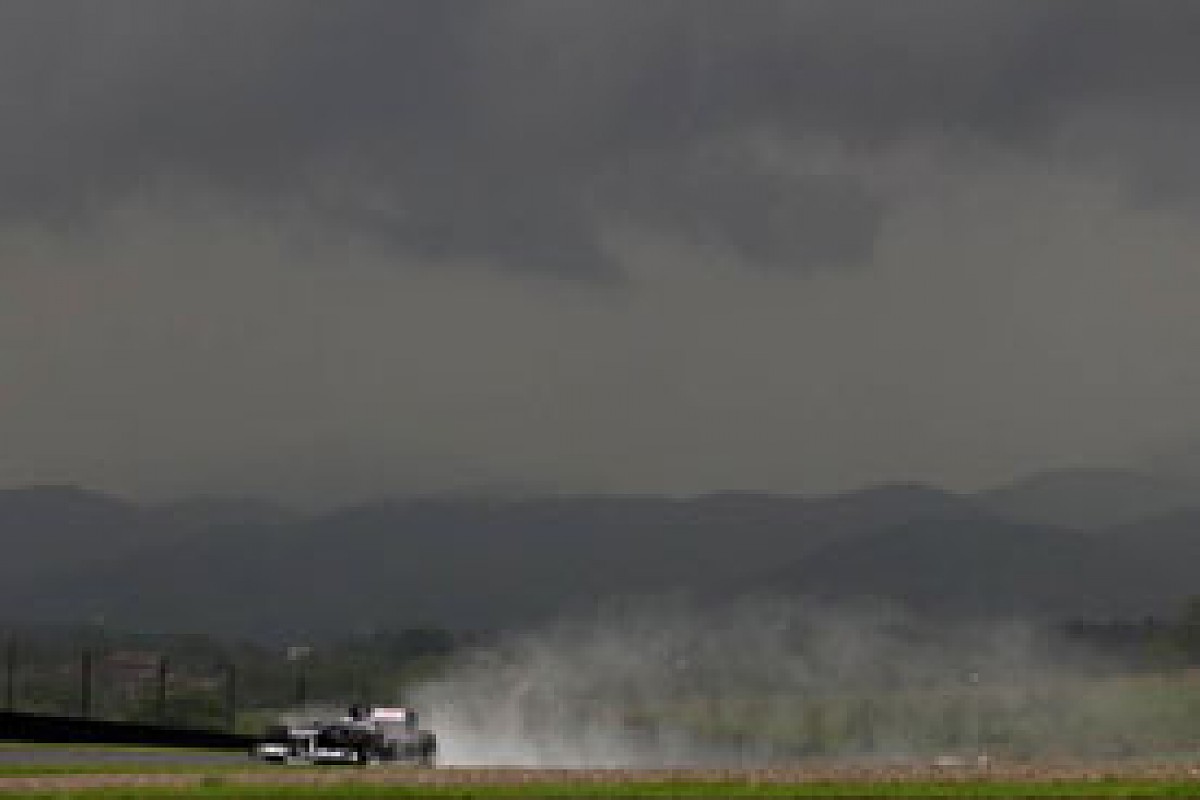 17.00 - Well, the good news is that Paffett's fears - and ours - have been allayed as the circuit goes green for the final 75 minutes. The bad news? There is hardly a rush to get some running in. Michael Schumacher heads out for his first laps of Mugello, before the grandstand whistles in unison and that can only mean one thing - Fernando Alonso is coming out. Sure enough the Spaniard rejoins for what will be his 39th lap of the day.
In the meantime, AUTOSPORT has been speaking to Pirelli motorsport director Paul Hembery, who says that the Italian tyre manufacturer is open to changing its philosophy if teams want it to - although he says there has been no such indication that there is any unhappiness about its rubber.
"If the sport decides we are too aggressive we can change though; we can supply tyres that don't degrade and allow you to push. At the end of the day we do what [the teams] want and also the right thing for the sport: it is not us on our own deciding a direction, you have to work together as a partnership."
To read the full story click here
16.18 - Bad news from Gary Paffett, as he voices what we are all fearing: "Tomorrow looks like it will be dry but today looks like it might be over. Just under two hours until the end of testing. Still raining hard"
16.10 - @GaryPaffett: "Incredible weather here at Mugello. Raining very hard. I have done 4 laps this afternoon in very wet conditions. And it's getting worse."
15.52 - A case of shutting the door after the horse has bolted? The session is red flagged, for the time being at least, as rain continues to batter - that really is the apposite word - the Mugello circuit. Conditions are now so dark that the emergency helicopter cannot safely take off, and the circuit is off limits as a result. Over in the grandstands, it's time to head for high ground in order to avoid the relatively more uncovered lower seats. The prospect of a full washout looms unfortunately large.
15.36 - Valtteri Bottas breaks the silence as he heads out for Williams, but - weather aside - there's a reason we are seeing precious little on-track action. As @InsideFerrari says, "With these conditions and with the limited amount of tyres available it is difficult that someone will run a lot this afternoon."
Pirelli has brought every compound to Mugello, but teams can only select from their testing allocation of 100 sets of tyres per car, per year. With that in mind teams have to be very selective over testing programmes and what conditions to go out in - and it seems dark and wet doesn't quite cut it.
15.24 - Just as things were looking up, the heavens open once more and in some style, as torrential rain clears the lower, unprotected half of the main grandstand and causes track activity to grind to a halt once more. By a purely unscientific count, we've had around six timed laps since the afternoon began.
AUTOSPORT's Pablo Elizalde (@EliGP) is on the money: "Pretty sure HRT is enjoying sunny Madrid today"
14.57 - Scratch that - Kamui Kobayashi heads out for Sauber, while Marussia is apparently set to join the fray shortly - @Marussia_F1Team: "OK, we're good to go. @Charles_Pic1 is back in the car and we're on our way after almost 60 minutes' delay due to wet weather"
14.52 - Gary Paffett finally breaks the silence as he heads out for McLaren. The Briton, who won the 2012 DTM season opener at Hockenheim just two days ago, takes over from Oliver Turvey for the afternoon. He will resume testing duties for all of Wednesday, before Turvey takes charge on the final day. It's a short three lap stint before he heads back in, having been apparently unable to tempt anyone else to join him out on track.
14.40 - The rumble of a McLaren engine right beneath us is, sadly, a false dawn. 50 minutes into the afternoon and we still haven't seen a car even edge out of the garage. The umbrellas are down across in the main grandstand though - we're taking that as a good sign...
14.07 - The rain is coming in much harder now, and we're back to the fully wet conditions of this morning. Twitter seems to be the natural choice for those not about to head out...
@alo_oficial asks: "A question for you today..! How many coffees in a testing day we drink at Ferrari ..? #Ithink waiting your answers ;)"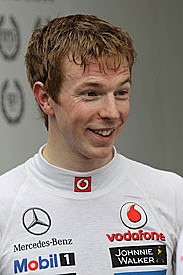 While Oliver Turvey, who hands over reigns of the McLaren to Gary Paffett this afternoon, says: "Frustrating morning, took a long time for the track to dry but we managed to complete a number of data gathering runs this morning. Got a few laps on hard dry tyres at the end... can't wait for my full day in the car on Thursday!"
14.01 - While Jenson Button climbs into a Mercedes in Budapest (yes, I'm still watching), the green flag flies at Mugello. You wouldn't know it without looking however - there is very little sign that any team is about to head out at present.
13.50 - @MyCaterhamF1: The rain has returned...........
13.30 - As we pointed out earlier, Edd Straw's ran a fascinating feature on whether Formula 1 needs this Mugello test. McLaren has been one of its most out-spoken critics, and it is no coincidence that neither Lewis Hamilton nor Jenson Button will drive the MP4-27. Wonder what they are doing instead? Well, Button for one is in Budapest for a McLaren street demonstration. Curious? You can watch it live here.
13.20 - @clubforce: Just 18 laps for @Jules_Bianchi so far in Mugello but there is blue sky on the horizon and it's looking dry for the afternoon.
Speaking to the team during the session, it was agreed that Bianchi would wait until the circuit dried before going out. He was one of the first to try slicks, but reported at the time that it was still too wet. Force India also expected rain at around 11.00, which (thankfully) never arrived. Wanting to focus on a dry programme, the team waited until the final hour before Bianchi headed back out, explaining why it completed just 18 laps in the morning, the least of any team.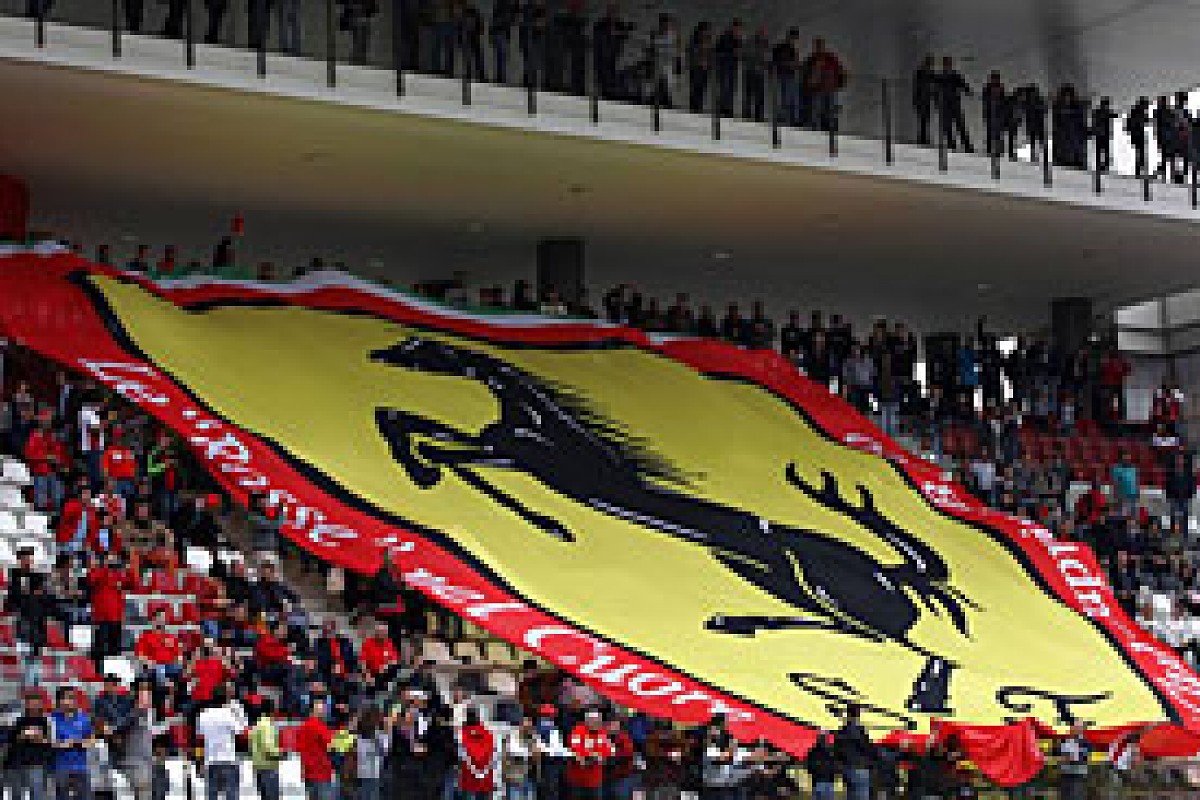 13.00 - There's often a lot of romanticising about Italy's tifosi support, but it's hard to say it's not justified. A packed main grandstand rises almost entirely as one and screams support as Fernando Alonso steps out of the Ferrari and waves from the garage. It's not been a bad session for the Spaniard either - fastest by more than one second, he's also managed 38 laps despite having to be recovered by the low-loader when his car stopped out at Turn 8.
@InsideFerrari: Morning session finished with @alo_oficial quickest in 1.22.44 and 38 laps completed. It will be a long break now due to changes on the car.
12.35 - Jules Bianchi is now our official weather vane. Having opted to sit out most of the morning due to the wet conditions, he's heading out on Mediums. We're taking that as proof that it is indeed dry.
12.20 - Right, right, timesheets. At present Jean-Eric Vergne is fastest from Alonso and Rosberg, but it really is difficult - and perhaps futile - to read too much into that. Times should continue to fall rapidly, but there's also the element that several teams have specific programmes to run and won't care a jot for laptimes.
11.35 - How prophetic. Funny what a bunch of F1 cars can do - it's pretty much dry out now. Expect times to tumble (obviously), but still don't expect them to count for much.
11.15 - Hints of a dry line emerging on circuit. We've already had a few cars come out on slicks, only to head straight back in. If the rain holds off - we were expecting some 15 minutes ago - then it won't be long before a full dry line emerges.
11.00 - Red Bull is running with a mulititude of aero sensors on the rear of the car as it tries to better understand the aerodynamics around the sidepods. That, of course, is the one undeniable advantage of testing - testing parts on the Friday of a grand prix simply doesn't permit the same equipment to be used.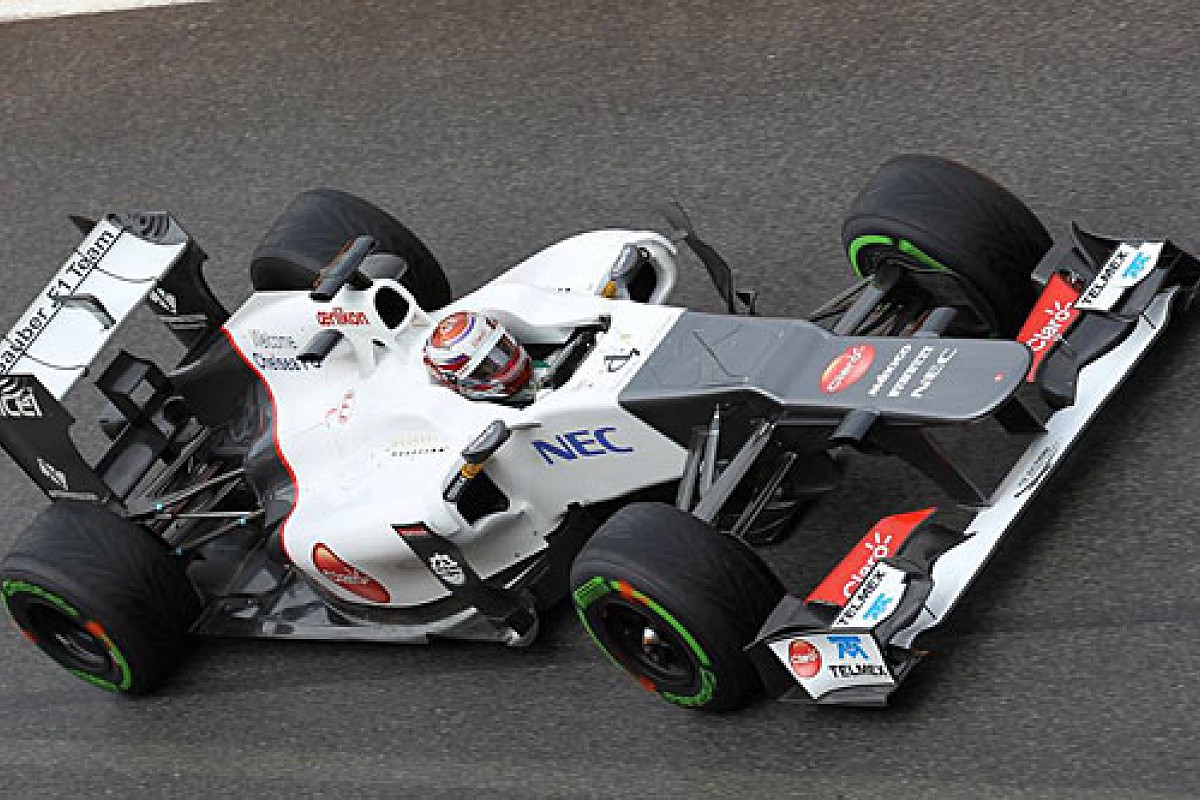 10.45 - Craig Scarborough (@ScarbsF1) has also been taking a sharp look at Sauber today. "The car is heavily revised," he tells us. "The front wing is new and the sidepods are all new too. The sidepods sport similar exhaust outlets to the McLaren, with bulked fairings containing the exhuast, which are then redirected to blow at the floor - rather than blowing the exhaust down a ramp shaped sidepod to blow over the floor. The new set up uses new vanes over the sidepods (above the tequilla stickers) to help the downwash that blows the exhaust towards the floor."
For those of you wondering, this is the fourth iteration of sidepod design for Sauber. And no, I didn't know that offhand, that also owes to ScarbsF1's expertise.
10.28 - Almost all the talk at Mugello is on updates, with teams set to phase in upgrades ahead of the Spanish Grand Prix. The eagle-eyed suggested last night that McLaren was experimenting with an adjustable rear brake duct, which would in theory allow the team to manually alter, or at least affect, rear tyre temperature.
McLaren's Paddy Lowe told AUTOSPORT earlier that his team would look to be more adventurous at Mugello, saying: "Given that the Mugello test exists, we'll make the most of it. It allows you to be more adventurous with what you can try than on a Friday when the main focus has to be on being in the best possible shape for Sunday."
Craig Scarborough (@ScarbsF1) says: "This is something that has been on the car in the past two races. There is an adjuster that opens a little window on the rear brake duct in terms of where the heat escapes. This primarily controls disc temperature, but it could in theory be used to affect tyre temperatures as well. It was interesting the team introduced it after Malaysia, a wet race when it couldn't get heat into the tyres. The response is a bit mixed: some feel it won't have a big impact, but some say it does have an effect. What we can say is it could be used to influence tyre temperatures. If it works, I can see other teams having to follow suit."
10.20 - Over at Caterham, the plan is to give Rodolfo Gonzalez a standard car for the first day, before bringing in upgrades centred mainly upon the rear and the exhaust layout when Vitaly Petrov and then Heikki Kovalainen take charge on Wednesday and Thursday respectively. The feeling is that the team is still not as efficient as some others at recovering some of the lost downforce from the blown-diffuser restrictions.
Formula 1's first in-season test in four seasons is finally upon us. A wet, overcast Mugello is our home for the next three days - at least, those are the conditions which greet us on the opening Tuesday - as every team bar HRT tries to maximise what could potentially be a key junction in the 2012 Formula 1 World Championship.
Or could it? If you haven't read it already, AUTOSPORT's F1 editor Edd Straw looks at why in-season testing dropped away after 2008, and whether the sport really needs it anymore.
While McLaren is the most outspoken critic of the Mugello test, several other teams are of the opposite delectation - not least Ferrari, which will start phasing in parts of a wider upgrade which it hopes will lift it back to the front of the grid.
Fernando Alonso's ability to wrest results from the car means he sits just 10 points off the world championship lead, but the margin flatters the Scuderia. Mugello will provide our first glimpses of the changes it intends to make, and we plan to bring you expert analysis of each detail and development as the test progresses.
Aside from the polemics of in-season testing and each team's individual programmes, there's also a third element in play, at least on the opening day: the weather.
Overnight rain and grey skies mean the Mugello test starts in the wet, with every car shod in Pirelli's blue 'Cinturato' wets - a nod to Pirelli's F1 debut in 1951.
The upshot is that times will most likely matter even less than normal, but on the back of a surprise victory for Fernando Alonso in the rain-hit Malaysian Grand Prix, the conditions could be just as useful in helping the teams find that all-important sweet spot on both wet and intermediate tyres.