Formula 1's younger generation have really made their mark in the first two races of 2012. Sergio Perez, Paul Di Resta, Daniel Ricciardo and Nico Hulkenberg have all been in the points already, Romain Grosjean has set a stunning pace in qualifying, and Bruno Senna is showing good pace in his first full season in a decent car.
But all these drivers have prior experience. There are only two true F1 rookies this year, and while Charles Pic is unlikely to be making many headlines with the Marussia, his countryman Jean-Eric Vergne has already shown he's a man to watch.
On his debut in Australia Vergne was badly delayed in the first corner incident but fought his way back into the top 10 - only to be hustled out of the points in the chaotic last lap, losing 10th to di Resta at the line. If he showed a little inexperience on that occasion he more than made up for it in Malaysia.
Having started a frustrated 18th he was seventh when the red flag came out - for the simple reason that like Narain Karthikeyan in 10th, he had not stopped for tyres. But while the Indian had started on wets, uniquely Vergne survived from lights out until the stoppage on intermediates.
Just staying on the road was an achievement, as Grosjean - who speared off the track on only the fourth lap - found out. You could argue it was a triumph of naiveté, since with his limited knowledge of such conditions Vergne felt able to plough on.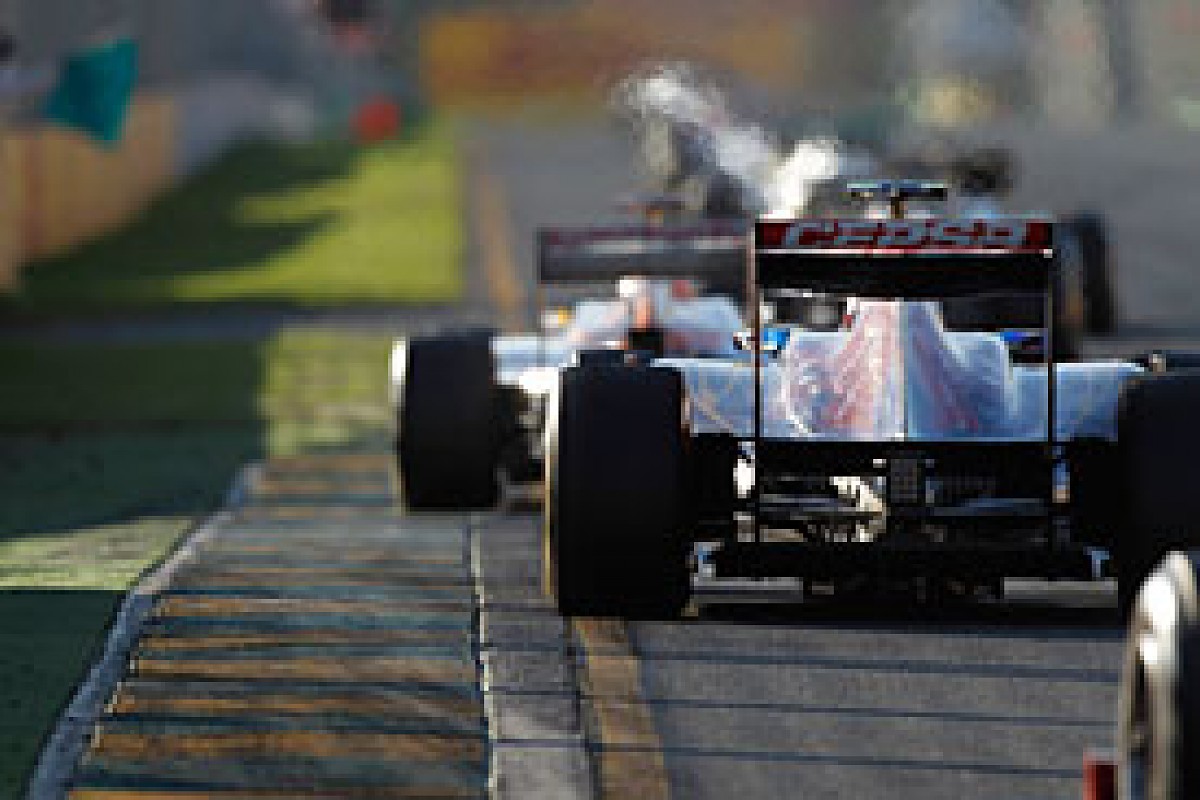 Vergne lost out on a point on his debut race, in the final stages of Melbourne © LAT
"It was quite tough, I was quite lucky to not hit the wall," he admits. "I saw the wall more than once, just having aquaplaning, so that was really difficult. I was really glad when I knew the red flag was coming.
"But it was a hard call when they asked me if I wanted to stay out, and I was saying 'yes'. I was thinking maybe I've made the biggest mistake of the race, but you know, sometimes you have to take risks and it pays off. After the restart I had no problems at all, the pace was good along the way."
Indeed from seventh at the restart he managed to hang on to take eighth place, surviving the tricky conditions through the various periods of tyre usage. Having missed out on a debut point in Australia, it was a good reward.
It's no secret that Vergne and Ricciardo are both gunning for a seat at RBR, whether that be for 2013 or later, and the Frenchman has certainly made a good start to his quest.
That's come as no surprise to those who have followed his career, for the signs of talent have been there for a while. It's hard to believe that he only turns 22 in April, since he has a maturity and air of confidence about him that suggests F1 is where he was born to be. And he certainly had an early start on the path to the top.
"My father has always been interested in motor racing, but he never had the money to do such a thing," Vergne recalls. "He went to school and he became an engineer in medicine, in electronics, and created the system to count - I don't know the name in English! - the number of things you have in your blood. When he got enough money he stopped this to build a karting track near Paris.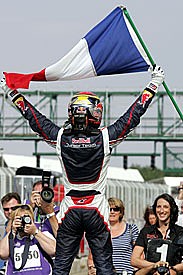 Vergne was British F3 champion in 2010 © LAT
"I started really young and at five years old I had my first kart. When I was three I already had a steering wheel in my hand, and my father was driving, and that was really nice.
"For three years we were actually living at the racing track, while they were building our house. So every morning I was waking up and going directly to the karting! I started racing properly at 10, and won my first French championship at 11."
It all sounds like a dream come true, but Jean-Eric says that when it came to pursuing a serious racing career, Vergne Sr made him work for it.
"His dream was to get a driver up to F1, and he had many drivers, like Emanuel Collard. Then when I came he'd already had a few drivers, and he knew how difficult it was, and he didn't really want me to do it. He didn't push me a lot. He made my life really hard to do karting. First of all, I had to be the best at school, I had to work a lot. And on the other side I wanted to drive as much in karting.
"At the beginning it was not so difficult, because it was in really low categories, I didn't need a lot of money to do this. Then I went to Juniors when I was 13 years old, but I had big problems to do this because I was really tall. I was finishing between 10th and 15th in the races, everybody forgot about me, and for two years I was at the back.
"Then we needed to find more money to do the higher categories, I was invited to a test by Sodikart with maybe 10 or 15 drivers, and they were taking the best to be the official driver. Finally it turned out that I was the quickest of this test, and I became an official driver for Sodikart."
Success soon followed, and that propelled him into car racing: "I was vice European champion in 2005, and then in 2006 I was seventh in the World Championship, being the first French driver. And after this the FFSA helped me to go from karting to single-seaters. They had a French team of maybe six or seven young promising drivers.
"Formula Campus is a system where many guys come, and it's really cheap, it must be around €70,000 for the season. You do really nice tracks and everybody has the same car. The FFSA paid the half the season and I had to find sponsorship to pay the other half.
"By winning the championship I got the Red Bull test at the end of 2007. It was first in Formula BMW, and then Formula Renault, and they took me for Formula Renault for 2008. Daniel Ricciardo was at the test too, he was in his second year of Formula Renault when I was in my first. In that first year I won the French championship.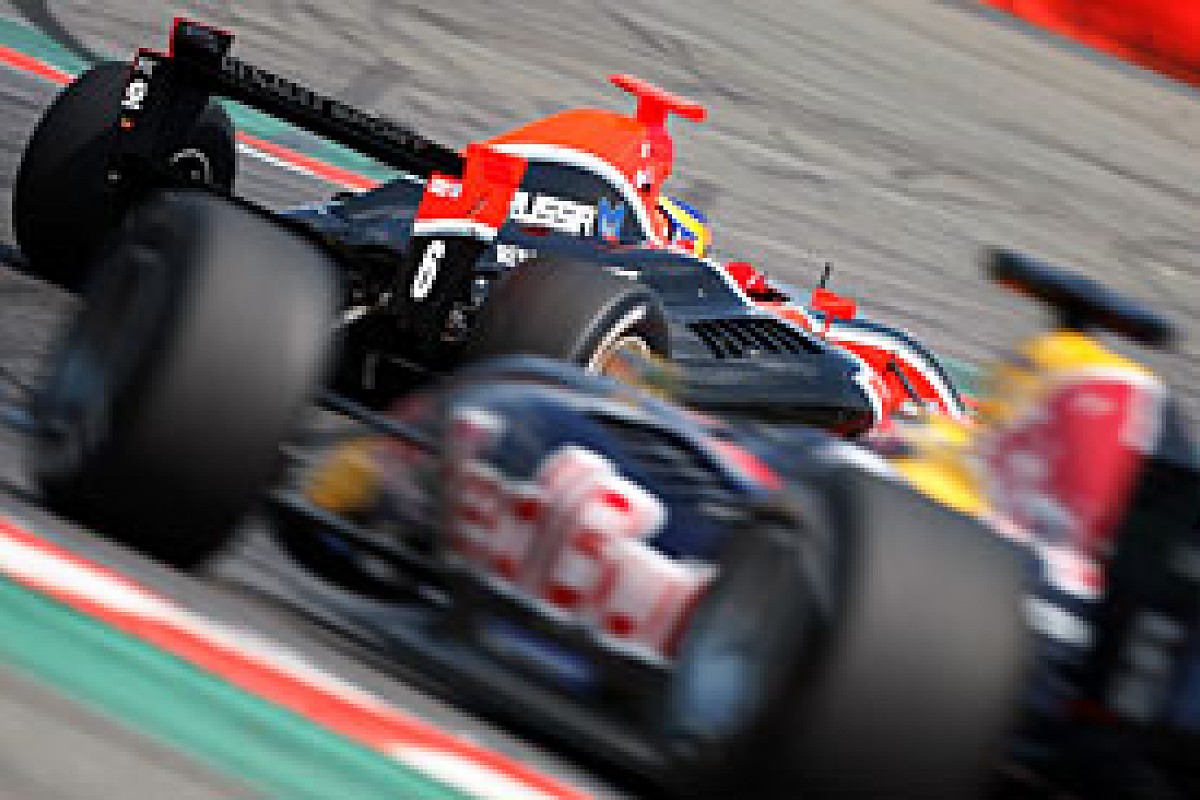 Robert Wickens beat Vergne to last year's Formula Renault 3.5 title © LAT
"But honestly it was really difficult for me, it was my first proper year in single-seaters, because Campus was a tubular chassis, and it didn't really help you to go to Formula Renault. In 2009 I was with Red Bull as well but it was really difficult because the team was going bankrupt, and at the end of the year they finished."
Nevertheless Vergne remained a man on the up, and for 2010 he was handed a coveted British F3 seat with Carlin. It was a whole new world, and there was only one target - match Jaime Alguersuari and Ricciardo by winning the title.
"I went to a really good team in Carlin with a fantastic car, and it changed my life. The last two years had been so difficult for me; then my life totally changed, everything went much easier for me. I pushed really hard, and it was a fantastic season.
"Helmut [Marko] told me Jaime won in his first year and Daniel won in his first year, so you have to do it too, otherwise you're not good! It was all new circuits, a new team, and a new life, living in England. But I really enjoyed this year. I was a big help for me. I still live in England, and I like the British mentality. That helped me to move forward in my career."
He also found time to sample GP3, but more significantly at the end of the year he upgraded to Renault 3.5 with apparent ease.
"In 2010 after I won the F3 in August they put me in the World Series, replacing Brendon Hartley, and I did the last three races of the year. I had four podiums and one win. That was a really good end of the season for a car I didn't know, and a team I didn't know either."
He also had his first F1 mileage in the Abu Dhabi Young Driver test, at the wheel of the Toro Rosso: "It was only two days, and then I flew straight to Macau! But it was amazingly fantastic. I will always remember the first laps."
Last year with Carlin Vergne was a hot favourite for the Renault 3.5 title, and while he ultimately lost out to Robert Wickens, he'd done enough to maintain upward momentum within the Red Bull camp.
"I was really happy with the season. I had a really strong team-mate, I learned a lot, and unfortunately I had a lot of bad luck too. Many times I should have won a race and a pit stop went bad, so I didn't score as many points as I should have scored. But definitely I gained massive experience in that year."
With Sebastien Buemi and Jaime Alguersuari falling out of favour at Toro Rosso, Vergne was by now a clear favourite for a 2012 seat. He had a chance to prove himself with some end-of-year Friday FP1 outings.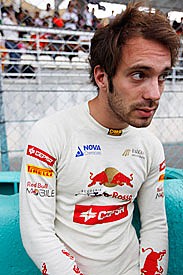 Jean-Eric Vergne in Malaysia, 2012 © LAT
"I did Korea, where it was raining a lot so I did only five or six laps, and then I did Abu Dhabi and Brazil."
But the real proof that his star was on the rise came at his second Abu Dhabi rookie test, where he was given three full days in the Red Bull RB7 that had just dominated the world championship. It was an extraordinary opportunity for the newcomer, and while it was no surprise that he was quickest on each of the three days, it was his approach that impressed the team. He downplays any thoughts he might have had about his future prospects.
"I wasn't thinking about this. I didn't know about 2012. Now I'm really excited and really happy. The team is really professional with young drivers, helping us a lot, and that's a good thing."
He's now enjoying the honeymoon period, but he has to keep progressing. As the likes of Buemi, Alguersuari, Christian Klien and Scott Speed have found out, the downside of Red Bull support is the pressure cooker atmosphere, and the need to show that you are not just good, but potentially the best. Vergne has no problems with that approach.
"You know, pressure is part of our job. There are only 24 drivers in F1, and there are plenty of others who want to come. So we constantly have to deliver and prove that we are in the right place."
There's still a long way to go before RBR starts finalising its future driver choice, but Vergne surely made his mark in Malaysia, and put that Australian disappointment behind him.
"I was really disappointed there, I should have been eighth, but I'm here to learn, so it's OK. I'm glad I finally scored some points, but I want more, so now we'll work and we try to arrive stronger in China."