Melbourne didn't answer many of our pre-season questions, but what it did give us was the kind of trailer that makes you want to run down to the cinema to see the latest Hollywood blockbuster, because it draws you in but doesn't reveal whodunnit.
I don't really think we'll see the full picture until we've had three or four races. Melbourne, after all, is a very particular circuit. It's semi-permanent, takes a lot of rubbering-in over the weekend and is a track that needs to be driven 'on the front end'.
The higher temperatures in Malaysia, as well as the faster corners at Sepang will call for better cooling and probably some different rear bodywork to aid that, plus it will put more demand on front and rear axles. So add that into the pot and then Shanghai - a much more conventional circuit in terms of modern grand prix racing - and we might then begin to see the pecking order.
Game on at McLaren
Jenson Button's emergence into McLaren's team leader during the second half of 2011 created a fascinating set of circumstances between him and Lewis Hamilton. And just when it looked like Lewis had stolen an early upper hand, Jenson goes and does that in the race...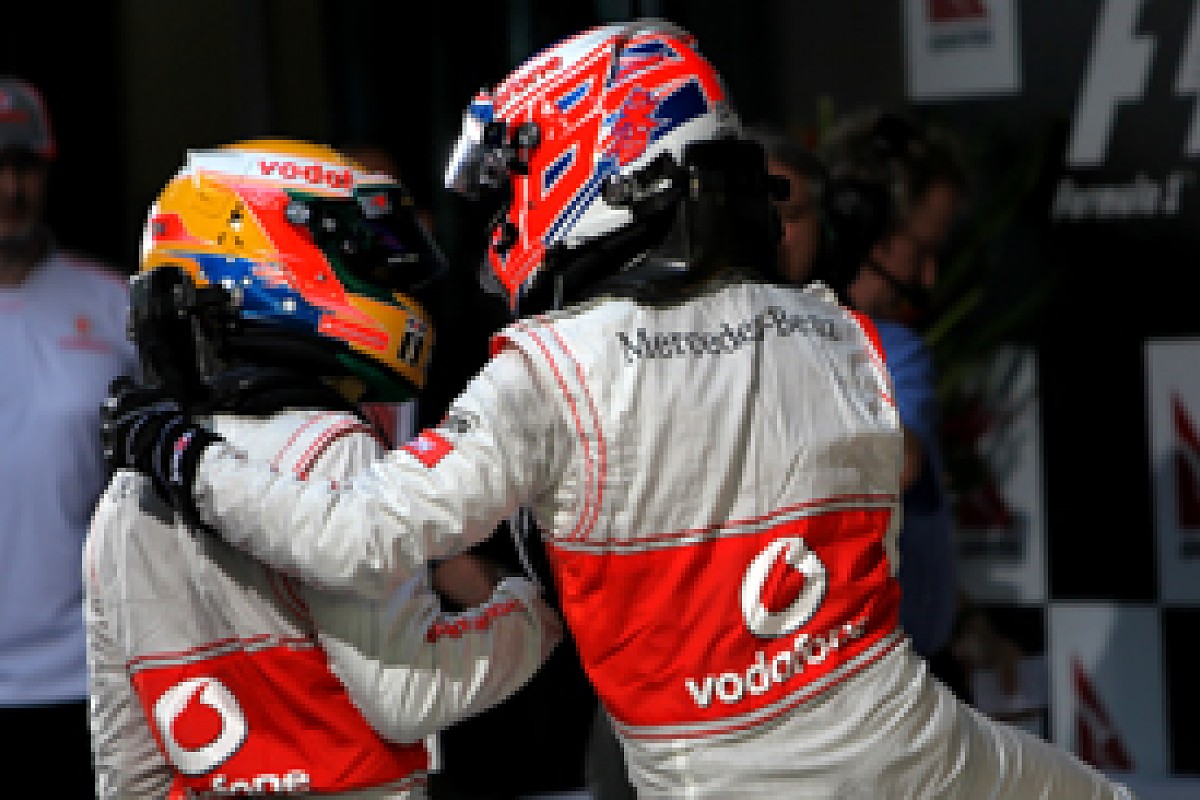 Button got the upper hand on Hamilton at Melbourne last weekend © LAT
All of Jenson's pre-race chat was just about having a go, and didn't he? The way he just controlled that race from start to finish was so impressive. And he didn't let Lewis have a look in, just soundly beating his team-mate.
Of course, we only know what McLaren tells us. There might be another story going on within the team that we don't know about that explains the pace gap between the two. Look at Lewis' face on the podium and in interviews; he wasn't happy to finish third, but was that because he lost second in the stops, or because Jenson beat him? We just don't know.
And Mr Vettel?
They say the great drivers can pull out results from nowhere, and on the face of it, having qualified sixth, finishing second looks like a great result for Sebastian Vettel. What nobody asked after qualifying is whether he - like Mark Webber - was minus KERS, which is a penalty of 0.3s per lap around Melbourne. Certainly his race performance would be conducive with having working KERS as he was able to move forwards.
I think we can say that McLaren does have an advantage on outright pace, so beating one was a brilliant achievement, but even more impressive was Seb's aggressive pass on Nico Rosberg, showing what a brilliant racer he is. Those who questioned his ability to overtake and go wheel-to-wheel had better get back into their corners after that - and Monza last year, of course.
The truth is, unless you're within one of the teams, you don't know exactly what's happening. For all we know Red Bull could have set the whole weekend up to maximise the use of DRS in race conditions, with McLaren optimising it in qualifying to guarantee a front-row lock-out from which it could control the race. If that's what happened, it would have worked had it not been for the safety car.
I've got my doubts as both teams will surely be thinking about the championship, and therefore the big picture, but you never know.
Ferrari: Not what the doctor ordered
I haven't a clue what to make of Ferrari. From the tests at Barcelona the car seemed to have good single-lap speed, but a narrow performance window and terrible issues keeping the rear tyres in good shape. And yet in Australia Fernando Alonso was more than a second away in qualifying trim, and far closer on race pace.
The lack of quick corners in Melbourne means any aero deficiency shows up less, but Sepang is far more punishing, in terms of aero and higher temperatures, and that will have an effect on the tyre-wear rates too.