The Australian Grand Prix provided a milestone achievement for McLaren, with the British squad recording its 50th clean sweep of a race weekend by claiming pole position, via Lewis Hamilton, plus a race win and fastest lap for Jenson Button.
McLaren lies third in the all-time rankings for this achievement, behind Ferrari (86) and Williams (52).
Race
• Button's victory was his third in Melbourne, leaving Michael Schumacher as the only man who has won more times - four - at the Australian circuit. The win was also the 13th of Button's F1 career, putting him level with Alberto Ascari and David Coulthard in 20th spot on the all-time list.
• Sebastian Vettel's runner-up spot marked his 37th F1 podium finish. He now sits 18th in the all-time list, level with Riccardo Patrese. His failure to win means that for the first time since the 2010 Abu Dhabi Grand Prix, he does not lead the championship.
• Hamilton's third spot was his 43rd in F1, the same number achieved by Jackie Stewart. The pair now shares 15th on the all-time list.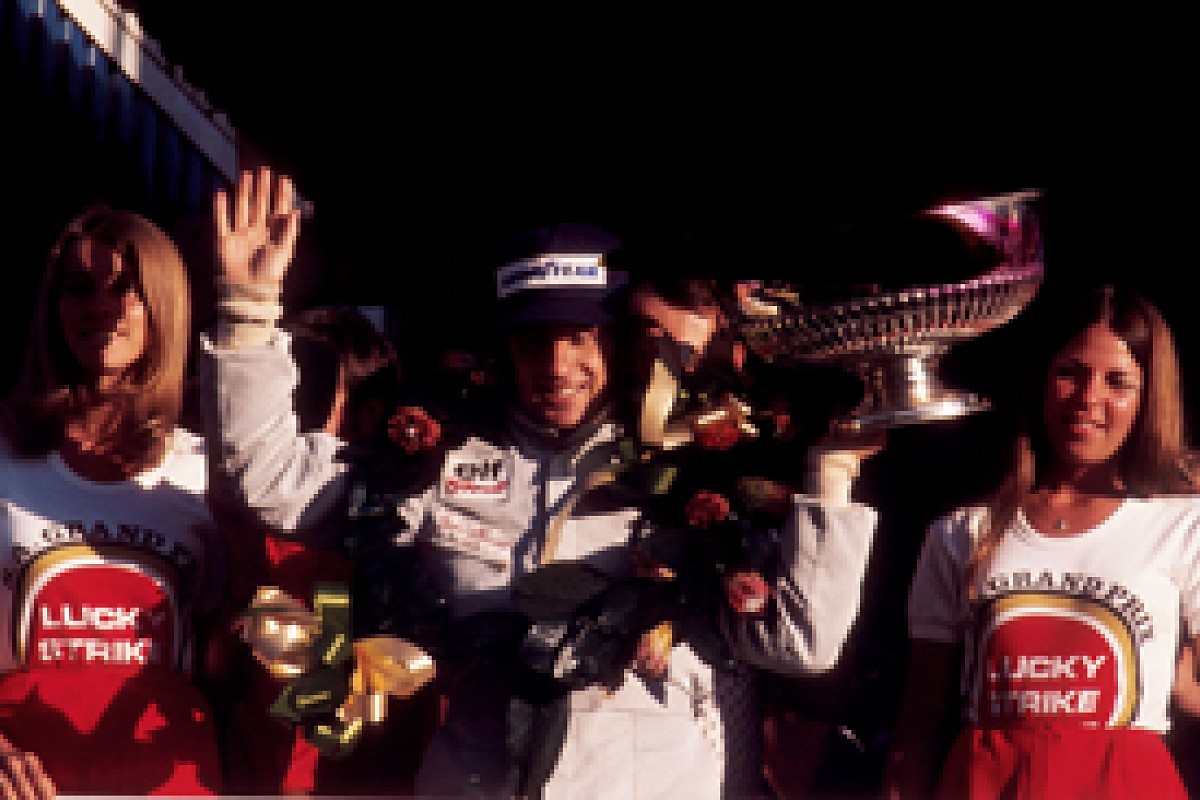 Hamilton now has as many F1 podiums as Jackie Stewart, seen here in '73 © LAT
• At his 11th attempt at his home race, Mark Webber managed his best result there. His previous best was fifth, scored in a Minardi on his F1 debut in 2002. He has equaled that fifth spot on two occasions since then. It is also the third time in four consecutive races in which he has finished fourth.
• Fernando Alonso scored his 10th straight Australian GP points finish by finishing fifth. The only occasion he failed to score in Melbourne was on his F1 debut with Minardi in 2001.
• Kamui Kobayashi scored his first Australian GP points and achieved his second-best career result to boot with sixth. He helped Sauber score Australian points for the first time since 2008 and led the Swiss team to its first double-points haul since last year's Spanish GP.
• Kimi Raikkonen's F1 comeback netted the Lotus driver his first points since the 2009 Brazilian GP.
• Daniel Ricciardo scored the first points of his F1 career with ninth - and on his first start for Toro Rosso. He managed it thanks to a last-lap pass on his rookie team-mate Jean-Eric Vergne; denying the Frenchman a debut points finish.
• Timo Glock's 14th place was his best result since the 2010 Japanese GP and netted Marussia a finish on its F1 debut. In the team's previous guise as Virgin, it never finished higher, but did achieve 14th on five occasions.
• Mercedes missed out on points for the first time in 14 races.
Qualifying
• Hamilton took his 20th F1 pole in Australia, equaling the achievements of Alonso and Damon Hill and placing him 11th on the all-time list.
• Thanks to the achievements of Hamilton and Button, McLaren took its first front-row lock-out since the 2009 European Grand Prix. For the past two years, only Red Bull has managed a lock-out, and has done so 15 times. McLaren has good form to fall back on too. On 11 of the 12 occasions in which a team has taken the first two grid spots, that outfit has run one of its drivers to the world championship title in the same year. The only exception is McLaren itself; failing to win in 2000 after Mika Hakkinen and David Coulthard excelled in Melbourne qualifying.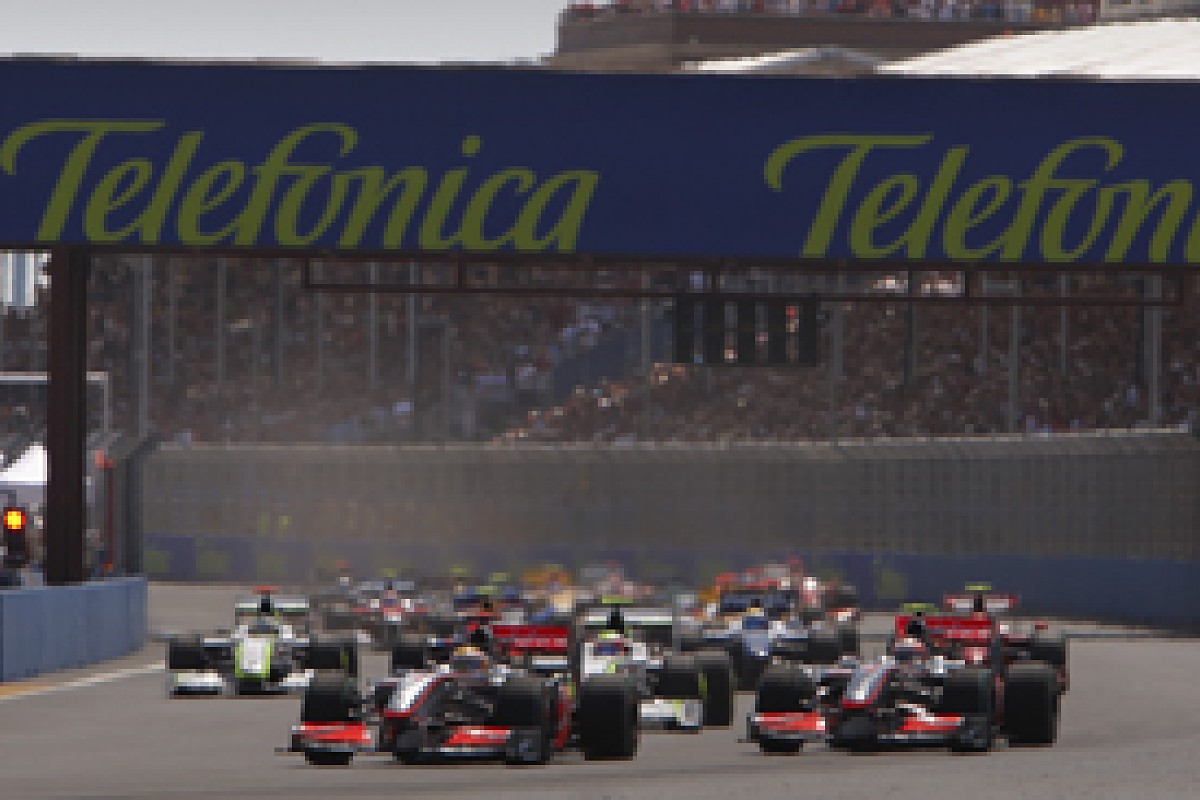 The last all-McLaren front row; Valencia 2009 © LAT
• Romain Grosjean took his best F1 grid spot with third. It was also the best qualifying performance for a car bearing the Lotus name since Nelson Piquet took third on the grid for the 1988 San Marino Grand Prix. The last time a French driver qualified as high was when Olivier Panis qualified third for the 2003 United States Grand Prix.
• Schumacher's fourth spot on the grid was his best since making his F1 comeback in 2010. The German had previously managed a pair of fifths. It's the fifth time a Mercedes has made the front two rows since making its F1 comeback as a constructor, also in 2010. It was also the first time in 39 races that Schumacher outqualified Vettel.
• Red Bull's run of 24 straight front-row starts came to an end in Australia with Webber and Vettel fifth and sixth. Williams holds the record with 35 in a row from 1992-'94.
• Sixth on the grid marked Vettel's worst starting spot since the 2010 Italian GP and his worst in Australia since 2008, when he started ninth. It was also the first time in nine races that he didn't make the front row.
• Nico Rosberg qualified seventh for the fourth time in five races and the third time in Melbourne.
• Pastor Maldonado put a Williams back in the top 10 for the first time since last year's British GP, when he was seventh.
• Ricciardo added another career-high: 10th on the grid was his best F1 starting spot.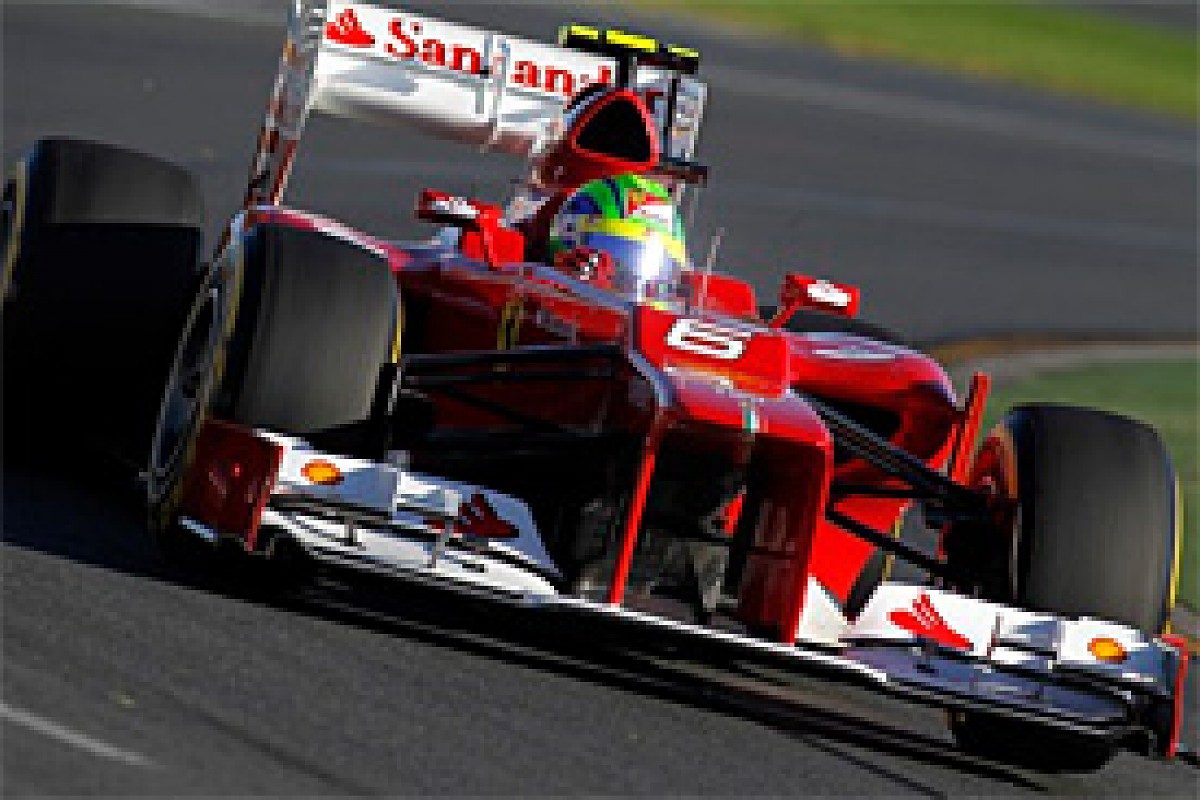 Massa failed to qualify in the top 10 for the first time in 22 races © LAT
• Alonso failed to make Q3 for the first time since the 2010 Turkish GP. He qualified 12th on that day.
• For the first time in 22 races, Felipe Massa failed to qualify in the top 10.
• Before Melbourne, Ferrari had put cars in the top 10 of the grid for 22 straight races. Now the team with the longest consecutive run is Red Bull, currently on 17. The last time neither Ferrari made the top 10 of the grid was the 2010 Malaysian Grand Prix.
• Before Melbourne, Ferrari had the best ongoing string with both cars in the top 10.
• Kimi Raikkonen's 18th place in qualifying was his worst since the 2006 Bahrain Grand Prix. On that occasion his suspension broke during qualifying, forcing him to start last. He had previously started lower in Bahrain and at Imola in 2004, when engine changes led to 10-place grid penalties, while he was 20th in Canada in 2003 after a qualifying crash. Sergio Perez's gearbox change penalty moved the Finn up to 17th, the same spot from which he won the 2005 Japanese GP.
• The 'new' teams made no real progress, a fact summed up by Heikki Kovalainen's performance. Had Perez not received his penalty, the Caterham driver would have started 19th for the third year in a row.