Melbourne suggests that we are in for a truly vintage F1 season. The nuances and sub-plots point to 2012 being endlessly fascinating.
While you have to be wary of reading too much into a sample of one, as Red Bull's Christian Horner put it - particularly a one-off traction/braking circuit at which McLaren is traditionally strong and without any downforce-priority, high-speed corners - the evidence suggests that Red Bull's dominance has gone.
Interestingly, too, the disappearance of blown-diffuser cars - at least in theory, and more of which anon - seems to be beneficial to both Mark Webber and Michael Schumacher.
"Although it's the points on Sunday that matter," said smiling McLaren technical director Paddy Lowe on Sunday night, "I think ultimately the qualifying result (an all-McLaren front row for the first time since Valencia '09) is the most pleasing thing. Qualifying pace allows you to control races from the front."
Just as Red Bull did last year.
While Jenson Button was flawless and Lewis Hamilton's glum face betrayed his feelings on the lowest step of the Melbourne podium, we shouldn't read too much into implications for the internal contest either.
Lewis turned a great lap to take pole, but as soon as he had a comparatively poor launch, he was on the back foot. Track position gave Jenson priority at the first stops, losing Lewis time behind the one-stopping Perez and ultimately leaving him vulnerable to Vettel, for whom the timing of the safety car was fortuitous.
More interesting will be the bigger picture in Malaysia. Does Horner think that, given the fast sweepers of Sepang, Red Bull will be right there with McLaren on qualifying pace?
"I hope so! Malaysia is a considerably different prospect. Melbourne is short turns, bumpy without a lot of high-speed corners but Malaysia provides that variance. While we expect McLaren to be quick in Malaysia as well, hopefully we'll be in better shape than here."
Neither Red Bull driver had a truly satisfactory qualifying session in Australia. Vettel made a mistake on one of his Q3 runs and, by his own admission, didn't get his act together - a rare occurrence in itself.
Webber did a fine job to outqualify him with an inoperative KERS, which cost around 0.3s. While the timesheet said the gap between the McLaren and Red Bull was seven tenths, the true difference was half that.
Given that Red Bull is still employing a less powerful KERS, it's going to have to be in the pole fight at subsequent races or risk it seriously hurting the cars' performance. So many times last year the mini-KERS was irrelevant because Vettel was free and gone by lap three, when DRS also becomes a factor. If he's back in the pack, however, he becomes vulnerable to more powerful KERS/DRS systems and to Mercedes in particular.
Mercedes controversial F-duct is allegedly centred on its rear wing endplates © XPB
No surprise, therefore, that Red Bull and Lotus, pleasingly quick in Melbourne, were leading the way in seeking 'clarification' from Charlie Whiting over Mercedes' controversial DRS-activated 'F-duct'.
What Mercedes cleverly appears to be doing, is using a slot in the rear wing endplate, which is only revealed when the DRS wing is activated, to suck in air, which is then channeled to the front of the car and stalls the front wing on the straight, reducing drag and increasing straightline speed.
It was amusing to witness just how many times Ross Brawn professed that "innovation is the life blood of F1" over the weekend, even admitting that perhaps he was over-egging the pudding at one point.
He may well be right, but is it legal? Whiting thought so. Most people, however, thought F-ducts were banned. But what is an F-duct? Nobody actually got a couple of thousand Euros out and slapped down a protest in Australia but you can be sure that there will be plenty of discussion in the next five days.
While it was hardly the point, Brawn explained that the device's order of magnitude was nowhere near that of the double diffuser or exhaust-blown diffusers of recent seasons.
It is, of course, more powerful in qualifying, when DRS can be deployed throughout the lap. Even so, it's powerful enough to be a nuisance to a Red Bull driver with a reduced power KERS system, back in the pack racing a Mercedes on lap three...
If it is deemed legal, everyone's going to have to rush off and copy it. What was Lowe's take?
"We're standing back observing at the moment," he said, while McLaren team principal Martin Whitmarsh expressed the view that it complied.
"It seems like Mercedes have their previous trait of being quick over one lap but not managing to keep the tyres in," Lowe added. "They seem to be qualifying even better now but may be one of the poorer cars with tyre endurance."
Brawn also made the point that while everyone is busy looking over here, they're not looking over there...
"What we've done has probably taken the spotlight off exhaust systems that people are running because they are nowhere near what was intended by the FIA," he said.
"The FIA probably told you that we weren't going to have exhaust-blown diffusers anymore. We thought we weren't going to have them, and several cars have got them."
He was referring to the fact that newly prescribed exhaust exits were supposed to make it impossible to blow the diffuser. It seems that McLaren, Sauber and Red Bull, via its late final Barcelona test revisions, have managed to maintain at least some effect, albeit much reduced in comparison with last year.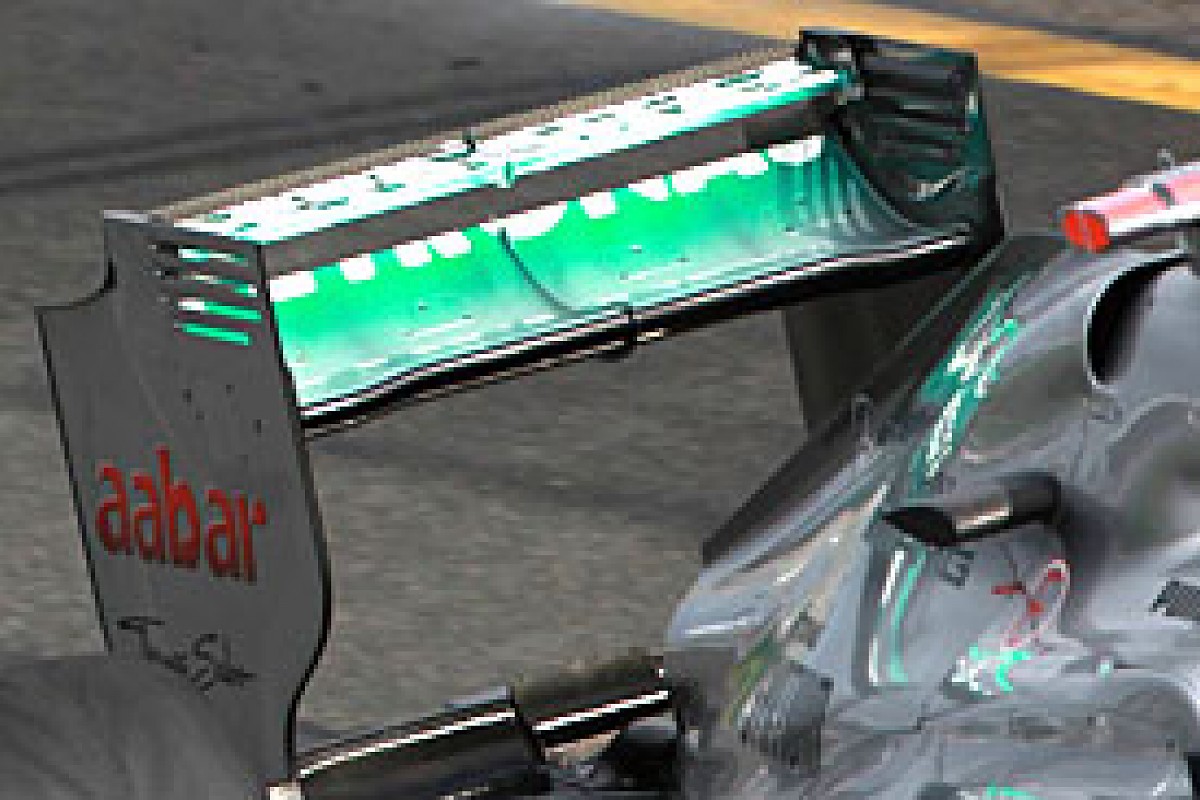 Mark Webber seems much happier in his Red Bull cockpit in 2012 © LAT
"We are looking at the exhaust systems to see if they can be of benefit," Brawn added, "but I suspect they will disappear next year." His point being that his rivals' exhaust systems were as much against the spirit of the regulations as his own F-duct.
Which brings me back to Webber and Schumacher. I was mildly surprised by people talking up expectations for Mark's 2012 season. While having the greatest respect for him as a driver and a bloke, I couldn't quite follow the logic.
Had he not, perhaps, shot his bolt in 2010? He's not getting any younger and there was no reason to suspect any reduction in the level of competitive intensity from Vettel. But these weren't just any old talking heads, it was coming from the likes of Horner and Bernie Ecclestone.
So, precisely why does Webber feel much more comfortable in RB8, with all the evidence from Melbourne suggesting that it has translated to on-track performance?
"Tyres are a little bit of it," he admits, "but I started to get a handle on those at the back part of the championship last year. But the blown diffuser, once we got rid of that...

"The blown diffuser cars were very, very different. All cars, not just ours, in terms of the how the blown diffuser worked into the corners, were very sensitive to rpm and having to change the car balance quite a lot.
"These cars are a little bit more traditional, more like a race car you had up until 2010 and in your junior career. The blown diffusers were quite extreme bits of kit and I probably never really got my teeth right into those."
Candid and enlightening, and echoed by Schumacher, who said: "Since day one in this car it has obviously been more to my liking. The steering movements [read corrections] I've had to make are half what I had to do last year. It's much more a racing car."
Other Melbourne highlights? Undoubtedly Fernando Alonso and Williams.
Ferrari is not a happy camp right now, and the F2012 was a handful from first thing Friday morning. Which did not stop Alonso climbing in and giving it one, as usual.
When Fernando threw it off in Q2, a lot of people spotted the left-front wheel on the grass at turn-in and highlighted an untypical error. Which was to miss the point. The errant wheel was effect rather than cause, the Ferrari flicked towards the grass when Fernando lost the rear on the brakes, not for the first time. The car was already long gone as he tried to extract more than it had. He still ended Q2 a second quicker than Massa.
Did he sulk, give up and slag off the team when he lined up 12th instead of arriving at the first race with a competitive car? No. He targeted a top-five finish, got stuck right in and delivered precisely that, against expectations.
"Damage limitation," he called it on Sunday night.
One of F1's most experienced scribes, amazed, asked him how he'd done it. Had it somehow been a different race car?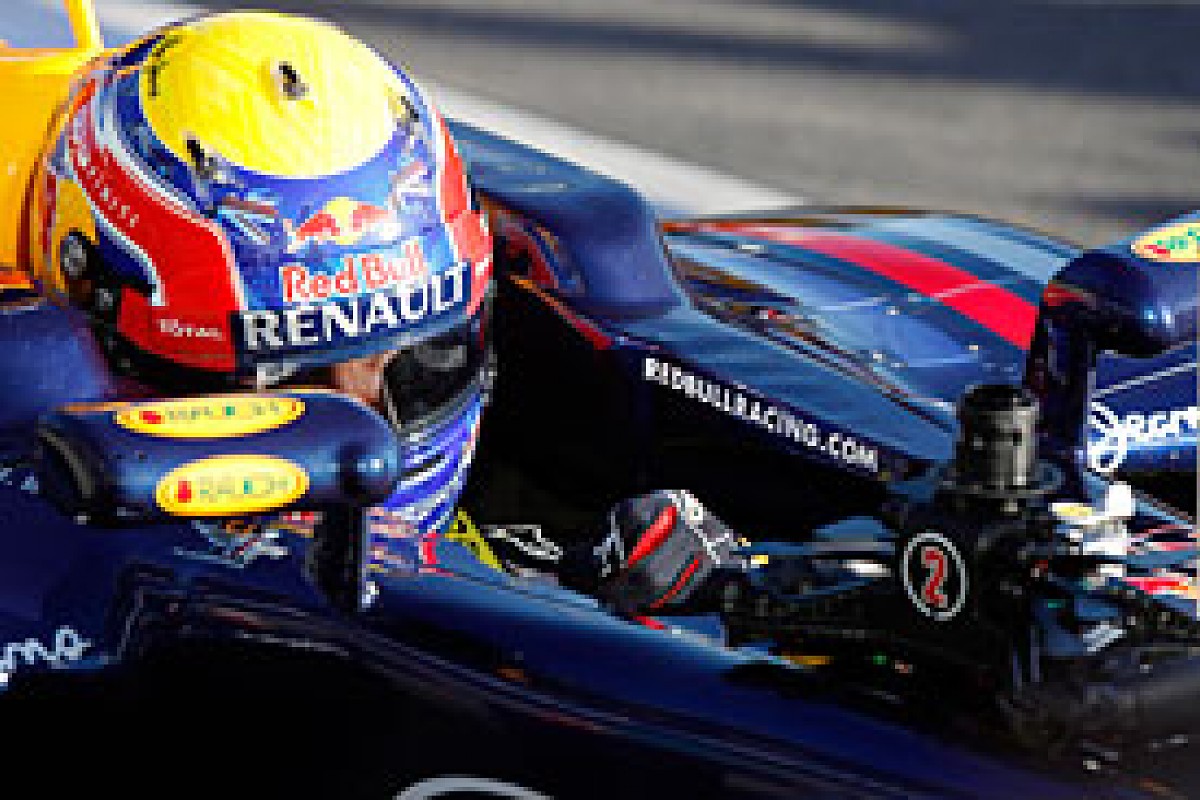 Fernando Alonso has an intense scrap with Pastor Maldonado for fifth © XPB
"No, same car," Alonso replied, and left it at that, his thin smile the only thing that suggested, 'the same godforsaken shed they gave me on Friday and Saturday!'
He even had the good grace to express sympathy, with a shake of the head, for poor Pastor Maldonado, who Alonso said had driven a great, hassling race behind him before, agonisingly, dropping the Williams on the very last lap, in sight of sixth place.
Ferrari will improve - it must - but Williams with a potential fifth-place car was another uplifting outcome. The morning after, you feel as excited about F1 2012 as you felt about the sport when you were 16.
"Formula 1 is in a great place," said Jenson Button on Sunday night. "It's a great sport to be a part of right now." He couldn't have spoken truer words.