Rhetoric runs rampant during the Formula 1 off-season. It's a time where the absence of concrete performance data allows anyone and everyone to promise the world long before cold, hard failure kicks in. "This year is my year" can legitimately be uttered by most simply because, as of today, there are no winners and losers in 2012. Soon, some drivers and teams will come crashing back down to earth, their optimism and confidence crushed when cheap talk is revealed by stark reality to be the great imposter.
Which brings us to Mark Webber. His 2011 campaign, given the machinery at his disposal, was very disappointing, albeit not quite as bad as some made out. There were three pole positions and a fortunate win in Brazil, but beyond that he was little more than a solid points-accumulating back-up to Red Bull Racing team-mate Sebastian Vettel. It was a far cry from 2010, when Webber went into the Abu Dhabi finale in the thick of the title fight.
The Australian has come out with the usual upbeat comments heading into 2012 - but then so has Felipe Massa. At the same time, Red Bull team principal Christian Horner has declared his charge to be "back on form".
But so what if he's feeling "better than I did this time last year"? Feeling is not the same as doing. The question is whether there is any reason to expect Webber to have a better campaign this year.
The answer is yes, but with a significant caveat. A better year doesn't mean that Webber is going to be consistently at Vettel's level. That ship has probably sailed, with the German kicking on since 2010 to the point where he is now on the cusp of greatness. But Webber does have the requisite skill set to have a few more days when he can match or beat Vettel, even if that's only on an occasional basis. That will be the barometer by which he will be judged.
So what is the evidence that he is capable of doing so?
TYRE TROUBLES
Mark Webber and the 2011 Pirelli tyres formed an unhappy alliance. His driving style tended to load up the tyres for longer than Vettel and he struggled to get the necessary feel in the slow corners to extract the maximum performance. By the end of the year he was much happier, having adapted to the rubber. It's possible that this year's softer construction of the Pirellis, which should make them a little more durable by making the whole tyre more compliant and less demanding on the compound surface itself, has brought the rubber back a step towards where he would ideally want it.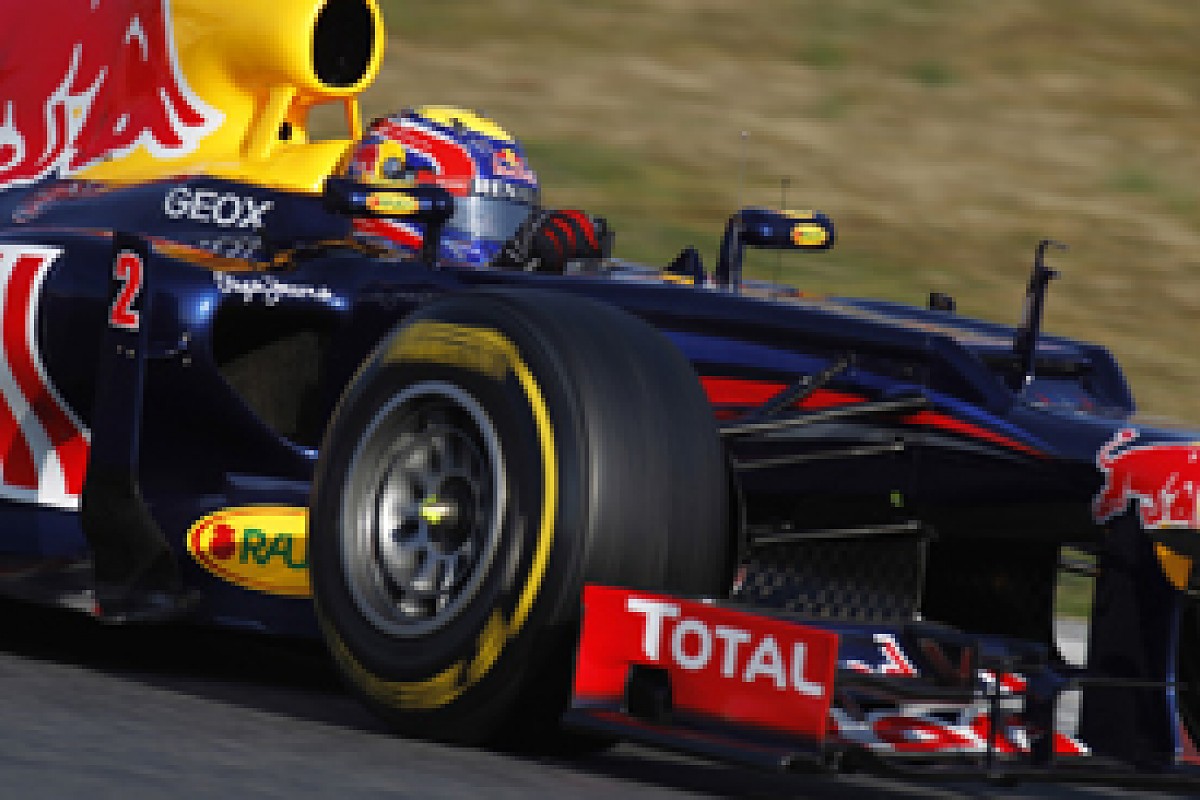 Webber didn't get on with the Pirellis in 2011 © LAT
Webber's ability to get the best out of the Pirellis in qualifying on a consistent basis will be crucial. While he was able to bag poles in Spain, Britain and Germany last year, on average he was four tenths off Vettel on Saturday afternoons and could rarely match his team-mate when it came to the crunch in Q3. If Webber can qualify on or around Vettel's pace and, crucially, get off the line better than he did at many races in 2011, then he will find it far easier to back up his team-mate - rather than getting mired in the top-five battle.
So far, we haven't seen the full picture in testing, meaning that Saturday afternoon in Melbourne could tell us a lot about whether Webber's tyre troubles are, as he claims, in the past.
NO MORE 2010 HANGOVER
It took Webber a long time to get over the disappointment of losing the 2010 championship. You can make a compelling argument that he would have won the title had he not crashed out in Korea while trying to match Vettel's early-race pace in the wet, and that failure has to lie at his door. He knows that - no wonder it took him a long time to get over it, and there are those in the team who are certain that he carried that hangover into the 2011 campaign. They believe that this partly manifested itself in paying far too much attention to what Vettel was up to and allowing the 'world-is-against-me' mindset - which served Webber well at times in 2010 - to become a destructive force.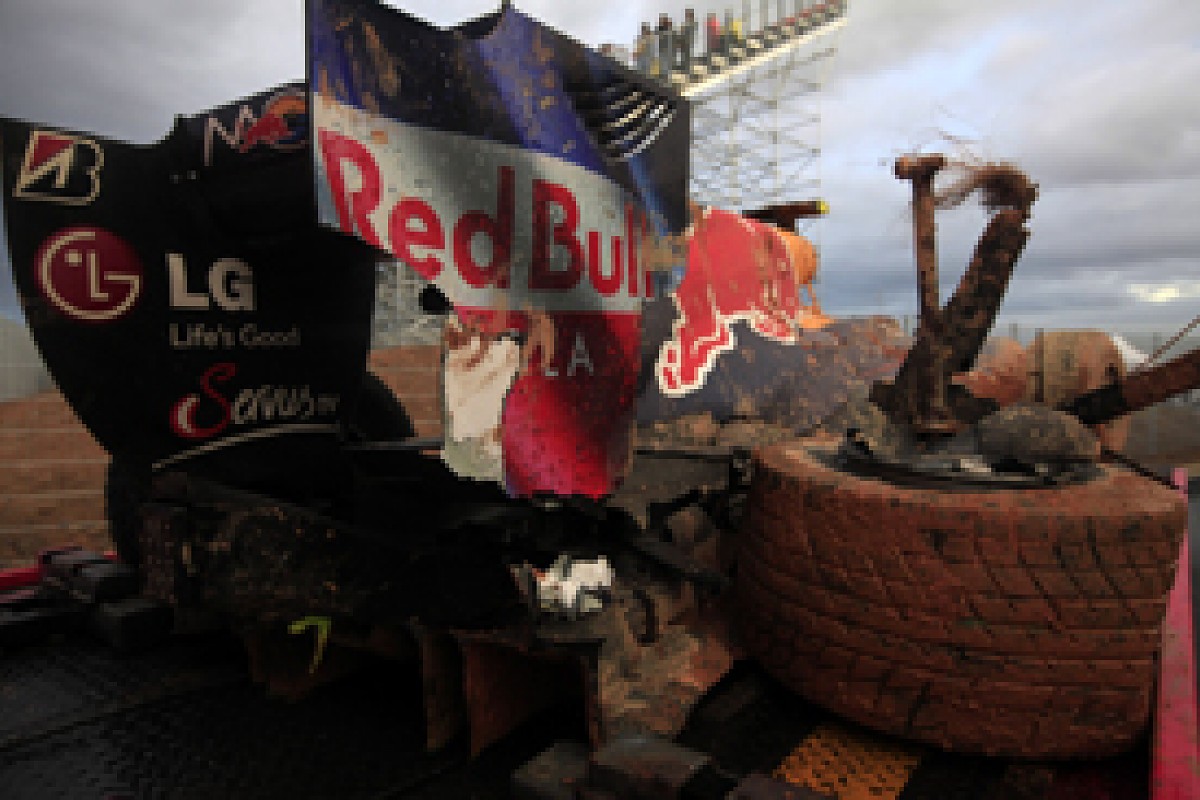 This crash in Korea was crucial in Webber's 2010 title defeat © LAT
The win in Brazil, fortunate as it was in coming off the back of a (legitimate) gearbox problem for Vettel, couldn't have come at a better time. To those believing that the team is against him, forget it. While Red Bull advisor Helmut Marko takes what is best described as a paternal interest in Vettel, his role in the team is sometimes overestimated. Red Bull owner Dietrich Mateschitz knows his own mind - as his decision to flick both Toro Rosso drivers against Marko's wishes proves - and is a Webber fan.
There are plenty within the team who believe that Webber has come into this year renewed after a downbeat 2011.
PRESSURE FROM TORO ROSSO
It's no secret that Red Bull is keen to promote another of its juniors into its A-team, but history shows that it will not dispense with Webber's services until it can be certain that his replacement will at the very least match the Australian's performance level.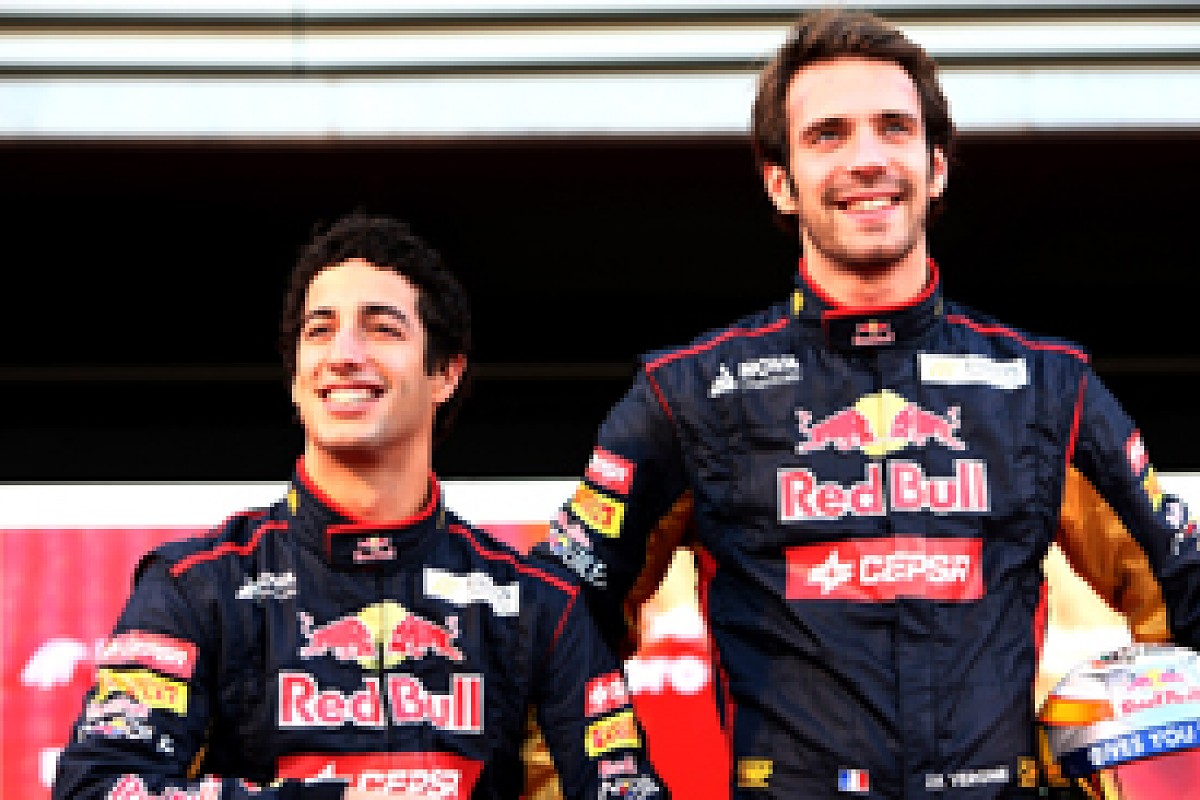 Ricciardo and Vergne are being primed for Red Bull futures © LAT
So, put yourself in Webber's position and ask yourself this: how concerned would you be to have Sebastien Buemi and Jaime Alguersuari breathing down your neck? Both are decent grand prix drivers, but neither ticks a full complement of the boxes need to make a great, and Webber privately had little doubt that he had both covered. The promotion of Daniel Ricciardo and Jean-Eric Vergne has changed that equation significantly. Both of the young guns are highly rated and have plenty of potential. If either can prove themselves over the coming season, Webber could come under serious pressure.
While it would be oversimplifying things to say that Webber enjoyed a comfort zone because of Toro Rosso's hardly-stellar line-up, the loss of that buffer this year can only help to spur him on. Heading into the season, you can argue that the Australian is still the favourite to hang onto the drive in 2013 as the team will not be willing to compromise its constructors' title hopes by taking a gamble. If he delivers to the maximum, it will take some remarkable performances from one of the juniors to displace him.
Webber is a strange character when it comes to pressure, rather like a suspension arm. In one direction, that of feeling the team is against you and everyone is gunning for your seat, he is extremely strong, but in the other, that of closing out a title as he was in 2010, he seems a lot weaker. This is definitely the right kind of pressure to get the best out of him.
ACCEPTING VETTEL'S PLACE
All drivers, deep down, believe that they are the best on the grid. But inevitably there comes a time when even the most confident have to accept their limitations when confronted with a great team-mate. Just as those who raced with Juan Manuel Fangio, Ayrton Senna or Michael Schumacher in his pomp came to realise, Webber needs to accept that, over a season, Vettel now has the measure of him.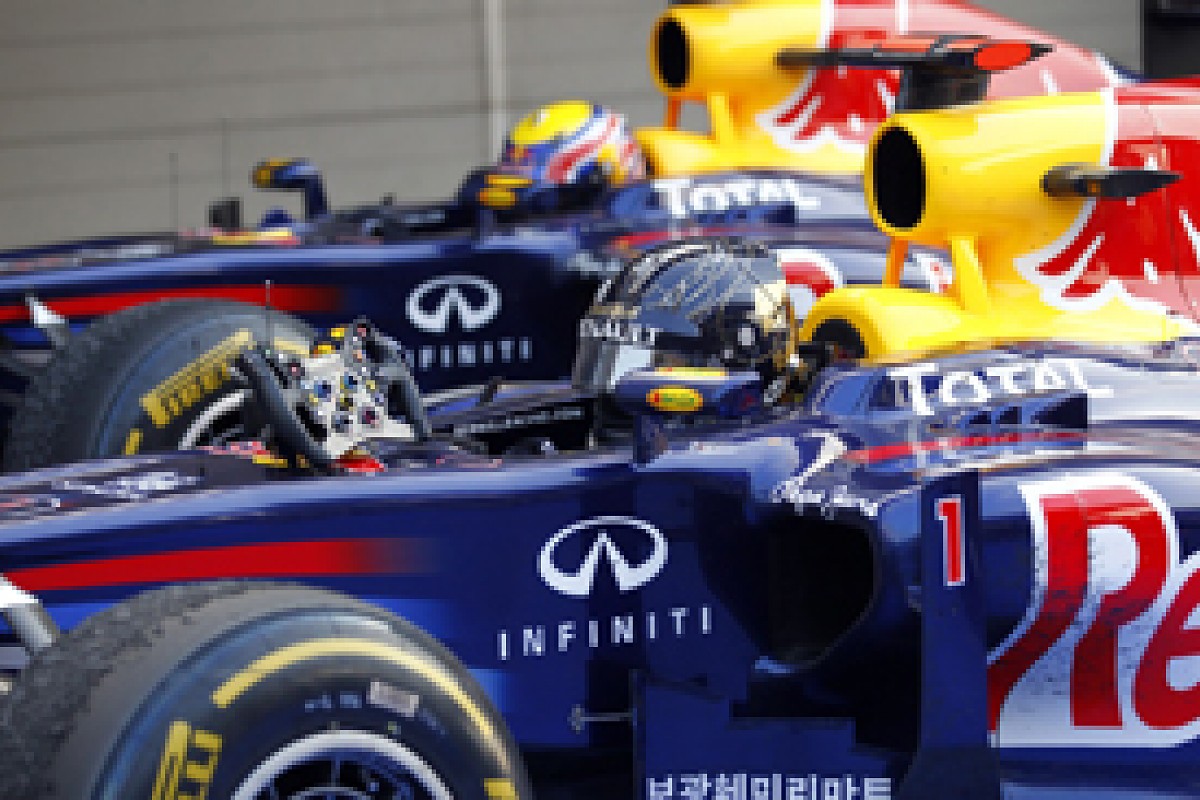 Does Webber have to accept that Vettel is a step ahead? © LAT
In that situation, you do one of two things: give up; or realise that you have to extract the absolute maximum from yourself and accept that more often than not it won't be enough to trouble Vettel at his best. That said, there are plenty of examples of strong number-two drivers ruffling the feathers of the great drivers on occasions. By ensuring that he becomes a quality support act, rather than getting frustrated by the situation and focusing too much on what Vettel is doing, Webber could keep himself close enough in the points to be in contention if the German hits trouble.
This is a factor that gives those inside Red Bull the confidence that Webber can up his game. Their reckoning that Webber was spending too much time last year worrying about Vettel is ironic really, given that the Australian was once the master of making his team-mate take his eye off the ball!
If he has indeed accepted that this battle is lost, then the foundations are there for Webber to raise his game.
THE BOTTOM LINE
If Webber helps Red Bull to hang on to the constructors' championship this year, then by definition he will have done his job. But that's probably not quite going to be enough, especially if one of the Toro Rosso drivers stars.
In real terms, what Webber needs to do is be a rock-solid support act to Vettel. If things go wrong for the German, as they did in Abu Dhabi last year, he needs to be there to pick up the pieces. And if he's as close as he should be - for Webber remains a very fast driver over one lap - then there will be days when he can beat him on merit.
A title tilt is surely beyond Webber against an on-form Vettel, but he can certainly hang in there and ensure that, at 36, he still has a few years at the top level left in him. Inevitably, there will be those who say that he's had his time and someone else deserves a chance, but it's down to Webber to set the standard that others must eclipse to displace him.
That is the Australian's real challenge.