All through winter testing every driver was focused on what sort of competitive tool he had beneath him, how his car compared with the others. The comparison was between his car and those of the teams in the other garages. But come Melbourne, and the resolution of that competitive order among the cars, the focus of comparison switches from those other garages to the guy on the opposite side of the same garage.
To an extent, the competitiveness of the car is now set and a huge part of what the driver will be judged on will be just how he measures up to his team-mate.
There are some fascinating match-ups this year, many of them new, but among the most intriguing is an existing combination going into its third season: that of Jenson Button and Lewis Hamilton at McLaren. Until last season, going right back to his karting days, no team-mate of Hamilton's had ever beaten him over a season. Button brought that record to an end in their second season together, an impressive outcome even for a world champion.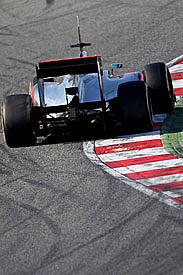 Which McLaren driver will have this view the most during 2012? © XPB
Button's huge talent has always been underrated and just the fact that he wasn't totally destroyed by Hamilton after joining McLaren has been a surprise to many. But there's a world of difference between competing with him, as he did in 2010, and beating him as he did last year.