Good things come to those who wait. A well worn mantra perhaps, but it provoked a seismic shift in Guinness's fortunes when the brewer adopted it as an advertising slogan. Mercedes is preaching a similar message.
In the strictest sense, of course the team is not waiting - being idle is fatal in as fast-moving and relentless a sport as Formula 1. Nor should a patient approach imply passivity; an expectation that success will arrive by right rather than through endeavour. Mercedes is not expecting miracles, and that is precisely why it is being patient.
It is worth remembering that when the Silver Arrow returned to Formula 1, and became a full factory team for the first time since Juan Manuel Fangio won the world title in 1955, it was through the acquisition of Brawn GP - at the time the reigning champions in both the drivers' and constructors' championships. Mercedes had history on its side and brought with it wealth and might, both financially and in terms of expertise. With Ross Brawn being retained as team principal, big things were expected.
In some ways, the team delivered. The return of seven-time world champion Michael Schumacher brought intrigue, doubt and anticipation in equal measure - while two podiums in the opening four races of 2010 for Nico Rosberg hinted at race-winning potential. In the first year of its new guise, Mercedes finished fourth in the constructors' title, comfortably sandwiched between Ferrari and Renault.
Last year proved to be more difficult, with the team hitting early issues in testing that proved hard to overcome. There is also an admission that it did not utilise, or optimise, the exhaust-blown diffuser. By the time Mercedes was at full stride, Red Bull, McLaren and Ferrari were already too far ahead. Again, they ended a comfortable fourth.
That, of course, is no small feat when measured against the might of the three teams ahead of them. But Mercedes has designs on beating all of them, not just in individual races but for championships too. Such improvements do not happen overnight though; patience is key.
"We know we cannot jump from fourth to first - we need to accept that there is a learning process," Norbert Haug, Mercedes-Benz motorsport boss, concedes. "You guys know as well as I do how strong the three teams ahead of us are. This should not be an excuse, not at all, but we need to explain where we are.
"We're now in our third year, and have finished fourth twice. We know we cannot simply jump up; our target is to get into the mix with the teams ahead of us and go step by step in the right direction.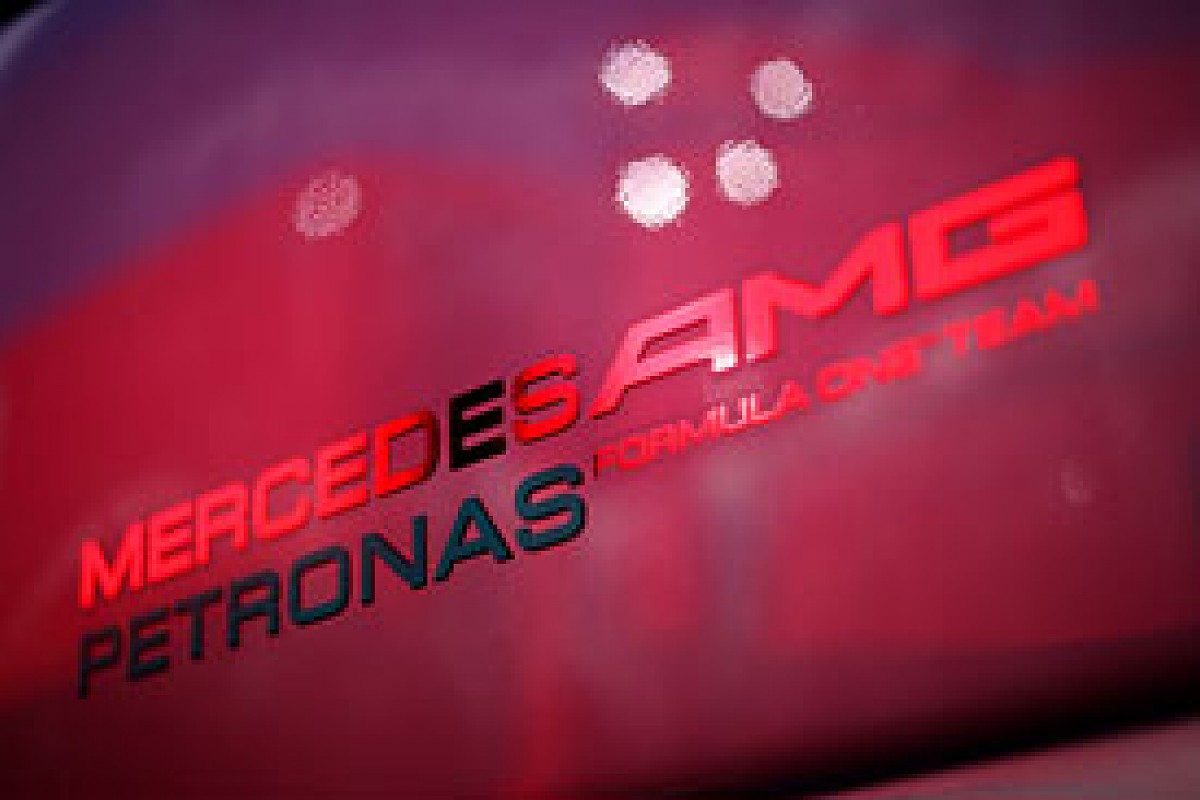 Mercedes is in the third year of its current programme © LAT
"We are still in the building up process but we strengthened our team during the course of last year. Our leading guys, like Bob Bell, Geoff Willis, Aldo Costa, have all been involved in very successful teams and are all motivated to deliver again in the future, and make the Silver Arrow a winner."
It is an ethos echoed throughout the team. Lessons have been learned, changes have been made and there is a conviction that the team now has the fundamental ingredients for success.
"Everyone is really motivated to get going, improve the car, improve the team and get closer to the front," Nico Rosberg says. "That is what we all want and there is a great drive to achieve that.
"Of course podiums would be great, and I'm as positive as ever going into the season. The target is to move forward as a team though - that's what is important, and we are going to do that."
There are reasons to be positive. Last year's recruitment of the triumvirate of Bell, Willis and Costa - as technical, technology and engineering directors respectively - brings a huge wealth of knowledge to the team. In theory, the trio should compliment one another, especially as the mechanical design of the car (Costa's department) and the aerodynamics and vehicle dynamics (Willis) are so closely linked. Time will tell if the structure is in place to harness their individual talents.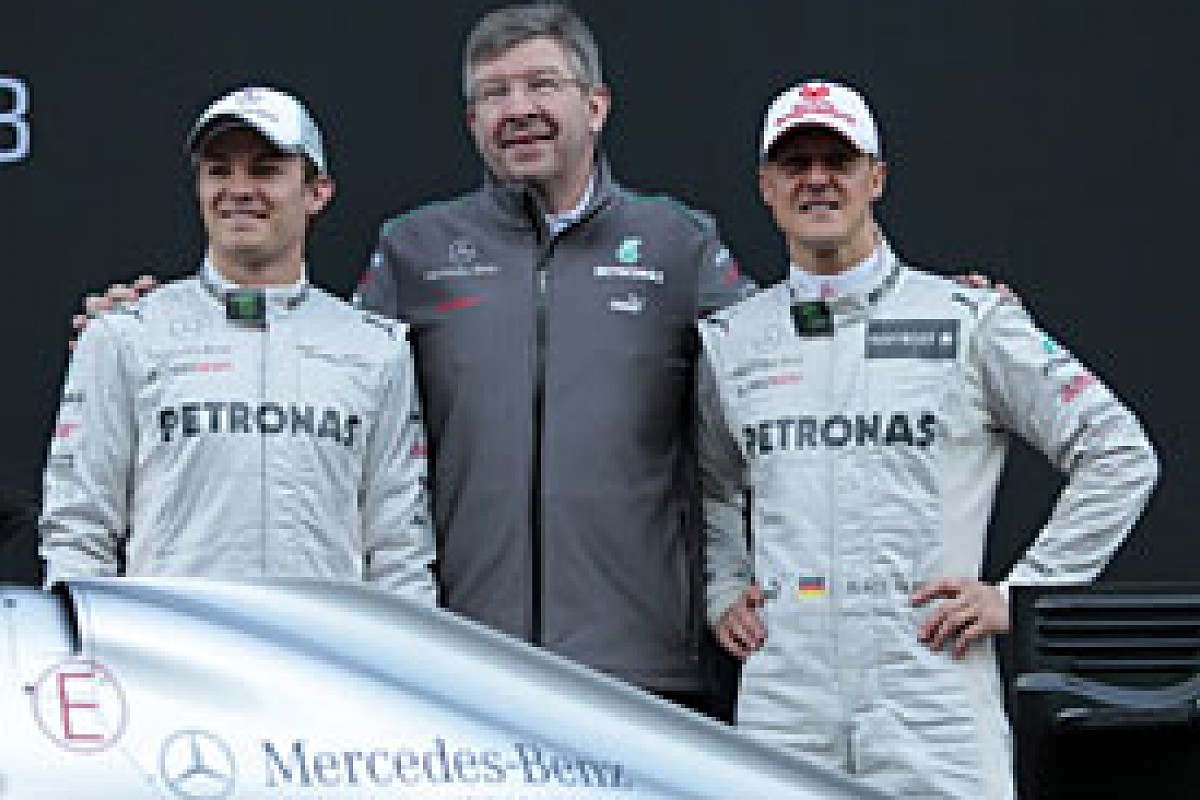 Ross Brawn says fourth will be good enough in 2012 © LAT
It will also reveal whether the team's policy to miss the first pre-season test of 2012 paid dividends - although on that front there is an early confidence Mercedes made the right call.
"We took the decision to bias our efforts into finding performance," Bell explains. "Clearly that is where we are weak; we were well behind the pace last year and the thing we had to do above all else was close that gap.
"We did everything we could to give our team the time to develop the performance in our car, and in a way that minimised the impact on the production requirements, which is another issue at this time of year. I haven't seen anything yet that made me believe it was the wrong thing to do, and I'm still convinced it was the right thing, particularly for us.
"We believe we have [a strategic advantage]. I was relieved to see in Jerez just how reliable all the teams were, and that seems to be an increasing focus in F1 - it's part of the engineering maturity of the sport. Without wanting to be glib, it gave us the confidence that we didn't need to go and pound round the track just to make sure the car didn't fall apart.
"Last year we were always playing catch up with deficiencies on our car. In fact I think last year showed we were able to develop the car and keep the pace with front-running teams, albeit with an offset. We're confident that with a good car we can develop as quickly as anyone else, so our target was to make sure we didn't have such a sizeable offset from the start. From what we've seen, I'm pretty confident that we're on top of those issues."
Brawn too was quietly enthusiastic following Mercedes's first day of testing in Barcelona, but reckons that Mercedes could not expect any favours from the three teams ahead of it. To break into the top three, it will need to do it on merit.
"We are reasonably happy - the car seems to behave sensibly, nothing odd," he says. "It's correlating with what we expected, and now we have to learn about the car and drivers have to learn how to use it.
"After strong progress in 2010 and 2011 due to the understanding of exhaust technology, we are now back to people having to develop the cars in a more conventional fashion. We recognised that we suffered more degradation than our competitors certainly in the first half of last year and we've done things to improve that too. We will really find out as a team how we compare once we get to the hotter races.

"It's very difficult to judge our rivals at this stage. Red Bull is not going to deteriorate overnight and McLaren and Ferrari will be good. We have to break the mould and move up."
That goal, stresses Haug, will not be met by throwing money at the problem, but by a progressive process of learning and development.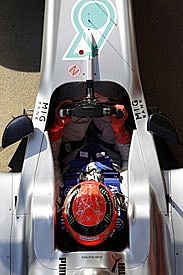 Schumacher expressed satisfaction after his first run in the new W03 © sutton-images.com
"We have had some examples in the past where the money was there in various teams but not the success," Haug warns. "We want to be very efficient from the Mercedes side, not putting all the money in. There are some strong restrictions and I think that is right, otherwise you are not learning.
"If you look inside the Brawn GP team which won the world championship, it was much different by the end of the year. We are still in the building process but we strengthened our team during the course of last year, and now we are looking to combine our resources with success.
"Everything needs to fit together, and that takes time. We have a very good combination of drivers, and great expertise in the team. It's a puzzle that needs to fit together, not a magic switch that one guy can turn the world around. Once we have the right car, we will have the right results.
"How long it will take depends upon your competitors - if you build a good car and they have built a very good car then its going to be difficult.
"I think we are well equipped to go forward, but I stress you cannot leapfrog the other guys. We have a target and I am sure we will achieve it - but we will do so by approaching it step by step."