When AUTOSPORT meets up with Jarno Trulli the night before he finally gets to drive the new Caterham CT01, he's surprisingly ebullient. It's Thursday evening, the sun has set behind the hills overlooking the fast Criville right-hander, and he's just had his seat fitting prior to a full day's running at Jerez.
The only active Italian driver in Formula 1 has been patiently waiting all week for his turn, and he's only getting one day in the car while team-mate Heikki Kovalainen has already had two. The fact that the seat fitting has only just taken place, could, if you're being mischievous, be attributed to the residue of a long winter's waiting over his future.
During the course of the third day's testing, Caterham has given well-financed new reserve Giedo van der Garde a day of acclimatisation with its 2012-spec machinery, Pirelli tyres and Red Bull's KERS technology. But given the premium placed on time to sort a new car before the season, that might seem an odd decision when one of F1's most experienced campaigners is thumbing through his iPhone at the back of the garage.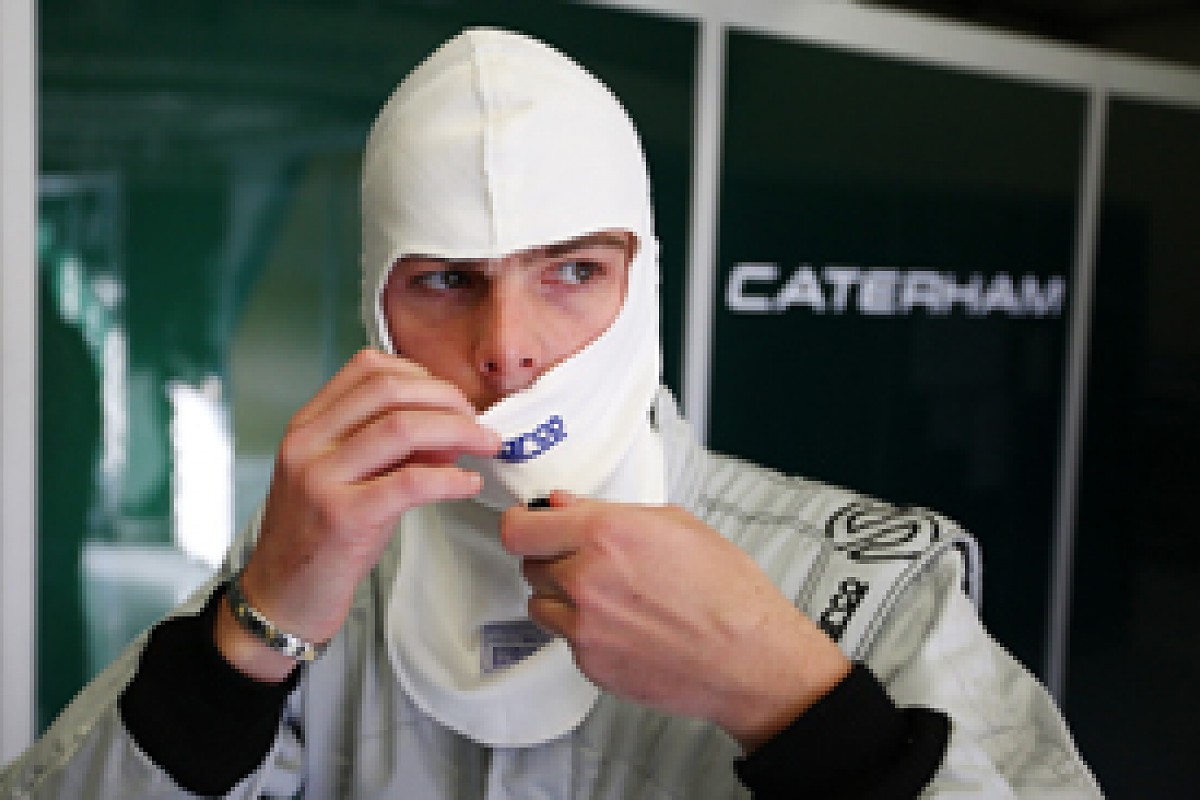 Van der Garde is waiting in the wings at Caterham © LAT
Unless you're considering putting the Dutchman, and his backing, into the car for the opening races that is... Mischievous? Oh, alright then.
But for a while it seemed certain 37-year-old Trulli's career tally would be locked at 256 grands prix started, one victory achieved, as other drivers were considered during the off-season. Through much of January, informed speculation persisted that Trulli's drive would go to Vitaly Petrov. But then the Russian's financial supply line faltered and the Italian was back in the game.
Even now there remains doubt over the long-term solidity of Trulli's position. And there is a sense that things need to get off to a much better start than they did in 2011 if he's to enjoy the chance to race what he's calling a 'proper car' after two years of toil and sacrifice.
Trulli has remained calm throughout this first week of testing, in fact he's been joking with the engineers, enthusing about the build quality of the car and pitching in on feedback. The very model of a modern veteran racing driver. There's not been a hint of the gaunt, frustrated figure we saw so much of last season.
But why is Trulli so up-tempo? It's a question that comes up early in our chat.
"Have you seen the car?" he says, an excited look on his face. "The first two cars we had, let's say were 'learning' cars. You look at this car and it is incredible. This one looks like a contemporary Formula 1 car in terms of its detail, its build quality.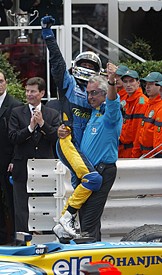 Trulli has a Monaco Grand Prix win to his name from 2004 © LAT
"To my eye, most of the details look perfectly done. I can't say if it is quick or not, but it's looking extremely professional. So even if I haven't tested it yet, I can be sure there is a step forward."
But even if the car is all he says it is, surely he's been frustrated, perhaps even a little offended by the rumours about others taking his drive. After all, this is a man who has led factory programmes at the highest level, been a grand prix winner and has long ago proved his electric speed - if he is given the tools to access it.
Surely it must have been difficult to watch others flirt with a seat he considers his own? But if it was, he's not letting on: "Personally, I don't care [about that].
"I just want to get on with my job and I know that I have to do well, because if I don't do well it's obvious that I cannot stay. It's as simple for me as much as for anyone in the paddock. There is no point trying to hide - you have to deliver. The trouble is what is the best you can do with what you have? This is always the point."
Trulli also recognises that not all the pieces on the board are his to control. It's no secret that Caterham could use the financial assistance a well-funded driver could provide, and there are one or two on the sidelines at present.
"I know what F1 is nowadays, I know the economic reality more teams are going through, and I do understand," he says. Remember it was Trulli who was asked to step aside and let Karun Chandhok drive a car that Jarno clearly couldn't given the power steering issues he faced last season.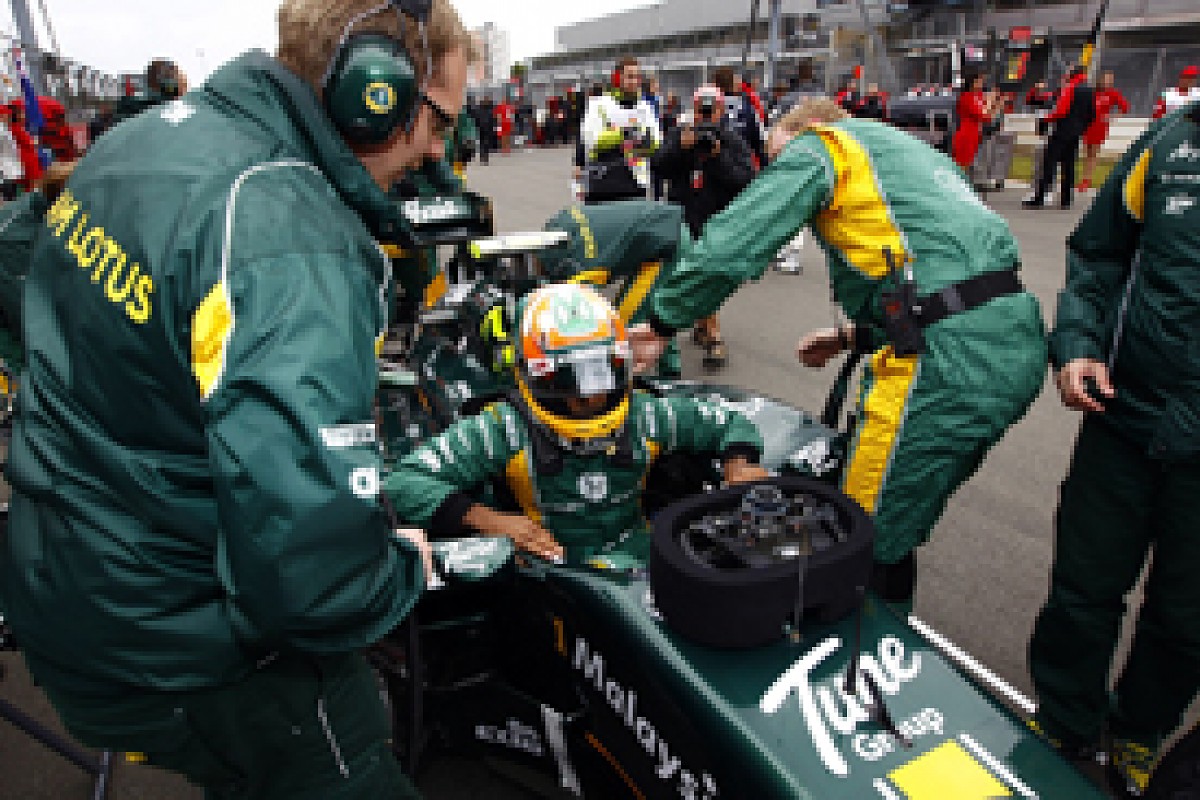 Chandhok took Trulli's car for last year's German GP © LAT
"Obviously I know that there are other drivers out there, they want to drive and they have got some sponsors which may be very helpful for the team. I saw the situation in a very simple way - just wait and see - I knew I had the contract so, obviously, I was sure on that.
"I have learned in F1 that you never know what can happen from one day to another, but I have enough experience to expect anything. So if anyone thinks they're more motivated than me, or anyone puts me down, it's just not true. I was just waiting to get back on with my job."
Those power steering issues - a basic lack of feedback - wreaked havoc with a driving style based on the sensitivity of the messages coming through the steering wheel. Trulli simply couldn't access the precision that is the mainstay of his inherent speed.
It obliterated his ability to compete with Kovalainen, but it also stopped him contributing in any meaningful way to the development of the car. That meant his key selling point to the team - all that experience - was fundamentally trumped.
It was an unavoidably demoralising situation to be in at this stage of a career, but the problem was compounded further by Kovalainen's feats in the sister machine. For a small team focussed on maximising its small resource, there are potentially more lucrative solutions to the problem than sticking by the Italian. Nevertheless, it continued to update the steering through 2011 and has a brand new solution for this year.
"Obviously last year it became obvious pretty quickly that I couldn't go anywhere with the problems we had on the car with my driving style, so it was a tough season because I knew before stepping in the car that I had little chance," explains Trulli.
"I've always suffered with this, even in karts. I always wanted my steering column perfectly right so I could have the right feeling. Without that I've never felt confident enough to get the best from the car. But I'm confident the team has sorted this problem out. I've had this in the past with other teams and it's always been resolved really quickly. Obviously last year, this team had different priorities.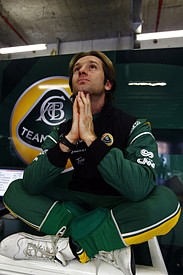 2011 was a long hard season for Trulli © LAT
"Now with a brand new car, there is fresh air, and we have probably solved the problems that were affecting me. So I'm looking forward to this new challenge, and I have to be optimistic otherwise I wouldn't be here."
You could argue, given the season he's just had and the contrast his performances and demeanour showed to Kovalainen's in a team that showed improved, if not quite breakthrough, form in 2011, that Trulli's only option is to show up full of enthusiasm and ready to start afresh in Jerez. Charm the boss, so to speak.
And this may well be the case, but he insists his renewed zest is more to do with him wanting to grasp a new season, with a new car. To start a new canvas. Trulli says he has that feeling every year. "That's the good thing about F1 - it changes. Every year you have a new car, every year there is something new, something to learn."
This year one of those things will be KERS - the lack of which cost Caterham dear whenever it found itself in an on-track dogfight to get into that coveted midfield territory.
"I think this is going to be a big boost for the team," he says when asked if it will help in the quest for points - which Trulli insists must be the target for Caterham in year three.
"It needs to be if we want to be satisfied with our job and if this team wants to look ahead and look confident. Because I don't think any of the people here would accept another season where we're not part of the midfield fight.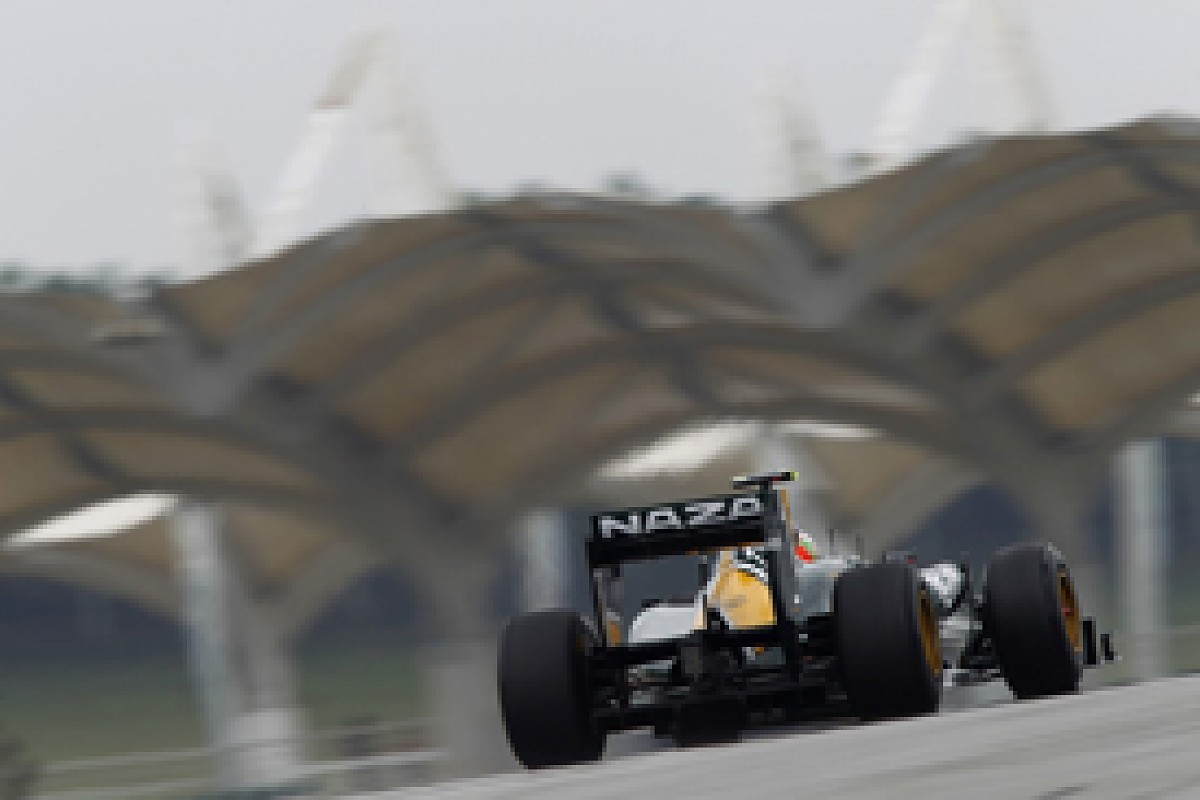 Then known as Lotus, the team was often in a no man's land between the midfield and backmarkers in 2010 and '11 © LAT
"We were in a no-man's land last year. Now we will have to cover this gap, and get in the battle. Being in the midfield battle doesn't mean that we'll definitely score points - but if you have a chance, you've got to grab it."
At this time of year, everyone is guarded about the potential of their cars. Drivers don't admit it if the new car feels like a dog on day one; equally, they'll choke back public smiles if the magic happened the minute they turned it in at racing speed. But every driver will admit, when looking back, that they knew instantly when they were driving a car they thought was special.
"I remember when I tested the 2009 Toyota," recalls Trulli. "I knew straight away the first day that it was a good car. I didn't have any comparisons, I just sat in the car, tested it and said, 'This is a winning car!'"
For the record, that was the year Toyota started with a double-diffuser design, like Brawn and Williams. Trulli took pole position for Toyota in Bahrain and went on to score three podium finishes.
He didn't win in it, but it arguably provided him with the best race of his career when he drove relentlessly to second place at Suzuka, all the while hoping that Sebastian Vettel would suffer a failure and he would score that elusive win the Japanese manufactuer so coveted. Had it done so, perhaps things would be different now. But Trulli knows that what he is looking for from the Caterham is something else...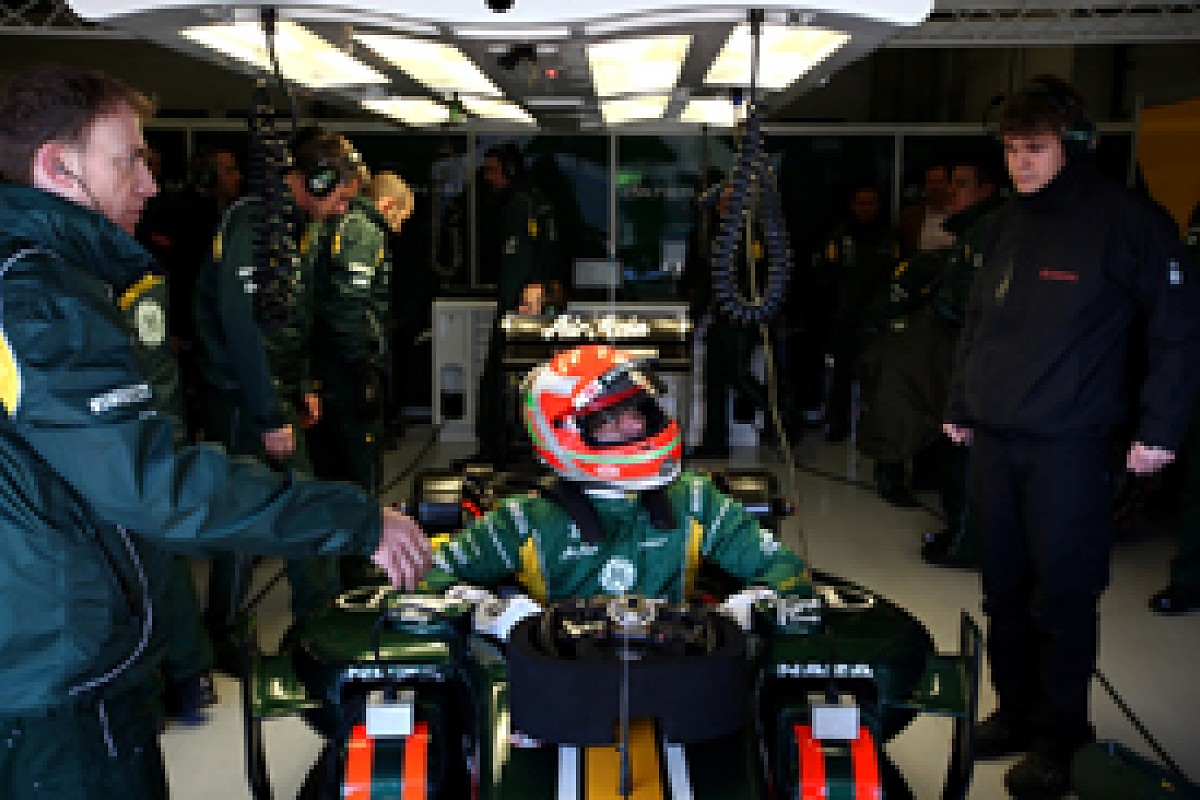 Trulli was upbeat from the moment he sat in the 2012 Caterham © LAT
"This year is different, because we're not talking about being at the front, we're talking about being in the midfield," he says. "So I think the first thing we need to understand is how reliable the car is and how big is the step down compared to the others. Then eventually, through the tests we will understand if we have made a big enough step to be in the midfield game.
"Now, as a driver, for me it is very important that all the systems work and mechanically the car has no major problems. And that I can get the feeling that I want from the car, to see whether I can push it to the limit or not - this is very, very important."
Less than 24 hours after this conversation, Trulli is back in the same motorhome surrounded by journalists from around the world. The smile is even broader than before. The first box got ticked early in the day when he reported back that the power steering issue was 90 per cent gone: "No longer a problem".
But now, with some 117 laps of experience in the new car, Trulli's buzzing: "I think I cannot remember any better first day of testing, honestly, or first week. We ran into very, very few troubles despite the fact that the car is totally revolutionary.
"I am happy despite the times, which are not representative because we know we have been extremely conservative on the fuel side, and if we make some calculations we are probably in the ballpark."
It's the answers he was after, and to some extent the ones Caterham had been hoping for too.
Now the team has a decision to make: does it opt to maximise Trulli's obvious experience - which if a chance of points comes will fully equip him to seal the deal - or back up Kovalainen should he be in a similar position? Or does Caterham opt for a rookie with cash - and all the various unknowns, positive and negative, that would bring?
One suspects the decision will be based on Trulli's results in the early races of 2012.