"How good can I be? Well, I feel I am reaching my prime now. I am massively hungry for success and really motivated to test myself against the best guys who are winning at the moment. That's probably the best way of really answering that question..."
Its probably fair to say Heikki Kovalainen hasn't followed the most conventional path since arriving in Formula 1. A runner-up in GP2 in 2005, he became Renault's full-time test driver in 2006 and graduated into a race seat the following season. A year later and he was at McLaren, and 11 races in he was stood on the top step of the Hungaroring podium.
Fast forward one year and his fortunes had turned. Yes McLaren was struggling, but his return of 22 points - less than half that of team-mate Lewis Hamilton - spelled trouble. At the end of the season he made way for the reigning world champion Jenson Button, signing instead for the newly-created Lotus squad.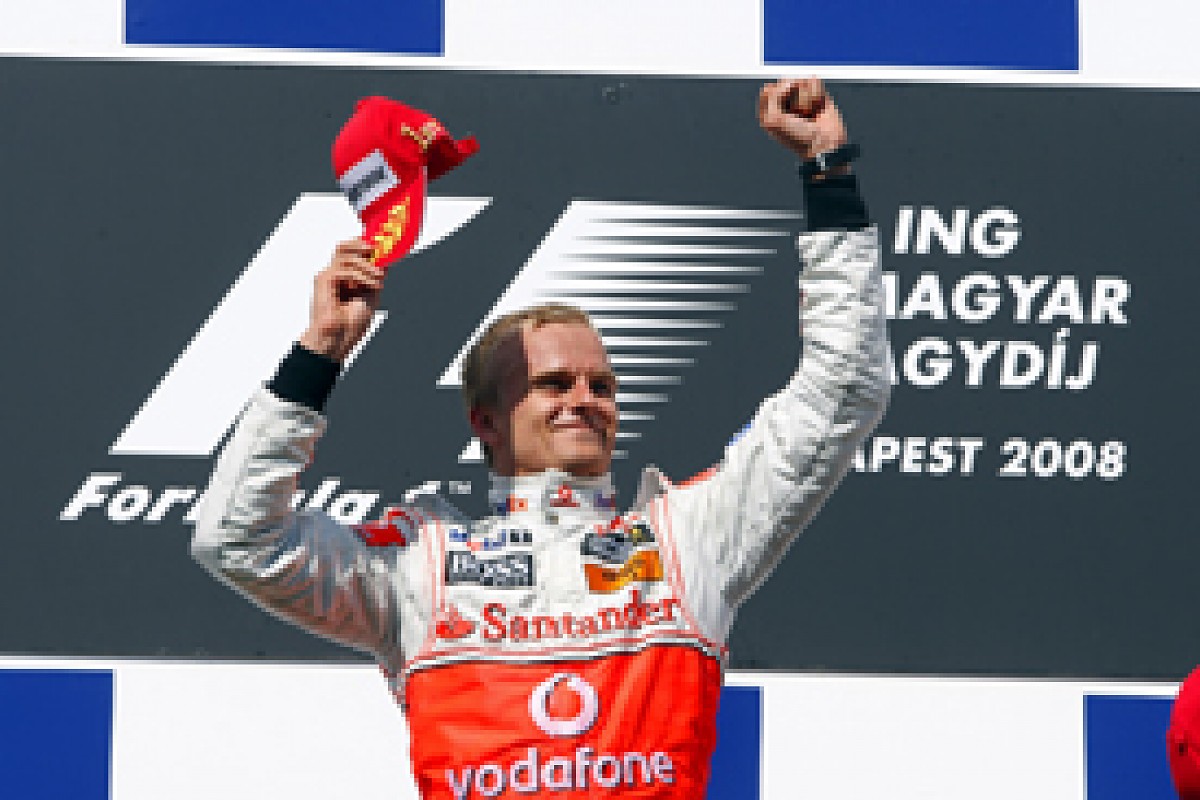 Kovalainen was a grand prix winner with McLaren in 2008... © LAT
If that was a gamble, it has paid off. In many ways Caterham has been the making of the Finn - and in turn he has helped make the team.
It sounds an odd thing to say, admittedly. Kovalainen after all has that precious win in Hungary - ask his GP2 rival Nico Rosberg how easy they are to come by - several podiums and a pole position under his F1 belt. Only, it's not me saying it...
"I feel like I've returned to my former level," Kovalainen says. The sun has just set on another day of pre-season testing, and there are a lot of positive noises coming out of the camp - and from the man himself.
"Before F1 I was on the same sort of level as guys like Lewis, Robert [Kubica] and Nico, but for whatever reason I wasn't during my first few years in it. I won a grand prix but it seemed like I lost out. I'm returning to that previous level now.
"I feel I am basically a much better driver overall compared to previously. It's not so much the speed: that was never really an issue. I think the difference is I am able to control the situation better now, give better feedback to the team, and I know physically and mentally when to let go and when to redouble my efforts."
There are few who would disagree. Caterham might not have met its goal of scoring points in 2011, but Kovalainen's star rose nonetheless. A season in which he had the measure of team-mate Jarno Trulli - and was consistently the main threat to the midfield teams - put him back on the radar.
I ask him how his rising stock sits with his renewed self-belief - and whether it might mean he could one day leave Caterham for a more competitive outfit.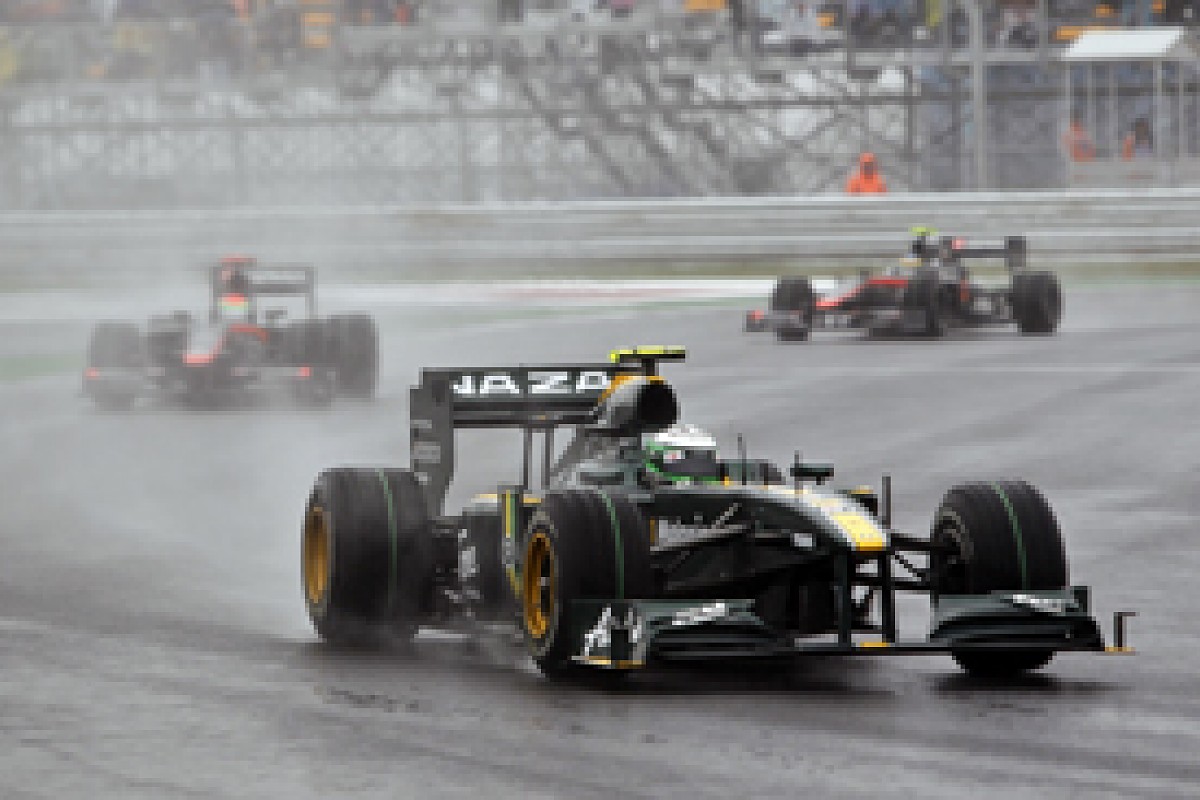 ...but switched to new Lotus squad in 2010 and usually ran near the back © LAT
"That depends," he says. "I wouldn't be ready to just leave. If there was another opportunity you would have to think about it in the long-term future, but just as I hope my best races are ahead of me, I also hope they are with Caterham.
"It depends on how I see the potential of the team, our targets and how I see us achieving it - but I think that applies to everyone on today's grid. If we keep making the targets and improving the team as we have done so far I feel very comfortable here. It's not about me saying 'build me a car or else'. I'm committed to this team; I have always given everything. I intend to do that again in 2012.
"My motivation is to confirm my own feelings about developing and that's why I am determined to raise my performance even more and push this team. I think everybody here is hungry for that. We all want to be in Q2, we all want to score points.
"More than that though what we definitely want to see is that we are in the fight - if we don't make Q2 or are at the back of the pack we want to see that it was a question of tenths rather than 0.7s or 1s. When we have a good day we want to be battling with the cars directly in front of us. Everyone is expecting that to happen this year and - from what I have seen so far - there is every reason to believe that we can do that."
There is certainly a great deal of progress at Caterham. Last year their pre-season programme was severely interrupted: delayed parts and an incomplete power steering system two chief culprits. This year, but for a starter shaft issue on day one, there has been little to bemoan and much to applaud, including the arrival of KERS and the completion of a staggering 139 laps, or 615km, in a single day.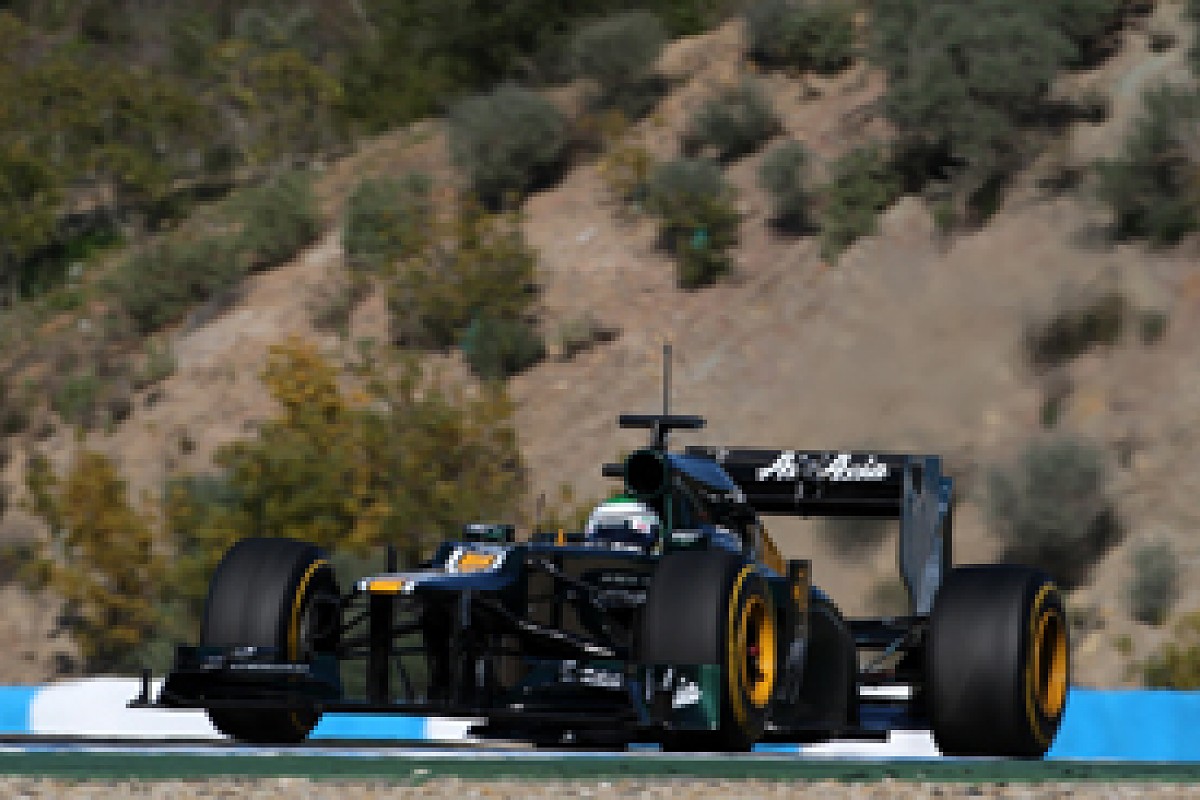 The Finn hopes to progress with the re-named Caterham team © sutton-images.com
"Everything seems positive," Kovalainen remarks. "My initial feeling is that it is a step forward. The feeling from the whole team is good, everyone is excited. The only question everyone is wondering is whether we are quick enough to meet our target to be in the middle of the grid? I think we can't answer that yet. I think it is also a question of what others have done..."
For Kovalainen and Caterham it is quite literally a multi-million dollar question. It is also the fundamental issue upon which his, and the team's, future may lie. For all his loyalty to Caterham, Kovalainen knows the sensible money is on keeping his options open.
"I've got enough experience and knowledge to appreciate what you need to have to be a success in F1," he explains. "I don't have a long-term contract [at Caterham]. I've kept my options open because we need to see how the season develops, and what happens. I am at a much higher level than I was in my first few seasons, and I want to be back in a front-running car competing at the front, and for points.
"Like I say, I want to progress with Caterham. I've been here since the beginning and it's been great. Tony [Fernandes] has become a good friend too - but he will continue to be a friend even if I am no longer here."
In some ways the outlook is simple: Caterham improve and Kovalainen may stay; struggle again and he may look elsewhere. There is a clear hunger in his words, and the phrase 'in my prime' pops up frequently.
It is clear Kovalainen feels ready to return to the front. All he needs now is the car to take him there.