F1's winter break was a relatively short one, but Lewis Hamilton took full advantage of it. In the turbulent slipstream of his difficult 2011 season, the former world champion managed to steer clear of media and PR commitments, and find some time for himself with which to recharge his batteries.
For Wednesday's McLaren launch he was back on team duty, and we had our first real sight of him since the last race of the season in Brazil.
Lewis appeared to be in a relaxed mood, and enjoyed the on-stage banter with team mate Jenson Button and event host David Croft. He even injected a little humour into proceedings, noting that the mirrors of the MP4-27 were better than previously, and it was something he had pushed for. Prompted by Croft, he joked that "Felipe will be happy with that..."
Later, when reminded that this was his sixth season with the team, Lewis jumped in with: "Don't mention it!"
He almost went misty-eyed as he looked back on his time at McLaren.
"It feels very strange to be going into my sixth season. It feels very much like it was only yesterday that I went up to Ron [Dennis], when I was 10, and explained to him that I wanted to race for his team But it's been a fantastic journey, and of course we've been competing at the front for all those years that I've been here."
A break is always good, especially after a tough season, and it was all too apparent last year that Lewis needed to take time out and have a reset. Button said that he had enjoyed his holiday, but added that after a few weeks he was itching to get back in the car again. Intriguingly, Lewis admitted he hadn't shared those feelings, a sign perhaps of how he really needed to switch off.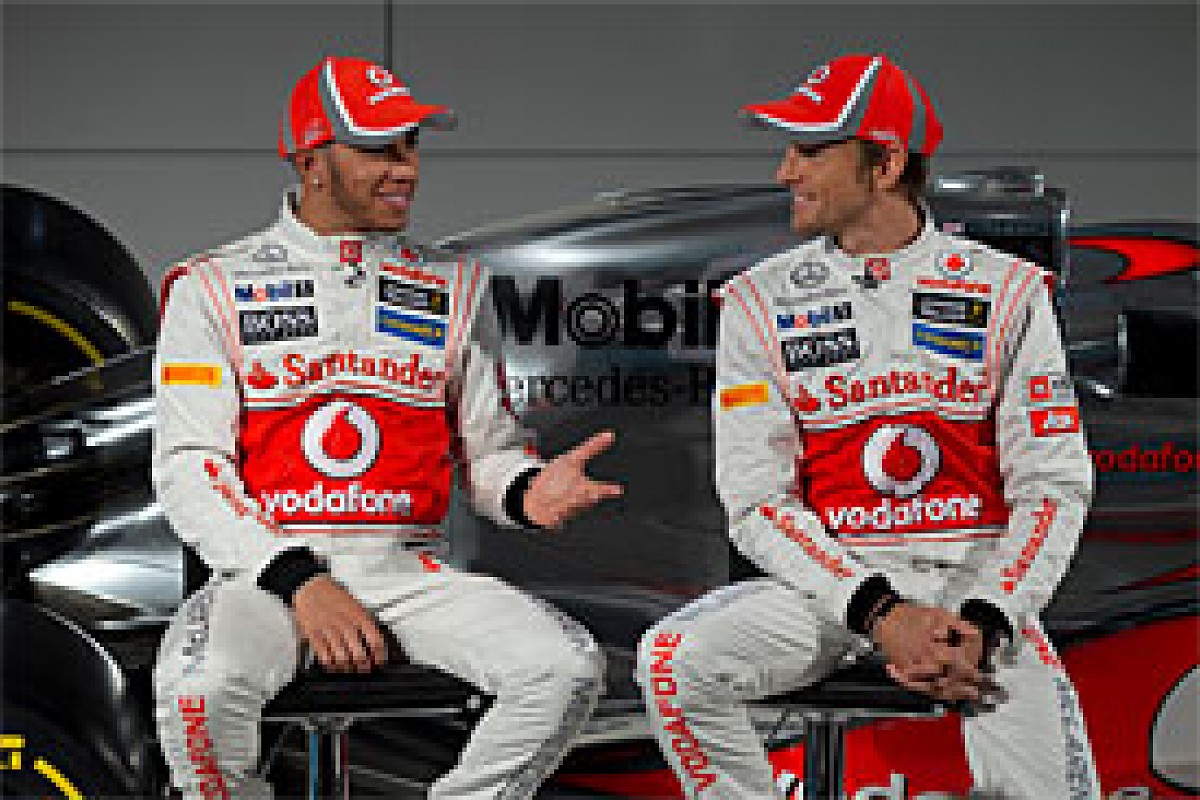 Hamilton was relaxed during the launch of the new McLaren © sutton-images.com
"I was over in the cold, in the mountains in Colorado, and spending time with family and friends and doing lots of training," he said. "I didn't actually miss much. I wasn't missing the car too much - it was nice to be away from it for a while and to just get the energy back just to refresh, start off new.
"Getting back into the training was great, it was fantastic this year, and I think I altered it a little bit from last year. I think last year I was training probably too much at the beginning of the year, I think this year we balanced it a lot better.
"And again, spending more and more time with family and friends I think is just the only way you really get energy. And so I had quite a good break. I was very, very grateful to Martin [Whitmarsh] for allowing me to have such a good break."
A little later, when speaking to the UK national media, he elaborated on how his break had enabled him to clear his head.
"I let loose for the first week where I did a bit of skiing and then I ate pancakes and all that stuff that I said I wasn't going to do," he said. "I then got into quite an intense training regime and sat down in between times where I analysed the year and certain things in my personal life that weren't as good as they could be, and went about correcting those things.
"Today I just feel very fresh in my mind and very free of perhaps any of the burdens that I had on me last year."
Inevitably where Lewis is concerned, tricky questions are never far away. Not surprisingly he didn't really want to talk about his personal life and Nicole Scherzinger: "What I have decided to do this year is just focus on the most important thing and that's racing. Of course I accept that my personal life is in the public domain, but I'd rather just focus on racing. But things are good. So I'm happy."
There was of course chat about his future and the fact that, among the elite group of top drivers, he is committed only until the end of 2012. Questions on that are going to keep on coming, until his future is clear.
Such is the life of a superstar, and especially one who - even without trying - seems to have a knack of being at the centre of any storm that's brewing.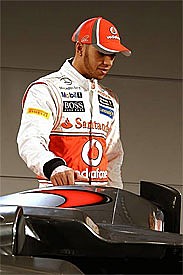 A quick car from the start of the season would help Hamilton © sutton-images.com
His relationship with the media is one thing, but what really matters is how he gels with the team in 2012. No one could blame McLaren folk for switching their focus to Button last year - however subconsciously - because he was the man who was regularly getting the results and doing it with the minimum of fuss. Jenson's status in the team was further boosted when he signed an extended contract.
For all his long history in the team, Lewis will have to work hard to tip the balance of power back in his favour, and he seems to be determined to do that.
"I spent about four hours with Lewis and Jenson yesterday in the technical drivers meeting," said McLaren Racing MD Jonathan Neale. "The first thing we do when the drivers come back is to get them together and explain what we've been doing during the winter.
"He was engaged and hungry and asking great questions, as was Jenson. He was also probing Gary [Paffett] and Oliver [Turvey], in terms of how does the car feel [on the simulator], what are you feeling at the moment, what should we be expecting?
"We did a seat fit with Lewis on Monday morning. He was comfortable in the car, and he liked the wing mirrors, which is always good for us! Racing drivers live and thrive on fast cars and competition, and it's easy to be relaxed in the confines of the McLaren Technology Centre, where he's loved and appreciated by the workforce and everybody here.
"We're all right behind him, we absolutely believe in him, and the pressure is on us to give both Lewis and Jenson the car to get the job done."
Neale confirmed that team boss Whitmarsh had kept tabs on Lewis over the winter, making sure that all was well: "Yeah, absolutely. The team principal's job is never done or complete. We've been keeping in touch with the drivers, making sure we've got the trainers right, the engineering line-up right. So there's contact chit-chat back and forward. Both of them like their space, as you know, so there's no sense of crowding out or checking up. It's just an easy relationship."
Lewis has made it clear that he's going to do things differently this year, and Neale says that's not something the team can influence too much.
"It's something that's within him. All world champions, they don't like getting beaten by anybody else. He doesn't like getting beaten by anybody! It was a chance to put that season behind him. It wasn't exactly annus horribilis. He was a multiple race winner, and we should remember that. He's a fearsome competitor, and F1 is better for having a Lewis Hamilton."
We also shouldn't forget that he won the penultimate race of 2011, albeit after Vettel hit trouble, so things were looking up at season's end. Nevertheless there's no escaping the fact that there were quite a few lows.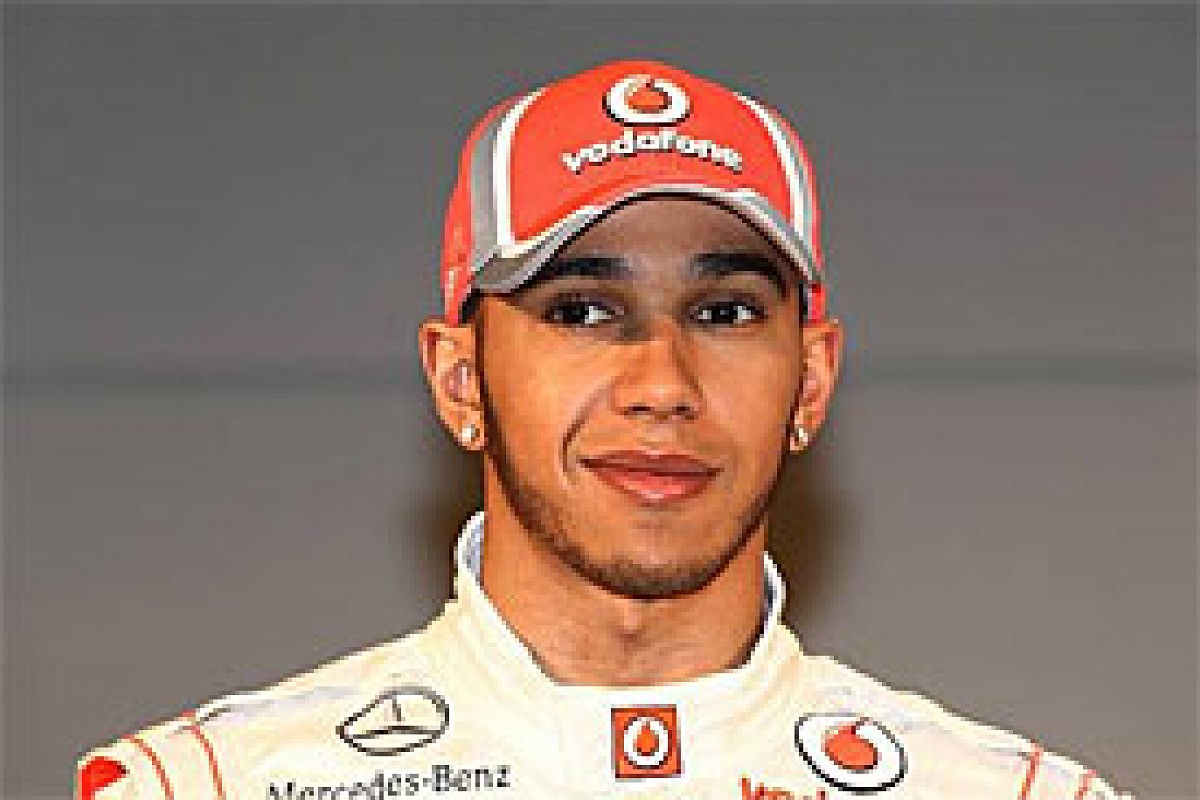 The Briton vows to take a new approach in 2012 © sutton-images.com
"Lewis made a joke about it here - he had more comings together with a Ferrari than he would have liked! We had a few issues on the circuit and some trips to the stewards. It's part of the building process. Sometimes you get a year like Sebastian [Vettel] had. We beat one of the Red Bulls, we couldn't beat the other because frankly Seb was on great form, and had the confidence.
"And we've seen that with Michael Schumacher as well. If he's out front in a good car he's really hard to catch; put him in P4 or P5 and start rattling your wheels on his sidepods, he's a different animal. If you get clear and get going, you can be good."
The key to Hamilton's season could be getting off to a flying start. In the past he's been hamstrung by a car that wasn't the best out of the box, and he's made his frustration clear. If the MP-27 is a born winner, and he builds up momentum before Jenson does, then things could go his way.
"Absolutely," said Neale. "A good first quarter would be really good. But also should we find ourselves in a situation that is difficult, we know that Lewis will dig deep. He did that in 2009 when he won in Hungary.
"He just did not lose any heart, and we faced the issue that we were having a difficult time. Part of the thing that lifts the organisation is when you know you have drivers who are going to give it 100 per cent, even when they think their chances at the time are limited."
We all know that he can get the job done, and in the end it's all down to whether he can really get his head together. Lewis himself knows that better than anyone, and he seems to be convinced that he's found the right recipe.
"The only thing that ever gets in your way is your own mind and your own insecurities or obstacles that you put in your way," he told Fleet Street. "But I think the most important thing is to put those things aside and to overcome them, and I think I have.
"Standing right in front of you I feel stronger than I was a few months ago particularly, but even more so than I was at the start of last year."