"When a man with a rifle meets a man with a pistol, the man with the pistol is a dead man," says Giorgio Ascanelli, pausing before adding. "Unless the man with the rifle is blind."
In this scenario, Scuderia Toro Rosso technical director Ascanelli is the man with the pistol facing down a grid full of rifle-toting rivals. For all that it has owner Red Bull's might behind it, the ex-Minardi team remains a relative minnow in Formula 1 terms. Yet despite that, it was an under-the-radar success story last year. It has realistic prospects of building on that in 2012 with the STR7, which will break cover next Monday afternoon.
Toro Rosso finished only three points off seventh place in the constructors' championship last year. To go from scoring 13 points in 2010 to 43 last year was an impressive stride forward. Doubly so when you consider that this team had to reinvent itself as a constructor after rules banning customer cars prevented it from running Red Bull Racing machinery after 2008, the year of Sebastian Vettel's famous win at Monza.
Ascanelli's comment is in response to a question about whether there are any advantages to being a smaller operation in terms of speed of response and decisiveness. Characteristically, the Italian's response is to the point, honest and utilises a turn of phrase that sets him apart from many of his peers. He has been around too long to try and make out that having fewer resources can be anything other than a disadvantage. Just as he's too savvy to bite when it's put to him that it must mean that those rivals which his team has beaten, or came close to beating, must be blind.
"I didn't say that," he laughs...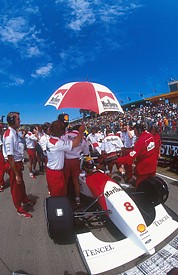 Ascanelli's career included a stint as Ayrton Senna's engineer at McLaren © LAT
Ascanelli is far too realistic to lament the days when Toro Rosso was able to beat Red Bull Racing in the constructors' championship. Now, he knows exactly where his team stands and what is possible. His straightforward way of working, based on a combination of good old-fashioned racing sense and knowledge, is ideal for a team of this size. And his experience of F1, which stretches back to the 1980s with Ferrari, Benetton and McLaren, made him an inspired choice as technical director when Gerhard Berger brought him into the fold in 2007.
Those that like to attack the team for lack of ambition will ignore the work that Ascanelli has done. When it was confirmed that Daniel Ricciardo and Jean-Eric Vergne would be replacing Jaime Alguersuari and Sebastien Buemi at the team for 2012, some seized on team principal Franz Tost's admission that Toro Rosso's primary purpose is as a training ground for Red Bull juniors as reason to dismiss it as somehow unworthy. It's an unfair criticism.
The bottom line is that Toro Rosso exists as a relatively small F1 team. Its objectives are survival, good pound for pound performance and to gradually build itself up despite modest resources. Bear in mind also that Toro Rosso only re-emerged as a constructor in its own right in 2010 after customer cars were banned.
Ascanelli describes 2010 as "a starting year", and while that was very much a rolling getaway, it's fair to say that good progress has been made. It's all about the team slowly evolving. The facilities at Faenza are already expanding, good news for an outfit that has had to call its temporary test motorhome into action as offices at base in the past. Ascanelli sees this as the long game. What is needed is sustained investment, not one massive one-off financial windfall that will change the game.
"If somebody comes along with £300 million, I'd say keep it," says Ascanelli. "There is no such thing as an organised growth in six months. In our league, we have done as much as we can. Between sixth and ninth, we can be anywhere.
"Maybe one year, we have a good year and one year you have a bad year. What does it take to raise the stakes to the top five? Fifty, sixty, eighty [million]? Is it worth it?
"At the moment, we have a mission to give these guys something in which they can learn. Would it be justified to spend more? Maybe not. But then again, in life, I don't only do what is justified!"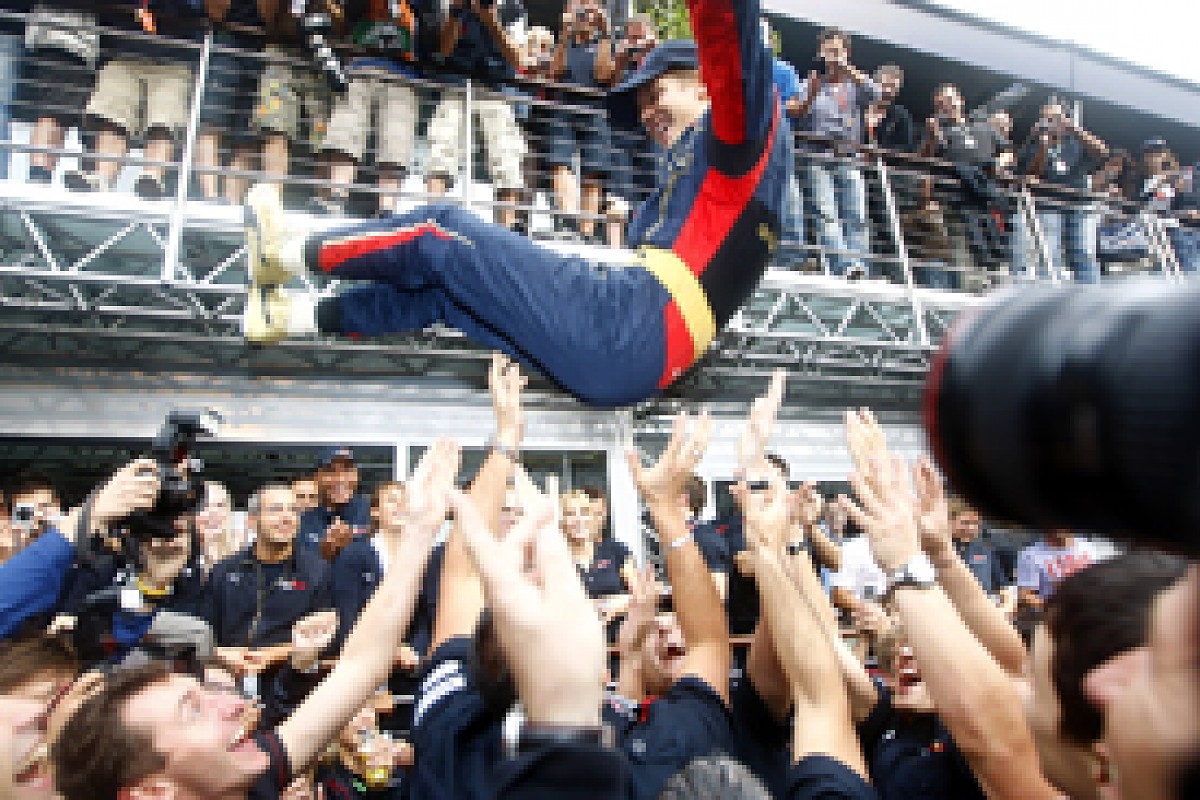 Monza 2008 was Toro Rosso's finest hour © LAT
And there, encapsulated in a sentence, is the racing spirit that exists at Toro Rosso. Remember, this is a team that first came into F1 back in 1985 and endured 388 races without so much as a podium finish to show for it before that glorious day at Monza. Try telling those who had toiled through the difficult years and exploded with joy at Monza in 2008 that this isn't a team with any interest in being more than a learning operation for Red Bull juniors.
Inevitably, as a small team, things take longer at Toro Rosso. Its 2011 car was an innovative design, the only car to feature the twin floor concept. Later in the season, Toro Rosso produced a very effective new exhaust system that helped it to stay competitive in the closing stages, but the amount of time required to get the best out of such changes comes with the territory of being a minnow. Take the progress made with that twin floor design as an example.
"You have got to comply with the bodywork flexibility rules, you have got to package it in less space and you have got to ensure the consistency of installation," he says. "With the constraints that we have got from our power supplier, it was a good effort.
"I'm not sure we got the best out of this concept this year. I think that there is still more to come but I don't know if the other teams will take it. The vortex under the floor is very powerful and the elimination of the double decker diffuser [ahead of last year] made us hunt for areas to exploit."
So far so good, but it took time to get on top of the design. This process is symptomatic of what a team like Toro Rosso has to go through when it is working on limited resources.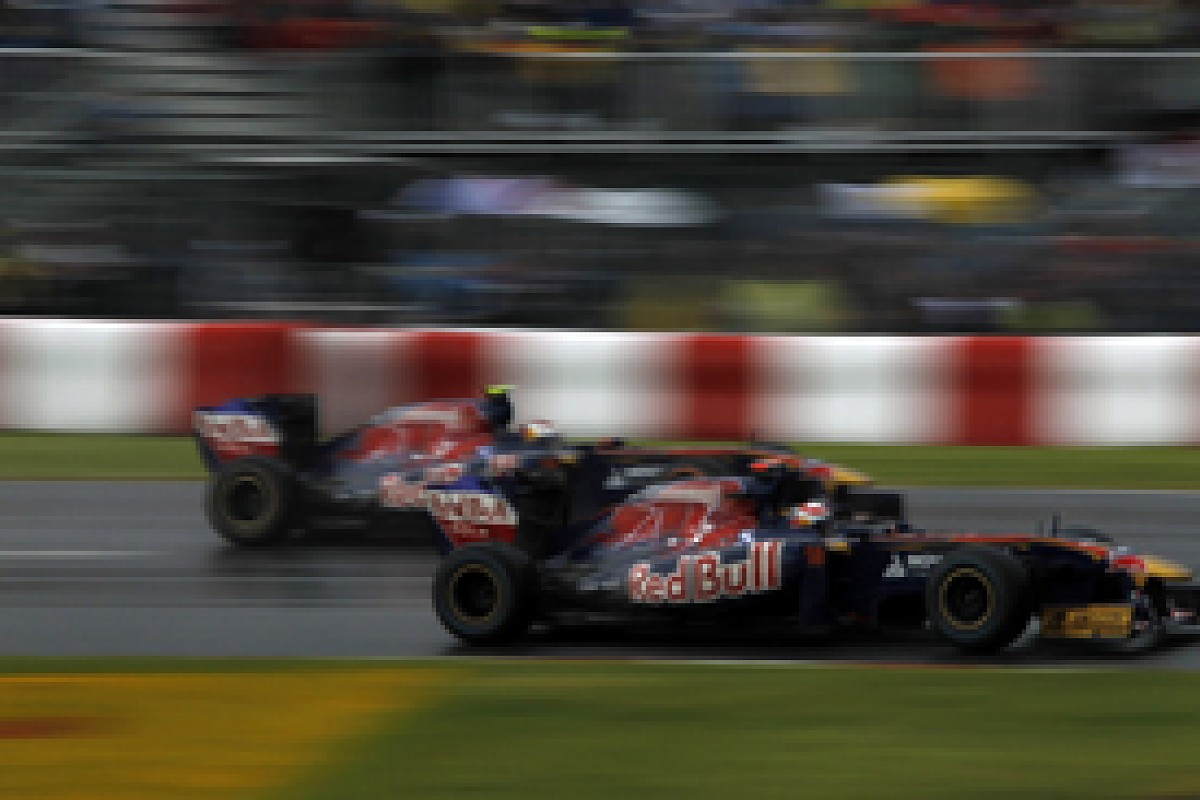 The Toro Rosso duo battle in the wild Canadian GP © LAT
"We had a few riddles with the installation and we went through teething troubles at the beginning," says Ascanelli. "The most difficult thing was the positioning of the exhaust. The design of the fuel positioning and the cooling system came from my guts rather than studies because we didn't have any tools. We had a first stab at it with some unknowns, leaving some margin because we couldn't afford not to finish races.
"Most have an upgrade at Catalunya and then one for Silverstone but I wanted to go out of sync to score points earlier. Our two packages didn't lead to a large amount of performance [at first]. If you were playing snooker, it was a positioning ball. Then we started development.
"When we were confident that the volume was right, the weight was right, the cooling was right, we started optimising the package around July. At the same time, we started looking at the 2012 car. But because we lag a long time between design and making the parts, the development bits generated by July were seen at the end of the year. That's why we have development distributed through the year rather than having chunks."
This is a very different way of operating to the big teams. There, multiple development avenues can be explored and whole branches of research can be abandoned if they prove fruitless.
As technical director of Toro Rosso, Ascanelli must choose the path from the start. And choose the right one.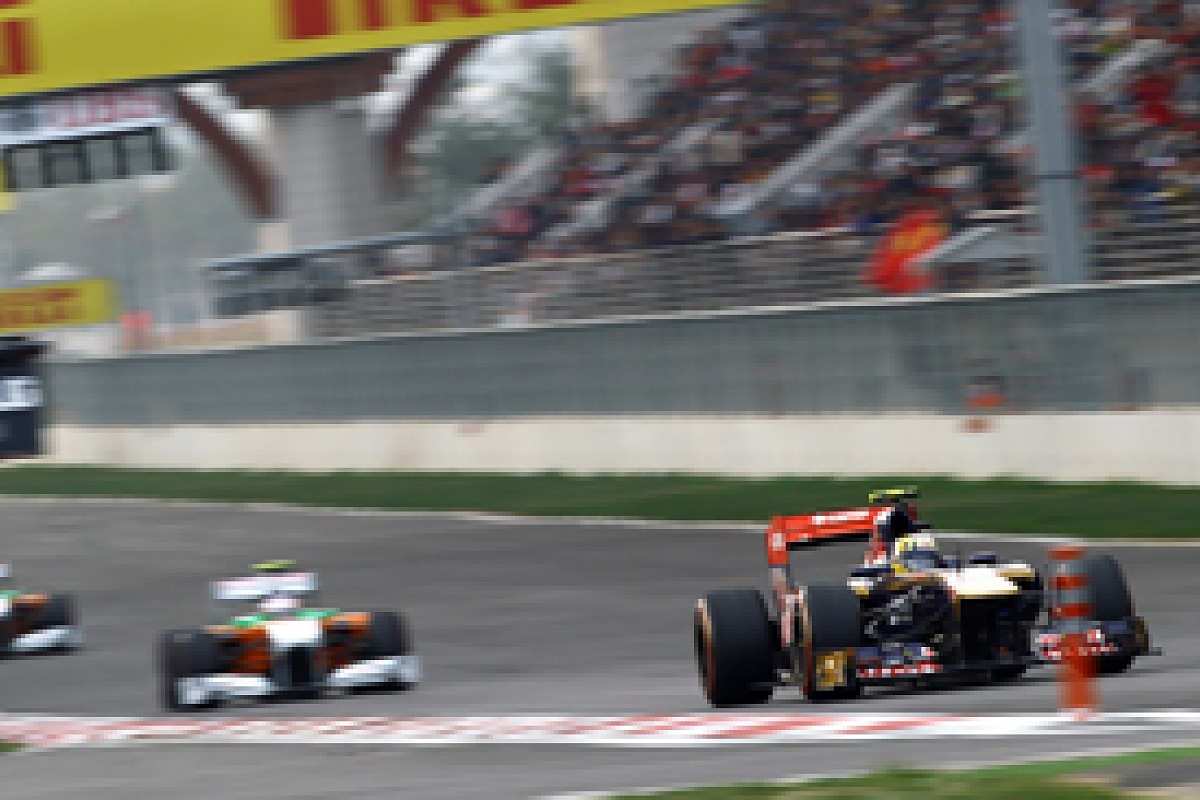 Korea was one of Toro Rosso's strongest races of 2011 © LAT
"I'm trying to run my activity within the budget constraints I've got," he says. "We don't throw money away and when we have something that we think is going to work, we put it on the car. The reason why we stopped developing in July was to have a homologated car for the start of February, which is the technical requirement."
Then, of course, there's the other challenge of being a small team. The better you do and the more clever you are, the more you attract the attention of rival outfits. Ascanelli himself has been the target of overtures from other teams since coming back into F1 with Toro Rosso five years ago, and his staff are not immune.
Ask him about the team's ongoing plans for scaling up and he reveals that he's more concerned with keeping what he does have.
"I have to say that I have the opposite problem [to recruiting] now," he says. "I'm losing people. It's interesting, isn't it? Instead of pinching people, I'm losing them.
"Recruiting people is always difficult because we are outside the centre of gravity of F1, separated by a channel, a language and a few thousand miles."
Those are some pretty tough hurdles to overcome. It's easy to dismiss the lesser F1 teams as no-hopers, but the standard of design and engineering work has risen dramatically over the past couple of decades. When you are talking established F1 teams like Toro Russo, there are no longer any bad operations.
STR is a serious F1 team run by a very serious technical director. After all, Ascanelli is a man with an illustrious career in F1 who doesn't need to be wasting his time with no-hopers.
The man who race engineered Ayrton Senna to victory in the famous 1993 European Grand Prix isn't to be underestimated, so don't be surprised if his latest car is good enough to finish a place or two higher in the constructors' championship than its predecessor.