The Williams-Renault name returns to the Formula 1 grid in 2012, 20 years after Nigel Mansell earned the first of four world championship titles for the iconic combination.
A fifth may yet lie somewhere in the future but, after a disastrous 2011 season, nobody is betting on it happening any time soon.
Williams hit rock bottom this year, and the road to recovery will be a long one. The team ended the season with just five points, courtesy of two ninth places for Rubens Barrichello in high-attrition races in Monaco and Canada, and a 10th for Pastor Maldonado at Spa.
The latter actually represented a good effort by the rookie, who was penalised after his brush with Lewis Hamilton in qualifying.
Coincidentally, it was the McLaren driver who also cost the Venezuelan a solid top-10 result in Monaco, after Hamilton turfed him off the road at Ste Devote.
But even that would have made no difference to the team's lowly ninth place in the constructors' world championship.
Testing began with much optimism in the camp, and the neatly packaged transmission of the FW33 was a sign that the team that set the pace two decades ago was still trying to push the boundaries.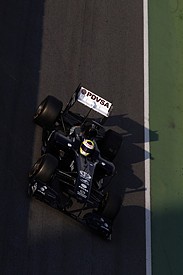 Testing suggested the ambitious new car could be a success © LAT
The gearbox actually worked well, but creating and honing it soaked up a lot of R&D resource, and other areas ultimately suffered.
The overall package simply wasn't good enough, and while others made progress as they came to terms with the exhaust technology that dominated the season, Williams did not.
After a disastrous start it was clear that major changes were needed, and in May it was revealed that technical director Sam Michael would be leaving at the end of the season.
By the time the news was made public the team had already - and somewhat controversially - hired ex-McLaren man Mike Coughlan. Initially he was named chief engineer, although he has subsequently picked up Michael's job title.
Coughlan was just the start, and later the team took on Mark Gillan as chief operating engineer, and his former Toyota colleague Jason Somerville as head of aerodynamics.
News of the reunion with Renault was further evidence that times were changing at Grove.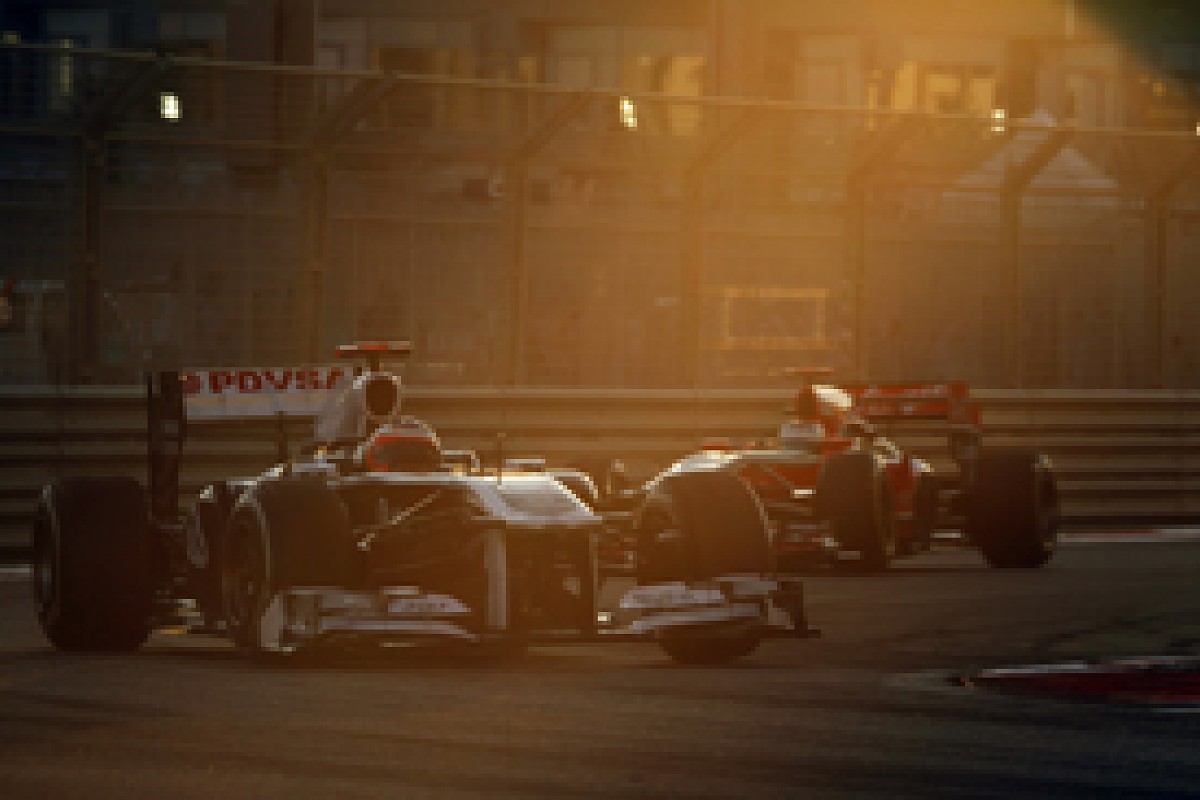 Abu Dhabi was the nadir, but Barrichello provided some encouragement in the race © LAT
All of that was about building for the future. Meanwhile Williams stumbled through a nightmare season, reaching an all-time low when, thanks to various dramas, Barrichello and Maldonado started on the back row in Abu Dhabi.
The positions didn't reflect the car's potential - Rubens would climb to 12th in the race - but the sight was nevertheless somehow symbolic of how far the team had sunk.
Team co-founder Patrick Head says: "It was just one long continuous drone actually. There wasn't really a track at which we could say the car was good, although Monaco could have been quite a good result.
"It's been unusual in that in previous years we've generally been able to advance through the year, but we weren't able to do that. If anything we actually moved backwards during the year.
"Ultimately it's like anything, you've got to get the right mix of people together, and quite clearly we didn't.
"It doesn't mean to say that every one of those individual people was bad, but ultimately we haven't put things together.
"Rightly, Adrian Newey is classified as the designer of the last two decades. But if you look at McLaren's achievements from 2000-05, with Adrian there, it wasn't great really, so they just didn't have it right.
"And you'd have to say with him going to Red Bull, they've just got that mix of people right.
"Clearly we didn't, and I think the top management of Williams, in which I include myself, are remiss... I think each year we saw this general uplift at the end of the year, and we thought, 'Give them one more chance.'
"I think ultimately when we saw where it was at the beginning of this year there was no alternative, really.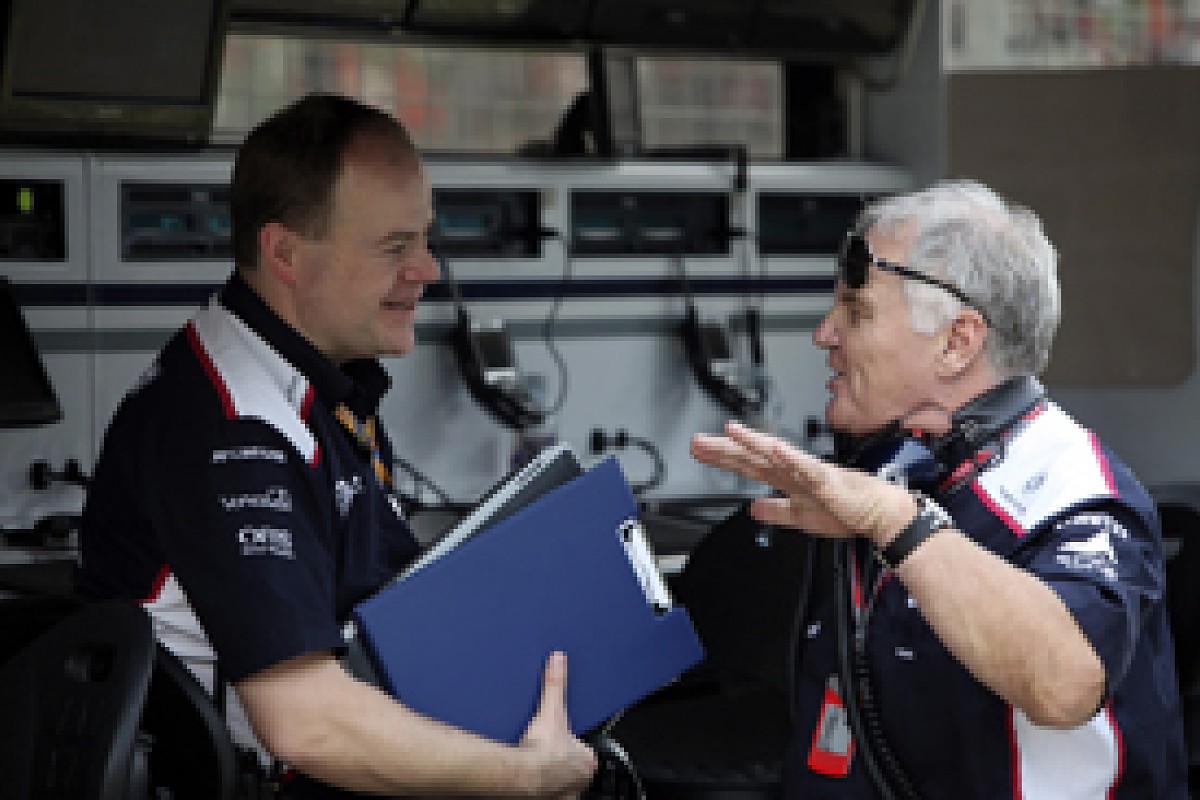 Mark Gillan with Patrick Head © LAT
"In truth a couple of our more senior mechanics came to me in Brazil and said, 'Patrick why have you been pissing around, why didn't you make changes a long time ago?'"
While the corporate soul-searching was aimed at long-term gain, the overhaul did little to improve fortunes in 2011.
Keeping Michael on board seemed like a logical idea at the time, but inevitably with the technical programme overseen for most of the season by someone who was heading for the exit, communication was a little tricky.
"It's been a difficult year for everybody," Head admits. "The structure that we had this year, with the new technical staff not in place, and Sam working out a known notice, has been extremely difficult.
"I think Rubens felt he didn't really have anybody to talk to about the car. It was just generally a difficult situation.
"I think everybody has been very professional, including Sam. But that spark of, 'Let's get it sorted,' just wasn't there, and it was difficult for Rubens, difficult for Sam, and difficult for Williams.
"I think everyone here will be happy to put this year behind us and get on with a better future..."
Head has been edging into the background over the past few years, but he's made it clear that as of this winter, he really is out of the F1 loop.
He remains a major shareholder, but from now on, he is going to focus on Williams Hybrid Technology.
While Sir Frank Williams is still at the helm, the man charged with the day-to-day task of turning the team around is chairman Adam Parr, who led the search for what was wrong.
Adam Parr and Sir Frank Williams keep an eye on the data © LAT
Reflecting on the campaign, Parr explains: "It's been a long year, and it's been a tough year. On a more constructive level what I feel is that it's an opportunity to really change the way we do things.
"In reality we've been in the middle ranks for some years now. You don't have to do anything if you're plodding along in the middle in this sort of cotton wool world, and I think what's happened to us is that we have really seen not only that the current level of performance is unacceptable, but also the need to make radical changes.
"It was actually put very nicely by Mark Gillan. Patrick said to him, 'I wish this season was over,' and Mark said, 'Everything that we're experiencing out there is vital.'
"If Mark and the other new members of the team had joined at the end of the season, they wouldn't have seen many of the underlying problems.
"They would have seen the performance, but I think we've all had the opportunity to really get deep into the roots of it."
So what was wrong? Quite a lot, Parr concedes.
"As is so often the case in any business, you have to get the basic things right, and we didn't. So it's simple, basic things.
"Truthfully, it's across the board. It's the aerodynamic aspects of the car, and the way that we've been developing it.
"It's some mechanical aspects of the car. It's the integration of the engine and systems like KERS and exhaust blowing, etc.
"And, quite honestly, there have been some operational weaknesses as well. If you look at our pitstop times, we're just not competitive.
"The good news is that sometimes in life you're not performing, but you don't know why. We understand precisely where we're weak, where the opportunities are, and what we have to do to get there.
"The next question is, do we have the people and resources in place to make those changes? And the answer is, absolutely.
"To be honest we needed some fresh eyes, turning over the rocks, looking at all the nasty stuff under the rocks, and bringing it to the surface, and just getting it out there.
"I've been here for five years and you adapt to the environment you're in and the way you do things, and you accept it. And what we have learned this year is that we can't accept certain things."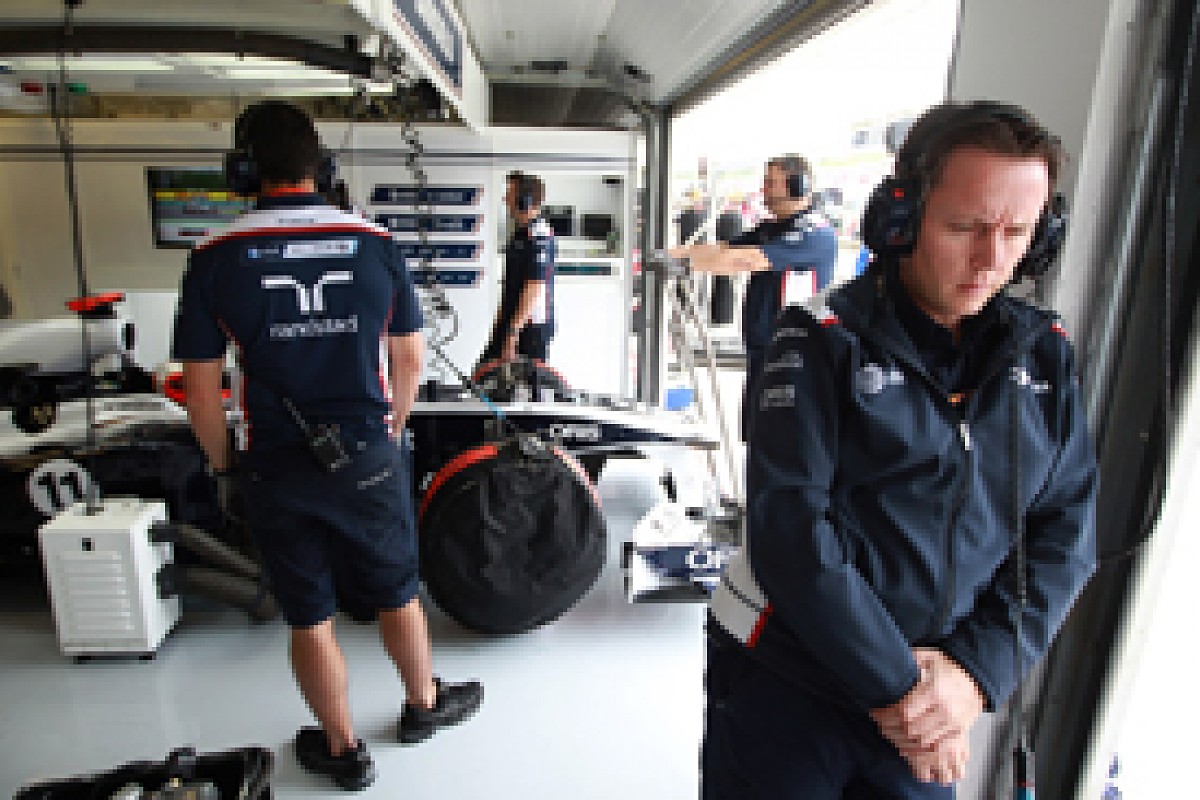 Sam Michael stayed on to oversee the transition after announcing he was stepping down © LAT
The announcement of Michael's departure was a clear sign that changes were coming. Usually such situations tend to be abrupt and very messy, but in this case the team made it clear that Sam was staying until the end of the season.
"Considering the challenges we've had," Parr continues, "I would say that the way we handled it together with Sam was very elegant, very good natured, very straightforward.
"We sat down earlier this year after two or three races and said, 'How do we think things are going?'
"Sam took the view that things were not acceptable. He said, 'I accept responsibility,' and therefore handed in his notice to take effect at the end of the year. That gave us time to go out and look.
"Ironically, in the case of one of the candidates, it was actually Sam and I who did the interview together.
"There was no nastiness, no ill-feeling, just a common sense decision that to make the level of changes we needed, you have to have a change at the top."
It was clear that it wasn't just a question of finding someone to fill Michael's shoes, but rebooting the whole system.
"I think we recognised that Sam had been overloaded, and we needed a broader structure. A lot of the thinking about how to structure an organisation revolves around the people.
"We kept our options open a little bit about the precise structure, but when we saw Mike and Jason and Mark settling in, it became clear what the right thing to do was. Everyone agreed, and we were able to move on.
"It's changed things a bit because you've got Mark, who's an aerodynamicist and a vehicle dynamicist, and was previously head of aero at Toyota, on the pitwall.
"He and Jason have worked together and have a high degree of mutual respect and trust, so you've got a very nice loop between the track and the factory.
"Mike is factory based, whereas Sam as technical director had to go to the track, and deal with FOTA and the Technical Working Group, and so on. We've shared the responsibilities more sensibly."
The experienced Gillan - one of the few technical people at Jaguar Racing for whom Eddie Irvine had time - has settled in well.
"He's really impressed people," says Parr. "Let's face it, he's walked into a sort of hail storm! And he's calm, he's methodical.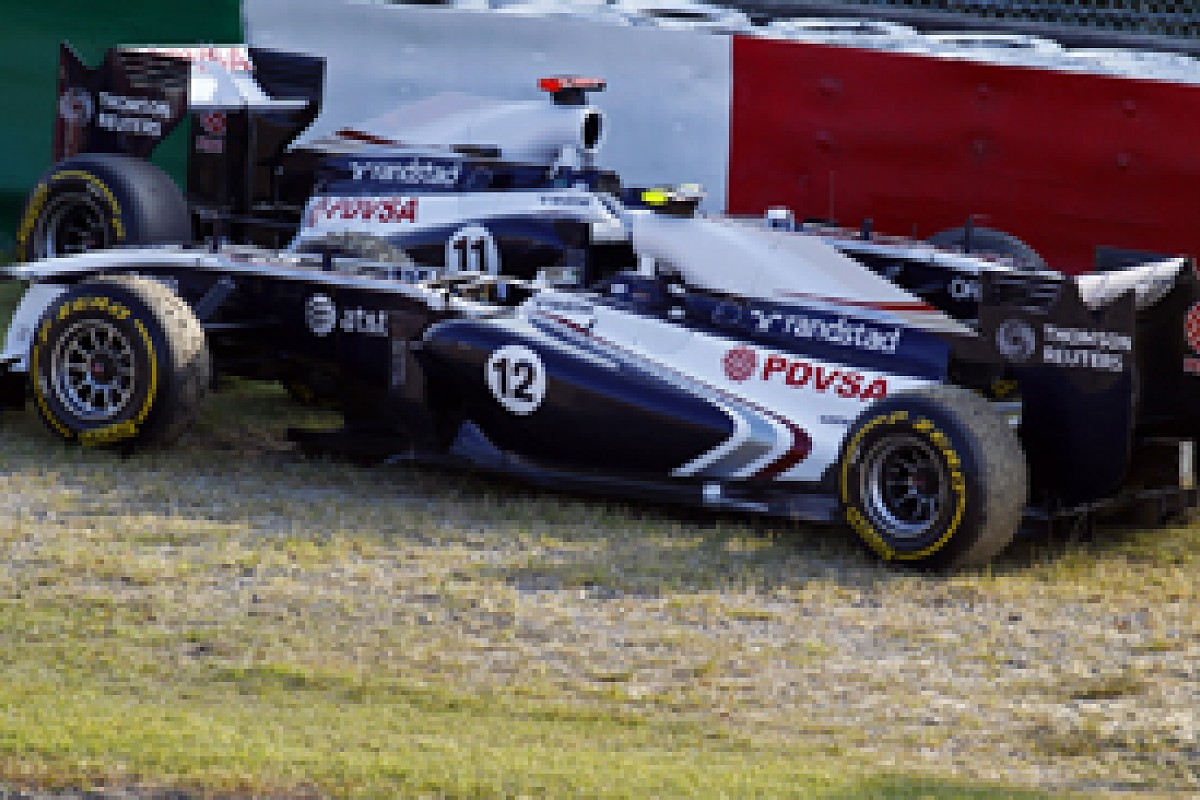 The new arrivals found a team with a lot of issues to resolve, as Suzuka practice demonstrated © LAT
"He's expressed precisely the right balance of determination and unwillingness to accept things that are not good enough, while being very constructive and very positive.
"And I have to say that is very true of Mike and Jason as well.
"We have new technical leadership, and those people fulfil the key characteristics we were looking for, which were very deep experience, a very good way of working with people, and an intellectual curiosity to understand things.
"And those people and the engine programme are joining what is still a very strong core programme - our core facilities, core assets. We have what we need.
"I feel that, as painful as it is, we can see the future."
The switch to Renault power is a key part of the rebuilding process. Since the last season with BMW in 2005, the team has gone from Cosworth to Toyota and back to Cosworth.
The partnership with the Japanese manufacturer proved hugely disappointing, and while the team has always said positive things about Cosworth, working with a specialist engine supplier - one that has to make a profit - has obvious limitations.
The reunion with Renault leaves the team with no excuses, since Williams now has the power unit that won the last two world championships.
More importantly, it comes with a level of technical support that Cosworth could not provide - something Head thinks is important.
"I'm sure that it's a big step," he says.
"I'm not suggesting it was the total reason for our deficiency this year, but with the Cosworth engine we were never doing what's called hot-blowing - getting high exhaust gas energy in particular in qualifying, and for a limited number of laps in the race.
"That certainly has been quite a deficiency, and I'm sure accounts for some of the lack of speed relative to those around us.
"In terms of pure top-end power the Cosworth engine is pretty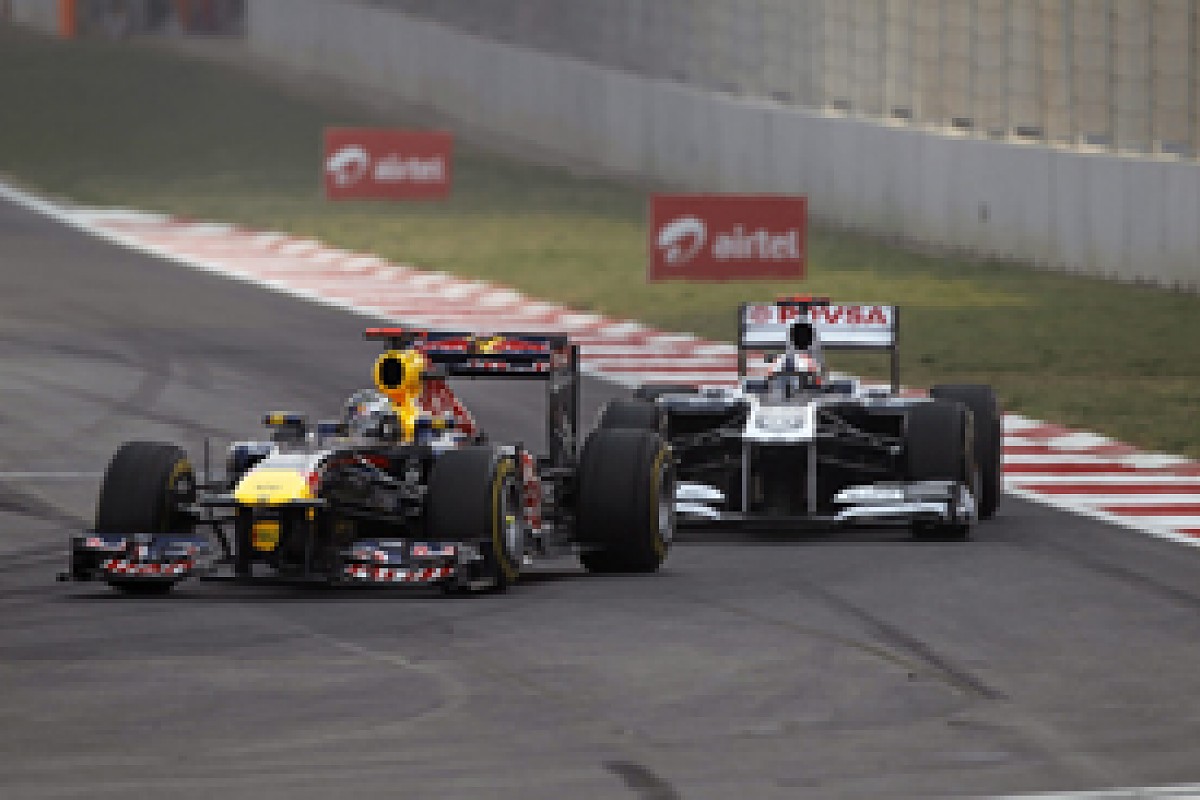 Williams and Red Bull will have the same engines from 2012 © LAT
good, no argument with it. But with Renault the whole package is just more sophisticated, which reflects the resource behind it."
Head has seen a lot of changes since he founded the team with Sir Frank back in 1977, and while he is positive about the squad's new direction, he remains a little cautious for the time being.
"I'm sure it's all going in the right direction. I think for rather a long time Williams has been talking up the following season. I think everybody's got rather bored with saying, 'Are Williams going to be any good this year?' 'Oh no, they're not.'
"So I don't want to talk about it too much! But there's quite a positive step about everybody in the factory now.
"Mark and Jason have worked together well, and there seems to be a good relationship between Mike Coughlan and the other two. Mike's been involved in some quite successful programmes, but not necessarily as the lead man.
"They're each in a position now where they've got to make their reputation, and I think they know that. I am sure they are up for it."
The shared engine and associated technology means that Williams by default now has a relationship with Red Bull, one that will become more significant as we head into the turbo era and Adrian Newey tells Renault what he wants from the new package.
Looking at the gulf in performance between the two teams, it's hard to imagine that Williams really can return to winning form - especially when you consider the difference in budgets. Money talks.
"It's an interesting point," says Parr. "But how long ago was it that we beat Red Bull? Three or four years? The answer is that anything is possible in sport.
"I think sport is about more than money. I went to Loftus Road as a guest of Tony Fernandes, and watched QPR go 1-0 up against Man City, who then came back and won 3-2.
"It was a very exciting game, and QPR showed a lot of spirit. They didn't win, but they put up a very good fight.
"That's not the only example of a sports team being able to do more than it should be able to do on paper."