Over the past few weeks there was much speculation about what Scuderia Toro Rosso might do for 2012, given that Daniel Ricciardo and Jean-Eric Vergne were both knocking on the door.
Would STR keep both existing drivers? If the team ditched one of the incumbents, would the unlucky man be Jaime Alguersuari or Sebastian Buemi? And if that were the case, would Ricciardo or Vergne get the nod?
In the end STR has taken a different path and given both of the new guys a chance. It's a clear sign that they are regarded in the camp as potential replacements for Mark Webber at Red Bull Racing, while Alguersuari and Buemi are not.
One could debate all day about the merits of the decision, and whether Dietrich Mateschitz, Dr Helmut Marko and Franz Tost have made the right calls. It's certainly easy to have some sympathy for the outgoing drivers, both of whom did a solid job in 2011.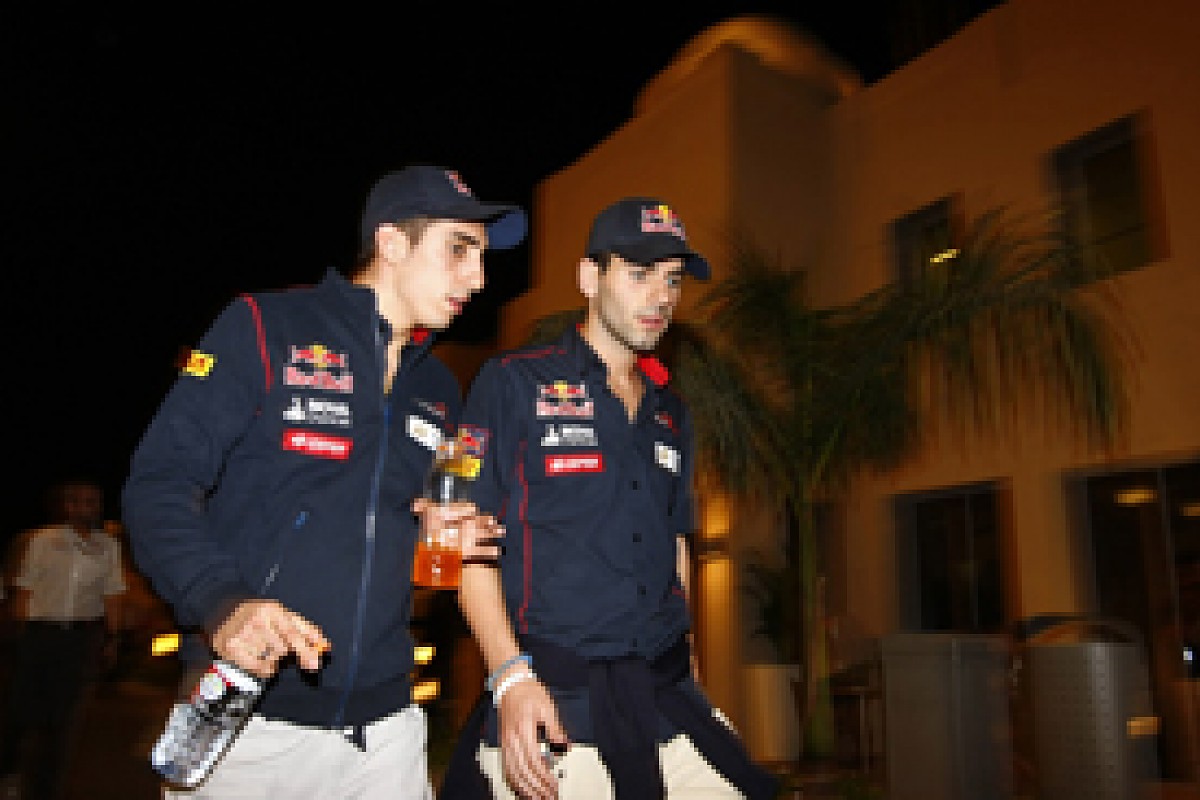 Sebastien Buemi and Jaime Alguersuari suddenly found themselves looking for new employment © LAT
But at the end of the day, they've both been given extraordinary opportunities by the drinks company, and now it's up to them to find a way to continue their careers.
For Ricciardo and Vergne, the fun is just beginning. The world assumes that they are now in a straight fight to get an RBR seat for 2012. It's going to be a fascinating contest...
As the likes of Tonio Liuzzi, Scott Speed and Christian Klien have found out, being a Red Bull protege has its ups and downs. The support is amazing, and very often has made a career that would otherwise not even have got off the ground.
But you have to perform on the way up, and continue to perform when you get there. If you don't meet the highest standards, then there will always be someone coming along who has caught the eye of the management, and can take your place.
At the end of this season Ricciardo was as much in the dark as anybody else about what might transpire in the coming weeks.
"They don't say much!" he said, smiling. "We're all competing for not many seats, not just in our Red Bull programme, but in F1 in general.
"There's I don't know how many million kids out there wanting to race, and there are 24 of us. I try not to get tied up too much thinking what will happen - I'm more focused on myself and trying to do the job out there - and hopefully that's going to be enough.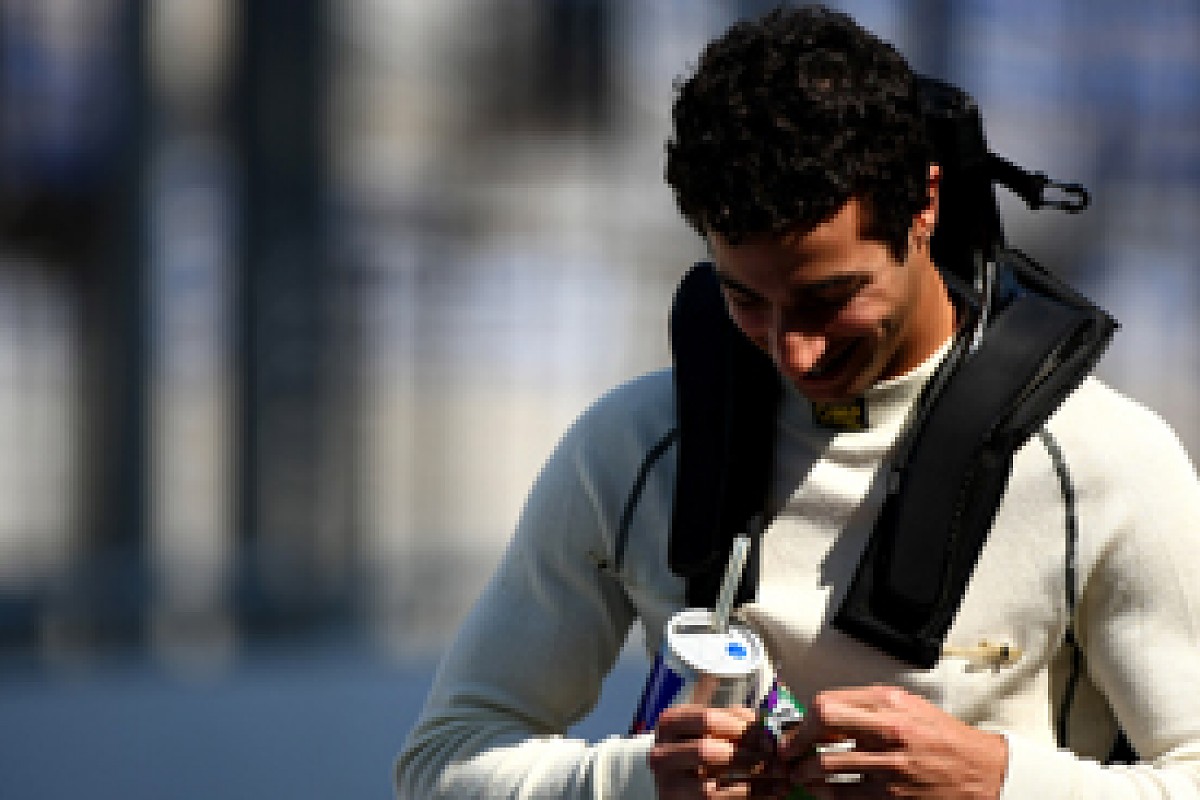 Life has changed a lot for Ricciardo as 2011 progressed © LAT
"You can definitely screw your head up trying to analyse too much, so I try to stay clear of that."
The past few weeks have been a stressful time for all four STR candidates, none of whom could be entirely sure that he was the one in favour.
Ricciardo gave an interesting insight into the pressures: "I think everyone knows it's your team-mate and the people around you... You're spending the most time with them but they're your biggest rivals at the end of the day, within any team.
"Although we do a few media things together I think on the track the rivalry is no smaller than any other."
Ricciardo and Vergne are the favoured sons at the moment. From the perspective of today it all looks so easy - attract a bit of support from Red Bull and away you go.
But it's not been an easy route to the top for Ricciardo, especially as he had to start from Australia. The British GP was the first time since 1977 that there had been two Aussies on an F1 grid.
"It is difficult for us, it's the other side of the world, so financially it's a big step. It's not easy to move over to Europe and make it happen. Hopefully it won't be another 34 years!"
Ricciardo inherited his interest in the sport from his father: "He never forced me into it, but he did some racing, just local level, sports sedans and things like this.
"I guess he probably would have loved to have made more of it, but he never really had the support back in those days; it was probably not as easy as it is now.
"I was two years old, going to the races, watching him, and the love started. I remember watching F1 on TV, but any type of racing, NASCAR, MotoGP, I loved it all.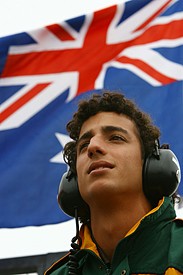 A young Ricciardo prepares to test for the Australian A1GP team in 2007 © LAT
"Near his work there was an indoor karting place. I think one day I said can we go and have a look. I had a go, and like all the other guys, I loved it the first time.
"I begged him for about a year after that to get my own go-kart, and then I finally got it. Then I begged him for another year after that to actually race, because I was just driving round after school having fun. It was pretty good growing up and having that passion for it.
"I moved to Europe when I was 17, to do Formula Renault in Italy. Of course it wasn't easy, but I think I was just so excited and determined to race and try to be good at it.
"It didn't matter that I was living in a pretty crappy town, not really speaking the language. I think the average age of the people living there was about 95! When I was racing that was more fun than anything, and that made up for the boring times.
"We found a budget for the first year - we were picking up bits and pieces of sponsorship from back home which were adding up - and we thought maybe we can do another year of Formula Renault.
"But it wouldn't have been with a top team, it would have been another year with a mediocre team, and it probably was a road to nowhere. So it was very, very fortunate that we picked up Red Bull..."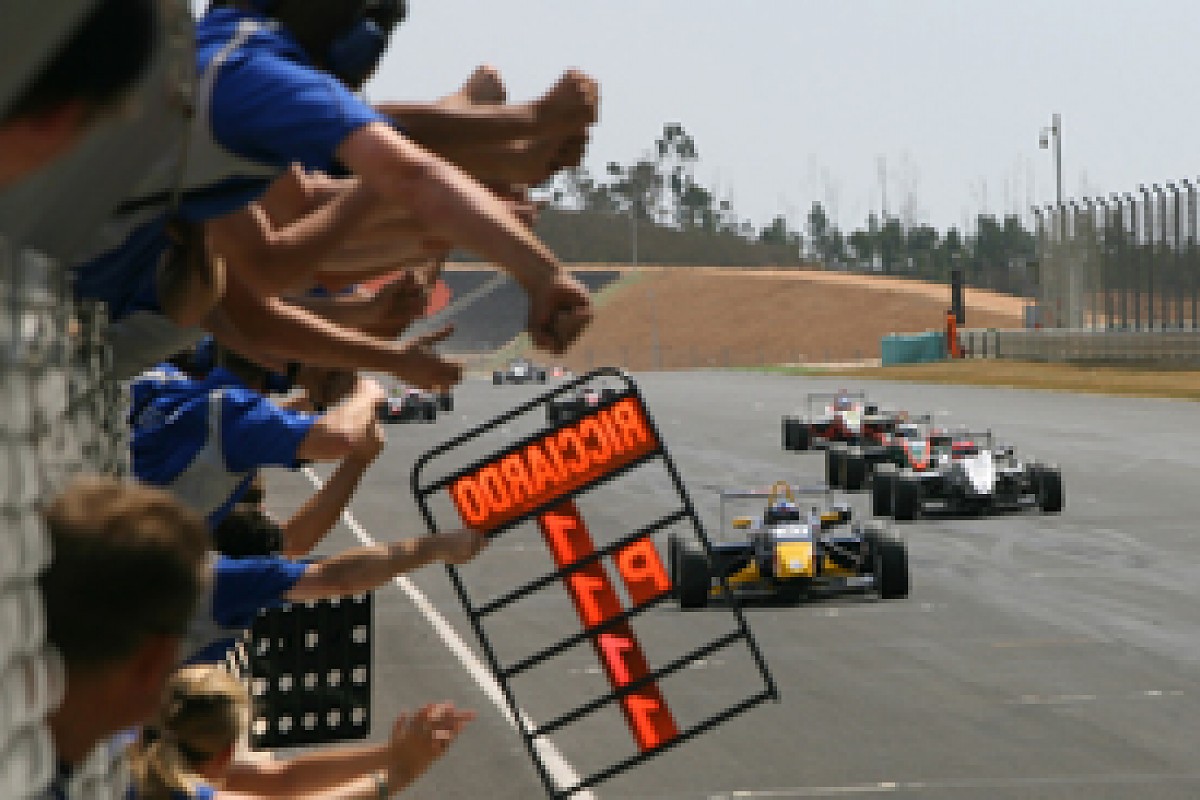 Ricciardo clinches the 2009 British F3 title at Portimao © LAT
From there Ricciardo moved up the ranks quickly. He was British Formula 3 champion in 2009, and then followed the likes of Vettel and Alguersuari into Formula Renault 3.5, which also put him on the fringes of F1.
It was this year that things really began to get serious. He dovetailed a second year in FR3.5 with FP1 outings for Toro Rosso, which in turn led to a race seat with HRT from Silverstone onwards. It was a tricky balancing act.
"It's definitely been a busy year, doing three different roles at some different points throughout the year! I think now looking back on it all, it's been pretty good.
"The World Series was OK, but I would definitely have loved to have won more races. The Friday mornings were going quite well with Toro Rosso, and that probably helped to open up the opportunity with HRT."
The FP1 sessions provided Ricciardo with the perfect opportunity to get some mileage and stake a claim for a race seat, while also putting pressure on the STR race drivers.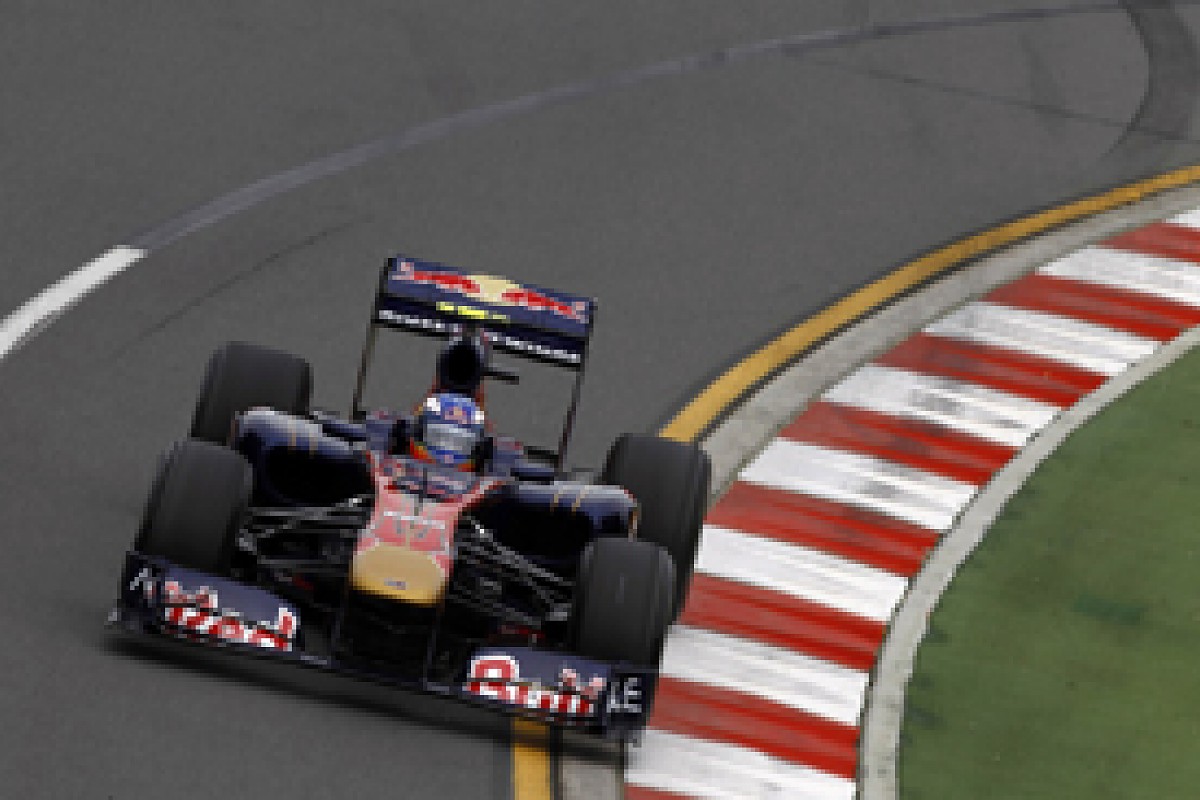 Ricciardo on Friday practice duty for Toro Rosso in Melbourne © LAT
"Obviously the track isn't in ideal condition on Friday morning, but it was good just to be out there with the other cars, and learning a little bit about the tyres and how it all works on a race weekend and how the track evolves.
"There was still quite a bit to learn in 90 minutes. I think last year just being the reserve for Red Bull, you went to all the meetings and the briefings, but when you drive, it's definitely something more. It was a really good thing to be a part of."
He insists that jumping from F1 car to FR3.5 car and back was not a problem: "Not really, to be honest. I got into it pretty quickly, whichever car I was jumping in. At Monaco I was driving World Series and then 30 minutes later driving F1. I think I managed quite well, so it wasn't a problem."
At one stage it looked as though he might replace Alguersuari, at least until the Spaniard was given a reprieve after a strong race in Valencia. Instead, Red Bull rented a seat at HRT, alongside Liuzzi.
"I guess Dr Marko was probably doing all the negotiating and the deals. I was unaware of anything really happening with HRT until probably Wednesday week before the British GP, when I found out I'd be racing with them.
"I guess there was speculation about me racing for Toro Rosso, people were talking about it, but from their side they never told me I would take over one of the seats.
"So I think that was all just rumours, and people putting a few puzzles together. From my side, it was all a bit of a surprise.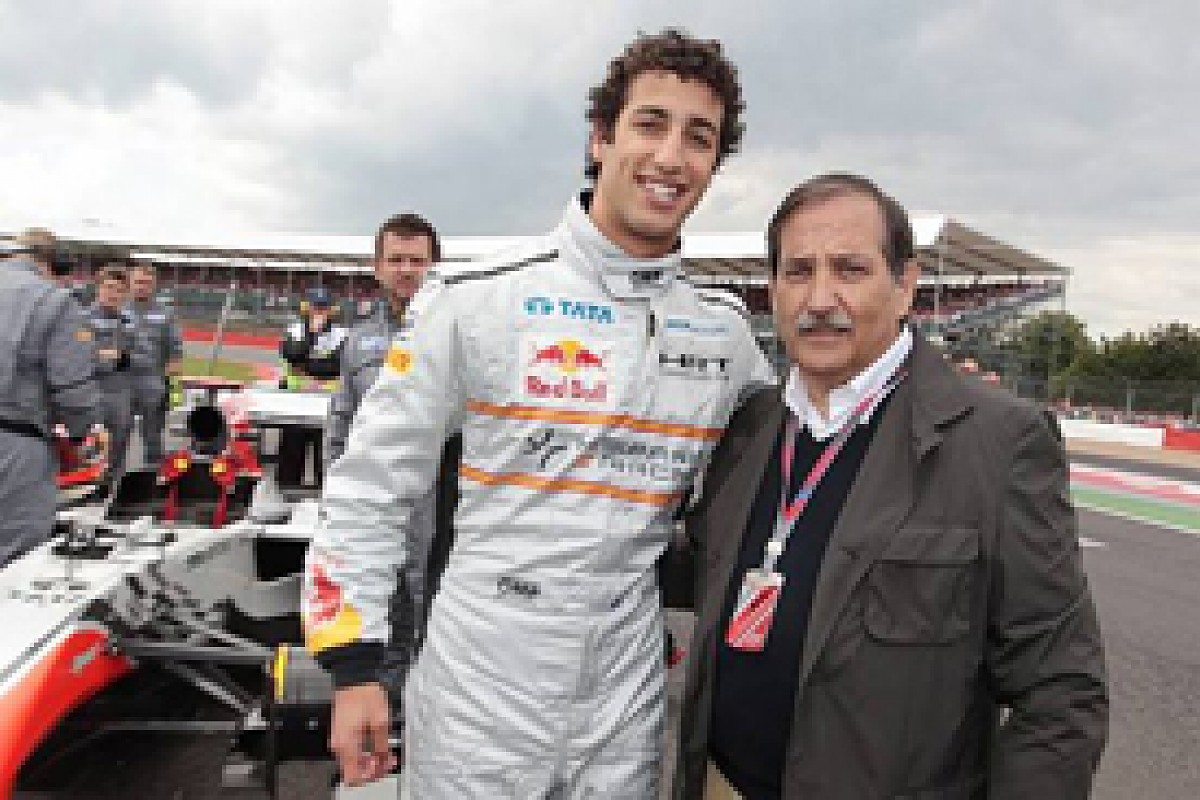 With HRT owner Jose Ramon Carabante on the Silverstone grid © sutton-images.com
"At first when I was first told I'd be driving for HRT I didn't know the team, I didn't know anything about them. But I didn't really have a choice, either.
"It's an opportunity in F1, so if you say no, and another opportunity never comes, then that's it. You've got to take it, and do your best with what you've got. And I saw it as an opportunity."
Given the lack of testing, and the car's lack of potential, did Marko tell him just to bring the car home and get experience?
"Not really. He's always expecting something of a pretty high standard, especially after Mr Vettel has raised the bar for all of us junior drivers!
"I think at first he said I've really got to try to get on top of my team-mate, and try to push Tonio, and then see how we go.
"They definitely know Tonio, he spent a few years with them in his junior days. Maybe if my results were good then they'd have a good idea of what I'm doing."
With very little time to get to know the team, the first race was always going to be a struggle.
"Silverstone was hectic, that's probably a summary of the weekend! From Wednesday I was making a seat, meeting my engineer, and obviously there was a bit of media attention as well as it was my first grand prix.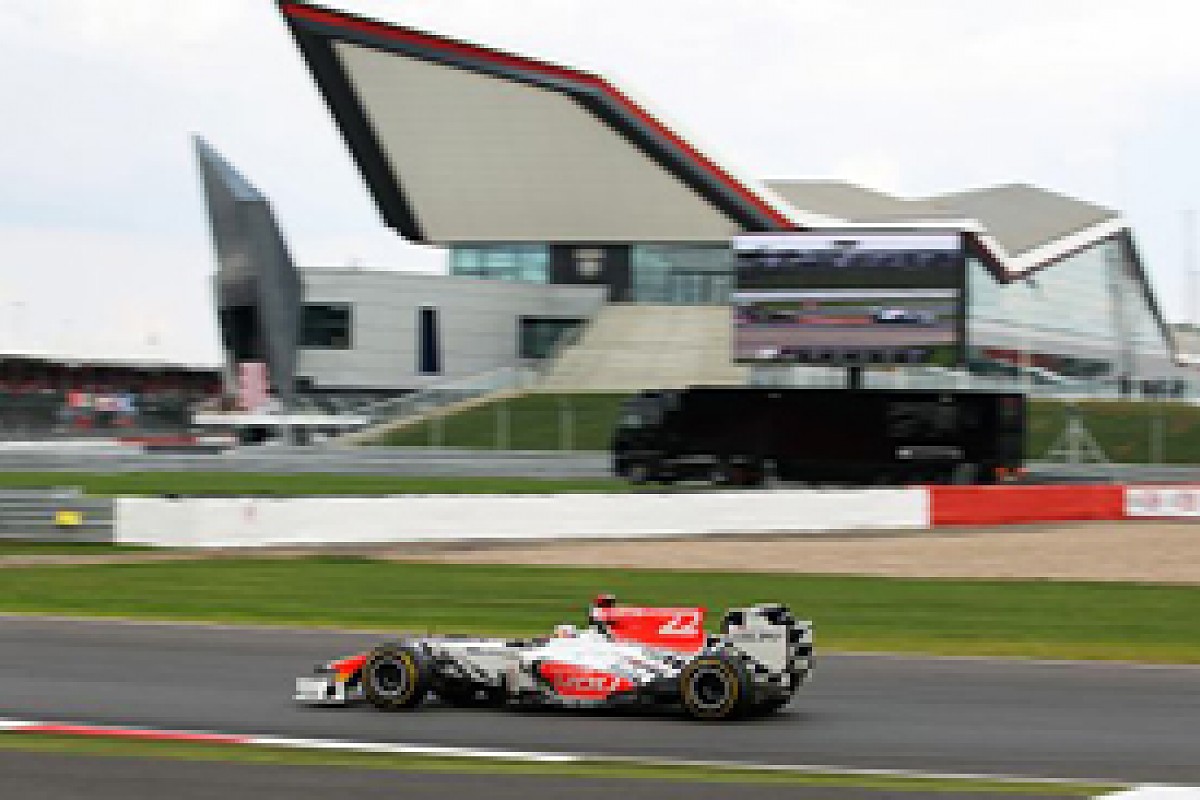 It all began with a 19th place in Britain © sutton-images.com
"Looking back, it was definitely not so relaxed, and the result as well was not so spectacular, I'm well aware of that.
"But I finished the race - there's probably not really much more that could have come out of it, never having done long runs on the tyre, and not really sitting in the car for very long. There wasn't really much to be expected from my side.
"It was a bit difficult in the first few laps, and it wasn't the easiest one to start with, and coming in mid-season probably isn't easy, full stop. I think from then on we definitely progressed pretty quickly.
"The race in Budapest went quite well for us, at least the consistency and the way I was able to make the tyre last, and that was also quite tricky conditions.
"I'd say Monza qualifying was a pretty good result. We missed second and third free practice, or parts of it, so I was going in quite fresh.
"Probably one of the strongest races overall was Korea, not doing any dry laps before the race. We had some problems there as well, but having a good race pace and mixing it up with the Virgins was pretty good."
Ricciardo knew the limitations of the team, but he enjoyed his time there: "The team is definitely not the size of Red Bull or something I was used to last year, but the way everyone works is very similar.
"There's probably fewer people trying to do a bigger job, but with my engineer I had a good relationship, and in the last few races we seemed to get on top of things. I'm happy with that."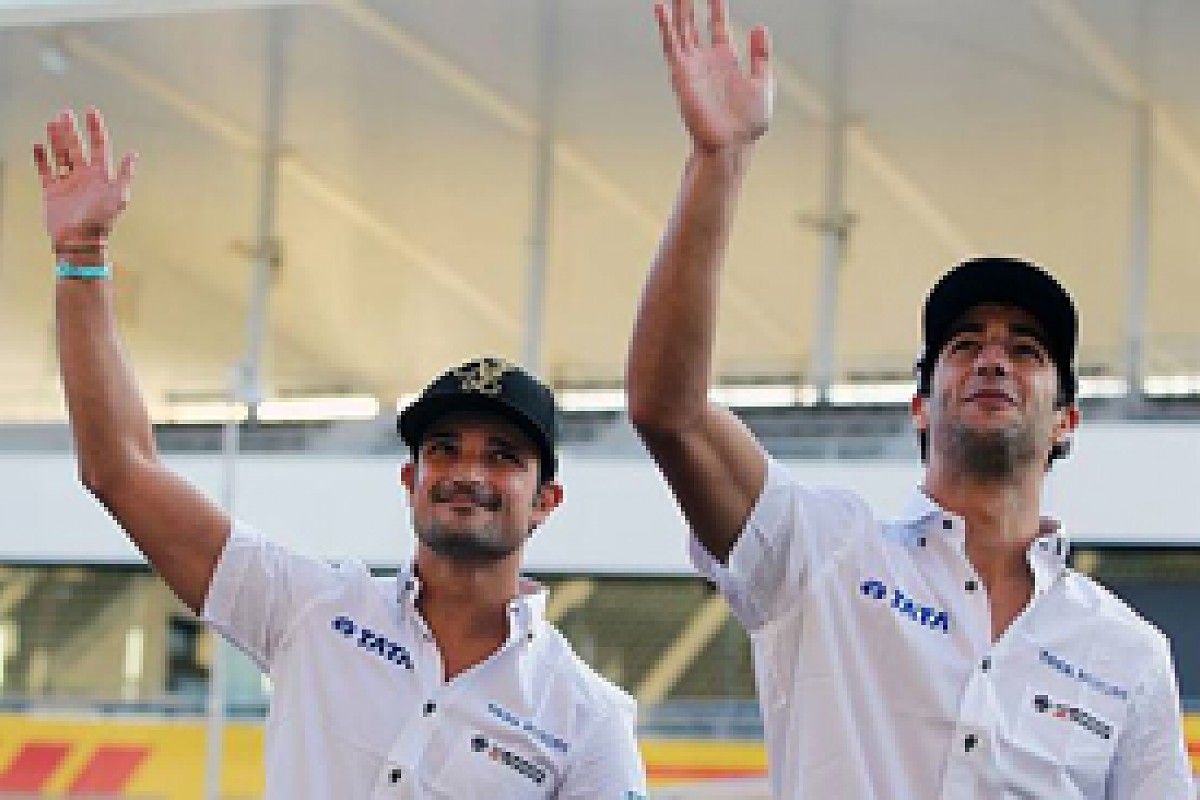 Ricciardo's pace compared well to team-mate Liuzzi © sutton-images.com
The stats show that Ricciardo's best result was 18th, and that he outqualified Liuzzi five times in 10 attempts, and Narain Karthikeyan once.
The results might not have been spectacular, but just by getting that race mileage Ricciardo made himself far more qualified for a 2012 STR seat than he might otherwise have been, as he acknowledged.
"It's definitely helped, getting 11 races under my belt before next year. I think it will kickstart the season much better.
"Friday was a good step from last year, that was a really good learning curve, but doing the whole race weekend has been another huge step forward. Hopefully it will make something good happen for next year..."
It certainly didn't do any harm. But now they have the race seats, the pressure is on both Ricciado and Vergne. As Ricciardo said, Vettel has raised the bar.
"It sets higher expectations, so there's probably a bit more pressure. I guess if Dr Marko is not happy with our performance, he can now relate it to what Sebastian has done, and say, 'He did it, why can't you?'
"It's made it a bit more challenging, but I guess we all want to be the best in the world and if that's what it takes, that's the reality."
At one stage this year there were strong suggestions that Ricciardo would become Vettel's team-mate as early as 2012, although the speculation ended when it was announced that Webber had re-signed for another year.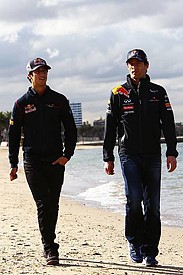 Ricciardo says fellow Australian and Red Bull stablemate Webber has given him good support © sutton-images.com
Given the lack of Aussies at the top level over past decades, it's remarkable that there are now two in the Red Bull camp. Ricciardo didn't know his countryman as he was coming through the ranks, but now they have a good relationship.
"We were doing our own thing and then Red Bull came on board. That's how I met him, once we were both in the programme.
"I'd only met him once or twice, then before my first F1 test he actually gave me a call and gave me some advice, and told me to enjoy it.
"Little things like that were pretty big at the time. Obviously he's got his own career to focus on, but if there was ever a time I needed to ask for a bit of advice or something, he never turned it down. I think he's done what he could."
It might not have happened for 2012, but having his name linked with an RBR opportunity didn't do Ricciardo any harm.
"It was nice to be associated with that, but as I say I don't get too caught up in what was said. People liked it as it was a juicy story - an Australian stepping in for an Australian - it sort of all makes a nice little thing.
"As much as I would have loved that seat, let's say I wasn't confident that it was going to happen next year. The reality is that if it does happen, it's still another year away."
Now it's in his hands. If he outperforms Vergne - and he has a head-start given his HRT race experience - then he's on pole if Webber finally moves on.
Isn't it exciting knowing that he's within reach of the best car in the business?
"Definitely, and the fact that I've driven it twice. I did a filming day in it, and the RB5 and RB6 I had the pleasure of driving. I know what it's capable of, I know the team and the personnel.
"Ideally that's where we want to be one day. It's all there for us, basically - if we get the results, and do something spectacular, then there's no reason why we shouldn't be there one day."