At a time when MotoGP had risked becoming stagnant amid the domination of a small group of riders and manufacturer teams, the emergence of Marco Simoncelli as a spectacular outsider capable of upsetting the established order at the front of the field was one of the most exciting stories of the 2011 season.
With his outlandish hair and gangly build, Simoncelli stood out from the moment he arrived in MotoGP - but soon became as well known for his speed as for his appearance. The combination of his character and underdog outsider status as a satellite team rider with Gresini and his assertive racing style made him a fan favourite, even though some of his on-track moves attracted censure from his rivals.
A double Italian Minimoto champion and European 125cc title-winner in his youth, Simoncelli had been on the motorcycling world championship scene since a handful of 125cc appearances in 2002.
Three full seasons at world 125cc level brought two wins - the first at a wet Jerez in 2004 - and eventually fifth in the 2005 standings, after which he stepped up to 250cc.
Simoncelli would spend four years in the 250cc championship with Gilera. A top-10 regular from the outset, it was in 2008 that his career suddenly took off, starting with a pole at Estoril, although he could not stop Alvaro Bautista running away with the race on that day.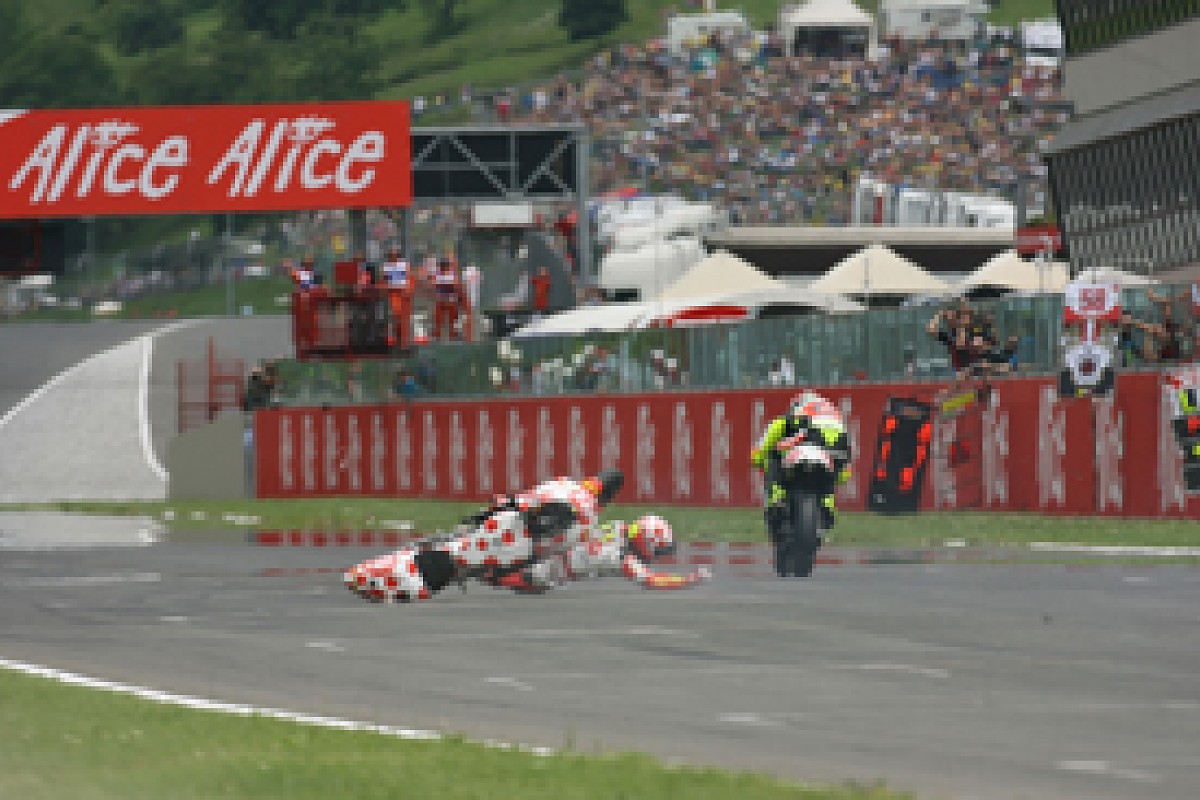 Simoncelli heads for his first 250cc win as Barbera crashes at Mugello in 2008 © LAT
The breakthrough moment was a maiden victory on home ground at Mugello, albeit one tainted by controversy as he made contact with Hector Barbera on the run to the line, sending the Spaniard into a massive accident. Simoncelli was reprimanded by the riders' safety commission for his part in the crash, but the win stood - and he repeated the result at Catalunya just a week later.
Now on a roll, Simoncelli proved unstoppable. He qualified on the front row for the final 10 races of the year, including six poles, and won again in Germany, Japan and Australia to take charge of the championship. The title was clinched with third place at Sepang, and he then celebrated by winning again in the Valencia finale.
Simoncelli stayed in 250cc for 2009 to defend his title, again with Gilera. But he was on the back foot from the outset, having injured his wrist in a motocross accident pre-season. He was even forced to withdraw from the season opener in Qatar.
It would be round four in France before he started winning again as he dominated in the wet. But he got in to trouble with rivals once more in Italy after a forceful last-lap dice with Bautista allowed Mattia Pasini to slip through and beat them both. His growing rivalry with Spaniards Bautista and Barbera meant loud cheers from the Barcelona crowd when Simoncelli crashed out of the next race.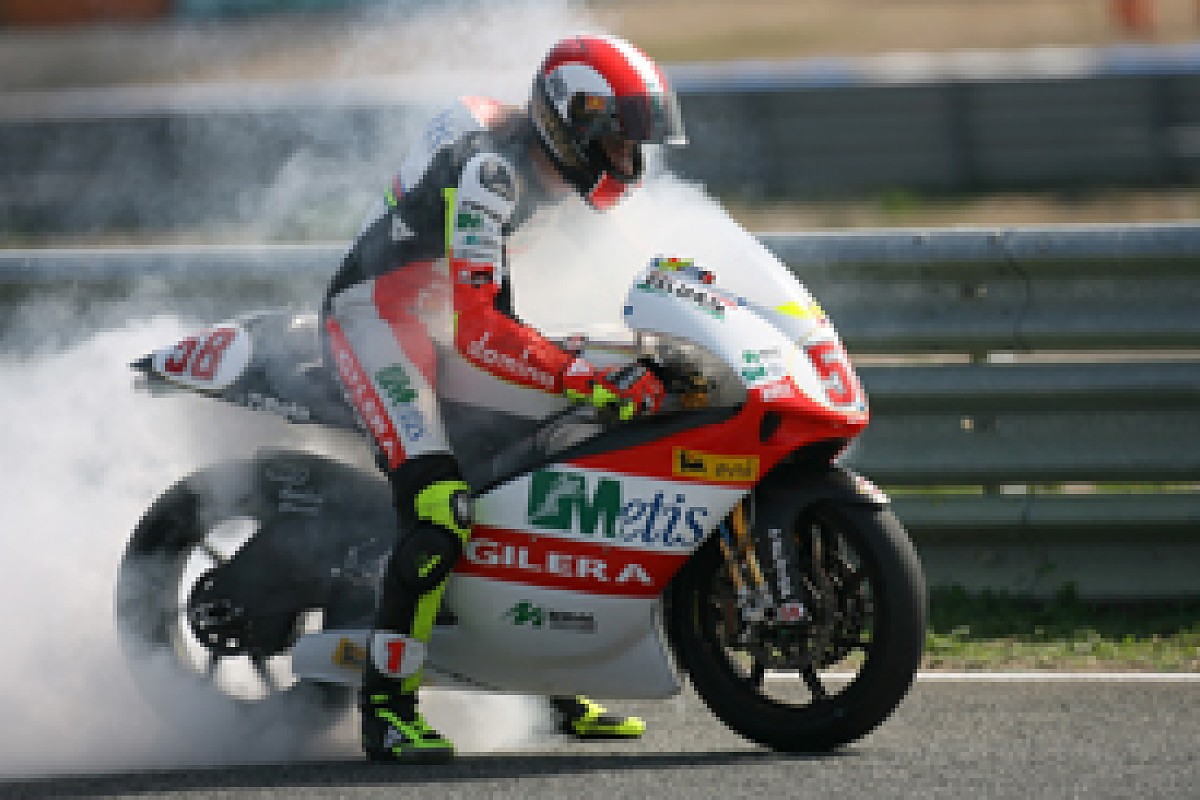 Simoncelli mounted a late charge that nearly took him to a second title in 2009 © LAT
A distant fifth in the championship at that stage, Simoncelli recovered his composure with a quiet podium at Assen, and then started emulating his 2008 form - sweeping to five wins in seven races to bring himself within 12 points of series leader Hiroshi Aoyama going into the last two rounds.
Being pushed back to third behind Aoyama and Barbera in a spectacular Sepang race meant Simoncelli's hopes of a second title were distant when he arrived at the Valencia decider. Aoyama gave him a lifeline by running off-course early on, but when Simoncelli crashed under pressure from Barbera while leading, the title was Aoyama's and Simoncelli had to be content with third in the final standings.
It mattered little for his future, for he had already secured a MotoGP move with the Gresini Honda team for 2010. Before then, he popped to World Superbikes to ride for Aprilia in a one-off at Imola, beating team-mate Max Biaggi to third place in race two. A sign, if any were needed, of Simoncelli's growing talent and versatility.
His MotoGP career got off to a faltering start. Two massive testing crashes left him ill at ease in his early races, and it took time for his pace to show - although he was soon finishing consistently in the top 10.
The closing rounds of the 2010 campaign provided the first glimpses of the star that Simoncelli would become in 2011 - and proved that he could translate the talent he had shown in 250cc to the top class, despite the weight disadvantage that his towering height posed.
He first battled for the podium in Australia, though he would be shuffled to sixth on that occasion, and then came within 0.059 seconds of beating Andrea Dovizioso's works Honda to third at Estoril, before joining the lead battle in the Valencia finale.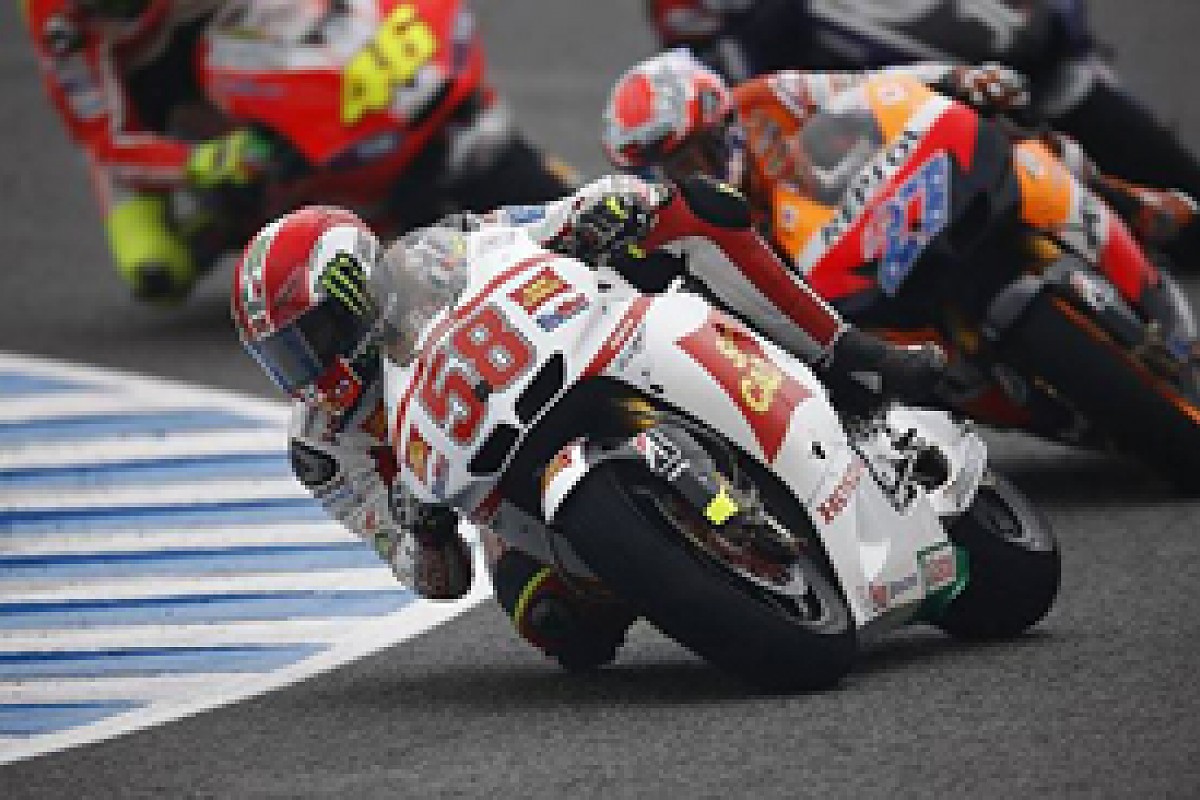 Simoncelli looked a likely winner at Jerez this year © sutton-images.com
Though he stayed with Gresini for 2011, Honda gave Simoncelli the latest specification factory bike. That final piece in the jigsaw transformed him into a frontrunner, and he looked set for victory as he pulled away from the field in a damp second round at Jerez before crashing while comfortably ahead.
As Simoncelli moved closer to the front, his aggression in overtaking began to ruffle more feathers among the established MotoGP aces. After narrowly beating Simoncelli to pole at Estoril, world champion Jorge Lorenzo famously took the unrepentant Italian to task over recent near misses in an angry exchange during the post-qualifying press conference. As Lorenzo warned the Gresini man that he was a danger on-track, Simoncelli joked that he was sure he would get "arrested" if his style was a problem... Simoncelli crashed out within half a lap of the start next day.
There was more controversy at Le Mans, where a collision between Simoncelli and works Honda rider Dani Pedrosa left the Spaniard with a broken collarbone that would end his title bid.
Penalised in the race and heavily criticised by his rivals, Simoncelli responded with a maiden pole in the next round at Catalunya, but would finish a muted sixth on race day.
Further crashes in Britain and the Netherlands - the latter knocking Lorenzo down too - left Simoncelli becoming frustrated with himself and the Gresini team increasingly desperate for its super-fast rider to deliver the results he was clearly capable of. He was, after all, amid a string of six straight front row starts including two poles, and seemed certain to become the first man to win on a satellite bike since Gresini's Toni Elias at Estoril in 2006, yet was only 10th in the championship standings.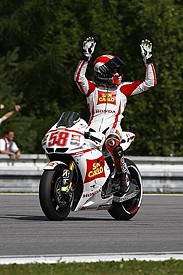 Brno brought his maiden podium at last © sutton-images.com
The second half of 2011 saw a lower-key, but more successful, Simoncelli. The crashes largely stopped, and he became less of a pole threat. But the race results started flowing.
His first MotoGP podium came with third at Brno, and he added a second place at Phillip Island, bringing him up to fifth in the standings, behind only the works Honda trio and Lorenzo.
That Australian GP result would stand as the best of a tragically truncated career, for seven days later he lost control on the second lap at Sepang - scene of his 250cc world title coronation three years earlier - and was hit by following riders Colin Edwards and Valentino Rossi, causing fatal injuries.
Weeks earlier, Honda had renewed Gresini and Simoncelli's deal to run top-specification machinery in 2012 - giving him the stability that could well have seen him round off his remaining rough edges and become the MotoGP winner and potential world champion that his blistering pace during 2011 had promised.