Two messy collisions between Robert Wickens and his Carlin team-mate Jean-Eric Vergne played a decisive role in settling the Formula Renault 3.5 title at Barcelona.
Unlike several cynical manoeuvres that have clouded other championships' showdowns, apportioning blame in the clashes that, eventually, handed the Virgin Formula 1 team's third driver Wickens the crown isn't clear-cut. Despite the slight air of acrimony, the Canadian emerged as a popular winner of a series he previously competed in as a teenager in 2008.

It took until the penultimate round at Paul Ricard for tensions between the duo to surface. Vergne entered the meeting with an additional shot of points thanks to the restoration of an earlier victory at Monza on appeal. Wickens' championship lead suddenly appeared vulnerable.
The Canadian's composure seemed ruffled after a yellow flag disrupted his qualifying efforts, and a degree of desperation was in evidence in race two.
Exiting the pitlane from a tyre change, Wickens made a futile attempt to maintain position by chopping across the road as Vergne barrelled down the Le Castellet pit straight in his mirrors. The flushed Frenchman struggled to conceal his displeasure during the subsequent press conference. Diplomacy was later restored in the paddock when the 2010 British Formula 3 champion recognised his achievements in reducing a previously imposing points deficit to just two ahead of the final.
The narrow margin intensified the focus on the Carlin crew at Barcelona. Team manager Ricky Taylor, a veteran of championship success with Carlin and Paul Stewart Racing, and an unlikely candidate to feel the heat, admitted to being noticeably under the spotlight. "This weekend is a bit of a strange one for us," said Taylor. "I think we have put ourselves under a bit of pressure. We don't realise it, but we are. I'm definitely not as calm as I usually am."
The drivers' Formula 1 links only added to the scrutiny. When Vergne qualified a disappointed ninth for race one, behind his pole-sitting team-mate, Red Bull's motorsport consultant Helmut Marko was, perhaps understandably, swiftly in touch from the Japanese Grand Prix at Suzuka requesting an explanation.
A sensational performance by Vergne in the opening race dispelled any possible thoughts of disparity in equipment. Second place and fastest lap, albeit a distant 21 seconds behind Wickens, ensured the growing tension would continue into race two.
From fifth, Vergne made another blinding start to challenge front-row starter Wickens into Turn 1. Sensing an opportunity to pass, Vergne made a committed lunge that was met by Wickens firmly closing the door: contact 1. Vergne emerged from the knock with greater momentum into the second part of Elf, and attempted to cut across Wickens and claim the racing line: contact 2. Wickens retired immediately with broken suspension, and was left to watch impotently as his adversary continued.
"It was a case of, how do they say, an irresistible force meeting an immovable object," said Trevor Carlin. "I think it was almost inevitable that they would make contact over the weekend. I think Robert's reaction when he walked back to the pits was that he was pretty angry. He thought there was no need for Jean-Eric to be so forceful at that early part of the race. I think that they're not the best of friends at this moment."
Robert Wickens is hoping for more F1 exposure soon © LAT
In the immediate aftermath of the incident, Wickens was in despair. "I thought it was all over, and I'd lost it," he admitted.
"They were going to be there or thereabouts at the same place on the circuit," continued Carlin. "It was almost inevitable. Jean-Eric had to do it all, and around [Barcelona] you have to do it on the first lap. I reckon it would have taken 10mm to one side and they probably would have both carried on to finish second and third. I am not sure what that would have done for the championship. [Wickens led by nine-points ahead of race two]. Say, Jean-Eric would have finished second with 18, and Robert would have finished third with 15... Well, the result was the result in the end. It was a shame."
In the Carlin pit, Wickens's engineer Paul Wallace watched his driver return to the garage and seek solitude. "He didn't come back to watch the race with the team initially," said Wallace. "Yeah, he was pretty wound up, but then if you're not wound up by that then there's something wrong with you. I think I got an idea that there was something wrong with Jean-Eric when I saw the reactions on the pitwall. I switched radio channels over to the other guys, and I realised something wasn't right."
A bent trackrod and rear wishbone made it impossible for Vergne to maintain his regular lap times. Cruelly for the Frenchman and his many supporters, he began to slip down the order from the fifth place required to capture the title.
"I was amazed that Jean-Eric was going the pace he was," said Carlin. "It was obvious that there was no way that he was going to hang onto his fourth place. He was sixth before the pitstops , then eighth, and then the whole thing became a mess. It's unfortunate for him but fortunate for Rob."
Vergne was eventually tapped into a spin by Fairuz Fauzy, sealing Wallace's first championship for one of his drivers, after previously engineering Oliver Jarvis and Charlie Kimball to runner-up spots in British Formula 3. Wickens, too, had finally lifted a crown after second place finishes in the inaugural Formula 2 and GP3 championships.
"I am on an emotional rollercoaster right now," said a bemused Wickens after his first title honours since Formula BMW USA in 2006. "My last two years, in 2009 and 2010, I'd come second, so to finish runner-up was getting a little frustrating. The idea of finishing second again has helped keep me motivated and keep me pushing hard. Every lap I've done this weekend has effectively been a qualifying lap. It's not, going into the weekend, how I pictured winning the championship. I had dreams of winning the race, and also winning the championship at the same time. I don't think it has really hit me that I am the champion because I was still upset about what happened in the race."
Speaking at the post-race awards ceremony at the Palau Nacional in Barcelona, Vergne demonstrated exceptionally good grace.
"Robert is the best team-mate that I have ever had," he said. "It has been a pleasure to be his team-mate. I think I will wake up tomorrow and I won't be so disappointed. Of course I am really disappointed, but now my focus is on doing my best in the last three F1 practice sessions that I have got [with Toro Rosso]."
On the weekend in which former Carlin driver Sebastian Vettel wrapped up this year's Formula 1 world championship, Carlin stated his conviction that his 2011 FR3.5 drivers' possess similar abilities.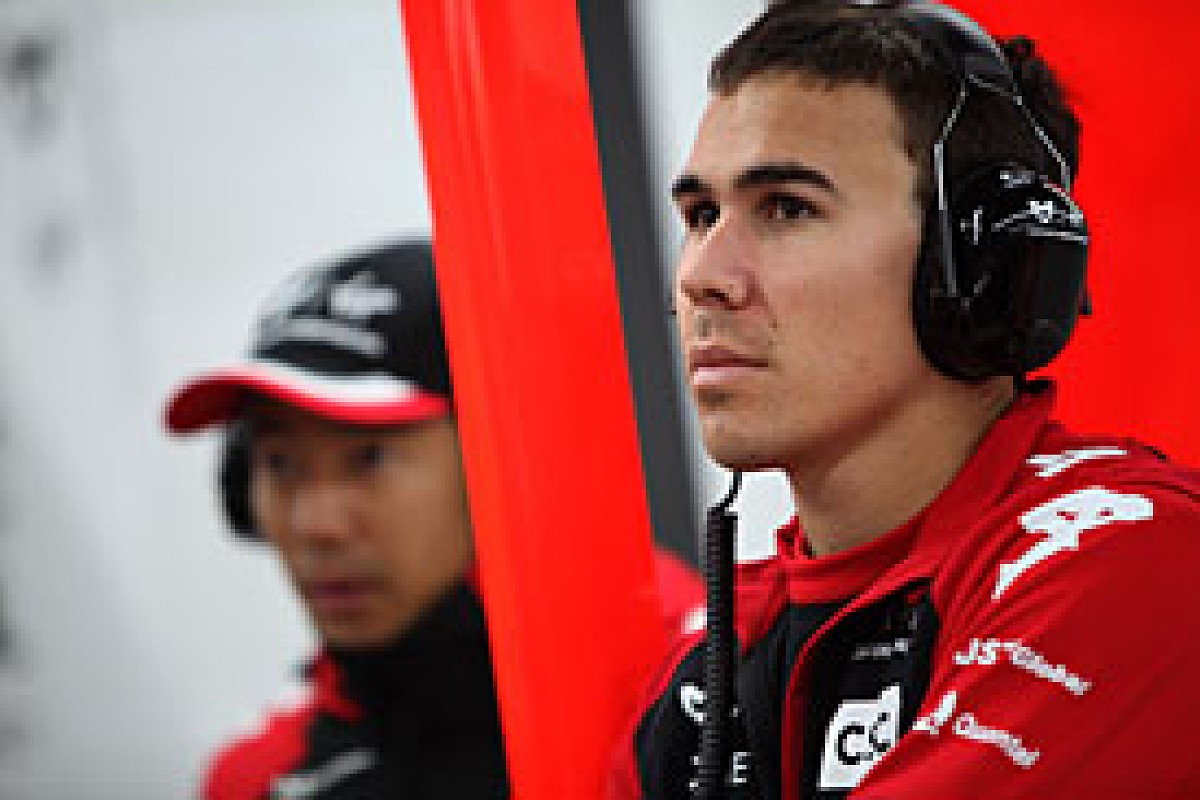 Vergne forsakes the championship at Barcelona © LAT
"Who knows, Jean-Eric could be doing it one day," said Carlin. "I don't think it makes sense for Jean-Eric to do another year in World Series. He is a great driver and has proven himself here, I don't think he needs to do it. He certainly doesn't need race experience as he is one of the best racers - full stop. I do have to say, he is incredible. He pushes and pushes and very rarely ends up making moves where, for example, he damages the front wing. For me, as soon as he is promoted to one of the big cars the better. I don't know who's going to make room for him but that's not my problem, that's Helmut's problem."
Wickens will have to wait a little longer for his next taste of Formula 1 car, a FR3.5 title winner's prize test in Abu Dhabi with Lotus Renault.
"I am not sure what the next step of my career is," said Wickens. "I haven't spoken to anyone at Marussiva Virgin yet. I think all plans were being held off until after my season was finished. I don't know what their ideas are of what their plans are. I do know that I will be driving in Abu Dhabi with a Lotus Renault. That's great and hopefully we can take it from there."