PRACTICE
Practice one
Pirelli's choice of the super-soft and soft tyre for the Korean Grand Prix weekend was always supposed to throw up a few blinders to keep the racing spicy. But when the teams arrived to a sodden Yeongam circuit on Friday, things just got more complicated.
Michael Schumacher set the early (wet) pace at Yeongam © LAT
Friday is all about information gathering. About long runs, tyre degradation measurement, those two things combined, set-up, new parts analysis. And of course general bedding in. All this information is then used overnight to build a car on Saturday that can be fine-tuned through the morning and in to the race weekend.
With just four hours and two cars to work with, not to mention a limited supply of tyres (in the dry and the wet), rain tends to put the kybosh on every team's plans and the whole programme goes out of the window. And when you are coming to a rarely used track, without a significant support race schedule, rubbering down the asphalt surface and gathering tyre deg figures becomes critical to concluding informed decisions.
So this Friday in many ways truly was a washout. The first session in particular was significantly wet - only Lewis Hamilton bothering to attempt any proper laps as he tried some new parts in the first hour.
The last 30 minutes saw the track come alive a bit as the water dissipated at varying levels, but in reality the times were more meaningless than normal - Michael Schumacher fastest merely because he set his time at the appropriate moment.
Practice two
The second session saw more running as everyone realised it was a choice of damp track or no data at all and opted for the preferable former option. Quickly the McLarens established a theme as Hamilton and Jenson Button traded times. In the end it was the beleaguered 2008 world champion that came out on top - his pace and trajectory back to a more charismatic complexion.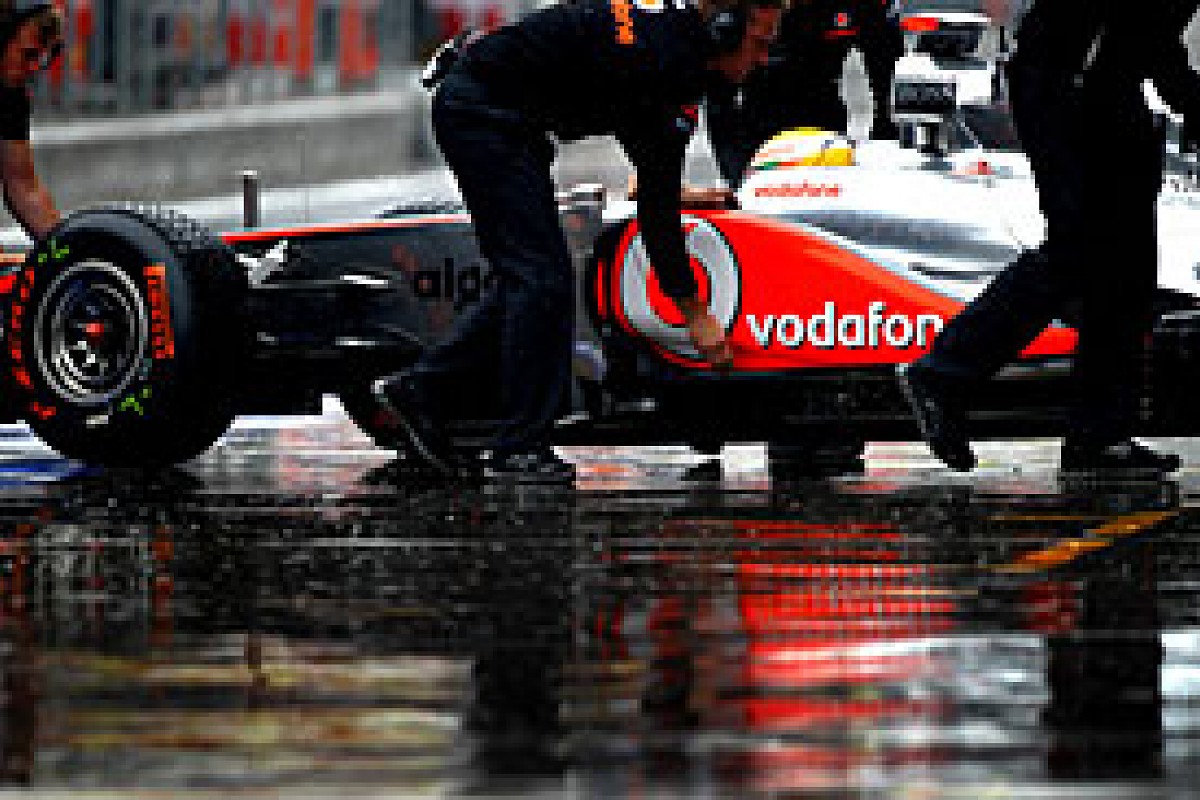 Hamilton was fastest as the track began to dry in FP2 © LAT
The fact that Button was more than 1.7s faster than the new world champion Sebastian Vettel indicated that, even through the mists of free practice mis-information, McLaren appeared to be operating with an advantage.
The main curiosity of the second session occurred because of a bizarre accident between Nico Rosberg and Jaime Alguersuari. The Mercedes driver locked up and ran on at Turn 1, at the precise time that the Spaniard exited the pitlane, the side of his Toro Rosso unprotected but for the white demarcation lines on the road. Inevitably they made contact, and inevitably questions were raised about the intelligence of the pit exit's positioning. Nothing could be done about it during the weekend however.
At the end of the day, no dry running had been completed and the teams remained utterly clueless as to the performance and degradation of the prime and option Pirellis.
Practice three
With the dawning of Saturday came - at last - some dry weather and the chance for all the teams and drivers to assess tyre strategies on Pirelli's choices for raceday.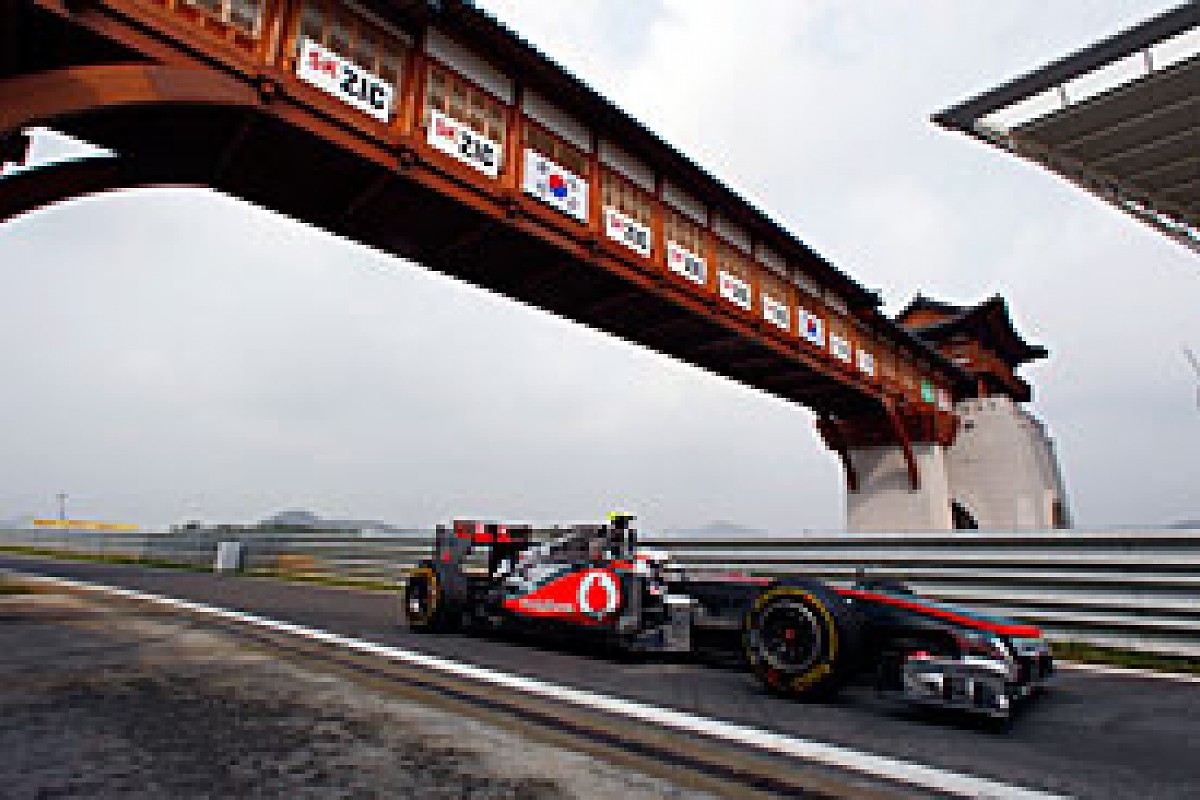 Jenson Button emphasised McLaren's pace in FP3 © LAT
It was McLaren to the fore again as Button's 1m36.901s lap knocked Hamilton off the top spot in the final minute by a little over a tenth; the latter then running wide at Turn 3 on his final lap to remove any hopes of him going faster. Ominously though, the pair had also been one-two earlier in the session while running with heavier fuel loads.
At no point did either Ferrari or Red Bull driver come into play, although Sebastian Vettel did set the fastest first sector late on; the German becoming frustrated when he was unable to pass Alguersuari when he caught the Spaniard later in the lap and gesticulating his displeasure to him on the start/finish straight.
Mark Webber was third fastest, ahead of Fernando Alonso, Felipe Massa and Schumacher, with Vettel back in ninth. Bruno Senna knocked his front wing off after spinning into the wall while exiting Turn 13 and Daniel Ricciardo's HRT sprang a fluid leak that would cause him to miss qualifying.
QUALIFYING
1st Lewis Hamilton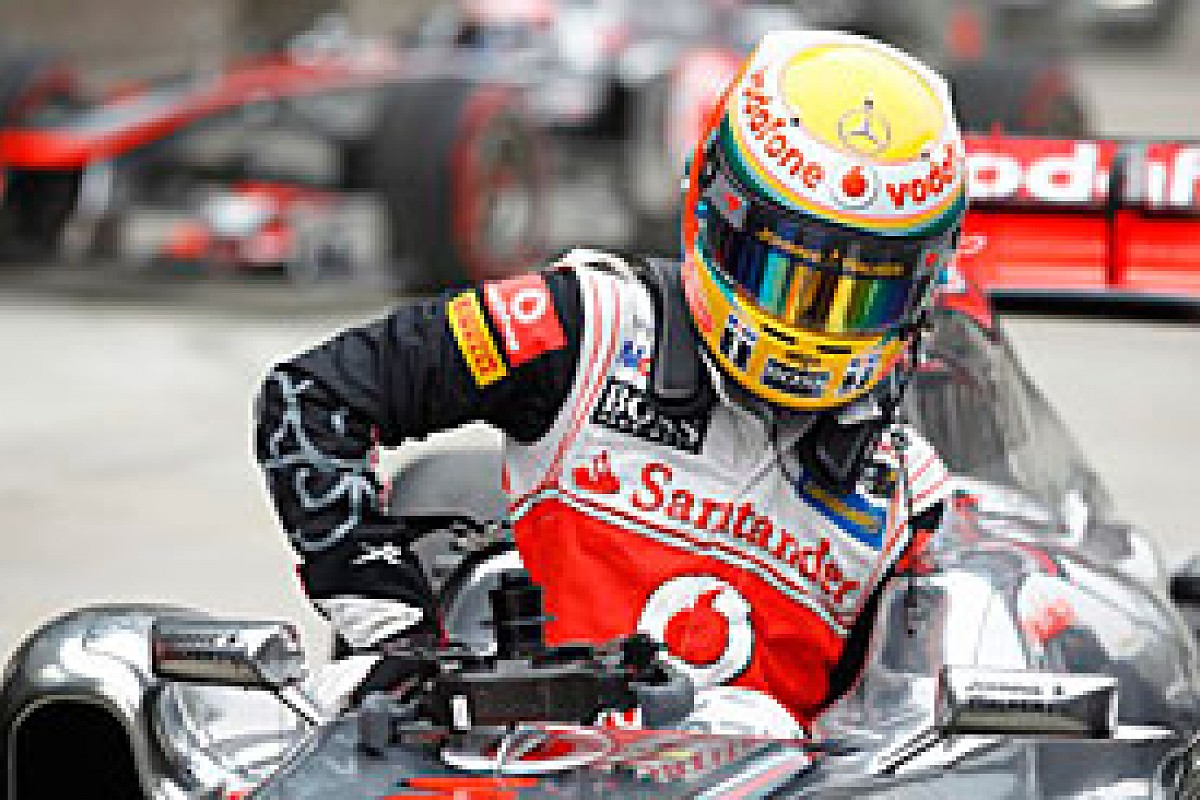 Lewis Hamilton was subdued after taking his first pole of 2011 © LAT
"I'm very happy to be here and very proud of what the team have been able to achieve over the course of the last few races. It's probably one of the first positives that I've had for a while and to be back on pole position is a great feeling, but tomorrow is the most important day."
2nd Sebastian Vettel
"McLaren looked very competitive on Friday. I know the conditions were different, but they were a fair chunk ahead of everyone else, as well as this morning in the dry. We pushed them very hard in qualifying and got closer than they expected and we expected. Also, we saved all of our prime tyres."
3rd Jenson Button
"It's not perfect as obviously we all want to be on pole position. I'm reasonably happy with where we are and we can race very well from here. We really haven't got a clue what's going to happen tomorrow in the race in terms of tyre deg and on high fuel."
4th Mark Webber
"On the last run, I lost the rear a little bit on the exit of Turn 1. I tried to get it back through Turn 3, but I was down 3/10 of a second; it's a pity as you're not going to get that back in the last sector - which hadn't been too bad on the previous run."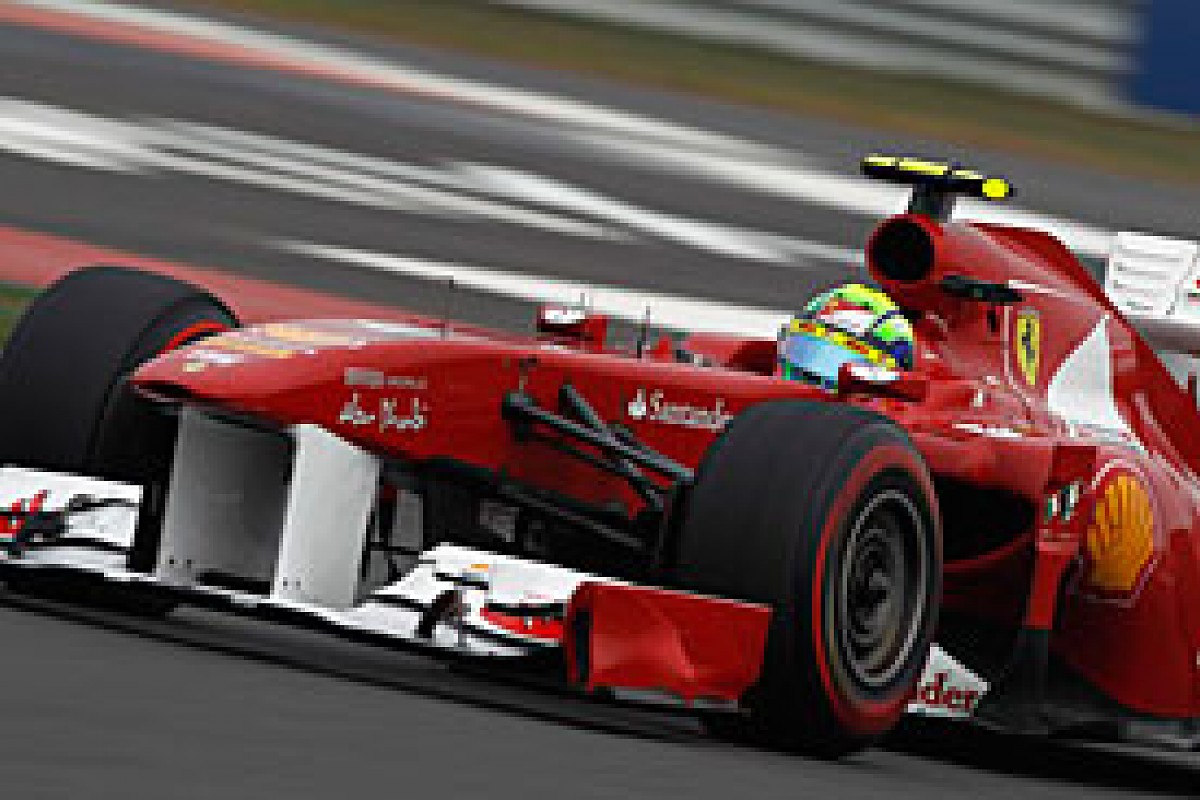 Felipe Massa outqualified his team-mate for the second weekend running © LAT
5th Felipe Massa
"I am happy with my performance today. I think I got a good lap on my final run, after the first one in Q3, when I used the same set of super-soft tyres I had already run in Q2."
6th Fernando Alonso
"Everything remains very open after Saturday's performance because we see big differences between qualifying and race pace. After being competitive in Suzuka and then fighting for the podium, why not? We expect a lot of degradation so hopefully that is going to help us."
7th Nico Rosberg
"I'm quite pleased with today. To find the right set-up for the qualifying and the race is always a compromise, particularly after such limited dry running, so I'm happy that we saved one set of option tyres."
8th Vitaly Petrov
"I was pleased with today's efforts. Eighth position is something to be proud of. I was quite surprised with how enthusiastic we were in venturing out again in Q3, but I was unable to complete a second timed lap anyway."
9th Paul di Resta
"It was important to try and get back into Q3 again. It was mighty close in terms of laptimes for getting through, but I believe that after the limited running we have had, we didn't do too badly. We were going to have a go in Q3, which is why we went out."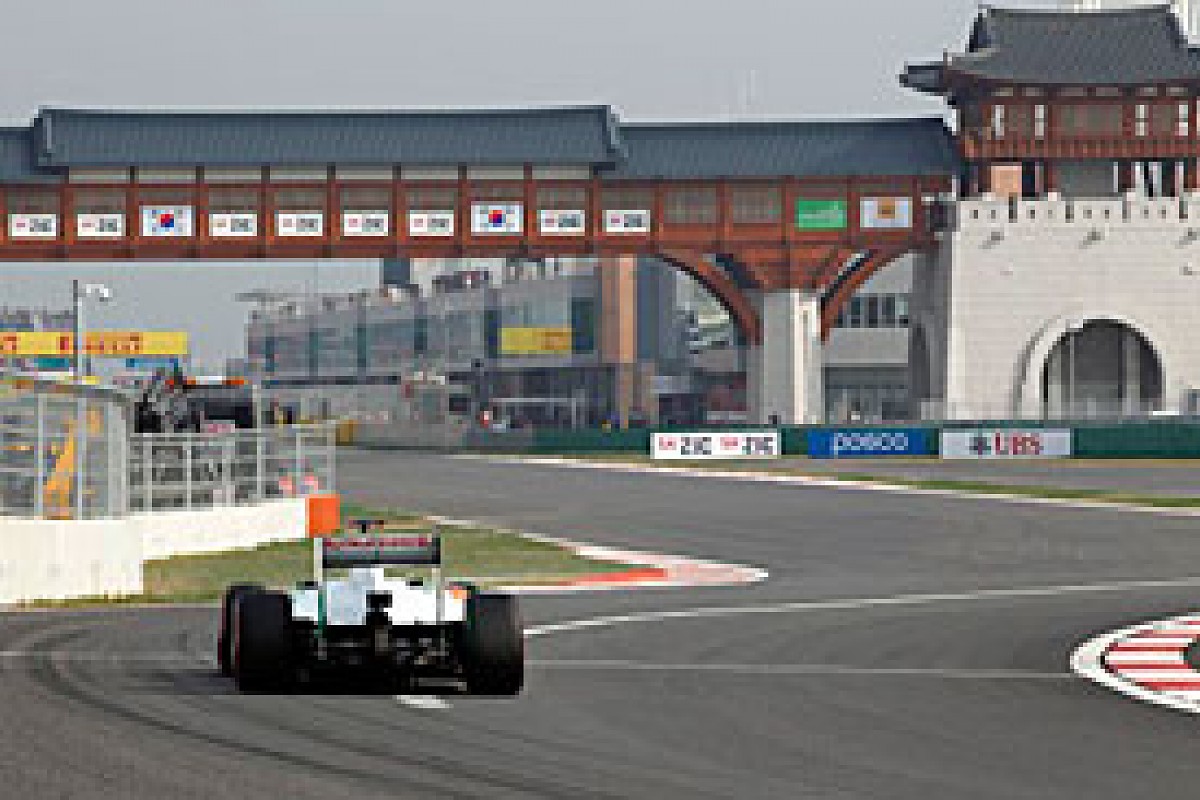 Adrian Sutil qualified tenth © LAT
10th Adrian Sutil
"Considering the limited dry track time we had during practice, I think we can pleased with our performance level today. Getting both cars in the top ten is a good result and we can have a strong race from there. I took the decision to save tyres during Q3 and I believe it was the right thing to do."
11th Jaime Alguersuari
"I've felt really comfortable all weekend. We understood much better what we needed from the car than at Suzuka and I'm very happy with the performance and positive for tomorrow's race. When you are less than one tenth off Q3, you always say maybe I could have not breathed in the last metres, but that was more or less it."
12th Michael Schumacher
"I could feel that something was not right when leaving the pits as I had vibrations straight away. All that was left for us to do was hope that the gap would be big enough to remain in the top ten but that turned out not to be the case."
13th Sebastien Buemi
"With a perfect lap, we would have a chance to go through to Q3 and that would have been a very good result. But in general, we have confirmed the trend that we are doing better. The laptime shows more or less where we are and normally we have better race pace. I'm quite happy."
14th Kamui Kobayashi
"The main problem is still a lack of grip, which is caused by a combination of factors. My lap as such in Q2 was okay, I can't complain about traffic and didn't make a mistake. It was pretty much the best I could achieve today."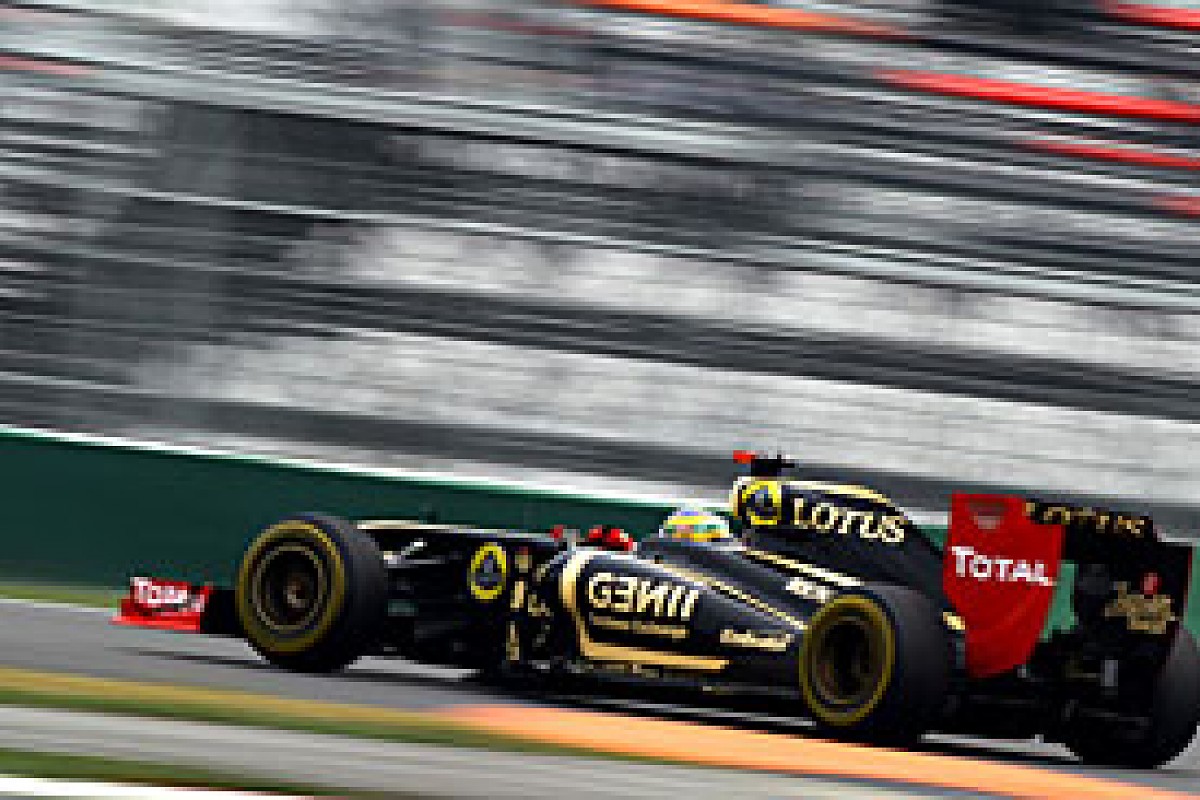 Bruno Senna was disappointed with 15th © LAT
15th Bruno Senna
"It's easy to make excuses for not doing a good job, but I did not do a good job today. The car was not refined and I know that there is so much more potential in the car but sometimes you just don't get it right and this weekend, starting with the rain and last year's experience, gave me a poor base."
16th Pastor Maldonado
"I did some good laps in qualifying, in both Q1 and Q2. We are a bit far away from the top ten so we need to keep working. Tomorrow is another day and we have lots of new tyres which is important for our race strategy."
17th Sergio Perez
"I am not happy with the balance and the set-up of the car. I didn't feel at all confident in the car. My final lap in Q2 was particularly bad because I hadn't got the brake balance right and had the fronts locking."
18th Rubens Barrichello
My first lap in Q1 was quite good but my tyres had started to go off by the third lap. As we had decided to conserve tyres before the session started, we aborted the run and came in. We made the best call we could today based on the performance we have in the car at the moment.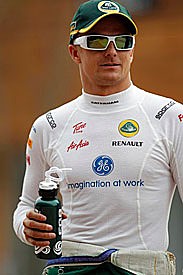 Heikki Kovalainen was delighted with his lap © LAT
19th Heikki Kovalainen
"That was probably my best qualifying lap of the season. Next to Hungary, I think I got as much as I possibly could out of the car and nailed every sector, so it's a good feeling to know when you've wrung as much as you can from a single lap."
20th Jarno Trulli
"We did ok today, but there was definitely a bit more in the car. This morning I had a really good setup and found a lot of grip, but this afternoon it just didn't feel quite the same so I wasn't able to get as much out of the car as I could."
21st Timo Glock
"The car was good yesterday in the rain and very good this morning, we just had to fine-tune some stuff. That made our lives easier than at Suzuka where we made a big change and had to carry that through FP3. I got quite a good lap out of it. There was a slight mistake in Turn 5, but otherwise it was good."
22nd Jerome d'Ambrosio
"None of us understand why the pace is not there. It's not like it's one sector, it's everywhere. We have got to get to the bottom of this. It doesn't feel like there's something massively wrong, just a lack of grip everywhere."
23rd Vitantonio Liuzzi
"I was quite happy with the balance and the car was reacting quite well. In qualifying, we were a few tenths behind one of the Virgins and a bit more off the other one, so we need to understand the reason behind this gap. We lost a lot in the third sector because of graining."
24th Daniel Ricciardo
"This morning we had the same problem [a water leak] which the guys tried to fix and we made it out onto the track before the end of the session. In the afternoon, on my first timed lap, my race engineer told me to box because they saw it [a loss of water pressure] coming up on the data."
THE GRID
Pos  Driver                Team
 1.  Lewis Hamilton        McLaren-Mercedes
 2.  Sebastian Vettel      Red Bull-Renault
 3.  Jenson Button         McLaren-Mercedes
 4.  Mark Webber           Red Bull-Renault
 5.  Felipe Massa          Ferrari
 6.  Fernando Alonso       Ferrari
 7.  Nico Rosberg          Mercedes
 8.  Vitaly Petrov         Renault
 9.  Paul di Resta         Force India-Mercedes
10.  Adrian Sutil          Force India-Mercedes
11.  Jaime Alguersuari     Toro Rosso-Ferrari
12.  Michael Schumacher    Mercedes
13.  Sebastien Buemi       Toro Rosso-Ferrari
14.  Kamui Kobayashi       Sauber-Ferrari
15.  Bruno Senna           Renault
16.  Pastor Maldonado      Williams-Cosworth
17.  Sergio Perez          Sauber-Ferrari
18.  Rubens Barrichello    Williams-Cosworth
19.  Heikki Kovalainen     Lotus-Renault
20.  Jarno Trulli          Lotus-Renault
21.  Timo Glock            Virgin-Cosworth
22.  Jerome D'Ambrosio     Virgin-Cosworth
23.  Tonio Liuzzi          HRT-Cosworth
24.  Daniel Ricciardo      HRT-Cosworth


RACE
After qualifying, much of the talk had been of how McLaren's decision to save an extra set of supersofts for each driver on raceday was going to pay off handsomely, and the fact that Hamilton had put his MP4-26 on pole was clear evidence that the Woking squad - and its 2008 world champion in particular - was going to take some beating.
Vettel, by contrast, had gone through his supersofts and instead saved an extra set of fresh softs for Sunday.
This was thought to be an odd choice, given that the small amount of dry running on heavy fuel loads in P3 - or rather the data gathered as a result of it - indicated that in the conditions expected during the race the supersoft was unlikely to degrade at the same rate comparative to the soft as had been seen in recent events.
As has been the case so often this year, though, Red Bull's decision was the right one. While the knock-on effect was not so dramatic as its choice to run wet camber settings in the dry at Spa, or to gear Vettel's car for acceleration rather than top speed at Monza, the result was the same and the sport's youngest double world champion was to be found on the top step of the podium come the race's end.
He didn't lead into the first corner - the run from the startline is too short to allow any kind of do-or-die moves immediately after the lights - but nor did he sit behind Hamilton's McLaren for long, a failed attempt to pass around the outside into Turn 3 allowing him to exit the bend faster than his rival and then sail past him under braking for the following corner.
A four-second lead was wiped out on lap 18 when the safety car came out to allow marshals to clear up the debris left on-track after Vitaly Petrov savaged Michael Schumacher's Mercedes - more of that later - but when racing resumed, more of Vettel's class shone through.
Vettel might only be 24, but he drives like a man with 10 more years' experience, and the way in which he managed his tyres through the middle stint was sublime, the German not pushing any harder than he needed to once he'd established the one-second buffer needed to prevent Hamilton using his DRS to make a passing move.
Even the man himself was surprised; he'd expected to make as many as four stops!
"We ended up stopping way less than we thought," he said. "We expected a bit more degradation, and eventually it came, but we delayed the first stop and in the end you realise you don't have to stop three times.
"It was a very good race from that side. The tyres and tyre management were not easy, especially towards the end of the stint.
"I was able to gain on Lewis. I always wanted to stay clear of DRS with the headwind of Turn 2 to Turn 3."
That he did, and his 10th victory of 2011 - a result that secured Red Bull its second consecutive constructors' world championship - duly came after 55 laps.
Hamilton was a comfortable second early on, in spite of having lost around 10 points of downforce - according to McLaren team chief Martin Whitmarsh - due to an unspecified problem on the first lap.
"We had a reasonable launch, we had a shocking first lap and after that we appear to have lost some front downforce," said Whitmarsh.
"Whether that's damage or debris or something else caught in the front wing... Lewis lost about 10 points of downforce, which meant it was a bit of a handful."
A bit of a handful maybe, but it was not until the later stages of the race that he came under threat from Mark Webber, such was the quality of his performance.
Only once did Webber get close enough to pass - after Hamilton was slowed by a lapped Lotus - and it was all the invitation he needed as the Red Bull slipped inside the McLaren into Turn 1 with five laps to go.
Lacking downforce or not, Hamilton's car was still effective enough through the air to breeze back past Webber with the aid of DRS into Turn 3, and after making the move stick, he was never threatened again and took his first podium finish for six races.
Webber felt that he could have overtaken Hamilton had Red Bull pitted him either before or after his rival. As it was, the Australian was called in directly behind the McLaren driver and held station.
"We did the worst thing there," he said.
Behind them was initially a three-car battle for fourth spot between the Ferraris of Felipe Massa and Fernando Alonso and Jenson Button's McLaren, but with Massa's rear tyres losing all semblance of performance after 10 laps, the Brazilian backed the two drivers following into the charging Mercedes of Nico Rosberg.
Desperate to limit the time he was losing to the leaders, Button stopped first on lap 13, but emerged with his front wheels level with the rears of Rosberg, who had pulled in right behind him on the same lap.
Button gave way as the pair crossed the white line to exit the pits, but was given the place back when Rosberg outbraked himself and ran wide as they both rejoined the track at Turn 1.
Fortunately for Rosberg, he was still within the range needed to slipstream past with the help of the DRS, but Button merely pulled an identical move into Turn 3 a lap later to re-establish his advantage.
The Ferraris stopped one and two laps later, Massa and Alonso both dropping behind the McLaren v Mercedes battle after running longer on rapidly diminishing rubber.
Oddly, given Ferrari team tactics of recent years, Massa held off his former world champion team-mate until the final stops, and it was at this point that Alonso showed what he was really capable of, setting two consecutive fastest laps on tyres with 20 and 21 laps on them!
Not only was that enough to overhaul Massa - and Rosberg, for that matter - for fifth, but it also put him back into a position to challenge Button for fourth.
There was little or no performance left from his rubber, though, leading to the Spaniard shouting, "I give up!" into his radio after being urged to up his challenge of Button.
While Alonso crossed the finishing line just 3s behind second-placed Hamilton, Massa lost 10s to his team-mate during the final stint.
Rosberg fared even worse, and was overtaken for seventh by the excellent Jaime Alguersuari on the final lap, the Spaniard taking some sort of revenge on the German for that practice incident just over 48 hours earlier.
The points-scoring positions were rounded out by Alguersuari's Toro Rosso team-mate Sebastien Buemi and Force India driver Paul di Resta, who went backwards quickly during the early stages after a great start put him eighth.
But, as usual, the Brit played the long game and was rewarded with a sixth points finish of his rookie year.
With the first round of pitstops being completed by lap 18, the four laps behind the safety car had very little effect on proceedings, save perhaps for turning a marginal two-stop strategy into a comfortable one.
As for the cause of it, Alonso and Petrov both had the benefit of DRS on the run up to Turn 3 shortly after the Ferrari driver's stop, but neither had anticipated the need to brake earlier than normal, given the 15mph or so extra speed they were carrying - a figure increased exponentially due to the strong headwind down the straight.
The result was that Petrov - on a tight line - smashed into the rear of Schumacher's Mercedes at high speed, ripping the rear wing off the silver arrow and puncturing its right-rear tyre.
Alonso reached the corner at a similar speed, but whereas Petrov was out, he survived, just missing the spinning Schumacher by driving onto the huge expanse of asphalt runoff at the exit of the corner.
So not for the first time this year, Schumacher has had yet another race ruined by the poor driving standards of others that he would simply not be competing with had Mercedes given him a car worthy of his talent.
While a 42-year-old German was cursing his bad luck, though, a compatriot a little over half his age was celebrating his 10th win of the year, a success that keeps him on-track to equal the elder statesman's record of 13 victories in a single season.
Now that would be something.
Lap-by-lap as it happened on AUTOSPORT Live
RACE RESULTS

The Korean Grand Prix
Korea International Circuit, Yeongam, Korea;
55 laps; 305.909km;
Weather: Dry.

Classified:

Pos  Driver        Team                       Time
 1.  Vettel        Red Bull-Renault           1h30:01.994
 2.  Hamilton      McLaren-Mercedes           +    12.019
 3.  Webber        Red Bull-Renault           +    12.477
 4.  Button        McLaren-Mercedes           +    14.694
 5.  Alonso        Ferrari                    +    15.689
 6.  Massa         Ferrari                    +    25.133
 7.  Alguersuari   Toro Rosso-Ferrari         +    49.538
 8.  Rosberg       Mercedes                   +    54.053
 9.  Buemi         Toro Rosso-Ferrari         +  1:02.762
10.  Di Resta      Force India-Mercedes       +  1:08.602
11.  Sutil         Force India-Mercedes       +  1:11.229
12.  Barrichello   Williams-Cosworth          +  1:33.068
13.  Senna         Renault                    +     1 lap
14.  Kovalainen    Lotus-Renault              +     1 lap
15.  Kobayashi     Sauber-Ferrari             +     1 lap
16.  Perez         Sauber-Ferrari             +     1 lap
17.  Trulli        Lotus-Renault              +     1 lap
18.  Glock         Virgin-Cosworth            +     1 lap
19.  Ricciardo     HRT-Cosworth               +     1 lap
20.  D'Ambrosio    Virgin-Cosworth            +     1 lap
21.  Liuzzi        HRT-Cosworth               +    3 laps

Fastest lap: Vettel, 1:39.605

Not classified/retirements:

Driver        Team                         On lap
Maldonado     Williams-Cosworth            31
Petrov        Renault                      17
Schumacher    Mercedes                     16


World Championship standings, round 16:                

Drivers:                    Constructors:             
 1.  Vettel       349        1.  Red Bull-Renault          558
 2.  Button       222        2.  McLaren-Mercedes          418
 3.  Alonso       212        3.  Ferrari                   310
 4.  Webber       209        4.  Mercedes                  127
 5.  Hamilton     196        5.  Renault                    72
 6.  Massa         98        6.  Force India-Mercedes       49
 7.  Rosberg       67        7.  Sauber-Ferrari             40
 8.  Schumacher    60        8.  Toro Rosso-Ferrari         37
 9.  Petrov        36        9.  Williams-Cosworth           5
10.  Heidfeld      34       
11.  Sutil         28       
12.  Kobayashi     27       
13.  Alguersuari   22       
14.  Di Resta      21       
15.  Buemi         15       
16.  Perez         13       
17.  Barrichello    4       
18.  Senna          2       
19.  Maldonado      1   

TEAM-BY-TEAM
Red Bull
For the first time this season, Red Bull did not start from pole position, but there was more to it than just being slower than McLaren. Granted, the British squad was very strong, but Red Bull had opted for a different tyre strategy and Vettel settled for second place, with Webber in fourth.
The race, however, proved Red Bull's decision was the right one, and Vettel was once again unbeatable after passing Hamilton early on. The German scored his 10th win of the season and helped Red Bull secure back-to-back constructors' titles too. Webber had to settle for third place after being unable to move ahead of Hamilton in a long battle that included some great dicing.
McLaren
Right from the start of the weekend, McLaren looked strong and its form was confirmed on Saturday, when Hamilton put an end to Red Bull's run of poles by securing his first top spot since the 2010 Canadian Grand Prix. The Briton, however, looked far from happy, perhaps knowing that points are won on Sunday.
But come race day Hamilton was unable to stop Vettel from running away while he lost the lead to the German early on. Hamilton still put on a very good performance - affected by a problem with his front wing - to keep Webber behind him and secure his best result in several races.
Button, starting from third, finished fourth in the end, the Briton unable to repeat the kind of performance he put in Japan after having dropped to eighth on the opening lap.
Ferrari
It wasn't an easy weekend for the Italian squad, which did not seem to have the same kind of performance Alonso showed at Suzuka. Qualifying was difficult once more for the team, with Massa finishing in fifth and Alonso in sixth, both hopeful that their race pace would be stronger.
That was the case, but Alonso went from fighting for victory in Japan, to admitting on the radio that he was "giving up" on his attempts to pass Button for fourth. So in the end, the Spaniard settled for fifth, which was nothing to write home about at this point of the season.
Massa was unable to keep his team-mate at bay in the race and dropped to sixth, crossing the finish line some 10 seconds behind the Spaniard.
Mercedes
Rosberg had a decent qualifying, placing seventh on the grid, but then struggled in the race as the tyre degradation was too high for him. The German had a good start and was in the mix in the early stages of the event, but then kept dropping down the order as his problems with the option tyres increased. He was forced to pit too early and then had a very long stint on primes, which means he dropped to eighth in the end.
Schumacher had a weekend to forget, first being hit by problems in qualifying - with a vibration meaning he couldn't do his last run - and then retiring from the race on lap 16 after Petrov crashed into his car when trying to defend his position from Alonso.
Renault
Renault continued with its run of disappointing results in Korea, failing to score any points after Petrov's early exit. The Russian had qualified inside the top ten and could have scored a good bundle of points, but his mistake meant he left Korea with nothing to show for.
Senna was never in contention for a points finish, the Brazilian claiming he felt there was nothing wrong with his car, but conceding it was simply not quick enough to pass the drivers in front after having made a poor start. He finished in 13th position a full lap down.
Williams
Another weekend without a reward for Williams, which continued with its lacklustre season and a run of point-less races. Qualifying was a bit of a disaster, with Barrichello down in 18th and out in Q1 after deciding to save tyres for the race and Maldonado in 16th.
Things were better for Barrichello in the race, although he was hurt by the safety car period, and the Brazilian finished in 12th. His team-mate's race lasted around 30 laps when the team detected an engine problem, not before he had to serve a penalty for an incident when entering the pits.
Force India
Force India's quest to stay ahead of Sauber in sixth place in the constructors' championship was boosted by a return to top ten form in Korea as both di Resta and Sutil made it through to Q3 in qualifying. Both drivers then opted to save their tyres for the race.
Having saved those tyres, di Resta then felt that he and the team had been too conservative in their strategy and should have used a new set of supersofts instead of scrubbed ones. Though in the end he wasn't sure he would ever had been able to fend off Buemi for ninth as his tyres faded, but still it was another point scored for the rookie. Sutil followed the Scot home in 11th having admitted rival team Toro Rosso had enjoyed better race pace.
Sauber
Sauber seemed all at sea in the early stages of the weekend and its top qualifier Kobayashi (14th) admitted as much, complaining of a lack of grip. Perez too reported he was not happy with its balance in 17th, adding that he had no confidence in the car.
The situation got no better in the race, and in Kobayashi's case was compounded by separate clashes with Buemi and Senna which eventually resulted in a new front wing being fitted. He fought back to 15th but, like his team-mate Perez who was 16th, said afterwards that the car had simply been too slow to fight for points
Toro Rosso
Alguersuari felt that the team was beginning to get on top of the upgrades it introduced to the car in Suzuka and was as delighted with his pace in qualifying to go 11th as he was disappointed with Vettel's gesticulations that the Spaniard had held him up in practice. Buemi too was very happy with the car though felt he could have placed higher than 13th on the grid.
Alguersuari continued to delight in his car in the race, producing perhaps the best performance of his F1 career so far and passing Rosberg's Mercedes on the last lap to lock up seventh place. Buemi's ninth was also hard earned as he had to fightback from a knock at the first corner which cost him several places. The double-points finish was just the confidence boost it needed as it closed to within three points of Sauber in the chase for seventh in constructors' battle.
Lotus
Kovalainen hailed his qualifying lap as the best of the year, but it was still only good enough to net him 19th. Nevertheless he was confident that he and Trulli could repeat the sort of result he'd achieved in Japan seven days previous, particularly after they found a good path on set-up during Saturday morning.
The race provided Lotus's strongest showing to date as Kovalainen came home 14th ahead of both Saubers, having trailed the main pack successfully for much of the race. Trulli should have been right with the Finn but was delayed in the pits which meant he then was also delayed being lapped by the leaders and ended up 17th.
Hispania
Liuzzi qualified 23rd after a regulation build-up to his race but team-mate Ricciardo was denied the opportunity to get much dry running in after a recurrent waterleak in the engine sidelined the Australian.
Liuzzi ran over debris at the start which caused him to lock up and hit Glock's Virgin at Turn Four. Pitting for a new nose cone destroyed his race and he finished last of the runners. Ricciardo delivered 19th having beaten d'Ambrosio in the Virgin.
Virgin
Glock was happier with the set-up of his car than he has been of late, allowing him to run within a second of the Lotuses for much of practice and qualifying and took his habitual 20th on the grid. D'Ambrosio was lost and confounded as to why as he simply couldn't find the pace in his car.
Glock enjoyed his race to 18th, having spent some time fighting with Ricciardo. D'Ambrosio was disappointed to have lost out to the Australian but was relieved to have recovered some of the missing pace that had plagued him through the weekend. The Belgian finished 20th.
RACE DATA