Circumstances couldn't be more different heading into Korea this year compared to last. Back then Sebastian Vettel was third in a five-way fight for the Formula 1 title, whereas he now arrives at the Yeongam circuit as only the ninth back-to-back world champion in the sport's history.
But while the drivers' title has been settled, there is still much to be decided in the final four races, while a number of questions about the race itself remain unanswered following its rain-hit F1 bow in 2010.
Vettel leads at a very wet Yeongam last year © LAT
That the circuit is popular with drivers we already know, given the widespread acclaim it received. Yeongam also wears the crown of the longest straight in F1, which could play into the hands of Ferrari, McLaren and Mercedes. The DRS is likely to play an important role on the run down to Turn 3, offering plenty of overtaking opportunities - although the deciding factor will be how early the DRS advantage really kicks in, with the activation point 500 metres after Turn 2.
With speeds of 200mph more than achievable, if it turns out to be too late cars may already be close to maxing out at the top of the rev range, while if it falls too early the aggressor may find themselves then having to defend later on down the straight.
The real story of the weekend, however, could be the durability and fate of the tyres. Last year Bridgestone admitted dusty conditions were causing heavy graining in practice, raising the prospect of an attritional race in terms of rubber. Such expectations were washed away - as was the start of the race - by the monsoon conditions, making it unclear just how high tyre wear will be in race conditions.
With Pirelli taking an aggressive approach this year - and bringing the soft and super soft compounds to Korea, tyre wear will be absolutely crucial - and that could assist Jenson Button and Fernando Alonso, just as it did at Suzuka.
Having taken one of the most emotional and satisfying victories of his career in Japan, Button will be a threat this weekend. After Vettel dominated at Monza and Marina Bay, both circuits the Red Bull was predicted to struggle on, Button's win at Suzuka not only turned the tables on the Milton Keynes-based team but hinted at real progress for McLaren, whose car now seems comfortable in slow, mid-speed and fast corners - and should therefore suit Yeongam perfectly.
Suzuka also hinted at genuine progress for Ferrari, which found time and performance by taking off some of its latest updates and reverted to the car it had in Hungary. Add in the fact that Alonso is the only man to have savoured victory in Korea, and that Felipe Massa also scored his last F1 podium there, and Ferrari will be hoping it can once again be on the pace.
There is also the prospect of seeing F1's youngest double champion 'exploring' in the final four races, as he and Red Bull already turn their attentions to defending his title next year (although the constructors' championship is still officially up for grabs). Back-to-back weekends may mean Vettel has had little chance to digest the magnitude of his second drivers' crown, but last year's polesitter - and race leader until an engine failure - won't be taking his foot off the throttle even for a second.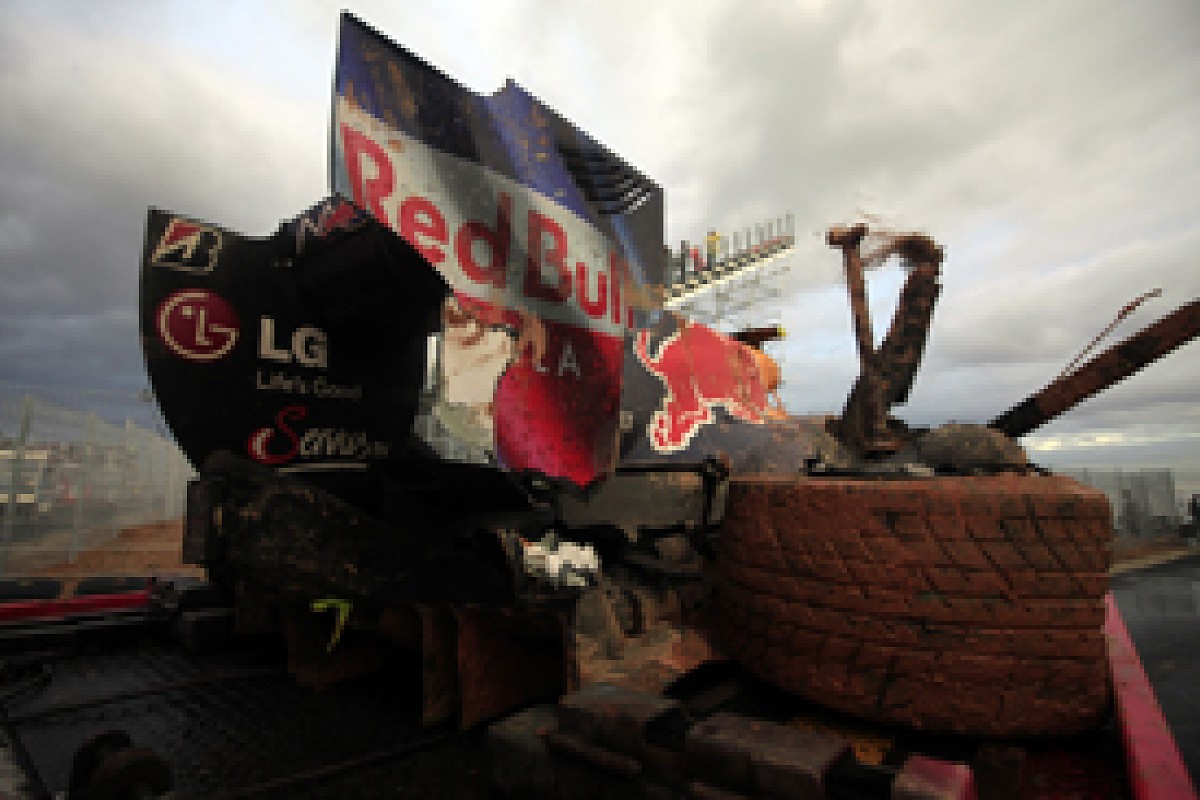 Korea ended badly for Webber in 2010 © LAT
Then of course there is Vettel's team-mate Mark Webber, the man who led the championship by 14 points coming into Korea a year ago only to spin and crash out, taking Nico Rosberg with him. Webber never recovered in the championship, but a strong performance this year would go some way to salvaging the disappointment and also to relieving the pressure of Vettel's current dominance within the team.
With the drivers' crown now settled and the constructors' title all but decided for Red Bull, the theme at the front end of the grid is very much on next year's challenge. What you learn this year can be applied to next however, and that makes Korea a very good portent to how 2012 may pan out - and whether Ferrari and McLaren can provide a sustained and genuine challenge to the current supremacy of Red Bull.
Strategy
Pirelli has opted for an ultra-aggressive approach in Korea and return with the soft and super soft double act. On a circuit with almost everything - long straights, slow hairpins and a fast, sweeping middle section, that means high lateral loads and a need for good traction.
It also means high tyre wear - potentially very high if last year's dusty surface was an accurate guide of conditions this year. Looking after the tyres will be the aim of the day, but even for those who get it right four stops could be a possibility.
Weather