It was a complete and utter victory for the Sefac Ferrari at Aintree, when Wolfgang von Trips won the British Grand Prix, organised by the BARC and sponsored by the Daily Mirror. The German driver covered the 75 laps at an average speed of 83.91mph, followed home by Phil Hill and Richie Ginther. Into fourth place came Jack Brabham (Cooper-Climax).
For 44 laps Stirling Moss (Lotus) provided the only real challenge to the red cars. During the early stages, with heavy rain tuning the circuit into a skating rink, Moss lay second behind von Trips. The huge crowd cheered when he successfully held a spectacular spin coming into Tatts Corner. Eventually he retired with a broken brake pipe when lying fourth behind the Ferraris.
Von Trips drove a superb race, adapting himself to the dreadful conditions and not making a single mistake. Ginther held second place for some time, but later gave way to team-mate Phil Hill. Near the end of the race Tony Brooks (BRM) set up a new Formula 1 lap record with 1m57.8s, 91.68mph. He had been delayed earlier with a pitstop to cure a misfire.
Henry Taylor (UDT-Laystall Lotus) crashed coming out of Melling Crossing, and was taken to hospital with internal injuries. Rheims victor Giancarlo Baghetti also crashed, but escaped uninjured.
The three works Ferraris were taken up to Aintree by Yeoman Credit transporters and Baghetti's car made the long trip from Modena on the back of an open truck. Last-minute entries for the grand prix were Ian Burgess (Lotus), Wolfgang Seidel (Lotus), C de Beaufort (Porsche) and the Centro-Sud Maseratis of Bandini and Natili.
Sefac Ferrari didn't take long to get accustomed to the circuit, both Richie Ginther and Phil Hill getting round in 2m00.8s (89.40mph), a time which was equalled by Bonnier (Porsche). John Surtees (Lotus) returned 2m01.2s, whilst Graham Hill (BRM) and von Trips (Ferrari) took 2m01.4s. Baghetti spun off and mechanics had to do some panel-bashing on the Rheims-winning car. Fairman circulated with the Ferguson in 2m05.8s.
Times came down with a bang during the second session, with both Hill and Ginther taking 1m58.8s (90.91mph), a time that was equalled by Bonnier (Porsche) and von Trips. Moss (Lotus) and Brooks (BRM) were just 0.5s slower, then came the Lotuses of Ireland and Clark, each with 1m59.2s. Surtees's best time of 1m 59.6s was done with the spare Yeoman Credit car. Brabham was 0.5s faster.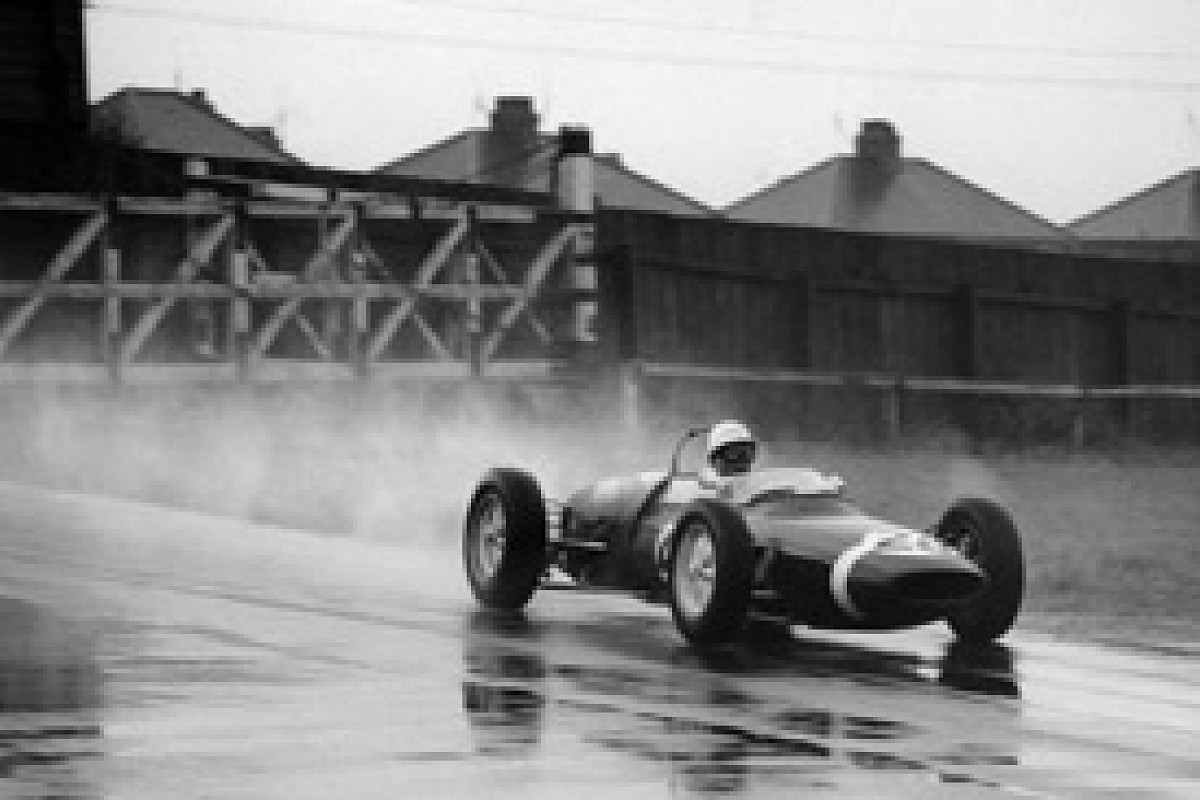 Stirling Moss in the Ferguson-Climax © LAT
On Friday the rains came, and with them a soaking wet track and greatly reduced times. Stirling Moss showed the possibilities of the Ferguson by doing 2m01.6s - four seconds than the next man, Salvadori, in the second Yeoman Credit car. Moss's best with the Lotus was 2m16s, but in fairness it should be said that the track was not quite saturated when he did his quickest lap with the Ferguson.
The rain continued until the afternoon, and no one improved on Thursday's times in the wet. Bonnier, having done his fastest lap before von Trips, split the Ferraris on the front row of the grid, with Moss and von Trips sharing the second row.
Early on Saturday morning there was a real Irish invasion, when Esdale Dowlings annual excursion arrived in a double-decker bus, after coming over from Belfast by boat. This has now become a regular outing, and is meticulously organised down to the last detail.
It was so wet before the start of the grand prix that Lewis's stores in Liverpool completely sold out of plastic macs. John Bolster looked as if he was going sailing instead of doing a BBC motor race commentary from the pits. I thought of asking him to write the report for Watersport, our sister journal.
There was a great flurry to fit Dunlop rain-tyres, for the weather seemed to be settled for the day. It was pouring push-rods from a sullen grey sky, with not a break in the heavy cloud, and the entire circuit was awash. Every driver, with the exception of Jack Fairman, had a visor. The Ferguson conductor settled for a pair of goggles.
When Ebby dropped the flag it was impossible to see who was leading whom. A vast cloud of spray completely obliterated the accelerating cars, but one vaguely saw a couple of red cars take the lead. Sure enough at Anchor Phil Hill was in front, closely followed by Taffy von Trips and Jo Bonnier. Then Ginther went through, chased by Stirling Moss and, as the field took Melling Crossing watersplash, Ginther and Moss had tacked behind the two leaders.
Coming into Tatts it looked for all the world like a speedboat race and only Hill in front could have seen anything at all. As they slid round the Tatts right-hander, Hill and von Trips were a length apart, with Ginther and Moss in their backwash. Then came Bonnier, Clark, Brooks, Graham Hill, Brabham, Ireland, Salvadori and Gurney. Ashmore's Lotus was sliding all over the place. Apparently he had picked up a nail in a rear tyre on the start line. Centro-Sud lost Natili, who stopped at Melling with mechanical bothers.
Lap two and the order remained unchanged in front, but Graham Hill went ahead of Tony Brooks. Baghetti was in 16th place behind McLaren and just in front of Tony Maggs. Ashmore wobbled into the pits and the punctured wheel was changed. Next time round Jim Clark had moved up in front of Brooks, whose engine was giving the odd hiccup. Phil Hill had pulled out 2.3s over von Trips and Moss was hidden behind Ginther in a fury of spray. Then Surtees took Brooks, and Brabham stormed past Clark. Baghetti went in front of McLaren and Henry Taylor closed up on Surtees.
Ashmore stopped again with a bad misfire and was stationary for a long time. Brooks dropped even further behind, the engine now on three cylinders. Now Moss began to put on the pressure, looking for a chance to nip past Ginther. Conditions were really dreadful and huge puddles had formed, making it even more hazardous for the drivers.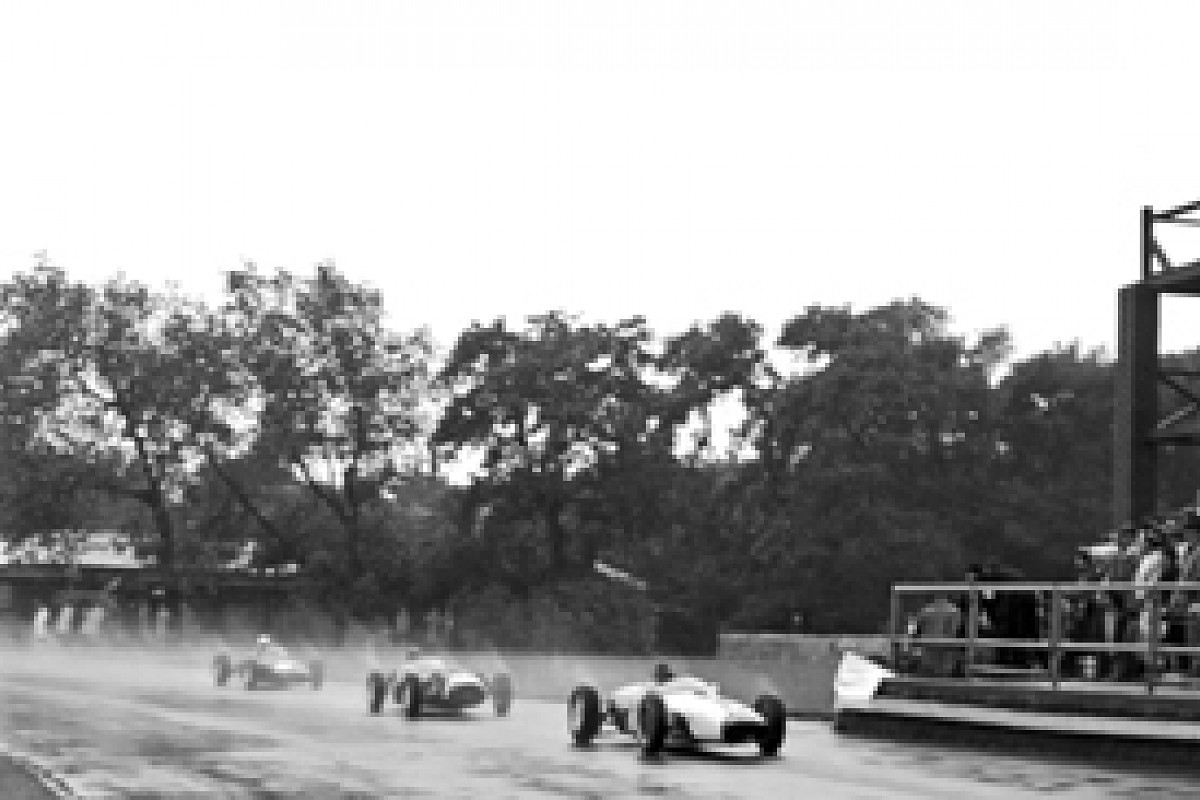 Conditions were pretty bad © LAT
Tim Parnell stopped to have something done to his clutch. The exhaust pipe on Surtees's car was flapping around and stewards were getting a black flag ready. On the sixth lap Moss splashed past Ginther to take third place. Henry Taylor went into a tremendous slide coming out of Melling Crossing and charged off course into an advertisement hoarding. It looked to be a nasty accident, and the ambulance appeared to be a long time in arriving. Phil Hill slowed down and von Trips took the opportunity to nip in front. Surtees, coming into the pits to have his exhaust pipe fixed, did a gilhooley at Tatts, but carried on without hitting anything. He was in the pits for about 40 seconds, whilst the loose tail-pipe was wrenched off.
Moss now threatened Phil Hill and on lap 10, just as von Trips doubled Ireland and Gregory, the dark blue Lotus slithered into second place. Jack Lewis gave up with steering problems and Tony Marsh stopped to change a plug.
Surtees hared round minus a tail-pipe, the engine emitting a most peculiar note, whilst Brooks struggled along with fewer and fewer cylinders, but still managed to hold both Gurney and McLaren. Baghetti began to close up on Clark, having moved into 10th place.
In front Moss was hanging onto von Trips, blinded by spray and hoping that the German driver would make just one little mistake. Both had got well away from Phil Hill and Ginther, who, in turn, had increased their leads over Graham Hill and Jack Brabham. Jack Fairman was going quite well in the remarkably steady Ferguson, but the engine had developed a curious stammer caused by a defective magneto lead after running over some of Henry Taylor's wreckage.
On the 14th lap Brooks stopped to change all plugs, losing well over two minutes. Salvadori, in eighth place, was being challenged by Jim Clark. Team-mate Innes Ireland was having a dreadful time, smothered in spray and with water shooting up inside his visor.
Programmes were waved and the crowd cheered like mad as Moss tried everything he knew to take von Trips. Always he caught the Ferrari on braking and Taffy von Trips was doing a wonderful job of conducting.
Lap 16 and Brabham had Graham Hill's spray in his face and Clark was making every effort to get past Salvadori. Fairman came in with the misfiring Ferguson and mechanics messed around with the ignition system. He was restarted by pushing.
Stirling Moss was showing sheer genius, and time and time again came right up to von Trips' rear wheels, to the great excitement of the crowd. It was very definitely Moss versus the Ferraris, for Graham Hill and Braham were some distance behind Hill and Ginther. Gurney came up to dispute the issue with Baghetti, who was making a fine effort in his first wet road-race.
There were now several battles taking place: Moss v von Trips, G Hill v Brabham, Bonnier v Salvadori v Clark, and Baghetti v Gurney. Surtees was again in the picture and managed to edge past McLaren.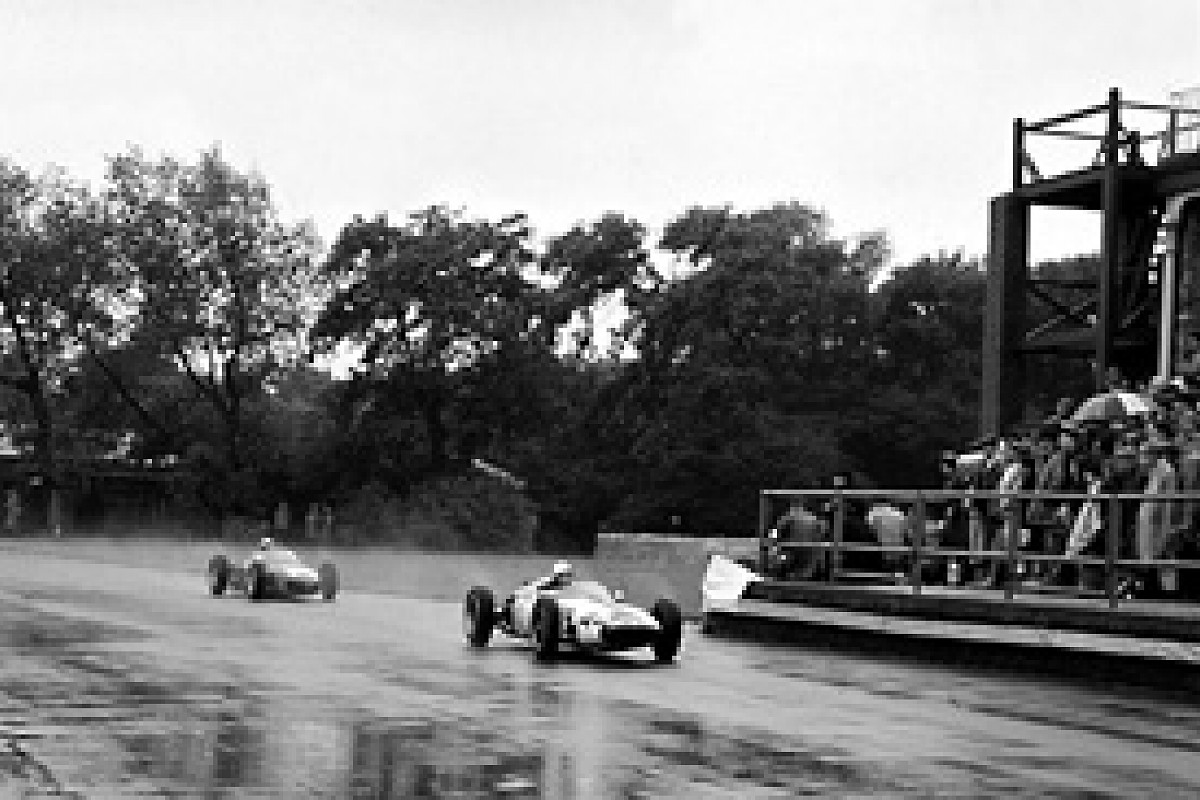 Masten Gregory in the Cooper © LAT
On the 19th lap Brabham at last took Graham Hill for fifth place and one lap later Salvadori overtook Bonnier. Surtees began to close on Baghetti, who was not making much impression on Dan Gurney.
Stirling definitely had Ferrari bothered, for he was continually snapping at the heels of von Trips. He must have been driving by radar, for he couldn't have been able to see anything at all in the clouds of spray produced by the flying Ferrari. Jim Clark forged ahead of Bonnier on lap 22 and Surtees passed Baghetti. Two laps later and the Yeoman Credit man was out with a broken crown wheel and pinion.
The fantastic struggle between von Trips and Moss had the crowd yelling with excitement. Then, on lap 26, came near-disaster for Moss. Coming out of Melling Crossing he hit a deep puddle and the Lotus went sideways. In a masterly exhibition of how to get out of, and to control, a slide, Moss finished up pointing in the required direction, having neither left the road at all, nor hit anything. However, this contretemps dropped him back 10 seconds behind von Trips and he had to begin the pursuit all over again.
At 25 laps the position was: 1, von Trips; 2, Moss; 3, P Hill; 4, Ginther; 5, Brabham; 6, G Hill; 7, Clark; 8. Salvadori; 9, Bonnier; 10, Gurney; 11, Baghetti; 12, McLaren. All the others had been doubled.
McLaren moved up one when he took Baghetti on the 27th lap. The young Italian was just being lapped by von Trips when he went into a slide and ended up against a bank at Waterways. He was completely uninjured, but the Ferrari was out of the race and Giancarlo had added something to his racing experience.
Once again Moss began to get within striking distance of von Trips, but Phil Hill was beginning to move closer to the Lotus. The rain had begun to ease off and bits of blue sky had appeared. However it was still plenty enough wet on the tarmac, and Moss sat 7-8s behind von Trips. Jim Clark, going really fast, had started to catch Graham Hill, whose engine seemed to have lost its tune.
On lap 35 von Trips doubled McLaren and next time round Gurney was ahead. Meanwhile, Ginther had taken Phil Hill and was setting out to catch Moss. The rain had stopped altogether and the circuit was drying up rapidly. Up went the speed of the Ferraris and on the 40th lap Richie Ginther took second place away from Stirling Moss. Phil Hill was relentlessly closing up, so the full force of Maranello was being let loose on the gallant Moss.
On the 44th lap Graham Hill stopped to try to cure a misfire and to the great disappointment of the crowd Moss, having been displaced by Phil Hill, pulled into his pit to retire with a broken bridge piece on a brake pipe.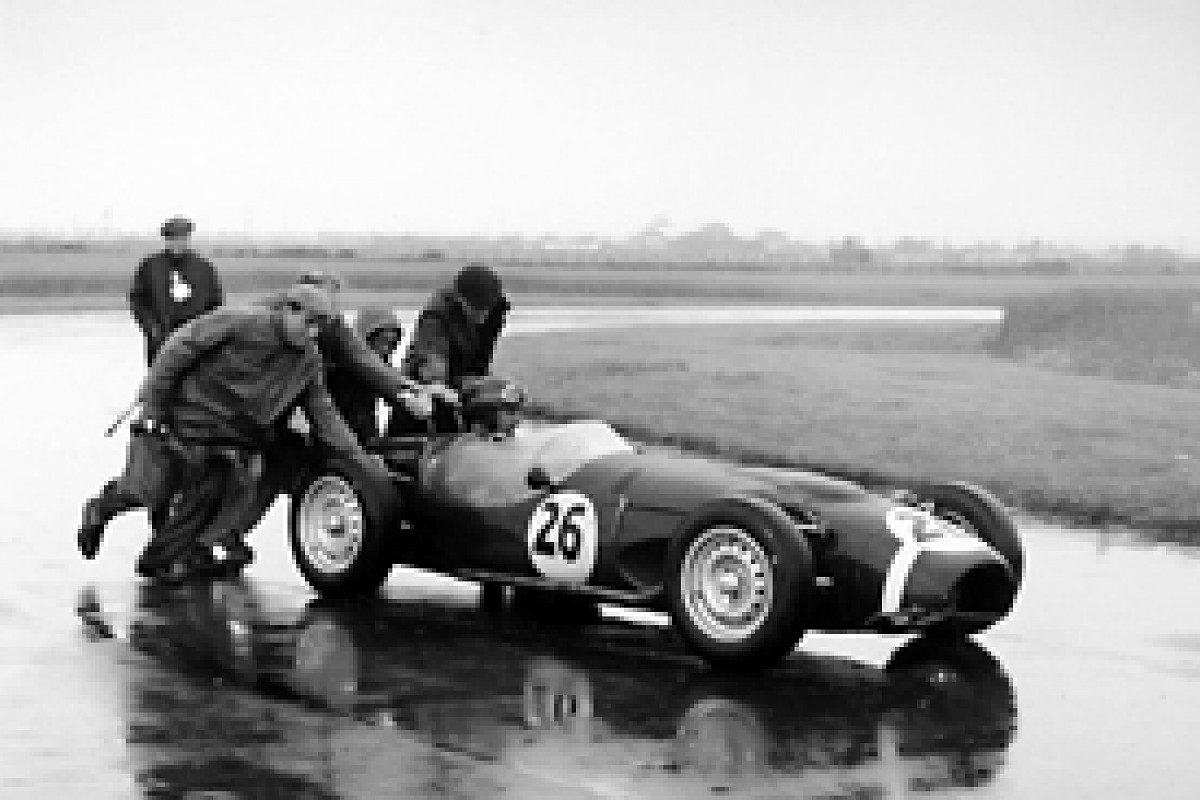 Jack Fairman's pitstop triggered the car's disqualification © LAT
Bianchi (UDT-Laystall Lotus), who had earlier taken to the infield close to where Taylor had gone off, retired with gearbox failure. Seidel, whose gear lever had snapped off, was back in the race after a lengthy delay. Graham Hill's car was pushed away with a broken valve spring.
With the exit of Moss, the race developed into a Ferrari procession. Brabham, driving the nearest British challenger, was over 45 seconds behind von Trips. Stirling Moss, for some reason, took over the already disqualified Ferguson and did several impressive laps before the car was brought in and officially disbarred. As the 4wd machine was some eight laps adrift, few could see the point of this, except it gave the crowd another opportunity to watch Stirling in action.
After Fairman's original pitstop, it was inadvertently push-started, but was allowed to continue whilst the stewards debated. When Moss took over, both Cooper and Ferrari protested, and the Ferguson was eventually black-flagged. Poor Fairman therefore never had the opportunity to drive it in the dry.
Tavoni signalled a race order to his men and immediately Richie Ginther dropped back to third place in favour of Phil Hill. Unless anything untoward occurred it was obvious that von Trips was going to be allowed to win this race and that Hill would have to be content with second place.
Meanwhile Jim Clark was catching Jack Brabham and on the 60th lap there were less than six seconds between them. Closer and closer came the Lotus, but on lap 63 Jim pulled off the road covered in oil - the oil-pressure-gauge pipe had fractured.
Jo Bonnier overtook Salvadori on the same lap, but from lap 64 till the end the race order remained unchanged. Ginther cheekily went in front of Hill at Melling, but dropped back again before he reached the timing area and the eagle eyes of Tavoni. During the later stages the processional aspect of the race was enlivened by some wonderful driving on the part of Tony Brooks. With the sun shining and the circuit dry, the B.R.M. driver set up a new 1500 cc Formula 1 record with 1m57.8s, 91.68mph. This is only eight seconds outside the existing circuit record held jointly by Moss (BRM) and McLaren (Cooper-Climax), with 2.5-litre cars.
Von Trips eventually took the chequered flag and became the first German driver to win a race in Great Britain since 1903. He finished 14 seconds in front of Phil Hill, who, in turn, led Ginther by 0.5s. Bonnier made a brave effort to catch Brabham for fourth place, but the World Champion was just 7.6s too good for the Swedish driver. Roy Salvadori earned his first championship point of the season, giving the answer to certain race promoters who fail to list him amongst the seeded conductors.
In all, 17 of the 30 starters completed the course, but only the first six did the full 75 laps distance. Von Trips' fine win gives him the lead in the World Championship.
For the full results of the 1961 British Grand Prix, visit the Forix database