Italy personal scorecard
• Sebastian Vettel scored at Monza his maiden pole and win in 2008 with Toro Rosso, but switching to Red Bull dented his performances at this track as he suffered from lack of speed both in 2009 and 2010.
The sixth grid spot he gained last year is his worst qualifying performance of the last two seasons, the only time he didn't reach the first two rows of the starting grid in this timeframe;
• Mark Webber, on the other hand, obtained his best result at his ninth Italian Grand Prix, finishing sixth. He clearly has a special feeling with the Renault engine as he is the only driver with a Renault-powered car who was able to qualify inside the top five in the last five years. He did it twice: third in 2008 and fourth last year;
• Lewis Hamilton was second behind team-mate Alonso during his maiden F1 season, while in the last two years he was victim of two race accidents: on the last lap in 2009 and on the opening one last year. He has an unusual bad score against his team-mates in qualifying here: he was able to beat only Heikki Kovalainen in 2009, when he started from pole;
• Jenson Button was second in the last two editions of the race and he also led more than a half of the race last year, but was pipped by Alonso at the only pitstop. In the last seven editions of the race, Button has finished outside the top 10 (and outside the points) both in qualifying and in the race only in 2008, when he started from the pitlane;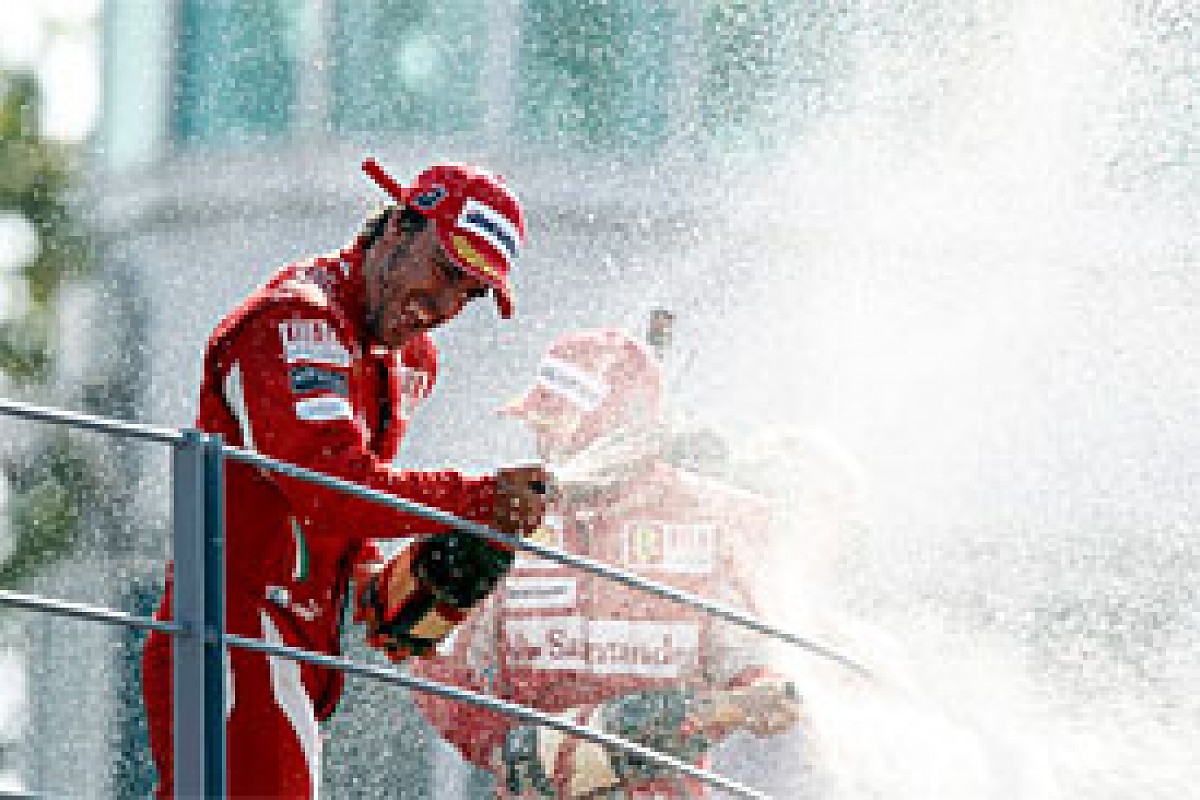 Alonso won at Monza last year © LAT
• Fernando Alonso recorded two hat tricks at Monza: in 2007 and last year. It's clearly a track that suits him as he has qualified in the top-10 here in the last seven editions and finished in the top 5 in the last four. Alonso was always able to finish the race in front of his team-mates, seven times out of nine, and also when those two retirements occurred, in 2004 and 2006 (spin and engine failure), he was running in front of his sister car;
• Felipe Massa scored his best Monza result last year with third. Since he joined Ferrari his qualifying pace increased dramatically as he qualified between third and sixth since 2006, while up to 2005 he always failed to gain a top-10 spot. Massa is currently the record holder as far as V8 2.4 engines are concerned: in the second qualifying session of 2006 he posted a 1m21.225s, still unbeaten with this engine layout;
• Michael Schumacher is the most successful driver at Monza with five wins, always with Ferrari, in a ten-year time span (1996-2006). Last year, in his first outing here for Mercedes, he missed for the first time a top-10 grid spot atthe Italian track. His last retirement here dates back to 1995: he has finished all his Italian Grand Prix since then;
• Like Mark Webber, Nico Rosberg obtained his best result here last year: fifth. He was able to start from the top 10 three times out of four in the last four years, missing out only in 2009, when he was beaten by Nakajima, the only time he was beaten by a team-mate at Monza;
• Bruno Senna managed only eleven laps last year before retiring. In the GP2 championship he raced here four times and scored as best results a fourth and a third in 2007;
• Vitaly Petrov, who turns 27 on the Thursday before the race, was 13th last year: he had to start from 19th due to a penalty;
• Rubens Barrichello counts three wins in Monza: two in the Ferrari years (2002 and 2004) and two years ago with Brawn, from the fifth grid spot: he is the only driver able to win the race starting outside the first two rows in the last 13 years and the only one not starting from the front row in the last eight. The 2009 win his is last one to date;
• Pastor Maldonado raced six times in the GP2 championship at Monza: he was second and fourth in the first two, then four accidents followed. Despite crashing out twice last year he secured the title;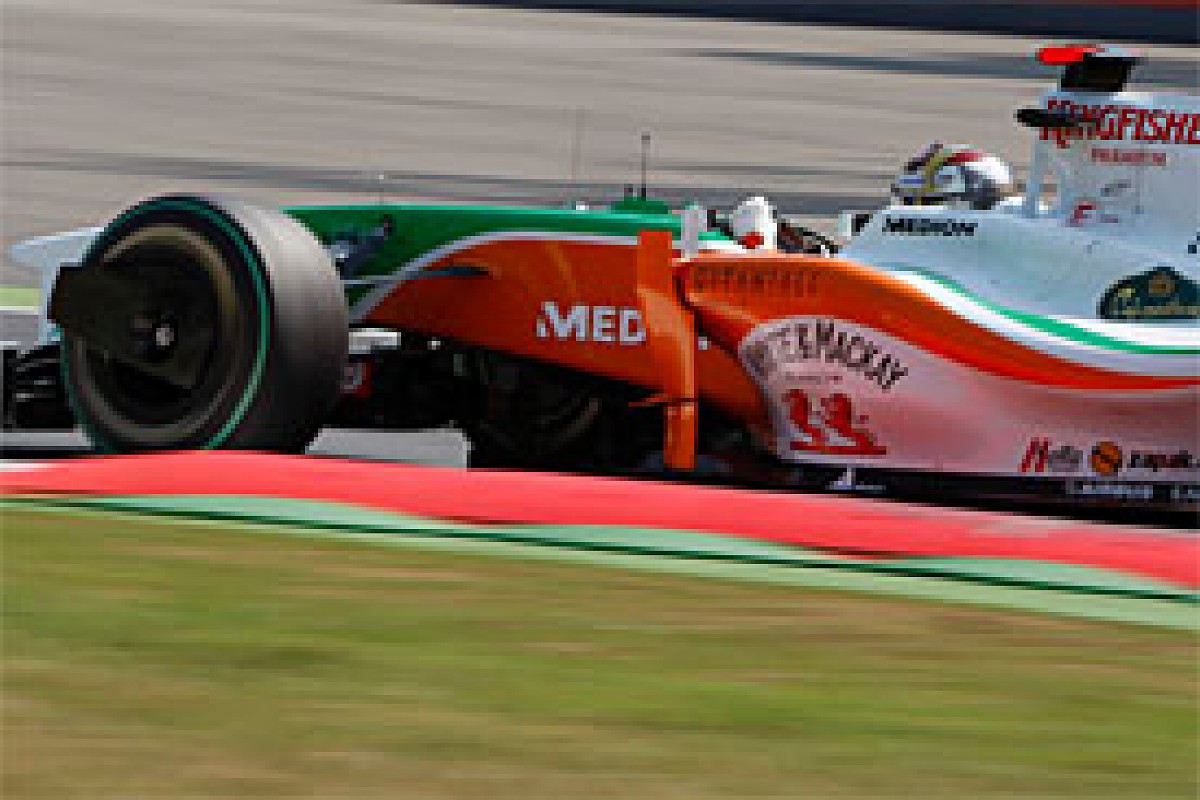 Sutil started from the front row in 2009 © LAT
• Adrian Sutil lived in full the magical moment of Force India two years ago: he was second on the grid and fourth at the flag, posting the fastest race lap. To date these are his best career results. Last year luck deserted him as he suffered two separate accidents which put him down in 16th at the finish;
• Kamui Kobayashi turns 25 on the Tuesday after the race. Last year in the same period he didn't get a present: he had problems on the installation lap, started from the pits, but his gearbox failed soon afterwards;
• Sergio Perez had his share of bad luck too: in GP2 he retired three times here and then posted only a lowly 13th in last year's sprint race;
• Sebastien Buemi has not managed a top-10 spot in qualifying or in the races at Monza. His team-mate Alguersuari has the same problem, but he has the distinction of being the fastest driver at the speed trap in last year's race: 348.7 km/ in qualifying;
• Heikki Kovalainen was second in 2008 (last podium to date) behind Sebastian Vettel: in his McLaren/Renault years (2007-2009) he was always able to qualify and finish among the first seven;
• Jarno Trulli has always been unlucky at Monza: he has scored only nine points in 14 races. His best result is a fourth with Renault in 2002;
• Daniel Ricciardo raced here already this year, in May in Formula Renault 3.5. He won race two from pole, posting also the fastest lap;
• Vitantonio Liuzzi has never scored points in his home race. In 2009 he was running one of his best races: he started from seventh and was close to podium positions when his transmission failed. In four race weekends he was never able to beat a team-mate in qualifying;
• Timo Glock has never managed a top-10 finish here: he had only a top-10 start, in 2008, but ended up 11th. Like Liuzzi, he was always beaten by his team-mates here;
• Jerome d'Ambrosio raced six times in GP2 at Monza. He always finished between the second (2010 sprint race) and the seventh (2008 feature race) places;
Italy teams' scorecard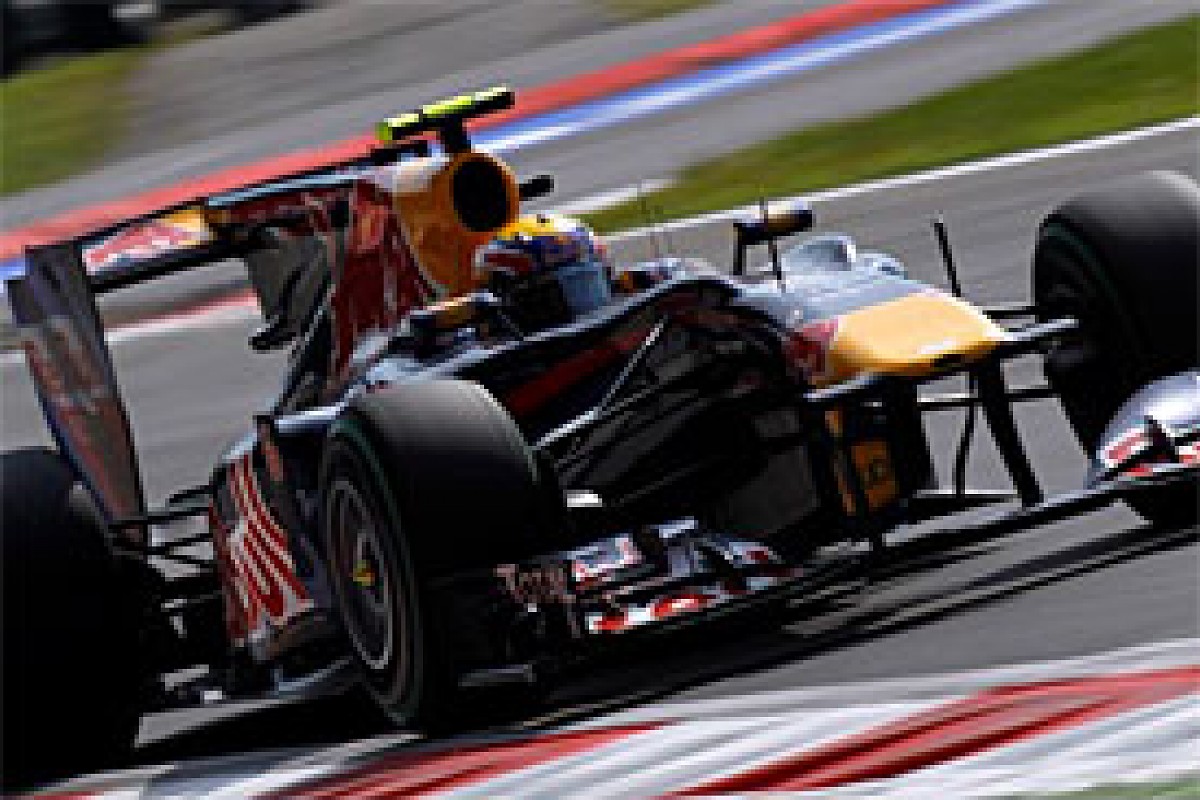 Monza, one of Red Bull's worst tracks © LAT
• Red Bull has always suffered here, claiming a lack of power from the engine: it has never started from the front row and never finished on the podium. To understand the extent, we have to consider that in the last three seasons the team racked up 52 front row starts and 54 podium finishes. Last year it limited the damages with a fourth from Vettel and a sixth from Webber. Last but not least, it has never spent a single lap in the lead here;
• McLaren's last win here dates back to 2007 (Alonso), despite showing good speed in the last editions: since 2005 the best-qualified McLaren in Monza was either on pole (four times) or second (twice);
• Ferrari established over the years a strong presence in the Monza record books: 18 wins, twice as many as McLaren and three times the value of Williams. It is the team to beat: last year Alonso scored pole, win and fastest lap;
• Nico Rosberg recorded the best results for Mercedes: seventh on the grid and fifth in the race. In 1955 the team scored here its last pole, win (Juan Manuel Fangio) and fastest lap (Stirling Moss);
• Renault has the same engine as Red Bull and it has also suffered in recent years: its last podium and front row at this track dates back to 2005;
• Williams scored its last Monza win ten years ago and its last podium in 2003. Last year it was able to score points with both cars;
• Force India lived its last two Italian races with very different outcomes: it started from the front row and finished fourth with Sutil two years ago, while last year it didn't manage a top-10 grid spot or a points finish;
• Sauber has missed a top-10 spot here since 2008 and last year it wasn't able to score points at Monza for the first time since 2004;
• Toro Rosso won its only race from pole in 2008 with Vettel, while the following year it had to suffer its only full back-row start in its history. It hasn't scored points at Monza in the last two editions.