The Formula 1 paddock is a pretty interesting place to mention MotoGP. Roughly half the folk edge away from the conversation lest they be perceived to be traitors to the F1 cause, while the other half eagerly joins in, talking animatedly of the death-defying acrobatics the two-wheeler brigade pulls off on a fortnightly basis.
Although F1 grands prix invariably clash with MotoGP dates - their 18-odd race schedules need to be crammed into the same nine months - timing in different zones enables F1 folk to follow two-wheeler qualifying/racing before heading to the circuit for the day, or vice versa.

In fact, the two series allegedly have an unwritten agreement to avoid clashing geographically and timing wise - something obviously not insisted upon by the powers-that-be at the FIA in Paris, who this year scheduled six (of 13) World Rally Championship events over GP weekends, sometimes with less than a 1000 kilometres between them.
Still, such is the divide in certain quarters that to some folk admitting to an interest in MotoGP in Bernieland is akin to admitting to suffering from contagious diseases.
Matters are not aided by the fact that different controlling bodies administer automobile and motorcycle racing, with the FIA in Paris being responsible for the former, and the Geneva-based FIM sanctioning motorised two-wheeler activities. Logical one may say, except in certain countries the same national sporting bodies (ASNs) administer both categories, while further cross-overs between F1 and MotoGP exist, particularly with regard to safety, venues, and trade and commercial activities.
For example, Philip Morris (Marlboro) is active in both - albeit with necessarily low key branding - while Bridgestone for many years supplied F1 and MotoGP. Spanish oil company Repsol was active in F1 and currently partners MotoGP championship leader Casey Stoner, while Castrol has been a mainstay of both. PUMA is active in both paddocks, as is Alpinestars, while FIAT - majority owner of Ferrari - sponsored legend Valentino Rossi while he rode for Yamaha.
Seek an equivalent to Ferrari, and Ducati stands there, resplendent in red and white.
It goes further: CVC Capital Partners, current holder of F1's commercial rights, previously held a majority share in Dorna, MotoGP's commercial rights holder. It only divested of its two-wheeler interests when Europe's parliament forced the issue as part of an approval process after equity fund CVC acquired 63% of Bernie Ecclestone's Formula One Group in 2006.
In fact, Ecclestone once held the promotional rights to the premier motorcycling series, which he sold on to Dorna.
Interestingly, the FIM's world championship preceded F1's by a full year. Motorcycle racing got its post-WWII act together by initiating a fully international series for 1949. Its rights deal with Dorna was ratified in 1992.
F1 celebrated its inaugural world championship season in 1950 and trailed the FIM by a full five years when it came to leasing out F1's rights (to Ecclestone's family trust).
However, the octogenarian certainly made up for lost time, with F1 this year scheduled to turn over around £800m. Dorna meanwhile, will be content if it sees a quarter that. Both operations have three primary revenue streams - race fees, television contracts, and merchandising/hospitality - and it is with hosting fees that F1 makes its biggest killing. Hence the outrageous ticket prices F1's promoters are forced to charge...
MotoGP's more affordable ticket prices (at £100 average for a reasonable view typically a third lower than F1's) ensure crowd numbers to make Ecclestone's eyes water if he ever stepped where hairy bikers do.
Barcelona provides a perfect top-end comparison, having hosted the two categories within a four-week window: Top price for a MotoGP weekend ticket was £130; to follow F1 from the same seat costs £400. Any wonder the place was packed for one race and deserted for the other?
Crowds have been down at some F1 events this year © LAT
Fortunately we have directly comparable crowd numbers, too. In July Germany's MotoGP round at the Sachsenring pulled 250,000 race day fans; the German F1 Grand Prix at the Nürburgring a fortnight later reported just 50.000. This despite the nation boasting the reigning F1 world champion - Sebastian Vettel - plus four active drivers, including Michael Schumacher, on the grid (and the presence of Mercedes). MotoGP has not a single rider on the grid - with Moto2 star Stefan Bradl being the country's sole representative in the secondary class.
Hungary and Czech Republic, too, are directly comparable due to their proximity and recent political history.
The Hungarian Grand Prix at end of August attracted a similar number to Germany, yet the Czech Republic's MotoGP round at Brno attracted 155,000. However, it is not always thus, with Silverstone's two-wheeler round boasting 73,000 on race day, while over 30,000 more turned up to watch Lewis Hamilton and Jenson Button get thrashed a month later.
Still, on an overall basis, MotoGP has a clear edge over F1 in terms of spectator numbers by a factor of at least two-to-one.
Obviously both categories also offer premium hospitality, and here the price factor is three times: MotoGP's VIP Village charges around £900 per head for the weekend; two-day entry to F1's Paddock Club runs in at £3000-plus. Dorna seems more switched on when it comes to maximising merchandising, with there being markedly more 'goodie' stands at races than is (now, after the major manufacturers exited) the case at F1 events.
Sources suggest hosting fees as low as £2.5m for MotoGP rounds, while Ecclestone invariably demands at least five times that, with £40m not unheard of.
F1's TV contracts are up by a factor of around five, yet MotoGP's audience rating are half of F1's numbers - making the latter approximately 250% more cost effective for broadcasters. Thus, when the BBC took an axe to its Sport department, guess which got the chop? Yes - as has been reported virtually non-stop for the last month, British F1 junkies will watch Bernie's offerings via (paid-for) Sky dishes...
The financial models could not be more different, either. Of the £800m turned over by Ecclestone's group, approximately half will end up with the teams in terms of the Concorde Agreement, the tripartite document which governs the sport.
After shelling out another £100m for expenses, the F1 group will retain around £300m - before repayments to the Royal Bank of Scotland, which mainly bankrolled CVC's purchase of the 113-year rights. That pans out at a margin of 37.5%.
In Dorna's case the major teams individually negotiate their slices, with the International Road Racing Teams Association negotiating on behalf of the rest and the lower two categories (Moto2 and 125/Moto3).
IRTA has an enormous presence in the paddock, and can be compared to the Formula One Team's Association, whose Secretary-General is forced to seek refuge in teams' motorhomes.
Crucially, though, sources in the MotoGP paddock suggest that Dorna's margin this year will be under £20m, meaning that the CRH retains less than 10% after expenses - about the norm for sporting activities, bar, seemingly, F1. On that basis CVC should trouser about £100m per annum, and the teams £600m rather than £400m: a difference of £20m average per operation, or about what a major sponsor is expected to contribute.
There is also a major difference in the way the media is administered, with Dorna handling all two-wheeler accreditation - with even the FIM's media officer parking amongst journalists - while the FIA administers print/internet media applications and Formula One Administration tends to radio/television accreditation.

Such is the interest in MotoGP in certain regions that Iberia hosts five (packed) rounds - Barcelona, Valencia, Aragon, Jerez and Estoril - and Italy two (Mugello, Misano), yet where F1 promoted multiple events in the same territory (Germany, Italy, Spain) tears inevitably resulted. So much so that a roster was introduced in Germany (Hockenheim/Nurburgring) and is mooted for Barcelona/Valencia, while Imola's round has been quietly dropped.
When it comes to budgets there exist enormous differences, too.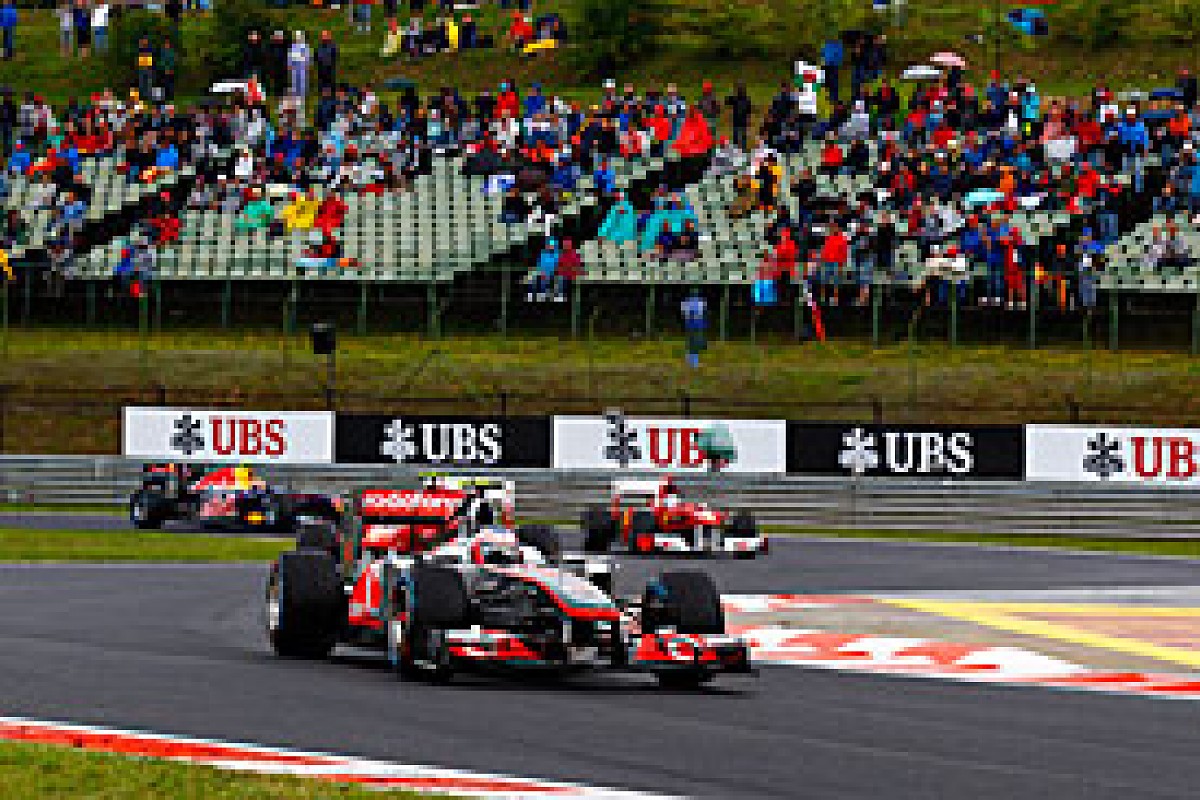 Marco Simoncelli finished third at Brno on a satellite-run Honda © sutton-images.com
Given that MotoGP races are for 800cc two-wheelers (1000cc from 2012) and run to around 45 minutes, it is to be expected that MotoGP is more affordable than the elite four-wheel formula, but, again, the numbers are eye-watering:. Where the likes of Ferrari, McLaren and Red Bull Racing spend upwards of £250m per season, sources in Brno (where this research was conducted) suggest Honda and Ducati blow a sixth of that per season - with the Japanese running four bikes on that amount.
Rider salaries are well down, too: recent research suggests that Rossi pulls around £5m per annum, about a third of Michael Schumacher's stipend at Mercedes. Apart from the retainers, their situations are virtually identical: both are legendary multiple champions seeing out their last days with their dream teams; albeit rather unsuccessfully at present.

Privateers are able to lease bikes identical to those ridden by Stoner (Honda) and Valentino Rossi (Ducati) for around £2m per year, with privateer budgets for a full season coming in under £4m.
Alex Hoffman, former MotoGP rider-turned-TV commentator tells a tale of Stoner and his mate/mechanic/bottle washer sleeping in the back of their trailer while battling to break into the top category, and in the Brno paddock there were more motorhomes to be seen than in Romany camps.
In fact, in the last Czech round Marco Simoncelli finished on the podium with a customer-run works Honda, while in F1 the Concorde Agreement bans even sister teams from sharing chassis technology, as Red Bull/Toro Rosso discovered; nor could you imagine a driver rolling out his sleeping bag and napping under the stars...
Ask those who did/do work in both genre about their major differences, and their answers are universal: "This (MotoGP) is more fun, and the racing much better." Then added an ex-F1 hospitality staffer: "We have half the wheels and three times the fun, so that makes MotoGP better by six."
Factor in costs of about a third of Formula 1, and the bang-per-buck ratio could be said to hit a factor of 18. Either way, dual fans should never be ashamed of having contracted the MotoGP disease. And, those who don't yet have it, should make sure they catch it quickly.
PS: As this column was penned this website published images from the 1986 season here. Without exception every photograph features massive crowd backdrops - now compare that to the empty seats at some of the grands prix this year and reflect on F1's ticket prices...