The news that Sky Sports and the BBC would share Formula 1 coverage from next year until 2018, with Sky the only place to see all races live, hit the paddock like a bolt from the blue early Friday morning.
Many of the BBC team, Martin Brundle among them, were clearly unimpressed, as much as anything about the lack of information.
Parachuted in to report the news, they were somewhat dismayed to find that they were the news.
There were a couple of lines from the BBC's director of sport, Barbara Slater, who was quoted thus: "We are absolutely delighted that F1 will remain on the BBC.
"The sport has never been more popular, with TV audiences at a 10-year high, and the BBC has always stated its commitment to the big national sporting moments.
"With this new deal not only have we delivered significant savings but we have also ensured that through our live and extended highlights coverage all the action continues to be available to licence-fee payers."

Despite that, the over-riding reaction was negative. And it wasn't long before those who had been around a while were looking at the bigger picture.
As Dieter Rencken pointed out in his piece with John Howett some weeks ago, there is a belief that the teams should take control of their own commercial destiny when the current Concorde Agreement expires at the end of 2012.
As part of the existing agreement, however, the teams, FOTA or anyone acting on their behalf, are precluded from entering into negotiations with any existing circuits/promoters/broadcasters about a potential breakaway series until January 1 next year.
Or from revealing any such details until June 1, 2012.
In the meantime it is in the interests of Bernie Ecclestone and F1 commercial rights holder CVC to make any such possibility even more remote by doing as many long-term deals bridging the existing Concorde as possible.
What better way, in one of F1's major markets, than to sew up two broadcast giants such as the BBC and Sky Sports until the end of 2018?
Do I think that was Bernie's predetermined game plan? No. Do I think he is far too shrewd to miss such an opportunity when it is presented to him on a plate? Certainly.
The BBC coverage package has received plenty of praise © LAT
I can understand the feeling of deflation among the BBC team. They produce an excellent product that, in the opinion of Murray Walker and many others, is the best in the world bar none.
And from what we have now, 2012 will be a step backwards as far as the BBC is concerned. That is an inescapable fact.
Having said that, I don't believe the situation warrants the mass hysteria that engulfed bulletin-boards and forums on Friday morning.
Nor do I think we should dismiss what Slater had to say as mere PR spin. Yes, she had to say something positive. But she's also steeped in sport and no BBC bean-counter.
Her father, Bill, was the last amateur to play in an FA Cup Final, was capped by England, performed significant roles at both Crystal Palace and with the British Gymnastics Federation and received an OBE and CBE for his services to sport.
Slater herself is a former international gymnast who carried the British flag at the opening ceremony for the Montreal Olympics and is a former PE teacher at Loughborough with an Oxford degree. She cares.
When she speaks of the need for pragmatism, flexibility and adaptability in a tough financial climate, it's because that's the reality. Widespread BBC cuts are fact.
Far better to have the BBC involved in F1 until 2018, albeit in a reduced capacity, than to have a thick red line scratched through the whole F1 budget, which could so easily have been the case.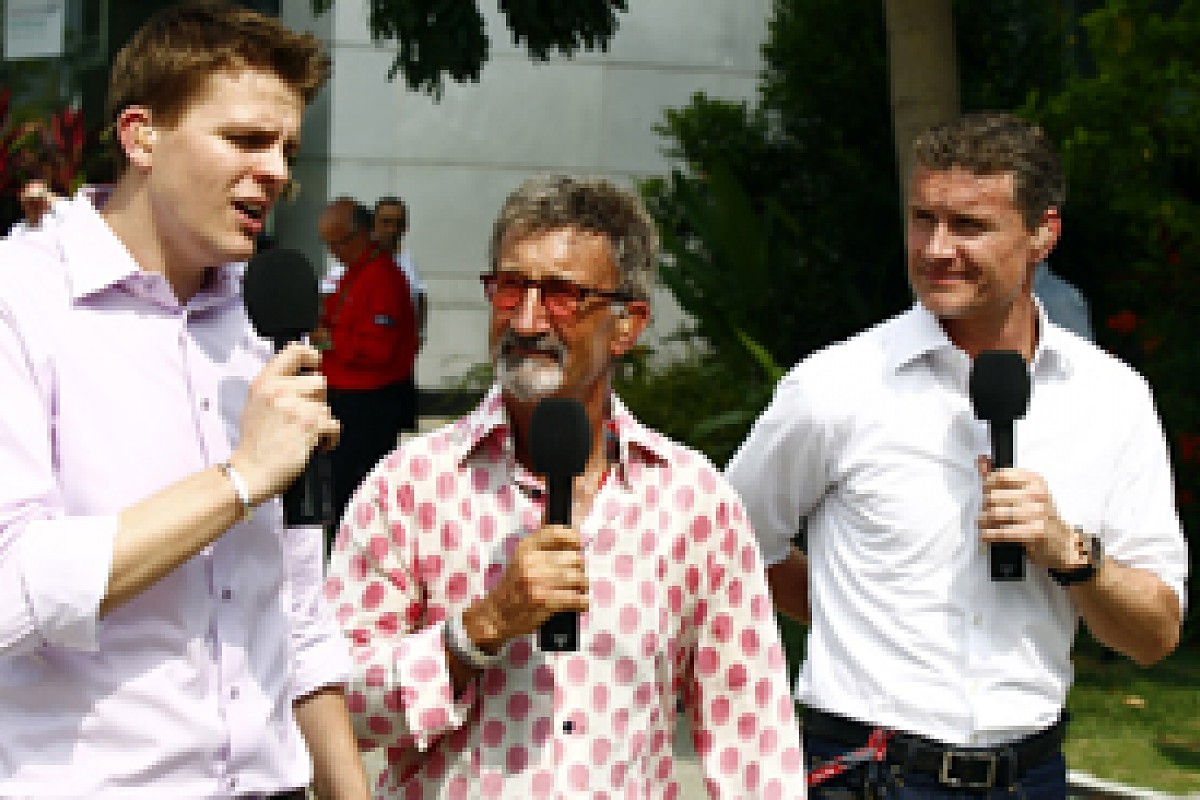 The BBC and Sky teams were parked together in the Hungary paddock © LAT
Then there's Sky Sports. Inevitably there will be those who can't/don't wish to pay for it.
But many serious sports fans do and they appreciate that the network does an excellent job. There is no reason to suspect that Sky's F1 coverage will be any different.
Apparently 10 million British households already have Sky, although the numbers who have paid extra for the Sky Sports package is less clear.
Clearly, there are those whose enthusiasm for Rupert Murdoch is lukewarm at best, particularly right now.
And you have to smile a little at the timing, which is so typically F1: sod the ethics, this is business.
In its ability to be extortionate, its capacity for rapacity if you like, F1 makes Murdoch look like a babe in arms.
Just as a small example, let me tell you about internet access for journalists at a grand prix.
Free, surely, you must be thinking. Even hotels appreciate that it's a service they need to offer gratis or else punters will go elsewhere.
Wrong. We're a captive audience, you see, and many of the circuits, faced with exorbitant fees, look to claw something back wherever they can.
So far this year, I've paid more for internet access at race tracks than it would cost you to subscribe to Sky Sports for a year. Ludicrous, but true.
Back home, I pay Murdoch's lot £5 a month, about 17p per day, for broadband access. At Hungaroring I shelled out €86.25 for four days' access, well over 100 times as much!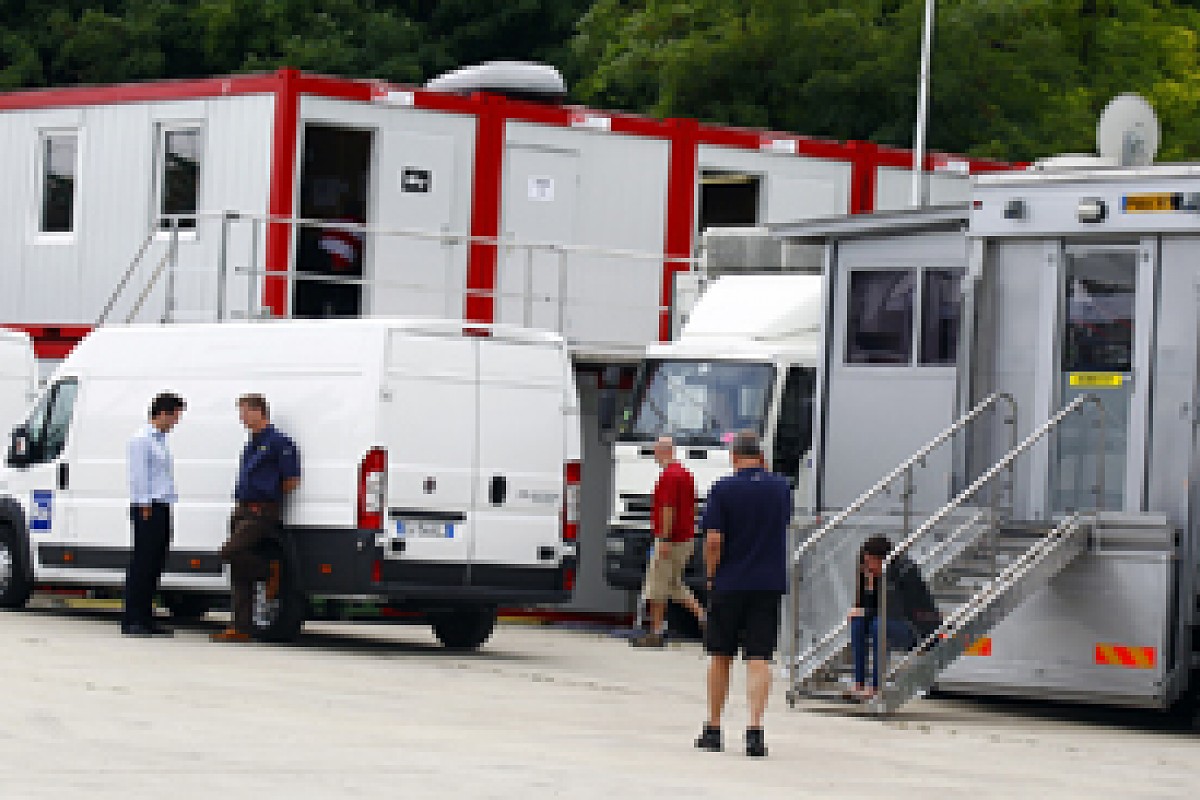 Bernie Ecclestone is interviewed for television © LAT
A lot of people don't care - they simply whack in an expenses claim. When you're freelance, that kind of extortion makes you want to punch someone.
At the moment the BBC pays something slightly north of £40 million per year for its F1 rights.
Although no figures are known for the new deals, it would be logical to assume that the BBC's contribution will halve and that Sky will pay something in the order of £45m, bolstering the total TV pot from the UK rights by around £25m.
As only half of the revenue currently stays in the sport, it means that the 12 teams will be richer by an average of just over £1m each, although the funds are not distributed equally but rather in accordance with a complex formula laid down in the Concorde Agreement.
Still, that's good business from just the single market, and explains why there was rather less noise as the weekend progressed and the team principals had a chance to listen to what Bernie had to say and do some maths.
It becomes poor business, however, if audience numbers decline and more is lost in sponsorship - which depends on viewing figures - than is gained from the deal.
If F1 became solely pay-TV based, that would undoubtedly happen and the sport would have to change its financial model. In those circumstances, ructions from the fans would be entirely justifiable.
But, as things are, there's no reason to assume that will happen.
Yes, we know that F1 is seeing all-time-high viewing figures on the BBC at the moment, with 6-8 million viewers reported for the Canadian and British GPs. A top football match on Sky Sports, meanwhile, might generate 1-2 million viewers.
If the BBC was showing only half the races, full-stop, I admit there would be a substantial reduction in numbers and a problem.
But they're not; they will have 'an extended highlights' package on a Sunday evening for the races that are only live on Sky.
So, if you can't pay or you get all angsty about lining Murdoch's pockets, you don't have to. It will be a bit like watching Match of the Day is for football fans on a Saturday evening.
You may even win some brownie points walking in the park after the Sunday roast instead of collapsing in front of the race.
Seriously though, the audience numbers may actually increase by showing the race at peak viewing time in the evening.
Throughout the Hungarian weekend people were getting worked up about whether the BBC highlights would be the full race, or not.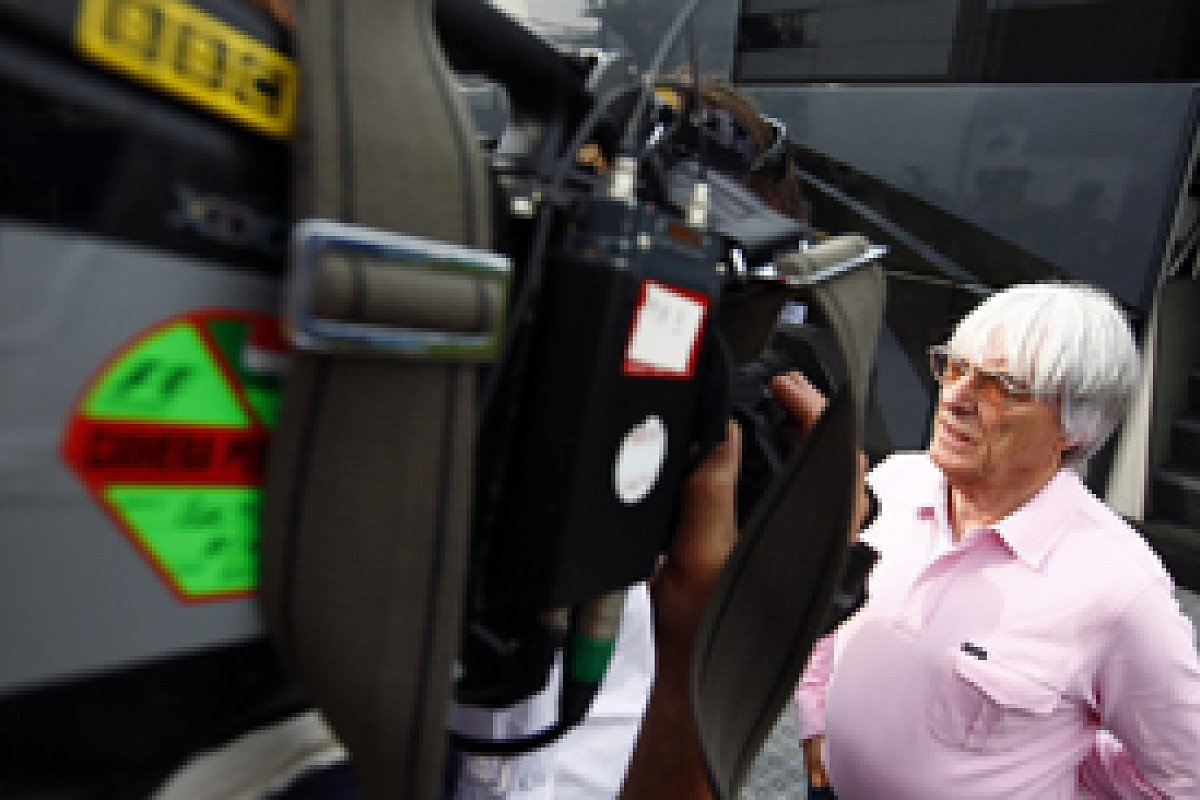 Whitmarsh was keen to find out if BBC would show races 'as live' © LAT
Martin Whitmarsh said that he had asked Bernie 'more than once' and had been told that they would be.
Somewhere in among Bernie's quotes, however, there was a 'we'll see'. And BBC sources indicate that it is far too early to know exactly what format the programming will take.
Whatever, there's no reason to suspect that the BBC's highlights programme will be anything other than a quality show.
There could even be some positives, for example more time to digest and review key race issues.
From what I understand, however, the take-up for the BBC's 'red button' coverage is very small compared to the main audience numbers, and so it may well be that the bulk of the analysis, which appeals more to the hard-core fans, will be on Sky.
Over at Sky Sports, I spoke to Jon Desborough, a fine presenter and a huge motorsport enthusiast.
"It's 17 years since I stood on the steps of the Williams motorhome with Damon Hill clutching the British GP trophy, about the only time Bernie let us in!" he said.
They have waited a long time, Desborough would love to be involved and he has no doubts that Sky will do a fine job.
If you have Sky Sports there is every chance that you will be even better served across the two channels than you are now.
If you don't have Sky then you will still get to see the race and I don't quite see the need for all the hand-wringing.
Fans of the sport in other countries think UK fans are spoiled as it is. We've come an awful long way since a few grainy bits of footage from Monaco, Silverstone and Monza was it for the year.
Let's look at some of the positives and reserve judgment until we see what we get.