"I don't know," said McLaren's technical director Paddy Lowe on Friday afternoon. "I'm beginning to give up on trying to understand Fridays. At the Nurburgring I was convinced we were just slow and then Lewis goes and sticks it on the front row. Here we look good and that makes me nervous..."
As Fridays go, it was a nice problem to have.
Lewis Hamilton was fastest over a single lap by over 0.2s from Fernando Alonso's Ferrari, and on the long runs on the super-soft tyres the McLaren looked at least as good as the Ferrari - and better than the Red Bull.
But the margin by which both McLaren and Ferrari were quicker than the Red Bulls was lighting up understandable paranoia buttons. Great strides though Ferrari and McLaren have made of late - and McLaren was here 'debuting' a new exhaust system said to have shown extremely positive results in simulation - there is a refusal to believe that the RB7 is genuinely 0.5s per lap off their pace.
Mark Webber touched on the competitive picture post-race at the Nurburgring when he said: "I think we were more dominant last year than we've been this year. It's just that we always put things together and we've always been there at the end, but last year we were probably more dominant. It's just that Seb had a good run, but close victories, not winning by twenty seconds."
Last year around the Hungaroring the Red Bulls were 1.2s faster than anything else in qualifying and not much less than that in the race.
Mark Webber says Red Bull were more dominant in 2010 © LAT
You can see Webber's point; though the RB7 has started every race from pole so far this year, it has only rarely actually been dominant on race day. Usually, it wears its rear Pirelli tyres a little harder than the main opposition and it's been Vettel's great skill to measure out the car's performance to give him the vital gaps to free himself from DRS zones and pitstop undercuts.
Although the Hungaroring is a relatively tight circuit, the corners go on a long time. Heavy traction demands and long-duration lateral are just the sort of combination that might trip up the Red Bull.
There was undoubtedly some relief in the camp when the weather forecasts told not of the usual baking Budapest summer, but instead a somewhat damp weekend with lots of cloud cover. Nonetheless, it would make perfect sense for Red Bull to have loaded their cars with more fuel than usual during Friday running, to deliberately stress the tyres, to see just what they might be able to take.
The fuel-weight effect here is around 0.3s for 10kg - so implying that if the RB7 is capable of doing a McLaren time here, it was carrying around 17kg or so more fuel. That would be an odd amount to add, in that it equates to around four-and-a-half laps. An additional 19kg of fuel would equate to five laps and if it was indeed running that, it would imply the RB7 to be a couple of tenths faster. This is all based on the supposition that the Red Bulls have not simply been overtaken on development, or failed to find a good set-up.
But neither Vettel nor Mark Webber voiced any complaints in that area. Paging through the pages of raw live data on the excellent Fan Vision device, it was clear that the consistency of the car was excellent. So was that missing 0.5s just the product of a different programme?
"It's not really a surprise that Ferrari and McLaren are doing decent lap times," said Webber, "and it's a race between all of us."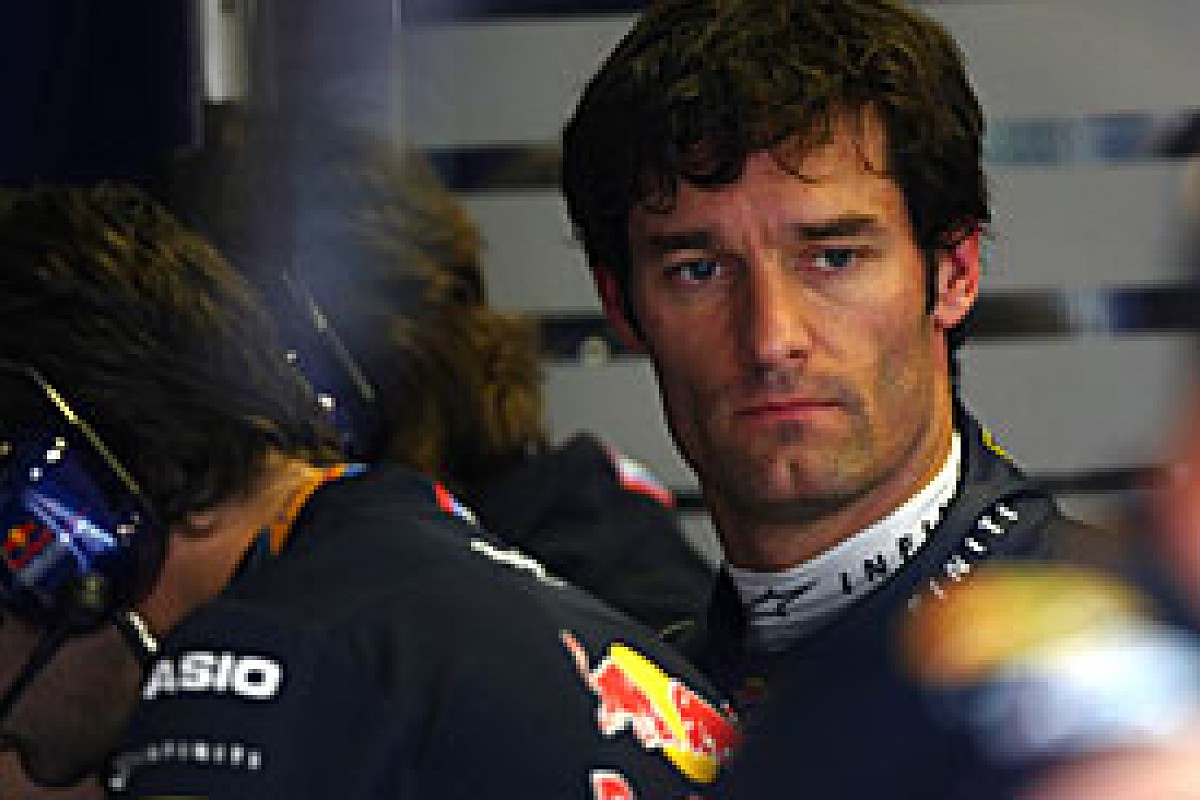 Of course just as the others are wary of the fuel loads the RB7s were carrying, so Red Bull itself cannot know just what programmes Ferrari and McLaren were running to. The signs are that all three are evenly matched, but it would surprise no-one if Red Bull maintained its 100 per cent pole record despite what was seen on Friday.
McLaren's new exhaust did everything that the team hoped of it and it intends running it on both cars for the rest of the weekend.
For the third consecutive race weekend only a small amount of running was devoted to the new wing, with the more aggressive DRS mode, before it was removed from both cars, the intention being to introduce it at Spa.
The super-soft appears to be around 0.8s-1s faster than the soft - a small enough margin that the HRTs could be in danger of falling foul of 107 per cent in Q1 - but both tyres were proving decently durable in terms of both wear and heat degradation.
Webber completed a 15-lap run on the super-softs in which the degradation was low enough to equate to the fuel effect - meaning he was doing pretty much the same lap times at the end of the stint as at the beginning. If this was indeed done with an extra 20kg over what was needed, it will have greatly encouraged the team.
In a similar duration run Hamilton was perhaps a couple of tenths slower by the end than at the start and although both Ferraris showed good consistency on both types of tyre, the ultimate pace was perhaps a couple of tenths adrift.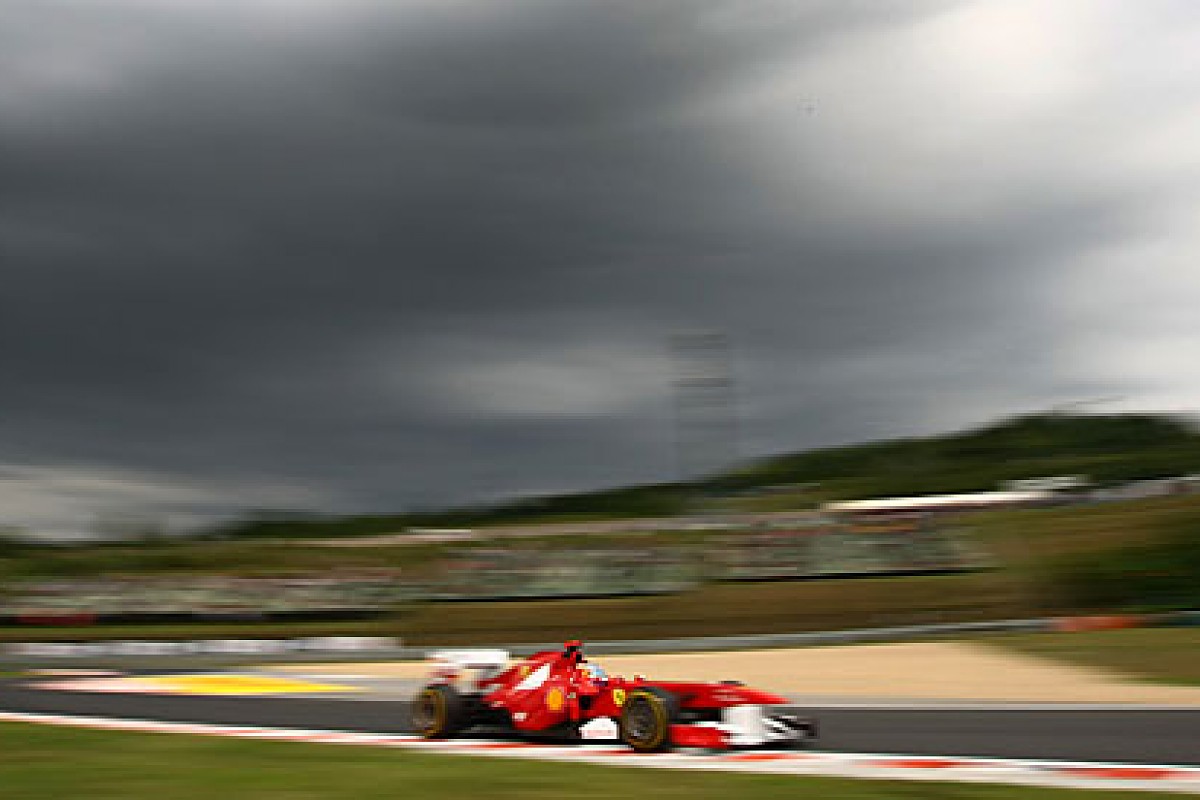 Could Red Bull have been carrying a heavier fuel load on Friday © LAT
"Based on what we saw there, I'd say three-stopping was the default option for the front-runners," said Pirelli's Paul Hembery, "and two stops could be done but it would be on the limit and not the faster strategy."
The warm-up problems seen at the cold Nurburgring are not expected to be an issue here, for even with the cloud cover the track temperature was still hovering at around 30C.
But what just might be very similar is a three-team fight for victory.