Being the driver expert on the FIA stewards' panel was fascinating. My first weekend on the job was the Monaco Grand Prix, and I found myself in a debatable judgement area between the law and the racer.
It's a funny thing actually. You see things differently as an active driver. It's different from being an ex-driver, because you're still living at the speed of the drivers you're judging. You haven't lost any of that drive or sharpness. It allows you to understand the emotions of the driver very well.
The driver steward brings a different viewpoint. I learned that as a driver, you do see things differently to other people, because you've been part of that experience. It's difficult for anyone who hasn't sat 80cm from the ground going into a corner at 170mph to imagine that sensation or feeling, or process the thoughts that occur during that period of time.
The decision of those four stewards can have an impact on a race result and, at the end of the year, on a world championship. Some titles have been decided by a point in the last race, so it can have quite a significant effect. You feel that responsibility and you want to take the job seriously.
When you sit down at the beginning of the meeting you go through a lot of the pre-race issues. You have to read up on the rules and there's a lot of homework. You have to understand the differences with the position you're in, what the role means and what you have to do when you go into the stewards' room for the first time.
Obviously you've got access to all the footage and data, as well as the radio conversations between the drivers and the teams, so you're very aware of everything that's going on. That's live in real time, but of course we can also replay it and look through it. So if there's an incident that is reported or one that we see - we'll have investigated it prior to anything being discussed or coming to the fore.
Everybody in that room has the same responsibility and genuinely understands it. I don't think anybody at that level is doing it with anything other than a professional approach, regardless of whether they have been a racer or not. It was a lot more work than I expected. You look into so many different situations that had maybe never got thought about or talked about as a potential problem previously. You're constantly discussing different points of the rulebook from start to finish.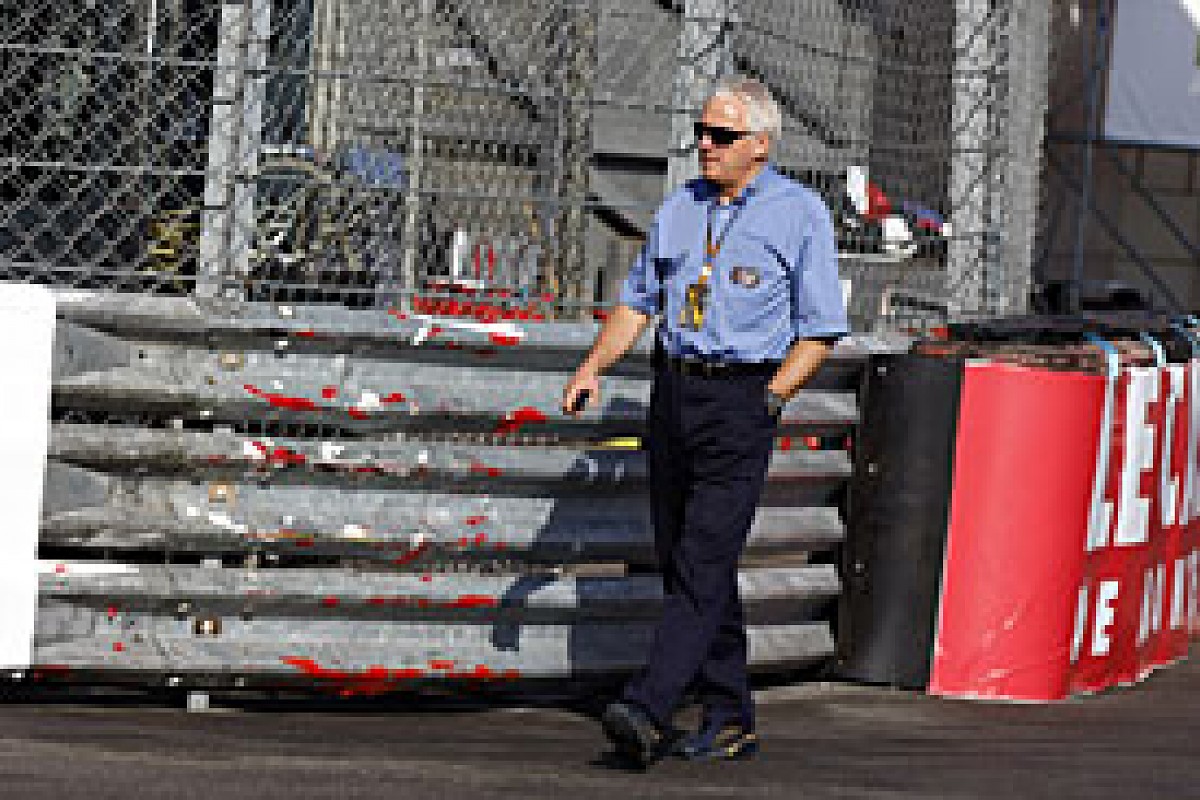 FIA delegate Charlie Whiting © LAT
Then you have to start to look at the cause and effect, and that's where I think the drivers, because they've been in that situation at some point, bring in a dynamic that is much more beneficial now. The incident may not have happened to you in the past six months, but it's very likely to have occurred in the past 15 years!
What was very interesting for me was the level of technology and information and data available. When you watch television you see one short view, which doesn't necessarily represent the whole situation, but all that information is available to the stewards and it allows them to make a more-balanced decision.
Sometimes on TV, from the limited coverage, an incident can look clear-cut, but when you start to look at it from other angles it throws a different light on things. That side of it surprised me, it really did take my breath away - the level of information they have. It also made the job more difficult. It was easier to make the right decision, but the detail you have to go into to make that decision made it harder.
So for example, if it happens during the race, you don't just say 'That's a drive-through' and two minutes later it appears on a screen. It's got to then be written up correctly and then it has to go to the teams. It has to go to through a due process, which does take a few extra minutes.
From a driver's perspective, you're always looking to take advantage wherever possible, so having four stewards - with four different areas of experience in totally different areas - is good. In reality the driver is only 25 per cent of that opinion. And that's right, because the view shouldn't be all one way or the other. There are areas, for example, where the other stewards can help the driver steward a lot because there are areas of the regulations you just don't know. As a driver, quite often the team knows those, not you. But you still have to take part in those decisions if it's something that is outside of the regulations.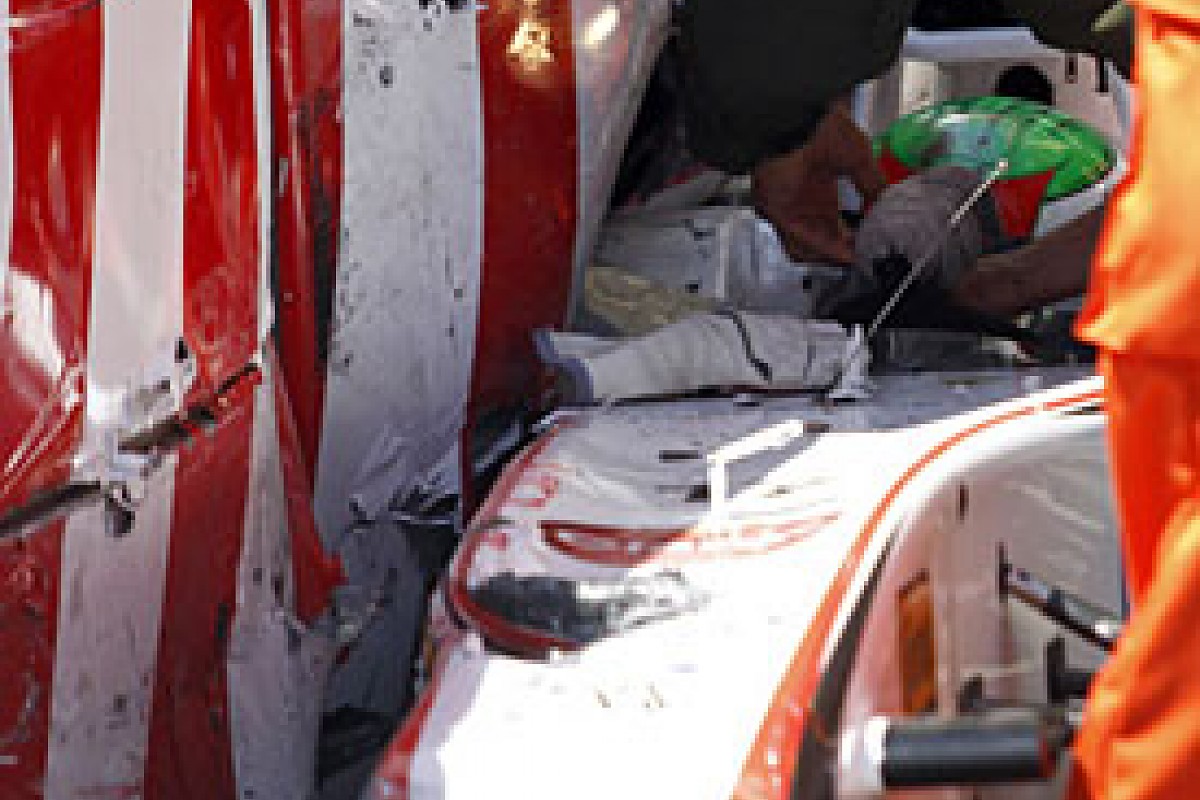 I would approach the stewards in a different way now, because I appreciated very quickly there's more information at hand than you think. Usually you've gone to that room because you've been deemed to be a naughty boy - or girl. But the stewards are there for a reason. They have to make decisions on grey areas that have happened on or off track, and they have to keep everything balanced and right.
There's more respect from the drivers towards the stewards' decisions since drivers have been introduced to the panel, but what is difficult is conveying the reasons behind a decision to the viewers. There's never a clear explanation, and you can't have the stewards getting into those discussions, just as you can't have referees getting into discussion in any sport - the decisions are final and that's the way it is.
As drivers, we all know that when you go and watch the videos it's very different to the blinkered view we have through our helmets - we can be very one-sided people! Sometimes I've been involved in an incident where I've felt that it happened one way, then when sitting back and reflecting I've realised that maybe it wasn't quite the way I initially saw it or felt it.
And that happens in life. In the heat of the situation, you've got very clear feelings on what you want to happen, but it's about the bigger picture.
Seeing the stewards operate has given me a lot more confidence in that it's not just snap decisions: it's thought-about, looked into in detail. The discussions and interaction with the people in charge seem to be getting better over the course of time and correctly so. It's more interactive than it was 10 years ago.
FIA chief delegate Charlie Whiting and everybody else are always trying to improve, especially if you look at things generally. Circuit safety is an example. In Monaco, very fast reactions were needed as it was deemed better to take the 'baguettes' away in the chicane after the tunnel after Nico Rosberg's incident - which made a difference.
There were discussions about the bump that caused that accident, and the one suffered by Sergio Perez in qualifying. But you can't do a hell of a lot about in a couple of days. The quickest and easiest thing to do would have been to raise the cars' ride heights, but that doesn't help performance. It's a case of the chicken and the egg really. But it's one of the areas that will be looked at for 2012.
Seeing other drivers visit the stewards was also an interesting experience. It's obvious that there is emotion and that's why we're racing drivers and do things that only a very limited number of people in the world can do. We're very privileged to be in that situation. But sport brings a lot of attention.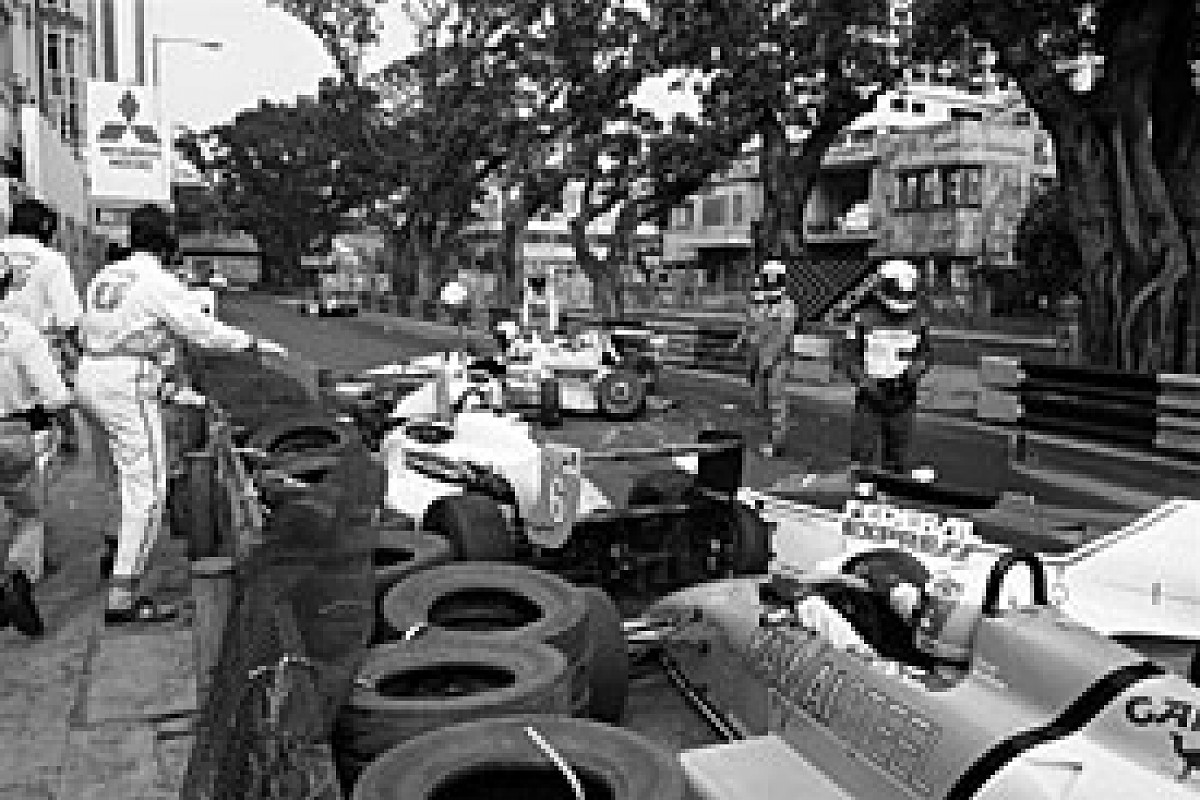 1989 Macau GP - carnage © LAT
Looking back on my own career, for sure I would have done a few things differently: running to the stewards' room in Macau in 1989, when I'd just been craned off the grid because we had suspension damage at the first corner, is one. With the hindsight and knowledge that I have now, I wouldn't have got so annoyed that my race was over. At the time I didn't really care that there was a five-minute countdown - which was unmoveable - because I wanted my car to be fixed to start the second part of the race! But from the stewards' perspective of course it had to start on time - it wasn't going to wait for me!
Did I enjoy it? Well, I'll be doing it again in Hungary. But enjoy... hmm. It's probably not pure enjoyment because it's work. But it's work that's very interesting for me because it's in a sport that I love, a sport that I've been involved in for 30 years of my life. So in some respects it's like if people asked me if I enjoyed doing a TV advert or doing stuff in PR that isn't driving. Yes I do.
However, at the end you know you've got to do a professional job, and that takes away an element of the pure enjoyment. It's not like just sitting in front of the television with a cup of tea!