This year has mostly been about Sebastian Vettel starting at the front and disappearing into the distance. Like a 400 meter runner who leads from the gun, he has sometimes faded in the home straight. He was passed on the line by Lewis Hamilton in China and Jenson Button in Canada, but elsewhere he's hung on and defeated a late challenge. Most of the time, the strategy works.
The Nurburgring proved once again that for all the excitement generated by the Drag Reduction System and tyre degradation, in a 'normal' dry race there's no substitute for having pure qualifying speed, starting at the front and controlling the race. Except this time, it wasn't Vettel who proved that.

Hamilton, Alonso and Webber ran nose-to-tail in Germany © LAT
With him out of the picture there was a great race and, as in Monaco, three different cars ran nose to tail with nothing to choose between Lewis Hamilton, Mark Webber and Fernando Alonso. Unlike at Monaco though, this race ran to its natural conclusion.
"Those three guys were flat-out," said McLaren team principal Martin Whitmarsh. "They couldn't make a mistake; the teams couldn't make a mistake in terms of the timing of the pitstops, the tyre choice or during the pitstop itself. Any small error in any of those stages would have been catastrophic. No one really made any big mistakes, it was just nip and tuck all the way through. I think we got it fairly right, and I think Lewis got it very right."
Hamilton was ecstatic after the race, and all weekend he seemed to be in a good place, happy with his lot and with a great weight seemingly off his shoulders. And that was reflected in a faultless performance throughout the weekend.
On Friday no one could have predicted that McLaren would be so competitive. Hamilton was seventh in FP2, and one second off the fastest time of Webber. He made it clear that the car was still lacking downforce and that there was no chance of fighting for pole. In the recent past he might have been even grumpier in public about that, but this time he could see the positives, noting that race pace seemed to be respectable. Another sign of his upbeat mood.
"I think our race pace is perhaps closer than we had in the last race, which is a good thing," he said. "I think we seem to be maybe two or three tenths off at least the Ferraris, and then over a single lap they've definitely got about a second on us.
"We definitely can't challenge for pole, but then having said that, we don't know what fuel level everyone is on. So we might be pleasantly surprised tomorrow to find that we are heavier than others, and that again brings us closer. But historically, that's not the case."
In fact on Friday the team was running a lot of new parts, and not just stuff for Germany. Jenson Button ran a new DRS wing spec that was never intended for the Nurburgring, and lost a lot of track time when an exhaust - fitted with extra brackets and equipment for measuring purposes - suffered a failure.
While everyone up and down the pitlane uses Friday for testing to some extent, McLaren seemed to push the boundaries more than most, possibly to the detriment of specific race preparation. And that meant neither McLaren nor anyone else got a true picture of how competitive the MP4-26 would be.
"Without the testing we do use Friday a lot to experiment with the car, try new pieces," said principal race engineer Phil Prew. "Indeed, some of the experimenting we did with the car this Friday was not actually related to this race, it was for the future. That sometimes gives a very distorted view of the true pace, and certainly Lewis was upset by that and didn't really have a good idea of where we were."
Prew says drivers don't always like testing parts on Fridays © sutton-images.com
Of course it's all about the long game. Work done in Germany could pay off at Spa or Monza or wherever.
"There's always a balance because drivers and the race engineers don't really want to be doing development engineering programmes on Friday," admitted Whitmarsh after the race. "But in two races' time they still want new things being put on the car that have been validated. I think we felt at the end of Friday perhaps we put too much on the engineering, but if you ask me now, it doesn't seem so bad."
On Saturday it all fell into place for McLaren and Hamilton, if not for Button. In the low temperatures it was all about getting the best out of the tyres, and Hamilton did that in brilliant style, pulling out a lap time that the team could not have predicted. Of course there were some new parts that did stay on the car for the rest of the weekend, and they had a positive effect.
"We came here with some aerodynamic upgrades to the car," said Prew. "Our performance at Silverstone and perhaps in Valencia as well was not where we wanted to operate. We came here with some good updates, and they seemed to work really well. There's no real secret - more downforce.
"The nice thing is we put some new things on the car, and we went faster. It looks like our programme is working, and it's a continual programme of upgrades, which won't stop here, they will go on all the way through the season."
And downforce never hurts when it comes to getting that little bit extra out of the tyres over one lap, and that clearly was of benefit to Hamilton. McLaren and indeed Ferrari have struggled all year to match Red Bull's one-lap pace, and if the best you can hope for is to start third, your weekend is badly compromised.
"It obviously helped being on the front row of the grid, we were able to have a bit more control of the race," said Prew. "I think you can't underestimate that. Having grid position and track position through the race makes a really big difference. Hopefully to have qualifying pace is an indication of car performance."
Hamilton started second in Australia of course, but had a bad start - and Vettel was able to disappear.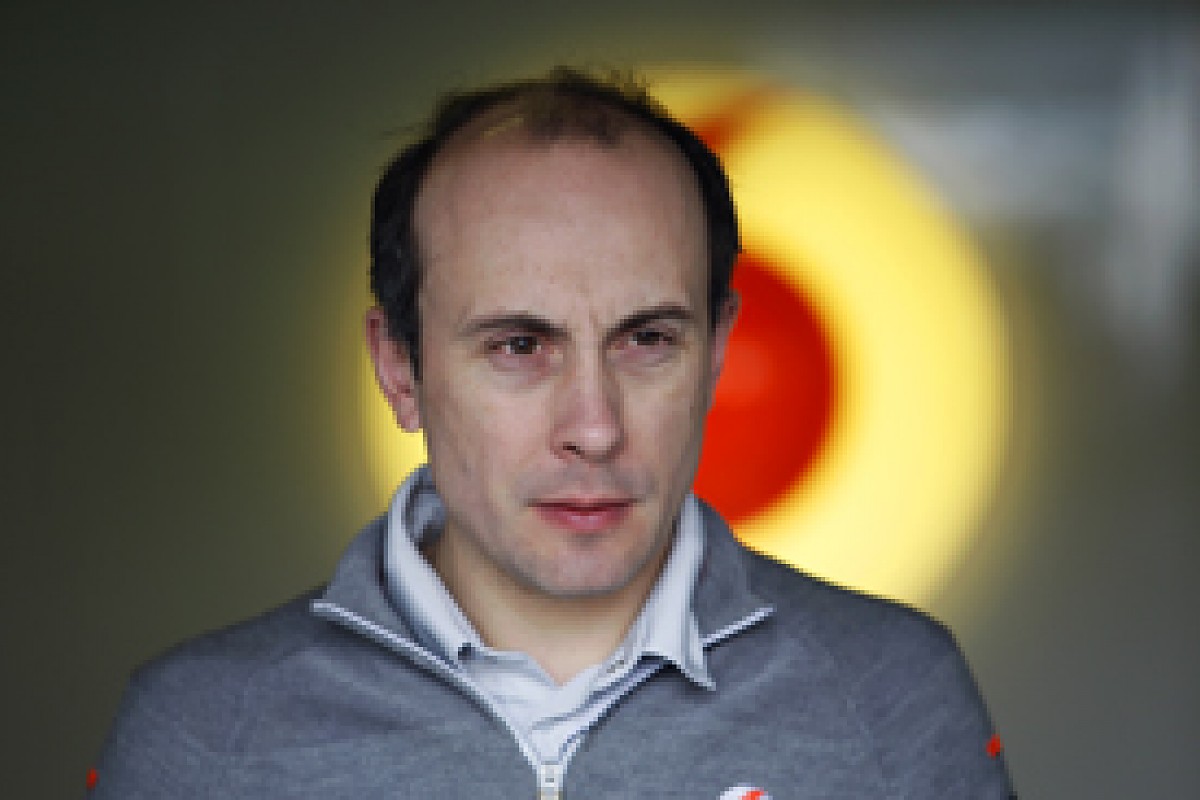 Hamilton sprinted off the line and into the lead © LAT
This time Hamilton was clearly pretty determined to get into the lead - while everyone was milling around on the grid before the start he kept staring down to Turn 1 - and helped by a good launch, he did so. But Webber didn't give up and even managed to get past briefly at the end of lap 12 - only for Hamilton to fight back and re-pass at Turn 1. That pinpointed the McLaren's superior straightline performance.
At the time it seemed like a crucially important response from Hamilton, but just a few laps later Webber was in front anyway. A lap after he'd lost the lead, Red Bull brought the Australian in. Hamilton drove a blistering couple of laps in response, but when he came in - with Alonso following him down the pitlane - he was passed by Webber. On his new tyres Mark had simply been faster by more than enough to get himself in front.
It looked like Lewis had gone a lap too far, but choosing exactly when to pit was not easy, as Prew admitted: "The characteristics of the tyres here, the cooler conditions, the lack of degradation made a different strategy compared with what we've seen in the past. And it was really just waiting for the gaps to open, a little bit more like last year perhaps, when it was more about where the gaps are when to box, rather than a catastrophic tyre performance."
So 17 laps into the race a Red Bull was in front, albeit not the one we've usually seen there this year. We could be forgiven for expecting that it would still be ahead 43 laps later, but this race had plenty more excitement in store.
By lap 25 Webber had opened up a handy lead of 1.4s, but at that stage, Hamilton began to close the gap. The Red Bull simply didn't have the pace to generate a safe margin. By lap 29 the gap had come down to 0.8s, and a lap after that, Red Bull brought the leader in.
Being ahead to start with, plus the new-tyre advantage over one lap should have been enough to ensure that Webber stayed in front, but this time the undercut didn't work, because his out lap simply wasn't fast enough - a reflection of the fact that it wasn't easy to switch the tyres on straight away.
Hamilton came out of the pits and was in front at Turn 1, and while Webber had the advantage of his tyres by now being up to temperature, he couldn't quite find a way past through the first two or three corners. Hamilton used every ounce of his racer's instinct to stay ahead.
"In these cold conditions as well it was quite a struggle to pull out in front of someone and stay in front of them," said Whitmarsh.
"From race to race you get situations where if you stop first and get onto fresh rubber the level of degradation means that you are inherently quicker. Here the degradation was less, and consequently it wasn't as clear cut that when you jumped onto the new tyre, you were immediately quicker."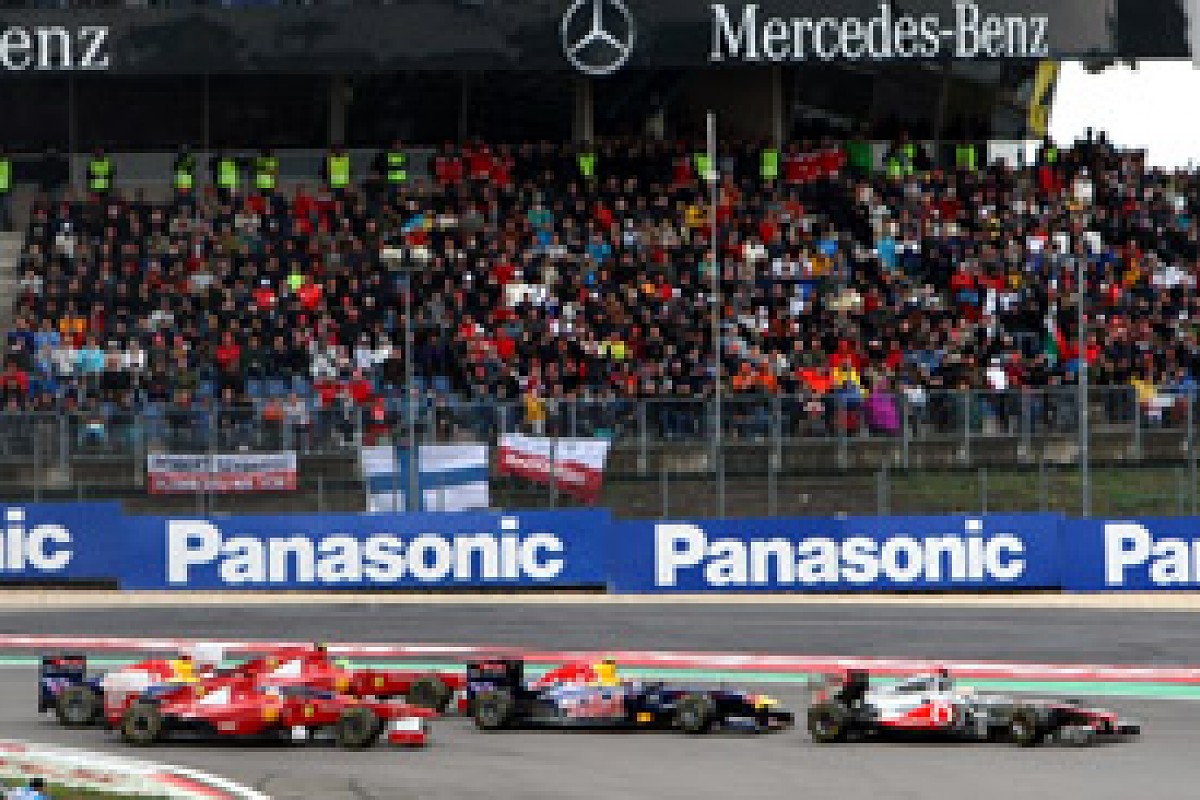 Whitmarsh could not have been happier with his driver © LAT
Hamilton used his savvy again just a lap later. This time Alonso didn't follow him into the pits, but chose instead to stay out a lap longer. And just as the McLaren had come out ahead of Webber, so Alonso did the same to Hamilton - but the McLaren's tyres were working just a tad better than Webber's had after one lap. And of course no way was Hamilton going to let Alonso steal his lead.
Webber, it seemed, had shot his bolt, and in that third stint he fell away from the other two. Hamilton meanwhile was awesome at the start of that stint. He opened up a margin of 1.7s in one lap as Alonso struggled to get his tyres working, and then banged in a series of fastest laps. Just five laps after Alonso's stop, the gap was up to 3.1s. And then it began to fall.
From the outside it looked as though Hamilton might have taken too much out of his tyres too soon. This was going to be a long third stint, and crucially it was open ended in the sense that no one really knew when the switch to primes would come, and thus for how long they would have to keep that set of options in good order.
Prew smiled at the suggestion that the team might be concerned that Hamilton had pushed too hard: "We were monitoring the situation and we were fairly comfortable with the pace. We knew that we had to take advantage of it."
Of course slowing down Lewis Hamilton when he's in the mood to go quickly is not an easy matter. In fact Whitmarsh said Hamilton did exactly what he was asked to do.
"The challenge was don't push too hard and damage the tyre, but with a 2.5-3s gap, you can actually let Alonso stop a lap earlier if necessary, and still cover him a lap later, or as we were able to, stop and get onto the prime tyre and push and still be comfortable.
"Even if you had that little bit of trouble in that first lap firing it up, you had just enough buffer. I think Lewis was well judged and well disciplined, and we were giving him quite a lot of data at that time, because we wanted a 2.5-3s buffer, to give you the flexibility to manage that final stop."
The timing of that final stop was crucial. Everyone knew that the mediums would be used for only the short final stint, and Pirelli had hinted earlier in the weekend that we might get some last-minute changes, which is what happened with Vettel and Felipe Massa.
The key was to watch what happened to the first cars to switch to the prime. Some reasonably competitive drivers switched quite early - Pastor Maldonado on lap 35, Sebastien Buemi on lap 36, Sergio Perez on 41 - but they were two-stopping and committed to a long final stint. The first top 10 contender to change was Vitaly Petrov, and while he was also two-stopping, the window for the top guys was fast approaching. Thus he was the control sample.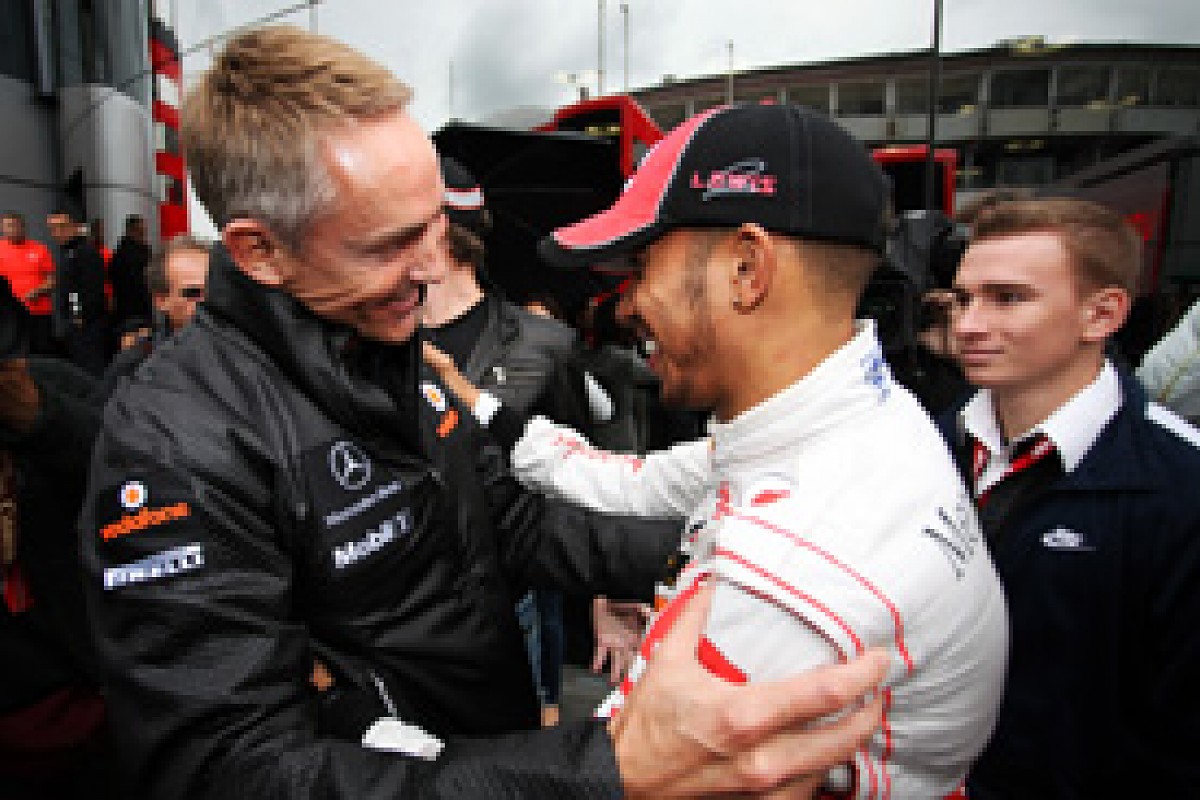 McLaren used Petrov as its barometer for its prime tyre switch © LAT
"We were looking to make the judgement of if we put primes on now, will the car be quicker?," said Prew. "It really is that simple. We looked at Petrov, who made his stop just before, and his times were competitive relative to himself, and that gave us confidence that was the time."
Although Alonso had pulled back Hamilton's advantage to around 2s as the stops approached, that was still just enough to give Hamilton maximum flexibility.
"We were watching Petrov, obviously," said Whitmarsh. "He was setting greens on the prime tyre.
"Our estimation at that time was that we had about a 1.8s degradation after about 20ish laps on the option. The prime tyre was about 1.5s slower than the option, and a new prime should have been a little bit quicker.
"It was a difficult call. We all knew that we had to get onto that prime, and we all had to be comfortable that if you were on it for too long and it really was 1.5s slower, then it was going to be very difficult to get the job done."
Hamilton came in on lap 51. The big question obviously was how quickly he could get up to speed on the medium, and he exceeded the team's expectations with a great out lap.
"It was a critical time and I think we got it right, personally," said Whitmarsh. "He was green on that tyre, and if he hadn't... It was very easy in these sorts of conditions on that prime tyre not to fire it up, but he did. And as soon as he fired it up, from there on, we had the job done, unless we made a mistake."
Surprisingly perhaps, Alonso stayed out for two more laps on the option instead of coming straight in. When he did, he emerged still behind Hamilton. Certainly McLaren felt that it would have been closer had he come in after one lap, although Hamilton would still have come out on top.
"I was delighted!," said Whitmarsh of Ferrari's delayed response. "It would have been closer. As soon as Lewis was going green on the prime you would have thought he would have tried to stop and cover, but he didn't, and I was grateful for that gentleness.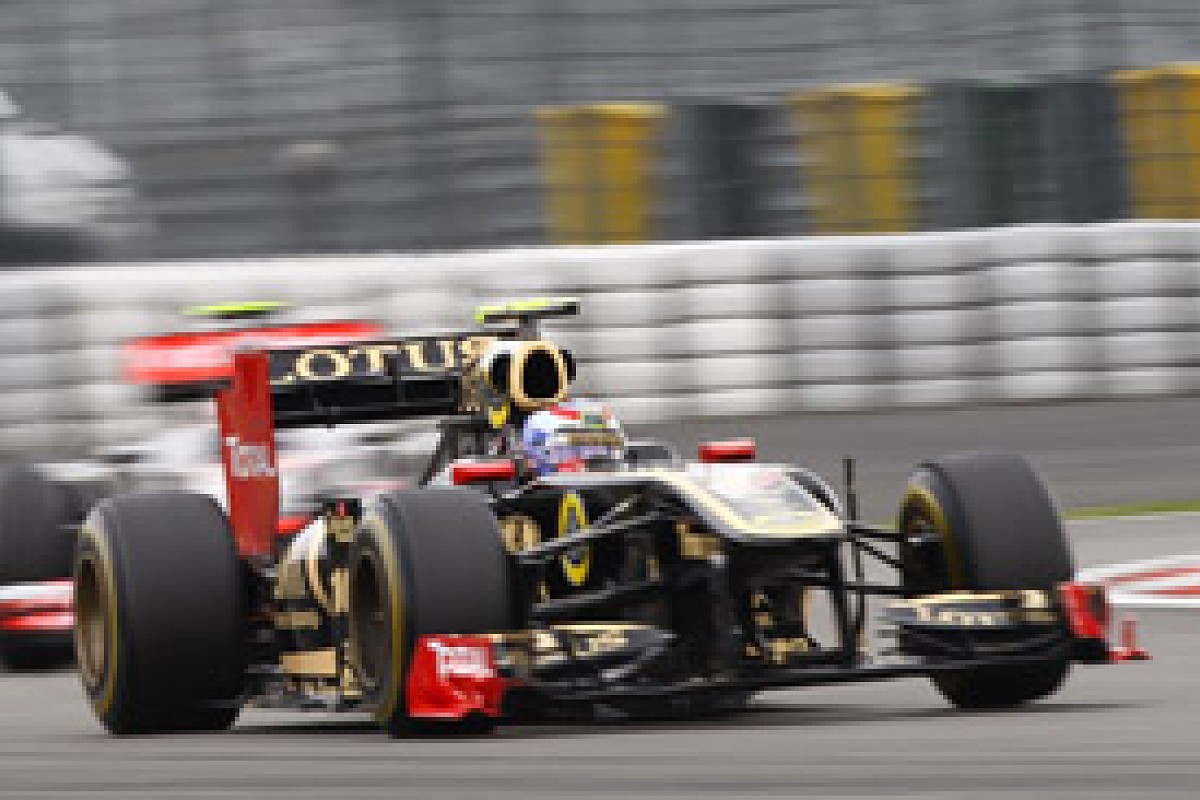 Ferrari hesitated in the timing of Alonso's final stop © sutton-images.com
"I think part of Ferrari's hesitation was: could you really switch the prime on? And I think they were probably a little bit more scared of it than we were. Actually the only way they could have had a go at us was to have got on the prime before us and as soon as they didn't, provided we could turn the prime on, they weren't going to beat us." "It may have been closer," Prew agrees. "But to be honest I think we still would have been ahead. There was a bit of traffic around for both Alonso and ourselves, but I think we would still have got the jump on him.
"I think we couldn't have stopped much earlier. Potentially, we could have stayed out one lap longer, but again we were at the front, we were in the driving seat, we could have waited for Alonso to stop and then stopped ourselves.
"We had a big enough gap, 2-2.5s, so we had some room to manoeuvre. At that point Webber was too far back to be a threat through the pitstop, but obviously he was still there and could have made a difference had Alonso and Lewis got caught up, which we've seen before!"
It's worth mentioning that Button would have ended up in a much stronger position than he was when a hydraulic leak led to his retirement. From an already disappointing grid position he'd made a bad start, and been switched to a two-stop strategy, and Button had to go through the pain of slipping back as his first stint dragged on. He knew that it would be worth it.
"In Spain we did something similar," Prew explained. "Having got out of position at the start and lost a lot of time, we had to try and do something. Jenson would have made it work. He's very good at understanding the shift in strategy. He would have gained the 15s of a pitstop and been right back up there. It's not inconceivable that he would have been fighting with Massa and Vettel towards the end. Jenson has a very good read of the race, and he knows that we have to adapt."
Every race this year is about tyres to a greater or lesser degree, and clearly in Germany it was all about temperature, and specifically that critical first lap out of the pits.
"I think we're fairly confident about making everything work in cool conditions. Equally, when it gets hot we can adapt the car so it behaves correctly then as well. We're pretty relaxed. We're all still trying to learn and understand how the Pirellis race. Today was no different, we had slightly different conditions, and we got the best out of them."
Is it too simplistic to suggest that the set-up that helped Hamilton extract the maximum out of his tyres in qualifying also paid off in getting them to work in the cold of Sunday?
"It's a bit more involved than that, because in a longer run the degradation starts coming in as well. You have to find a careful balance. Overworking them quickly in qualifying may give you a lap time, but that may not extend through a race."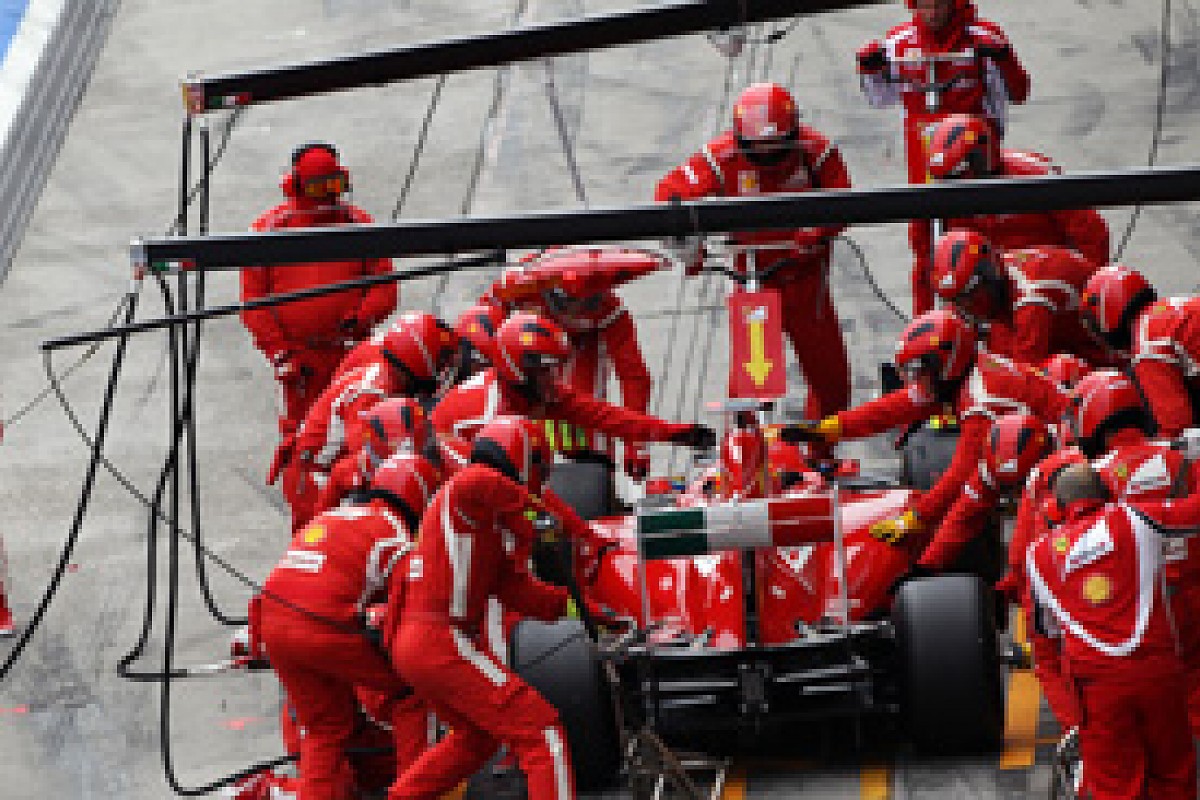 The podium finishers celebrate © sutton-images.com
"It's a combination of the team, the team giving the driver information, and setting the car up and getting it right," said Whitmarsh. "The teams deploy a lot of tactics and different equipment to try and manage the tyre into that sweet spot.
"In fairness at no stop did we see Lewis in very heavy degradation. It wasn't one of those things where his tyres had actually worn out and he had heavy degradation. We had determined a three-stop, and think we made the stops at the right time, given where we were in the race."
Tyres will be a completely different story in Hungary, where the temperature will be up and the supersoft comes back into play: "I think giving predictions in this sport is virtually impossible. There was a see-saw of form here, and I don't think that means we're on a roll. I don't think we are. I think we've got to say, 'yes we can win, or it could see-saw the wrong way'. We'll be working very, very hard to make sure we do the best job we can in that race."