FREE PRACTICE 1
Friday 0900-1030
Rain has changed Team Lotus's plans. Planned set-up work has become relatively pointless, though the team is keen to see how its new developments will work. Plus there is the chance to find out more about Pirelli's new intermediate and regular wet tyres.
It's all business as we walk through the labyrinthine complex of corridors behind the 'visible' part of the garage. It's 10 minutes before FP1, and while the green-garbed occupants are not frenzied, they are purposeful and serious; carrying out pre-prescribed tasks everywhere and moving about with the confidence of routine.
Both cars sit up on jacks, the overhead garage lighting pods generating constellations of stars in the gleaming bodywork of the T128s. The light emphasises the gloom through the garage doors to the new Silverstone pitlane beyond.
It's raining out there and these are not ideal conditions. The programme was intended to last 25 laps, split into three parts after an initial installation. The plan for the day, generated at the factory in Norfolk, also includes the evaluation of new aerodynamic developments to both the floor and rear of the car, as well as revised exhaust layouts. All of these have been prompted by new rules regarding off-throttle blowing and engine maps.
But the game plan has been revised to incorporate the conditions.
Chandhok was delayed by a radio problem © LAT
Test driver Karun Chandhok will drive the #20 car alongside Jarno Trulli sister's #21 machine in the first 90 minute session. Having been promised some proper running time, the Indian is eager to get going, and helmet on, is bouncing on the balls of his feet with anticipation.
He climbs into the car and the voice of the #20 car's race engineer Juan Pablo Ramirez calls calmly over the cans - "Radio check, one-two."
No response.
"Radio check. Radio check." Eventually Ramirez gives up on it: "Okay we have a radio issue, we will have to change it."
Trulli enters the garage, helmet already donned, walks to his corner of the unit and steps on some scales. Once in his car the Italian is straight on the radio: "Are we planning to go out right away."
Trulli's engineer Gianluca Pisanello responds: "We are just fixing Karun's radio and then we'll go out. We need to sync the cars so we need to go out together. We'll be doing a cruise control test so don't follow other cars too closely."
Four minutes into the session and both cars are on track; Chandhok behind Trulli.
"Okay Jarno," says Pisanello. "Multi-function position five. Cruise control in fourth gear...
"...Multifunction six, stay in fifth gear."
This information is repeated to Chandhok.
The team doesn't synchronise its cars very often, but the rain has made it necessary. Pisanello explains to AUTOSPORT later: "Normally this kind of test is done on a single car in two different runs.
"In this case we really had to try something and the only way we could do that - because some important sensors don't work in the wet - was to synchronise the two cars to try and get some answers from a parallel test."
The cruise control test turns the track into a controlled environment for evaluation purposes.
"The speed is controlled electronically so we are sure that the car is always stable within that timeframe," Pisanello adds. It removes a lot of the useless data that occurs when the car is being driven 'manually', which introduces unwanted dynamics.
Rain set back the team's programme © LAT
On their installation laps, both drivers move through the gears and the multifunction settings on a steering wheel switch before being asked to "box, box".
Back in the pits, both drivers having completed a rolling bite-point find check down the pitlane, Chandhok asks if his crotch straps can be adjusted, but is told there isn't time. There is a small problem with Trulli's car and another installation lap is required to ascertain more data. They'll do this three times in total. The last one includes a switch to Pirelli's intermediate tyres - 24 sets of which have been distributed to the teams. All the while small tyre pressure adjustments and brake blanking (taping over parts of the ducts to regulate and maintain disc temperature) are being done to improve stability. It's cold out there and both drivers are having trouble maintaining operational temperatures in the tyres and brakes.
The track dries a bit in the first half hour, but with more rain forecast, time is a factor and technical director Mike Gascoyne makes a rare radio appearance: "Come on guys let's move on."
Forty-three minutes in and both cars go out on inters for proper baseline runs. Chandhok is the first to record a flying lap - 1m59.068s. Then Trulli does a 1m54.739s. Chandhok; 1m54.573s. They swap times back and forth until they get down in to the 52s.
With the cars out on track there is some downtime for the mechanics. One brings in some tea for two of his colleagues. Another sweeps the floor clean. It occurs to AUTOSPORT that when the cars are on track, it's probably the quietest part of the day. But when Trulli is shown on the live feed, still they watch intently.
After eight laps like this, engine revs blast through the cans... "Coming in, coming in." It's Chandhok. The garage goes from calm to swirls of activity as people unfold tyre warmers and others head out to the pitlane to direct him in.
Ramirez: "How was the feeling on the car Karun?"
Chandhok: "The first three laps were okay, then the tyre temperature dropped off. I lost overall grip after that. The front end didn't have the same bite and the traction went away."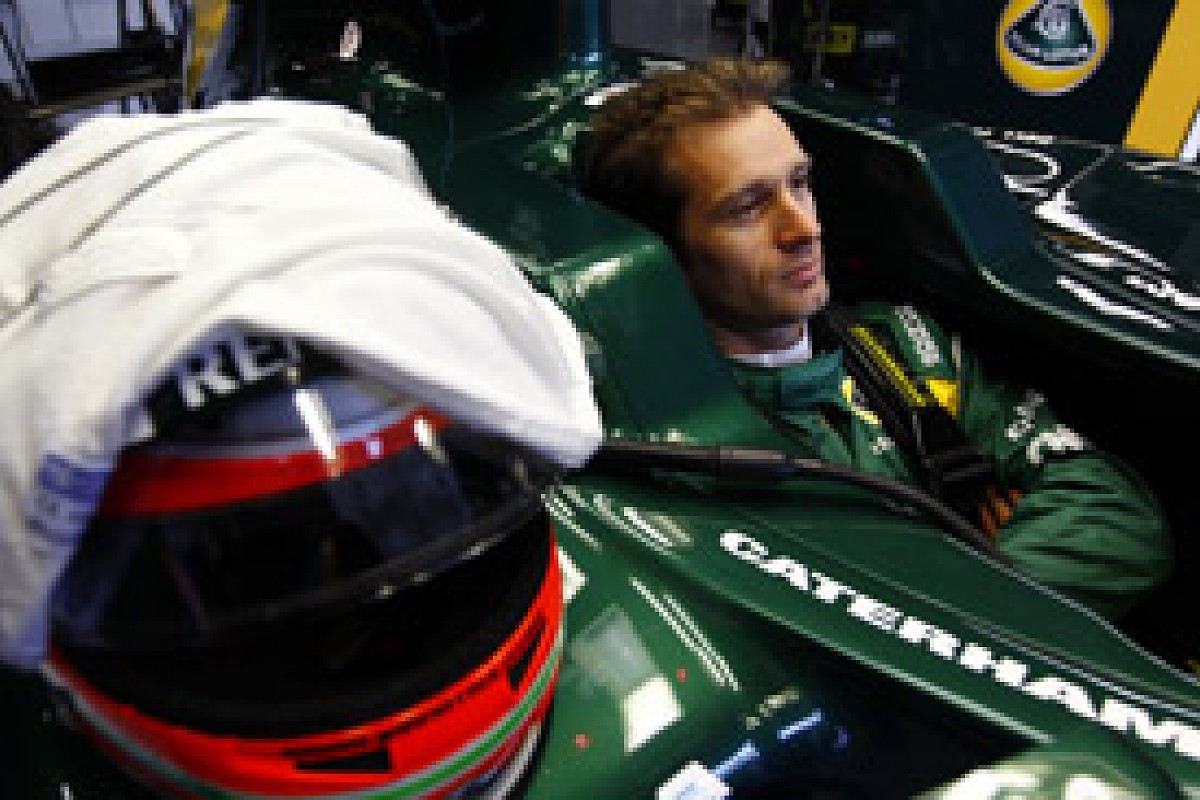 Trulli waits to take to the track © LAT
Chandhok looks at his times on the overlay screen - they reflect his own performance review. Trulli comes in and completes a practice pitstop. He stayed out longer and his best lap so far is a 1m50.222s - more than 2s quicker than Chandhok - who is still looking at the overlays.
"I think I can find a bunch of time through Becketts - I had some traffic there."
Trulli meanwhile is not happy. He's having difficulties feeling the car and the warm-up issues are compounding his frustration: "Traction is not very good, at low speed especially. I'm struggling to get the car out of the corners."
Pisanello: "Okay let's put the tyres in the stack and save them for later." Those tyres will be warmed to a temperature of 40 degrees centigrade. The slicks are kept at 60 degrees, and that will be increased further an hour before use.
It's raining again.
The weather doesn't improve and Trulli's session ends when the team decides to try a different exhaust layout and floor for FP2. Chandhok remains in the car, watching the track conditions closely.
Chandhok: "Look at the rain. It's vertical blowing down the straight... I still think inters are the right way to go though looking at what others are doing."
As he says that, Sauber debris flies past the garage and several mechanics rush out. Kamui Kobayashi is shunting massively. The wreckage is cleared away and Chandhok prepares to go out again. He leaves the pit at 1021.
Ramirez: "Karun, we want to try a torque test with this map. It's only on acceleration and it is up to you to tell us how it feels. Four flying laps please..."
The Indian sets his fastest lap of the weekend - a 1m51.119s - before being instructed to switch between EB2 (engine braking) and EB5 engine maps. He does three flying laps in total before coming back in.
Chandhok: "I came in to be on the safe side, the car had started to move around a lot on the inters. EB5 seemed a little better driveability wise. EB2 was a little more harsh."
Our man Strang studies the screens © LAT
Ramirez: "Okay Karun thanks for the session. Guys we can start straight away with the changeover. Change to Heikki's driver installation and a brake material change as well."
Heikki Kovalainen enters the garage, just as Chandhok takes off his crash helmet.
FREE PRACTICE 2
Friday 1300-1430
The weather is expected to get worse, though the track is more-or-less dry now. Trulli's car has an alternative floor and exhaust layout, while Kovalainen is trying out the new kit. Any hope of a dry tyre evaluation hinges on the team getting the cars out before it rains.
Ramirez: "Radio good Heikki?"
Kovalainen: "Yeah good."
Ramirez: "We expect rain imminently, so we are going to go out immediately."
It starts to rain as Ramirez is talking. The slick tyres fitted to Trulli's car and those stacked behind Kovalainen's are removed, to be replaced with intermediate sets marked as #21.
Ramirez: "Every time I talk about dry tyres there is more water. Maybe I should stop talking. We will remain on standby for dry conditions."
So Team Lotus waits... for well over 30 minutes. The team watches the monitors as Timo Glock and Jaime Alguersuari sail out to explore the conditions. They carry on viewing as the two cars dock back in the harbour three minutes later.
Gascoyne walks around the garage searching for an umbrella. He finds two, opts for the one that isn't broken and heads over to the prat perch.
The track is silent.
Kovalainen gets out of his car, removes his medium-sized Arai GP6 - RC and walks over to golfer Ian Poulter, who has appeared in the garage. The Finn takes Poulter's young son over to the #20 and puts him in the cockpit while the team performs a standard engine fire-up to maintain the temperature of the fluids. Not something the boy is likely to forget.
BBC television's Eddie Jordan maniacally runs in, grabs Poulter and runs out with him.
Then, after 50 minutes of waiting around...
Tyres are marked up during the session © LAT
Ramirez: "Okay let's get Heikki back in the car and start getting ready to go."
Pisanello to Trulli's crew: "Let's try to do six timed laps, [tyre] set 31 please, wet tyres. As soon as you are ready let's go. Tyre position eight please and let's go up half a degree on the wing."
Both cars leave the pits and Kovalainen seems instantly comfortable, lapping just quicker than Trulli despite having missed the morning session. The Italian is still struggling with the handling of his car and calls in for changes.
Trulli: "The car is way too much on the oversteering side."
Pisanello instructs the team to change the front wing for one with a reversed gurney flap, this to save time rather than modifying the wing fitted to the car. The team adds some brake blanking to the front and makes a mechanical change to try and improve how quickly the tyres warm-up. It sends Trulli back out on wets.
He's back in after a couple of laps, wanting to change to inters, saying the balance is all wrong for wets. Kovalainen pits around the same time. There are only 10 minutes left and the team abandons a planned electronic change to the Finn's car and sends him out on inters too.
By the end of the session Kovalainen has set the 13th fastest time in 1m52.578s, 2.6s slower than Felipe Massa's best. Trulli meanwhile is 21st, 5.1s away from the pace and still looking for some balance.
Trulli: "The steering wheel is different. It doesn't give me confidence. It is not the same as this morning. I struggled a lot."
Kovalainen's mechanics head out to retrieve his car, which has been stopped at the weighbridge.
Afterwards Pisanello highlights to AUTOSPORT one of the classic misconceptions of free practice. He explains how the team actually uncovered vital data from Trulli's runs and feedback, even though on the surface, it seemed as though Jarno struggled.
"Obviously we couldn't get specific measurements [of the exhaust developments] that we would have liked to [because of the rain], but you can get some interesting driver comments," he explains. "I think with Jarno's comments especially we had the chance to test two different configurations. We have important feedback and information regarding how to proceed - after the second session.
"It was pretty clear what he said and it actually confirmed what we saw in an aero test, but it made our decision a bit easier for tomorrow."
Kovalainen confirms this: "I was running the new aero package, and I actually ran only that. It was Jarno who ran the other configuration and we could only compare it. But we found out that the package Jarno was running potentially worked better than the new one I had.
"With the new one we identified an issue with the back of the car since we changed the engine settings that meant we were perhaps not using the new floor as well as the old floor in this configuration. So I actually reverted to the floor Jarno had yesterday for Saturday."
FREE PRACTICE 3
Saturday 0900-1030
By Saturday morning the original plan is in tatters. The teams is hoping for a dry hour, but in that time it must cram in set-up work, gain valuable tyre degradation data and learn more about the car's ride height with heavy fuel loads - none of which was possible during Friday's wash out.
"This morning we have to achieve most of the things we couldn't do yesterday - which means a good understanding of the tyres in terms of performance, durability and degradation," Pisanello says. "Plus running on wets means running at a lower average speed and also with different tyre radii. That means we couldn't get a clear idea of where we were with the ride height.
Kovalainen abandoned his dry FP3 run when the rain started falling © LAT
"There are situations where you want to go as low as possible, and obviously you can't wear the plank otherwise you will be disqualified. So it's always important to have a proper run and then at the end of the run, with proper fuel mass, measure the plank. That's very important."
Trulli is the first one out of the blocks on prime Pirelli set #4. Kovalainen joins him on-track a minute later with set #3. Both drivers are on a baseline set-up.
Then two laps in to his stint...
Kovalainen: "What's the forecast. I can see some rain drops?"
Ramirez: "It's okay. It's a few drops for five minutes. If you can, stay out."
Kovalainen: "I can't keep the brakes warm. I think it is too slippery so let's stop this time."
Pisanello: "Jarno, light rain, it will go, try to stay out."
Trulli: ...static.
Kovalainen stays out anyway, and a Renault engineer informs Pisanello that Trulli's gearbox is running at maximum temperature. Both cars pit just after 1020. Kovalainen requests a bathroom break and is told he has three minutes.
Kovalainen: "It's too wet now. I cannot use the brakes in the last sector. There is no point, I have to go too slow in the slow corners otherwise I lock up. But I am going too slow for the temperatures. It's better to save the tyres. It's understeery but I think change the wing only a degree or two."
Trulli: "The car is very snaky in general. I don't exactly know why but it is very difficult to push."
Pisanello: "Okay, we will increase brake blanking, 20mm front, 40mm rear. Change the front wing 1.5 degrees - both wings. Check to see if the plank is wearing."
Trulli was in and out of the car during practice © LAT
Responding to their requests for set-up changes, both crews begin work on the cars. Pisanello also advises Trulli's team to change the spacers at the rear and tells them he is considering a radiator change at the end of the session.
Both cars are sent back out on the primes, though the drivers are warned they will switch to a performance run at the end of the session with the option tyres.
Heikki is happier with his set-up this time and comes in for his options. It's during this final seven-lap stint that he sets his fastest lap, which is good enough for 19th - 1m35.225s.
As Trulli switches to the options he faces a growing problem with overheating. His crew has been experimenting with different rear bodywork, which helps to cool the PyroSic panels - heat shields - and the gearbox and engine are running hot.
Pisanello: "Jarno, do a cool down lap for the engine and gearbox."
Trulli: "Do you want me to box?"
Pisanello: "Push now. Keep going. I will let you know."
And then it rains.
Kovalainen: "I need to pit now, the rain has got hard again."
Both cars return to the pits.
It's been a manic 55 minutes, and after everything, Team Lotus holds its traditional 19th and 20th positions in the standings. But how it got to this position was far from boring. Instead it was a story of intense workloads and reactionary decision-making, none of which is seen through the times or the live feed.
Pisanello calls the shots on Trulli's car © LAT
Moreover, in spite of 240 minutes practice, the team goes into the grand prix blind and lacking in knowledge of how the Pirelli's will degrade during the race.
"If we take the plan that we were imagining in the factory before coming here, we didn't achieve much because these were special conditions," says Pisanello. "Rain in all sessions obviously makes the work much more difficult. On a normal weekend we pretty much achieve all the targets that we set for the free practice.
"Of course it is blind [going into the race] but you still have many years of experience that tell you how to put the car in the ballpark and this is the difference when you have experienced people.
"It's busy because you are reacting all the time but then you end up in the evenings saying, 'Okay what have we learned?' Obviously every time you run the car you learn many, many things. But if you want to learn something specific - then maybe weekends like this don't help.
"In the end we learned about these specific conditions. We got some more running on wet tyres, because it is still a steep learning curve with the Pirelli tyres. Every time we have the possibility to test different things it's always interesting."
In qualifying Heikki Kovalainen will go on to take an opportunistic 17th position on the grid having made his way into Q2. Then, in the race both cars will stop within 10 laps of the start - an electrical problem knocking out Kovalainen and an oil pressure issue forcing Trulli to retire. Small recompense for having completed 240 minutes of manic practice and two qualifying segments over the weekend.
To continue reading this feature, subscribe to Autosport Plus today.
Expert opinion. Technical insight. Unbeatable analysis. Subscribe today for unlimited access to the world's best motorsport journalism.
Get unlimited access now
No more monthly limits. Get complete access to all our news and Autosport Plus features.
Subscribe to Autosport Plus
Completely ad-free environment.
Access Autosport Plus - the best motorsport analysis, insight and opinion.
No monthly news limit.
Explore Forix, the world's most comprehensive motorsport stats database.