Tomorrow will mark a glorious new dawn for Silverstone as the home of the British Grand Prix.
The new pit and paddock complex, which brings with it a switch of the start/finish to the straight between Club Corner and Abbey, has gone down well even though, to no-one's great surprise, some mixed weather conditions met the teams and drivers on Thursday.

Fortunately for the 120,000+ crowd expected for Sunday's race, it's expected to be sunny when the time comes for the 24 cars to roar into the new first corner. But inevitably, the weather will be one of the weekend's talking points. As Jarno Trulli explained this afternoon, the climatic conditions can make it a trying weekend.

"I've never been a big fan of this track," he said. "It's mainly because of the weather and the wind! As an Italian coming from the south, every year I come here the weather has been the most difficult thing to adapt to. That's the only reason why I don't enjoy coming to Silverstone."

Aside from the snipping about the weather, there was a positive feeling about life in the F1 paddock. This was partly down to the hope among the teams near the front that Red Bull, resoundingly at the front so far this year, would drop back into their clutches thanks to the ban on using exhaust gases generated while the driver is off the throttle to generate downforce.
Technically, it's a rule clarification, but make no mistake. This is a change. And a big one.

So all eyes turn to McLaren's brace of home heroes. Of course, what lies in the immediate future of Jenson Button and Lewis Hamilton, specifically how they will do on Sunday afternoon, is one question. A far bigger one is attracting more attention though, specifically that of which team their long-term future might lie with. But for now, the focus is on whether the wings of the Red Bulls have been clipped.

Sebastian Vettel pleads ignorance over the magnitude of his lead - it's 77 points Seb - but while no-one has ever come back from so great a deficit without their rival coming close to death after crashing at the Nurburgring, both Button and Hamilton are very publicly not giving up. Jenson's target is, unsurprisingly, a first win at Silverstone, a track which has not treated him so well in F1 despite him winning here in Formula 3 and clinching the British Formula Ford crown on its hallowed asphalt in 1998.
Fernando Alonso, however, is getting closer to giving up. Or, to put it another way, is being a little more frank about the situation. He believes that things can still be turned around, but it will be this weekend that sets the tone for the second half of the year.
If either McLaren or Ferrari can make a stride forward here to challenge Red Bull, a track that plays to the RB7's strengths, the narrative of the 2011 season could still change dramatically.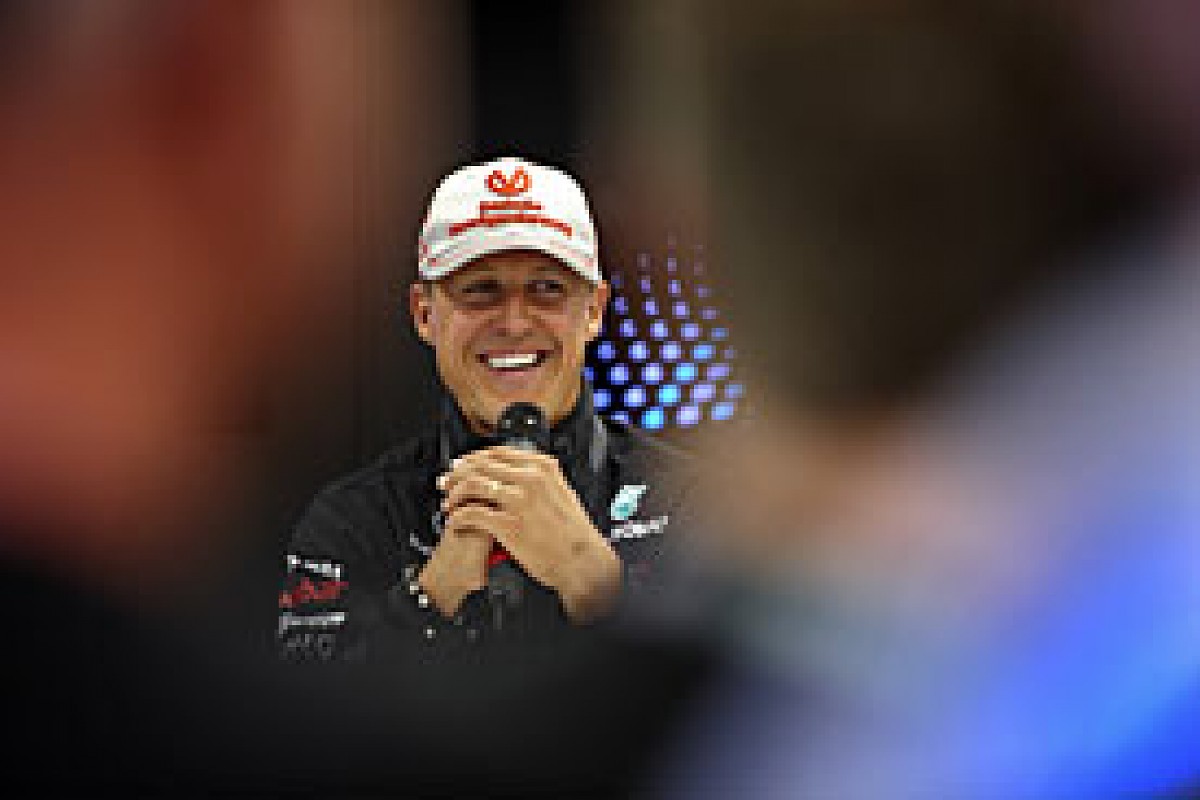 Michael Schumacher confirmed his desire to stay at Mercedes for another year © LAT
But for some, 2012 is already looming large on the horizon. Michael Schumacher's future remains a subject of fascination, but after some to-ing and fro-ing with the BBC's Andrew Benson he eventually underlined his desire to see out the third year of his Mercedes contract.
Andrew Benson: Have you decided whether you are going to stay on with Mercedes next year?

Michael Schumacher: Yeah?

Benson: Yeah definitely?

Schumacher: Was it a question?

Benson: It's a question because Ross...

Schumacher: To who?

Benson: You.

Schumacher: To me, no.

Benson: Ross [Brawn] told BBC television that you had an option...

Schumacher: That's true yes. And so I had in the beginning. I always had the option to stop at any time I wanted. But I am here for an achievement and a fixed time. I have always said it's a three-year programme and that's what it is...

So that cleared that one up then. But what has yet to be cleared up is whether Silverstone will be a case of more of the same, with Vettel and Red Bull dominating, or whether it will, as Ferrari team principal Stefano Domenicali hopes, make the beginning of "the second championship."

Prepare yourself for a "best car is still the best car" shock...