Formula 1 is a wonderful sport. It's life, it's death, it's politics, it's romance, it's bullshit, it's truth. It's just every big thing played out. But the worst thing you can do is to view F1 as just a bunch of coloured helmets and cars going round and round a track - because that's really not what it is. It's got so much depth; it's got so much life. But unfortunately death is also a part of Formula 1.
It's been 17 years now since the death of Ayrton Senna, but the film has put his life and career back in front of our eyes. It's been an incredible journey putting it together and seeing its success - having lived with it since its conception. But I must admit I can't take full credit for it.
Birth of an idea
The story of the film goes back to 2002 when, as a long-time F1 and Senna fan, I had been contacted about doing a Senna documentary, but that didn't work out. Then, in 2004, The Times ran a series of articles on the death of Ayrton Senna - the 10th anniversary. I read those and they were incredibly moving. The one that I remember the most was a Simon Barnes piece, because he called Senna 'the car whisperer'. He said he'd met him just once in Canada and that he had been left with no doubt that Senna had been someone otherworldly. This was just not any racing driver.
At the time James Gay-Rees, who eventually became the producer of the film, had a three-picture deal with Working Title Films. James's father was the account manager for John Player Special, so he had been to Lotus a lot in the mid 1980s and he recalled from then his father telling him, 'there's a guy there and he is just otherworldly.' So 10 years after Senna was killed, these words hit James again.
James went to see motorsport nut Eric Fellner of Working Title Films, and told him that he wanted to do a feature documentary on the death of Ayrton Senna - based on three days at Imola. He told him it was going to be incredibly powerful movie about the death of a sporting icon, and how the sport almost came to an end. Eric said: 'Great, lets do it.'
My wife was head of development for Working Title Films and, having done a film with James a few years before, said to him that if was going to try and do something on the Senna movie she ought to get in touch with me.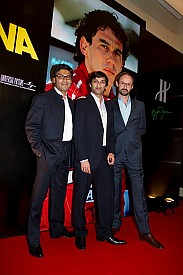 Pandey, Kapadia and Gay-Rees at the film's premiere
James gave me a call back in October 2004 and we met in his offices. He pitched me his idea and I said, 'it's all brilliant, but I don't think we should do it.' I told him that although Senna's death is powerful and iconic, it really misses the point of the man. You will understand the death if you experience his life, and I said I didn't think you could do that from flashbacks from races and Imola. I didn't think you could start from Thursday and talk about Senna's early career and go on. It's all very gloomy and, believe me, people are going to feel that from the moment you fade in.
The real meat of this film is the journey that this man takes in F1. James got it straight away and just said: 'Great, let's do it: the life and death of Ayrton Senna.'
The next step was to get hold of the Senna family. James managed to hook up with their business affairs manager and it turned out that the Sennas had a very straightforward way of dealing with people. You press an idea, they say, 'come and talk to us about it', they send you the business affairs person, he normally sits and listens very politely and then that's the end of it.
We had lunch with him and I remember him starting off a little bit cynical, but he saw that I could talk to him about the races - and not just the famous races, but the more below the radar races - this guy really knew that, unless we were an amazing pair of con artists, we were going to do this properly.
It took us until March 2006 for him to arrange a meeting with Viviane Senna, Ayrton's sister. He worked very hard for us and asked us to put something together. We made a 40-minute audiovisual presentation using static photos of Senna, set to music. It was quite powerful actually, and when we brought it along I think what really struck her was the authenticity of our approach.
She was crying so hard at the end and I noticed everyone in the room was too. I was oddly unemotional - they were all crying and Viviane got up and said: 'You really knew my brother.'
I'd never met the man but had followed him and had this sense. She told us the story that's at the end of the film where Senna pulls up onto the grid, having that morning opened the bible and read the text. He read that today he would get the greatest gift, which was God himself.
The business affairs person came up to me at the end of that meeting and said that he had heard that bible story, but only because Leonardo Senna [Senna's brother] had told him. No one else in the family knew the story, so he said we were making this film. I gave Viviane a promise at that point. I said: 'listen, I promise you we'll do this 100 per cent.'
Creating the film
I went to the Caribbean for what was supposed to be four weeks with my family, with the idea being to do a bit of writing and a bit of thinking. But I got a call 10 days in saying Bernie Ecclestone would like to meet me, so I had to find a flight back. We came back, went into the meeting and I met Ian Holmes, the head of media rights at FOM.
I remember Bernie coming in, and he didn't even sit down during our 17-minute meeting. I think he basically wanted to look us in the eye and see if we were for real and I think getting Viviane's endorsement was good.
The FOM contract came into place very quickly after we got agreement from the Senna family, but obviously Bernie was not going to give up footage until we were totally square with Viviane and the foundation.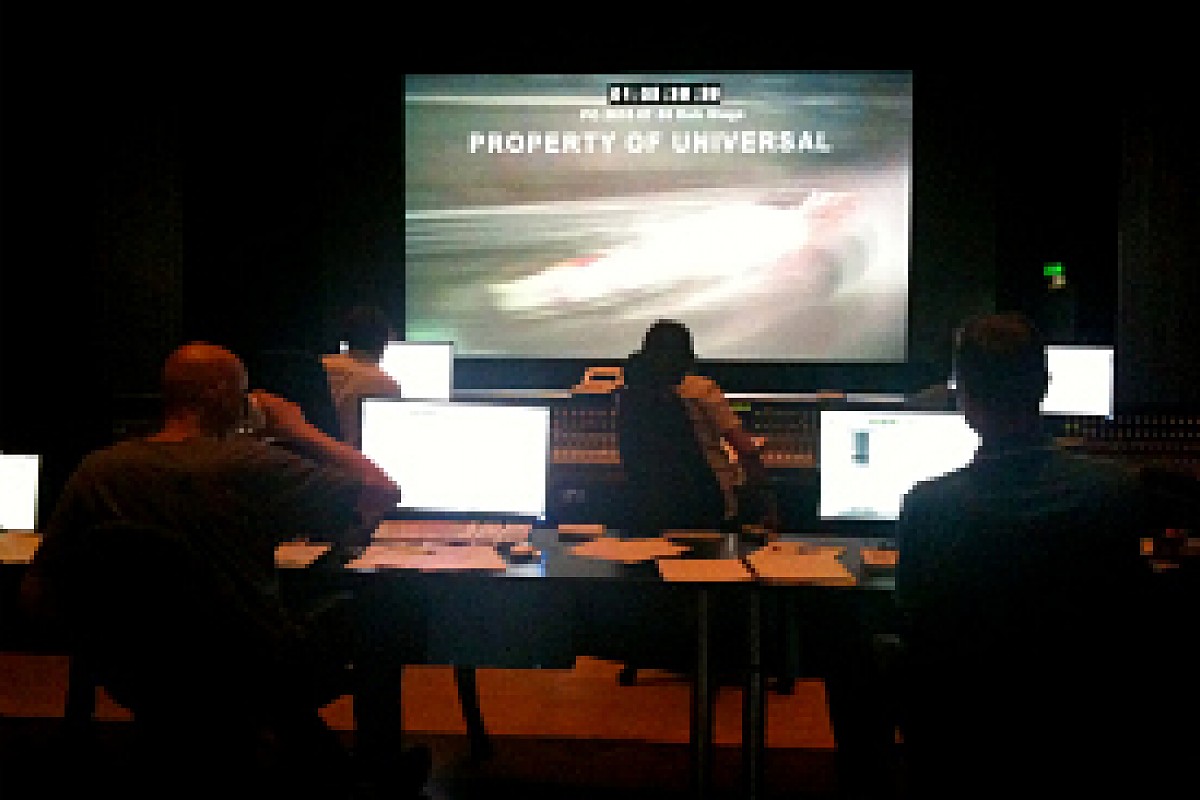 Making the film was a labour of love for Pandey
Bernie was clearly looking for the right people to tell the story, and I think we just happened to walk in at the right time. The bottom line is there were tectonic plates moving under our feet, and we were on those plates in the right places. He shook our hands, which was very important, and he said, 'give us everything you've got and we'll see what we can do.' It was fantastic.
After that, it was a hunt to find the director. We interviewed dozens of people, but it never quite felt that we were with the right person. Then Asif Kapadia walked in and something just clicked. He's tough, he's not the easiest guy to work with but I think that was a really good thing.
Asif's great at turning around to things you put to him and saying, 'Why? Why is that cinematic? Why is that emotional?' He pushed hard for what he believed, but he really had a feel for Senna's journey.
Asif and I made a 10-minute version of the film, using my F1 tapes that I had downloaded to my computer. We gleaned a few things off YouTube, we put some music on and we made this three-act film. That really was the film structurally and Asif then turned around and said, 'Manish, I think we can do this without any talking heads.' Suddenly, I knew he was absolutely right; the point is that the pieces of footage from the time define and illustrate the journey.
If we were going to go down that route, though, then we needed to change our deal with Bernie. Our original contract was for 40 minutes of footage, but of course with no talking heads that meant we would need 80 minutes. So we went to see Ian and he said he would speak to Bernie. He came back to us with a deal proposal, and basically Bernie said yes.
We also had to change the way that we got the footage for the film. In the original contract it said we'd give them a list of stuff and they'd get back to us, but feature films just don't work like that. They need to be dynamic. We couldn't give them a list of what we wanted, because we didn't know what they had.
So we arranged to go to Biggin Hill, where FOM's footage is stored, for four weeks. We watched tapes for eight hours a day, but by then we knew the key races. We knew Monaco '84 was very important, we knew Suzuka '88 would be important and obviously Monaco '88 would be important.
We targeted races and at the beginning there were maybe 10 or 11 tapes per race. Then by the time you get to Imola, you're talking about 40 to 45 cameras, and they're there on Thursday, Friday, Saturday and Sunday. So there are four days of footage and tons of coverage. There was so much to go through.
Take Brazil 1991 for example. Asif reckoned there were six cameras on Senna on the podium when he won - four facing forwards and two facing backwards. That gives you an amazing series of cutting opportunities.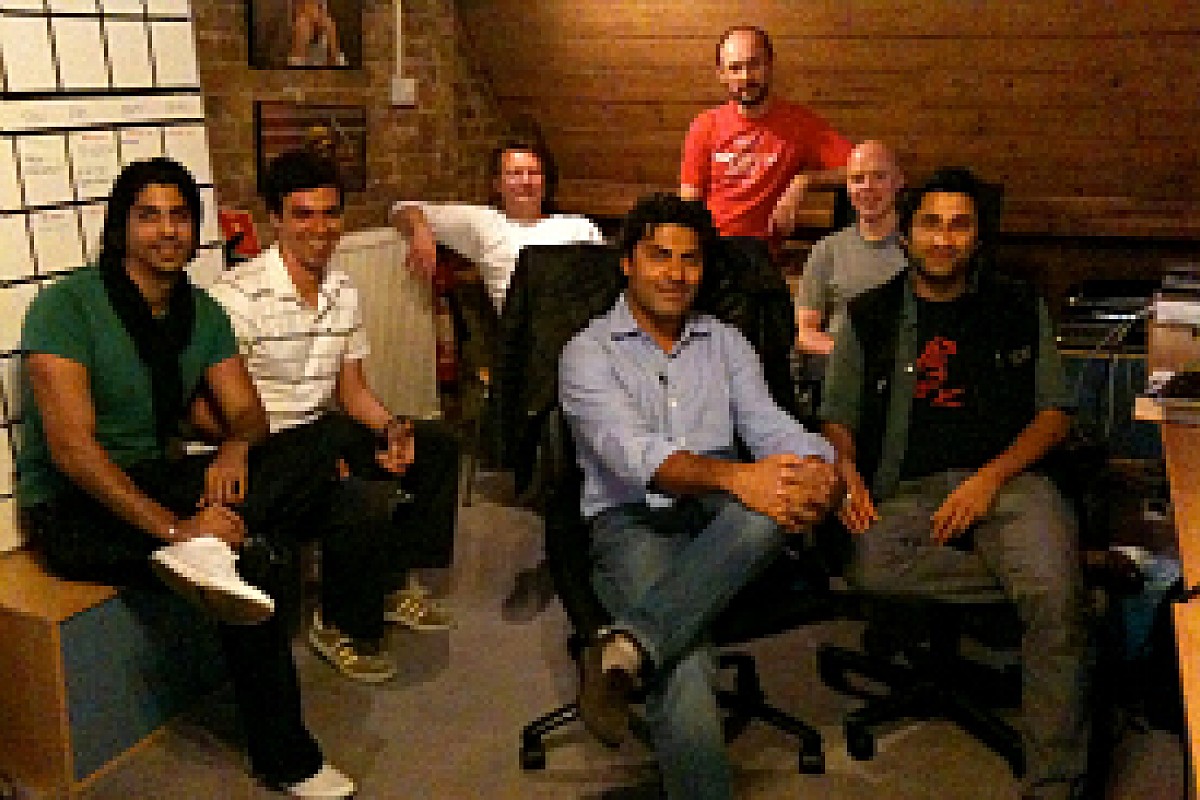 A small crew worked on the film
After our work there, I think we took away about 20 or 30 hours of footage. Bear in mind some scenes are only three seconds long, but they would give you an idea of what it was.
We would create sequences like Suzuka '89. We'd start with that amazing shot in the garage with Ron [Dennis] standing by one car and then the other, and [commentator] John Bisignano telling you what's at stake.
Moments like that were great, but I also remember when I saw the Imola footage for the first time I was very upset. Seeing him so unhappy, so close up, was very hard to watch. I remember being told that I was going to have to admit to myself at some point that the story behind this film was a tragedy.
I'm not sure I completely agree with that: I think it'd be a complete tragedy if all of those events had happened and we'd forgotten, but I don't think we have forgotten. I think his memory is so powerful, and that's what takes the edge off the tragedy.
In the cinema
When we first watched the final cut of the film in Cannes, I had Viviane on my right and Bianca [Senna] to my left. It was amazing how involved they got. When the lights came on at the end of the film, I knew that that was going to be the moment when we knew if we'd done it or not. Viviane and Bianca were obviously very emotional, and Viviane was crying. But she looked at me, found a smile and said simply: 'You guys did it.' I think the film gave the perfect balance between the genius and the man.
After that, there have been some amazing ancillary things happening. Ron Dennis came to see an earlier cut of the film. He gave us his thoughts and said, 'you're on the right track - it's not quite there yet.' We knew that though. And when he saw the completed version with music and everything, the same version that Viviane had seen a week later, it was a very different Ron. At the end he just sat there and cried because it's such a powerful series of memories about McLaren and about the time.
Jeremy Clarkson came to see an early cut too. He said he just didn't get what we were up to with the beginning of the film - the mention of 'pure driving' - as he just didn't quite see where that would fit in. Then he said you get to the end and you see it's the final candy wrapper, and I think he's exactly right.
Senna created total F1. He created it on the track, he created it with his mechanics, he created it technically and he created it off the track. I think very rarely does someone create kind of a paradigm shift in what they do. And forget about F1. For him, it was the need to take this car to that limit - not really to show he was the biggest man in the paddock.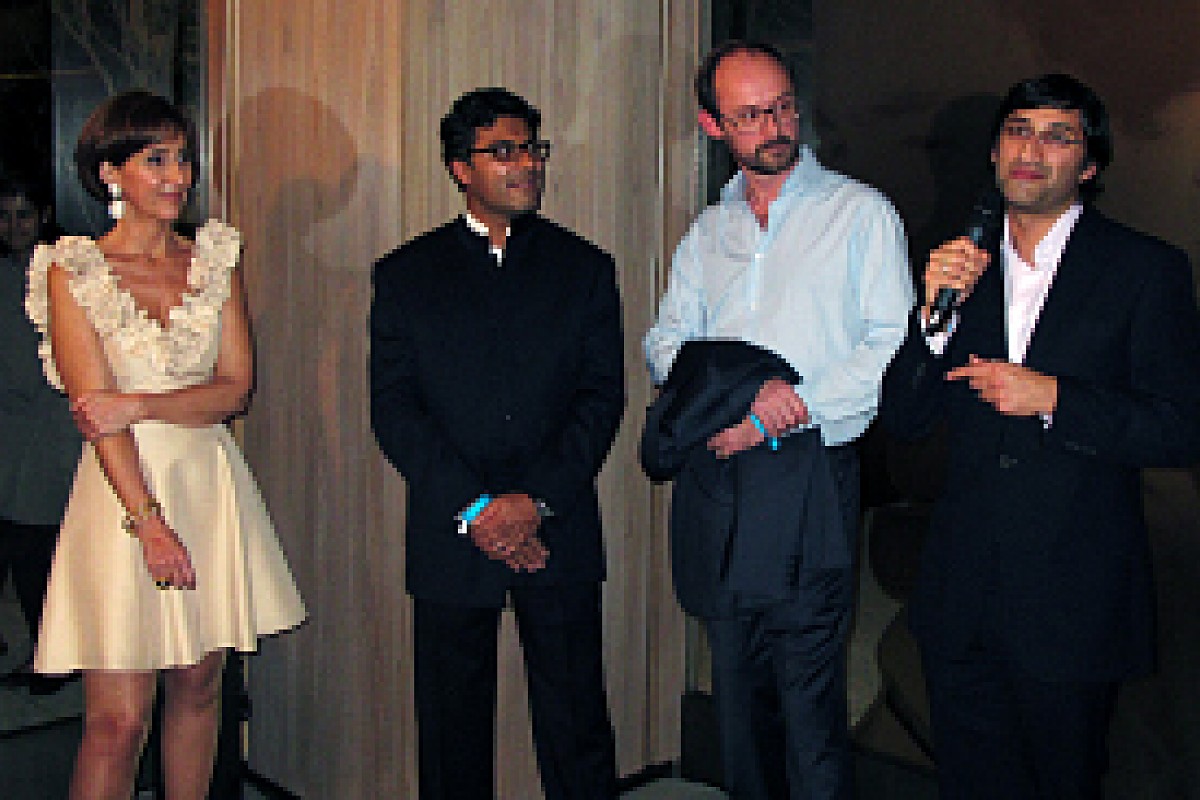 Vivianne Senna (left) and the Senna Foundation has backed the film © sutton-images.com
We wanted the Senna film to be a cinema experience and, believe it or not, the film plays best to women aged 35-44. That is the exact type of audience you would never imagine would want to go and see a film like this. It's hard to get them in, but when they come in, they're upset by it, they're inspired by it and they're really emotionally engaged.
For people who don't know about Senna, the film is an absolute revelation because they don't know anything about this story. They don't know that he's going to die and you're seeing women in their 60s getting it suddenly. They're suddenly realising what the trajectory of the film is and they start becoming more and more uncomfortable.
I saw this woman at the Sundance Film Festival, and I watched her expression during the last lap. I was just looking at her face and, when the car hits the wall at Tamburello and bounces back, she had her face buried in her hands. You could see she started crying then and she didn't stop. About a third of the people there were that upset.
I saw gaggles of women in their 60s saying: 'do you think it was right to change the rules at the end of '93? Maybe they shouldn't have switched the regulations - why did they do it?' That's amazing for non-F1 fans.
I love F1 and I've got so much out of it just watching and reading about it. I really hope we can give something back to the sport because lots of people are seeing this film and saying I didn't like F1, but now I'm going to watch it.
Manish Pandey was speaking to Jonathan Noble. Special thanks to Sean Carson.