Since starting his grand prix career as a CFD pioneer with the mercurial Leyton House team over 20 years ago, Geoff Willis's CV has been a story of big teams.
Amid the disintegration of the turquoise dream in the early 1990s, he followed Adrian Newey to Williams and was part of a visionary aerodynamics department that revolutionised F1. Stints at British American Racing/Honda, where it was all about making a team that was often too big and incoherent work, and Red Bull Racing, where he played a key role in its evolution from shambolic Jaguar to winning machine, followed.
The obvious next step was surely not to plunge headfirst into a team that appeared to have little chance even of making the 2010 grid at half-past the eleventh hour? Yet Willis and Colin Kolles found themselves charged with salvaging the Campos Meta1 outfit in the build-up to last season. Despite seemingly fighting a losing battle, the rebranded HRT team did make it to that year's Bahrain Grand Prix.
It was a similar story this year, with Hispania achieving a level of relative respectability in Malaysia and China after failing - embarrassingly - to qualify in Melbourne.
As a world championship-winning technical director, you'd expect Willis to be downbeat in his reduced circumstances at a perennial back-row team. But he has thrown himself into the challenge with tremendous enthusiasm and is a big part of the reason why HRT has the potential to be more than a perpetual backmarker - if you look hard enough.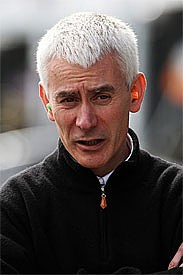 Geoff Willis © sutton-images.com
"It is a very different challenge," says the silver-haired 51-year-old. "I have had experience of teams in different stages of their growth, but this is absolutely new. It's the birth of a team, and the way it has been born has not been in a very planned way.
"It's frustrating, challenging and rewarding. It's frustrating because you know what you want do but you don't have the resources to do it. It's challenging because you therefore have to find a way of solving that problem and it's rewarding because you get more involved in all of the parts of car design and operation.
"It's more like the old days. I can actually do some real aerodynamics for a change, which I haven't done for 10 years or so. I can get involved in some calculations and understand some parts of the car.
"So from a personal education and entertainment point of view, it's good. It's a hard battle, but with good rewards and sometimes you just have to reset yourself. It's quite a challenge for an engineer to be confronted by a different set of problems and ask 'how am I going to fix this?'"
Superficially, it's all-too-easy to condemn HRT as a no-hope operation after it struggled through last year with zero car updates and turned up to Melbourne without its cars screwed together. But there are real signs of progress, with a wind tunnel programme set to get up and running next month and upgrades finally coming online.
The HRT F111 has shown a tidy turn of speed, too. While the six-and-a-half seconds off pole position that the car was in China is huge, it's within striking distance of fellow 2010 new teams Lotus and Virgin. And that with a car that didn't hit the track until Friday practice in Melbourne because of cash flow problems.
"The problem was playing catch-up," explains Willis. "We were forced into a situation where we were starting late and the minimum amount of time that it took us to do the project meant that we were right up against it. We tried to pull a week out of the programme here and there, but it started on 15 December and we needed 16 weeks. But we only had 13, so it was obviously going to be a push.
"Bahrain being cancelled saved us, as it did a few other teams. In Melbourne, it was touch-and-go and we probably just ran out of time. We were about four days short and we had our complete car coming together on Saturday morning.
"In some ways, I was quite relieved that we didn't qualify because the guys had worked too hard for too long. It was good that we got the car running, but I don't think that we were ready to race. Now we have got the cars as we want, we have got the spares and the three-week gap to Turkey gave us the chance to be where we need to be."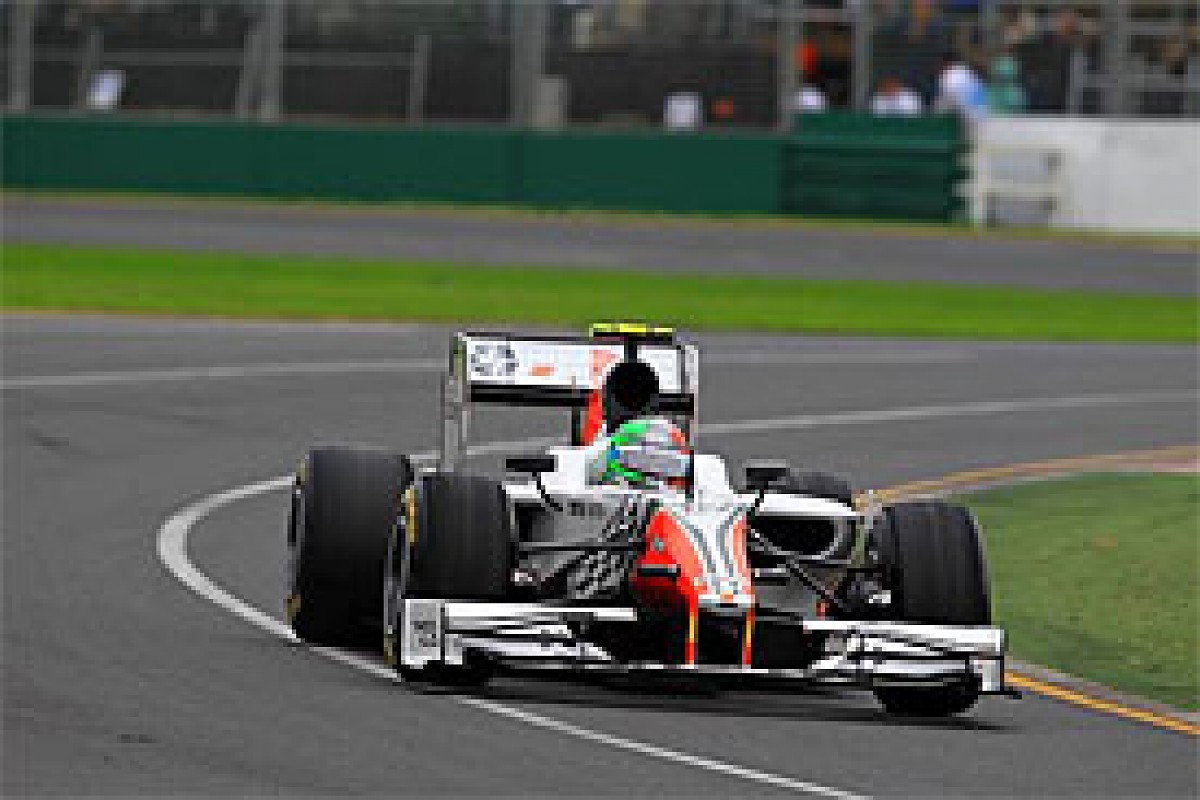 Willis was almost relieved not to qualify in Australia © sutton-images.com
Willis describes the car as "75-80 per cent new", with the switch to a 2010-specification Williams gearbox one of the most obvious changes. Carrying over a little more of the Dallara-designed machine than would have been done in ideal circumstances might create a ceiling on the car's ultimate potential, but there are plenty of gains that can - and will - be made during the season.
"The monocoques themselves are the ones that ran last year, but they have had modifications," says Willis. "There are two sets of structural tests that they have been modified to pass, so they have been re-homologated in that sense.
"They have got additional anti-penetration Zylon panels bonded onto them and they have had a little bit of beautifying in various places where they were impractical operationally. The inboard front suspension - the rockers, springs and anti-roll bars - is exactly the same, although pushrods are new. The fuel cell is the same as last year, but apart from that the whole car is new."
So, with that baseline, it's now down to HRT to make good on the promise and at least match the development pace of the next team up the road, Virgin.
There has been plenty of fighting talk from the Spanish equipe in recent weeks, largely focused on being able to overhaul the likes of Virgin. Doubtless, Willis would be delighted to continue to reel in Virgin, but for him the priority is inexorable progress.
This is the important thing. It doesn't matter where you are today, it's where you can go in the next week, month or year and it's beginning to be able to commit to a wind tunnel programme, to be able to say we need better x, y or z, and be able to have a resource to design and manufacture. Even though resources are restricted at the moment, the light is there at the end of the tunnel.
"It's just about trying to do the most we can with the resources that we have," he says. "I'm not looking at who we are racing; I just want to be better at every race. If we can make our development pace faster than our nearest competitors, then we will beat them. But you don't improve by finding half-a-second or, in our case, five seconds overnight; you just have to develop faster.
"It's realistic to expect to compete with Virgin and Lotus, or certainly to get closer to them, but is that my goal? Not really. My goal is a lot further up the pitlane. It doesn't matter where you are today. It's where you can go in the next week...month...year."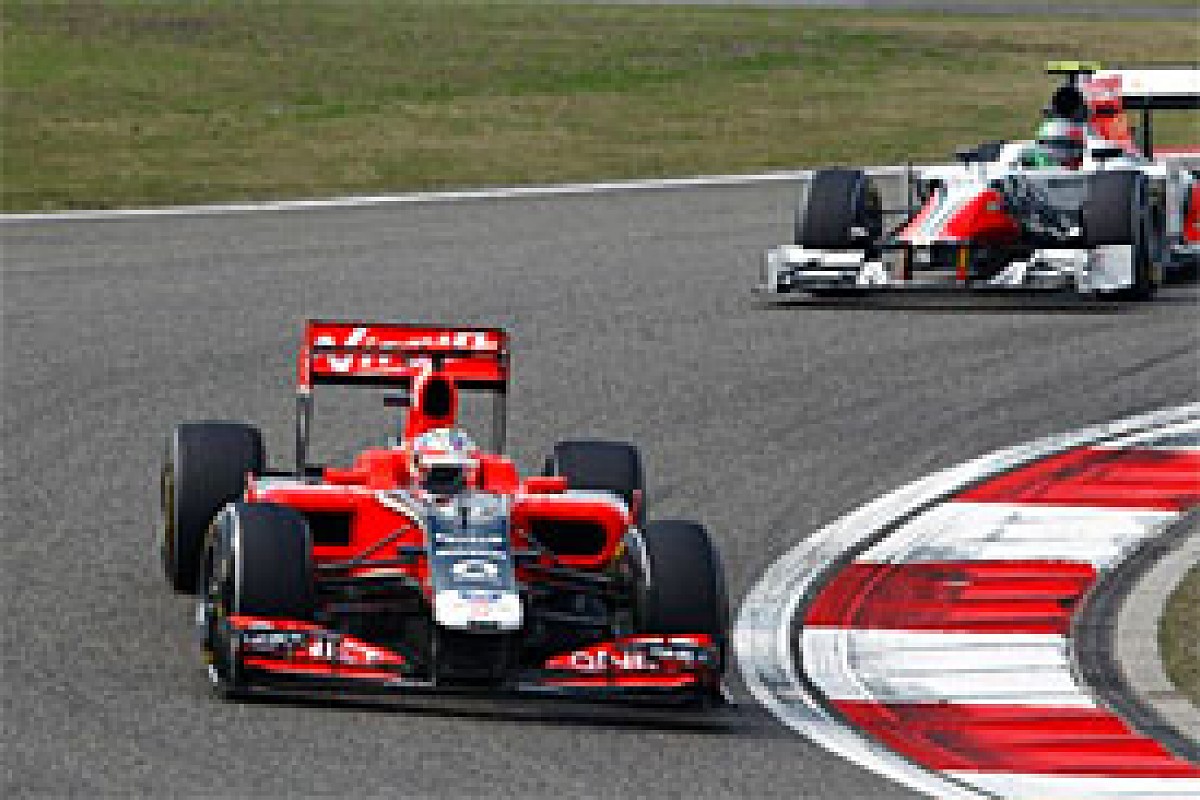 Virgin is Hispania's next target © LAT
So, where to from here? Alongside the car development plans, the team itself is continuing to evolve. The hope is that it will allow HRT to have a normal build-up to 2012 rather than the hand-to-mouth struggles that have characterised its last two pre-seasons.
Despite the team's budgetary difficulties, it now appears that there is the money in place for a serious research and development programme to improve the aerodynamics - Willis's speciality.
"The wind tunnel programme is starting now," says Willis. "We are designing the wind tunnel model and I think it's realistic to say that we will be testing from early June.
"We have a collection of contractors, F1 design people, who are all pretty experienced. That's why we have been able to do this with almost a cottage industry type approach. But we now want to rationalise that, get a technical office together near the wind tunnel [the second Mercedes tunnel in Brackley] and give ourselves the stability. It will also improve communications between the technical group - there's a lot to gain from that.
"We don't have the luxury of saying that overnight we're going to have a big factory, design resources and the rest of it. We just have to say let's get that bit working and then slowly build it together. Hopefully we will look back at the end of the season and see that every race, we have made a small but sensible progression."
Back to Willis himself, it's clear that he is fully committed to HRT. That in itself tells you that the team has at least a chance of thriving, or else why bother? He is engaged as a consultant, so clearly it's positive financially for his company, but to be the technical director of an F1 team in these circumstances requires enormous effort and the investment of body and soul. Willis has been around long enough to know whether such sacrifices are worthwhile.
"I'm spending an enormous amount of time on HRT," he says. "It has felt like 24 hours a day , seven days a week since the middle of December. I do a few other things outside F1, but I'm focused on this project and it's very difficult to do this as anything other than a full-time job."
That's far from the assignment when he was first brought in. At first, it was a question of assessing the viability of getting the team up and running. That then involved into actually making it happen in harness with Kolles.
"It was an interesting model, delegating all of the design responsibility to Dallara and to run all of the operational side at Hispania. It was an odd situation for the team to have to explore a car that they hadn't designed.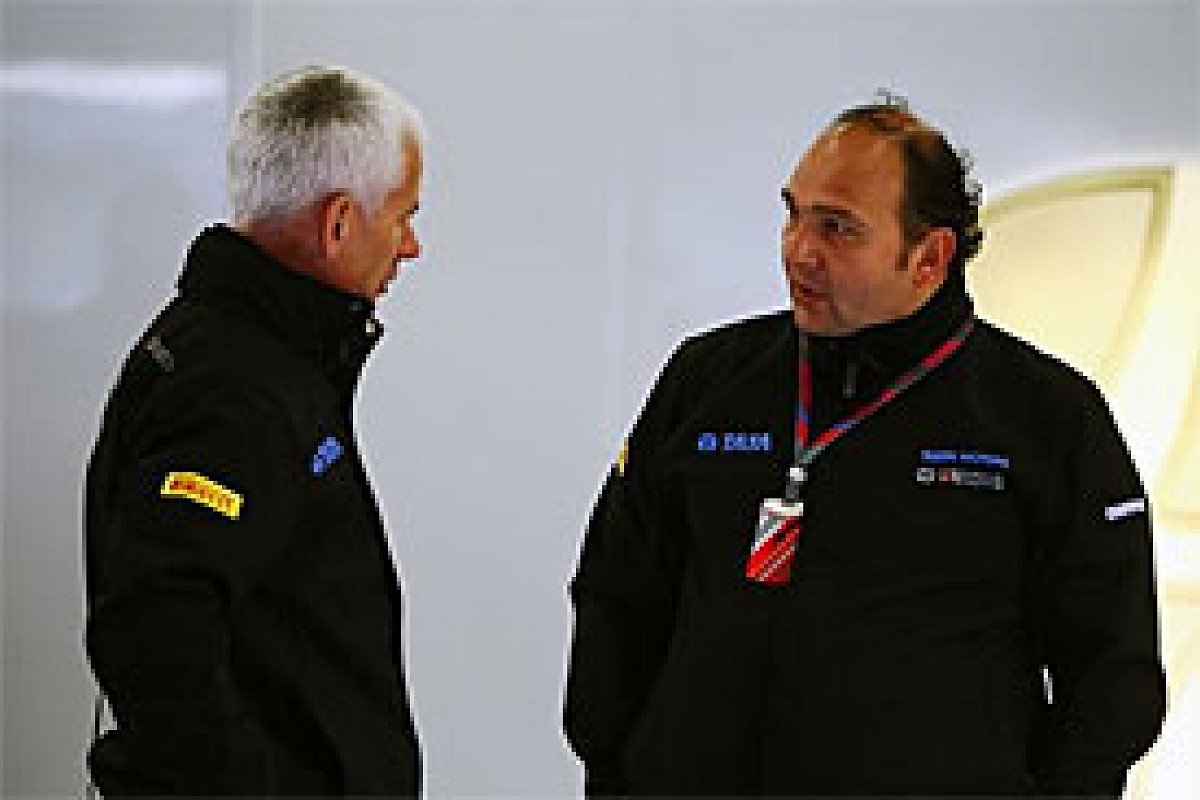 Willis and Colin Kolles © sutton-images.com
"The second problem was to put together an operational team trackside where probably 30 per cent had experience, but the rest didn't. I can remember the confusion the first time we tried to get the car out of the garage. I thought to myself it was going to take a long time [to get the team working]. But I am very impressed with how the guys worked together.
"You've got multiple languages, multiple cultures, different levels of experience yet by four of five races in, it was really starting to go. The hard thing last year was not having the resources to develop the car and knowing that we couldn't fix certain things."
There was also criticism of Dallara, which had not made an F1 car since supplying Scuderia Italia with chassis in 1992. At this point, we have to be a little bit careful. Dallara has been unfairly maligned in the wider world and it's vital to remember that the design process was stop/start because of Campos Meta's financial travails and that the original commission given to it had some shortcomings.
In fact, the baseline car produced by Dallara was pretty sound compared to the other new teams, especially when you take into account the fact that, with no development, it was in touch with the rest at the back of the grid even at the end of the year.
Far from putting Dallara down, Willis's position is indicative of the kind of standards expected in F1. He believes that the Italian company perhaps underestimated just how challenging making a grand prix car really is - albeit accepting that this is largely down to the commercial realities of such an organisation designing an F1 car.
"I think my words [about Dallara] last year probably weren't that clear," he says. "Without doubt, the performance of the chassis and aero package was compromised by the stop/start nature of the programme. My observation was more that it was the first time that I dealt with a race car manufacturer rather than an F1 team.
"I understood that the commercial world of race cars doesn't have corporate support, but I didn't feel that they had fully understood the level at which F1 was operating. That I found a little surprising.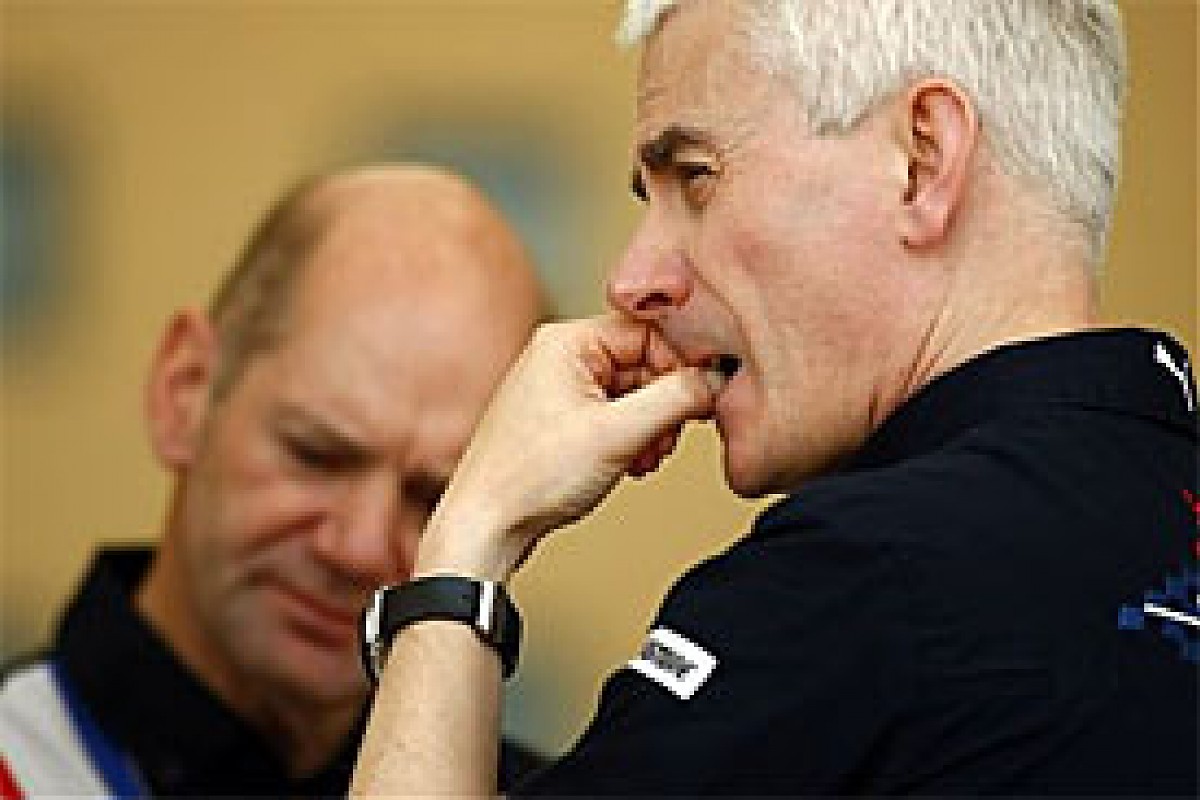 Willis worked with Adrian Newey at Red Bull © LAT
"Had I put myself in that position, I would probably have done more research about what I was up against. I'm really talking in terms of detail, which in F1 is now at a phenomenal level and far in excess of any other type of race car engineering. You might argue whether it's absolutely necessary to have a racing car built that well, but if you go to the top end of the pitlane, they are absolute pieces of engineering jewellery.
"Every single thing is thought about and if you want to compete you have got to get to that level. It's clear clear to me that outside the teams there aren't any race car manufacturers that really comprehend the astonishing level that F1 has now reached.
"You would be shocked even if you compared a current car to a car of 15 years ago. These cars can run 60 qualifying laps without a problem and the ones at the front can then do another 60. That reliability has come from the level of engineering detail, which is not supportable in the commercial world of trying to make a profit."
Next year, HRT hopes to have an all-new car that can establish it as a solid, effective grand prix team for its third season. With Willis at the helm technically and force-of-nature Colin Kolles holding everything together, it's far from a foregone conclusion that HRT will always be back of the grid fodder.
While question marks remain over the financial future, you can be sure that the rest of the team is in very capable hands.