Sebastian Vettel is facing a very important weekend as he can put a seal - statistically speaking - to his second world title already in the third race.
Such a bold statement comes from Formula 1 history: all the drivers who have scored at least three wins at the beginning of the season won the championship, and it happened eight times.
If Vettel doesn't win though, he should not feel down, percentages are also encouraging with only two wins: four titles won out of eight cases, but most importantly, four out of four in the last 20 years.
Barrichello 150
Rubens Barrichello © sutton-images.com
Rubens Barrichello started in Malaysia his 150th straight race: he hasn't missed a start since the 2002 French Grand Prix.
Ten more races and Rubens will enter the top 3 sequences of consecutive race starts in Formula 1 history, which are:
1) Riccardo Patrese, 187 straight starts. From the 1982 Belgian Grand Prix to the final race of his career, the 1993 Australian Grand Prix;
2) David Coulthard, 175 races. From the 1995 Brazilian Grand Prix to the 2005 Canadian Grand Prix. Next came the infamous 2005 U.S. Grand Prix, when he was forced to retire along with all the Michelin-shod runners, otherwise he would have set the record, as he never missed a start until the end of his career, 63 races later.
3) Alain Prost, 160 races. From the 1981 Long Beach Grand Prix to the 1991 Brazilian Grand Prix. In the following, wet, San Marino Grand Prix he spun off during the formation lap at the Rivazza turn stalling his engine.
China personal scoreboard
• Sebastian Vettel set a milestone for Red Bull in 2009, scoring the maiden pole and win for the team. Last year he also started from pole but ended only sixth. In four qualifying rounds, he was beaten by a team-mate only in 2007;
• Mark Webber scored only one podium in China, in 2009, completing the double for Red Bull behind Vettel. Last year he started alongside him on the front row, but ended only eighth. Webber has to raise his game as his comparison with Vettel: in the last three races he has never climbed on the podium, while Vettel has won three times;
• Lewis Hamilton left a mark, for good or for bad, in the Chinese Grand Prix: he was on pole but retired at the pit entry in the 2007 edition; he posted an hat-trick the following year and recorded the fastest lap last year, finishing second behind his team-mate. He has always qualified in the top 10 here;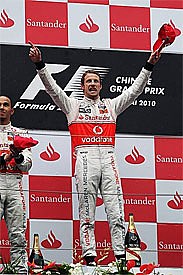 Button enjoyed success last year © sutton-images.com
• Jenson Button recorded his last win to date in China last year. He was on the podium also in 2009 with Brawn and in 2004 with BAR. He has always finished the race in Shanghai, and has qualified six times out of seven in the top 10, but never on the front row. 2008 was the only year when he didn't reach the top 10 in qualifying;
• Fernando Alonso set pole in 2005 and 2006 and won in 2005. He hasn't climbed on the podium here since 2007. He has always started from the top 10 and finished all the races, missing the points only in 2009, when he started from the front row, but with such little fuel that he had to pit when the safety car was still on track waiting to let the field go for a rolling start. The Spaniard has always beaten his team-mates in qualifying here except in 2007, when he was defeated by Lewis Hamilton;
• Felipe Massa scored two podiums here, in 2007 and 2008, starting from the third spot (never qualified on the front row). Two years ago he suffered his last mechanical failure to date, retiring for an electrical problem when he was third after starting from the 13th grid spot;
• Michael Schumacher scored his last win to date in China five years ago, his last time on the podium as well. In his other outings here he didn't shine: spun off in qualifying and retired in 2004, was hit by Albers' Minardi in the formation lap in 2005, retiring for a spin behind the safety car in the race. He finished tenth last year;
• Nico Rosberg scored one of his three podiums of last season here, the only time he scored points in Shanghai. He was able to qualify in the top 10 only in his two last showings (out of five) here and was beaten by a team-mate in qualifying only in 2006, by Mark Webber;
• Last year Nick Heidfeld was not present in China, he managed three good races here from 2006 to 2008, qualifying in the top 10 and scoring points. He is quite fast in qualifying as he has always beaten his team-mates, including Robert Kubica four times;
• Vitaly Petrov scored his maiden points here last year with a seventh place;
• Rubens Barrichello enjoyed a "free run" in 2004 in China: his team-mate had already won the championship and he was able to win from pole. He has always finished his Chinese Grand Prix, but scored points in Shanghai only two other times out of six: in 2006 and 2009;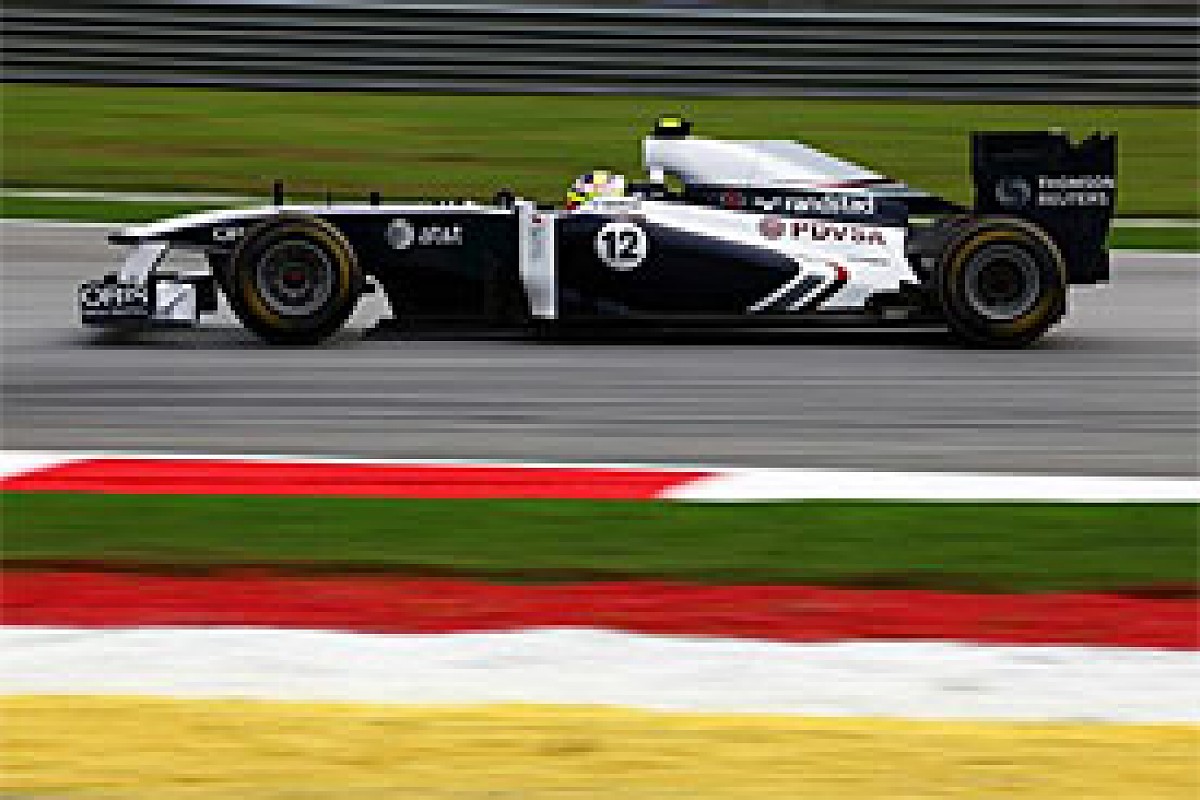 Maldonado is yet to see the chequered flag © sutton-images.com
• Pastor Maldonado has one goal for the Chinese Grand Prix: the tenth race lap. So far this season he retired after nine laps in Australia and eight in Malaysia;
• Adrian Sutil retired in his first three Chinese Grand Prix and last year finished tenth from the eleventh grid spot. In 2009 he spun off the race when he was sixth. He has always beaten his team-mates in qualifying here, but this year he is yet to beat Paul di Resta;
• Kamui Kobayashi crashed on the opening lap last year. He was second to Roldan Rodriguez in the 2008 GP2 Asia race;
• Sergio Perez retired in the feature GP2 Asia race of 2008, finishing seventh in the sprint one;
• Last year Sebastien Buemi was spearheaded by Vitantonio Liuzzi on the opening lap, while in 2009 he was able to score a point in eighth. In that race he had a slight contact with race leader Vettel, who was able to continue and win;
• Heikki Kovalainen scored points here only in 2009, when he was fifth with McLaren;
• Jarno Trulli retired here four times out of six and saw the chequered flag for the last time in 2007. He has never scored a single point in China, qualifying in the top 10 only in 2008 and 2009;
• Bad memories for Narain Karthikeyan: in 2005 he crashed going into the long straight, prompting a safety car period;
• Vitantonio Liuzzi crashed into Buemi last year, but in 2007 he was able to finish sixth with the Toro Rosso;
• Timo Glock counts two seventh places here, scored with Toyota in 2008 and 2009;
Team performances in China
• Red Bull scored its maiden pole and win (a double) in 2009 here, last year they locked the front row, but missed out on a podium finish: Vettel was sixth and Webber eighth;
• McLaren won here last year and in 2008: it is the only team which has always scored points in China;
• Ferrari won here in 2004, 2006 and 2007, starting from pole in 2004. A podium and a front row start are missing here since 2008;
• Mercedes replicated last year the result it obtained in 2009 as Brawn: fourth in grid and third in the race;
• Renault won here with Alonso in 2005 and its last Chinese podium is from the following year;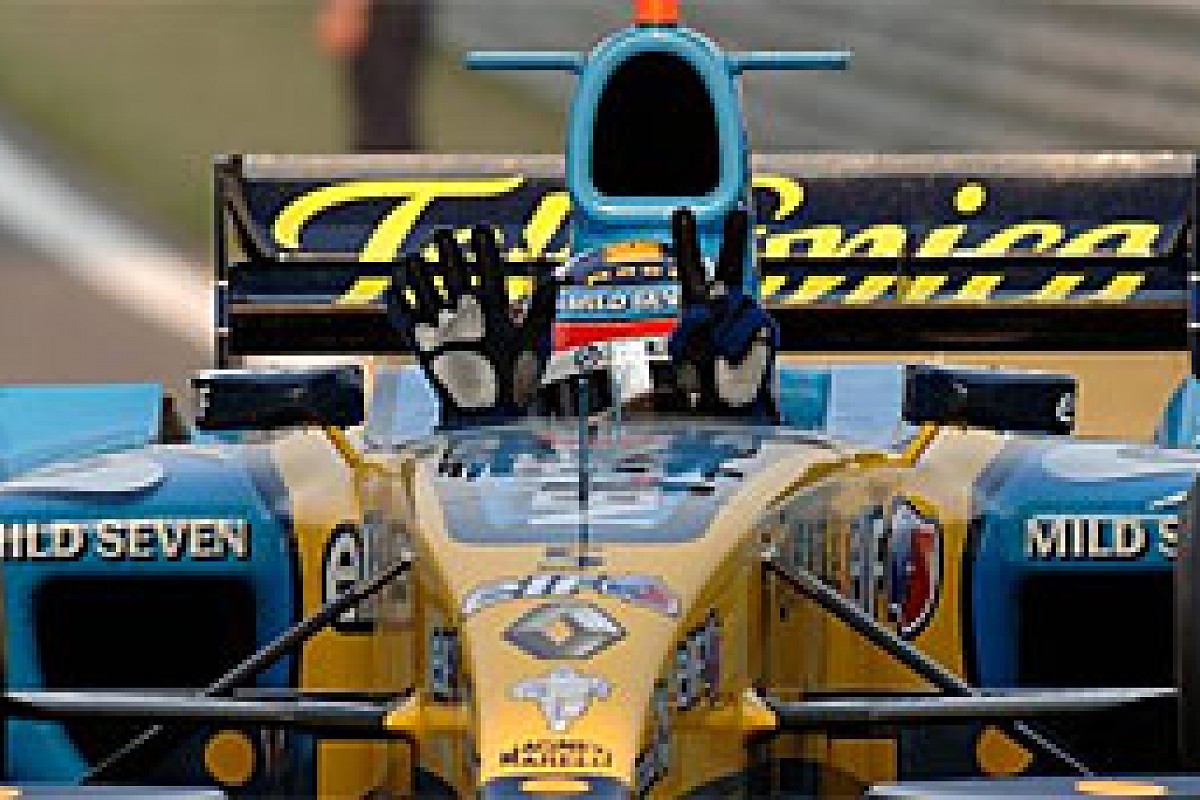 Alonso won with Renault in 2005 © LAT
• Williams scored points here from 2004 to 2006, then it always missed the top 10 in the race. In qualifying it obtained only a top 10 placement in the last five editions, a seventh from Rosberg in 2009;
• Force India has never finished in the top 10 here, even when its entered the race as Spyker, Midland or Jordan. Last year Adrian Sutil was able to score the only top 10 grid placement;
• The 2010 one was a race to forget for Sauber, as by the eighth lap both cars were out of the race. Their last points here date back 2008;
• The best Chinese Grand Prix for Toro Rosso was the 2007 one, when Sebastian Vettel finished fourth and Liuzzi sixth. Its last points here came two years ago.
Other curiosities
• No one has been able to win more than one Chinese Grand Prix;
• The rain was present in the races four times in the last five years, with 2008 being the "dry" one. In that occasion the first four drivers on the grid finished almost in the same order, except for a position swap between team-mates Raikkonen and Massa towards the end of the race;
• Last year three Mercedes-engined cars filled the podium.