A little after four o'clock in the afternoon, Sebastian Vettel sat in Red Bull hospitality, struggling to be heard over the rain lashing down on the roof and the occasional clap of thunder.
"It rains every day here, so the question is really when," said Vettel. "Right now is more or less when we start the race and there is a higher chance in the afternoon of heavier rain than at lunchtime or in the morning. There is a point when there is so much water that we can't control the cars, so we have to stop running."
Such is the Russian roulette of a late start in tropical Malaysia. Yesterday, rain fell at roughly the same time, a pattern that if repeated would mean a downpour at, or around, the start of both qualifying and the race. Exciting stuff, unless we have a repeat of 2009's curtailed grand prix on our hands.
Not that Vettel is too worried. Red Bull's bad start hoodoo - prior to this year, its best showing in the opening grand prix of the season was a fourth and a seventh place for David Coulthard and Christian Klien in the team's maiden race in 2005 - has been put well and truly behind it.
And he skillfully batted off all of the sniping about flexi-wings (a topic that led to team principal Christian Horner becoming a little strident this afternoon). It should be stressed that the car is very clearly in the 'not illegal' category, and surely was McLaren able to do the same, it surely would...
All of this is part of the ongoing Red Bull versus McLaren aggro that has bubbled under the surface for more than a year. The silver corner is making no secret of its suspicions about flexible bodywork, as the stress of being beaten by what Lewis Hamilton recently characterised as "just a drinks company" for a third successive season continues to rankle.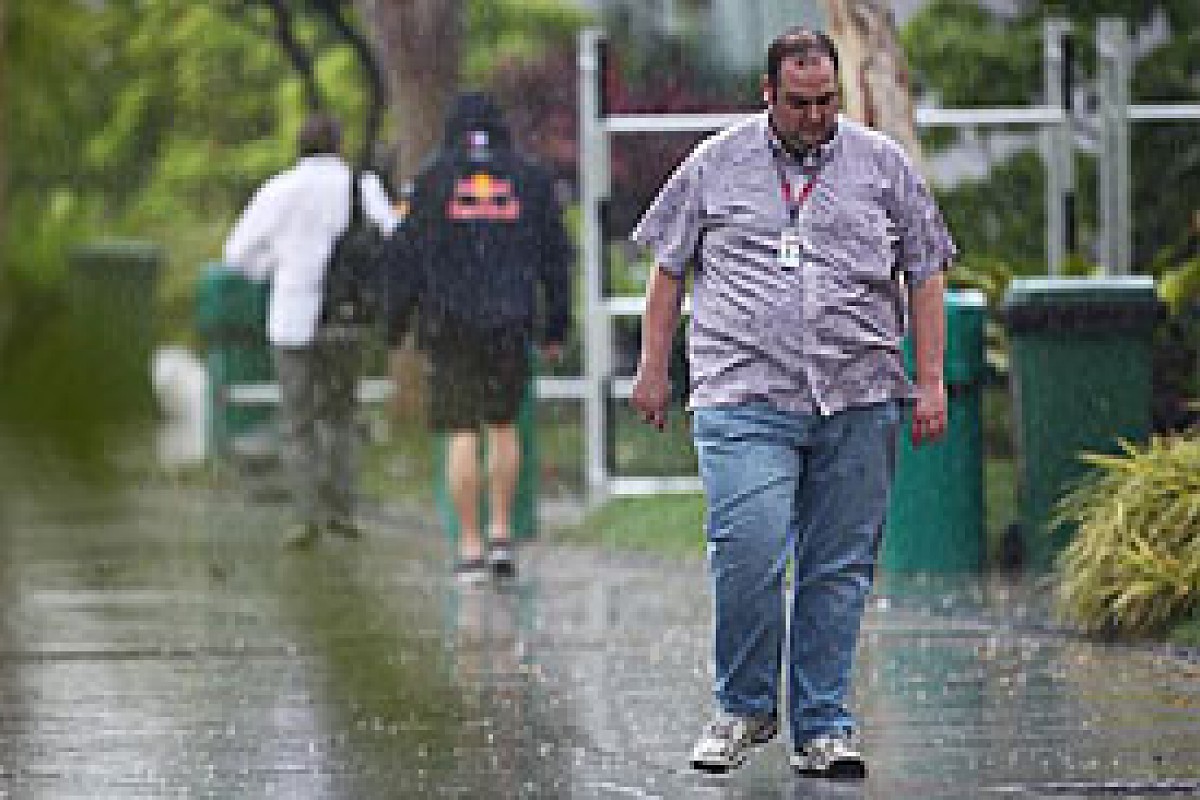 The author takes his customary laid back approach to wet weather protection in Sepang © sutton-images.com
As for Red Bull, save for concerns about KERS, the team looks every bit the championship favourite with few expecting any other team to set the pace... weather allowing. Sure, it's early days, but very often the team that starts strongest remains at the top of the pile come the end of the year.
But with the Australian Grand Prix throwing up as many question as answers, there remains an air of uncertainty heading into this weekend. The vastly higher track temperatures will inevitably mean a greater number of pit-stops than we saw in Melbourne, and the lengthened DRS zone (in terms of distance on the straight, at least) should have a greater influence on overtaking than we saw two weeks ago.
Jenson Button, for one, reckons that we are "going to see a very different race", something which would certainly suit Ferrari after an underwhelming start to the season.
As this week's AUTOSPORT magazine explains, this weekend is crucial for Ferrari. Provided it is dry, it must show the kind of performance that pre-season testing promised or face up to the possibility that there is a long game of playing catch-up to follow. Given the pressure that president Luca di Montezemolo has been applying, that's the last thing that Ferrari wants.
So, we have here a story of three teams. One of them, an upstart newcomer which, it should be noted, is about to oust Cooper from the top 10 list of world championship race-winning marques). While some in F1 still find it difficult to accept that a team once derided as being all style and no results is currently setting the standard, there's every chance that a 17th victory will follow on Sunday. That's some win rate.
Perhaps the most captivating battle is the one to decide which of McLaren and Ferrari will head the chase in this head-to-head between the two most successful teams in the history of F1 and the sport's nouveau riches.
After all, history doesn't count for a lot when it comes to the world championship table, as McLaren - without a constructors' crown in over a decade - knows all too well.