Qualifying notes
• Sebastian Vettel scored his 16th career pole, equalling Stirling Moss and Kimi Raikkonen in 16th place in the all-time list
• 30th front-row start for Lewis Hamilton, as he and Vettel repeated their front row of the last race of the 2010 season. It's the 12th straight race without a pole for Hamilton, his longest career drought
• Best career grid spot for Vitaly Petrov, sixth, and the first time he was able to nail three top-10 grid spots in a row
• Kamui Kobayashi equalled his best career grid spot in ninth, which he recorded for the first time last year in Malaysia
• Sebastien Buemi was able to start from the top 10 again after an absence which started after the 2009 Abu Dhabi Grand Prix
Michael Schumacher couldn't make it into Q3 © sutton-images.com
• After five straight races in the top 10, Michael Schumacher had to start from 11th. Excluding his engine change in 2005, this is his worst showing in Melbourne
• A negative note for Williams, which hadn't missed the top-10 with both cars since last year's Canadian Grand Prix. Rubens Barrichello broke a streak of seven straight races in the top 10 (started in Belgium last year). His 17th place was the worst in the 19 Australian Grands Prix contested by the Brazilian
• Adrian Sutil was outqualified by a team-mate for the second straight time after last year's Abu Dhabi race. This hadn't happened since the 2009 Malaysian and Australian Grands Prix
• The 0.778 seconds between the polesitter and second-placed in qualifying was the biggest gap in a dry session since the new knockout format was introduced. To find a bigger gap we have to go back to the 2005 Hungarian Grand Prix, when Schumacher left Juan Pablo Montoya 0.897s behind on a single-lap qualifying run
All about Vettel's win
• Sebastian Vettel took his first chequered flag in Australia in style, winning the race, and recording his first string of three wins considering Brazil and Abu Dhabi 2010 too
• The world champion winning the opening race of the following season hasn't happened since 2005 champion Alonso's in Bahrain in 2006
• Vettel now has 11 wins, putting him equal to Jacques Villeneuve, Felipe Massa and Barrichello and 24th in the all-time rankings.
Race notes
• It's the first time that Red Bull has won the opening race of a championship
• In the last four dry races held in Melbourne, the polesitter has always won
• While Hamilton was second, Vettel prevented a hat-trick of wins by a Mercedes engine in Melbourne
• Petrov became the first Russian to climb on the podium. Russia is the 26th nation represented on the podium in Formula 1 history
• Hamilton managed some laps in the lead during Vettel's pitstops, having not hit the front since his win in Belgium last year. The Briton scored his 37th podium, matching Riccardo Patrese in 16th in the all-time list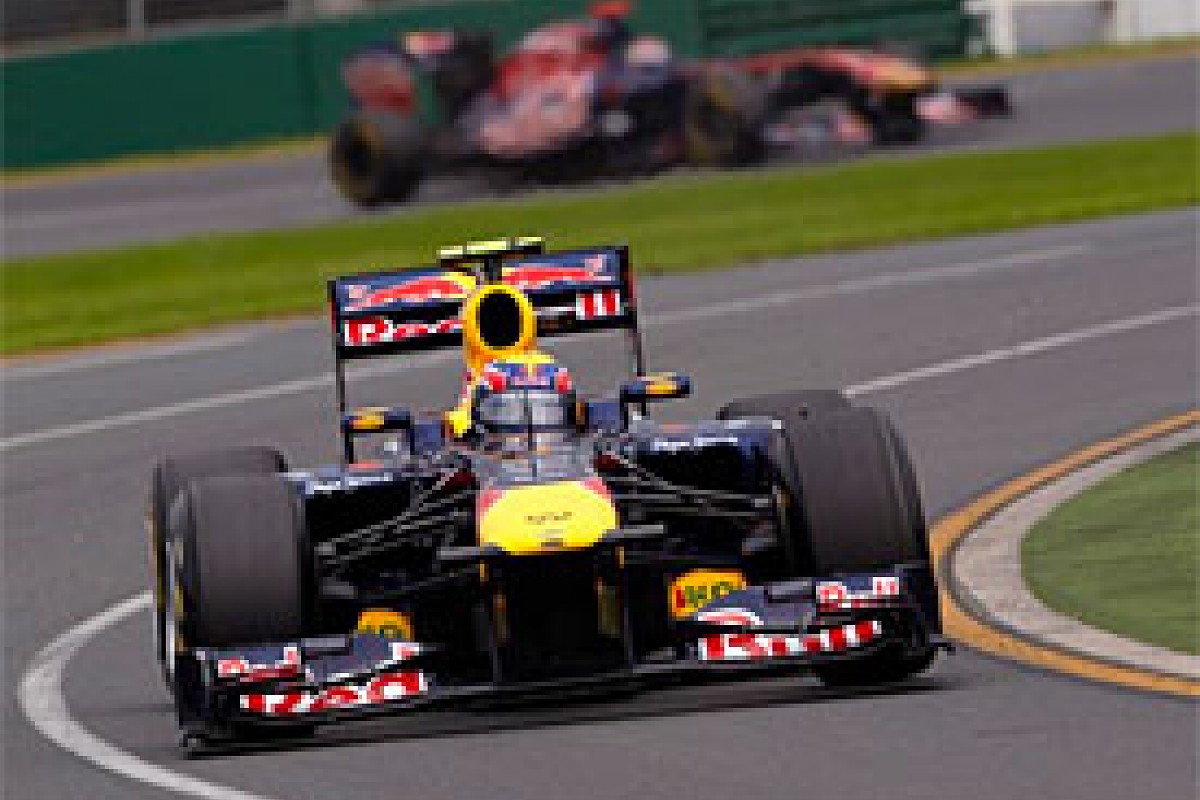 Not a great weekend for Webber, but he set a new Red Bull longevity record © LAT
• With his 72nd start for Red Bull, Mark Webber is now the driver who has run the highest number of races for the Austrian team, passing David Coulthard at 71
• Both Saubers were disqualified for a techincal infringment: the last record of a double disqualification for a team is from the 2006 German Grand Prix, when both Midlands were excluded
• Paul di Resta became the 315th driver in history to have scored at least one point
• For the fourth time in the last five races, Jaime Alguersuari finished just outside the points, in 11th place
• For the first time since the 2010 Belgian Grand Prix, Jarno Trulli didn't report any mechanical trouble in his car during the race
• A change of luck in recent times for Nico Rosberg: in 2008, 2009 and up to the 2010 Japanese Grand Prix he had retired only once for a race accident (spun off in Monaco in 2008), but in the last four races he has been involved in two accidents
• The situation is similar for his team-mate Schumacher: his last back-to-back retirements for accident dates back to 2000, in the Austrian and German Grands Prix. It's the first double retirement for Mercedes since its return as a works team last year and the end of a seven-race points streak for the team
• McLaren scored points for the 20th straight race, entering the top-10 of all-time sequences, which is led by Ferrari with 55 races from Malaysia 1999 to Malaysia 2003
To continue reading this feature, subscribe to Autosport Plus today.
Expert opinion. Technical insight. Unbeatable analysis. Subscribe today for unlimited access to the world's best motorsport journalism.
Get unlimited access now
No more monthly limits. Get complete access to all our news and Autosport Plus features.
Subscribe to Autosport Plus
Completely ad-free environment.
Access Autosport Plus - the best motorsport analysis, insight and opinion.
No monthly news limit.
Explore Forix, the world's most comprehensive motorsport stats database.